Places to Snowshoe in Alberta – 8 Great Ideas
There's nothing like big dumps of snow in the mountains to get you motivated to get outside, especially in Alberta on days when you have the magic combo of blue skies with awe-inspiring mountain scenery. Need some suggestions on where to go? Described are eight of the best places to snowshoe in Alberta – personally tested!
Places to snowshoe in Alberta – Medicine Lake – Watchtower Canyon, Jasper National Park
Medicine Lake is a very popular snowshoeing destination out of Jasper, especially since it's only a 25 minute drive away. What is less well-known is the tour up to Watchtower Canyon.
It's accessed via a narrow opening about a kilometre up from the parking lot on the west side of Medicine Lake. I did this outing with a guide from Canadian Skyline Adventures. Otherwise, I never would have found it.
It's an easy climb up through the canyon. The only thing you want to avoid is stepping into the stream. The further you snowshoe, the prettier it gets, especially as the canyon walls close in. You could easily do this tour in two hours. We took three hours but moved at a leisurely pace with a stop for hot chocolate.
Read about my full experience here.
Sunshine Village Snowshoe Experience, Banff National Park
This snowshoeing tour is short but it sure is sweet. The experience starts with a ride up the Standish Chairlift at Sunshine Village Ski Resort. From there you head off looking for fun – snowshoeing up and down hills and through a meadow or two. Throw in a little cliff jumping – just for fun. On clear days you can see Mount Assiniboine but even on snowy, low visibility days it's a pretty winter wonderland.
There's a bonus at the end of this one – cheese fondue in the Sunshine Mountain Lodge. Now that's what I call a great way to end a winter outing.
You can read the full blog post here.
Ink Pots, Banff National Park
If you've got energy to burn, do the 12 km return snowshoe trip to the Ink Pots via Moose Meadow. With only 220 m of elevation gain you shouldn't be breathing too hard.
Much of the trail is through the trees and viewless. But when you do get to the Ink Pots – seven, crystal-clear aquamarine pools of spring water – you'll get some views. Keeners may want to explore some of the meadow though most people turn around here and make a swift descent back to the parking lot.
The trail is close to Johnston Canyon – where you can do a very beautiful ice walk in winter; if you're pressed for time you can knock it off in 90 minutes.
The complete post about the Ink Pots is here.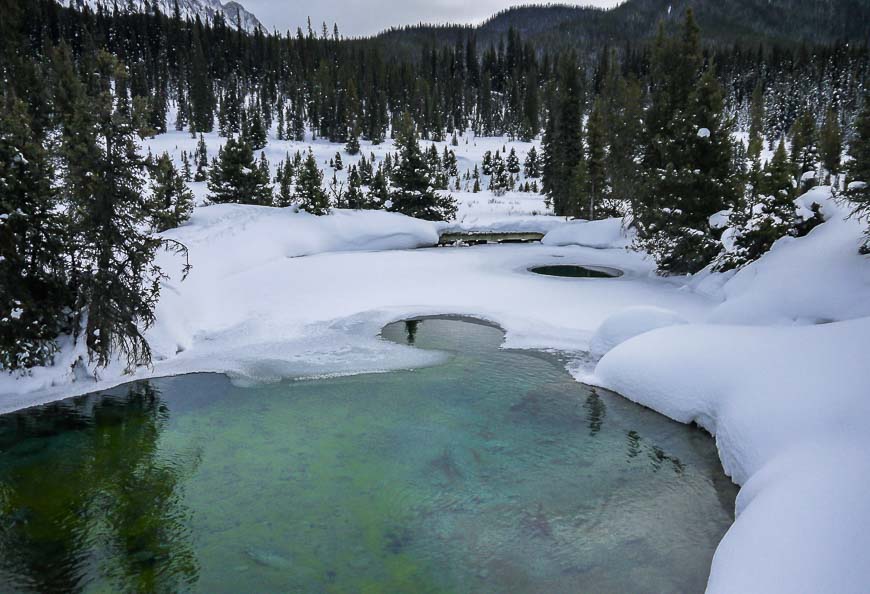 Lake Agnes, Banff National Park
Super popular as a day-hike in summer – largely because there's a teahouse beside a beautiful turquoise coloured lake, Lake Agnes also makes a wonderful winter destination on snowshoes. If the trail has been packed you can even walk it. Over 8 km round-trip you climb 396 m (1,300 feet) – enough that you feel like you've had a workout if you move at a good pace.
The trail starts beside Lake Louise – a bonus in itself and climbs through the trees. Lots of first-class mountain views along the way keep it interesting.
After Mirror Lake there is a section that crosses avalanche terrain. As one reader pointed out – that is considered by Banff National Park to be Challenging Class 2 terrain for avalanche exposure and requires appropriate training and equipment.
Please Note: I have done this trail in the winter – and indeed it is very popular; but on many days it is not prudent to cross the slope (Class II avalanche terrain) where there is a possibility of avalanche risk without the proper equipment (shovels and transceivers).
But you can snowshoe up to that point – and you still get great views and a workout. If you do continue there is another short section of steep stairs where you should remove your snowshoes just before you reach the lake.
Read: Snowshoeing to Lake Agnes Teahouse Near Lake Louise
Chester Lake, Kananaskis Provincial Park
Super popular, Chester Lake makes a fine, winter destination on snowshoes. The trailhead is located in Kananaskis Country off the Spray Lakes Road where there's a giant parking lot. It'll be busy unless you can make it on a weekday. The trail is initially very steep but once you reach the first meadow, the trail moderates considerably. All around you are stupendous mountain views.
Its five kilometres one way to reach Chester Lake. If you have the time make the short side trip to Elephant Rocks – giant sized boulders strewn helter-skelter that are fun to snowshoe around.
Read the full account here.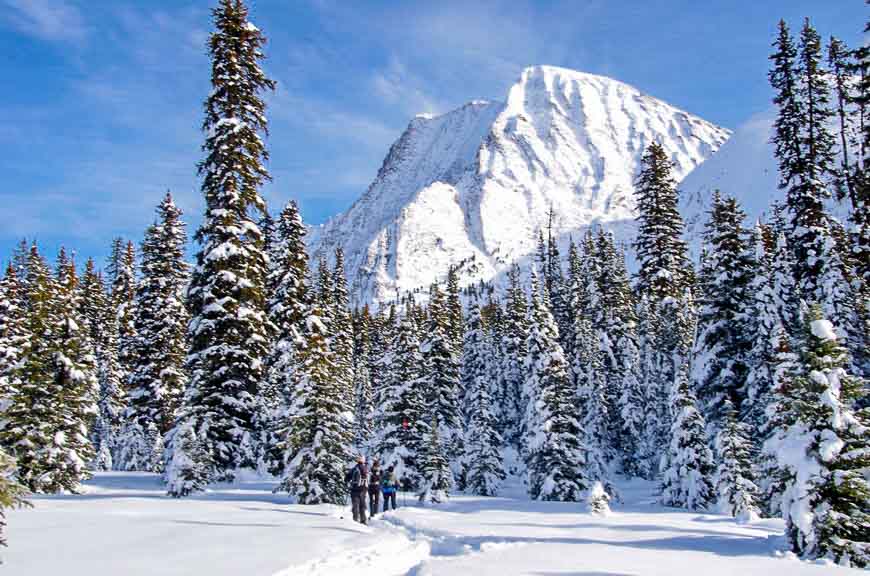 Rummel Lake, Kananaskis Country
Don't expect much in the way of signage on this outstanding snowshoe tour. Even the trailhead at the intersection of Spray Lakes Road and Mount Shark Road isn't well-marked.
If it hasn't snowed recently, you'll have no problem with route finding. But if you're the first one out after a big dump, make sure you carry a map. Basically you climb up old logging roads with great views of the Spray Lakes Reservoir and then make your way through the woods until you reach Rummel Lake. You climb about 400 m to the lake so the descent is swift.
Read: Snowshoeing to Mountain Lakes in Kananaskis
West Bragg Creek
Less than 10 minutes from the town of Bragg Creek (about 45 minutes from Calgary) are the snowshoeing and cross-country ski trails of the West Bragg Creek system.
There are lots of options from the easy 5.5 km Snowshoe Hare Loop to the 10 km Ranger Summit – Strange Brew Loop to the longer Telephone Loop. Pick a trail depending on how much time you have. So far my favourite is the one to Ranger Summit for the vistas it affords of distant Moose Mountain.
We snowshoed one day last year when the thermometer dipped to -20°C. But with the right clothes and a thermos of hot drinks, we had a great time – and there was hardly another soul around.
Read: Snowshoeing the West Bragg Creek Trails, Alberta
Elk Island National Park
Offering loads of trail options, Elk Island National Park is a great place to explore on snowshoes. The trails are flatter than most you'll find in the mountains and there won't be any in your face mountain scenery.
But there will be pretty meadows and aspen groves, as well as the odd small lake or pond. And as a bonus, you might catch sight of some of the woodland bison that call the place home.
Fortress Mountain
If you're a keen Alberta based snowshoer, there's a pretty good chance that you've never had a snowshoeing adventure at Fortress Mountain in Kananaskis Country.
With restricted access to tours led by White Mountain Adventures, cat skiing with KPOW or film makers, you're likely to get swaths of fresh untracked snow.
Read: A Snowshoeing Adventure at Fortress Mountain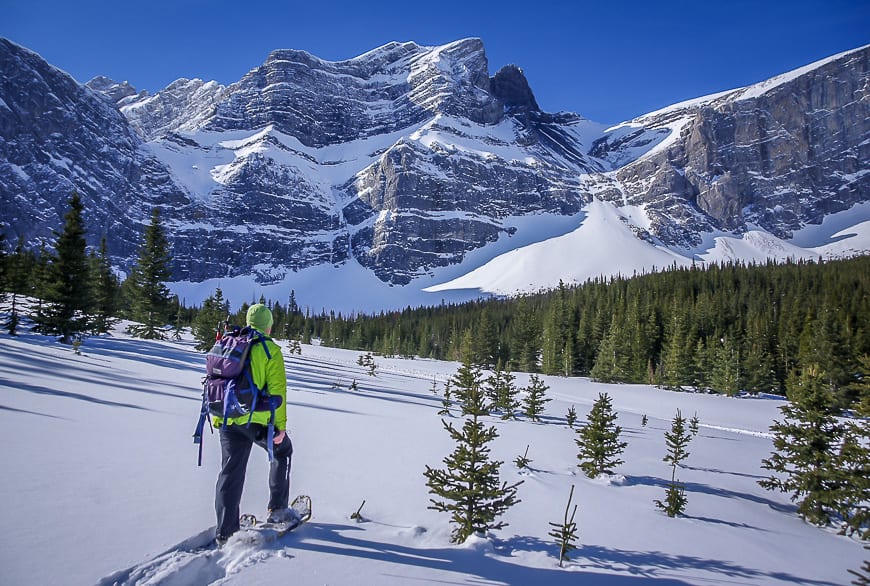 ***2018 Update: For a few more ideas since this post first came out check out 7 Places to Snowshoe Within 2 Hours of Calgary.***
Where is your favourite place to go snowshoeing in Alberta?
Click on the photo to bookmark to your Pinterest board.