If you live in Calgary, you've got heaps of snowshoeing options within a two hour drive of the city. Granted, after a big dump of snow you don't even need to leave the city, but let's face it, that's a rarity in this city.
Where should you snowshoe within two hours of Calgary? The places described are all great options to get the happy hormones pumping in winter. These ideas are just the tip of the iceberg.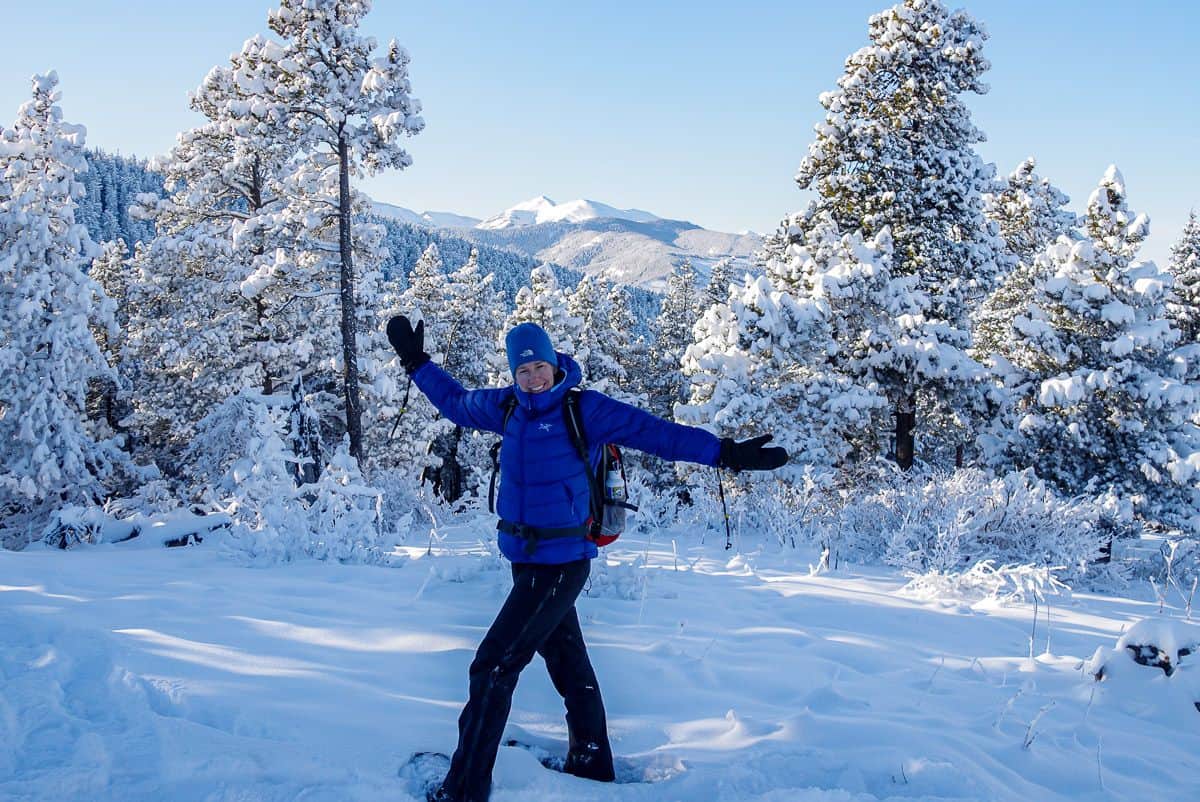 Summary of places to snowshoe within 30 minutes – 2 hours of Calgary
Trail conditions: Check trail reports before you head out to avoid disappointment. Alberta Parks and Banff National Park update trail reports regularly.
Avalanche safety: I avoid avalanche terrain like the plague, but if you want to snowshoe in avalanche country, you should have the right gear and know what you're doing. Check the Avalanche Canada website for alerts.
Where to go snowshoeing: In Calgary there are three main areas outside of the city to go snowshoeing – the Bragg Creek trails (plus the Fullerton Loop), Banff National Park, and Kananaskis Country. However, with fresh snow I have enjoyed Glenbow Ranch Provincial Park, Bow Valley Provincial Park and Brown Lowery Provincial Park.
More reading: 9 Snowshoeing Trails in Kananaskis and Where to Go Snowshoeing in Banff National Park.
Dogs: On many of the snowshoe outings you can bring your dog (on a leash) but consider leaving them home on really cold days. They'll need water and extra food as well.
Don't forget: Always pack the hiking essentials adding extra layers of warm clothes, backup socks and mitts, hand warmers and high calorie food.
This post includes some affiliate links. If you make a purchase via one of these links, I will receive a small commission at no extra cost to you. Thank you very much for your support.
Location map of places to snowshoe within 2 hours of Calgary
Click on the three dots in the right hand corner to email a copy of the map.
Snowshoeing 30 minutes from Calgary
Snowshoeing at the Ann and Sandy Cross Conservation Area
Head to the Ann and Sandy Cross Conservation area at the south end of the city. With approximately 20 kilometres of trails you can opt to do one of several loops or an out and back trail.
The conservation area is home to a herd of elk in the winter so if you're lucky you might see them. Though snowshoeing is free they are happy to accept donations. Note that as of January 1, 2020 there will be a parking fee in effect of $10 per car.
Snowshoe trails 45 minutes from Calgary
Snowshoeing the West Bragg Creek Trails
You have loads of options if you head for the West Bragg Creek Trails, located 8.8 km due west of the town itself. The easy 5.5 km Snowshoe Hare Loop is dog friendly whereas the other trails are not.
I personally love the 10 km Ranger Summit – Strange Brew Loop as it affords awesome views of Moose Mountain and there's some truly lovely snowshoeing in the woods.
There are options to add many kilometres and make it into one very long day – though you may be breaking trail. Don't forget to take a picture of the trail map before you start out.
I would also recommend snowshoeing the Fullerton Loop, accessed off Highway 66 after a fresh snowfall.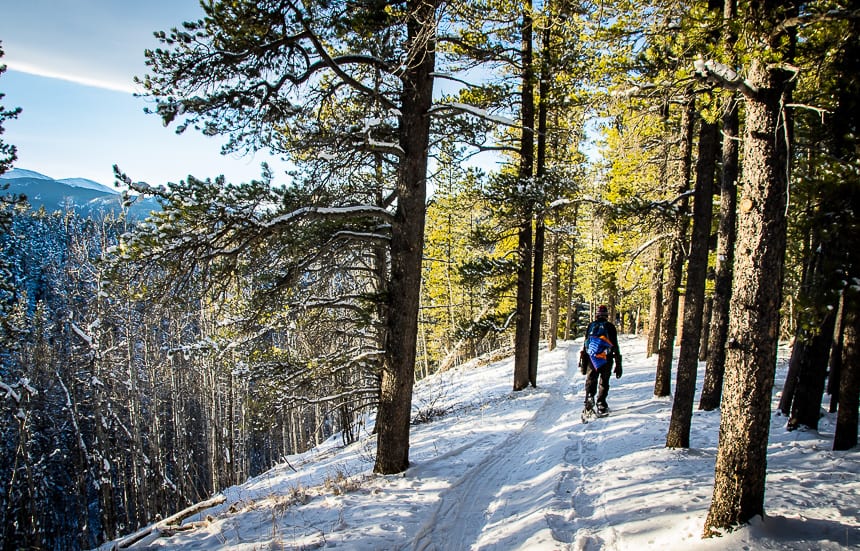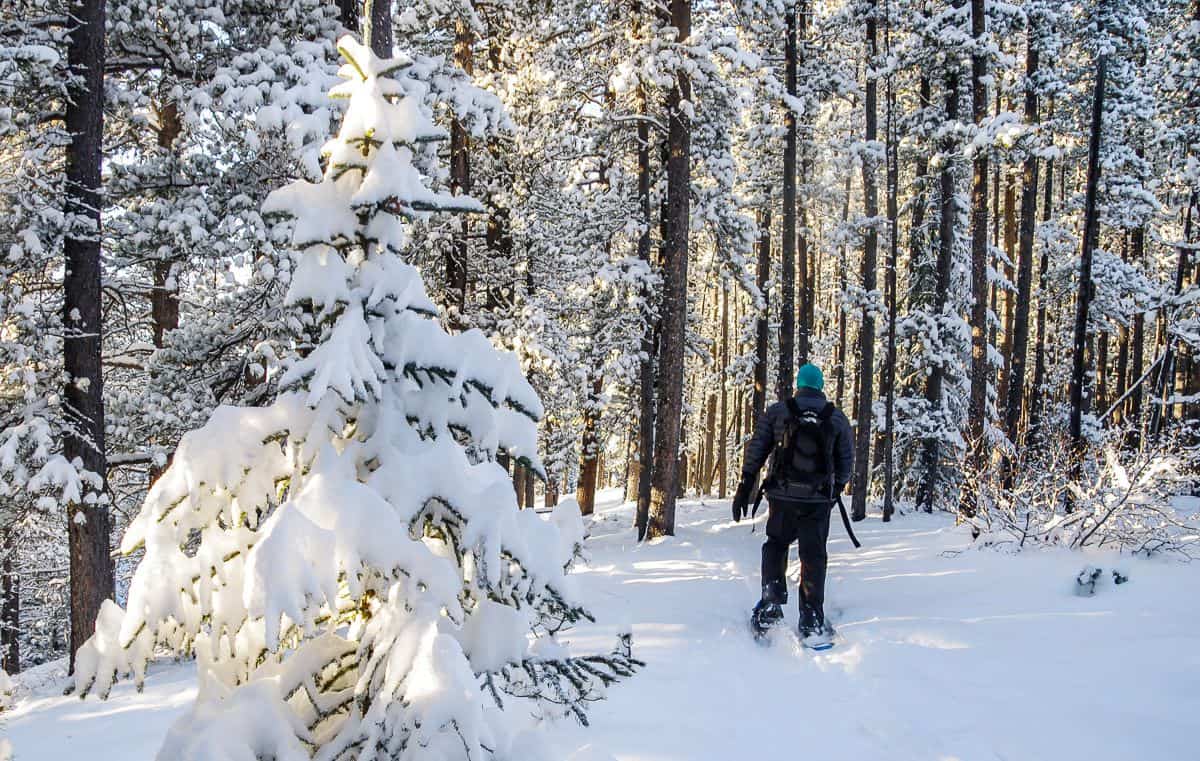 Snowshoe trails 60 minutes from Calgary
Snowshoeing the Ribbon Creek area, Kananaskis Country
The Ribbon Creek Trail, accessed from the Ribbon Creek Day Use Area (a few minutes away from Kananaskis Village) offers a scenic 3.7 km outing (one way) along the pretty Ribbon Creek. There's only 60 m of elevation gain so it's very family friendly. This is a new trail after the former one was badly damaged in the 2013 floods.
Be sure to stop at the gate where the avalanche terrain starts. It's well-marked.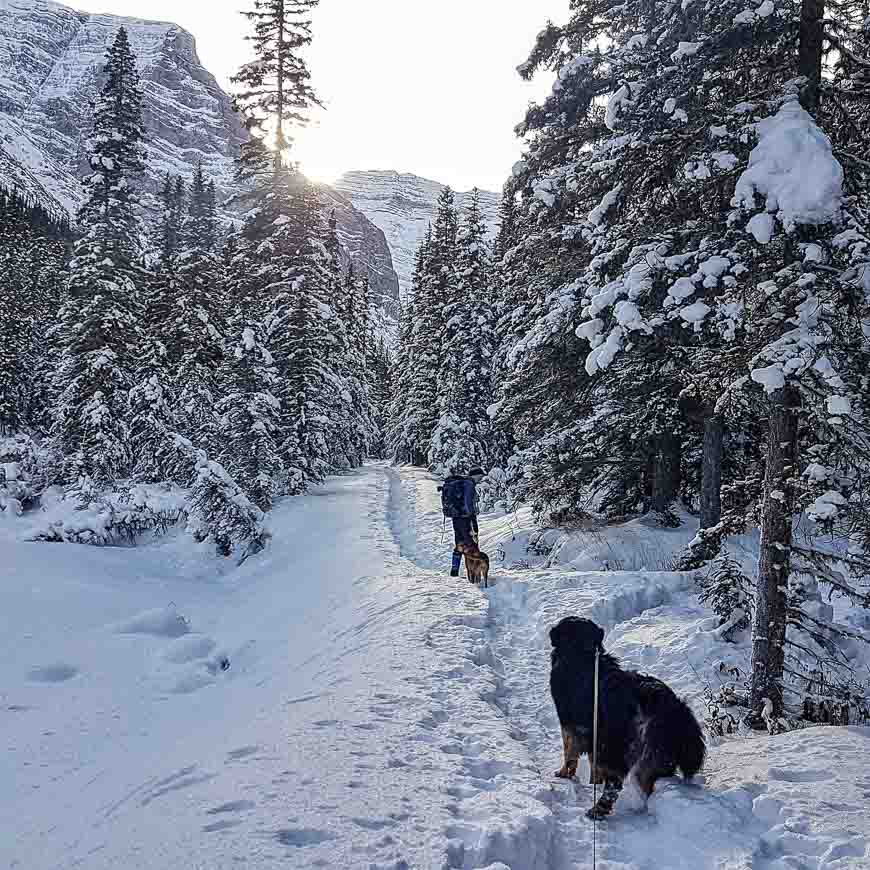 Nearby is Troll Falls – another easy option as it's only 3.4 km return. Park at the Stoney Trail parking lot just after you turn onto the road up to Nakiska Ski Resort. The Ribbon Creek area combines well with Troll Falls and would be easy to knock off together in a day.
Snowshoeing trails 90 minutes from Calgary
High Rockies Trail snowshoe experience from the Goat Creek Parking Lot
The High Rockies Trail is relatively new so not a lot of people know you can snowshoe a good chunk of its 80 km in winter. It's the western most section of the Trans-Canada Trail in Alberta running from the Goat Creek Trailhead just above the town of Canmore to Elk Pass on the BC – Alberta border.
If you park at the Goat Creek Trailhead and snowshoe down the hill through the woods to the obvious sign it will direct you left. (If you go right you'll end up on the Goat Creek Trail. People ski it all the way to Banff.)
Do it as an out and back trail, choosing the distance you snowshoe based on weather conditions and your energy. Some parts of the trail cross avalanche zones but most of it does not. Pick up a map at the Kananaskis Visitor Information Centre on Highway 40 in Kananaskis Country to see where the trail goes or call them for the latest conditions.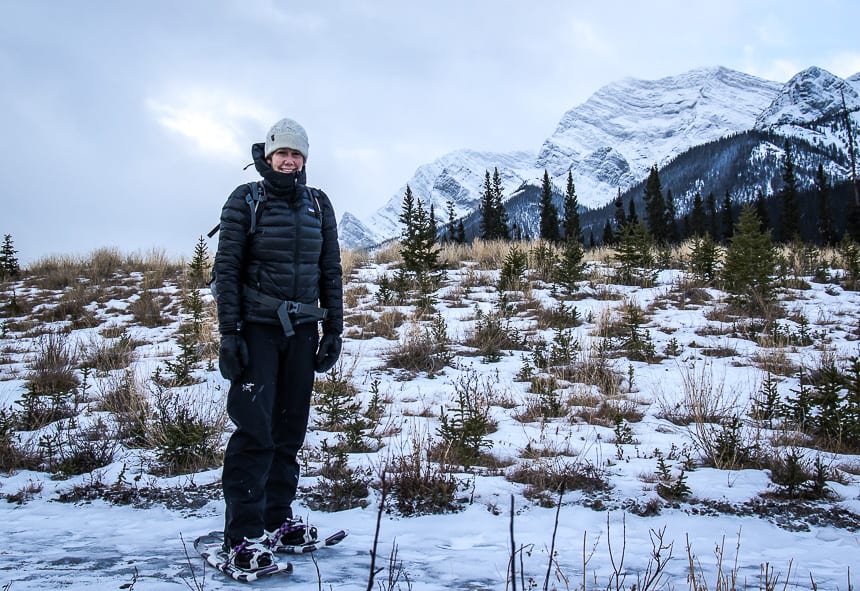 Spray River Loop snowshoeing in Banff National Park
You won't find some of the big mountain views you get on other snowshoeing outings but the Spray River loop has its charms, especially with consistent views of the crystal clear turquoise coloured waters of the Spray River itself.
Throw in views of ice climbers if the conditions are good and periodic vistas of Mt. Rundle and you have a better than pleasant winter outing.
The turnaround point by the bridge is also very pretty. The trailhead is located just past the Banff Springs Hotel where the road dead ends – or you could start by Bow Falls. Be prepared to share the trail with fat tire bikers and cross-country skiers. And after snowshoeing, why not go for a dip in Banff Hot Springs?
Snowshoe trails 2 hours from Calgary
Chester Lake snowshoeing, Peter Lougheed Provincial Park
Chester Lake is one of the premier snowshoeing destinations in Alberta. The trailhead is located off the Spray Lakes Road in Peter Lougheed Provincial Park, Kananaskis Country.
The 5 km one way trail starts out steeply – climbing 310 m but flattens when you reach the meadows. It's here the views are truly magnificent especially on a bluebird day. Enthusiastic and energetic snowshoers should continue to Elephant Rocks to see giant boulders strewn around the landscape.
Near Chester Lake is Rummel Lake – with the trailhead at the intersection of the road to Mt. Engadine Lodge and the Spray Lakes Road. It's not as scenic an outing or as busy, but if you want to try something different, it's well worth doing.
The Hogarth Lakes Snowshoe Loop is just across the road from the Chester Lake parking lot. It's ideal if you only have a few hours and you're looking for something easy and family friendly.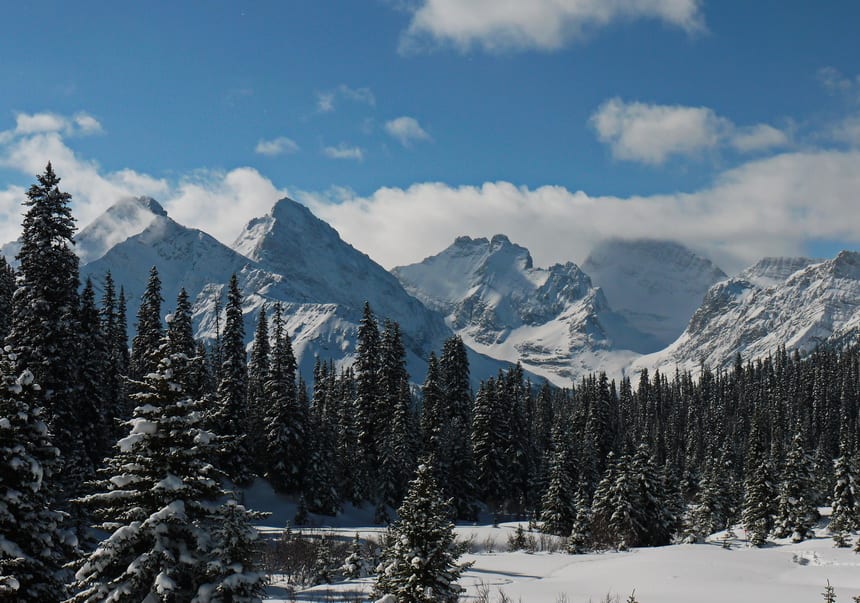 Snowshoe to Rawson Lake in Kananaskis Country
Start the snowshoe trip up to Rawson Lake from the far end of the Upper Kananaskis Lakes parking lot. The first kilometre is a snap – almost all flat with some very lovely views over the lake.
The 300 m climb starts shortly after you go over a small bridge at the Sarrail Waterfall. It will get your heart pumping! The trail takes you through a forest made up largely of spruce trees. When it starts to moderate the lake isn't far off. All told it's an 8 km round trip outing. You'll find the descent on snowshoes to be very speedy.
Note: Don't go to the far end of the lake because of avalanche danger.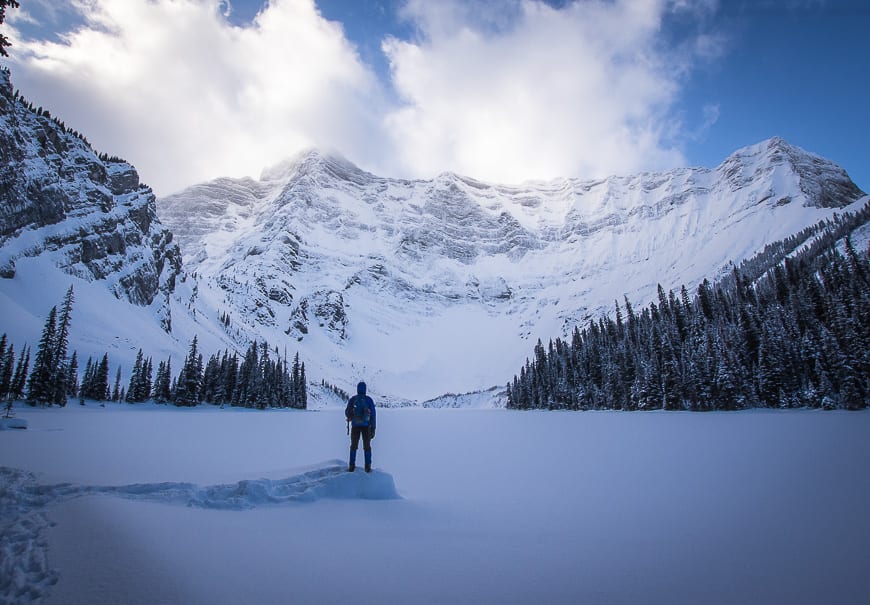 More reading on where to go snowshoeing
There's a 2nd edition out of the popular book – Snowshoeing in the Canadian Rockies by Andrew Nugara.
What to take snowshoeing
For clothing start with merino wool base layers for warmth and because no matter how much you sweat you won't stink.
Add a fleece, preferably with wind-proof qualities like the ones made by Arc'teryx. If it's a bitterly cold day I throw on a down vest and almost every company of note make lightweight ones across a range of price points.
If it's not too cold I'll just wear a shell on top and on the bottom – no matter what the temperature. In the winter I ALWAYS bring a heavier down jacket in case the weather turns or I get injured. I invested in an expensive super warm Arc'teryx jacket about five years ago. When the zipper went they replaced it with a new one, no questions asked.
On my hands I carry lightweight liner gloves along with a high quality mitt. On my feet I wear merino wool socks and then a pair of boots. Sorels or boots like these are a great choice as they keep you very warm on the coldest of days. Don't forget a neck warmer or buff and a hat.
You should always go well prepared in winter so take a thermos of something hot to drink, several energy bars, nuts, hand warmers and a lightweight seating pad to insulate you from the cold. Always carry a small first aid kit, fire starter and a lighter as well as a knife and a headlamp. Don't forget sunglasses and sunscreen. I take ski goggles if it's going to be snowing hard.
I have a couple of pairs of snowshoes – including a pair made by Tubbs and a pair by Atlas that are lightweight but good in deep snow. Both are good names.
It's an investment to buy good gear but 10 years from now many of the pieces you buy today will still be around. Now go have fun snowshoeing.
Click on the photo to bookmark to your Pinterest boards.