With more darkness than daylight and my energy levels falling precipitously in December, I know it's time for some fresh air, mountain scenery and a dose of happy hormones. Cue a half day of snowshoeing at Grouse Mountain in North Vancouver to make me feel happy and alive again.
Snowshoeing at Grouse Mountain is something everyone can do. You can get snowshoe rentals and even snow pants and jackets from the Outpost Rental Shop, should you be visiting from afar. Its perfect for families – though everyone will benefit from a dose of nature and fresh air.
This post includes some affiliate links. If you make a qualifying purchase through one of these links, I will receive a small percentage of the sale at no extra cost to you. Thank you very much for your support.
It's busy in December at the top of Grouse Mountain
The top of Grouse Mountain can be a zoo in December – but in a good way. There are families galore skiing, skating, sledding, checking out the reindeer and some of them are even snowshoeing at Grouse Mountain.
If it's a weekend it's best to head to Grouse Mountain first thing in the morning before the crowds form. Getting to the starting point via the Skyride does not come cheaply. For adults it's $75.00 in 2023-2024 which is a lot if you're only planning to snowshoe.
If you're a local you can buy a yearly pass which is much less expensive depending on the benefits you want.
Note that for day passes pricing varies depending on whether it's a holiday or a weekends – or whether it's going to be busy. The Christmas holidays tend to be expensive!
If you don't have snowshoes you can rent them at the Fireside Hut beside the skating pond. It will cost you $20 for a full day or $15 for two hours. Strap them on and off you go. The trails start right beside the skating pond.
A choice of trails for snowshoeing at Grouse Mountain
If you're new to snowshoeing or you just want a quick dose of mountain air then take an easy stroll on the Blue Grouse Loop – a green marked trail.
My preference is to get away from the crowds when I'm snowshoeing on Grouse Mountain. To do that I opt for a three mile loop that climbs Dam Mountain and heads out along Thunderbird Ridge. This choice gets the heart pounding and the blood pumping. Best of all, the views are fantastic.
I was pleasantly surprised at how great the conditions were for early December – but that will vary greatly from year to year.
Snowshoeing to Dam Mountain
The snowshoe trail up Dam Mountain is very steep in places. I like to bring ski poles with me to make it a tad easier both going up and coming down. That way it's more of a full body workout too. Despite the proximity to the top of Grouse Mountain I still take a backpack with some extra clothes, a flashlight and a few bars. Just in case.
You can register before you climb up to Dam Mountain which I think is a very good idea, especially under stormy conditions or when you're by yourself. Just don't forget to drop in the slip of paper when you pass by at the end so parks people know you're safe.
It only took me about 45 minutes to reach the top of Dam Mountain – and that was with plenty of stops to take pictures. Some families were struggling on the steep pitches so definitely allow more time.
From the top of Dam Mountain the views are sublime. You can see the back ranges and the whole of the lower mainland plus Washington State.
Descend the way you came (steeply at times) or head off over the top of Dam Mountain.
Then you can walk out the ridge and do a big loop that adds more mileage. It's not hard but it will take longer to return this way and after a snowfall you may find yourself breaking trail.
After a few short hours out on snowshoes I felt infinitely better. The combination of exercise and fresh air in December goes a long way to keeping me happy.
More Grouse Mountain facts
The Skyride starts at 8:45 AM during the week and at 8:15 AM on the weekend.
Parking is $4 all day in the lower parking lot but free on the street. You must park on the west side of the street or you will be ticketed.
There are coffee bars, cafes and fancy restaurants at the top. There is a Starbucks at the bottom of Grouse Mountain.
You can rent winter clothing.
You can buy your Skyride tickets online.
Where to stay in North Vancouver
There are a couple of top-notch hotels in the Shipyard District at the bottom of Lower Lonsdale – both offering superb views of Burrard Inlet and Stanley Park.
I's recommend the Seaside Hotel North Vancouver.
Another great option is the Pinnacle Hotel at the Pier. The sunsets from the rooms are amazing!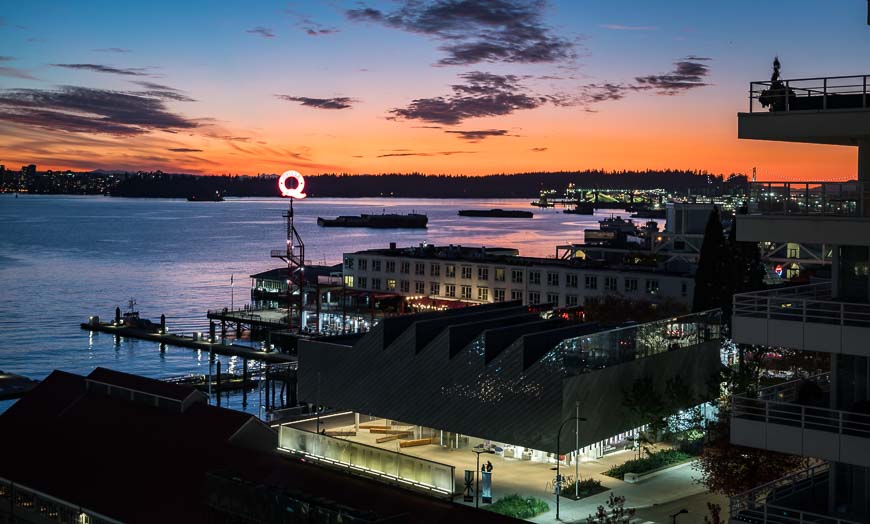 Further reading on things to do in and near Vancouver
Click on the photo to bookmark to your Pinterest boards.