The Troll Falls hike is a standout as a year-round family-friendly outing. If you want to do more than an out and back hike, you can now take a scenic side trail to Marmot Falls and Upper Troll Falls – which I'd highly recommend you do. The hike is especially lovely in winter when the waterfalls becomes icefalls. The other option is to add in the Hay Meadow Loop hike which is a great addition on the way back to the parking lot if you want to see golden eagles during their spring and fall migration.
You can do the Troll Falls hike on foot, snowshoes, or even by fat tire bike which you can rent from Kananaskis Outfitters. You could also do the short spur to the falls either before of after skiing to Skogan Pass – a cross-country ski outing I highly recommend.
This post includes some affiliate links. If you make a qualifying purchase through one of these links, I may receive a small percentage of the sale at no extra cost to you. Thank you for your support.
Troll Falls hike summary
It's getting very busy at the Troll Falls parking lot, particularly on weekends. Go early or late in the day so you can get a parking spot. Or park up by the Pomeroy Kananaskis Lodge in Kananaskis Village and take a longer hike via the network of trails that leads to the falls.
Be sure to purchase your Kananaskis Conservation Pass before you hike to Troll Falls.
It's only a 3.4 km round-trip hike, climbing just 30 metres (98 feet) to end at Troll Falls. (Note that some blogs suggest as much as 155 m or 508 feet to the main Troll Falls but that's grossly inaccurate.)
It's approximately 0.9 km return with 70 m (230 feet) of elevation gain if you continue on the beautiful trail to Upper Troll Falls.
I'd rate the hike to Troll Falls and Upper Troll Falls as easy.
Allow 60 – 90 minutes for the return hike including Upper Troll Falls if you're fast. If you've got young kids with you add another 30 – 60 minutes.
Check Alberta Parks trail reports before you go.
The Troll Falls hike can be done at any time of the year. Winter is always beautiful but the upper falls in spring are an incredible sight to behold.
Dogs are permitted on a leash.
If you would like a paper map the Gem Trek Canmore and Kananaskis Village is the one to get.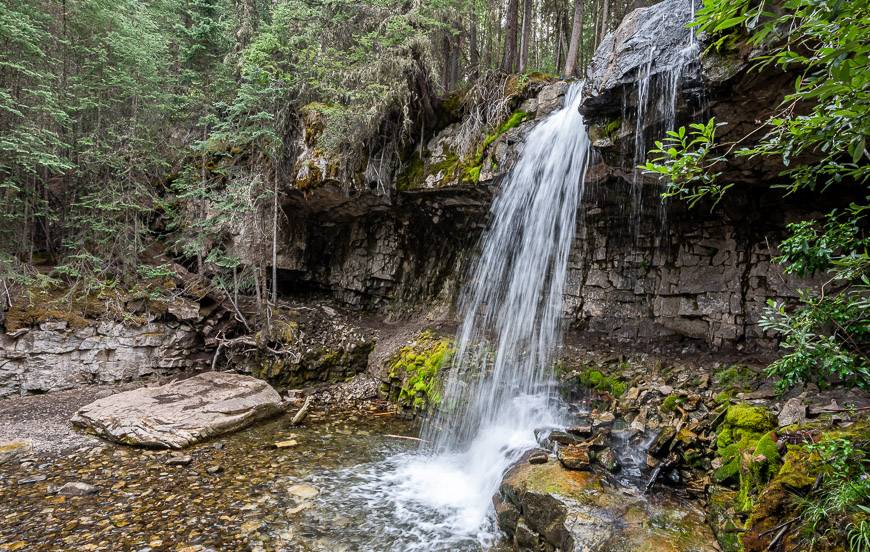 Where is the trailhead?
The hike is easily accessible from Calgary via a one-hour drive.
Take Highway 40 South from the Trans-Canada Highway to the Kananaskis Village turnoff, also called Mt. Allan Drive. Follow the road past the first junction and then turn right into the Stoney Trail parking lot. If you've reached Nakiska Ski Resort you've gone too far. There is signage pointing to the trailhead. Note that there is no parking along the road and the parking lot fills quickly.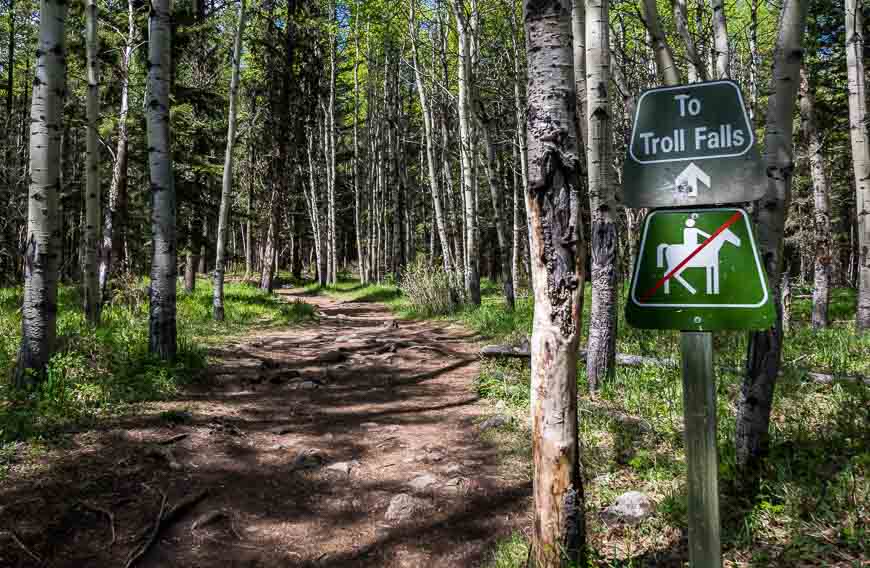 Troll Falls hike location map
Troll Falls hike route description
The trip to the falls is a perennial favourite. Despite the short distance there's quite a lot of variety in the terrain – and the trail is easy to find even with the web of trails in the area.
Start the Troll Falls hike at the Stoney Trailhead near the outhouse. Head up the signed trail on an easy grade to reach a section through dense evergreen forest. Once you've dispatched with that, you'll reach a scenic open area filled with aspens. From there, check the map at the intersection. You'll next head along a narrow trail that hugs the left bank of Marmot Creek. You can't miss the sight of the debris left over from the 2013 floods.
You're practically on top of Troll Falls before you get a really good view. Microspikes used to come in handy because you could explore around the icefall. Now, you get the sanitized, safe version which is fine but not as much fun. If you like to play on ice, I highly recommend one of the three ice walks in Alberta. Jura Creek also has a short section that is fun for kids.
Shop: These are the icers I like the best – and have been using for some time. They never fall of and would be handy if you continue to Upper Troll Falls.
It will take fast hikers about an hour to do the return hike. Families with young kids might need a couple of hours especially if you want to play along the way or if you do the return loop via the Hay Meadow trail along the Kananaskis River. If you include Upper Troll Falls, add another 30 – 60 minutes.
Retrace your steps to return to the Stoney Trail parking lot. The hike to Troll Falls can be done in any season but I personally think it's best in winter. However, the hike to Upper Troll Falls in summer is also pretty sweet.
Loop option to Troll Falls and back via Hay Meadow
On a recent hike to Troll Falls, we opted to do a 4 km loop – heading up to Troll Falls first on the main trail but returning via the Hay Meadow Trail. There are maps at every intersection so you can figure out the way. If you don't see Hay Meadow marked, look for the trail heading under the powerline at the first intersection you reach on the way back to the car after visiting the falls. (It is east or on your left as you're heading back to the trailhead.) It takes you to the Hay Meadow Trail that starts off in open woods but ends up beside the Kananaskis River.
The 1.5 km Hay Meadow trail takes you right back to the parking lot.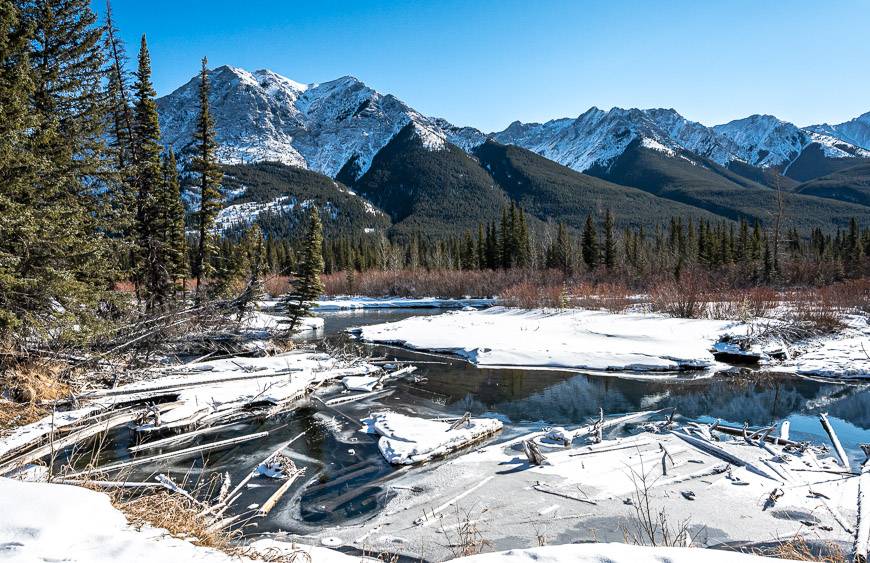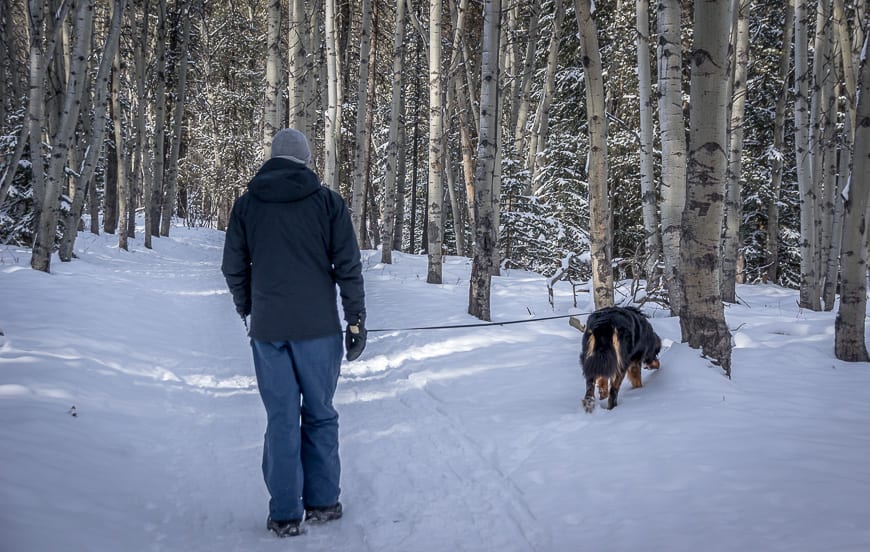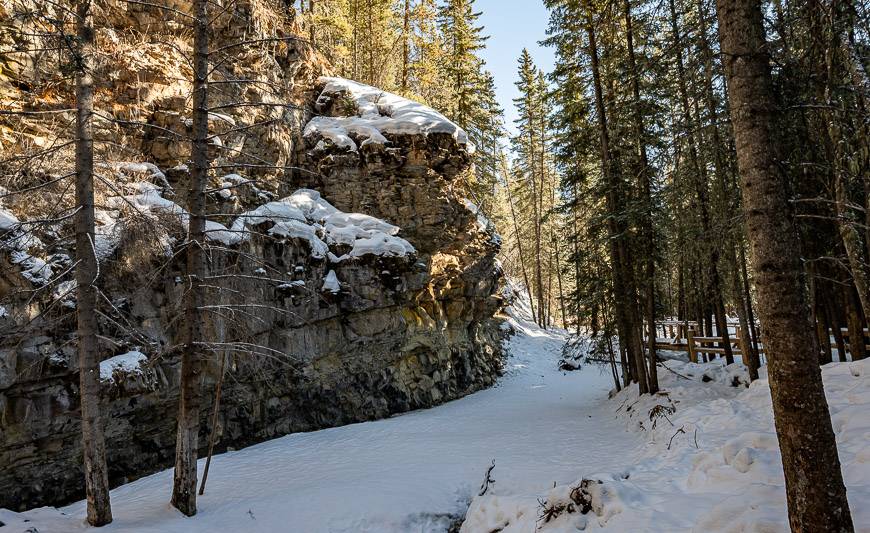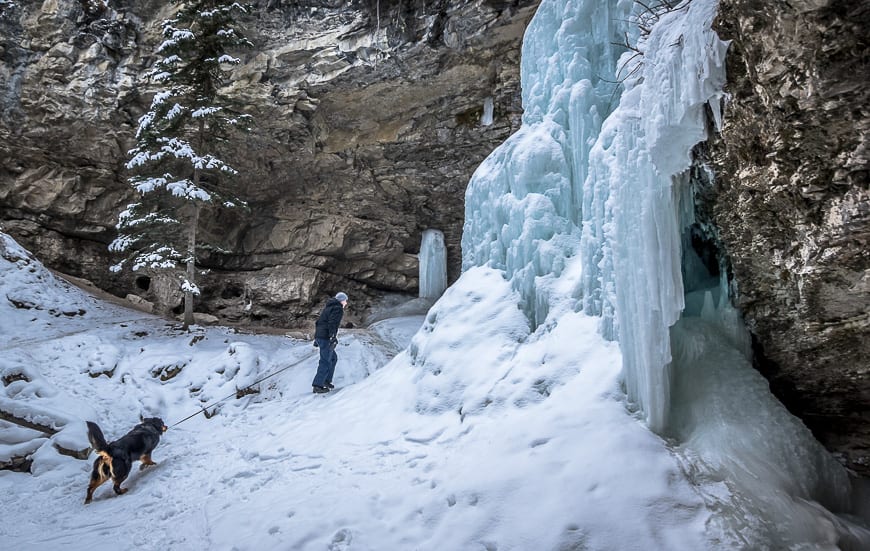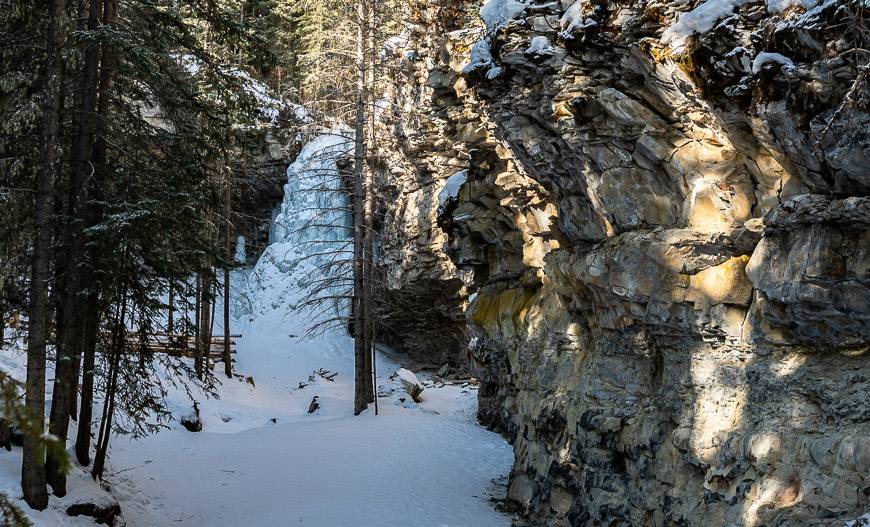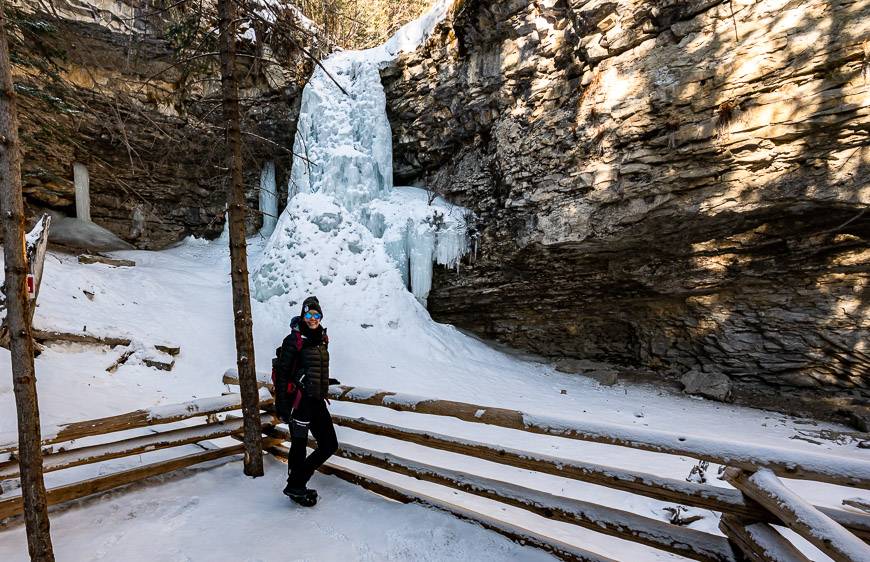 The Marmot Falls – Upper Troll Falls trail
There is a signed side trail to Upper Troll Falls before you reach Troll Falls. Alternatively visit Troll Falls and then take a side trail across the bridge to meet up with the trail to Upper Troll Falls. Note that the trail to Upper Troll Falls gets closed when there are icy conditions in winter.
It's an additional 0.9 km return to visit Marmot Falls and Upper Troll Falls. Elevation gain is minimal – about 70 m (230 feet). Be sure to exercise caution anywhere near any of the falls.
After a short but stiff climb on the Upper Troll Falls trail you reach Marmot Falls. It's fun to go in behind the falls but don't slip! Continue on the trail to Upper Troll Falls as it parallels Marmot Creek. This pretty section features a series of small cascading waterfalls – not what I expected the first time I did the hike. There are lots of stops you'll want to make on the way up, especially if you're a photographer. In summer, the upper falls are a great destination for a picnic.
Allow between 20 – 40 minutes for the return hike to the upper falls.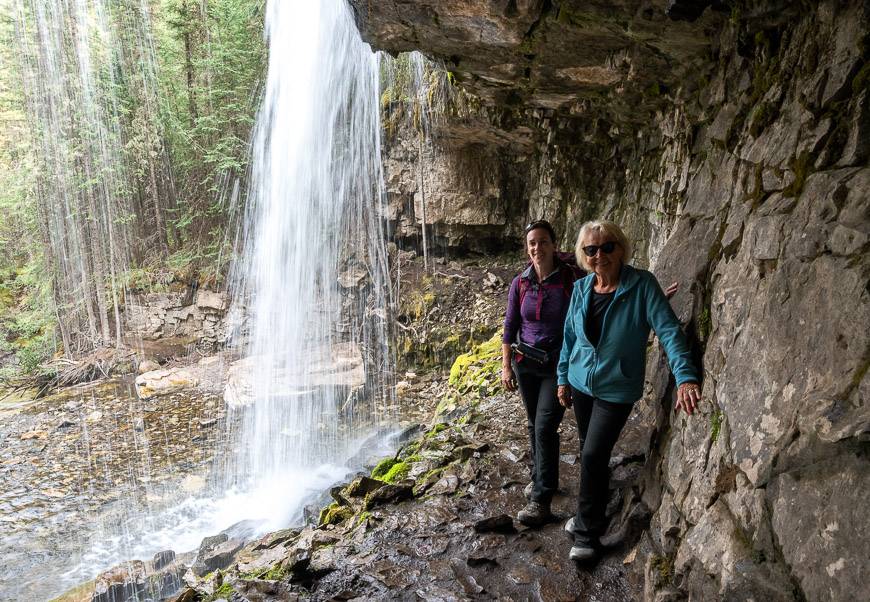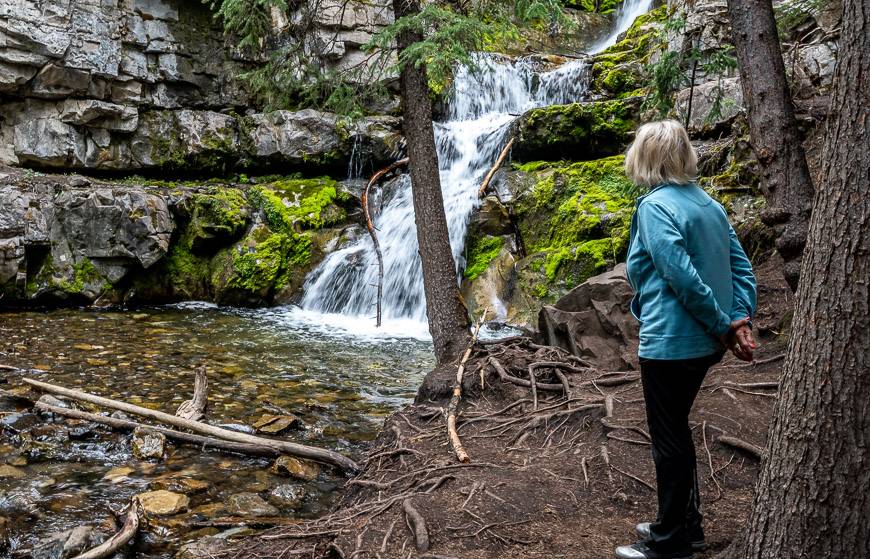 Look for raptors on the Hay Meadow Trail hike
I had no idea when we started back to the car on the Hay Meadow Trail that we would run into volunteers counting raptors. There is a great spot halfway along the trail beside the Kananaskis River that is ideal, as it offers 360 degree views. To the east you can look for raptors soaring over Mount Kidd in Spray Valley Provincial Park and Mount Allan along with other mountains in Bow Valley Wildland Provincial Park. To the west, you might see them soaring over Wasootch Ridge.
Volunteers sign up for a full day. They bring in spotting scopes, warm clothes, drinks and a lunch – and count birds rain, shine or snow. The ones we met said the sunny days might be nicer for them from the comfort level, but you don't tend to see as many raptors.
If you hike the Hay Meadow Trail, particularly during the spring and fall migration, don't hesitate to speak to these volunteers. They are a wealth of information – and at the very least can point you to any raptors flying high on the thermals.
I highly recommend the loop instead of an up and back on the Troll Falls trail as its prettier and its fun and educational to look for raptors.
Accommodation options near Troll Falls
There are a couple of places to stay nearby. The Kananaskis Wilderness Hostel is a great choice if you're looking for something affordable.
But if you want to splurge – and perhaps visit the Kananaskis Spa as well, choose Kananaskis Mountain Lodge.
In the summer you can stay in tipis and trappers tents at nearby Sundance Lodges.
If you're into car camping in Kananaskis read A Complete Guide to Camping in Kananaskis.
Other hikes in Alberta's Kananaskis Country you might enjoy
Click on the photo to bookmark to your Pinterest board.