My inspiration for doing the Porcupine Ridge hike came from a post I saw on Instagram in early May – a time when most Alberta hikers are chomping at the bit to get into the mountains. The photo showed a little snow up high, but most had melted because of the south facing exposure.
Fast forward three weeks, and John and I did the hike. The Porcupine Ridge hike is a challenging one – but a rewarding one with truly exceptional views after you break through the trees, about an hour into the hike.
The trail is better than I expected and darned obvious for most of its length. It runs parallel to the Wasootch Ridge Trail – which is very popular as a spring hike. From Porcupine Ridge, you can also see Boundary Ridge, the west ridge of Midnight Peak (accessed from the Baldy Pass trail) and Tiara Peak.
If you're hiking early in the season, be sure to take warm clothes as its windy on the ridge. Icers or microspikes would be a good idea if there was snow around. The same goes for gaiters. This is a fabulous hike that will help get you in shape for the hiking season.
This post includes some affiliate links. If you make a qualifying purchase through one of these links, I will receive a small percentage of the sale at no extra cost to you. Thank you very much for your support.
Porcupine Ridge hike summary
Distance: Approximately 9.2 km (5.7 miles) return to the high point on the hike.
Elevation gain: 713 metres or 2,340 feet
Time needed: 4.5 – 6 hours for the full out and back hike.
Level of difficulty: Hard – yet it's a popular hike. It's not a family-friendly hike as its steep in places with some minor exposure. It would be best for older kids who have done some scrambling.
High point of the Porcupine Ridge hike: 2,218 m or 6,950 feet
Best time to do the out and back hike: May to September
Dogs: Permitted on a leash. Water is available in Porcupine Creek at the start and end of the Porcupine Ridge hike.
Permits: Purchase a Kananaskis Conservation Pass before you begin the hike. You can do it online or at the Barrier Lake Ranger Station.
Map: Gem Trek Canmore & Kananaskis Village or Organic Maps if you want an offline hiking app.
Dogs: Permitted on a leash.
Bears: The chances of seeing a bear is low, but I would still recommend carrying easy to access bear spray.
Don't forget: Always take the 10 hiking essentials.
Trail report: The Porcupine Ridge hike is on an unofficial trail so there is probably not a formal trail report. Stop in at the Kananaskis Visitor Information Centre if you want an up to date report.
Porcupine Ridge hike description
I had read several Porcupine Ridge hike descriptions, but I was always left confused. I hope I'm clear in my directions.
The description assumes a start at the unofficial parking lot (see directions at the bottom of the post) beside Highway 40 where it meets Porcupine Creek. Hike southeast up Porcupine Creek on a well-defined trail for 1.2 km to reach a bridge. The connector trail from the Wasootch Day Use Area ends at the bridge you meet coming in from the highway.
From here you are going to go back and forth across Porcupine Creek – perhaps four of five times, depending on water levels, until you come to a fork and two branches of Porcupine Creek.
There is no right or wrong place to cross the creek. Sometimes there are logs bunched together, and at other times you'll have to rock hop, but its all very straightforward. You might also pass some people climbing on the cliffs.
You might want to have a dry pair of hiking socks in case you get a soaker. If water levels are high, consider taking water shoes or even a lightweight pair of crocs for the crossings. Hiking poles really help for balance.
At the location where the two creeks meet (as shown on the Gem Trek map), you will notice a faint trail straight ahead, that climbs steeply up in a general southeast direction. That's the one you want – and that is where the hard work and climbing starts.
About an hour from the trailhead, you'll emerge from the trees. At that point the grade eases slightly and the views explode. Be sure to look back to see the mountain peaks including "Mary Barclay's Mountain" and Mount Lorette.
Work you way up to the next high point on the ridge. The trail is good up to here. There is a short side trail where you can enjoy a great view and have a look at a memorial bearing a cross and golf club.
The next section will have some people turning around BUT don't. There is one scramble up a slab but it's short. You may need someone to give you a boost to get up.
Once on top of this, look for another well-defined path along the ridge. It looks scarier in photos than it really is.
From the end of it – which only takes about 5 minutes to walk, you'll see the way forward to the real summit ridge. However, if you have a huge fear of exposure, you will not like this section.
After descending off this short section of ridge, head left around the big nob of rock in front of you. Continue up through the woods, to reach a flatter area. At this point there are two ways to the top.
Most people head up the rocky boulders and stop short of a slab with some exposure you must climb. Others go round the rock at the bottom – and I am told the route to the real summit is easier this way BUT the descent isn't fun. In that case, you'll need to do a loop and come down the slab (see photo with hiker downclimbing).
I went up the boulder route and stopped short of the climb up the slab to the very top. That seemed to be what most people were doing – so do what feels comfortable to you.
From there, retrace your steps on the Porcupine Ridge hike, enjoying the superlative views on the way down. Below are photos that will give you a good idea of what the Porcupine Ridge hike is really like.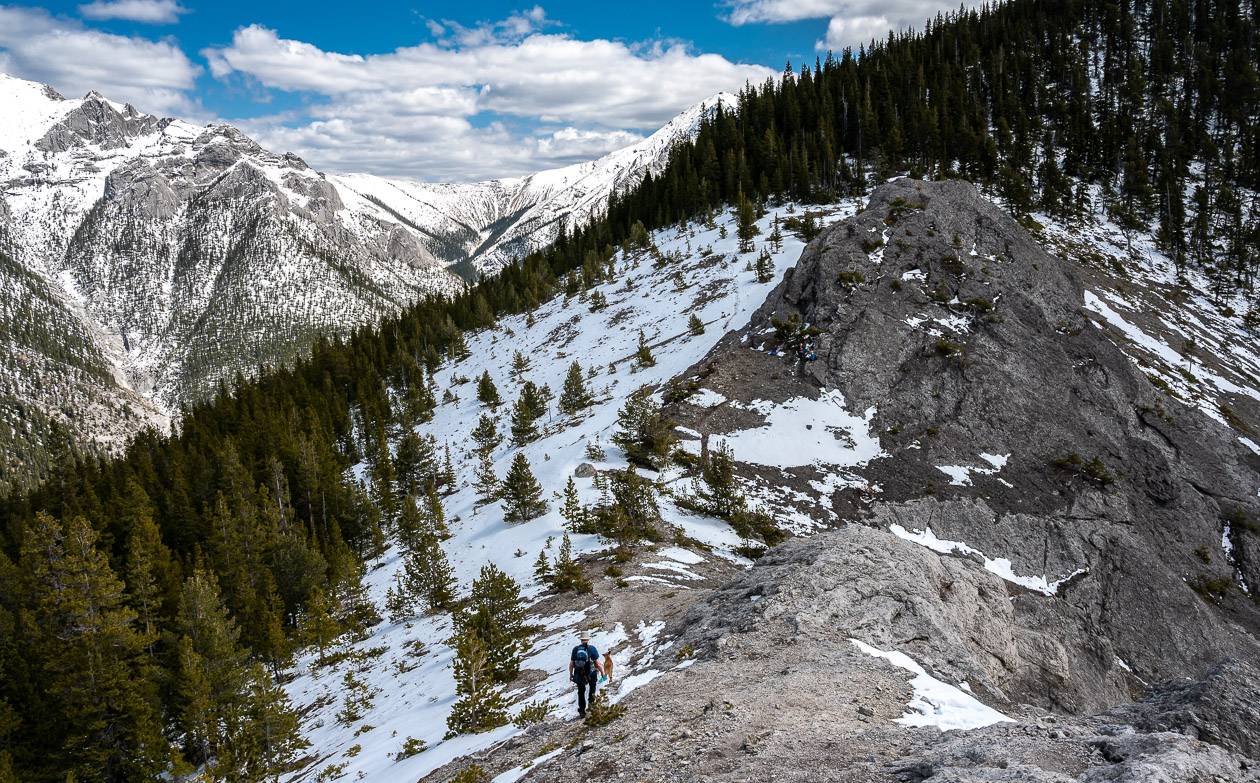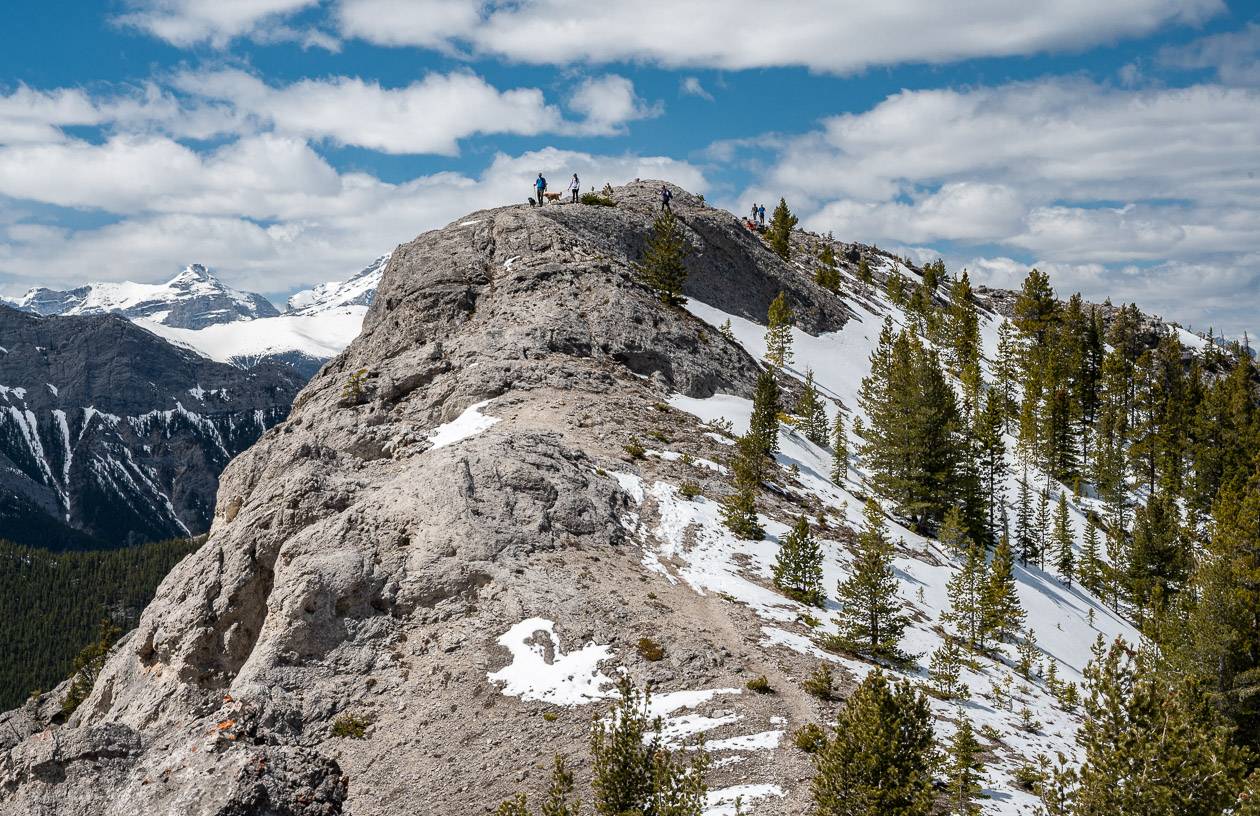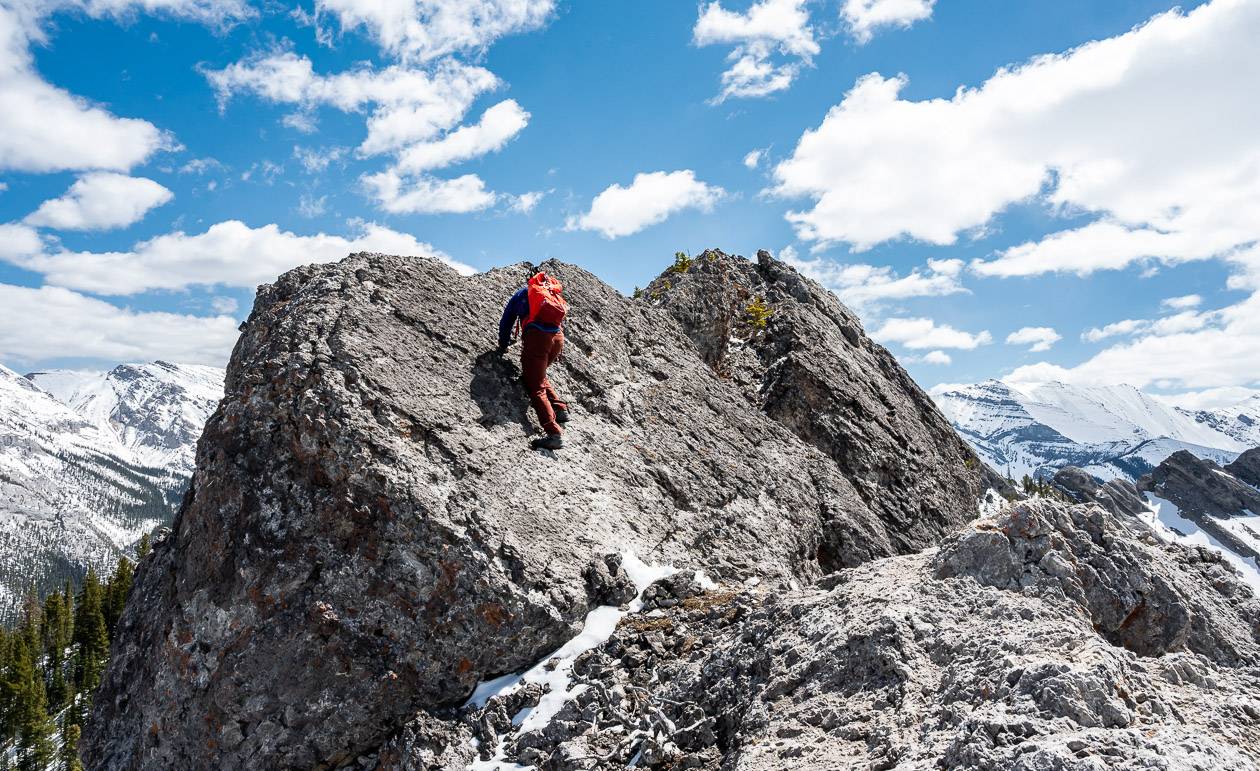 Finding parking for the Porcupine Ridge hike
There are a couple of options when it comes to parking. The easiest thing to do is to drive south on Highway 40 for 16.5 kilometres from the Trans-Canada Highway to reach Porcupine Creek. There is a large parking area BUT it is off the highway in a semi-developed area.
There is a dirt road, and you can park along it. It can feel steep dropping down to reach the parking area, so some people pull over and park on the west side of the highway.
It can also be dangerous to make the left hand turn – so the other option is to drive to the Wasootch Day Use Area, turn around and then drive north to Porcupine Creek.
The other option is to park at Wasootch Creek Day Use Area and hike the connector trail to Porcupine Creek. The downside is that it will add to your overall mileage for the day.
Where to stay near the trailhead
There are a couple of places to stay near the trailhead. The Kananaskis Wilderness Hostel is a great choice if you're looking for something affordable.
If you want to splurge – and perhaps visit the Nordic Spa as well, choose Kananaskis Mountain Lodge.
Another excellent option near the entrance to Kananaskis Village are the tipis and trapper's tents found at Sundance by Basecamp.
Anyone that is into car camping might want to read A Complete Guide to Camping in Kananaskis.
Location map for the Porcupine Ridge hike
Click on the three dots in the top right hand corner to email a copy of the map to yourself.
More reading on Kananaskis hikes you might like
Click on the photo to bookmark to your Pinterest boards.