The Wasootch Ridge Trail in Elbow Sheep Wildland Provincial Park (part of Kananaskis Country) is a great early season hike. I decided to go for it one weekend in early May after seeing photos on Instagram. You can often see in real time the condition of hikes you want to do – and get ideas for future ones, especially if you're following local people.
While I've never met Don @mcc617, I know he spends a lot of time hiking in Kananaskis Country, often on ridges and peaks I've never heard of. A photo of Wasootch Ridge popped up in his feed and I knew I had to hike it.
I did the ridge hike in mid-May in a year where the snow disappeared quickly. That's going to vary from year to year so use some common-sense if you want to do this hike in May. Not comfortable hiking on snow? Wait a few weeks and it will be gone. I always recommend microspikes and poles for early season hikes.
Be sure to purchase a Kananaskis Conservation pass before starting the hike.
This post includes some affiliate links. If you make a qualifying purchase through one of these links, I will receive a small percentage of the sale at no extra cost to you. Thank you for your support.
Wasootch Ridge location is across from Nakiska Ski Resort
Wasootch Ridge turned out to be a great choice. For starters the trailhead is only about an hour's drive from downtown Calgary. And it's a hike that delivers views within 20 minutes of hitting the trail.
The ridge is a popular one on the weekend (we saw at least 50 people) so for those of you nervous of bears, it would be a good choice. But no matter where you go in the mountains always carry bear spray – and have it readily accessible.
This is an unofficial trail
This trail like many in Kananaskis Country is labeled an unofficial trail meaning there are no signs (even at the trailhead) and no markers along its length. Most unofficial trails are still well-traveled and generally easy to follow. A good map and notes from guidebooks or websites also comes in handy.
Wasootch Ridge is a lumpy walk with lots of up and down, even after you've gained the main ridge line. That's part of what makes the hike so interesting.
Wasootch Ridge trail details
Round trip distance: 11 km (6.8 miles)
Elevation gain: 1010 m (3315 feet)
Difficulty: Moderate
Time needed: 4 – 6 hours
Elevation of cairn at the end: 2130 m (6986 feet)
Map: Gem Trek Canmore & Kananaskis Village
Description of the Wasootch Ridge hike
The hike starts off steeply on a trail full of small pebbles and stones – the kind that lead to skidding, ankle twisting falls on the descent. But going up is fine, especially so once you get into a rhythm with your breathing.
The initial steep part lasts for the better part of 20 minutes. When you pop out on the ridge the views stretching from Nakiska Ski Resort over to Barrier Lake are quite stupendous.
The next bit of hiking is lovely; it's mostly in the woods and best of all its flat. But then there's a second rise to contend with – though it's not as steep as the initial section. Killer views will take your mind off your pounding heart, until you gain the ridge, and see how far off the main peak still looks.
Continue along the ridge, climbing up and then back down again about three times. There is one short section that requires your full attention on a ledge above a small cliff. You won't die if you fall here; it's actually a snap with lots of handholds, a tree branch and no shortage of places to plant your feet. You'll be through it in about 10 seconds.
There are a couple more uphill sections punctuated with short flatter sections with the last one being the longest. Arrive at a large open area marked with a cairn.
From the parking lot to this point it's 5.3 km with a vertical gain of 762 m (2,500 feet). This is one of the popular turn-around spots.
The other is the stubby knob with people on it in the photo below. Most people do not actually summit the peak located in the back right hand corner in the photo.
To go to the notch or not?
We stopped for lunch near the cairn and contemplated our options. It's another 1.6 kilometres to the true summit but from the cairn that distance can take anywhere from one to two hours depending on your hiking and navigation ability.
There's scrambling involved and if you don't choose your route wisely as described by Gillean Daffern in her book – Kananaskis Country Trail Guide look out. Here's what she says: "scramblers who continue along the ridge crest at this point nearly always come unglued at the notch." Take heed.
We elected to hike to the next knob and enjoy the views from there. We also hadn't brought enough water (big mistake on a hot day) so after enjoying the view it was simply a matter of retracing our steps, to the car. The downhill was fine though slow going on the pebbly steep sections. Some people might like poles here.
All told it took us five hours to do the return hike up the ridge with breaks.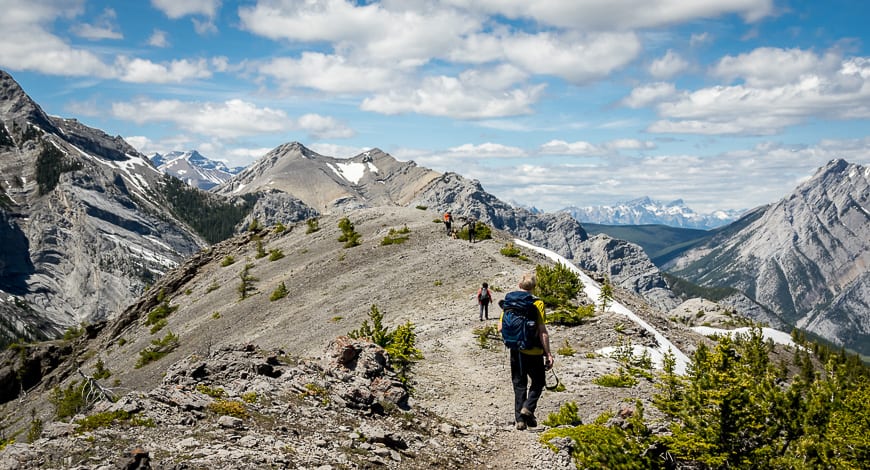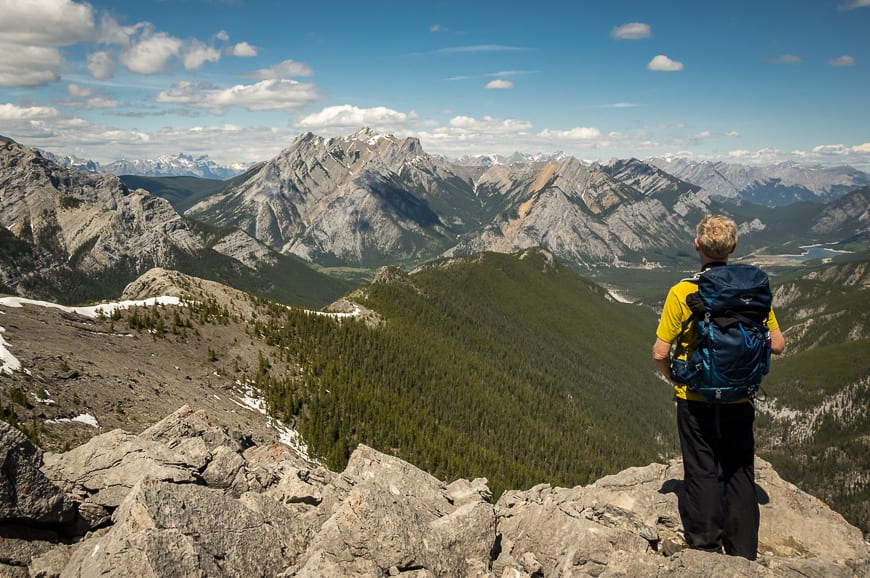 Wasootch Ridge Trailhead Location
From the Trans-Canada Highway follow Highway 40 south for 17 km. Turn left onto the road signed for Wasootch with a picnic table on the sign. Drive 0.7 km to the end of the road and park.
You'd think with a big parking lot and a large sign that finding the trailhead would be easy. But it's not and I know we weren't the only ones that headed off in the wrong direction initially.
Do not head up Wasootch Creek on the flat path. Look for the sign that says Wasootch Creek, A Change in Climate. Head off into the woods behind the sign looking for a picnic table. You'll see the trail heading up immediately behind the table.
Hiking Wasootch ridge with dogs
Dogs are allowed on the ridge but they must be on a leash. Fines are severe and no warnings are given. On this particular hike there isn't any water so carry lots for your dog. You can read about what you need to know to hike in the mountains in my piece in Avenue Magazine here.
Location map for Wasootch Ridge
Other Kananaskis hikes you might enjoy
Click on the photo to bookmark to Pinterest.