Great Bear Lodge, a top place for grizzly bear viewing in British Columbia, is accessed via a 30-minute float plane out of Port Hardy at the northern tip of Vancouver Island. You land on Smith Inlet, then maneuver up to a floating dock adjacent to the lodge smack dab in the middle of true Canadian wilderness.
Visit Great Bear Lodge if you want to be immersed in nature for days on end. And if you've never seen grizzly bears in the wild, this is definitely one of the prime spots in Canada to view them – safely.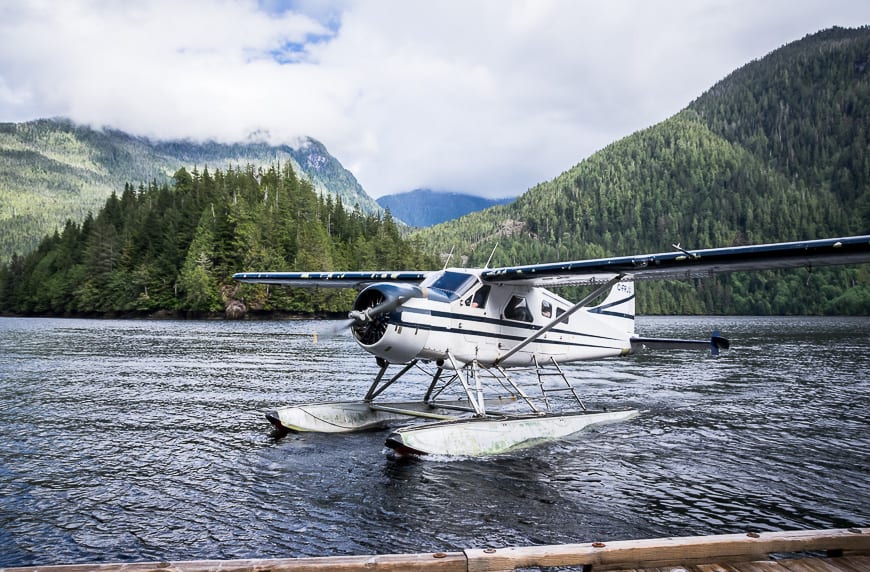 This post includes some affiliate links. If you make a qualifying purchase through one of these links, I will receive a small percentage of the sale at no extra cost to you. Thank you for your support.
How Great Bear Lodge got started
The remote lodge, owes its origin to Tom Rivest, a naturalist with a vision. In 1999 he first started receiving lodge guests while he lived in a tent.
The lodge has come a long way since then with staff now sleeping in rooms that guests once used, more owners including Marg Leehane who you'll meet on many of the trips – and a lodge that is luxurious by wilderness standards.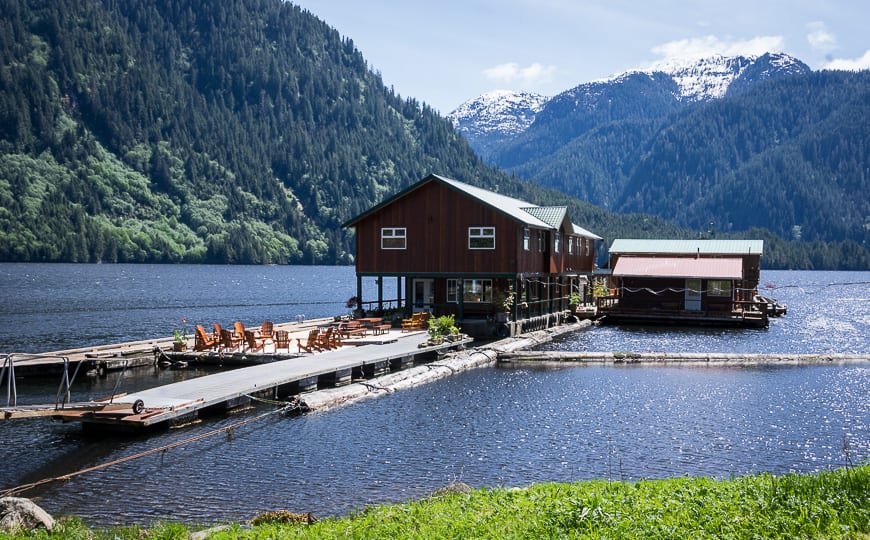 Amenities at Great Bear Lodge
The lodge is an attractive two story wooden building, floating on a quiet stretch of Smith Inlet, and attached to land via a gangway. (You can't leave the dock without being accompanied by a staff member.)
You won't find modern conveniences like phones, cell signals, TV's or internet. But with onsite hydroelectric and solar power you will enjoy hot showers, electrical lights, first-class food and cold beer and wine.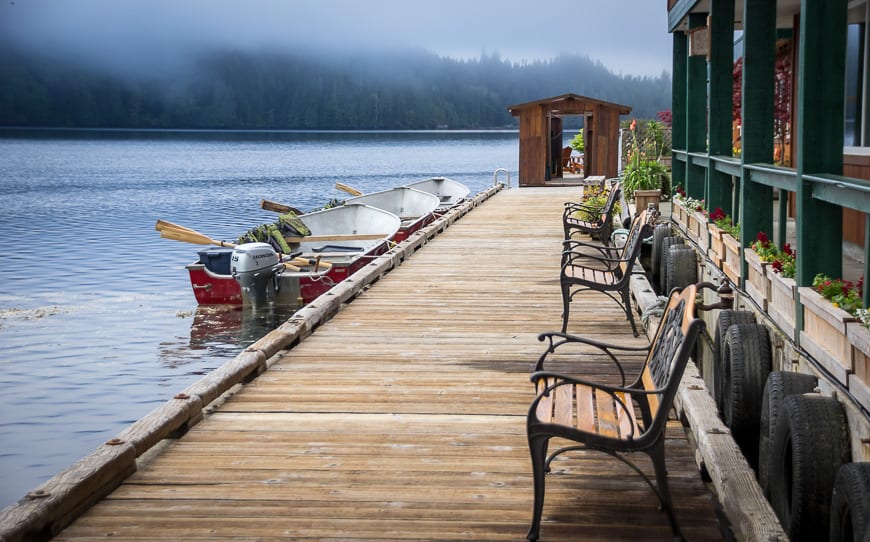 What are the rooms like at Great Bear Lodge?
The eco-friendly lodge is home to eight bedrooms upstairs, each named for a different species of bear. (I had no idea there were so many species.)
The rooms are spartan (you won't spend much time in them), featuring a king bed, a couple of bedside tables, a stand for hanging clothes and a small desk and chair. There's an ensuite bathroom with a shower – nothing fancy but remember where you are. Toiletries are provided.
You'll love the view out over Smith Inlet from your bed!
The downstairs area features a dining room, a seating area where you can peruse their extensive library on bears and nature and an open-air kitchen. It won't take you but a few minutes to ascertain the location of the wine and beer fridge, the coffee and tea as well as the homemade cookies.
The heated change room containing all the outdoor gear is also on this level. There's a big bulletin board – quite a brilliant addition – featuring everyone's name that is staying there as well as the names of all the staff. Outside there are loads of Adirondack chairs, a perfect place for enjoying your morning coffee or afternoon beer and watching the hummingbirds and swallows flit about.
A day in the life of a guest at the lodge
You are going to be busy unless you opt out of a couple of tours.
Within minutes of arriving you'll be shown around the lodge, provided with fresh cookies and then fitted for the warm, waterproof clothing you'll wear on all the tours. There's no wasting time so expect dinner at 5 PM sharp. That way there's time for an evening bear watching tour.
The food is excellent – wilderness gourmet with some truly memorable dishes offered like cedar planked salmon, seafood paella with local prawns and melt in your mouth lamb shanks. Every evening features a homemade focaccia bread that is divine; desserts too are mouthwatering.
Evening boat tours begin at 6 PM and return about 9:30 PM. Finish the day with wine, cheese and conversation.
Morning starts with a 7 AM wake-up call and breakfast is served 15 minutes later. I don't move that quickly so I definitely got up earlier. It was my favourite time of the day with everything so peaceful and calm on the water. Sitting out watching the birds with a coffee in hand was pretty close to bliss.
Breakfasts feature fruit salads and granola, either eggs or pancakes and freshly baked scones, muffins or toast.
By 8 AM you need to be dressed (it takes 10 minutes to suit up) and on the boat. Typically there are four to five people and a guide per boat – with a can of bear spray and a radio.
Every day follows a similar pattern though you might visit a different spot and where you go depends on the tides. Our visit was fortunately timed so that we were on rising tides when we were deep in the estuary. On route there are stops to see anything that might be of interest – whether it be birds, seals or even just a stunning reflection.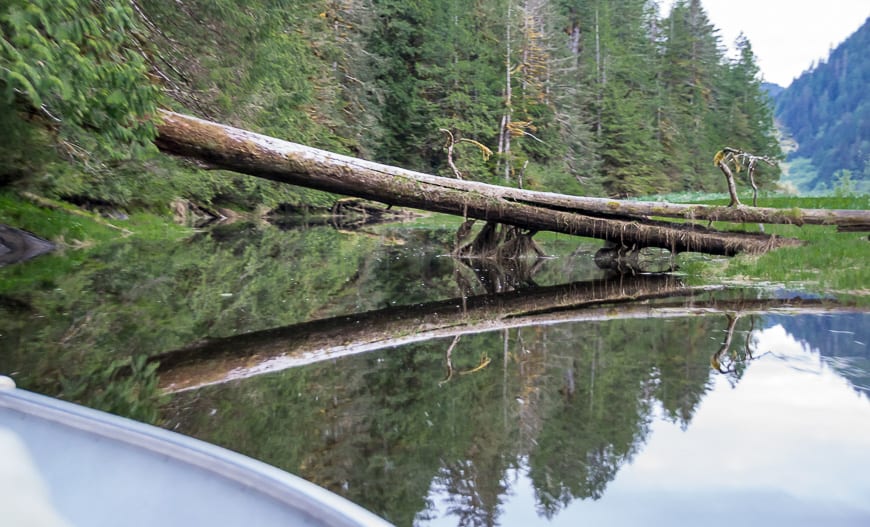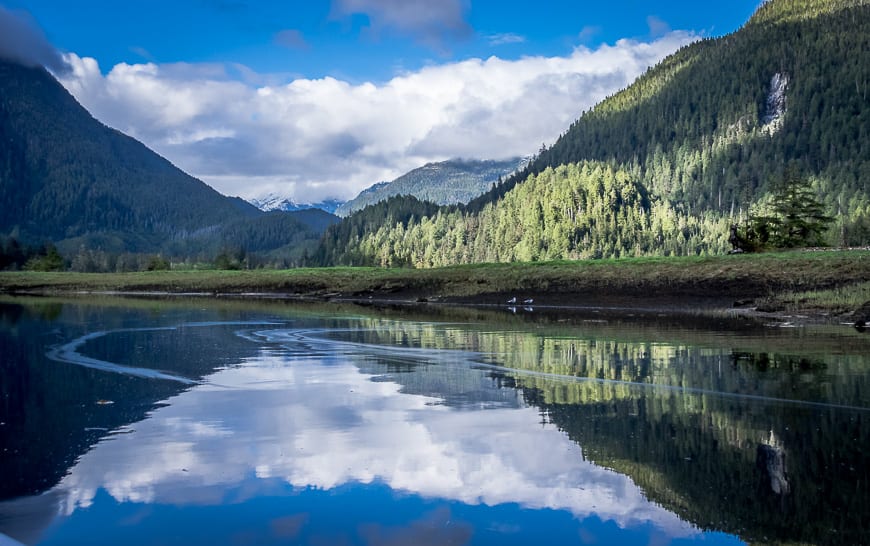 Lunch and afternoon plans at Great Bear Lodge
By 11:30 AM we were usually back at the lodge with a half hour to spare before lunch. It's amazing how hungry you can get with a pair of binoculars in your hands and fresh ocean breezes in your face.
Lunch too was always excellent with my favourite a quinoa salad with fresh vegetables and candied salmon. (The lodge sells a cookbook with the treasured recipes included.) Fresh baked cookies and fruit rounded out the meal. Alcohol is self-serve and included in the price of your trip so you can enjoy a glass of wine or a beer at any time.
After lunch another three hour tour is planned but this time on land. On one day we did a rainforest hike, on another a bus ride up a road the lodge built to the bear viewing blinds used in the fall and yet a third afternoon on the water checking out an entirely different section of Smith Inlet.
Wildlife viewing at Great Bear Lodge
While wildlife viewing is considered to be best in the evening I have to say I was blown away with the morning tours. On the tour up the estuary you stop to look for all types of animals and birds including seals, deer, eagles, ducks, waterfowl and of course grizzly and black bears – the reason you may have traveled halfway around the world in the first place.
The area near the lodge is also home to cougars, wolves, martens and mink as well as whales, otters and dolphins and many more bird species. If you're there in spring you might also see slime balls full of eggs that hatch into salamanders.
When you go bear viewing your patience may be tested – but also rewarded. And there are no guarantees you will see bears.
But we did on every occasion we went out viewing. The guides really understand bear behaviour – seemingly anticipating their movements before the bears even knew where they are going. On several occasions we were treated to an incredible display of affection (but no mating) between a massive male grizzly and a mature female grizzly.
Watching grizzlies play and interact is nothing short of magical!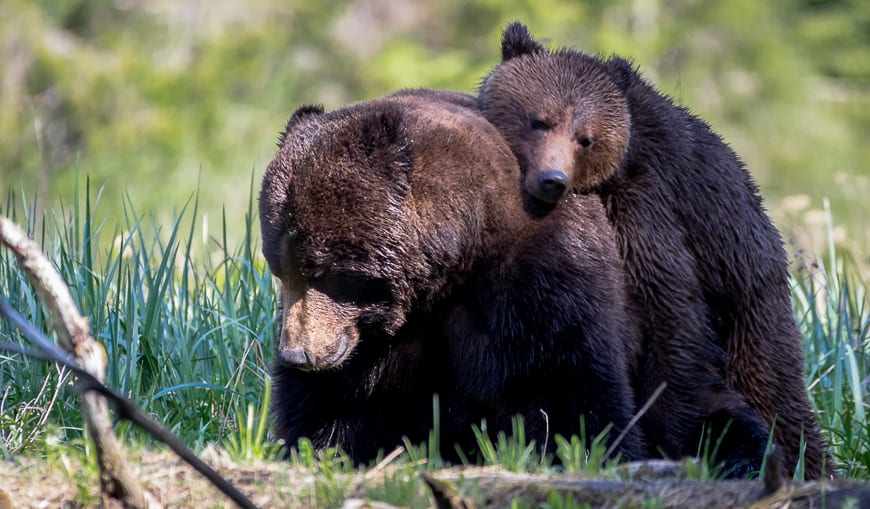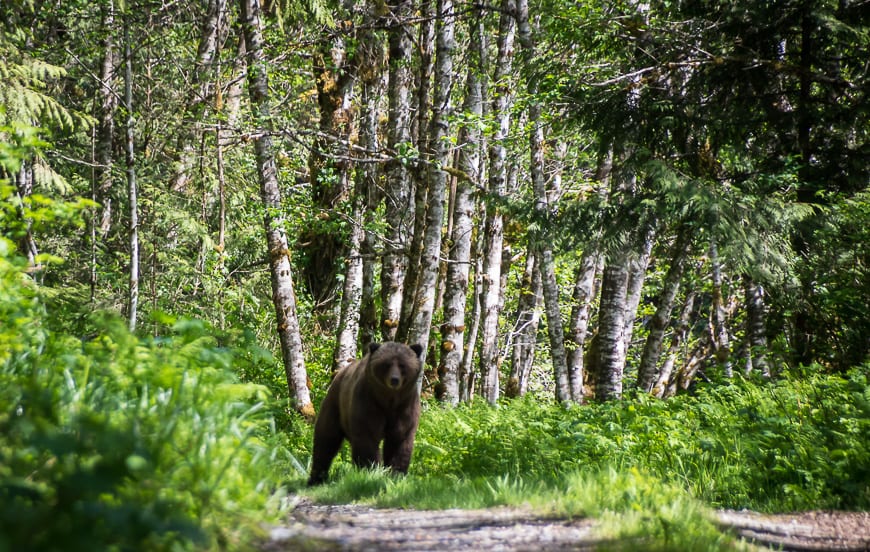 How to get to the wilderness lodge
Its great fun and a very scenic journey just getting to Great Bear Lodge. In spring and summer, fly in a Beaver float plane over huge swaths of untamed wilderness.
Sure there's the odd logging camp or fish farm showing up periodically outside your window but mostly its mile after mile of trees, islands, fjords – truly majestic country especially on a clear, sunny day.
Should you be visiting in the fall you'll be one of the lucky ones that flies in a Grumann Goose amphibious plane. We watched one come in – and quite an unusual sight it was.
What you need to know before you visit Great Bear Lodge
The lodge is informal. Leave your jewelry and fancy clothes behind. You need a few changes of clothes and underwear, a good book or two and a camera with a long lens.
If you visit in fall, bring a tripod.
Within an hour of landing at the lodge you will get decked out in a one piece "sleeping bag" which acts as your warm base layer. On top of that add completely waterproof overalls, a waterproof jacket, boots and a waterproof hat. You may not be styling but you will be warm. There are bins of neck warmers, fleece hats and gloves as well as waterproof gloves. You need only bring a very lightweight raincoat. Life jackets are provided too.
Everyone gets a pair of binoculars for their visit.
Lodge stays are typically three nights and four days and run around $Cdn 3700 in spring, $3150 in summer and $5130 from mid-August till October all in (2023 prices). Leave Port Hardy about 3 PM the first day and arrive back about 5 PM on the fourth day. There are week long options too. For information about rates and reservation visit their website – link below. All your heavy luggage can be safely stored in Port Hardy.
Location map of Great Bear Lodge in relation to Port Hardy
Where to stay before you look for grizzly bears
John and I stayed in an Ecoscape Cabin just outside of Port Hardy before the trip. I'd recommend the place but you do need a car. And it's easier just to park yourself at the cabin (bring food) so you can relax before going up to the lodge.
Other options include the Kwa'lilas Hotel – rated fabulous, the Port Hardy Cabins – 7 km outside of town and the Inn on Stephen's Bay, in nearby Coal Harbour.
For more information about the lodge visit their website.
Further reading on things to do in British Columbia
Click on the photo below to save to your Pinterest board.
Thank you to Great Bear Lodge for hosting my stay. It was a wonderful long weekend and I know my husband and friends equally enjoyed the wilderness setting and nature viewing experiences.