There is much I took for granted when I lived in British Columbia. Sometimes I think you have to see BC through the eyes of a visitor to appreciate what a magnificent province it is. One thing in particular that comes to mind is the beautiful ferry ride between Tsawwassen, located just south of Vancouver and the southern Gulf Islands. I think locals tend to complain about the wait times, the fact the ferries are often late and the prices. But when you have fresh eyes, you realize what a magnificent experience it really is.
The 90-minute ferry ride from Tsawwassen to the southern Gulf Islands and Swartz Bay takes you across the Strait of Georgia into US waters for I'm guessing, about 15 minutes (I didn't appreciate that until I looked at Google maps) before heading through Active Pass between Galiano and Mayne Island.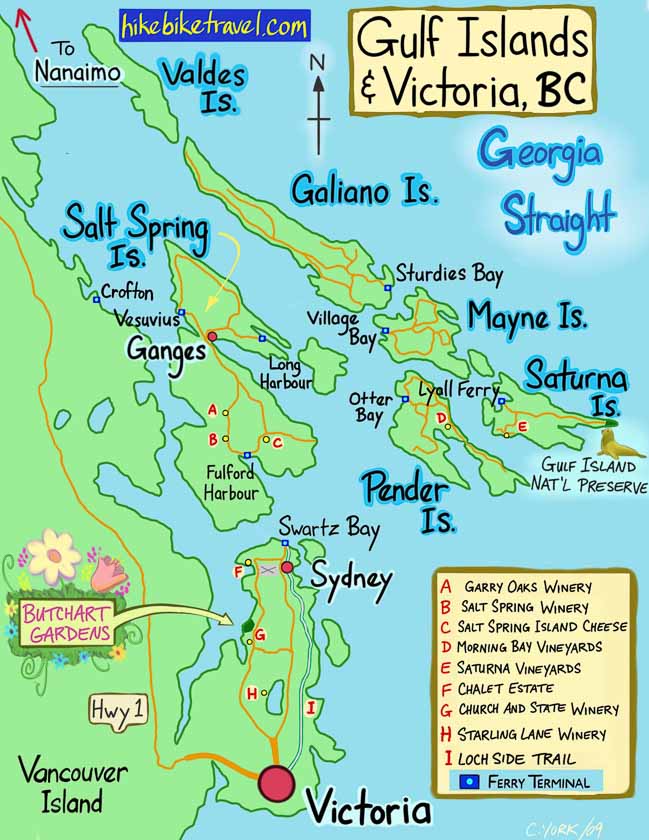 Look for wildlife on the ferry ride through the southern Gulf Islands
I'm always hopeful that I'll see whales or dolphins on the open water section on any BC ferries trip. On perhaps one out of ten trips that happens. The captain is usually kind enough to point out any sightings and some will slow the ferry down so you can get a better look. On really clear days you get gorgeous views of the Coast Mountains too.
Active Pass – and it's scary waters
Then you head through Active Pass – my favourite section of the BC ferry ride with its swirling whirlpools, currents, seals galore, and bird life.
This is an area known for its treacherous waters, and no place for sea kayakers. Pass by Galiano Island to the north and Mayne Island to the south. You'll see some lovely homes along the way along with the Active Pass Lighthouse. There is often much tooting of horns that happens through here.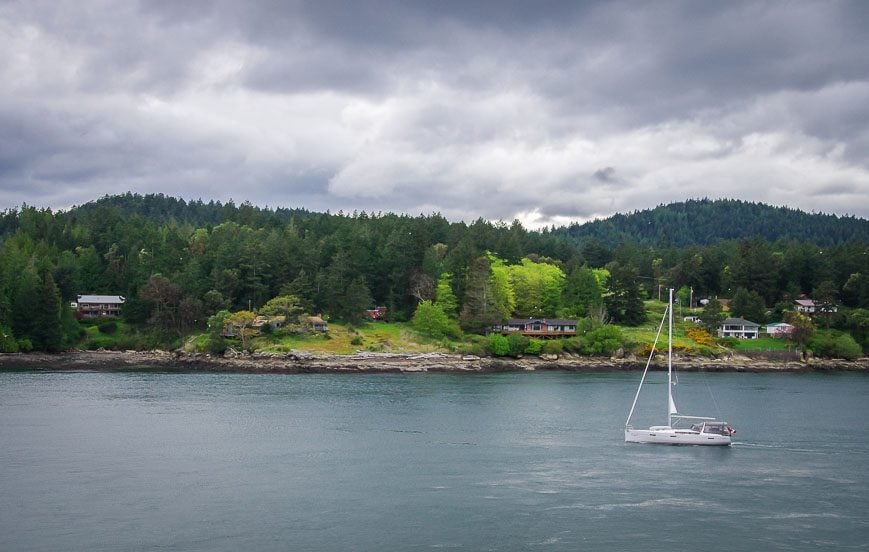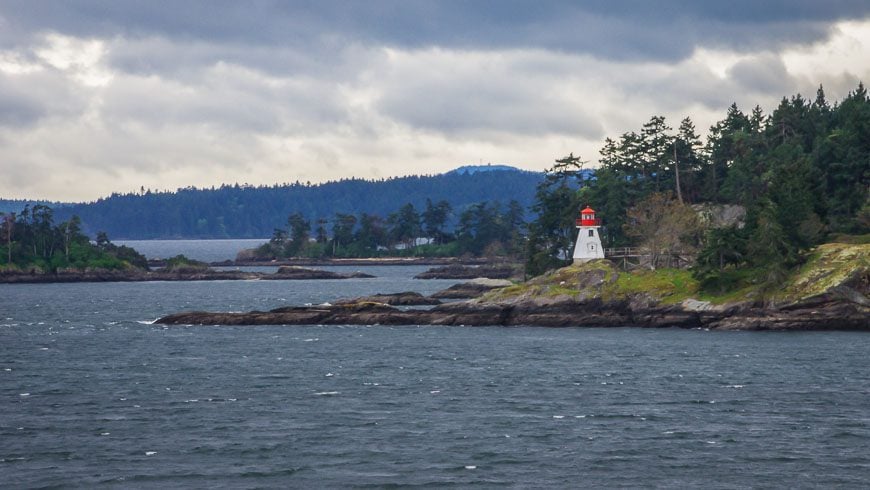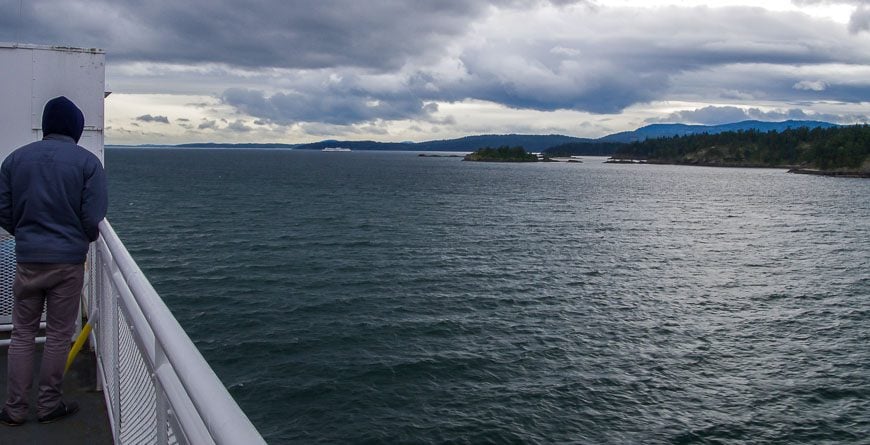 As you continue pass Prevost Island to the northwest and Pender Island to the southeast. Salt Spring Island is next – which is easily identifiable because of Mount Maxwell. Then pass Portland Island – a Gulf Island National Park Reserve and Piers Islands as you head on into Swartz Bay.
On some crossings it's not a direct sailing to Swartz Bay so you always need to pay attention if you're reserving that you pick the right ferry or you could be hours later getting into your final destination.
Have a look at the BC Ferries schedule here.
Location map of ferry terminals on some southern Gulf Islands
There are numerous southern Gulf Islands that you can visit via the BC ferries – either directly from Tsawwassen, though a change in ferry in Swartz Bay or by changing ferries on one of the islands. Those islands include Galiano, Mayne, Saturna, Pender and Salt Spring Island. Salt Spring Island actually has three ferry terminals so you need to know where on Salt Spring Island you want to go.
For a full list of routes in the southern Gulf Islands is online. Some islands like Saturna Island can be quite difficult to access – and usually one or more stops or transfers is required. But that's all part of the charm of the southern Gulf Islands experience.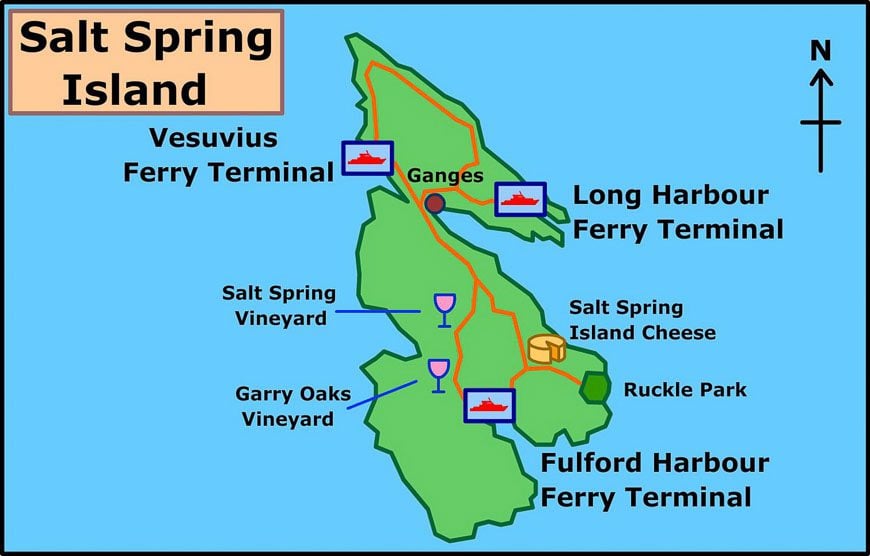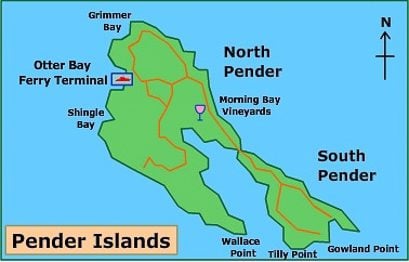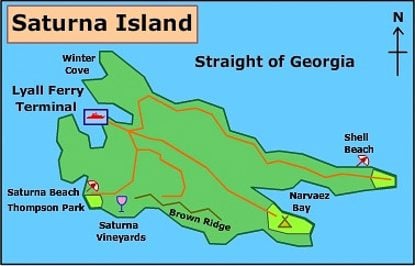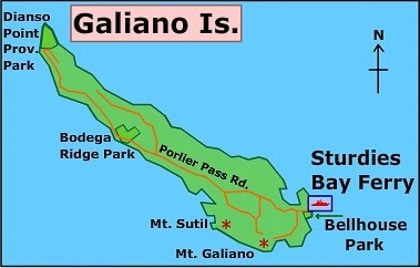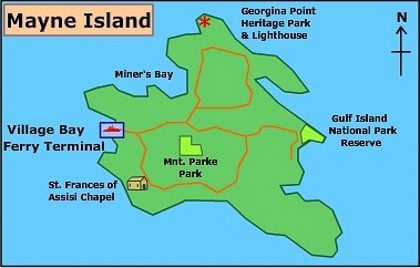 Photos showcasing the scenery on the BC ferry ride through the southern Gulf Islands from Active Pass through to Swartz Bay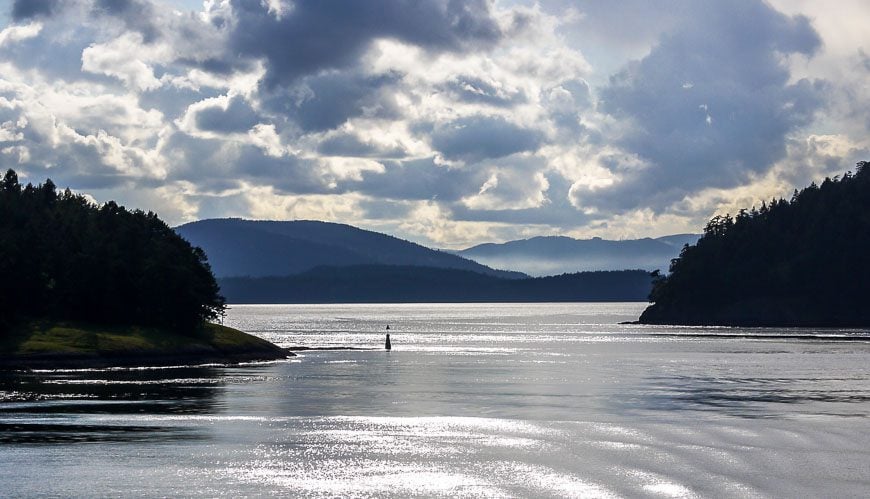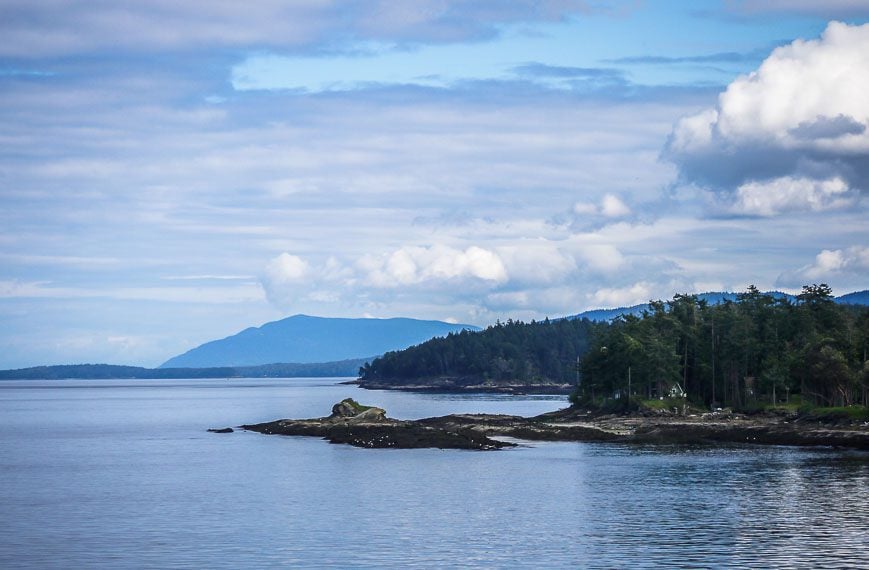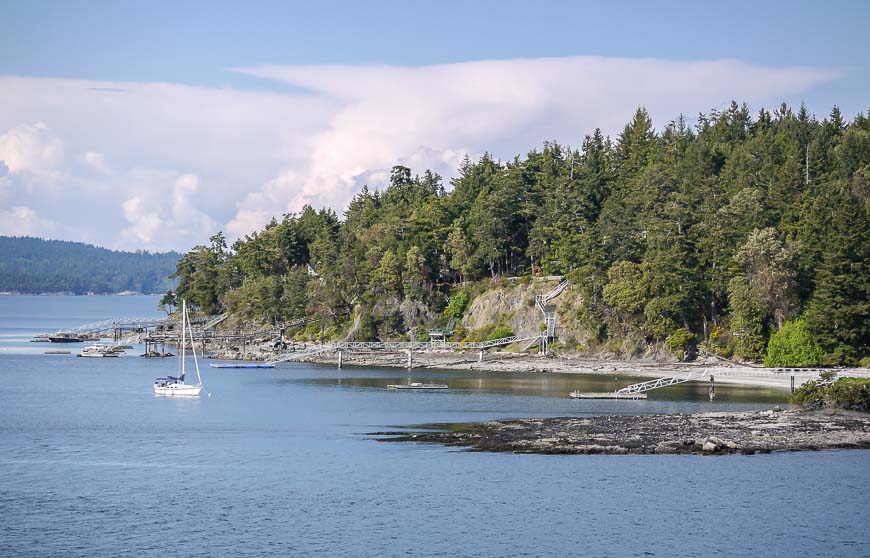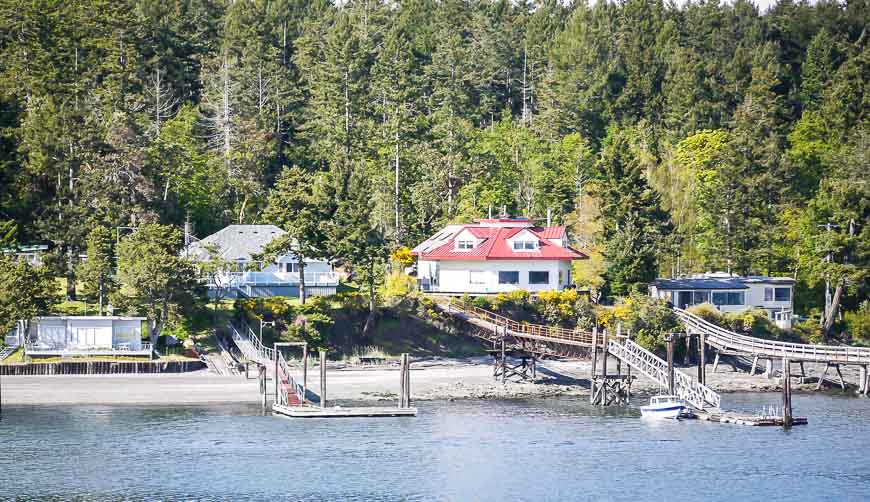 Information about BC ferries through the Southern Gulf Islands
Adult tickets are $18.50 and kids 5 – 11 are $9.25 in 2023.
A passenger vehicle up to 20 feet long is $63.85 in 2023. Motorcycles are $31.95 in 2023. Extra long vehicles are charged extra per foot.
It costs $2 to ride your bike on board – but you're first on and first off!
Reservations for vehicles are recommended on busy weekends. The one way reservation fee is $18.00. Reservation fees are non-refundable. There are also new saver and prepaid fares.
You have to arrive at least 30 minutes before the sailing time.
Ferries run from 7 AM until 9 PM, about every two hours but more at peak times.
On summer weekends two sailing waits are not uncommon. Make the reservation!
There is a full cafeteria on-board, a gift shop with a thoughtful good selection of gifts and books, video games, quiet areas and several outdoor decks – with the best seats on a sunny day quickly taken.
If you are a walk-on passenger you can check luggage and pick it up on the other end.
Walk-on passengers do not need reservations.
Dogs are welcome in cars and in a pet-friendly area on one of the car decks.
Disable your car alarm if it has a tendency to go off with motion – or you'll be called down to do it.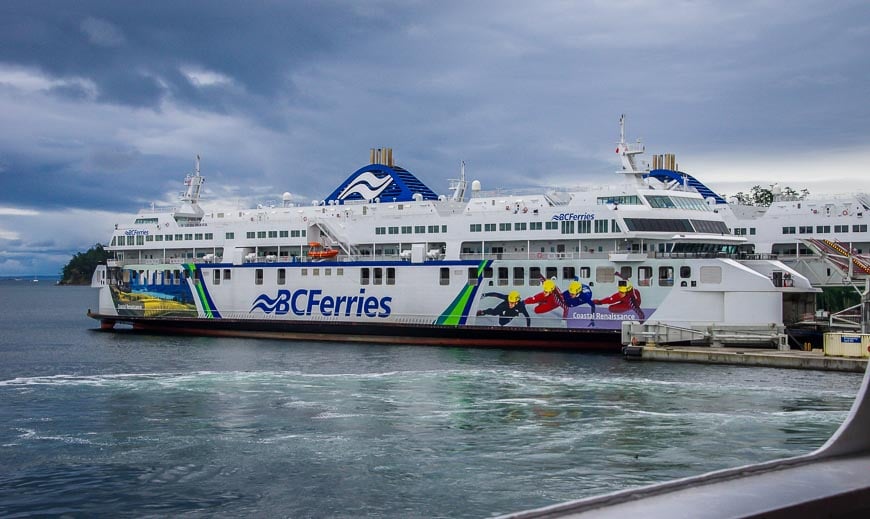 Biking on Vancouver Island and in the Gulf Islands
If you're interested in a bike trip once you reach Vancouver Island, then check out these guides and posts. I love leaving my car behind and taking the BC ferries between the southern Gulf Islands. You have to carry your gear – and a credit card but it sure allows a lot of flexibility.
Click on the photo to bookmark to your Pinterest boards.