Panorama Mountain Resort is one of eight ski resorts on British Columbia's Powder Highway. It boasts the sixth largest vertical in North America (4,265 feet), a run that is 6.5 km long, 10 lifts, two alpine snowcats, and almost 3,000 acres of terrain. Panorama is known as a family-friendly resort with over 50% of the runs geared to beginners and intermediates. It's also famous for its bluebird days, an exceptionally pretty mountain backdrop, and a host of on hill and off hill Panorama Resort activities.
Off the hill, there is so much to do and explore. In winter, Panorama Resort activities run the gamut from Nordic skiing to soaking in hot pools and enjoying a lively après scene. You can also sign up for a day of heli-skiing or a snowmobile tour to a mountain hut above treeline. Or how about fat biking or snowshoeing on scenic trails along Toby Creek? If you're visiting for more than a few days, be sure to visit nearby Invermere and skate the Whiteway, the longest naturally frozen skating trail in the world.
Here's a look in more detail on how you can have a winter mountain escape at Panorama Resort. And if you want see action, check out my Instagram reel.
Panorama Resort guide to downhill skiing
Before you head out: For the keeners who want the first chair up, check the trail conditions at Panorama, updated by 7:30 AM every morning.
Ski rentals and tune-ups on the hill: Visit Mountain Outfitters at the base of the hill.
For lift tickets: Get information on pricing and passes.
Mountain friend tour: My guess is most people come to Panorama Resort to ski or snowboard. With 135 trails, there's a lot to discover. While you can always explore on your own, you can also hook up with friendly mountain hosts daily at 1:30 PM. Join them on a complimentary ski or snowboard tour, where you'll get the lay of the land and learn a little about Panorama and the history of the area.
Monster X snowcat shuttle/Monster terrain: Looking for double black diamond runs? I wasn't but if you are, get a ride on one of two snowcats to the furthest reaches of the monster terrain. Buy single rides, four packs or more.
John and I had not been downhill skiing since before COVID. Fortunately, it's one of those sports that comes back quickly if you've done it for years, especially if you're on a great pair of high-performance rental skis. We were fortunate to spend the morning skiing with a local who knew the lay of the land. In no time we had whipped up both the Mile 1 Express and Champagne Express – with no lift lines to speak of. Then we enjoyed some easy groomers like Skyline and Rollercoaster, before heading up the Summit Quad.
I looked over to 750-acre Taynton Bowl from the top of the Summit Hut – formerly open to heli-skiers only, admired the beauty of the area, but felt no compulsion to ski it. However, I did love the length of the run down from the summit. It felt like it went on forever – or maybe that's just because I'm not in skiing shape.
Even though we only had a day of downhill skiing, it reignited my interest in the sport. We both loved the layout of the hill, lack of lift lines, and variety of terrain. It's time to bring the whole family and enjoy it as a gang.
Eat lunch at one of the Panorama Mountain Resort huts
Panorama Resort is the home of two fabulous mountain huts – the Summit Hut and the Elkhorn Cabin. Both are tops for Panoramic Resort activities and need to be on the must-eat-lunch-here list when you visit.
The Summit Hut
The Summit Hut sits at an elevation of 2,730 m and offers up panoramic views of the Taynton Bowl from the outdoor deck. It's known for barbequed smokies and giant brownies – but also as the place to come for a three-course fondue between February and April.
Elkhorn Cabin
I cannot say enough good things about the Elkhorn Cabin. For those of you who enjoy the full skiing experience – lazy lunches included, this is the place to go BUT make a reservation or you'll probably be disappointed as it's got limited seating. Either that or you won't be eating till 2 PM.
John and I enjoyed a bowl of steaming soup along with Swiss raclette, a decadent lunch compared to my usual peanut butter sandwich but so worth it. And the view on a cloudy day was still magical. As one local skier said, "if you sit in the comfy couch after 1 PM, your ski day is over."
Panorama Resort activities – try Nordic skiing
Where: Head to the Greywolf Golf Course Clubhouse to rent skate or classic cross-country skis, pay for trail fees (they check your pass), purchase wax, or any other gear you might need for your cross-country ski outing. It's a 5-minute drive from the village – but you can cross-country ski 1.3 km on groomed trails from the village too.
Tickets: Ticket prices in 2023 range from $5 per dog to $21 per adult, with discounts for children, youth, senior, and super-seniors.
Hours of operation: 8:30 AM – 4 PM seven days a week
Food availability: Purchase snacks at The Shack at Greywolf from 11 AM – 5 PM. You can also enjoy an outdoor fire pit with friends. The Cliffhanger Restaurant offers lunch, dinner, and après skiing snacks in a building with stunning mountain views.
With over 20 plus kilometres of impeccably groomed trails along with two backcountry warming huts, there is something for every level of classic and skate skier at Panorama Resort. Since I last cross-country skied here, about nine years ago, the trail signage has vastly improved, and the grooming is now world-class.
What wasn't up to scratch was my cross-country skiing on a warm January weekend. John and I both struggled on any type of hill as the wax we used didn't work. It didn't hold going up and the descents were jerky and awful. The big take away – apart from the fact I should have been using a different pair of skis, was the beauty of the landscape. I was wowed – and this was on a day that was more foggy than clear.
What I loved were the big trees, the two warming huts well-spaced across the Nordic ski area, the views when the clouds parted, and the fact you can take your dog skiing with you off leash, providing they're under control. What I wish we'd had time to ski is the Great Scott Trail. It's 4.7 km one way and if it had been any other day with better conditions, we would have knocked it off with no problem.
If you're after a break from downhill skiing, go check out the Nordic trails. I think you'll be blown away by their beauty.
Fat biking fun on multi-use trails – one of the top Panorama Resort activities
Where: Head to the Greywolf Golf Course Clubhouse to rent fat bikes and pick up a trail ticket.
Pricing: Access to multi-use trails for fat bikers is free but you still need a ticket. If you've come with your dog, they also need a ticket – at $5/day. Fat bikes and a helmet can be rented for $65/full day and $39/half day (2023 prices). Their smallest bikes will fit someone 5'4″.
Hours of operation: 8:30 AM – 4 PM seven days a week
Food availability: Same as for Nordic skiing.
Pick up a ticket, a rental fat bike, and a trail map at the Greywolf Clubhouse, and head out on over 16 km of multi-use trails. (According to the website you're allowed on cross-country ski trails IF you ride on the shoulder and not in the tracks.)
There is a lovely stretch of trail called Mineral King that parallels Toby Creek and is reached via the Creekside Trail. You can add a fun, twisting section on Giddy Up for a short out and back ride. Another option is to continue past the Pentagon Hut all the way to Hale Hut, stringing together loops. There are enough hills on that route that you'll get a good workout.
The trails are best biked when the snow has been packed down. If there's been a recent snowfall, I'd recommend you check out the trail report before you go.
Eating at Panorama Resort
There are enough restaurants at Panorama Resort that you can eat out for four days in a row without visiting the same place twice. And if you're staying in a condo, chances are you're cooking at least a meal or two, so that will probably be enough options to cover most people. You can always take the shuttle or drive down to Invermere if you want more choice.
Alto Kitchen & Bar
We dined at Alto Kitchen & Bar one night conveniently located at the base of the Mile 1 chairlift. John and I split a fire-baked pizza and colourful salad. We both loved the ambiance of the restaurant, and the friendly servers. On a weekend I'd recommend a reservation.
T-Bar & Grill
On another night we enjoyed fish and chips – without the chips as we tried to be a little heathier with salad at the casual T-Bar& Grill. This is where you want to go if you want a casual atmosphere in a sports bar setting. I liked the fact that we could still chat without raising our voices.
Choppers Landing
On our last night we took the village gondola down and then walked about 10 minutes to get to Choppers Landing at the RK Heliplex. Dine here if you're after panoramic views, especially as the sun goes down. Or nab a chair by the fireplace and enjoy the après skiing experience. Our meal of chicken and fettucine was large, so unless you've skied 30,000 feet of vertical, you probably won't need an appetizer too.
Cliffhanger Restaurant
The Cliffhanger Restaurant is at the Nordic ski area. With floor to ceiling windows, you can enjoy stunning views of the Purcell Mountains while enjoying favourites like steak, salmon, goulash, risotto, burgers, and coconut chicken curry bowl. There's lots of choice and plenty of gluten free options.
Soak in the Panorama Hot Pools
One of the most popular Panoram Resort activities is a soak in the Panorama Hot Pools, a large complex of pools located at the base of the downhill ski area. They are one of the not-to-be-missed Panorama activities in winter. Nothing beats that first step into a hot pool, especially on a cold day. Instant relaxation at its finest. Not into hot pools? That's okay as there's a day sauna just steps away.
There are three hot pools to choose from: a large warm pool (90°F) perfect for the kids, an upper hot tub at 101°F and a lower hot tub at 98ºF. Entrance to the hot pools comes with a towel, a locker room, and showers. To gain access to the Panorama Hot Pools you must be staying in one of the nearby condos. If your condo doesn't come with access, it may still offer a hot tub. Be sure to ask before you book!
More activities near Panorama Resort
If you're at Panorama Mountain Resort for a longer period you might want to try some of the other activities in the area. It does help if you have a car, though the Whiteway is accessible from Invermere and there are shuttles available.
The Whiteway
The Lake Windermere Whiteway holds the title as the longest naturally frozen skating trail in the world with 29.8 km of cleared ice. On a winter day this is a great place to skate, fat bike or even cross-country ski. and it costs just $5 per person with proceeds used for its upkeep.
Lake Lillian Whiteway
You pass the Lake Lillian Whiteway on the drive up to Panorama Mountain Resort. In winter, it's the place to go for an easy 3 km cross-country ski outing around the periphery of Lake Lillian. It's groomed for both skate and classic skiers.
Check trail conditions before you go.
Radium Hot Springs
Radium Hot Springs is located near the southern border of Kootenay National Park. The springs are named for the trace but harmless amounts of radon in the water. If you're anywhere near the village of Radium Hot Springs, plan to visit. There is also a cooler pool if you want to swim lengths. Their location near a big red rock cliff is magical too.
Where to stay at Panorama Mountain Resort
Panorama Mountain Resort is a very self-contained place. Once you're there, you're unlikely to need a car to take advantage of any of the Panorama Resort activities. You can walk to restaurants, coffee shops, rentals shops, and hot pools. Should you have to drive anywhere – like the Nordic Centre at Greywolf or Toby Creek Adventures, it won't take more than five minutes.
My recommendation is to rent a condo at the base of the hill or stay at The Approach – Panorama's newly refurbished slopeside hotel. There is also a short, free gondola that moves you quickly between the upper and lower village, should you decide to book elsewhere.
John and I stayed in a one-bedroom condo in 1000 Peaks Lodge. It was about a three minute walk to restaurants and the rental shop in one direction and the Panorama Hot Pools in the other. The roomy condo had a balcony with a view, a fireplace, a full kitchen, one bathroom, and a good-sized bedroom. Parking was in a heated underground garage.
Getting to Panorama Resort
If you are coming from Calgary, Banff or Lake Louise, the best way to get to Panorama Mountain Resort is to drive. Lucky you because it's a beautiful drive to the mountain resort through Banff and Kootenay National Parks. If you need to rent a car at the Calgary International Airport, be sure to request winter tires as the road can get gnarly in storm conditions.
If you have booked a reservation directly with Panorama Mountain Resort, then you have the option of pre-booking one of the two shuttles that are offered daily from December 8 and April 9 between Calgary and the resort. They can also pick up and drop off in Banff.
Panorama also does custom transfers from Lake Louise and Cranbrook.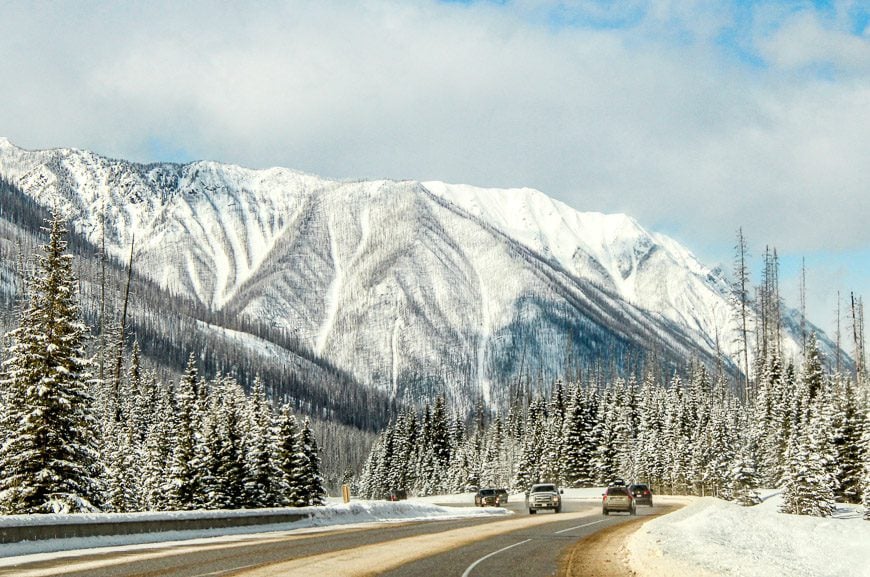 Map of Panorama Resort Activities
Click on the three dots in the right-hand corner to email a copy of the map.
More reading on things to do in the winter in BC's Kootenay region
A giant thank you to Panorama Mountain Resort for hosting John and myself. All opinions are mine alone.
Click on the photo to bookmark to your Pinterest boards.