Yoho National Park's Wapta Falls is a study in blue and green ice, capped with layers of sparkling white snow in winter. It's a beautiful frozen waterfall to see and a fantastic destination in the park. In winter (or snowshoe) the Wapta Falls hike is an extra 4 kilometres long as you must start from the Trans-Canada Highway, to reach the summer trailhead.
If you're staying in the Field – Golden corridor, or you have a few hours to spare while you're driving between Golden and Calgary, I would encourage you to do the winter hike or snowshoe. We opted for snowshoes on the Wapta Falls hike but even with as much snow as you see in the photos, we could have got by with winter boots. I would suggest that you carry micropsikes as the final descent towards the falls gets slippery after a few freeze-thaw cycles. It's also a steep climb up on the hillock to get the best view of Wapta Falls.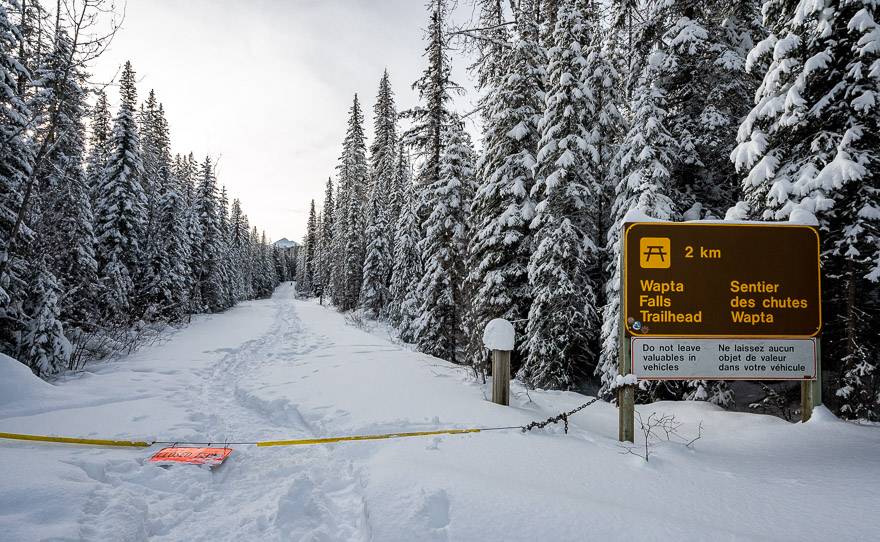 This post includes some affiliate links. If you make a qualifying purchase through one of these links, I will receive a small percentage of the sale at no extra cost to you. Thank you for your support.
Wapta Falls hike and snowshoe details
Distance in winter from the highway: 4.4 km one way according to signs
Distance to Wapta Falls in summer from the parking lot: 2.4 km one way
Elevation gain: Approximately 30 m but I think it's a touch more
Time needed to hike in winter: 3 – 3.5 hours (it's slower walking on snow and its 4.0 km longer!)
Time needed to hike in summer: 1.5 – 2 hours
Map for the hike: Banff, Yoho & Kootenay National Parks
Cost: You need a Parks Canada pass
Dogs: Allowed on a leash
Facilities: None in winter; in summer there are toilets by the parking area
How big is Wapta Falls?
Pictures of Wapta Falls (Wapta means river in the Stoney language) don't do the setting justice. These are magnificent falls in winter – so I can only imagine how awe-inspiring they must look in summer. Called the Niagara of Yoho, Wapta Falls are one of the largest waterfalls by volume of water in the Canadian Rockies. They are also the largest waterfalls on the Kicking Horse River, measuring 100 metres wide by 30 metres high!
Wapta Falls snowshoe and winter hike description
It's a straightforward hike to Wapta Falls. From the Trans-Canada Highway follow the snow-covered gravel road to reach the main Wapta Falls parking lot.
At the parking lot, the trail narrows passing what Parks Canada calls the "ecologically important Leanchoil marsh." In summer this is a place to look for raptors, water birds including kingfishers and large animals like moose. Sometimes you can even see wolf tracks!
After hiking for about a kilometre on this narrower section of trail reach montane forest where you'll come upon a lot of blowdown. Also, look for a tree with a massive burl. We saw it on the way out on the right-hand side of the trail. It's the biggest one I've ever seen.
In short order reach the chain-link fence. In summer you'll be able to hear the falls around here, but all is quiet in winter. There is an upper viewpoint where you can see the full width of the falls – along with people standing on the hillock in front of the falls. In summer, if the wind is blowing the right way you may even feel some spray.
Descend via switchbacks, staying left at one junction. It is steep in places, and you might need mirospikes here if its slippery. Once at river level, head towards the hillock that blocks the view of Wapta Falls. In winter, you can easily climb to the top of the hillock – and then slide back down to retrace your steps.
You can also explore to the left and the right of the hillock. I'm quite risk adverse and wouldn't have got as close to the water or the falls that some people we saw did. I have no idea how deep the water is, but one crack in the ice and you could be in, so please exercise caution.
Simply retrace your steps to call it a day. If you've done this hike in summer, I'd highly recommend returning to do the Wapta Falls hike or snowshoe in winter. I'd now like to see the falls in summer.
Finding the trailhead
From the turnoff to Field, drive 24.4 km west. After crossing the Kicking Horse River, look for a turnoff on the south side of the highway. There is NO signage for Wapta Falls when you drive west. After you turn in, it's about a 2.0 km drive to the parking lot on a gravel road when there isn't snow. Once the snow arrives park in the small lot right just off the Trans-Canada Highway.
From the safety perspective, you are better off driving west to the Yoho National Park boundary. Turn into a large area and retrace your steps, driving east for about 3.0 km. Going east, you will find signage for Wapta Falls.
If you're driving east from the intersection of the Trans-Canada and Highway 95 in Golden, you'll find the turnoff on the south side of the highway after 33.6 km.
In winter, especially after a fresh snowfall, note that it can be hard to find the turnoff, let along get across a small snowbank, depending on what type of car you're driving. (Look at the first picture in the blog.) We found the parking lot to be both small and snowy. Be sure you carry a snow shovel as its easy to get stuck. Also, be considerate of other cars, and make sure they have enough room to get out.
Wapta Falls hike location map
Where to stay near Wapta Falls
In Field you'll find lots of B&B's including Charlie's Guesthouse, rated superb.
For a more upscale experience with full dining facilities, check out Emerald Lake Lodge. In winter their hot tub is a bonus though its closed until sometime in 2023.
Golden is also close by. Recently we stayed at The Home Lodge – located on 40 acres and just 10 minutes from the downtown. We felt immersed in nature. The hosts are lovely, breakfasts delicious, and there's lots of wildlife around along with their cool looking Scottish Highland cattle.
A few things I'd recommend for the Wapta Falls hike
Hopefully if you're driving in the mountains in winter, you always pack a snow shovel and extra windshield fluid. We did have to shovel after we turned into the parking lot.
Carry microspikes. You'll use them on most winter hikes in the mountains.
I always take a thermos with something hot to drink, a handful of energy bars and some hand warmers and toe warmers.
More ideas for winter adventures
Click on the photo to bookmark to your Pinterest boards.