Banff in winter is magical. Picture sparkling, snow-capped mountains, frozen lakes perfect for skating, steaming hot springs, and ski resorts with terrain for every type of skier and boarder. It's a veritable winter wonderland whether you explore on foot or on snowshoes, by dogsled or on skis. The crowds are gone. Hotels are generally far less expensive and it's way easier to score a restaurant reservation. No matter what the temperature is outside, you'll find ways to get cozy – cue the sleigh ride or hot cocoa around a fire pit.
This post includes some affiliate links. If you make a qualifying purchase through one of these links, I will receive a small percentage of the sale at no extra cost to you. Thank you very much for your support.
Getting to Banff in winter
Banff is approximately a 90-minute drive west of Calgary via the Trans-Canada Highway. On a clear day, you don't have to think twice about the weather but when its snowy, it can be a challenging drive, especially if you don't do a lot of winter driving. Be sure to pack a snow shovel and an emergency kit.
You can also reach Banff if you're driving east on the Trans-Canada Highway. Beware of highway construction in the Golden area, as there are times when you will be re-routed through Kootenay National Park. Check the Kicking Horse Canyon website for traffic updates.
Recommended reading: How to Survive a Winter Drive: 15 Tips for Safety
There is a Calgary to Banff shuttle bus with the two most popular lines being Brewster Express and the Banff Airporter. They are the most cost-effective options if you don't want to drive. There are smaller shuttle companies too including Discover Banff Tours, RTB Tours & Shuttles and the Banff Express for value fares.
The Banff Airporter offers door to door service on a fixed schedule. Shuttles run 10 times per day, so chances are you won't have to wait more than an hour. It usually takes 1.75 hours from Calgary to Banff with stops. Count on spending about $156 return.
Brewster Express is part of the Banff Jasper collection, a long time group tour operator. On their brand-new coaches you can expect luxury seating, big viewing windows and complimentary WiFi. They will pick up from the Calgary Airport and downtown Calgary. Their trips to Banff are about two hours in length.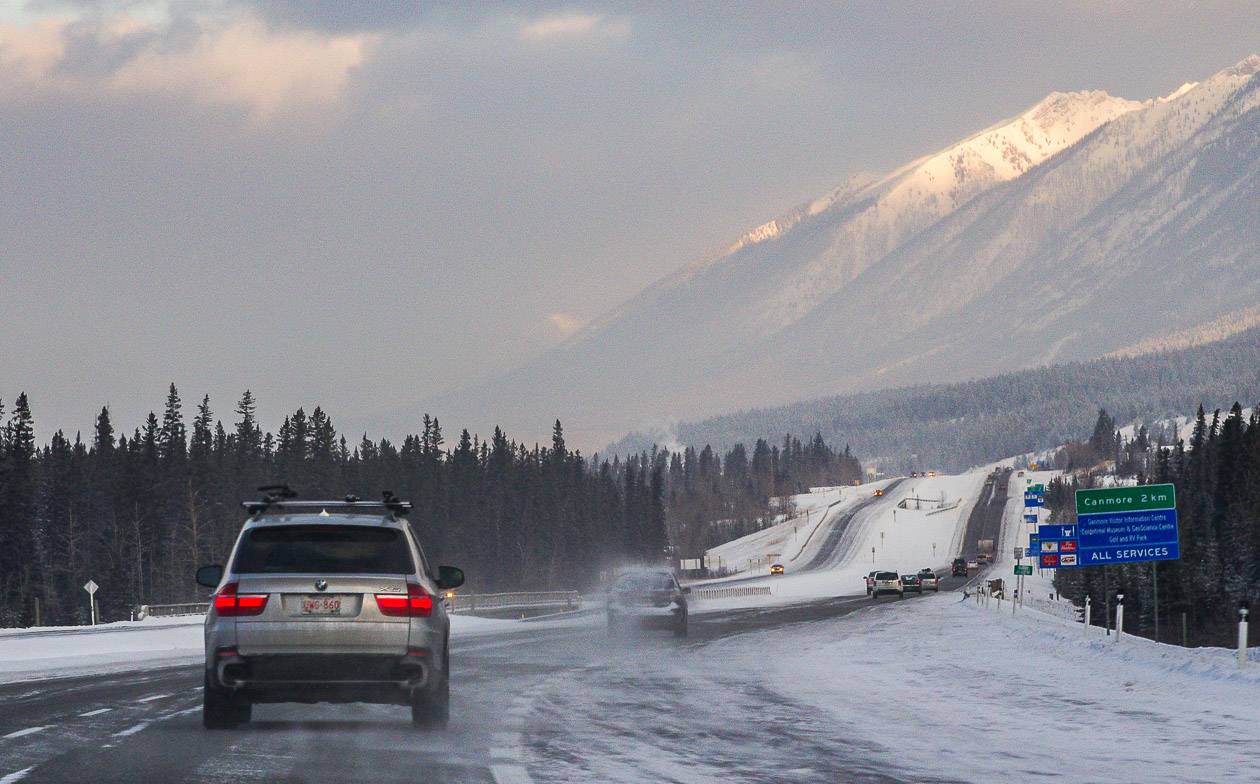 Location map of things to do in Banff in winter
Go snowshoeing in Banff in winter
Snowshoeing is a popular activity in Banff National Park. If you can walk, I always say you can comfortably snowshoe. And if you don't own snowshoes, they are easy to rent in both Banff (Ultimate Sports or Snowtips-Bactrax) and Lake Louise (Wilson Mountain Sports).
Before you head out snowshoeing on one of the Banff area trails, get prepared. Wear the right clothing and pack some extra layers, take something hot to drink and high energy food to eat. Also let someone know where you're going.
Recommended reading: What to Wear in Canada in Winter on a -20C Day.
The next order of the day is choosing a trail. There are several beginner trails that are close to the Banff townsite.
From the Cave and Basin area you can head out along the Bow River and continue all the way to the Healey Creek trailhead if you're looking for exercise. Or you can do the quick but pretty Marsh Loop. But if you're looking for beauty, head up Sundance Canyon.
Another area for first time snowshoers is the loop around Johnson Lake off of the road to Lake Minnewanka. You might also see big-horned sheep or elk on the drive there.
Just past the Banff Springs Hotel is the trailhead for the Spray River Loop. It's popular with both snowshoers, walkers, fat bikers and even cross-country skiers if there has been a fresh dump of snow.
If you want something a little harder and longer, snowshoe up to the aptly named Ink Pots near Johnston Canyon.
If you prefer a guided tour I highly recommend the snowshoe experience at the top of Sunshine Village.
Recommended reading: Where to go snowshoeing in Banff National Park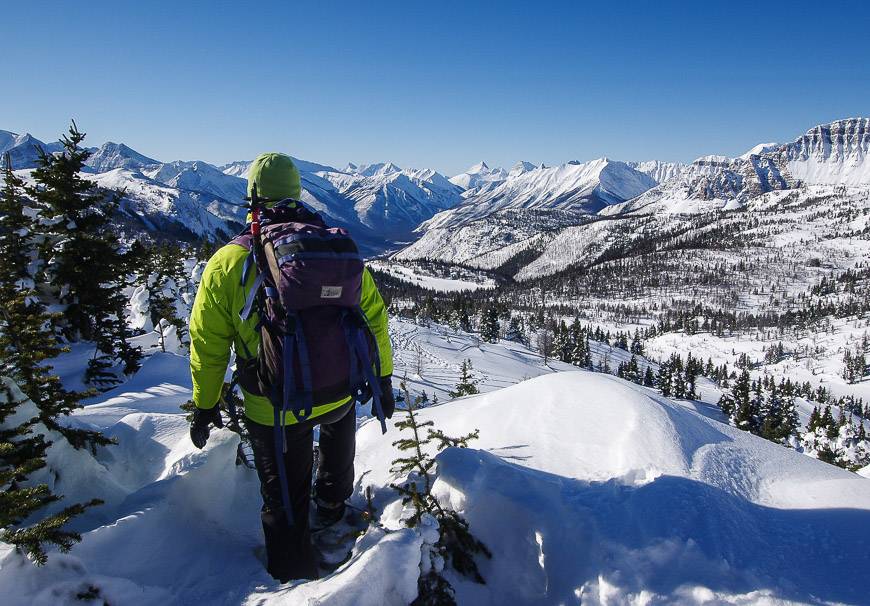 Downhill ski or snowboard in Banff
There are three downhill resorts to choose from in Banff National Park with Mt. Norquay and Sunshine Village the closest to the town of Banff. Lake Louise Ski Resort is another 30 minute drive away – and offers truly beautiful skiing if there's lots of snow. But it's Mt. Norquay that has the best ski deals. Check out their website as they change it up every year.
Before you head out to the slopes, you can pick up lift tickets, organize ski or snow boarding lessons, and buy any last-minute gear you might have forgotten at the Ski Big 3 Adventure Hub at 114 Banff Avenue in Banff.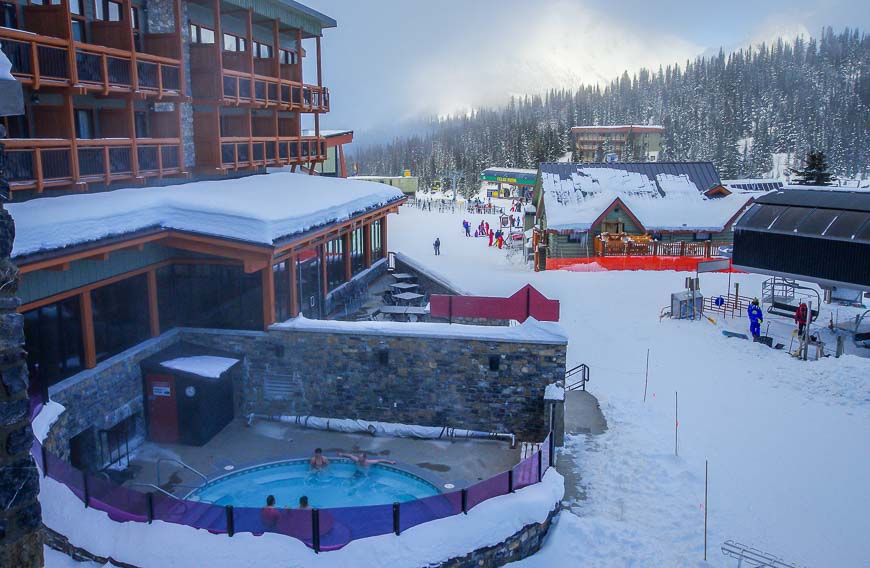 Try cross-country skiing in Banff National Park
Not only is the cross-country skiing in and around Banff stellar, there's a lot of choice. Try the Cascade Fire Road near Lake Minnewanka if you want to be out for a full day.
Another excellent trail is the Redearth Trail that takes you up to Shadow Lake Lodge. Strong skiers can easily do and up and back in a day, stopping for a "tea" at the lodge before returning. Near Lake Louise the Fairview and Tramline trails are an excellent choice.
Recommended reading: Where to go cross-country skiing in Banff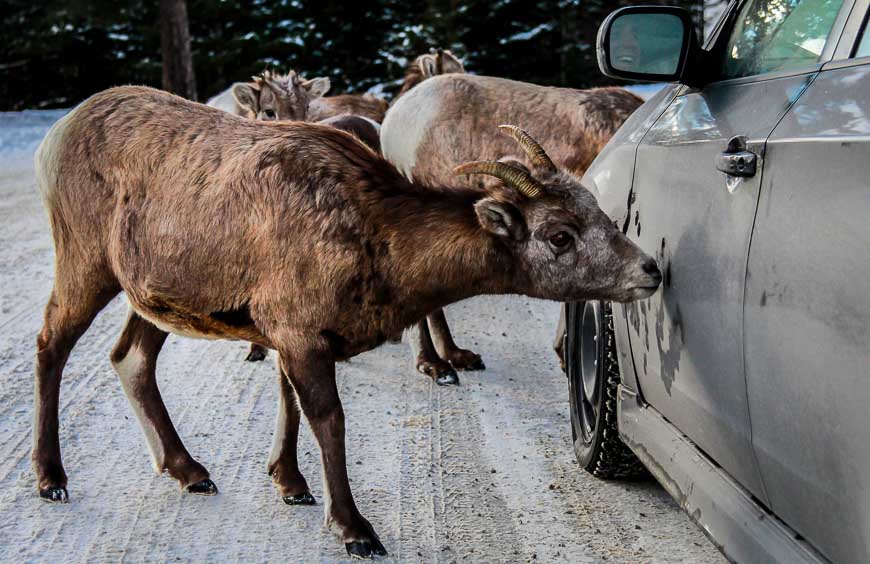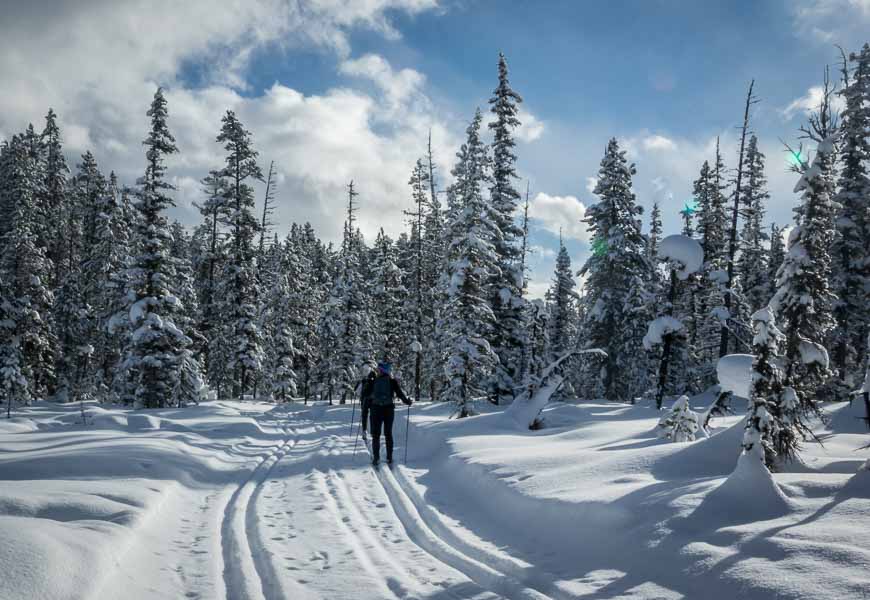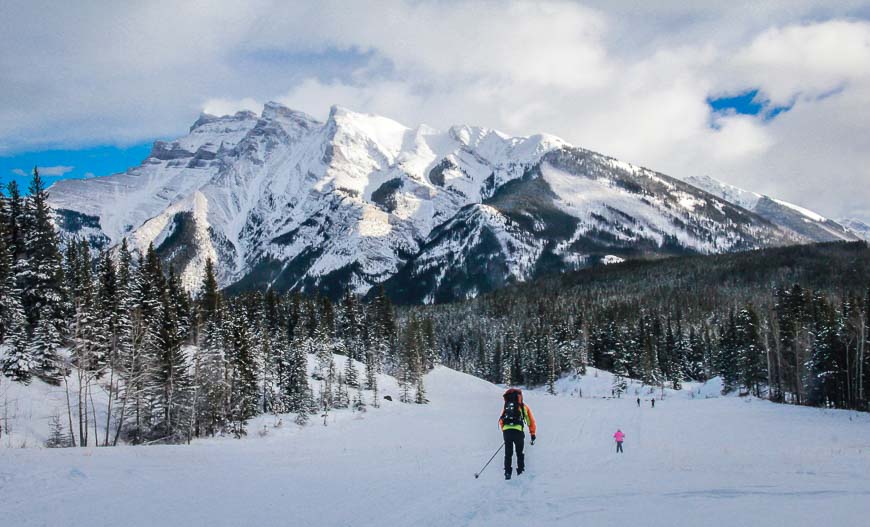 Ride a fat tire bike
Rent a bike in Banff at Soul Ski and Sport or Bactrax and head out on nearby trails for a few hours. If you've got energy to burn make your way to Tunnel Mountain where there are trails that include everything from beginner to expert. The Spray River Loop trail near the Fairmont Banff Springs Hotel is an excellent choice as is the trail along the Bow River. It's one of the easiest ones to do and it's very pretty.
Fat tire bikes are big. Tires are the width of your hand, so it's a lot easier if you can peddle right from the stores in downtown Banff than it is trying to load a bike onto the back of a car in winter, especially if you've arrived in a rental car.
Read: A Fat Biking Adventure in the Banff Backcountry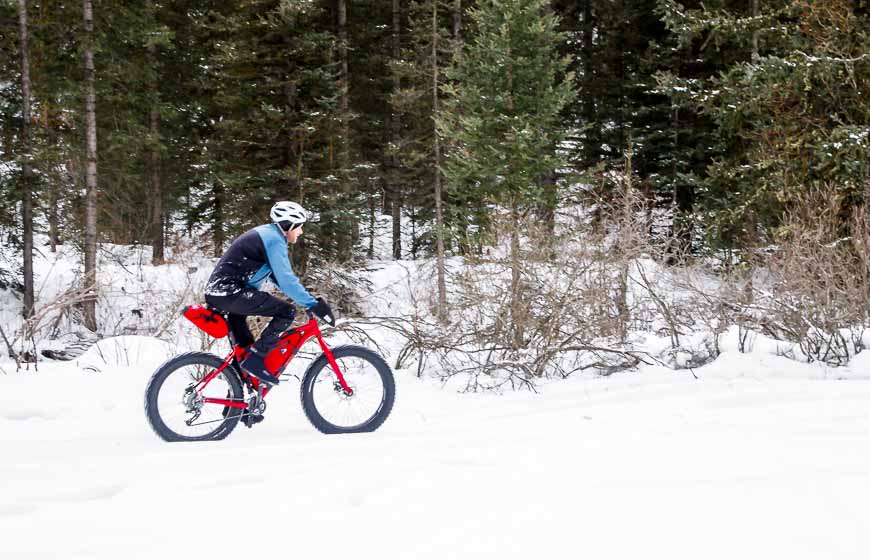 Check out downtown Banff
If you need a refuelling stop after all your activities, head for downtown Banff and choose one of the excellent restaurants including The Bison Banff for a memorable meal or The Eddie Burger Bar for the best burger in town. Check out Park Distillery – home to a restaurant, a working distillery and bar. If you're a fan of local beer visit Banff Avenue Brewing Company – home to a pub, taproom and a lodge.
There are also lots of stores selling you everything you might need for the outdoors to artwork and gifts and plenty of cafes if you're after a baked good and coffee.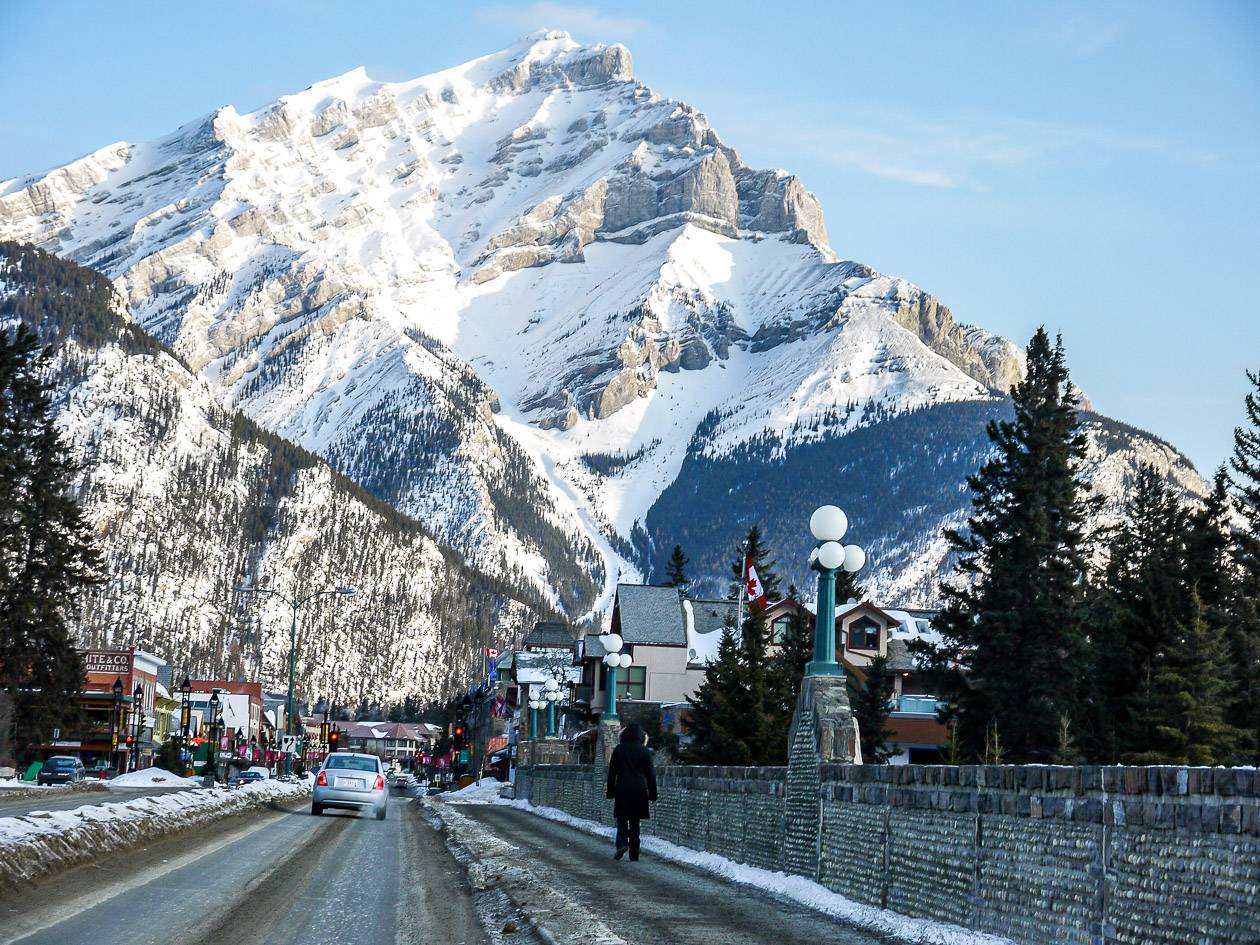 Go caving in Canmore if its a bitterly cold day
If you don't mind tight spaces, especially if it's a cold outside try the Canmore caving tour. (Caves maintain a constant temperature above 0°C.) Pick a tour depending on how long you want to be underground.
If you love caving I recommend their adventure tour that includes an 18 m rappel into the darkness and a slide down the very aptly named Laundry Chute. The tour is not for the faint of heart but it sure shows off the beauty of the underground caves.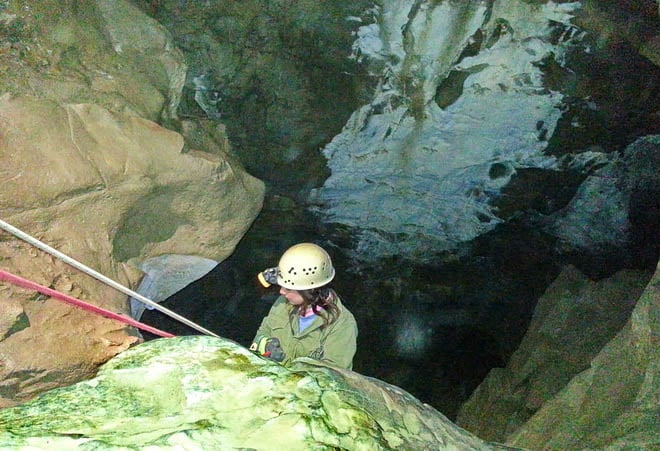 Do the famous Johnston Canyon Ice Walk
The Johnston Canyon Ice Walk can be crowded so aim to get there at the beginning or end of the day. You can also sign up for a night tour. The walking is easy but sometimes you need "icers" (always provided on tours) if the trail has become slippery. (The trail to the Upper Falls is closed until the end of January 2023 as the park is upgrading the trail to reduce the disturbance of the endangered black swift.)
Not only is it interesting to see the engineering that went into making the steel catwalks, but the frozen waterfalls and world of ice is exceptionally beautiful.
On weekends especially you're likely to see ice-climbers at the far end of the canyon. That's a tour you can try as well – even if you've never ice-climbed before.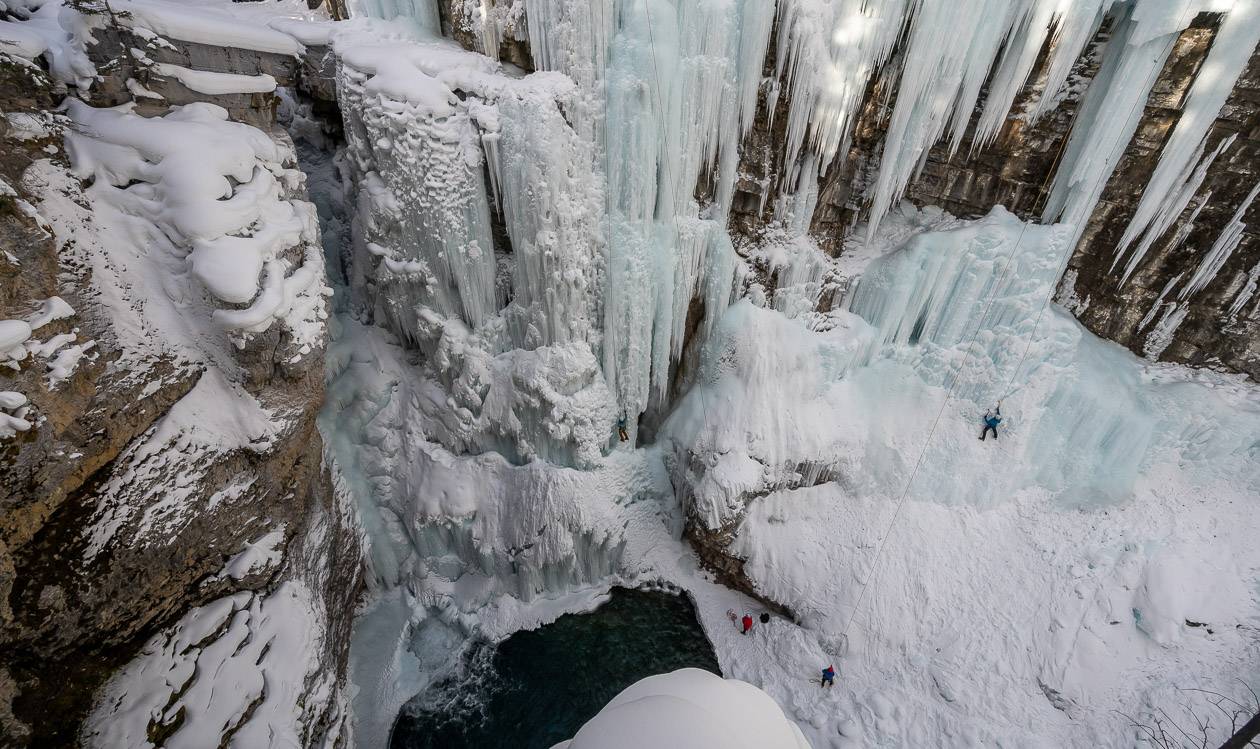 Go skating in Banff's secret spot
Skating is also a great way to spend time in the Banff area. While there is a rink in town and one near the Fairmont Banff Springs Hotel, you can also try Carrot Creek – Banff's secret skating spot. Just read the post before you head to Banff National Park or you'll never find it.
There is also lots of wild skating – depending on conditions in the park. One example is on Johnson Lake pictured below. It can be accessed from the Lake Minnewanka Road. As you can see, it's not a secret!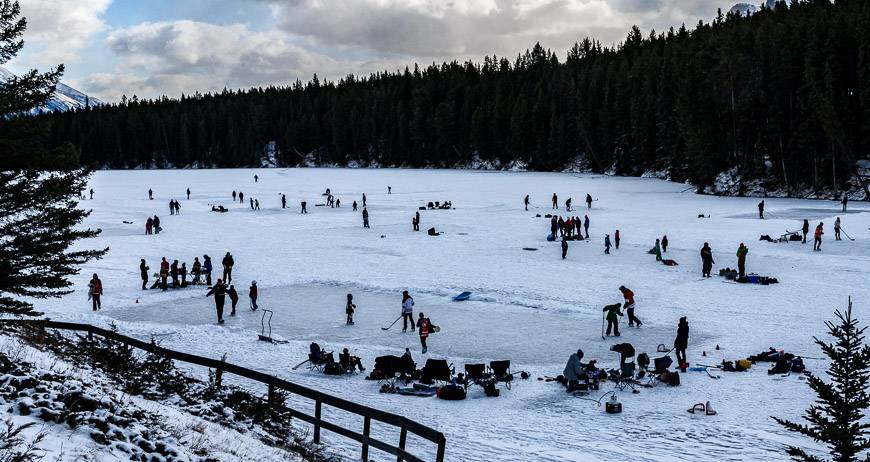 Ice skate on Lake Louise
Nothing beats lacing up you skates and heading out on one of the world's most beautiful ice rinks – Lake Louise. Come January a gorgeous ice castle is built on the lake, ensuring a truly magical experience.
You can skate from mid-December until mid-April. If you didn't bring skates, you can rent them on a first come-first served basis from the Fairmont Lake Louise Hotel from 7:30 AM – 8 PM. Day visitors should enter through the Lower Lakeside Entrance of the hotel.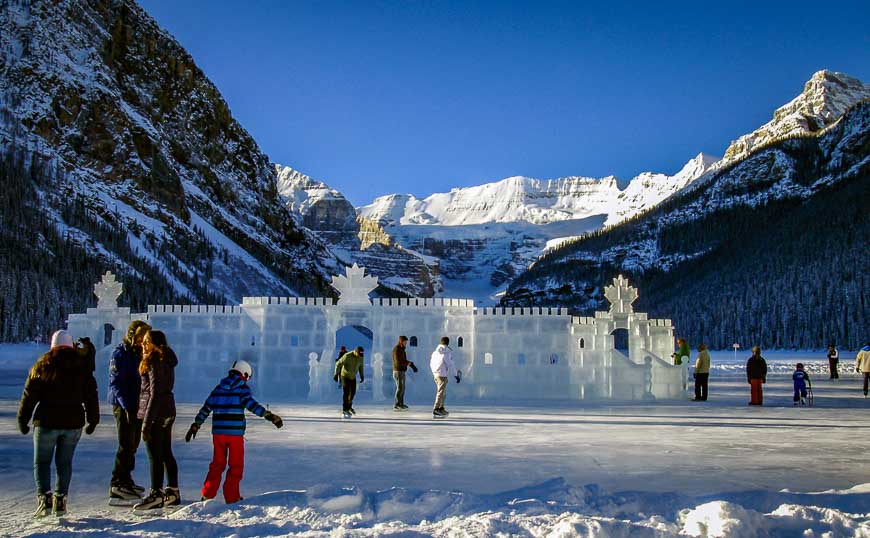 Try ice-climbing
Ice-climbing looks intimidating. And it can be if you get onto really gnarly, exposed ice. But it's also a great sport for beginners – and even kids to try if you start on an easier icefall. Johnston Canyon not far from the Banff townsite is an especially popular place. Sign up for an ice-climbing experience – and you'll be given all the gear you need along with instruction.
Trust me, climbing an icefall is an empowering experience and one I highly recommend. I tried it in Jasper's Maligne Canyon and couldn't wipe the smile off my face.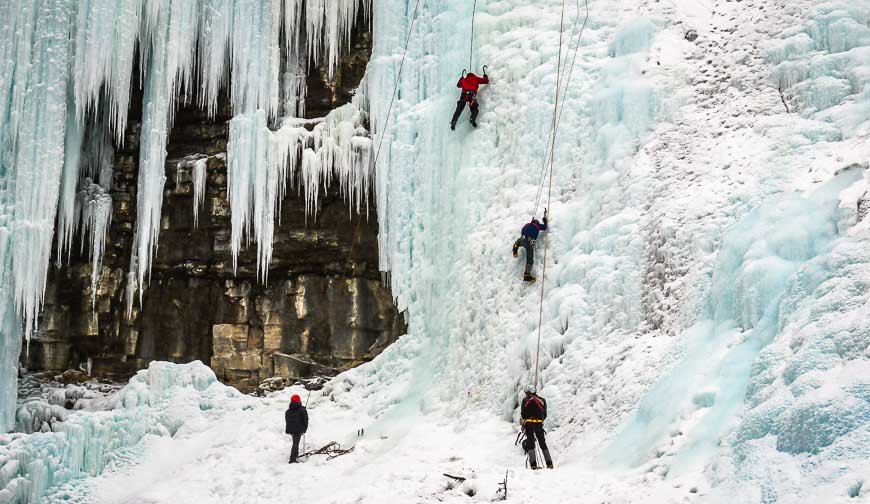 Have fun on a winter dogsledding adventure in Banff
Dogsledding crosses off all the boxes for a fun winter activity in Banff National Park. It can be romantic snuggled up to your partner. If you're traveling as a family, chance are your kids will fall in love with the dogs and have a blast at the same time. Maybe you'll even get a chance to drive the sled which is a huge thrill in my books.
In Lake Louise, sign up with Kingmik Dogsled Tours, located within 10 minutes of the Fairmont Chateau Lake Louise. On weekends, reservations are a great idea.
Soak in the Banff Hot Springs in winter (or any other time of the year)
The Upper Hot Springs in Banff, discovered in 1884, are one of the town's most iconic attractions. The backdrop is stunning – and the waters are particularly soothing after a day outside in winter. I love it best when its really cold outside and your hair turns white with ice within seconds.
The springs are generally open from 10 AM to 10 PM, a bit longer in summer and on Fridays and Saturdays. In 2022 it's $9.25 per adult to visit – and that includes a locker token. Youth are $8.00 and kids under three are free. Note that it is closed until late March 2022 for repairs.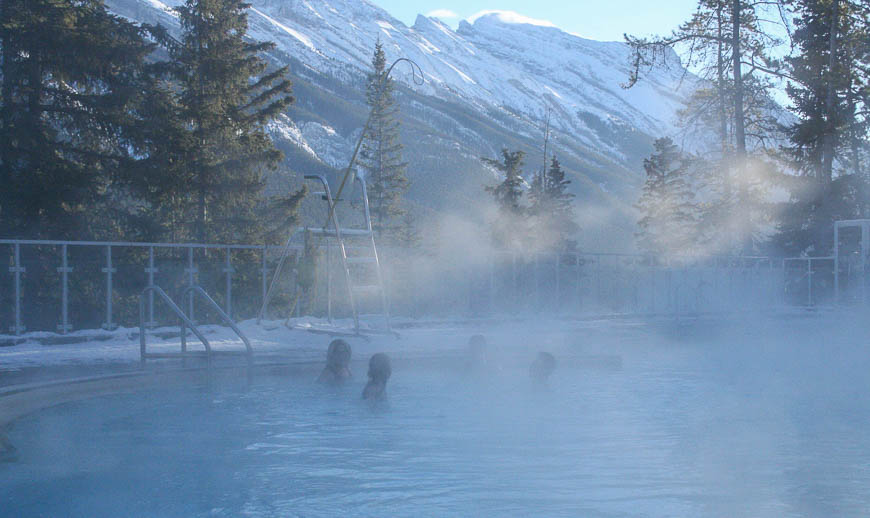 Drive up to beautiful Bow Lake in Banff National Park in winter
If you want to see more of the beauty of Banff National Park, drive 37 km north of Lake Louise to reach Bow Lake. You could also continue for another 7 km past Bow Lake to reach Peyto Lake – one of the best places to catch the Northern Lights, without any light pollution. (Lake Minnewanka becomes a bit of a zoo when the Northern Lights forecast is good.)
I'd only recommend the drive on a good weather day – but the reward is quiet roads and stunning mountain scenery cloaked in winter white. Do go prepared with a shovel, warm clothes, and hot drinks. Cell service pretty much disappears once you're on the Icefields Parkway.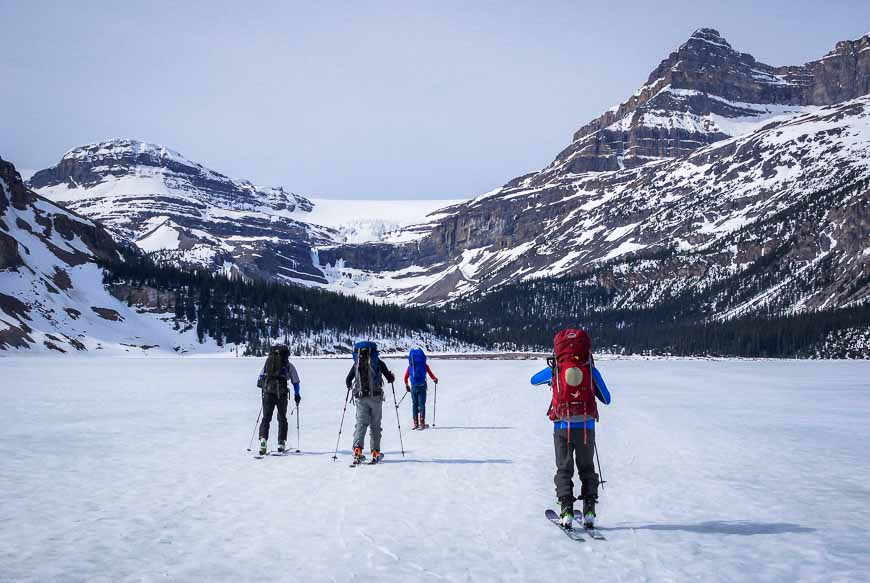 Drive the Bow Valley Parkway in a Banff winter
Drive the 48-kilometre stretch of the Bow Valley Parkway between Banff and Lake Louise. It runs parallels to the Trans-Canada Highway and has the moniker "the alternate scenic route" between Banff National Park's most beloved towns. On this drive look out for wildlife as the road is situated in a wildlife corridor. That's part of the reason you must drive at 60 kmh. Hopefully you'll see a wolf or a moose!
Don't miss a stop to see Morant's Curve – hopefully with a train coming through. And enjoy some eye-popping views of Castle Mountain. In the winter, you can stay at either Castle Mountain Chalets (very close to Johnston Canyon) or Baker Creek by Basecamp.
Catch a gorgeous Banff sunrise in winter
It's way easier to catch a winter sunrise in Banff than it is in the summer. Around Christmas the sunrise in Banff is at 8:45 AM, an entirely civilized hour. Grab a coffee at one of the local cafes like Wild Flour Bakery or Evelyn's Coffee Bar and then either walk over to Vermilion Lakes or drive. It's one of the top spots in town. A little further afield is Two Jack Lake – off of the Lake Minnewanka Road. Both offer beautiful mountain peaks as a backdrop.
Go for a winter hike in Banff National Park
If you're not into cross-country skiing or snowshoeing, but you're keen to breathe some fresh air and enjoy the beauty of Banff National Park, you'll find there are many options for a winter hike in Banff. I would recommend icers or microspikes in case hard packed trails are icy and a pair of poles will help keep you upright.
There are several easy ones close to the town of Banff like the Fenland Trail and the Marsh Loop. One of my favourites is the Tunnel Mountain hike and walking the Lake Louise shoreline never disappoints.
Take the Banff gondola up Sulphur Mountain in winter
Take the Banff Gondola up to the top of Sulphur Mountain. From there enjoy a walk about, enjoying truly epic views. When you're hungry, head for their restaurant and enjoy some of their locally sourced food. Allow a half day on this activity.
For all the details on pricing and dining reservations visit the Banff Gondola website.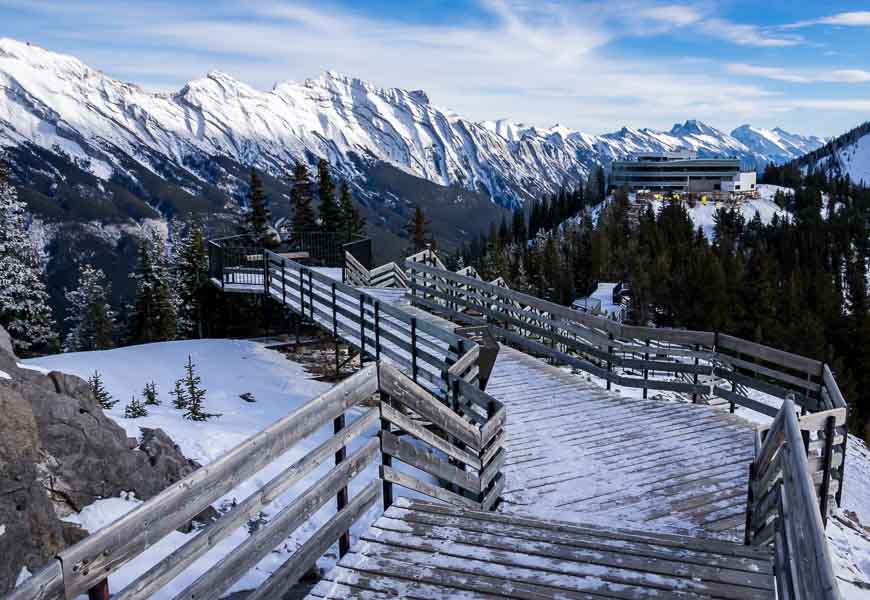 Spend a night or more in a backcountry lodge in Banff National Park in winter
One of my favourite things to do in Banff in winter is to head to a backcountry lodge on skis. There are several including Skoki Lodge, Shadow Lake Lodge and Sundance Lodge. Sundance is one of the few that permits one night stays. The other two – unless they have room – require two night stays.
No matter what, it's a real treat to combine exercise outdoors with a stay at a well-appointed lodge with delicious food. If you haven't done this sort of thing before, I think you'll find Sundance Lodge the easiest of the three lodges to access, and Skoki the hardest.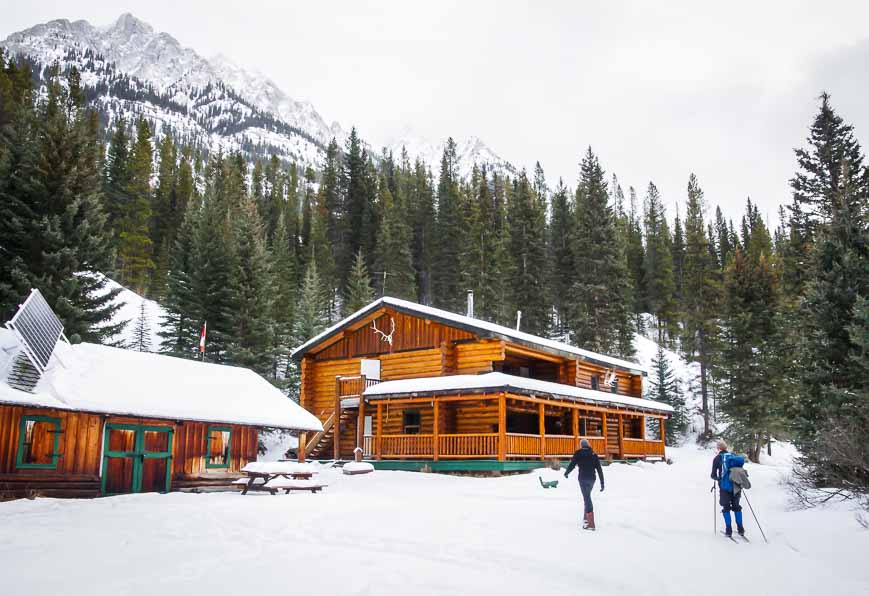 Skoki Lodge can be accessed on cross-country skis or snowshoes. Getting to the lodge can be tough under snowy conditions, especially if it's a first trip and you're unsure about navigation.
One other option is Shadow Lake Lodge, now run by the Alpine Club of Canada. The trail to it is easy to follow, and not to difficult until the last 15 minutes. The trailhead is also readily accessible from the Trans-Canada Highway.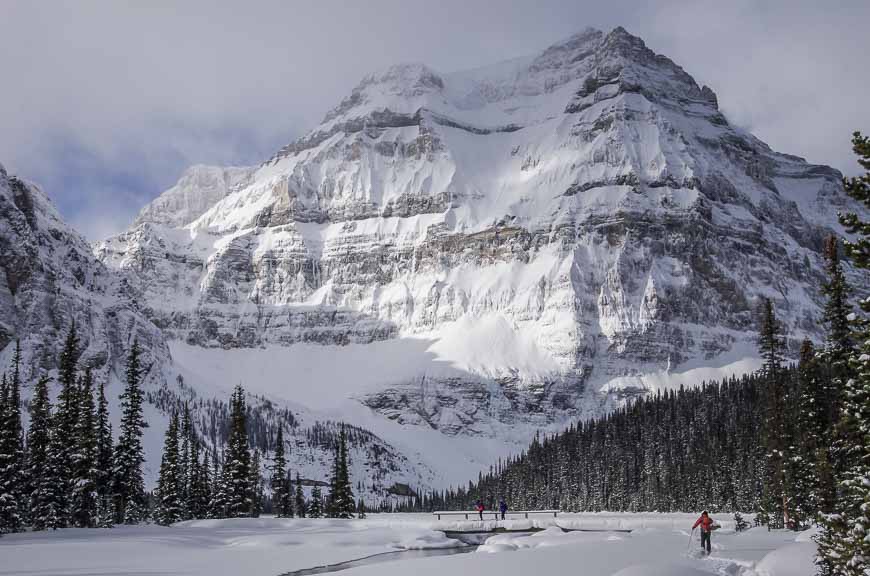 How to get up to date information on Banff in winter
For the most up to date information on Banff in winter, I always recommend checking in with the Banff Visitor Centre on Banff Avenue in Banff. They also have a kiosk with information about the park at the Heritage Train Station.
The bonus to going to the kiosk is the free parking, killer views of Cascade Mountain and lots of coffee. Not only can you pick up a map but you can check out their interpretive panels and historical photographs.
If you're visiting Banff for the first time be sure to read Banff Travel Guide – Tips for Your First Trip to Banff National Park
Banff winter tours
Sign up for one of these fun tours in Banff in the winter time. Book well in advance for weekend tours.
For a Banff sunset and a stargazing tour check out this one from Viator.
Want to do the guided Johnston Canyon Ice Walk? On this tour ice cleats are included and because the upper falls are closed, the guides will include a visit to gorgeous Marble Canyon in nearby Kootenay National Park.
Very few people have enjoyed the Johnston Canyon ice walk after dark but on this highly rated tour, you'll get a whole different experience.
If you've always dreamed of a horse-drawn sleigh ride with a scenic Rocky Mountain backdrop, then you'll love this one which you can enjoy in under an hour.
Choose the Snow Fun & Hot Springs full day tour from Calgary or Banff that includes tubing and a gondola ride at Lake Louise, Banff Hot Springs and Lake Minnewanka.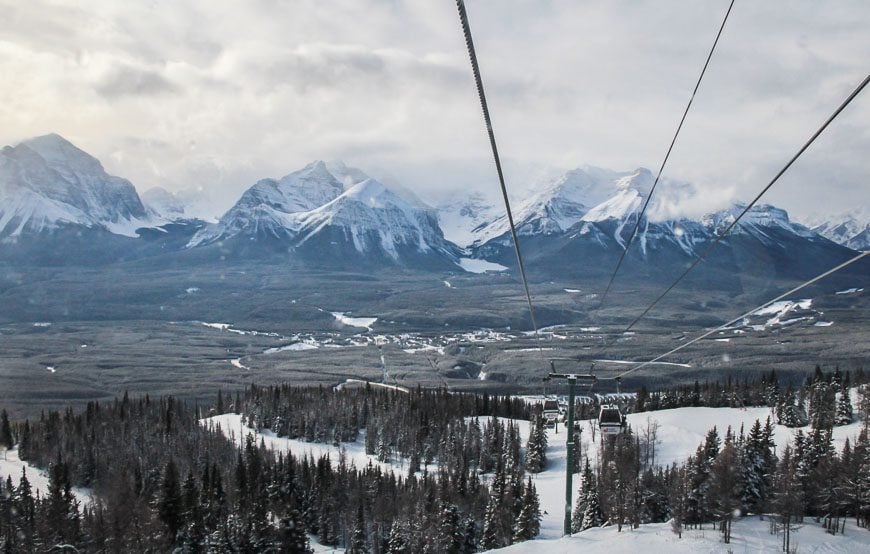 What to carry with you when you're visiting
Banff in winter
Always carry the 10 essentials and check trail reports for closures before you leave.
Go prepared because if anything goes wrong in winter in Banff its never pretty. Take extra high energy food, along with lots of hot drinks if you're heading out on the trails.
Everyone should have a headlamp.
Always pack some extra clothes. Layering is always a great idea. I like a lightweight down jacket for instant warmth. Always take an extra pair of dry socks. Never ever wear cotton or you'll freeze.
If you want to sit down, it's way more comfortable and you won't lose as much heat if you have an insulated sitting pad.
Where to stay in Banff in winter
There's lots of choice when it comes to hotels in Banff – across a whole range of price points.
Some solid choices that won't break the bank that I've stayed in or visited include the Canalta Lodge, Buffalo Mountain Lodge and the Moose Hotel & Suites.
Click on the photo to bookmark to your Pinterest boards.