Are you itching to go somewhere, anywhere for a change of scenery and a reboot? How about a winter road trip to southwest Alberta? If you live in the Calgary – Edmonton – Canmore corridor, you can knock off the drive in as little as 2.5 hours if you're coming from Calgary and in just six hours if you're driving from Edmonton. I'd suggest a loop drive – taking Highway 22, the beautiful Cowboy Highway south to the Crowsnest Pass area and returning via Highway 2 after a stop in Waterton Lakes National Park. It's a beautiful winter road trip and there isn't normally a lot of traffic.
Southwest Alberta winter road trip summary
Before you go, read How to survive a winter drive: 15 tips for safety. Don't forget to pack an emergency road kit.
Book flexible accommodations in case bad weather forces you to cancel your plans.
Look out for deer in winter, as they're often near the highway.
If the wind is howling hard on the Cowboy Highway – which it often does, do the loop in reverse. You'll know before you commit as there's a sign on Highway 533 shortly after heading west from Nanton showing wind speed.
Visit the communities in the Crowsnest Pass area along with Castle Mountain Resort, and Waterton Lakes National Park.
Some of the things to do on a southwest Alberta winter road trip include visiting Lundbreck Falls and the Burmis Tree; fat biking at Allison Chinook Cross County Ski Area; skiing, snowshoeing or snowboarding at Castle Mountain Resort; hiking, snowshoeing and cross-country skiing in Waterton Lakes National Park, and enjoying an ice walk to Star Creek Falls in Coleman. You can also go skiing or boarding at Pass Powderkeg.
Enjoy fondue at Country Encounters.
Stops on a winter road trip to southwest Alberta
This post includes some affiliate links. If you make a qualifying purchase through one of these links, I will receive a small percentage of the sale at no extra cost to you. Thank you for your support.
Visit frozen Lundbreck Falls on a winter road trip in Alberta
Once you reach Highway 3, go right or west to head towards the Crowsnest Pass area. There are a few worthy stops before you get there. The first is Lundbreck Falls, two separate falls with a drop of approximately 70 feet. They're pretty at any time of the year, but in winter they're dazzling because they are coated with ice.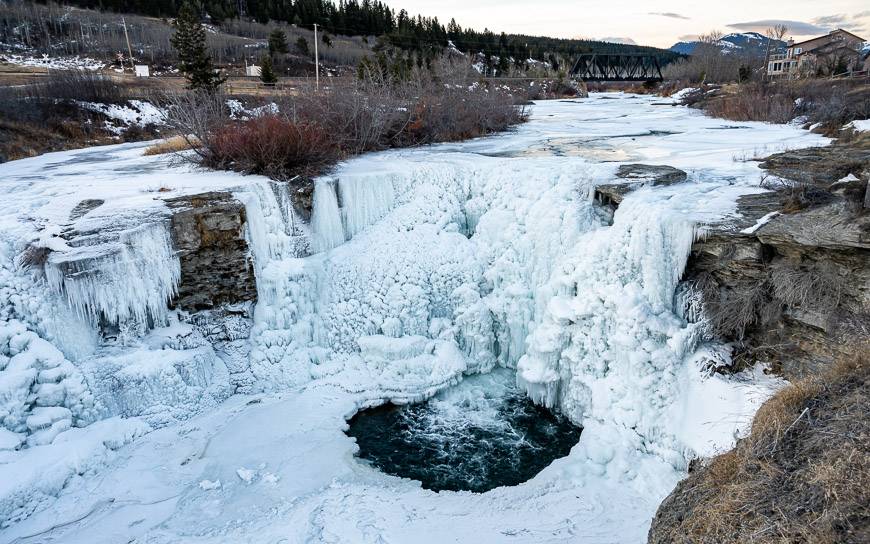 The Burmis Tree
Continue west from Lundbreak Falls for 8 km to a pullout on the north side of Highway 3 (located here) so you can see the Burmis Tree. It's a limber pine named for a coal mining town that stood here in the early 1900's. For 700 years it has marked the eastern edge of the Crowsnest Pass.
Long-lived limber pines thrive under harsh conditions, bending rather than breaking in the wind. This one gave up the ghost sometime in the late 1970's and toppled over in 1998. At that point local citizens, community groups, and government banded together to raise and stabilize the tree. It is a worthy stop.
Crowsnest Pass Area
The Crowsnest Pass is a conglomeration of five towns, each with a unique vibe and coal mining history. From east to west they are Hillcrest, Bellevue, Frank, Blairmore and Coleman. In winter, the Crowsnest Pass area is an affordable destination for downhill and cross-country skiing, snowshoeing, fat biking and an ice walk. The Frank Slide Interpretive Centre is open and the Bellevue Mine run tours for groups.
Go fat biking at Allison Chinook Cross County Ski Area
About five years ago, Karey Lee Watanabe – a mountain bike coach and ex-pro racer on the world circuit, opened Sweet Riders in the Crowsnest Pass. She offers fat biking courses and tours for all ages across a range of difficulties. For newbies, the Community Trail from Blairmore to Coleman is perfect while for others with experience, the trails at Pass Powderkeg or Allison/Chinook are ideal.
John and I have enjoyed many an outing on fat bikes. If you've never tried one, you should know that they require a lot more energy to ride, especially on snow because of their massively fat tires. But that means you can go places that used to be off limits to bikes in winter.
We met Karey and her husband Brian at the trails at the Allison – Chinook area, west of Coleman. Over the course of 75 minutes, we huffed, and we puffed, climbing hills, doing flats for short stretches, then climbing more hills – all so we could enjoy some sweet sections of easy downhill riding at the end. Fortunately, a long the way, there were enough stops so we could all catch our breath.
Karey is a fun-loving, unintimidating person to go out biking with. If you and your family are keen to try something new, check out her Sweet Riders website. She told me last summer, her business took off, with so many people looking for ways to experience fun time in the outdoors.
Even better – you can book a bike and fondue tour with Karey, finishing with a drive to Country Encounters – and a delicious cheese or chocolate fondue, or as in our case – both!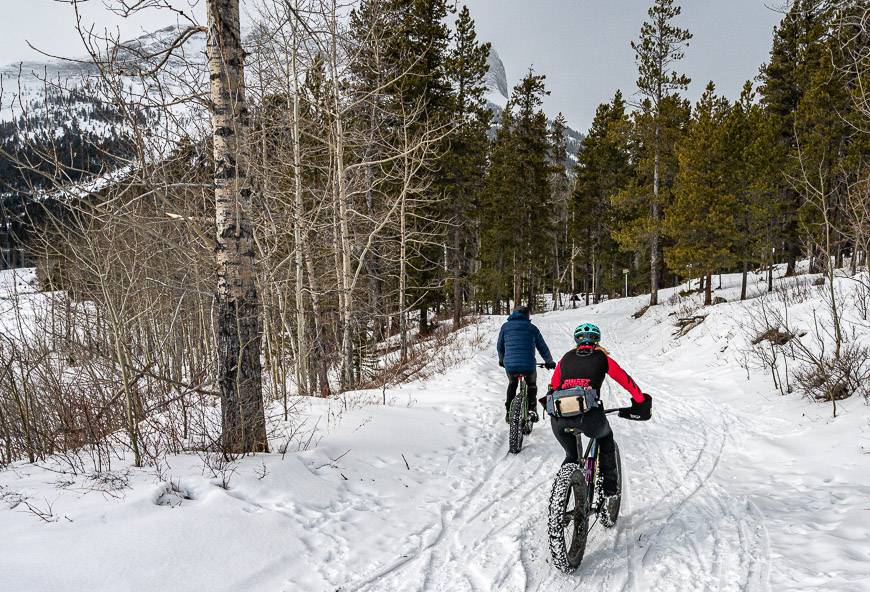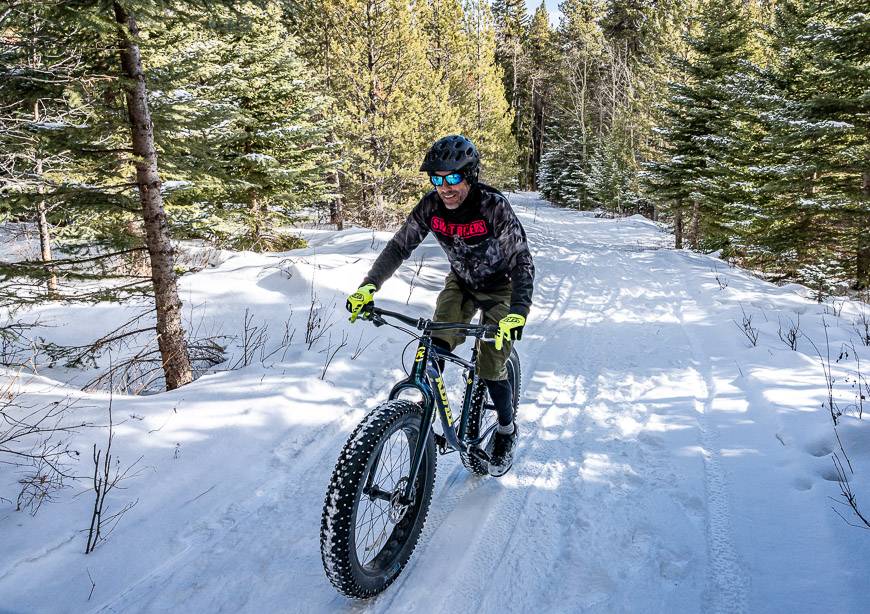 Fondue at Country Encounters in Coleman
Years ago, I stayed at Country Encounters in Coleman – and highly recommend it. The rooms are large, well-furnished and the breakfast, delicious. Since my last visit, the new building has been finished, a beautiful outdoor patio added, and the dining area expanded. When COVID restrictions ease, this is the place to come for a meal.
Sweet Riders has partnered with Country Encounters to finish off the bike experience with a fondue – either cheese or chocolate. Both are excellent.
Go skiing or boarding at Pass Powderkeg
If you were a kid growing up in the Crowsnest Pass area, you'd have it made. Pass Powderkeg is the local ski hill situated in Blairmore, just a few blocks off the main street. It's the type of ski hill where parents can drop off their kids and pick them up hours later knowing they're having a blast with their buddies. And when the conditions are right, there are up to 27 trails with 1,000 feet of vertical.
It's also a super affordable place to learn to ski. In fact, prices for small children are as little as $4.99 from 6PM – 8 PM. Adults too can ski after 6 PM for $14.99.
Where to stay and eat on a winter road trip in the Crowsnest Pass
In the Crowsnest Pass, aside from Airbnb rentals, you have three good choices – Country Encounters in Coleman, Travelodge by Wyndham Blairmore and The Kanata by BCMInns Blairmore.
For coffee and baked goods, head to the Stone's Throw Café in Blairmore. For meals, I highly recommend dinner at Country Encounters. The Rum Runner Restaurant & Pub in Coleman is great for burgers.
Waterton Lakes National Park in winter
If you're trying to escape the crowds in Banff and Kananaskis in winter, you'd do well to visit Waterton Lakes National Park. Visitors are few and far between, so you won't be fighting over parking spaces. There is plenty of exploring to do via the Red Rock Parkway and trails off of Akamina Parkway.
But before you venture to the park, be sure to gas up your car and buy any snacks and lunch items you might need in Pincher Creek. I also recommend a caffeine stop at the Harvest Coffeehouse – just a two-minute detour from the road to Waterton.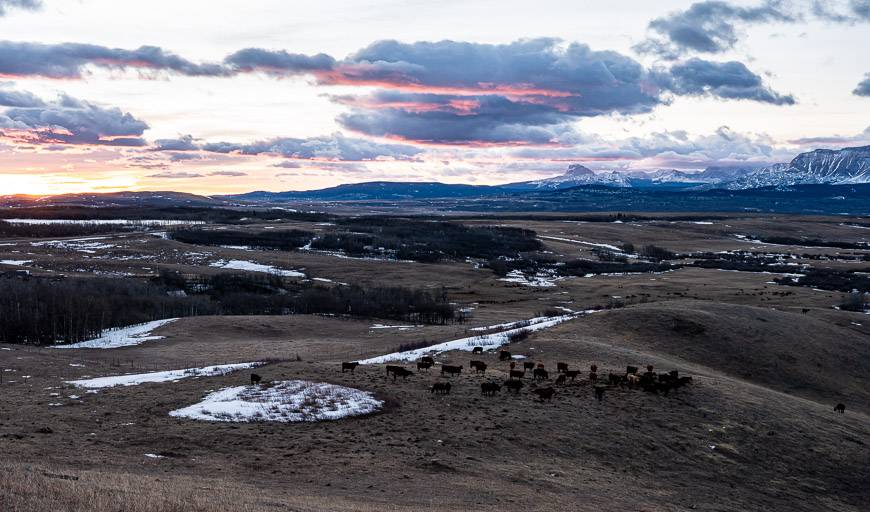 Crandell Lake winter hike or snowshoe
If you're looking for a quick, beautiful easy outing, do the snowshoe or winter hike (with icers) to Crandell Lake. It shouldn't take you more than about an hour. It's 6.7 km to the trailhead via the Akamina Parkway. From the parking lot, it's just 1.8 km one way with 75 m of elevation gain. The trail continues from the lake to the Red Rock Parkway but that gets you into challenging Class II avalanche terrain.
On this hike, gaiters come in handy too, especially if you continue down to the lake.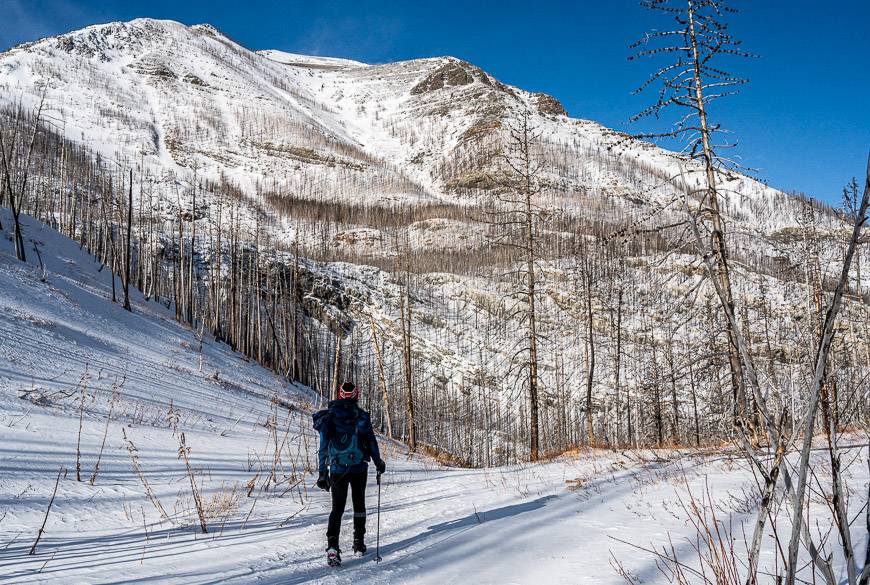 Cameron Lake winter hike, snowshoe, or cross-country ski
The drive along the recently re-opened Akamina Parkway is very scenic. So even if you do and out and back drive to the parking lot before Cameron Lake, it will be a worthwhile exercise.
Cameron Lake is a beauty in summer and the starting place of one of the best hikes in the park on the Carthew Alderson Trail. In winter the options are more limited, but what is available is family friendly. You can cross-country ski, snowshoe or hike the 2.5 km to Cameron Lake from the parking lot and then retrace your steps. Allow 1- 2 hours depending on how much time you spend at the lake.
Note that there is a shelter where you can eat your lunch up by the lake. Also, the Alpine Club of Canada rents out the Cameron Hut – which you'll pass on the way to the lake, down in the woods.
Bear's Hump hike
Strap on some micro-spikes and do the 2.8 km round-trip hike to the top of Bear's Hump, easily accessible from the road into town. There is only 250 m of elevation gain so you can knock the whole hike off in under an hour. The reward – if the wind doesn't blow you off the top in winter, is the fantastic view down the lake and over to the prairies.
In winter, there weren't a lot of people doing the hike but every last one of them was wearing footwear with close to zero tread. If you want to stay upright and avoid a fall – or worse a broken bone or smack to the head, for heaven's sakes use icers. Buy them ahead of time at Canadian Tire or online at MEC through this link. As one reader recently said to me – "I can't believe how much confidence the icers give me on the icy trails."
Cameron Falls and Upper Waterton Lake
Cameron Falls is a pretty road-side waterfall in town that is always worth a quick visit. While you can stop and snap a quick photo from the road, there is the option to throw on a pair of ice cleats and wander up the icy pathways on either side of the falls. Note that the road down to the falls is very icy so proceed slowly with caution!
Continue a couple of hundred metres down the road to where it dead ends by the lake. Take a winter beach walk, admiring the ice formations along the shoreline. Ours was cut short because of fierce winds but what a gorgeous view you get.
Where to stay and eat in Waterton in winter
The Waterton townsite is a ghost town in winter. The main street is shuttered, the gas station closed, and chances are you'll see more animals around town than you will humans.
Only two hotels remain open during the winter – Waterton Lakes Lodge Resort and Waterton Glacier Suites. Both offer dining options – Vimy Lounge & Grill at Waterton Lakes Lodge and Red Rock Trattoria at Waterton Glacier Suites. During COVID, with restrictions in place, you can call in your meal order, pick it up and then eat in your room. In Alberta restrictions are easing again (for who knows how long) so as of February 8th you should be able to eat in the dining rooms again.
All appropriate health measures are in place for the hotel and dining.
Stop at Castle Mountain Resort on a winter road trip
Castle Mountain Resort is a fun, family-friendly place to ski and more affordable than any in the Banff – Lake Louise corridor. But during COVID – where numbers of skiers allowed on the hill are reduced, you really need to plan. You can pre-purchase tickets which is probably the best thing to do, so you don't make the drive, get to the ticket office and find out they've reached the limit for the day. They also offer half day passes and they're usually available at the ticket window.
Read: Castle Mountain Resort – A Skier's Paradise
If you're not into skiing, there is the option to snowshoe or cross-country ski on a network of trails at the ski resort. They're located near the RV Park. While you won't find a lot of signage at intersections, the trails are obvious and there are occasional snowshoe trail signs like the one pictured below. You could easily spend several hours enjoying loops through some beautiful forest (check out the size of some of the trees) and along the creek.
More ideas for your southwest Alberta winter road trip
I just scratched the surface of what you can do in southwest Alberta in winter. If you've got the time and enjoy cross-country skiing check out the trails in Beauvais Lake Provincial Park, the Syncline cross-country ski area near Castle Mountain Resort and the Allison-Chinook cross-country ski area on the east side of Tecumseh Mountain.
In Waterton, there are many more day's worth of cross-country skiing and snowshoeing. The Red Rock Parkway would be ideal and around town, you can walk or snowshoe the Kootenai Brown Trail and the Linnet Lake Trail. Off Akamina Parkway, there are several longer outings possible on the Rowe Lakes Trail and Lineham Trail – but both of these cross challenging Class 2 avalanche terrain. The same goes for the Bertha Falls Trail.
If you have icers or microspikes, enjoy an ice walk up to Star Creek Falls near Coleman.
Further reading on things to do in southwest Alberta
Thank you to Explore the Pass and Waterton Tourism for hosting my stay. All thoughts – as always are mine alone.
Click on the photo to bookmark to your Pinterest boards.