Sharing a park boundary with Saskatchewan, Cypress Hills in Alberta sits in the southeast corner of the province within sight of Montana's Sweet Grass Hills. Well known and used by the people of nearby Medicine Hat, the park is often overlooked by people from the rest of the province. And yet it's very much worth a visit. There are lots of things to do in Cypress Hills, Alberta, and not just in summer. This is one Alberta Park that shines year-round.
Cypress Hills Provincial Park boasts the tallest hills between the Rocky Mountains and Labrador. Because of that, there are a wide range of eco-systems, a distinct climate, and an interesting and varied landscape that includes lodgepole pine forest, grassland and wetlands. It's a dream destination for nature lovers, birders, hikers, boat lovers, campers, cross-country skiers, skaters, downhill skiers and mountain bikers.
Miscellaneous information about Cypress Hills, Alberta
You can buy gas at the Elkwater townsite.
Many of the roads in the park are gravel. Some of the roads can get quite slick when it rains.
You can stay in a number of cabins in the park, almost on a year-round basis. There is lots of camping too, especially in summer.
The driving time from Medicine Hat to Elkwater is 40 minutes, and from Calgary about 3 hours and 40 minutes. From Lethbridge, it's just under 3 hours.
Dogs are allowed in the park but must be kept on a leash at all times.
There are no bears in Cypress Hills, Alberta – but there are cougars.
Location map of Cypress Hills, Alberta
So just what can you do in Cypress Hills, Alberta??
Read on to learn everything there is to know about Alberta's beautiful Cypress Hills Provincial Park.
Best time to visit Cypress Hills, Alberta
As a provincial park that is open year round, you can find something fun to do in any season. In spring, summer and fall visit for hiking, biking, swimming and water sports.
Come back in the winter if you want to ski (there is downhill skiing in the park that's affordable), skate on a trail through the woods, go snowshoeing, and look for wildlife. There's a kid-sized luge, nature viewing, and of course dark skies and stargazing – something the park is famous for as it's a Dark Sky Preserve.
Recommended reading: 7 Things to Do in Winter in Cypress Hills Park
Where to stay in Cypress Hills, Alberta
You've got a lot of options in the park when it comes to accommodation. It all depends on your style and budget.
The Elkwater Lake Lodge, located in a prime spot at the edge of the lake will appeal to those looking for a higher end experience that doesn't involve camping. It's the only hotel in the park.
Camping and glamping in Cypress Hills, Alberta
If you are into camping there's a lot of choice. Twelve campgrounds provide space for roughly 400 tents and RV's. Book ahead, especially on summer weekends. The most popular campgrounds are Old Baldy, Lakeview, Aspen Ridge and Elkwater.
Glamping in backcountry huts is also an option and most are open 11 months of the year. What is provided which eat backcountry hut depends a bit on when you visit. If you're going in winter they will provide firewood, pots, pans and utensils but if you're visiting between May 1st and September 30th you may have to bring more gear. Be sure to check ahead of time as all huts are a bit different.
Insider tip: Choose from one of the eight backcountry huts if you're like me and you prefer solitude. My favourite is the Spruce Coulee Hut which sleeps six in theory (two bunk beds, each with a queen bottom and a single top) but four would be more comfortable. It overlooks Spruce Coulee and in the evening you feel like you've got the whole park to yourself. It costs $100/night in 2023. You can make reservations online.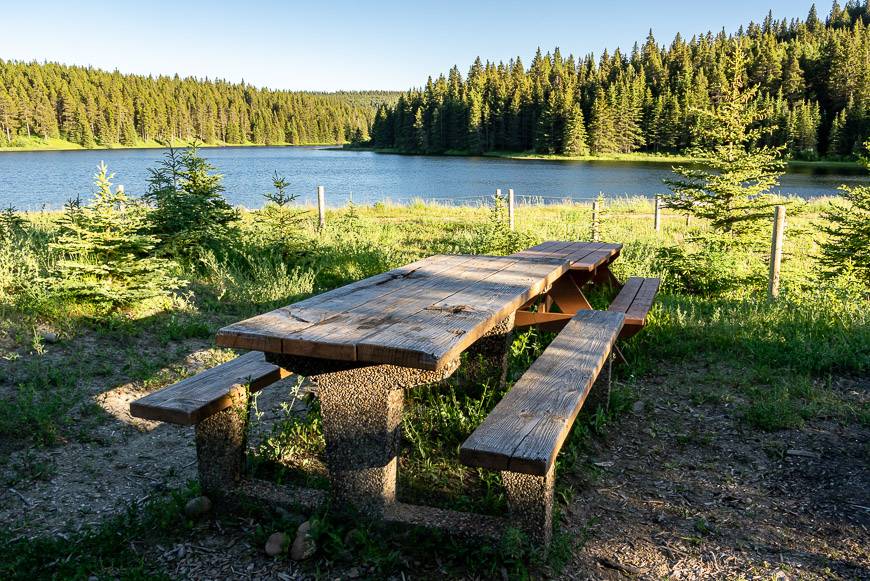 Canoe, kayak and SUP in Cypress Hills, Alberta
Elkwater Lake – the largest body of water in the park at 4 km long, is a hub for water-based activities. There's a marina at the edge of the lake where you can rent everything from canoes and kayaks to paddle boards and paddle boats.
Motorboats are also welcome on this lake and marina stalls are available for rent on a daily, weekly or even monthly basis. A sandy beach with great swimming will call all water lovers, especially on a hot, summer day.
There's a big beach on Elkwater Lake, so it's a great choice for swimming. At this location you'll also find bathrooms and change rooms.
Insider tip: Take a kayak out at the end of the day when most people have gone to dinner. Paddle to the far end of Elkwater Lake and enjoy the birding.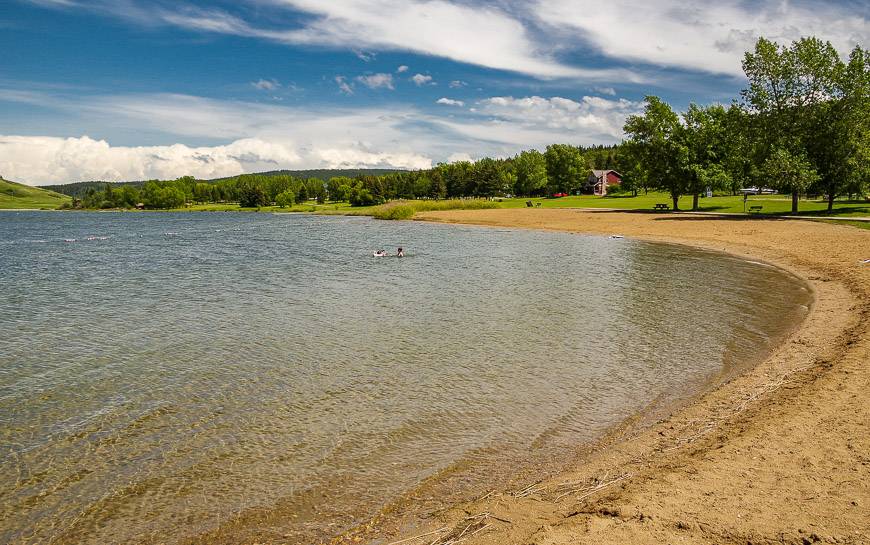 Go fishing in Cypress Hills, Alberta
Fishing is very popular in the park especially as many of the lakes and reservoirs are stocked. Buy a fishing license online and then try your luck at Elkwater Lake, Spruce Coulee or Reesor Lake. Trout fishing on some of the small creeks is also excellent. Other species to fish for include walleye, northern pike, yellow perch, and arctic grayling depending on which lake or stream you're fishing.
Go mountain biking in Cypress Hills, Alberta
Cypress Hills, Alberta is crisscrossed with about 50 kilometres of mixed use hiking and biking trails. The biking is especially good – world-class really with some trails offering everything a mountain biker dreams of – roots, rocks, berms, jumps, bridges and lung bursting ascents that definitely test your conditioning program.
Check out the Battle Creek Showdown in August – a 7 km circuit that's done as many times as you can over 3.5 hours with the winner in each category receiving a bag of local corn! Bikes can be rented at the marina by the beach.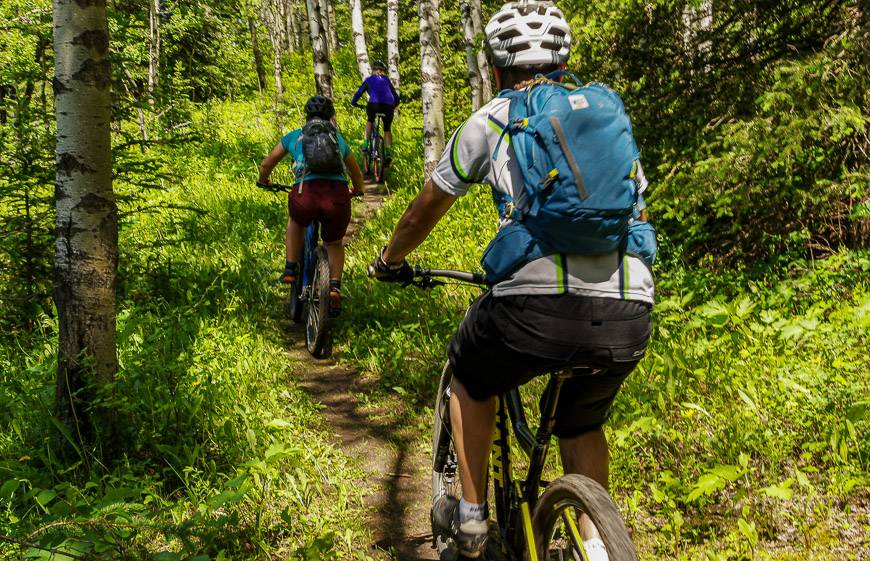 Hiking in Cypress Hills, Alberta
Hiking is also excellent. There is everything from short, family-friendly jaunts on a paved path beside Elkwater Lake to full day, arduous loop hikes including one that takes you up Horseshoe Canyon Trail to the Horseshoe Canyon Viewpoint.
Check out the full list of trails in the park, their length and their status.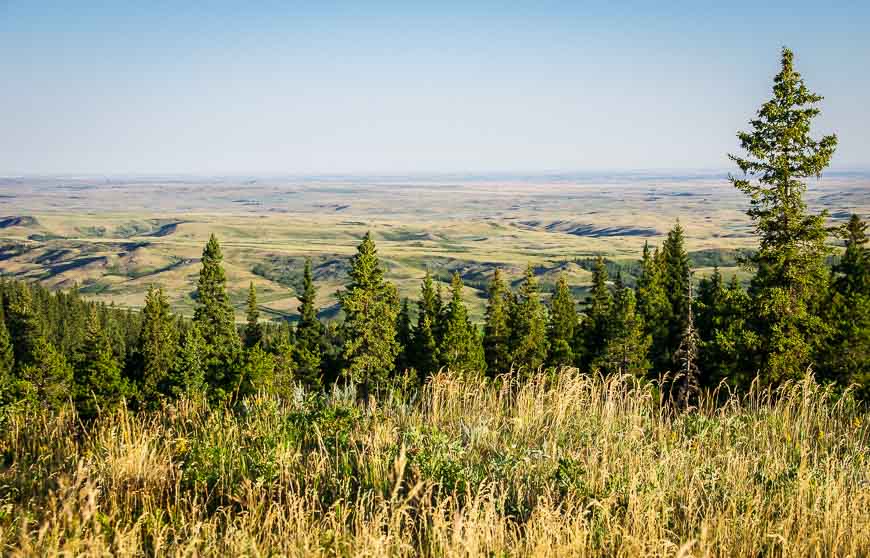 Go horseback riding
Go horseback riding on over 140 kilometres of trails in Cypress Hills, Alberta. You do need a free permit to bring your horse into the park. A new dedicated campsite puts Cypress Hills on the map as an equestrian friendly park.
What else is there to do in Cypress Hills, Alberta?
Take a drive, especially in the evening when you've got a good chance of seeing wildlife.
Check out the Survival Tree – a lone lodgepole pine at the top of the plateau that has been growing for more than 150 years.
Look for the Police Point Slump – the site of a huge landslide in 1967.
And be sure to stop at the headwaters of Battle Creek. Although unassuming, the water from here flows to the Gulf of Mexico while just a kilometre away it flows to Hudson's Bay.
Aim for either Head of the Mountain Viewpoint or the Horseshoe Canyon Viewpoint at sunset. Both are magnificent.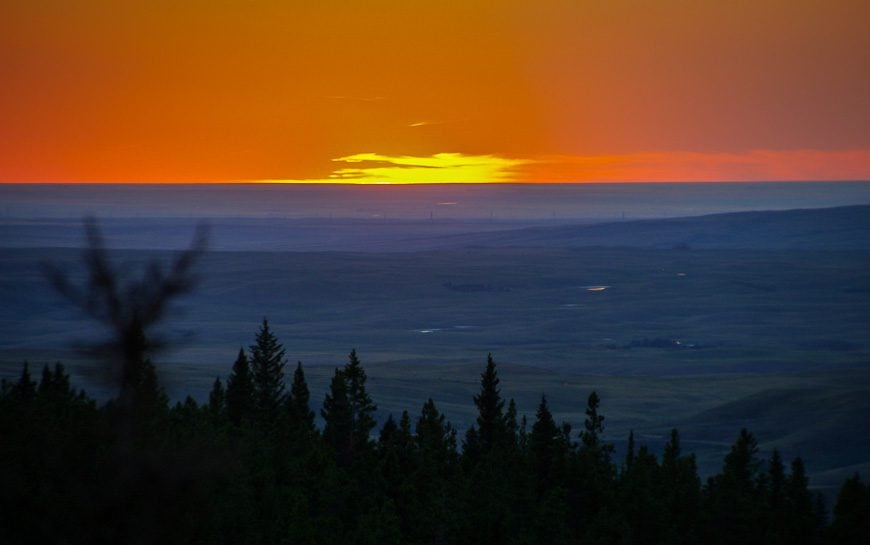 Sign up for a nature tour
Over a 2.5 hour nature tour you experience the full range of eco-systems in the park from the prairie to the high plateau. You'll look for birds, stop for animals and get a lesson in geology as you drive down bumpy dirt roads looking for the Cypress Hills Conglomerate. A lesson in glaciation along with random bird, animal and plant facts will keep any nature lover spellbound.
Our guide was one of those guys who could rhyme off very cool, weird and wonderful nature facts ad nauseum. For example he explained that the loggerhead shrike, a bird that impales its victims on sharp objects, uses the hawthorn trees in the park with their inch long razor like thorns. After spearing their catch on the thorns, they leave them to cure for a few days and then proceed to eat them.
The tour leaves the Elkwater Townsite and heads out into the plains to stop and look for birds like hawks, falcons and grassland birds.
I wished I had my big lens as there was a terrific amount of activity around the ponds we stopped at. Then it's a fascinating climb up the hill through a variety of eco-systems with stops whenever wildlife like coyotes and deer come into view. At dawn and dusk you'll likely see white-tailed and mule deer but consider yourself lucky to catch sight of elk or moose.
Additional stops included on the tour include Spruce Coulee, Head of the Mountain Viewpoint (the highest elevation in the Cypress Hills at 1,466 m) and the Horseshoe Canyon Viewpoint.
It's from here that you can see fiery red of a prairie sunset along with beautiful views of the Sweet Grass Hills of Montana off in the distance.
The tour is fully narrated but it never gets boring and questions are encouraged. You'll learn a lot and come away with a new appreciation of the park. The scenery too – as you'll see in the photos is outstanding.
Where to eat in Cypress Hills, Alberta
The food available in the park surpassed all my expectations – especially if you consider what you usually get when it comes to park food.
For your latte fix head to the 12-34 Cafe and Pub beside the gas station. It's the perfect place to go for breakfast but its equally good for a post-workout beer.
Bugler's Dining Room in Elkwater Lake Lodge & Resort offers breakfast, lunch and dinner – and a children's menu.
A great diversity of experiences in the park
I have visited Cypress Hills, Alberta on three occasions now. I'll be back again – for I love the sense of space it affords, the solitude the minute you're away from the Elkwater townsite and the amazing amount of nature to be seen in a small area.
For a 200 square kilometre park it sure offers a diversity of experiences and landscapes. Go see for yourself what a gem this place really is.
For more information on Cypress Hills Provincial Park, visit their website.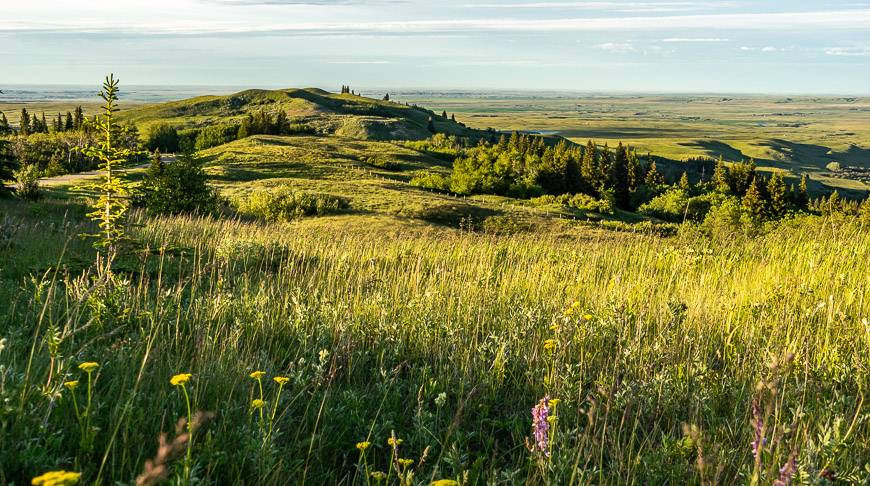 Further reading on things to do in Southern Alberta
Click on the photo to bookmark to your Pinterest boards.