Waterton Lakes National Park is a superb destination for hikers who love the Canadian Rockies. It doesn't see anywhere near the crowds that Banff and Jasper National Parks see – and yet the Rocky Mountain scenery here is truly spectacular. The park abuts Montana's Glacier National Park forming the Waterton – Glacier International Peace Park. It has received UNESCO status for both the outstanding scenery and because "the parks are exceptionally rich in plant and mammal species as well as prairie, forest, and alpine and glacial features."
The best time to visit if its hikes in Waterton you're after, is between July and mid-September though some people enjoy October when almost everyone has gone home. Waterton is known as grizzle bear country so on any hike you do, be bear aware and always carry bear spray.
There was a forest fire in 2017 that destroyed about 38% of the park – reducing trees to ash. While some parts of the park are completely unaffected, including the famous Crypt Lake trail, there are a few that are now difficult to access or even closed. Be sure to visit the park website for current trail conditions.
Many of the Akamina Parkway reopened in 2021. The Red Rock Parkway opened in 2020. Visit the park website for the most current information on road closures and openings.
Location map for the Waterton Lakes National Park hikes
Hikes in Waterton –
Rowe Lakes and Lineham Ridge
The trail to the Rowe Lakes and even to Lineham Ridge is spectacular from start to finish. It begins at the Rowe Lake Trailhead on the Akamina Parkway. From there it follows the north shore of Rowe Creek – an amazing site in itself as the bedrock is a brilliant red argillite through low brush at a moderate grade.
Make lots of noise in this area as it is bear country and they are hard to see in the brush. Reach the intersection to Lower Rowe Lake at 3.9 km and continue to the next junction at the 5.2 km mark. Then it's a short 2.4 km out and back to the Upper Rowe Lakes – which would be very worthwhile, even if your sights are set only on Lineham Ridge.
Energetic hikers might want to consider the full 17.2 km hike to the top of Lineham Ridge and back. It affords magnificent view of the Rowe Lakes from above. Just beware that Lineham Ridge is notoriously windy – so if at all possible pick a day with little wind in the forecast.
Read: The Gorgeous Lineham Ridge Hike in Waterton
Crypt Lake Trail hike
I don't think this trail is the prettiest one in the park but it does offer a variety of experiences that you're not likely to find on any other hike in Canada. That's not to say that the trail isn't lovely. It does offer some beautiful views and a sparkling turquoise lake at it's end. But it's the sum total of all the experiences that keep people visiting.
Start with a boat ride to the trailhead – offered just once a day in the morning and late afternoon from early summer until Thanksgiving. Check ahead of time to be sure the boat is operating.
The hike itself is 8.7 km one way with 700 m of elevation gain. It's not until you get into the scree that it gets "interesting".
After crossing a narrow scree slope you must climb an eight foot ladder (easy), negotiate a 20 m tunnel (duck) and finally inch your way along a steep, rocky trail while holding onto a steel cable (can be scary). It sounds worse than it is – though many people do freeze here. The rest of the hike is a snap – though leave enough time to hike back to the shuttle – as they don't wait around.
Crypt Lake itself is a pretty one so take the time to walk around it. With luck you'll be visiting on a sunny day and will be able to enjoy your lunch on the beach.
Read: The Crypt Lake Hike in Waterton Lakes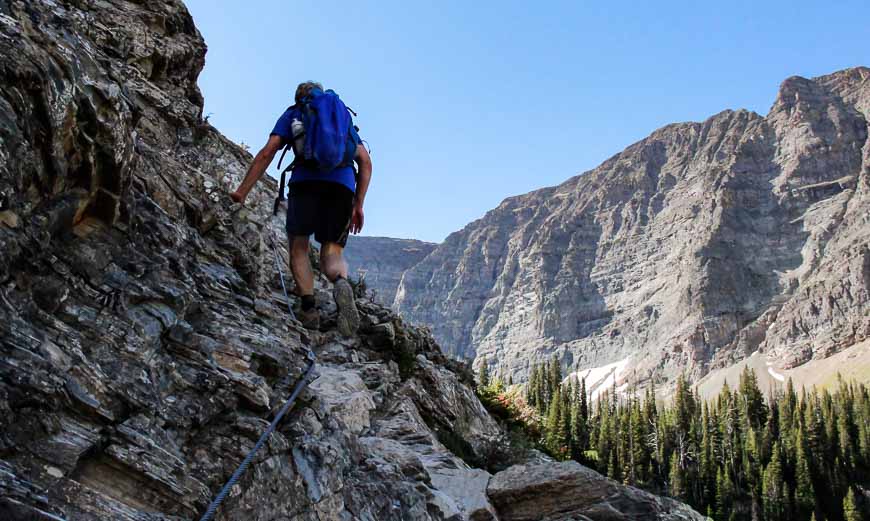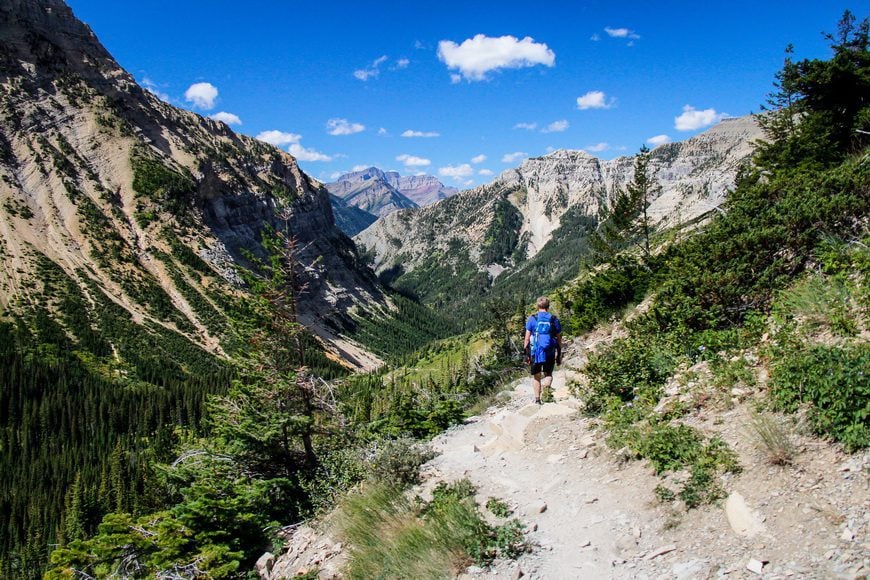 The Bear's Hump hike
This hike reopened in May 2020.
This is the perfect trail to hike if you don't have a lot of time. It's only 2.4 km round-trip with an elevation gain of 238 m – enough to give you a bit of a workout. It's a good one to do year-round!
Located beside the Visitor Centre, it leads to an inspiring view down the full length of Upper Waterton Lake. The trail switchbacks up to the summit at a moderate grade so it's more doable than you might think. In the fall, the views of the surrounding townsite dotted with oranges and yellows is particularly attractive.
Lower Bertha Falls hike
The Lower Bertha Falls hike is one of the most popular hikes in Waterton. It's easily accessed from the Waterton townsite just past the bridge at Cameron Falls.
It's 2.6 km one way to Lower Bertha Falls, much of it through burnt forest – though it's still pretty. It shouldn't take you more than 2 hours for the up and back hike.
It's 5.2 km one way to Bertha Lake, named after a local resident who has been called a bootlegger and a counterfeiter. It sits in a high alpine cirque surrounded by Mount Richards and Alderson. The trail to the lake passes Upper Bertha Falls at the 4.8 km mark and affords grand views of Upper Waterton Lake. Allow 3 – 4.5 hours to do the return hike to the lake.
Carthew Alderson Trail – one of the exceptional hikes in Waterton
The beautiful Carthew Alderson Trail weaves through a lot of diverse terrain that includes mountains and glaciers along with a few very beautiful high alpine lakes. Normally it's accessed via a shuttle to Cameron Lake – and then from there you hike back 20 km to Waterton townsite. The hike gains 651 m at the beginning and then proceeds to lose 1,016 m.
In wildflower season you'll be wowed. And with luck you'll see wildlife including marmots, mountain goats (look at the cliffs above Alderson Lake) and even a grizzly bear.
Goat Lake hike
The Goat Lake hike starts from the Red Rock Canyon parking area too. The first 4 km of the trail are shared with mountain bikers – so be on the lookout for them.
The Goat Lake hike gains 525 metres or 1722 feet over a 13.6 km round trip. I'd rate it as moderate and would suggest allowing 4 -5 hours.
The first 4 km of the hike are actually on the Snowshoe Trail. After about 1.25 hours of hiking you reach a signed junction and the climbing begins. Switchback up to a lip of a stream – enjoying increasingly better views. The tough hiking is over once your reach the stream and its an easy saunter through the woods to the lake.
There is the option to camp at Goat Lake – ideal if you're also planning to hike Avion Ridge – which is a steep 1.6 km distant.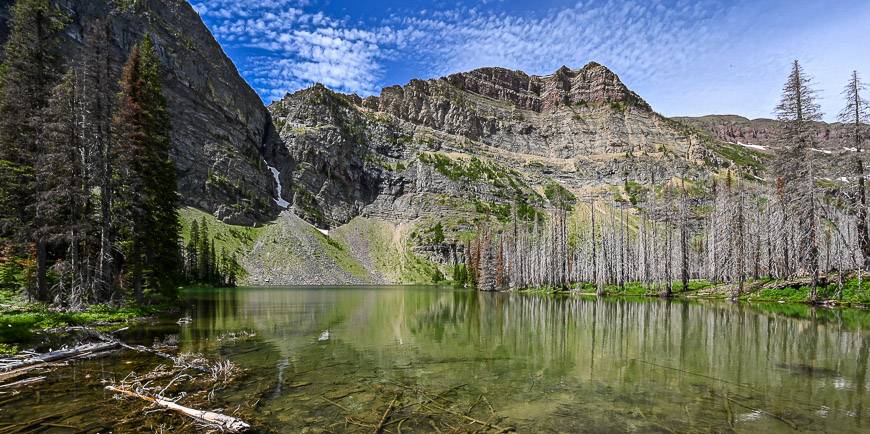 Red Rock Canyon Trail
The Red Rock Canyon Trail is very short 0.6 km loop hike and very sweet as you can see in the photo below. Tt's really more of a pretty nature stop than a real hike and because it is so beautiful, everyone should try to do it. On a hot day, it's the perfect place to cool your toes after the hike to Goat Lake.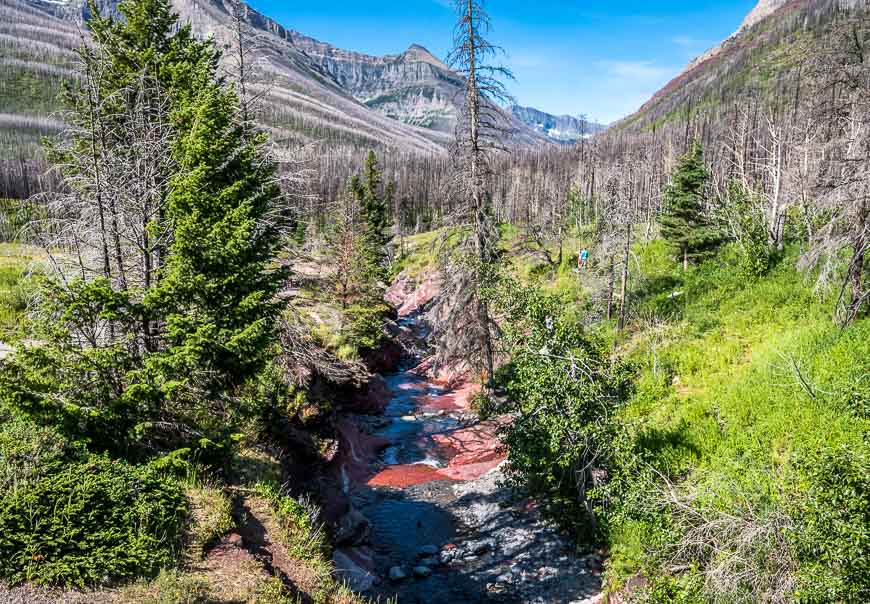 Blakiston Falls hike
The trail to Blakiston Falls starts at the Red Rock Canyon parking area. When I did the hike, it was in the dark as part of a star-gazing evening. I can only imagine how much more dramatic the falls would be in daylight.
The hike to Blakiston Falls is an easy one as it is only 2 km return so it's ideal for families. To get to the falls turn left after you cross the footbridge to reach the formal start of the trail. Walk the mostly flat trail through lodgepole pine forest to reach the waterfall viewpoint. Explore all the walkways to get different perspectives of the falls.
The falls themselves are 15 – 20 metres tall – but they sure sound bigger than that!
Crandell Lake Hike
For another easy, family-friendly hike do the 3.8 km return hike (with minimal elevation gain) to an emerald-green lake located in a forested saddle between Mount Crandell and Ruby Ridge. Fast hikers can knock the hike off in just over an hour, but take a few hours to enjoy the easy tromp through lodgepole pine forests.
Find the trailhead on the Akamina Parkway though you can also access it from the Crandell Mountain Campground if it's open.
A few more hikes in Waterton to consider
I've been to Waterton Lakes National Park on numerous occasions but there are still a few hikes I have yet to do but would like to.
Lineham Creek Falls, accessed from the Akamina Parkway, is an 8.4 km return hike with 375 metres of elevation gain that would be ideal in the shoulder season. You would only need a couple of hours to do it.
Another easy shoulder season hike would be the 12.8 km return hike along the Waterton lakeshore. Either do and out and back from the Bertha Lake trailhead or take the boat (when operating) to the Goat Haunt boat dock (with your passport) and walk back.
The full day hike to Akamina Ridge along with Wall and Forum Lakes has been on my list for years. Ideally, you need a non-windy day to do the full 18.3 km circuit that includes both lakes and the ridge. Access is from the Akamina Parkway, but you will eventually be hiking into British Columbia. Allow up to 8 hours for the full circuit.
This post includes some affiliate links. If you make a qualifying purchase through one of these links, I may receive a small percentage of the sale at no extra cost to you. Thank you for your support.
Things to take on your hikes in Waterton
Take bear spray that is no more than three years old. Keep it in a bear spray holster that is easy to access.
Carry a whistle.
Always pack the 10 hiking essentials.
Layer up – as the weather can change quickly in the mountains, and this part of Alberta is notoriously windy.
Some people will be happy to have hiking poles for any descent.
For those of you who enjoy wildflowers, I'd recommend this pocket wildflower guide.
Where to stay in Waterton
Camp in town at the Townsite Campground on the lake. Reserve online or call Parks Canada at 1-877-737-3783.
I highly recommend Waterton Glacier Suites. It's within walking distance to everything.
For a B&B experience the Northland Lodge is a great choice. And if it's an iconic hotel you're after in an incredible setting then book the Prince of Wales Hotel. Enjoy their high tea or a drink in the lounge, even if you don't stay here.
For more information on Waterton Lakes National Park visit the park website.
Further reading on things to do in southern Alberta
Click on the photo to bookmark to your Pinterest boards.