Crypt Lake Hike in Waterton Lakes
The Crypt Lake hike in Waterton Lakes National Park has been called the "Indiana Jones adventure of the Canadian Rockies." The hike to the lake is by no means the prettiest hike in the Rockies – or even in Waterton Lakes National Park for that matter.
But the Crypt Lake hike does offer a variety of experiences that you're not likely to find on any other hike in Canada. There are some glorious views along the trail – and the lake itself is a beautiful Caribbean blue colour. You'll want to spend at least an hour lounging by the lake if it's a sunny day.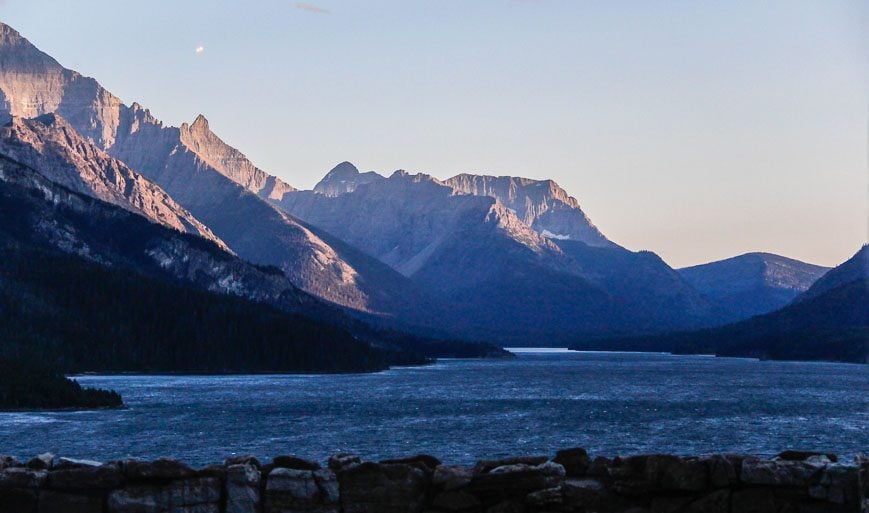 The Crypt Lake hike starts with a boat ride
"No one has ever died on the exposed section" declares our boat guide on route to the hike. Would you call those reassuring words as you headed out to test your mettle on a trail known for a ladder, tunnel and chains?
The hike starts off with a scenic 15 minute boat ride. This is when it first strikes you that you won't be alone on the trail. For some that will be a positive thing since this is bear country after all. But if you're looking for the solitary hiking experience you won't find it hiking to the lake unless it's a weekday in September.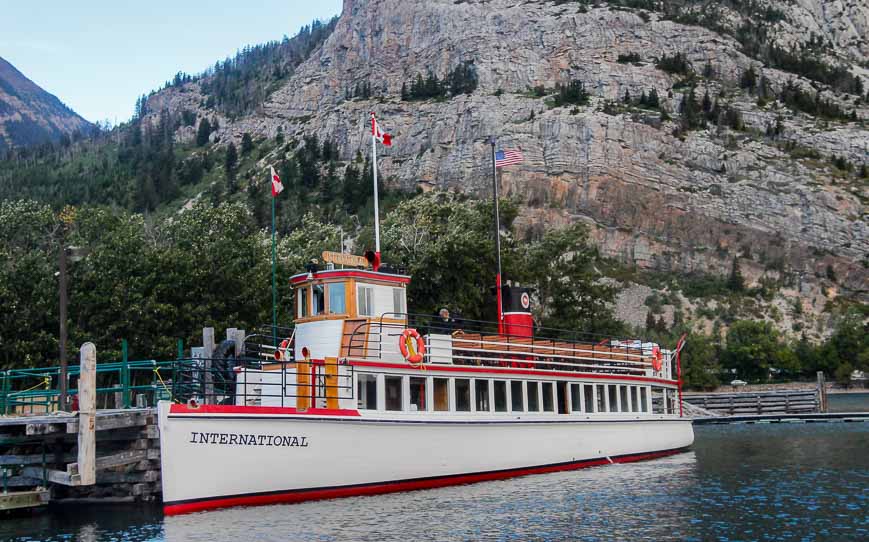 Crypt Lake route
The route up to Crypt Lake is always easy to follow. On the way you'll pass three waterfalls – Twin Falls, Burnt Rock Falls and the wonderful Crypt Falls as you climb a total of 690 m (2,263 feet). You can also take a spur trail to Hell Roaring Falls near the beginning of the hike.
Few people visit Hell Roaring Falls, so its a good way to get to the back of the pack so you feel like you've got the trail more to yourself.
It took us 2.5 hours to hike each way. On the return there was a lot of waiting required to let people pass who were still heading up on the cabled section. Factor that into your plans.
It's easy walking above tree line – granted with continual elevation gain. And once you're through the the cable section, you can breathe a big sigh of relief. Or stop crying.
But you do have to return the same way you came if you ever want to eat a hot meal again. It's super easy and enjoyable from the end of the chains section to Crypt Lake. It will only take you 10 minutes.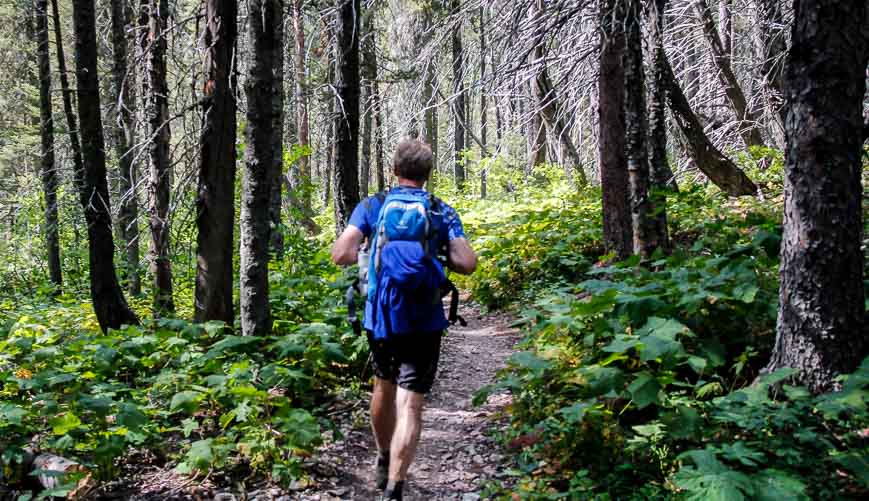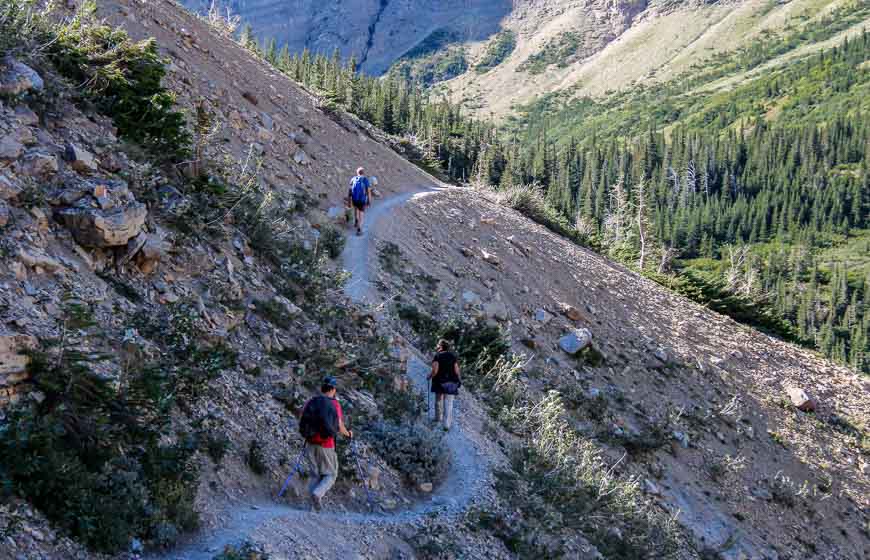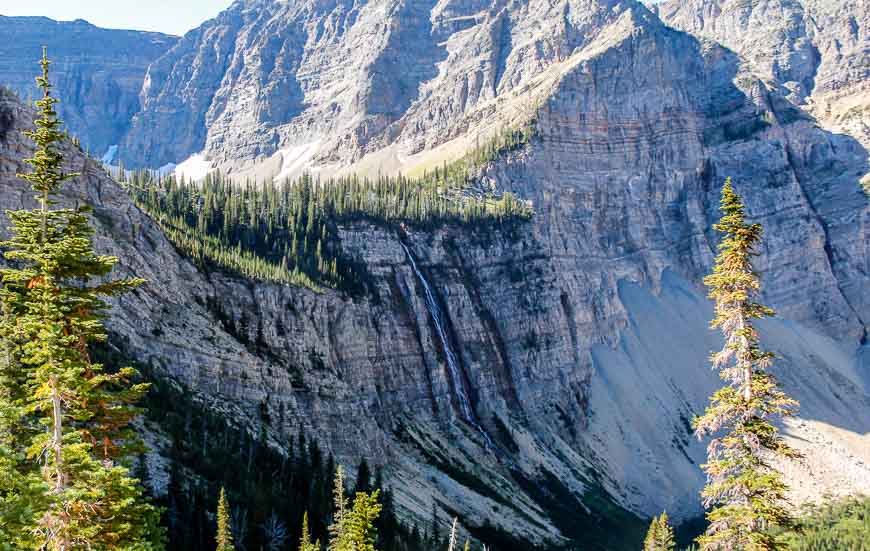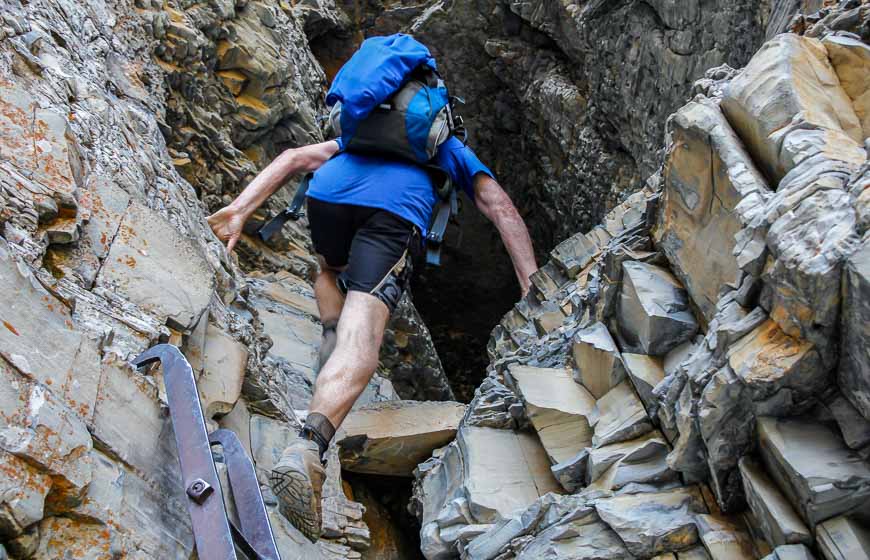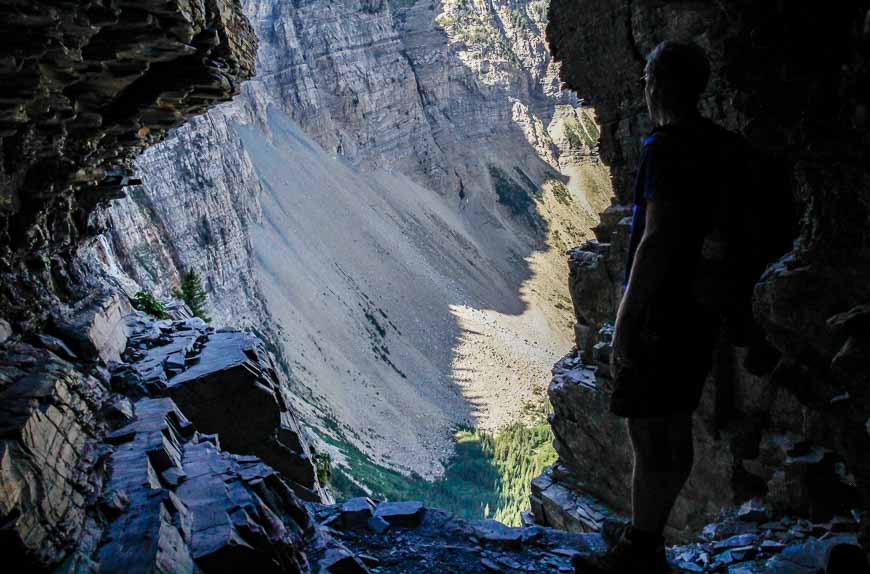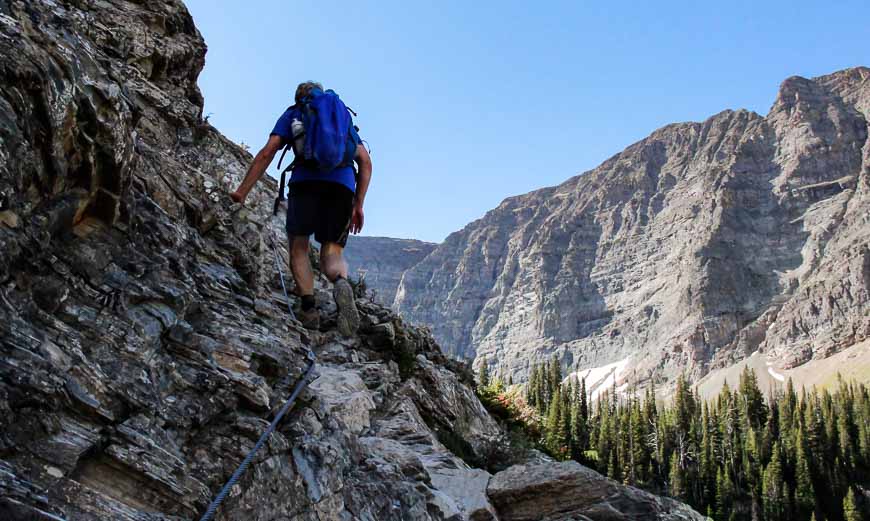 I think the views on the way down were far superior to those on the way up – though maybe that's because the lighting was better.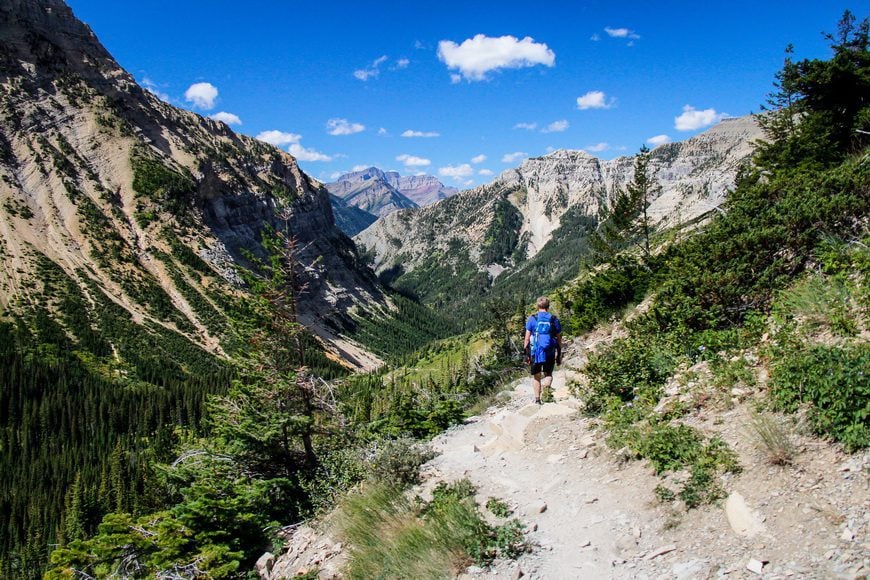 Why you should do this hike
Hiking Crypt Lake is really about going for the thrill of crossing a narrow scree slope with drop-offs – climbing an eight foot ladder, getting low and wiggling through a 20 m (60 foot) tunnel and then scaring the living daylights out of yourself as you inch along the narrow rocky trail – with a steel cable handhold on one side and a drop-off on the other.
The Crypt Lake trail packs a lot of excitement and adrenaline hits in only 8.7 km (5.4 miles) one way – and you get those adrenaline hits not once but twice if you want to get back to the boat.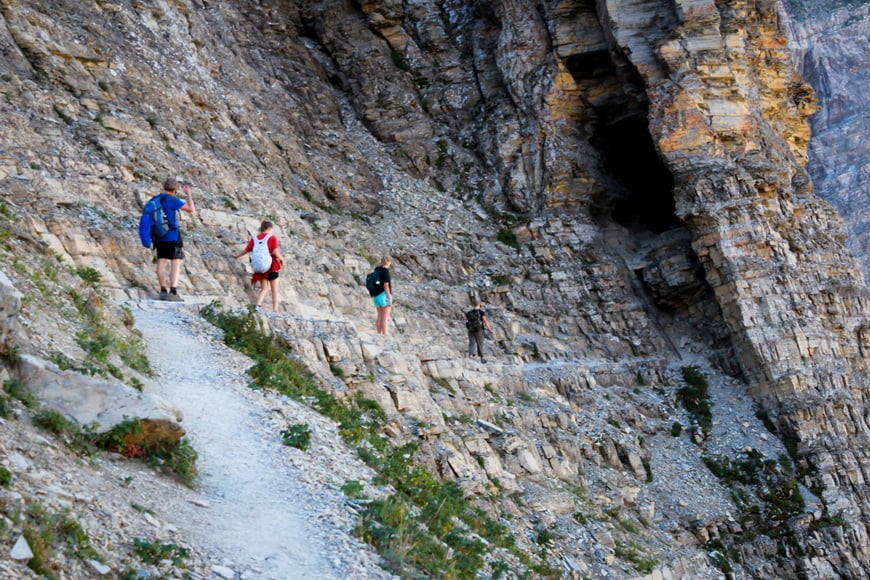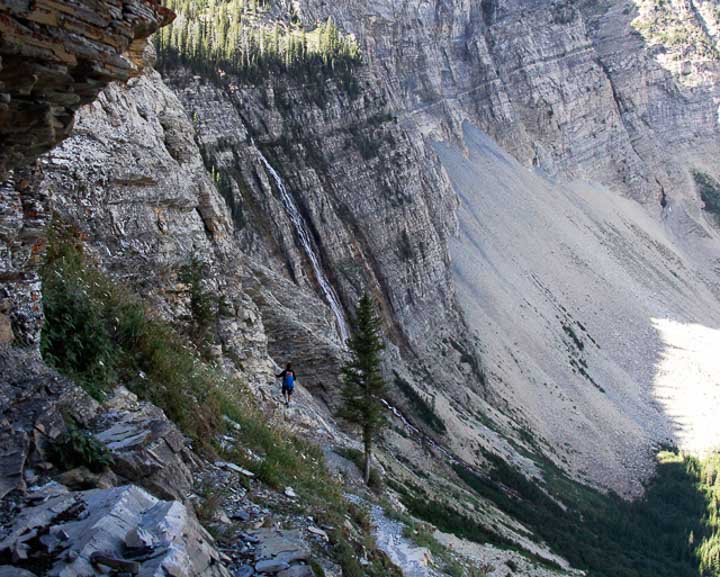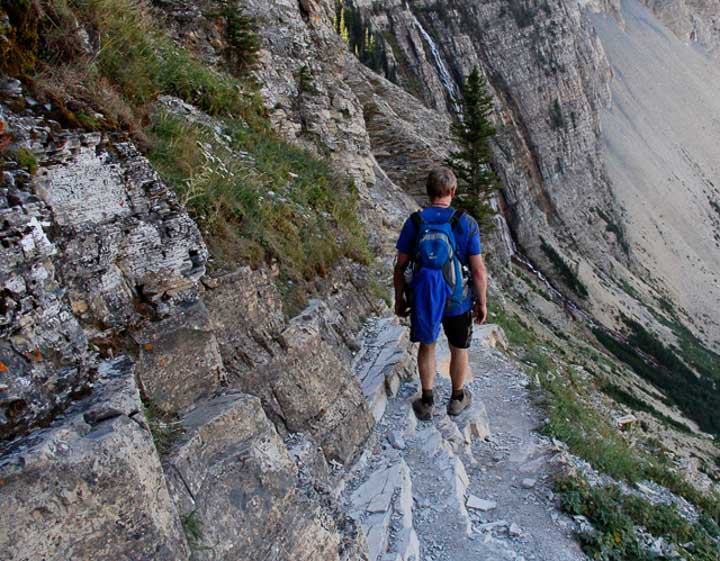 The beaches at the lake
Crypt Lake itself is also a treat. Beaches line part of the lake – and because you likely have some time before you have to head back for the return boat trip, it's a perfect place to lie out in the sun and relax.
Or take the 30 minute walk around the lake – the far end of which is on the United States/Canada border and get a very different set of views.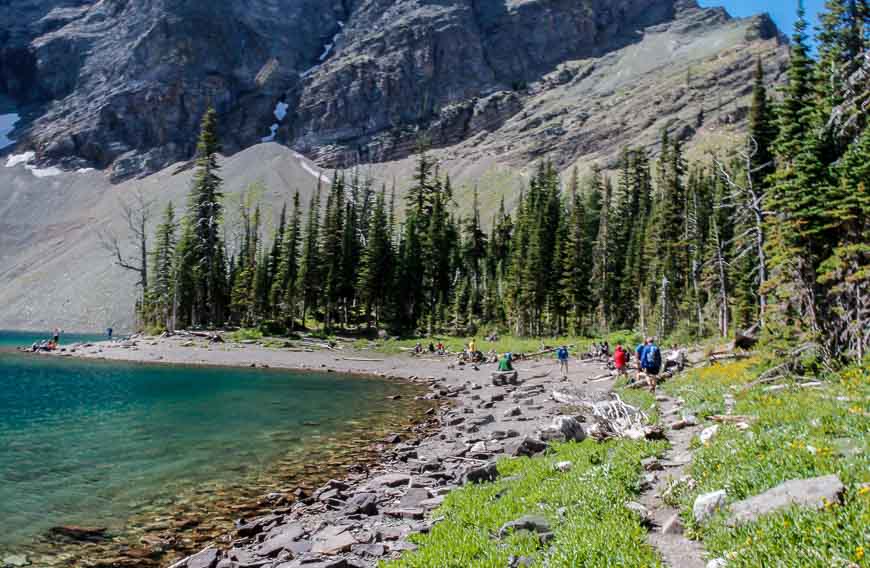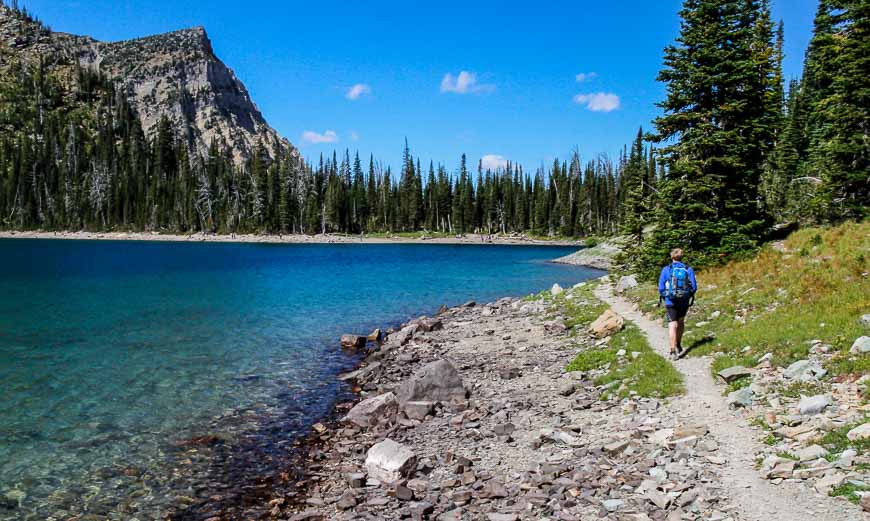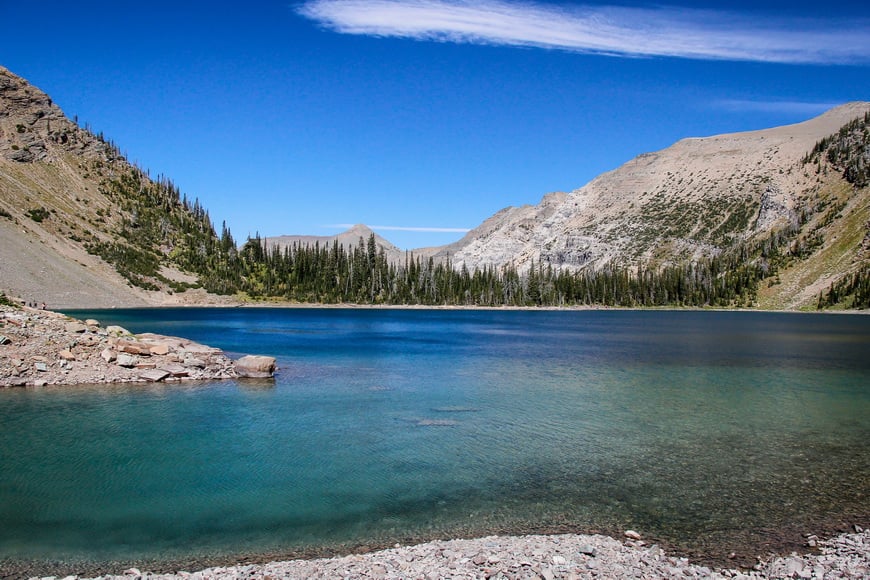 At the end of the hike
If you get down to the lake before the boat arrives you can enjoy some lakeside R&R. That's not a bad way to end such an exciting hike. Some people will even go for a swim if its hot enough.
More information for the hike
You must reserve a seat on the boat. We bought our ticket down on the dock the minute the window opened at 8:15 AM for the 9 AM boat ride. You must reserve your return too. (You can do this the day before too.) We chose the 4 PM return and that gave us one hour at the lake plus 30 minutes to hike around it. We didn't waste much time coming down. In peak season there is a 5:30 PM boat as well.
Contact the Waterton Inter-Nation Shoreline Cruise Company for the latest schedule. They can be reached at 403- 859-2362. The pricing for the boat ride is $27 per person in 2019. Children 1 – 12 are $14.
Don't forget to take the 10 hiking essentials along with a can of bear spray. Before you go you might want to read Bear Safety Tips: What You Need to Know.
You can do the hike as early as late May, depending on the year, through to Canadian Thanksgiving weekend in October.
For more information on Waterton Lakes National Park visit their website.
Where to stay in Waterton
This post includes some affiliate links. If you make a qualifying purchase through one of these links, I may receive a small percentage of the sale at no extra cost to you. Thanks for your support.
The Townsite Campground on the lake is a good choice if you're into camping. You can reserve online or call Parks Canada at 1-877-737-3783.
One place I highly recommend is Waterton Glacier Suites. You can do your own cooking and it's also very conveniently located.
If you're after a B&B experience Northland Lodge is a very good choice. And if it's an iconic hotel you're after in an incredible setting then check out the Prince of Wales Hotel. At the very least have a drink in their lounge with a view down the lake.
Other hikes in Waterton Lakes National Park you might enjoy
Click on the photo to bookmark to your Pinterest boards.