The Crypt Lake hike in Waterton Lakes National Park has been called the "Indiana Jones adventure of the Canadian Rockies." The hike to the lake is by no means the prettiest hike in the Rockies – or even in Waterton Lakes National Park for that matter, but it is one of the top hikes in Canada as it offers a variety of experiences that you're not likely to find on any other hike in the country. Cue the ladder, tunnel, and chains. And it starts and ends with a scenic boat ride so it's hard to beat that.
There are some glorious views along the Crypt Lake hike, along with three stunning waterfalls – and Crypt Lake itself is a beautiful Caribbean blue colour. You'll want to spend at least an hour lounging by the lake, located on the Canada – United States border, if it's a sunny day.
This post includes some affiliate links. If you make a qualifying purchase through one of these links, I may receive a small percentage of the sale at no extra cost to you. Thanks for very much for your support.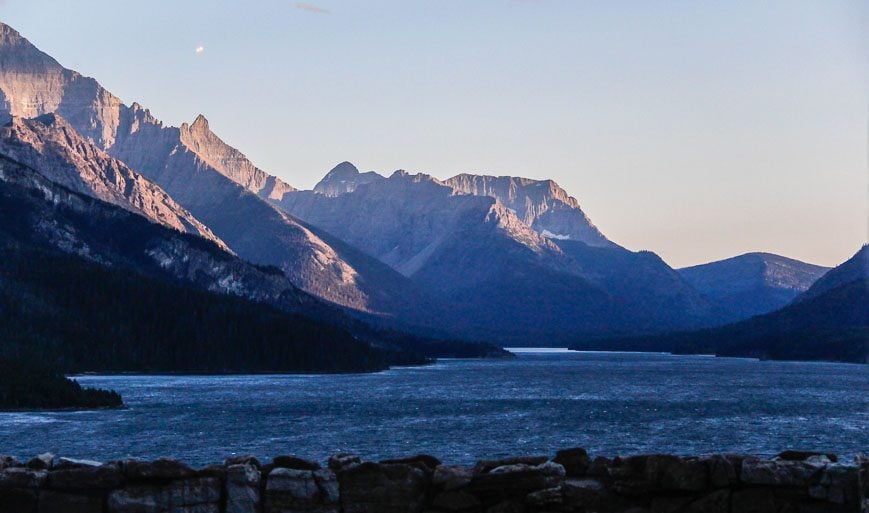 Crypt Lake hike summary
Distance: 17.4 km (0r 10.8 miles) return
Elevation gain: 690 m or 2,263 feet
Time needed: 5 – 7 hours (On the return hike there was a lot of waiting required to let people pass who were still heading up on the cabled section. Factor that into your plans.)
Level of difficulty: Moderate
Trailhead: Located at Crypt Landing on the east side of Upper Waterton Lake. The majority of hikers take the boat shuttle to get here.
Dogs: Allowed on a leash but you may have to help them up the ladder
Map: Gem Trek Waterton Lakes National Park
You need a National Parks pass to do the Crypt Lake hike. Either purchase at the entrance to the park or online. The best value is the Discovery Pass if you're planning to spend a lot of time over the course of a year in Canada's national parks.
Check trail reports in Waterton before you start the hike.
Don't forget to take the 10 hiking essentials.
Carry a quick to access can of bear spray. I'd recommend keeping it in a bear spray holster so you don't set it off accidentally. Before you go you might want to read Bear Safety Tips: What You Need to Know.
You can do the hike as early as early June depending on the year, through to early October, or whenever the shuttle stops running.
For more information on Waterton Lakes National Park visit their website.
Crypt Lake gets its name because it's tucked away in an alpine bowl, and is surrounded on three sides by steep cliffs forming a "sequestered sanctuary."
The Crypt Lake hike starts with a boat ride
"No one has ever died on the exposed section" declares our boat guide on route to the hike. Would you call those reassuring words as you headed out to test your mettle on a trail known for a ladder, tunnel and chains?
The Crypt Lake hike starts off with a scenic 15-minute boat ride. This is when it first strikes you that you won't be alone on the trail. For some that will be a positive thing since this is bear country after all. But if you're looking for the solitary hiking experience you won't find it hiking to the lake unless it's a weekday in September.
There is something you can do to avoid hiking in a pack. Either move very quickly and lose the crowds or take the side trip to Hell Roaring Falls just a few minutes into the hike, something few people do. That way you'll end up feeling like you have the trail to yourself, at least for a good part of it.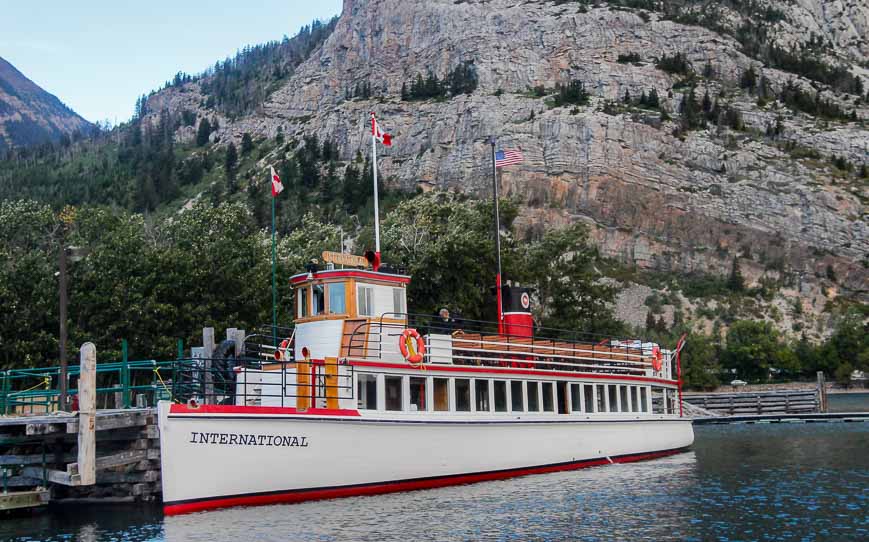 Crypt Lake hike description
The route up to Crypt Lake is always easy to follow. On the way you'll pass three waterfalls – Twin Falls, Burnt Rock Falls and the wonderful Crypt Falls as you climb a total of 690 m (2,263 feet). You can also take a spur trail to Hell Roaring Falls near the beginning or end of the hike.
The first part of the Crypt Lake hike isn't that interesting as you switchback up through the forest. But once the forest thins, you can enjoy some good views of Waterton Lakes. At about the 3.3 km point reach a spur trail that will take you to an overlook over Twin Falls, the first of the three big waterfalls on the hike.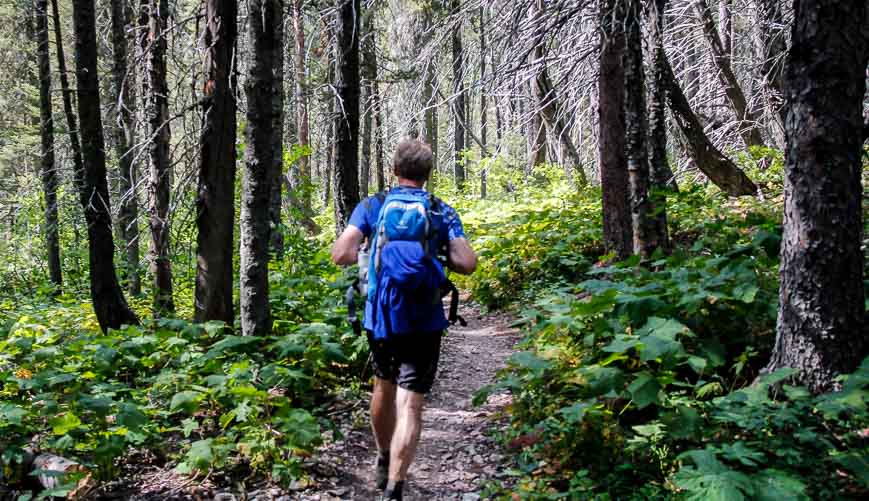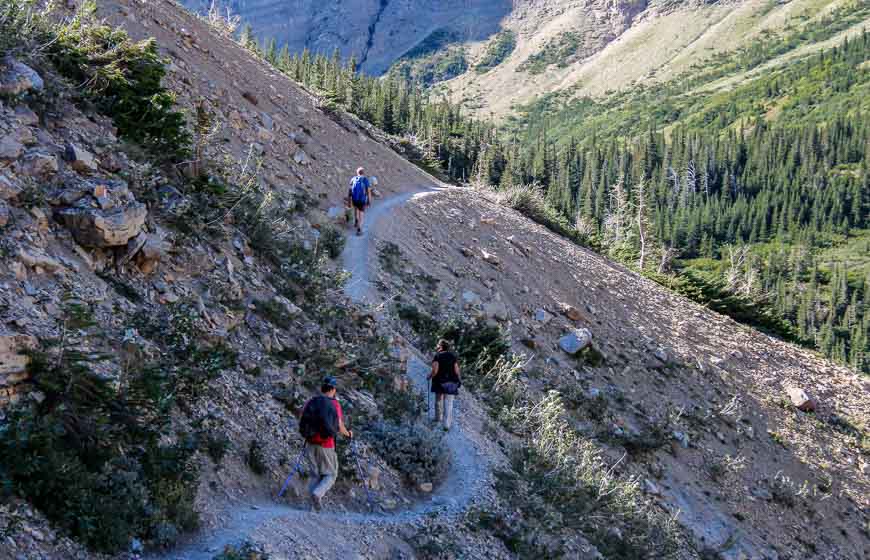 Burnt Rock Falls is next – and you'll reach it after hiking through a rocky section on the trail. Once past these falls, you continue climbing but it's visually more interesting as you're above tree line. When you finally see 175 metre high Crypt Falls – a horsetail waterfall, it means you're not too far from the tunnel.
The short hike up the ladder and through the tunnel is fun. Note that the tunnel isn't adult height, so be prepared to stoop so you don't bang your head. (You can use your cellphone to light it up if your eyes don't adjust quickly.) The cable section is next. There is a dropoff on your right as you climb it, but focus on putting one foot in front of the other and you'll be through it in no time.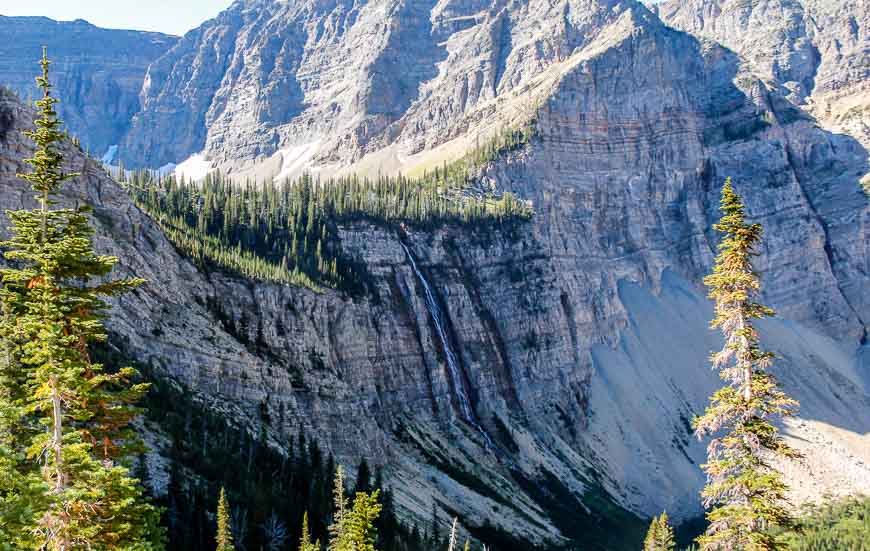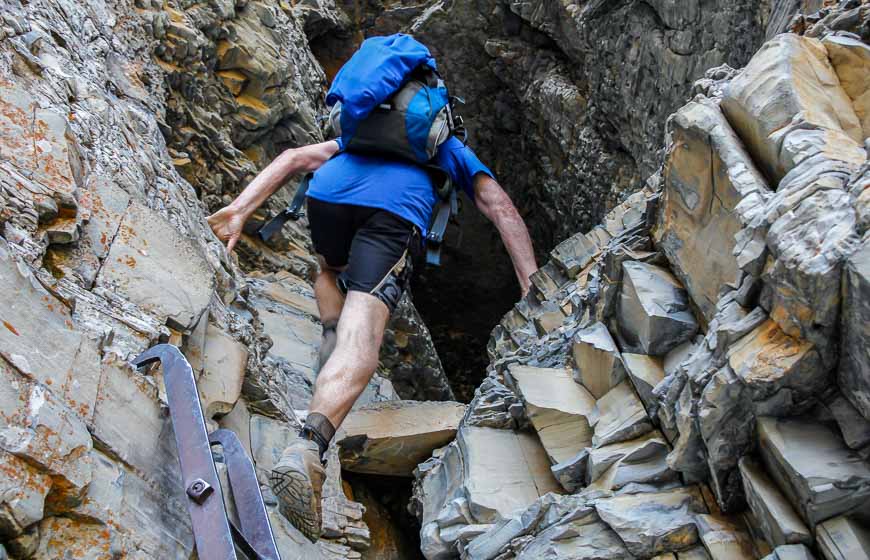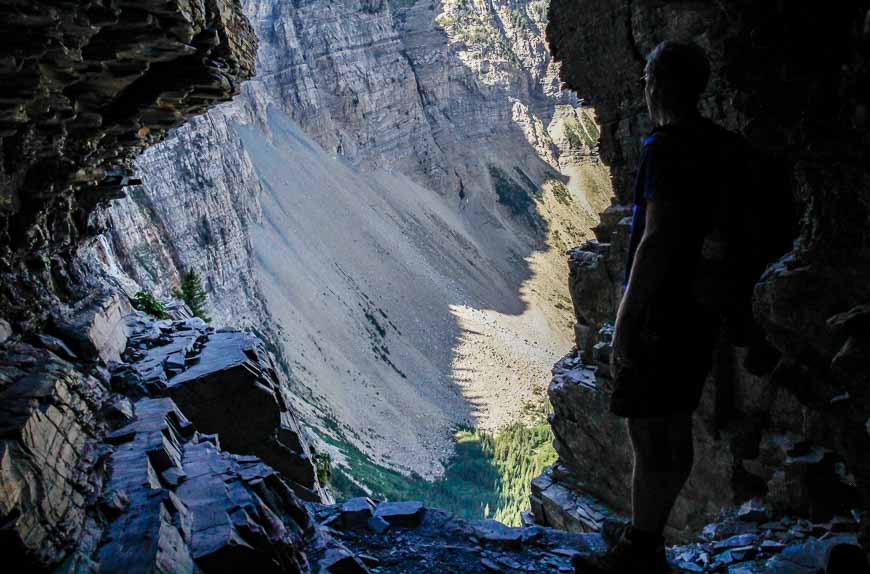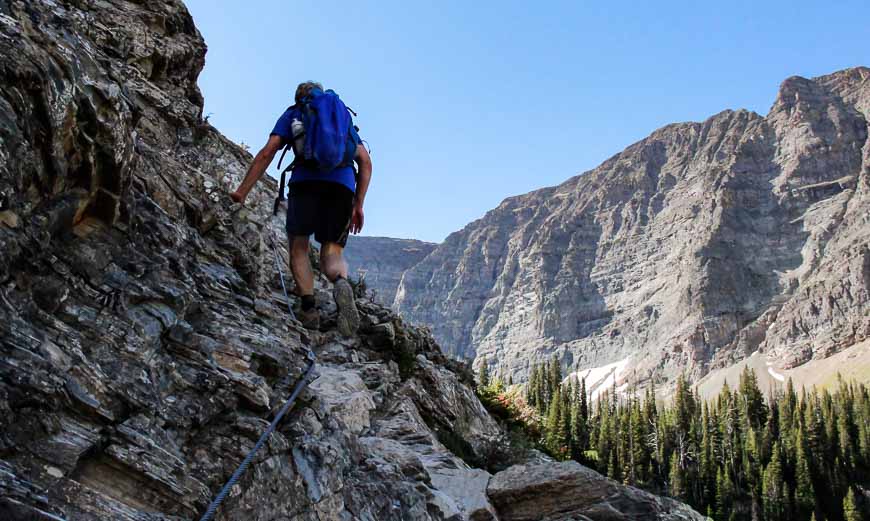 Once you're through the the cable section, you can breathe a big sigh of relief. Or stop crying.
But you do have to return the same way you came if you ever want to eat a hot meal again. It's super easy and enjoyable hiking from the end of the chains section to Crypt Lake. It will only take you 10 minutes.
The beaches at Crypt Lake
Crypt Lake itself is also a treat. Beaches line part of the lake – and because you likely have some time before you have to head back for the return boat trip, it's a perfect place to lie out in the sun and relax.
Or take the 30-minute walk around Crypt Lake – the far end of which is on the United States-Canada border and get a very different set of views. On the US side of Crypt Lake there is a permanent snowfield.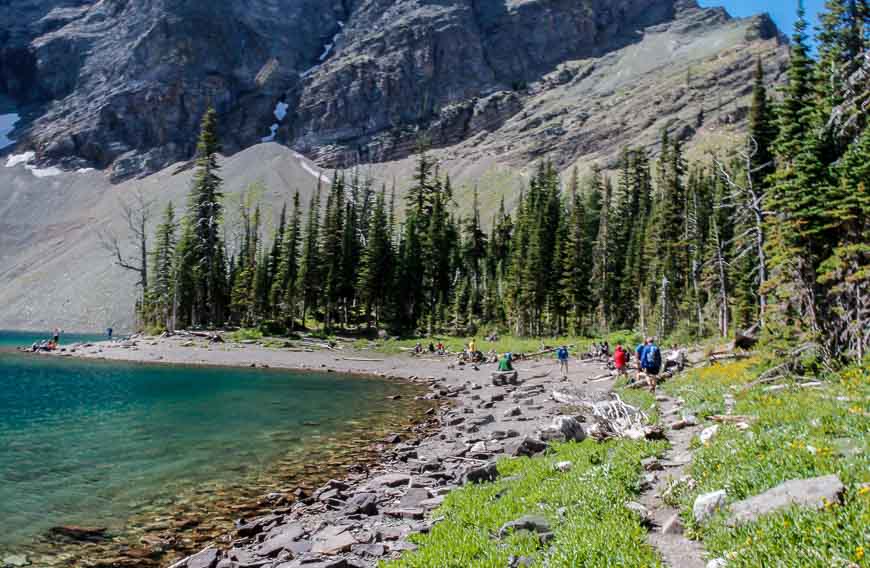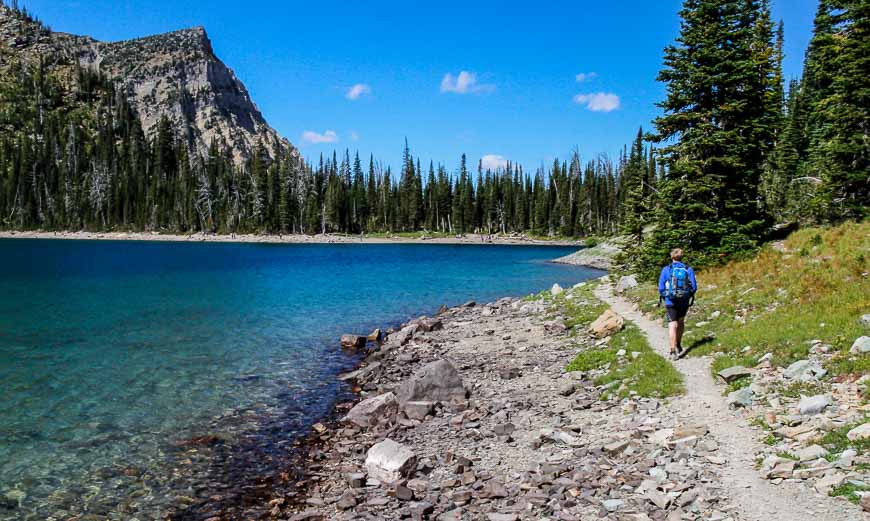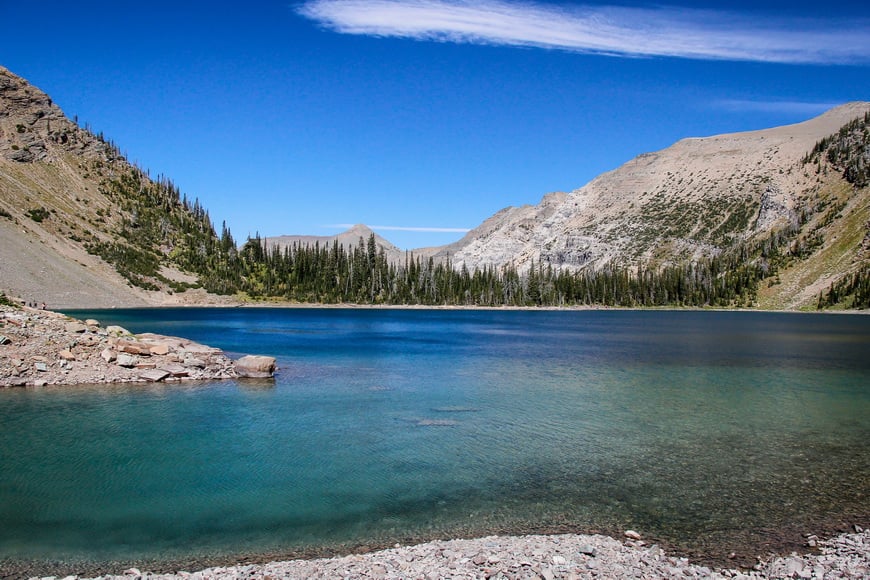 The return on the Crypt Lake trail
I really enjoyed the Crypt Lake hike back to Upper Waterton Lake. Part of it was a function of the lighting as it wasn't as harsh later in the afternoon. Also the stress of wondering how hard the hike was going to be through the chains was over – and it wasn't a fraction as bad as I had pictured it to be. And I knew we had lots of time to get the boat, so there was no panicky feeling.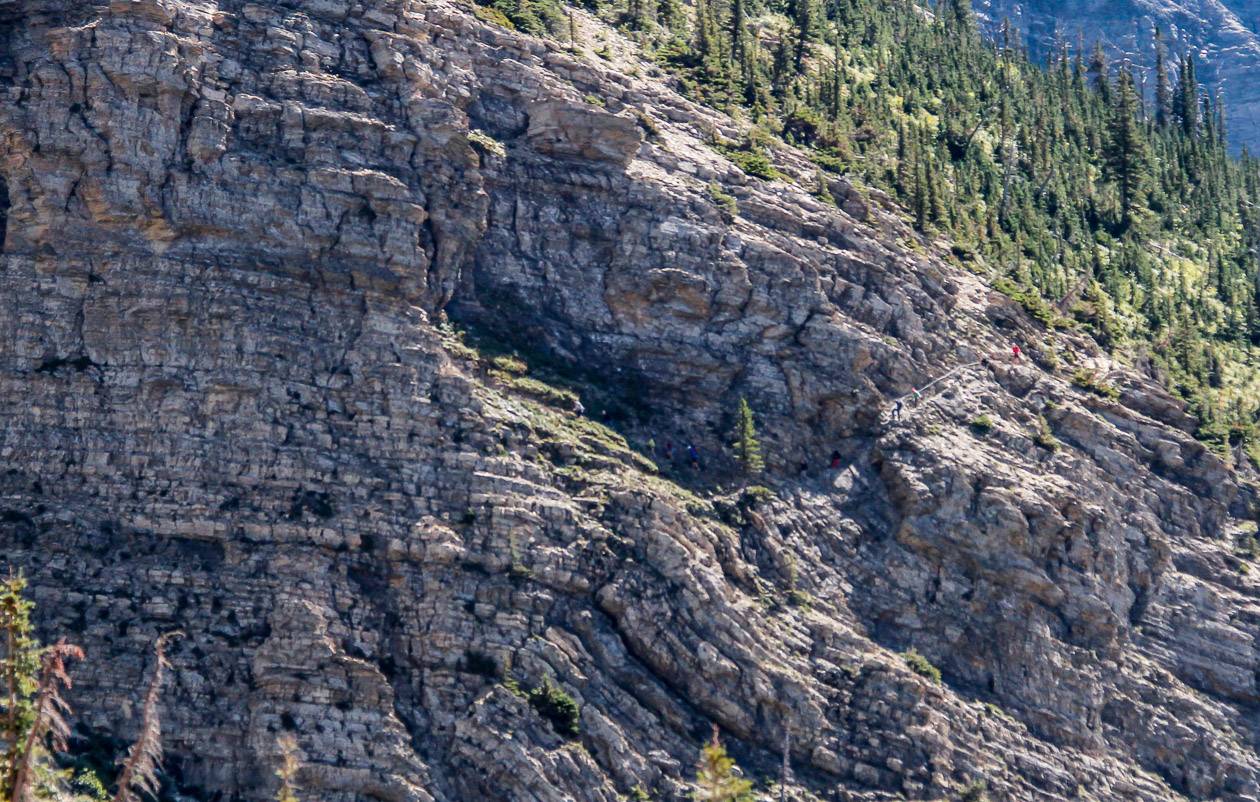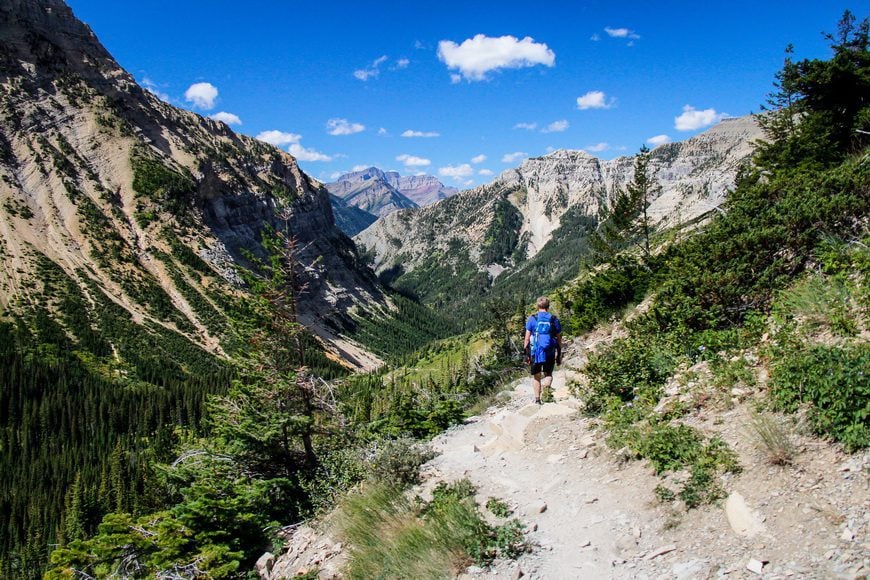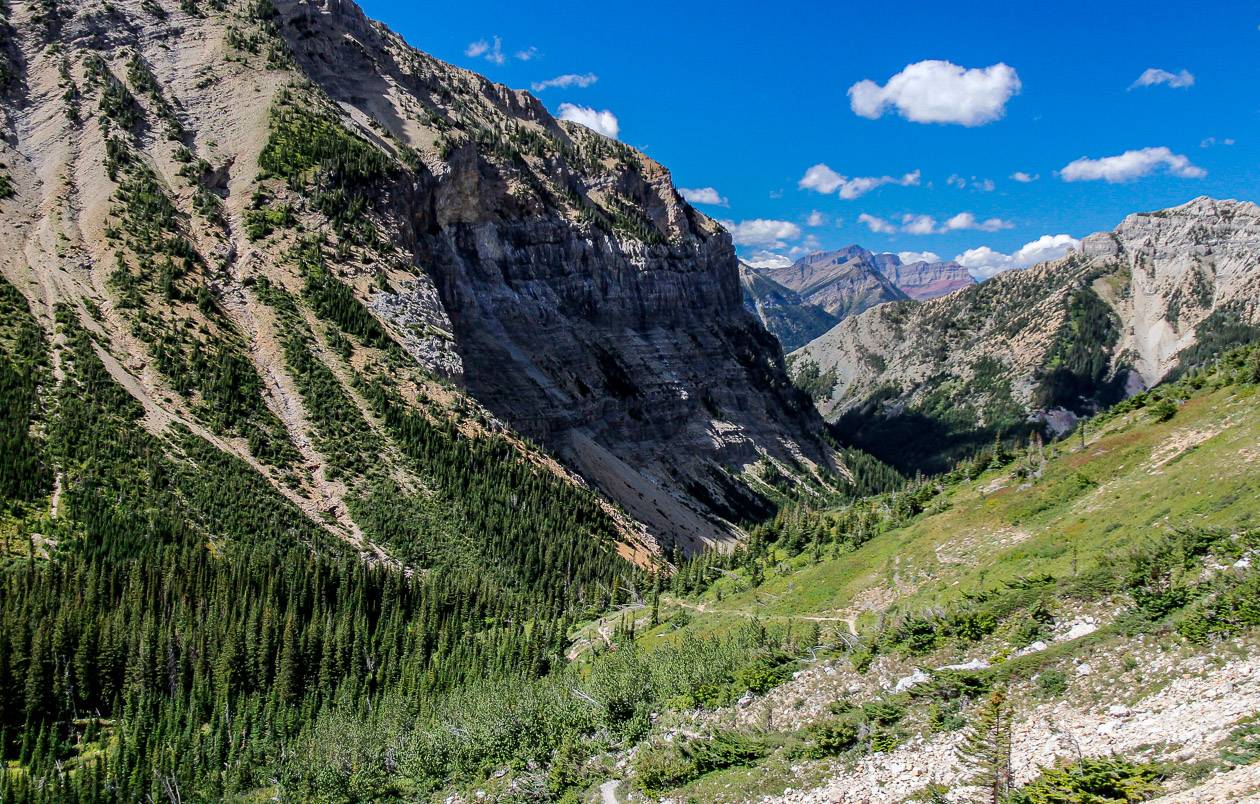 Why you should do the hike to Crypt Lake
The Crypt Lake hike is really about going for the thrill of crossing a narrow scree slope with drop-offs – climbing an eight foot ladder, getting low and wiggling through a 20 metre (60 foot) tunnel and then scaring the living daylights out of yourself as you inch along the narrow rocky trail – with a steel cable handhold on one side and a drop-off on the other.
The Crypt Lake hike packs a lot of excitement and adrenaline hits in only 8.7 km (5.4 miles) one way – and you get those adrenaline hits not once but twice if you want to get back to the boat.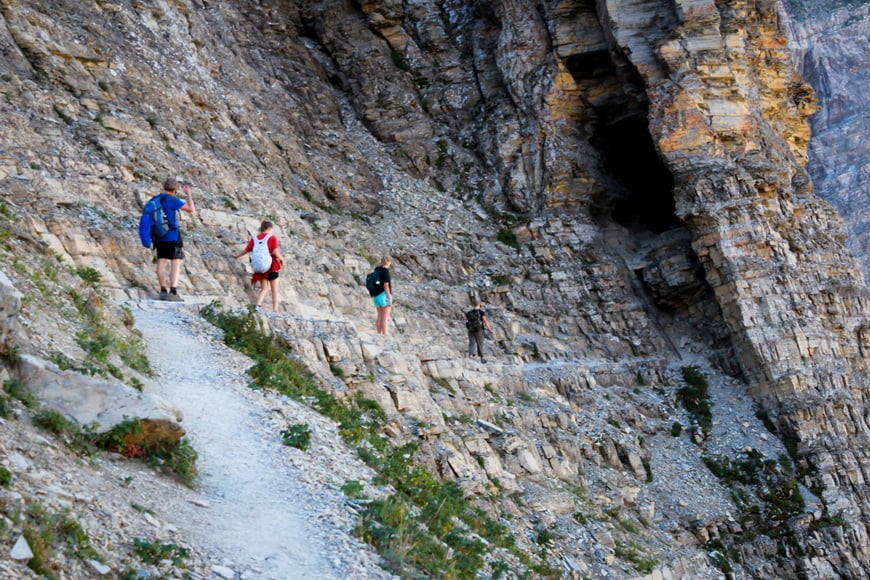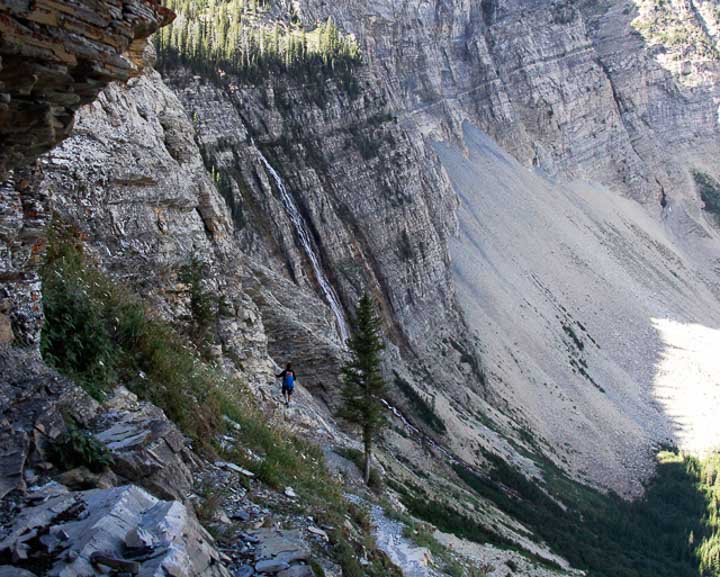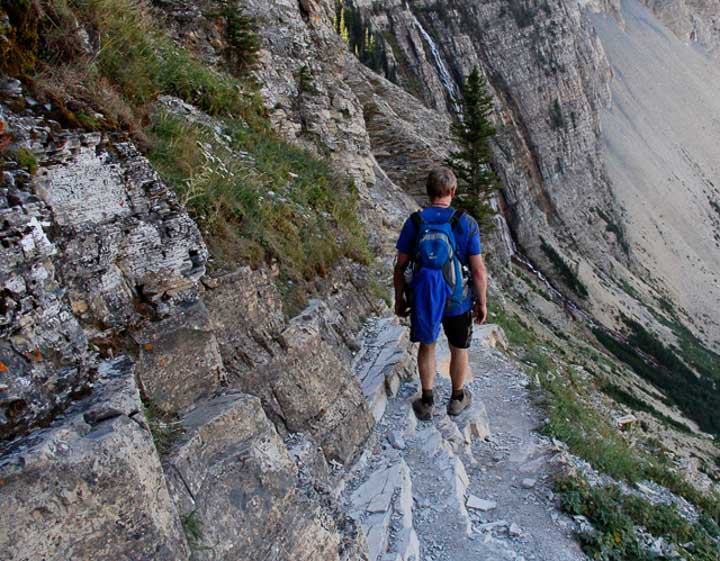 How about some lakeside R&R to finish?
If you get down to Upper Waterton Lake before the boat arrives you can enjoy some lakeside R&R. That's not a bad way to end the exciting Crypt Lake hike. Some people will even go for a swim if its hot enough. That's the perfect way to end the day.
More information for the Crypt Lake hike
You must reserve a seat on the boat. We bought our ticket down on the dock the minute the window opened at 8:15 AM for the 9 AM boat ride. You must reserve your return too. (You can do this the day before too.) We chose the 4 PM return and that gave us one hour at the lake plus 30 minutes to hike around it. We didn't waste much time coming down. In peak season there is a 5:30 PM boat as well.
Contact the Waterton Inter-Nation Shoreline Cruise Company for the latest schedule. They can be reached at 403- 859-2362. The pricing for the boat ride is $31 per person in 2022, no matter what your age.
A few things to take on the Crypt Lake hike
On a hot day, take extra water and either a filter or water purification tablets in case you run out.
I'd recommend a seat cushion so you have something dry and comfortable to sit on.
Don't forget some energy bars to keep you going.
I highly recommend compeed for blisters. I have found it to be way better for fast healing than anything else I've used and worth every penny.
A pair of hiking poles can come in handy on steep sections.
Where to stay in Waterton
The Townsite Campground on Waterton Lakes is a good choice if you're into camping. You can reserve online as of March 30, 2023 at 8 AM MST or call Parks Canada at 1-877-737-3783.
One place I highly recommend is Waterton Glacier Suites. You can do your own cooking and it's also very conveniently located.
If you're after a B&B experience Northland Lodge is a very good choice but don't count on fancy rooms.
If it's an iconic hotel you're after in an incredible setting then check out the Prince of Wales Hotel. At the very least have a drink in their lounge with a view down the lake.
Kilmorey Lodge is the newest hotel option in Waterton – and a great lakeside option.
Location map of the Crypt Lake hike
Other hikes in Waterton Lakes National Park
Click on the photo to bookmark to your Pinterest boards.