The Goat Lake hike in Waterton Lakes National Park is a moderate hike that is easy for the first 4 km or so but then there's a thigh burner of a hill takes you up to a waterfall and finally Goat Lake. Speedy hikers may want to add on Avion Ridge – a high mountain ridge in the northwest corner of the park. Access to the Goat Lake hike is via a trailhead at the end of the scenic Red Rock Parkway.
Goat Lake hike summary
Distance: 13.6 km (8.5 miles) round trip
Elevation gain: 525 m or 1,722 ft.
Trail rating: Moderate
Hiking time: Allow 4- 5 hours round trip
You will need a parks pass to do the Goat Lake hike. They can be purchased at the entrance to Waterton or online. If you're planning to spend a lot of time in Canada's national parks over the year, the Discovery Pass is your best bet.
Check trail reports for up to date trail information before you go. The Goat Lake trail often gets closed at the last minute due to grizzly bear activity.
Recommended reading – Tips for Staying Safe in Bear Country.
Dogs are permitted on the trail if on a leash.
Always pack the 10 hiking essentials.
The paper map to take is Gem Trek Waterton.
After the Kenow fire in 2017 there is a lot more sun exposure, so be sure to bring a sun hat and lots of sunscreen. The steep hike to the lake can be a hot one.
This post includes some affiliate links. If you make a qualifying purchase through one of these links, I may receive a small percentage of the sale at no extra cost to you. Thankyou very for your support.
Goat Lake hike trailhead location
Once you're in Waterton Lakes National Park, look for the well-signed Red Rock Parkway, 5.6 km from the entrance on the right. Follow this beautiful road for 15 km to where it ends at the Red Rock Canyon parking area. If it's a beautiful summer day, be prepared to wait for a parking space if you show up after 10 AM.
Goat Lake hike route description
The Goat Lake hike starts at the end of the Red Rock Canyon. You might consider doing a quick 20-minute hike on either side of the pretty canyon while your legs are fresh.
I did the Goat Lake hike by myself, so I was on high alert for grizzly bears. After about 45 minutes of hiking – I noticed a group of four off in the distance. Then I breathed a sigh of relief, knowing that there were fellow hikers around. I also sort of, kind of stalked them – until I eventually passed them. They gave me some peace of mind when it came to the bears. On my way back to the trailhead, I ran into far more people on bikes and on foot and became a tad more cavalier about seeing a bear.
Route description
Cross the canyon on a footbridge and look for the sign with trail distances pictured below. The first 4 km of the Goat Lake hike are on the Snowshoe Trail, a gently rolling wide old road that is shared with bikers. You'll see plenty of wildflowers along this section. There are a couple of particularly pretty areas showcasing the stark contrast of a burnt trees against colourful grasses and flowers.
At the 4.3 km mark, 75 minutes into the hike, look for a signed junction on the right. The climbing begins immediately and doesn't let up until you reach the lip of the hanging valley. Fortunately, the trail switchbacks and in short order you enter the subalpine zone where the vistas improve with every step. The hiking is airy at times, but it never feels dangerous – though you might feel differently early in the season if the slopes are snow-covered. At some point on the trail, you'll be able to see exactly where you're headed – and where you've come from.
At the lip of the stream – the lake's outlet, you're only about 7 minutes from Goat Lake and the hard hiking is over. The lake itself won't wow you the way many an alpine lake will so consider enjoying your lunch before you reach the lip.
There is a campground at Goat Lake, but the park didn't reopen it until summer 2021, perhaps because they were worried about some of the deadfall and burnt trees. You can keep an eye on its status by visiting the backcountry camping section of the parks website. Backcountry reservations for Goat Lake open on March 30. 2023 at 8 AM MST. The opening dates vary from year to year.
The Avion Ridge option from Goat Lake
From the Goat Lake campground, you can continue to Avion Ridge visible through the trees. It's a steep 1.6 km one-way hike to gain the ridge – which I didn't do – but if you're after a bigger workout with grand views, do it.
Where to stay in Waterton Lakes National Park
For the summer and fall, the Townsite Campground by the lake is a good choice if you're into camping. You can reserve online or call Parks Canada at 1-877-737-3783.
I highly recommend the conveniently located Waterton Glacier Suites. You can also do your own cooking.
For a B&B experience, Northland Lodge is an excellent choice. If you're after lodging in an incredible setting with a view down the lake, check out the Prince of Wales Hotel. At the very least, have a drink in their lounge.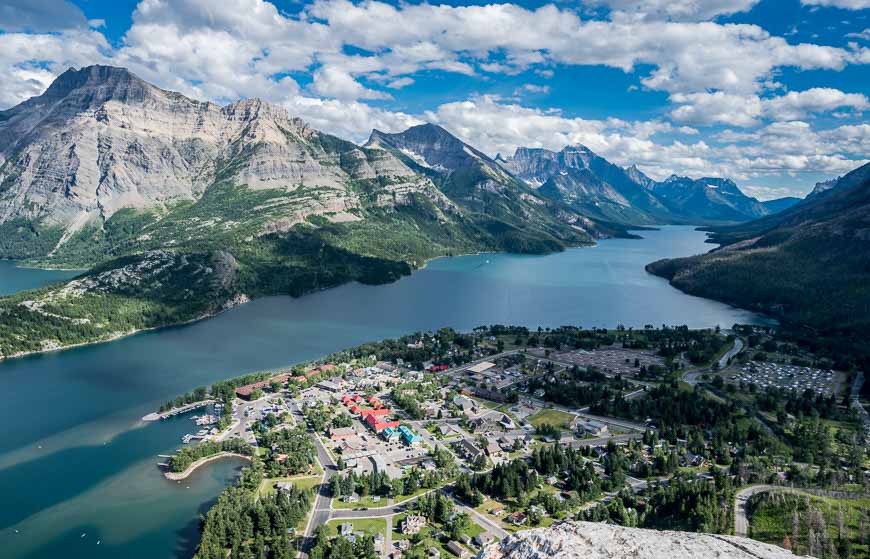 A few things do take on your Goat Lake hike
Don't forget a can of bear spray that is no more than three years old. Keep it in a bear spray holster that is easy to access.
Carry a whistle.
Layer up – as the weather can change quickly in the mountains.
Some people will be happy to have hiking poles for the descent.
Further reading on things to do in Waterton Lakes National Park
Click on the photo to bookmark to your Pinterest boards.