Waterton Lakes National Park, A UNESCO World Heritage Site in southern Alberta, is an absolute gem of a place to visit in summer and fall. It's the smallest of the Rocky Mountain National Parks, with drop-dead gorgeous mountain scenery that's easily accessible. That means you can cover a lot of ground in the national park if you're short on time. If you're not, explore the wide variety of things to do in Waterton at a more leisurely pace, described below. Or do something epic like knock off as many of the hikes in the park as time allows.
Waterton is unlike any other park in Canada. It shares a border with Glacier Lake National Park in Montana and the two combined are called the "Waterton-Glacier International Peace Park – the first such park in the world."
In 2017 a massive fire ripped through a large swath of Waterton. While the Visitor Centre was lost to the fire – along with 47,000 acres of land, the iconic Prince of Wales Hotel was not, nor was any of the townsite. Much of the landscape was changed – but the regrowth and the wildflowers are compelling in their own fabulous way.
By 2021 the recovery effort was very much in evidence. The new Visitor Centre opened. Hikes that had been closed for many years reopened as did the scenic Red Rock Parkway.
This post includes some affiliate links. If you make a purchase via one of these links, I will receive a small commission at no extra cost to you. Thank you very much for your support.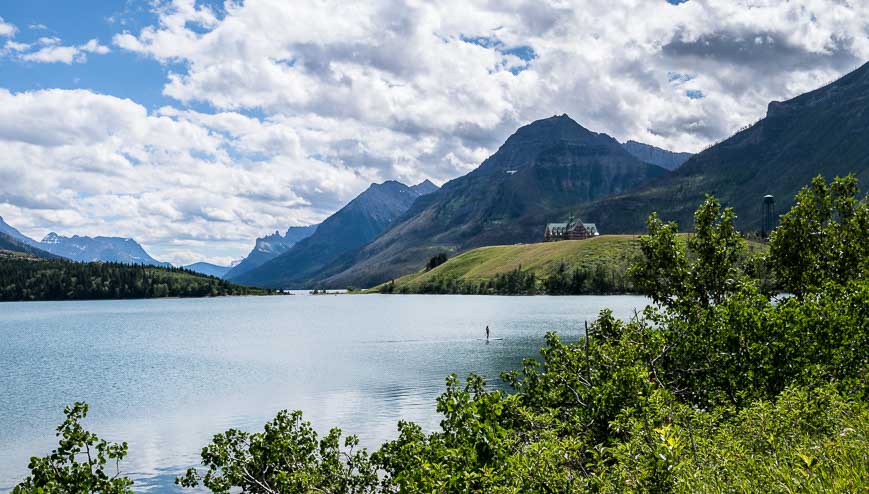 Drive the Red Rock Parkway & explore Red Rock Canyon
The Red Rock Parkway is is one beautiful 15 km one-way drive or bike ride. The road travels up the Blakiston Valley to end at Red Rock Canyon. It is the premiere spot for experiencing "Waterton's classic prairie meeting mountain landscape."
Along the Red Rock Parkway there are numerous pull-outs and even trailheads and interpretive signs. Once you're at the end of the road you might find parking challenging, especially on a weekend afternoon. Exercise a little patience or go earlier.
As for Red Rock Canyon – get out of the car and enjoy the easy 0.7 km loop trail on foot. On a hot day you might want to take one of the trails down to the sparkling stream and cool off the toes. I know I did after my hike to Goat Lake.
There are several trailheads from the Red Rock Parkway if you're into hiking including:
Crandell Lake (short and easy)
Bellevue Prairie Trail (short, easy hike)
Blakiston Falls (short, easy and pretty falls)
Blakiston Valley (20 km moderate hike)
Goat Lake (difficult 14 km hike) and Avion Ridge (add another 3.2 km plus some elevation gain from Goat Lake)
Snowshoe (16.8 km easy day hike)
Twin Lakes (difficult 24.2 km hike)
Tamarack Trail access (difficult multi-day hike)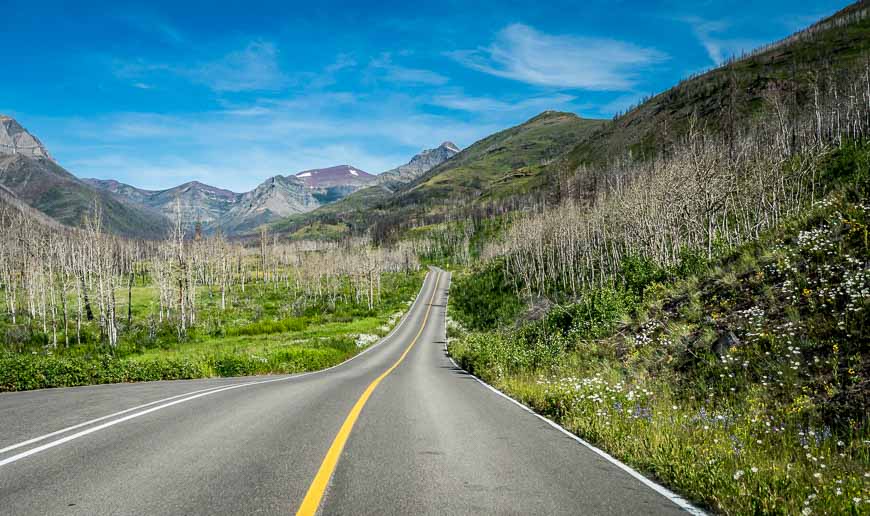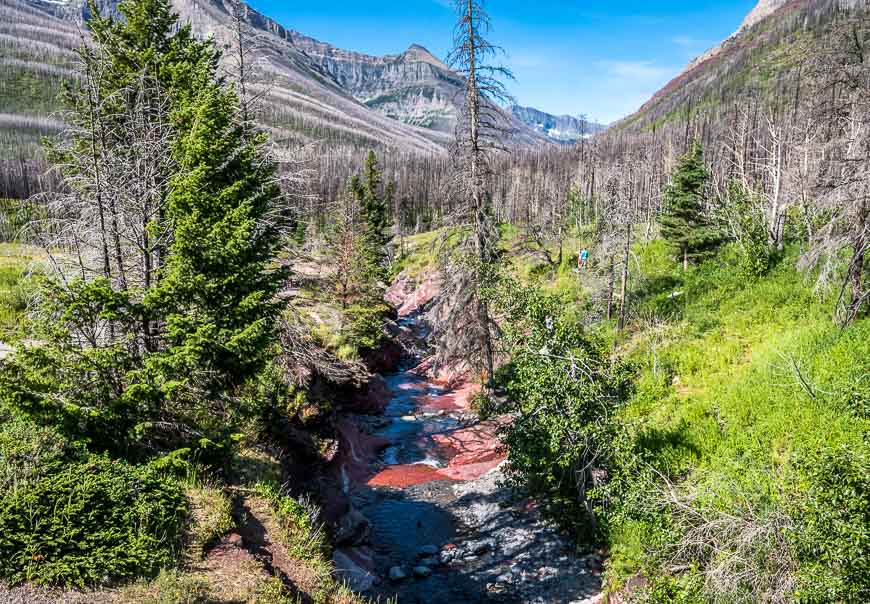 Take a hike in Waterton Lakes National Park
Crypt Lake hike
You're spoiled for choice when it comes to hiking in Waterton Lakes National Park. I have already done the Crypt Lake hike – considered one of the top hikes in Canada. If you don't mind some exposure and a tunnel, this is a great choice. It starts with a boat ride.
Lineham Ridge hike
The 17.2 km return Lineham Ridge hike is one for the books. Travel along the Rowe Creek stream bed an be dazzled by red argillite rocks. After getting past treeline, climb steadily to a ridge, famous for its red colour. Note that the wind can be fierce on this hike.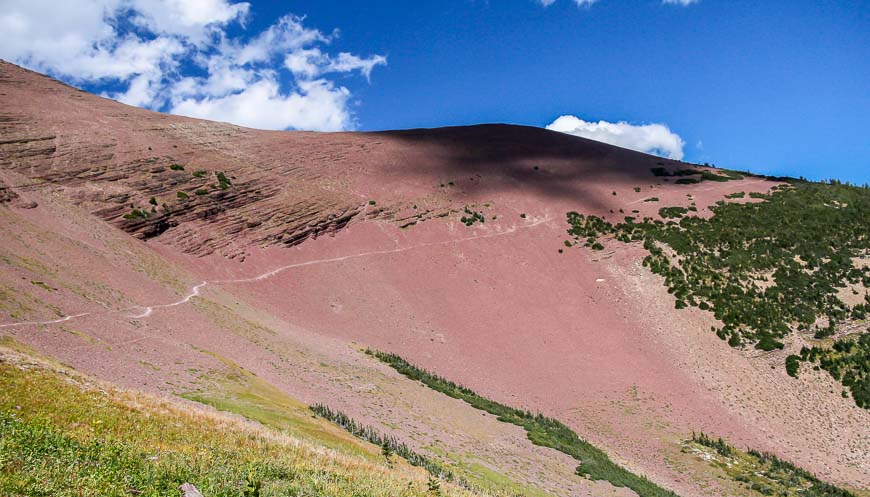 Carthew Alderson hike
The Carthew Alderson hike is best done as a one way hike with a shuttle from Tamarack Outfitters. They drop you off at Cameron Lake and you hike back to the Waterton campsite over the course of a day. This hike offers gorgeous lakes, alluring mountain vistas, wildflowers, beautiful rocks and a fabulous adventure.
Bertha Falls hike
I highly recommend the hike to Bertha Falls, one of the easier hikes in the park. Continue to Bertha Lake if you have the time. It starts near Cameron Falls (a must see if you're into photography) and offers up stunning views of Waterton Lake along the way.
It's just 5.2 km round-trip to Lower Bertha Falls. The elevation gain is an easy 191 metres. To continue all the way to Bertha Lake you will climb 471 metres over 10.4 km. Allow 3.5 to 4 hours to do that.
Bear's Hump hike
You only need about an hour to knock off the 2.8 km round-trip hike to Bear's Hump, especially as there is only 250 m of elevation gain. The views are so compelling from the top that you might want to spend another hour just hanging out.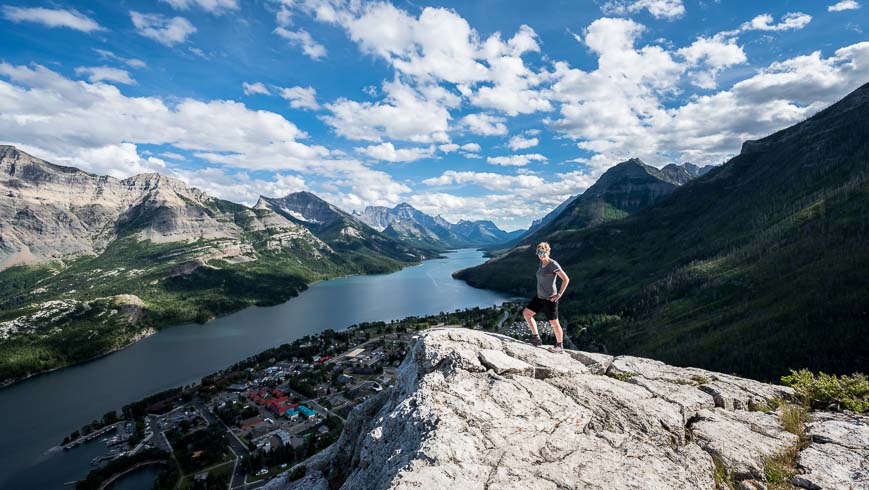 Goat Lake hike
Another excellent choice is the more difficult 14 km return hike to Goat Lake from Red Rock Canyon. The first 4.5 km via the Snowshoe Trail are mostly flat and easy. This part of the trails seems to be popular with the mountain biking crowd as well.
Once you turn off the Snowshoe Trail you start climbing. Fortunately there are switchbacks that make the grade more palatable. There are some pretty waterfalls along the route. At the top there is the option to camp (closed when I did it because of bears) or continue hiking to Avion Ridge – visible from the campground. It's another 3.2 km return with considerable elevation gain. See how you feel when you get to the lake before committing.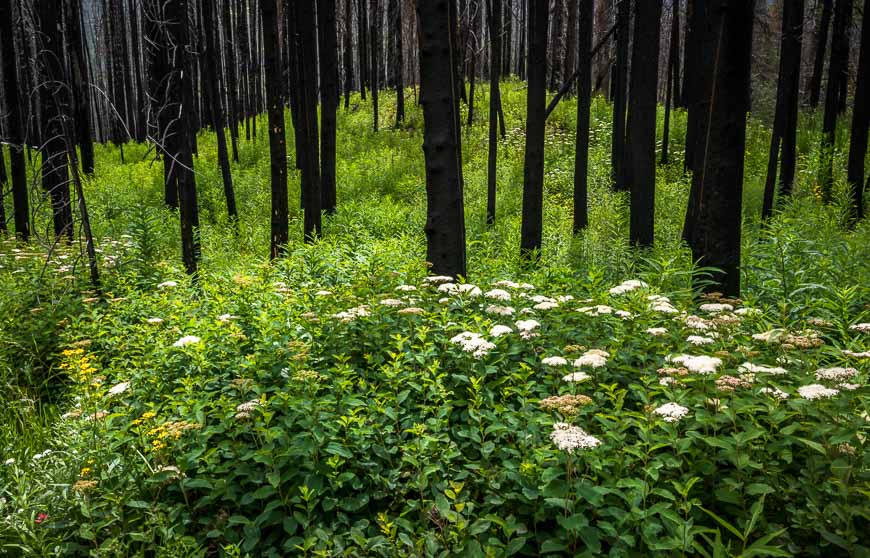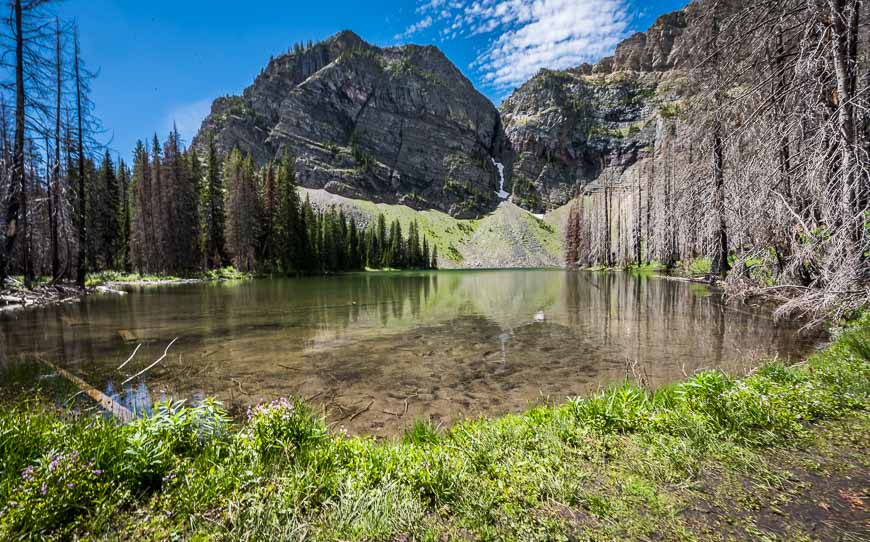 Try e-biking in Waterton
Pick up an e-bike at Pat's of Waterton and head out for a couple of easy, fun hours of biking. On a previous trip I biked most of the Red Rock Parkway from the Waterton townsite. It's a fabulous, soul-stirring ride especially with the wildflower display BUT the road is narrow and you really must exercise caution around any cars.
Or hop on the Kootenai Brown Trail – a dedicated bike path that travels for 6.9 km from the Townsite campground to visitor facilities in the Waterton Valley – while enjoying superlative mountain views. It's nice to do it at a pace that allows you to jump on and off your bike, when there's a photo you want to catch. And trust me, with the wildflowers around, there will be plenty of stopping.
Another fantastic option is to do the bike ride up the Chief Mountain Highway. That's what we did and what a fun ride it turned out to be. Start on the Kootenai Brown trail and take it past the park gates. Follow the signs for the US border crossing. Climb – easily if you have an e-bike – enjoying the views of Chief Mountain. We stopped about 5 minutes short of the border. The return was so much fun with some in the group clocking speeds of 65 km/hour.
Over the hour or so we were on the Chief Mountain Highway we saw only a handful of cars so it's an extremely safe ride to do. If you're going to do it alone, be sure to carry bear spray and a lot of water with you.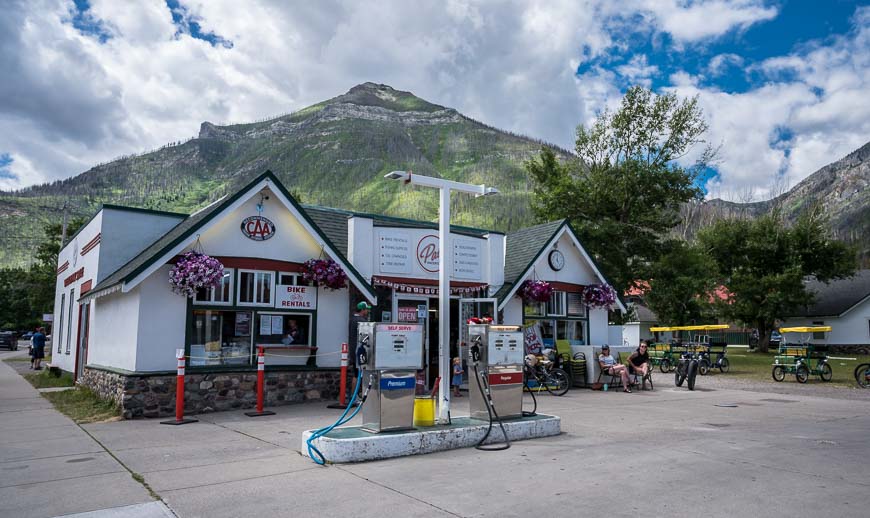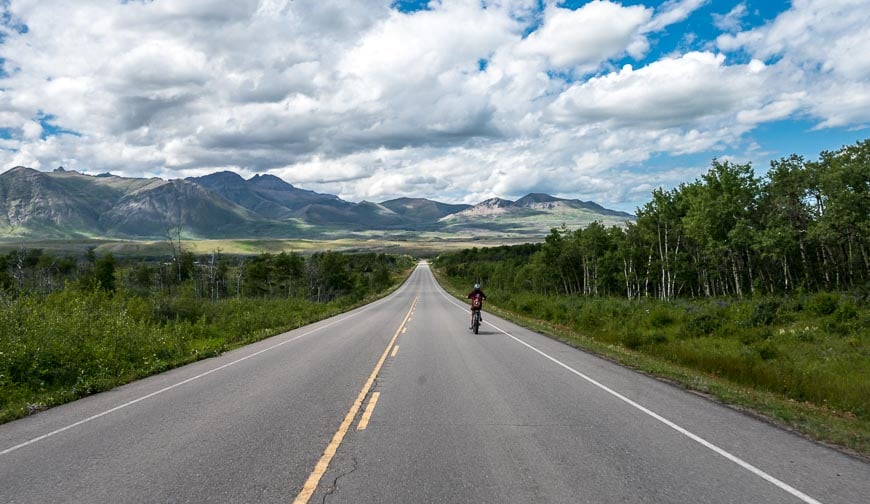 Experience the Night Sky in Waterton Lakes National Park
If you want to learn something about the night sky – and you're okay with staying up till 1:30 AM then I highly recommend signing up for a tour with Dark Sky Guides – run by four brothers based in Waterton, all with a passion for the stars.
Waterton Lakes National Park is an International Dark Sky Park and is part of the world's first trans national international dark sky park.
On our tour we had Keith as a guide – a delightful man who is a born storyteller. He'll pick you up in a van at your hotel (or you can follow him in your own car while COVID is with us) and take you to the Blakiston Falls trailhead at the end of the Red Rock Parkway.
Don one of the headlamps provided and set off on an easy one kilometre walk to the falls. The walk itself is interesting, even in the dark. We stopped to admire giant fireweed, as tall as a six foot person – thanks to the nutrients from the 2017 wildfires. I don't think I would have appreciated how unusual that was without a guide.
Once at the falls, I sat back and craned my neck looking for shooting stars (I spotted four of them) while listening to Keith deliver Native stories about some of the constellations. What I really appreciated on this tour was the green laser Keith produced from his pack. It allowed him to pinpoint the stars so you knew exactly which ones he was referring to. That was a first for me.
Bring your own tripod if you want to shoot the night sky. I know a couple in our group got some great shots.
Paddle or SUP on Linnet Lake or Upper Waterton Lake
From summer all the way through until October, SUP and kayaking are a great way to experience Waterton Lakes National Park. You can bring your own kayak/SUP or rent from local outfitter – Blakiston & Company. Early and late in the season you may want to wear a wet suit! Pictured below is Linnet Lake where the paddling is usually mellow.
The same cannot be said for Upper Waterton Lake. Kayaking and SUP can get tough here on a windy day, especially with waves, but if you're up for it and have the experience, there's a lot of exploring to do. Take a half day to several days and paddle the lake, staying in backcountry campsites along the west shore of the lake. Reserve campsites ahead with Parks Canada.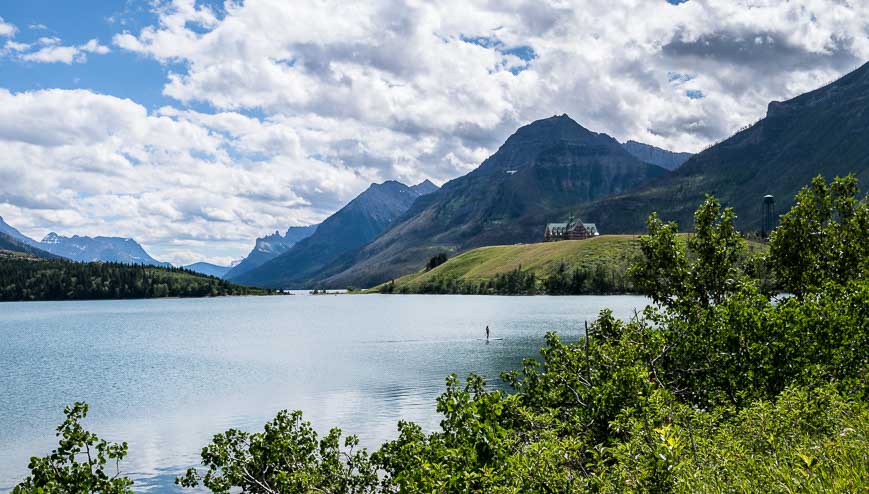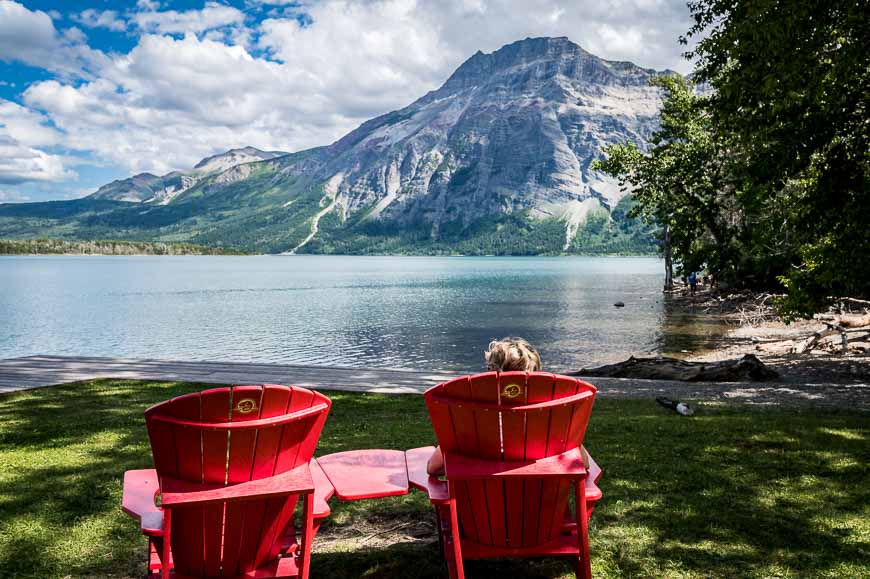 How about a horseback ride in the park?
From one hour to full day rides, Alpine Stables in Waterton has something for everyone – at least if you're five years or older. There are three rides to choose from this year – including an exploration of the prairie grasslands, a shorter wildlife habitation ride and a full day of riding up to Vimy Peak.
Horseback riding will never be my first choice of adventures probably because of some deep-seated fear of galloping off and holding on for dear life until the horse either tires or bucks me off. But on my horseback ride in Waterton the scenery was so breathtaking that I couldn't help but be swept along in the moment.
They do a really good job at the stable of matching you with a horse that fits your ability.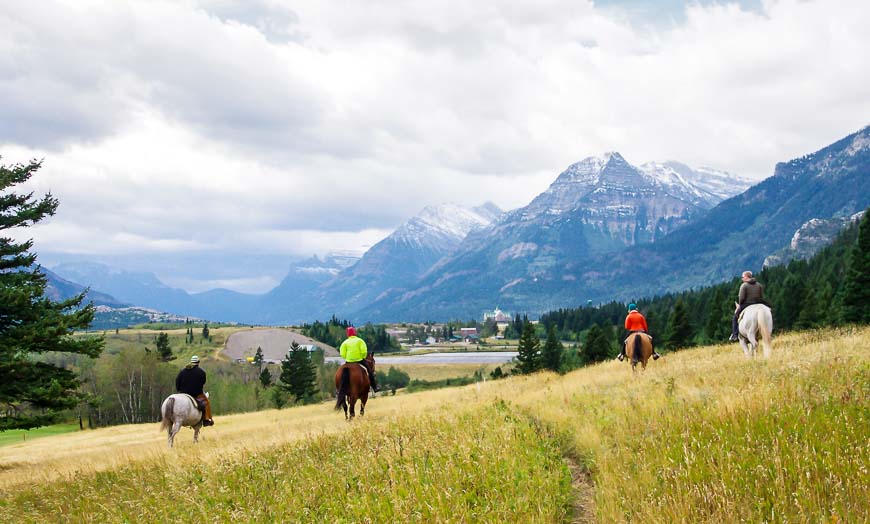 Catch a sunset
In the summer I highly recommend wandering down past Cameron Falls to the beach on Upper Waterton Lake. It's a peaceful place offering the option to walk the rocky beach, skip stones or meditate while watching the sun go down.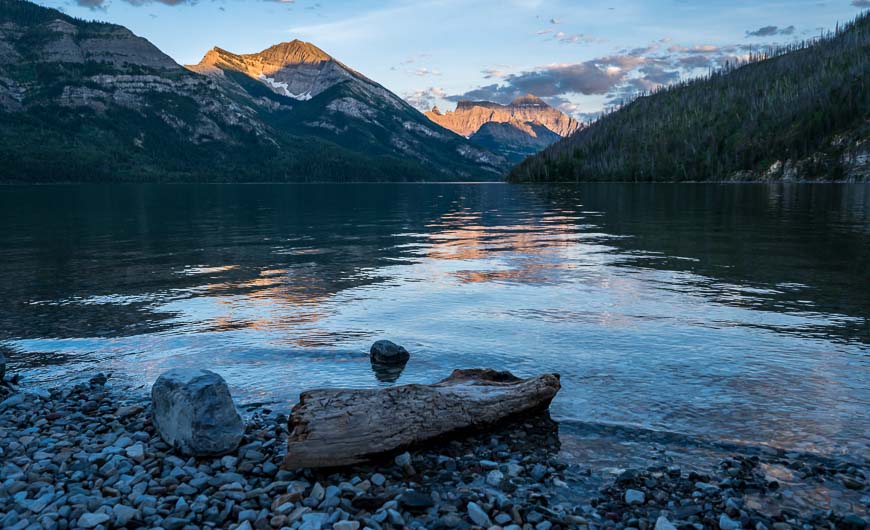 Enjoy a boat cruise on Upper Waterton Lake
The best way to see Upper Waterton Lake is via a scenic cruise. Over the two hour cruise you are treated to a mountainscape that includes soaring vertical cliffs, waterfalls and glacial valleys.
Part way down the lake you'll cross the international border into Glacier National Park in Montana – where a 30 minute stop (with the proper ID of course) at Goat Haunt is part of the deal. Sign up for a cruise in the morning for the best lighting – and the evening for the best chance of seeing wildlife.
Cruises run through to Thanksgiving weekend. Note that from the last week of September through to Thanksgiving there are only two cruises a day.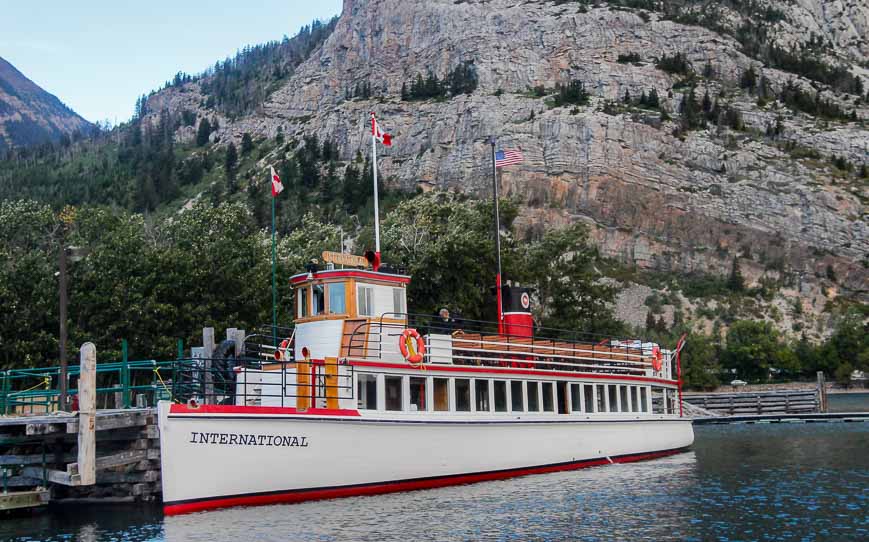 Come for a festival
Waterton Lakes National Park boasts a number of festivals including the Waterton Wildlife Weekend and the annual Wildflower Festival in June. Also in either late May or early June there's a Taste of Waterton event that features a pie cruise. In mid-September check out the Artisan Fair – held in mid-September.
Where to eat in Waterton Lakes National Park
Red Rock Trattoria is considered the best restaurant in town though I have yet to eat here.
For a wiener – even for all you non-wiener eating folks, wander over to Wieners of Waterton for a gourmet hotdog – with or without all the fixins'. Not a meat eater? Don't worry. They've got falafels on a bun that will fill you up for any adventure you might do. There are lots of picnic tables so you can eat it all outdoors.
The Lakeside Chophouse with an outdoor patio overlooking the lake is another excellent choice. Even better is the fact that it's got a few of the dishes on the menu that were big hits at the Red Rock Trattoria. (The restaurants are owned by the same family.) Portion sizes are LARGE, so if you're having an appetizer you might want to split the main with someone.
If you're a fan of Mexican food be sure to visit The Taco Bar, owned by a third generation local. All the slow-cooked meats, salsas and sauces are made from scratch and everything is made fresh to order. There is no Tex-Mex here. I had the burrito and it was very filling. – almost enough for two.
If you're heading out for a day in the hills, pick up lunch supplies at Pearl's Café. I enjoyed a delicious brie, apple and chicken sandwich.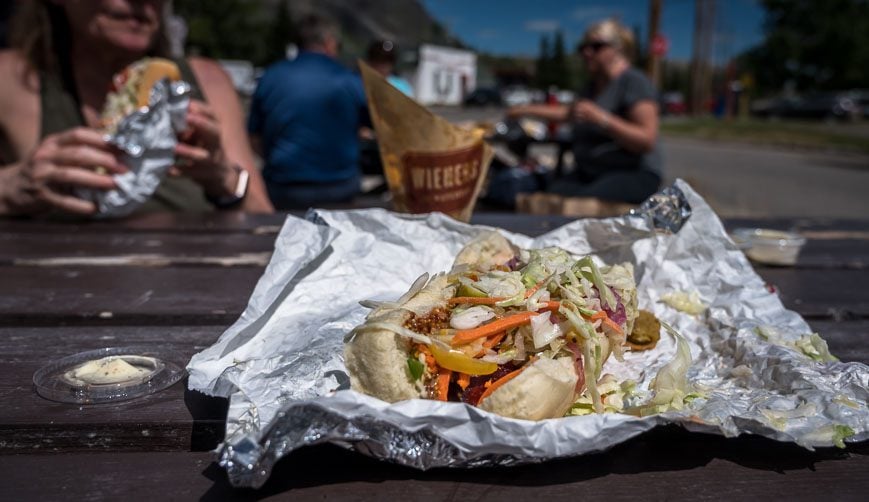 Show up for High Tea at the Prince of Wales Hotel
After a full day of e-biking and hiking in Waterton you might be ready to slump into a comfy chair with a view down the length of Waterton Lakes. If this sounds like something you'd like, visit the iconic Prince of Wales Hotel for high tea.
Smiling servers dressed in kilts (both male and female) will offer you a choice of teas and then let you poke away at a choice of goodies while enjoying the scenery. Fall is a great time to take advantage of high tea as there aren't nearly the lineups that you get in summer. But beware – the hotel is the first to close for the season in Waterton.
Where to stay in Waterton Lakes National Park
There is everything from camping to B&B's to hotel stays across a range of price points. The Townsite Campground on the lake is a good choice if you're into camping. You can reserve online or call Parks Canada at 1-877-737-3783.
I stayed in the Northland Lodge near Cameron Falls. Even though the rooms are basic I loved the fact I could walk out onto a deck from my room with a view and lots of seating. The staff is particularly friendly here.
The Prince of Wales Hotel enjoys the most incredible views – along with a high tea though I have never stayed here.
Other solid choices in town include Waterton Lakes Lodge Resort, Bayshore Inn Resort & Spa and Crandell Mountain Lodge.
Note that in winter you can ski into and night over in the Cameron Lake Cabin run by the Alpine Club of Canada.
Getting to Waterton Lakes National Park
From Calgary it's only about a 250 km drive. Take Highway 2 to Fort Macleod, then turn west along Highway 3 to reach Pincher Creek. Or take the scenic Cowboy Trail (Highway 22) but when you reach Highway 3, go east to get to Pincher Creek.
At Pincher Creek go south on Highway 6 for about 50 scenic kilometres to reach the park gate. From the gate it's another 8 km to reach the townsite with all the services. It takes between 2.5 and 3 hours to drive from Calgary.
A big thank you to the Waterton Chamber of Commerce for hosting my visit.
Further reading on things to do in southern Alberta
Click on the photo to bookmark to your Pinterest boards.