New Brunswick is home to the 30-kilometre-long Fundy Trail Parkway. It took decades to go from concept to completion – but the end result is a world-class drive that some think is on par with Nova Scotia's Cabot Trail. Not only does the parkway showcase some of the best views of the Bay of Fundy, but it also offers access to hiking trails, waterfalls, beaches, and other points of interest like the sea captain's burial grounds.
Fundy Trail Parkway summary
You can drive the Fundy Trail Parkway in under an hour – but that's assuming you don't make any stops. You can make it into a full day's drive if you stop at some of the beaches and all 21 scenic lookouts that are accessible from the parkway.
It is worth driving the Fundy Trail Parkway – if it's a clear day as it's very scenic. But if it's foggy or raining hard, I'd suggest returning and driving it another time.
There is a cost to drive the Fundy Trail Parkway. Rates in 2023 are $11.50/adult, $10/senior 65 and older, and $6.50 for youth (5-18 years old). Kids under 5 are free. If you plan to be a frequent visitor, you can purchase a seasons pass.
The parkway is open daily from 9 AM until 5 PM – on a seasonal basis.
The Fundy Trail Parkway is completed so you can now access it from Alma, St. Martin's and via a road in from Sussex.
The parkway is fully paved but most biking and hiking trails accessed from the parkway are not.
How to access the parkway
There are three ways to access the Fundy Trail Parkway now that it's been completed. It's open at either end, so start in St. Martin's, Sussex, or Alma, via a drive through Fundy National Park. While you can knock off the drive on the low-speed parkway in under an hour, that doesn't allow you to experience the variety of treasures along the route.
A brief history of the Fundy Trail Parkway
The Fundy Trail Parkway owes its existence to Dr. Mitchell Franklin, a New Brunswick businessman and philanthropist. He had the vision, foresight, and political connections to suggest both preserving the corridor between Fundy National Park and St. Martins and connecting the two of them with a parkway. In the late 1980's when Frank McKenna became premier, the dream became a reality with his considerable help.
The first phase of the parkway began in 1995 and opened in August 1998. As money became available, Phase II – construction of the Big Salmon River bridge and approach facilities occurred. By 2010, the Parkway went as far as the Long Beach Lookout. It wasn't until 2016 that there was access to a 0.7 km footpath to the falls on Long Beach Brook and an easy connection to the Fundy Footpath which ultimately links the Big Salmon River to Fundy National Park.
The final 11 km of the Parkway along with all the necessary facilities between the Long Beach – Tufts Point area and the McCumber Brook – Walton Glen Gorge Falls area were built between 2015 and 2017. To complete the project upgrades were done to the roads to Sussex, Alma and Fundy National Park, beginning in spring 2018. The eastern entrance finally opened in May 2020.
If you visit the Long Beach Interpretive Centre, just a short walk from the beach itself, you might meet Dr. Franklin's daughter – Beverly Franklin, a delightful character in her own right, and a tireless volunteer.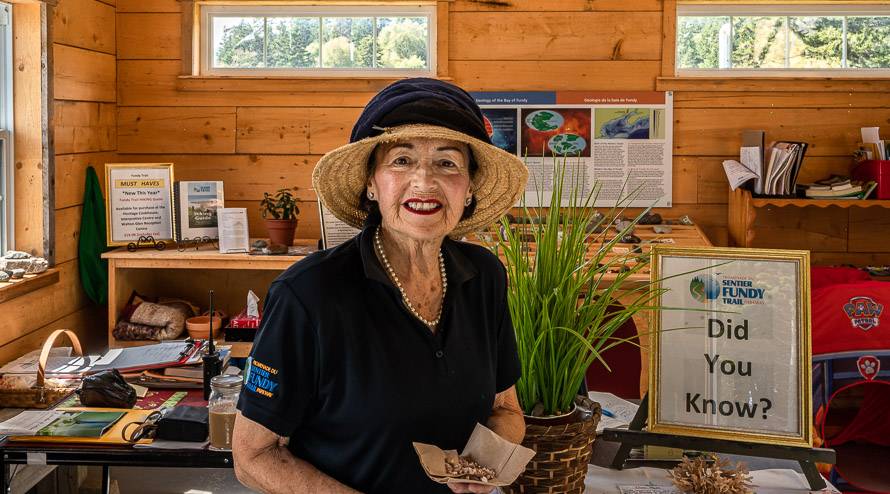 What can you do along the length of the parkway?
Most people will drive the Fundy Trail Parkway, perhaps stopping to take in a few of the viewpoints. But you can hike or bike a multi-use trail that runs parallel to the parkway itself or explore one of the other 19 trails that can be accessed from the parkway.
On a sunny summer day, you may not get much further than one of the seven beaches. And at either end of the Fundy Trail Parkway, in the towns of Alma and St. Martins, you'll find wonderful places for lobster rolls and ice cream.
Stops along the Fundy Trail Parkway
There are lots of stops to make along the parkway. What you might find helpful are the suggestions on the Fundy Parkway website for first time visitors – broken down by the number of hours you have. Below are some ideas depending on how much time you have.
If you have one hour: Visit Fox Rock Lookout, Fuller Falls, Cable Ladder Stairs, Suspension Footbridge, and the Interpretive Centre if you have time
If you have three hours: Visit Fox Rock Lookout, Flowerpot Rock Scenic Footpath, Fuller Falls, Cable Ladder Stairs, Suspension Footbridge, Long Beach Lookout, Long Beach and the Interpretive Centre
If you have five hours: Visit Fox Rock Lookout, Flowerpot Rock Scenic Footpath, Fuller Falls, Suspension Bridge, Walton Glen Gorge, and the Interpretive Centre plus enjoy a hike – maybe the Long Beach Brook Falls Trail
The Big Salmon River Interpretive Centre
The Big Salmon River Interpretive Centre, about 10 kilometres in from St. Martins, is a good place to get information about the parkway. Staff are helpful and are great at making suggestions so you can make the most of your time. In the centre you'll also find washrooms, a few snack items, along with interpretive displays, photos, and historic artifacts. Learn about the logging and shipbuilding history of the community along with the link to newspaper magnate, William Randolph Hearst.
Visit Walton Glen Gorge – the Grand Canyon of New Brunswick
If you start your drive at the east end of the Fundy Trail Parkway, you'll quickly reach the Walton Glen Reception Centre. Step in here before heading off on the short, easy hike to the Walton Glen Gorge Lookout. The reception centre is home to numerous interpretive panels – so you can learn about lichen, sphagnum moss (it can hold ten times its weight in water!), white-tailed deer, the Little Salmon River Natural Area, and the McCumber Brook Wetlands – and that's just for starters.
To reach the observation deck over the Walton Glen Gorge, it's an easy, mostly flat 1.1 km one way hike if you take the shortcut or a 2.3 km one way if you don't. The trail is well-marked and easy to follow. My only beef with it is that it's not wheelchair-friendly – and yet its one of the most dramatic places to see along the parkway.
There is also a trail from the Fundy Footpath that accesses the gorge from the bottom – and apparently there is one you can access from the top though it's a do at your own risk kind of trail. You can read the full description here. It will allow you to get close to Walton Glen Falls.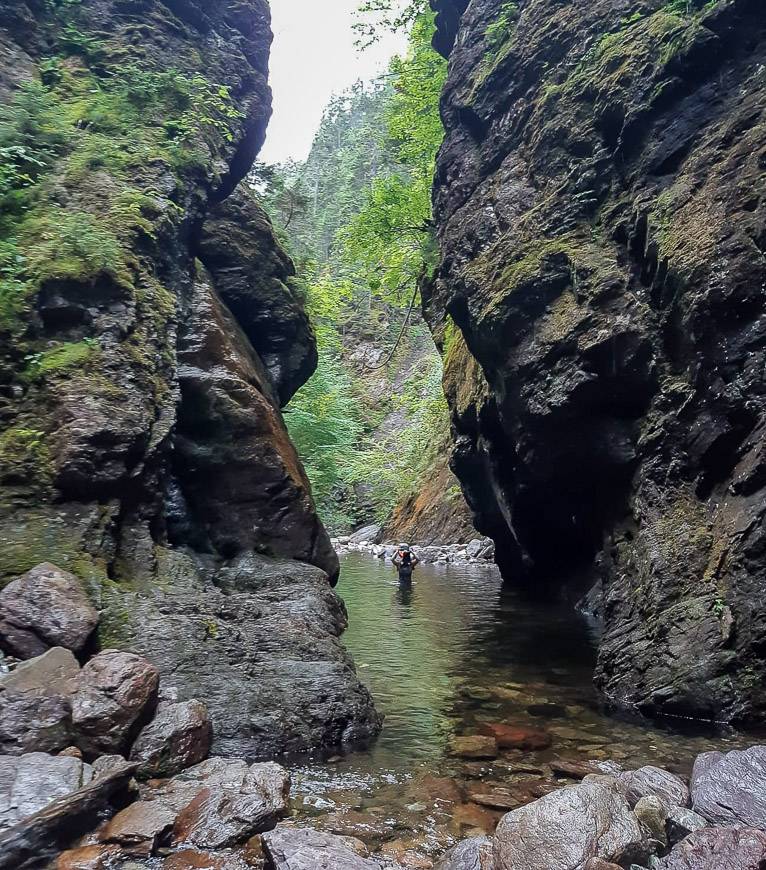 Lookouts on the Fundy Trail Parkway
There are 21 scenic lookouts along the parkway. Some will take you just minutes to ooh and aah, while others might beckon you to stop and enjoy a picnic with a view.
On my most recent visit to the Fundy Trail Parkway, I lost count of all the lookouts we visited. Some we passed on because the fog was thick over the Bay of Fundy, but once it started to lift, we were treated to many magnificent scenes.
Waterfalls to see along the Fundy Trail Parkway
There are four waterfalls of note along the parkway. The Walton Glen Gorge Falls are difficult to access and very few people get up close to them. I missed the McLeod Brook Falls near the Walton Glen Reception Centre and didn't have time to visit the Long Beach Brook Falls, which entails a 2-kilometre moderate return hike. However, Fuller Falls is easy to access directly from the Fundy Trail Parkway and well worth the 15 – 20 minutes it takes to see them.
Fuller Falls
It's a quick round-trip to visit Fuller Falls, one of the Fundy Biosphere Reserve Amazing Places. The water from 15-metre high Fuller Falls ultimately empties at Melvin Beach via a second lower set of falls that can reportedly be accessed from a trail at Melvin Beach. It's a steep hike down to the viewing platform but the stairs are in good shape. It's probably not a good idea to get close to the falls, like we saw so many people doing because the rocks are so slippery.
Big Salmon River and the suspension bridge – a popular stop on the parkway
Walking on the suspension bridge over the Big Salmon River is a popular thing to do. It is also one of the Fundy Biosphere Reserve Amazing Places. For me it holds a special place – as it was the end of a four-day solo hike on the difficult Fundy Footpath. Many people start the Fundy Footpath here – or at least do the strenuous return day hike to Long Beach from here.
Beaching it on the Bay of Fundy
I was lucky to see and walk several of the beaches on my Fundy Footpath hike. I can tell you that Seely Beach is a great one but like any beach, it's best on a sunny day. You can camp on it too.
Other beaches to visit include the Big Salmon River Beach, Pangburn Beach – accessible at low tide only from Melvin Beach, Melvin Beach, a secluded beach that looks fantastic and finally Long Beach. Long Beach is the most popular one and access is easy. You could hang out here all day!
Bike the Fundy Parkway if you like hills
Most people don't bike the Fundy Trail because there are hills – bloody big hills with grades of up to 17%. And although they might be short, they're still lung bursting and tough. I'm used to the Rocky Mountains but in my arrogance several years ago, I discounted the difficulty that I would find on the east coast. There is an upside – a fantastic speedy downhill with incredible views. Bring your own bikes.
Cost to access the Fundy Parkway Trail
Rates in 2023 are $11.50/adult, $10/senior 65 and older, and $6.50 for youth (5-18 years old). Kids under 5 are free. There is also a family rate of $36 that includes 2 adults and up to 5 youth.
You can buy seasons passes. If you're a local, then buy an early-bird pass before May 31st for $48, a 20% savings. The seasons pass also gives you a 25% discount at eleven other New Brunswick attractions.
Where to eat on the Fundy Trail Parkway
There aren't a lot of places to eat along the parkway so plan to purchase drinks and snacks before you visit. Once you're on the Fundy Trail Parkway it's worth a stop to visit the Cookhouse, whether you eat there or not. It is just a short drive from the Interpretive Centre.
The Cookhouse is a replica of buildings used in the late 1800's when the Big Salmon River was a thriving lumbering community. It was an important gathering place – for all the lumberjacks would gather here after work to eat. And eat they did, consuming upwards of 7000 calories a day.
You can enjoy a family-style lumberjack breakfast (Saturdays and Sundays, July 1st to September) and for just $19 this is what you'll get: 3 eggs, 3 slices of bacon, 3 sausages, 3 slices of ham, 3 pancakes with either maple syrup or Crosby's molasses, fresh bread, baked beans, home fries, coffee and tea. You might want to bring a few friends to join you.
Lumberjack picnics that come in a pail can be ordered ahead of time too for $17.95 per person. Pick up your picnic between 11 am and 1 pm and when you leave, remember to drop off the pail at any of the staffed facilities. I think this is a fabulous idea.
Opening times
The Fundy Trail Parkway is open seasonally beginning the Friday of the Victoria Day long weekend. It closes in mid-October.
St. Martins at the western entrance
St. Martins is a lovely town to visit. You'll find covered bridges, sea caves and sea captain's mansions. Visit Octopus Ice Cream for a taste of pure deliciousness. And according to one blog, Spinney's Seafood Market offers some of the best lobster rolls on the planet. I'm sorry I missed that stop.
Alma at the eastern end by Fundy National Park
Alma is a popular spot because its the gateway to Fundy National Park. There are lots of options for overnight stays and eating. I had an amazing, wanted-it-to-last-forever lobster roll from the Parkland Village Inn. And ice cream too! Load up on anything you might want for the drive, here in town and/or finish with a memorable meal.
Map of the Fundy Trail Parkway
Thank you to Tourism New Brunswick for hosting my stay and to Kristen from the Fundy Trail Parkway for her insider's perspective.
More reading on things to do in New Brunswick
Click on the photo to bookmark to your Pinterest boards.