Cycling the Cabot Trail on Cape Breton Island is an excellent choice if you're a fan of multi-day bike trips. The Cabot Trail makes a 298 km (185 mile) loop around the northern part of Cape Breton Island in Nova Scotia passing through the very scenic and hilly Cape Breton Highlands National Park. The Cabot Trail is considered to be one of the best places for a cycling tour in all of North America and on the 'must do' list of many a serious biker.
Between 250,000 and 300,000 people visit the National Park portion of the Cabot Trail every year mostly by car. Whether by bike or car you will likely be awed by the scale of the hills and the majesty of the country.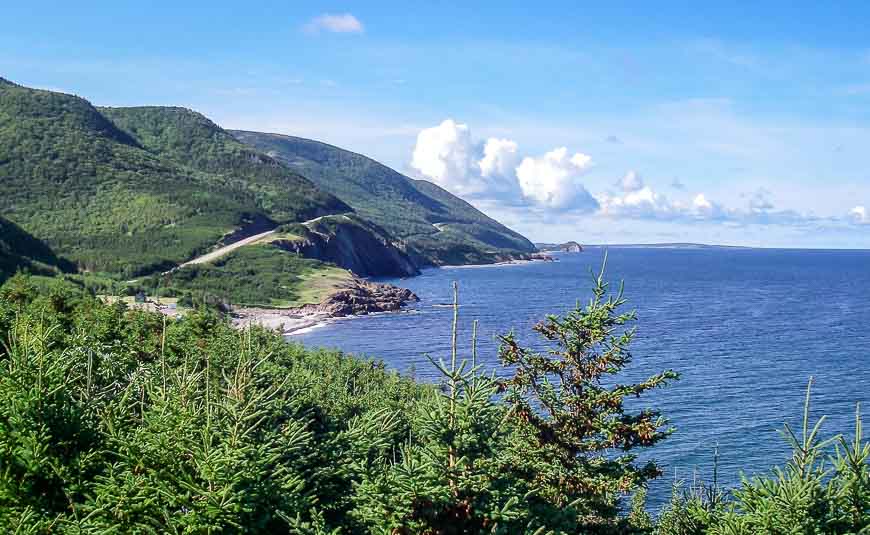 This post includes some affiliate links. If you make a qualifying purchase through one of these links, I may receive a small percentage of the sale at no extra cost to you. Thank you very much.
How long does it take to cycle the Cabot Trail?
The 300 km loop will take most people five to seven days to complete. Because it's a loop, you can in theory start anywhere.
I found Baddeck, the summer home of Alexander Graham Bell, to be a good place to start because of its proximity to Sydney – and plane connections. It's also the first decent sized town you hit if you're driving from Halifax.
What kind of weather can you get when you're cycling the Cabot Trail?
The weather for us was fully cooperative. But be prepared for driving rain and freezing temperatures. On our first day we were safely inside a hotel room when the skies opened. That storm dropped six inches of rain at the northern end of Cape Breton and wiped out three bridges. Over 100 people had to be evacuated by boat.
The bike tour is best done from early June until early October. Summer rains can occur at any time and June and July are prone to biting insects. October is cooler but you'll enjoy spectacular fall foliage.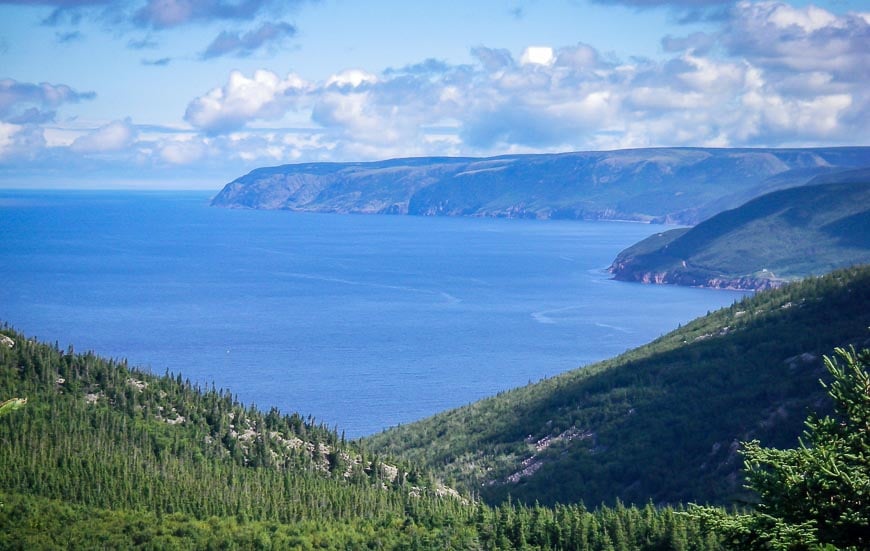 What does a cycling trip on the Cabot Trail look like?
First and last cycling stop – Baddeck
Baddeck is famous for its association with Alexander Graham Bell, an amazing inventor, so before you head out on your bike try to take the time to visit the museum named after him.
If it's a beautiful sunny day, you can't go wrong with a few hours in a kayak or sailboat on the beautiful Bras d'Or Lakes either.
Where to stay in Baddeck, Nova Scotia
There's a mix of resorts and B&B's. We had a good experience at The Water's Edge Inn & Gallery. The Telegraph House Motel would also be a great choice.
Cycling from Baddeck to Chéticamp via the Margaree Valley
From Baddeck, the bike ride takes you through the pastoral Margaree Valley, home to world class fly fishing particularly in the fall when salmon season is in full swing. The distance is 46 km from Baddeck.
I'd recommend a stay at the Normaway Inn in the Margaree Valley.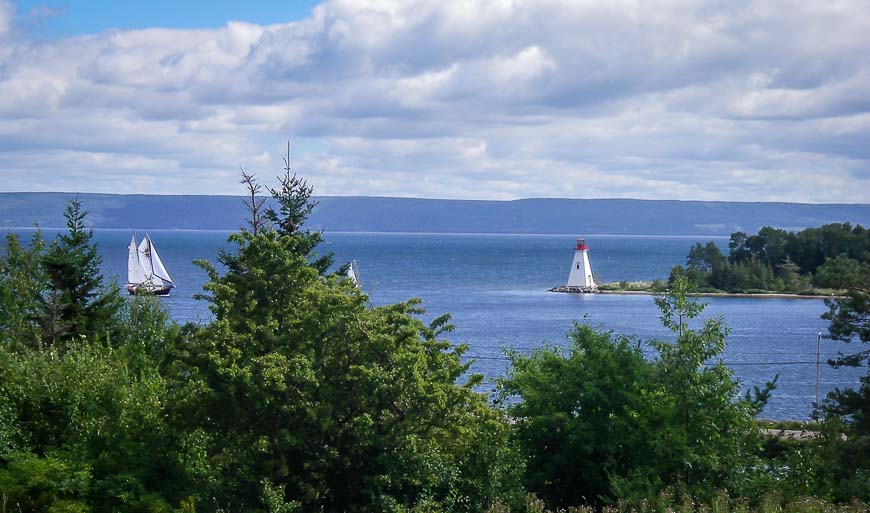 Then it's out to the coast and north through a mix of Acadian and Gaelic towns. The coastline on route to French speaking Chéticamp is dramatic at times. And the route is peppered with small craft shops and galleries – which can be very useful hangouts on a rainy day.
It's easy to moderate cycling with a few hills on the way to Chéticamp but nothing onerous. Wind could be a problem. It's a very reasonable 45 – 52 km depending on what road you take.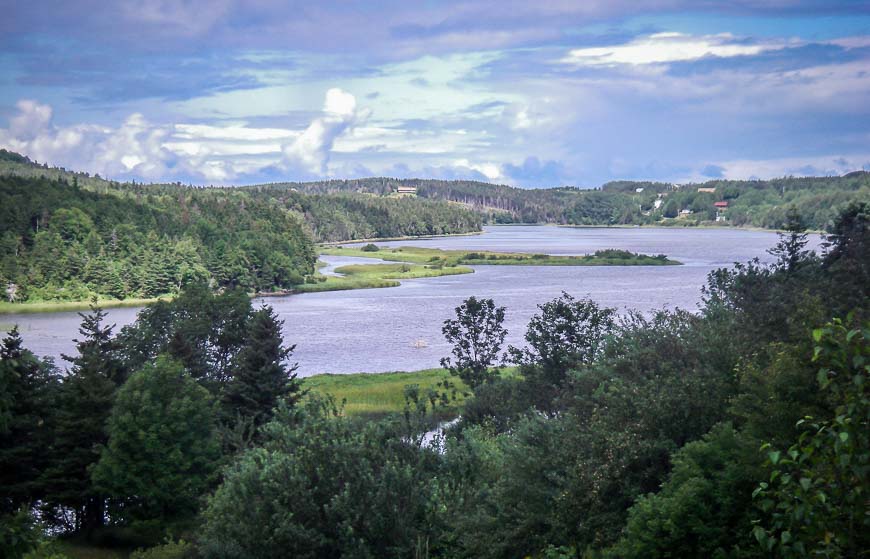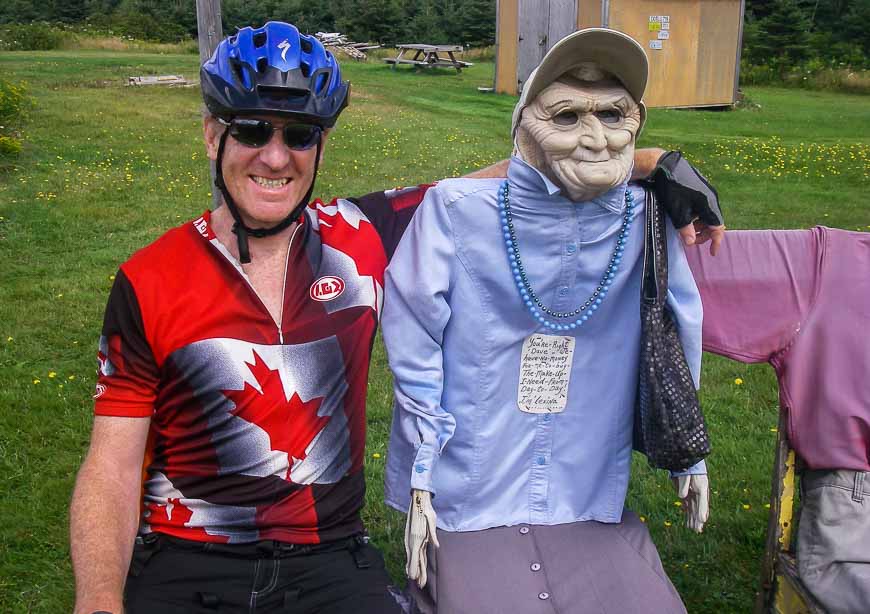 If you're into hooked rugs then you're in luck. Chéticamp is the hooked rug capital of the world and you may develop a new appreciation for these pieces of art.
Once in Chéticamp there are lots of small family run restaurants like the Acadian Restaurant and the Frog Pond Café if you like fresh sour dough breads, pastries, and coffees.
Where to stay in Chéticamp
There are lots of motels, B&B's and self-catering holiday homes. The Chéticamp Outback Inn is rated as exceptional. The Acadian Motel is called fabulous.
Cycling from Cheticamp to Cape Breton Highlands National Park to Dingwall
From Chéticamp, continue north through the spectacular Cape Breton Highlands National Park where you can expect to be physically challenged. Two major climbs – one with grades of 13% over 3 km (2 mi) will test your conditioning program. Though a difficult day, it's a rewarding one.
The small community of Cape North lies at the 71 km mark, Dingwall at 76 km. There are B&B's if you head off towards Aspy Bay but the bulk of the accommodation is closer to Dingwall.
In Dingwall through the village and out to the beach. There are loads of cormorants and other seabirds to watch and it's particularly beautiful at sunset.
For places to stay near Dingwall check out MacDonald's Motel.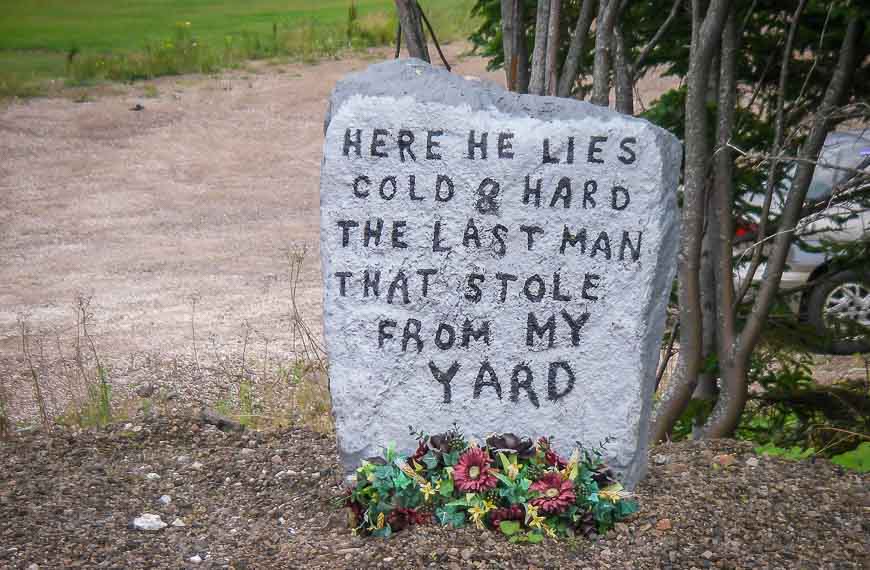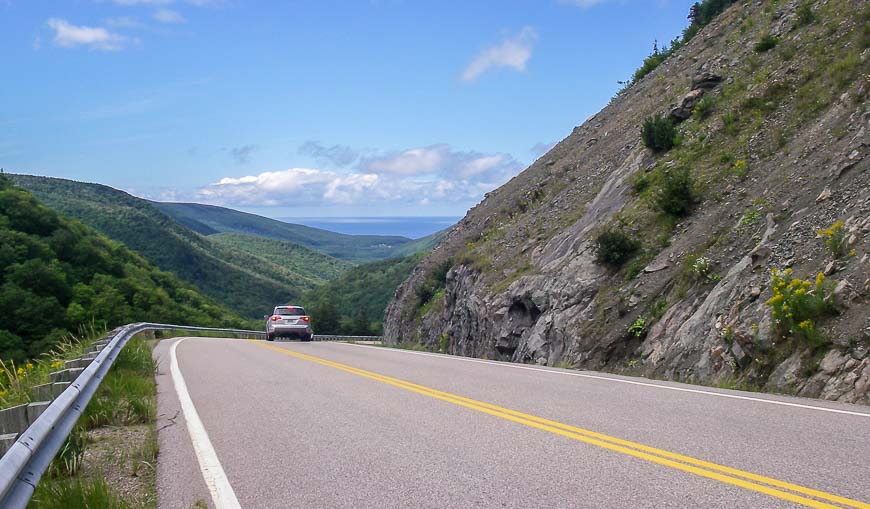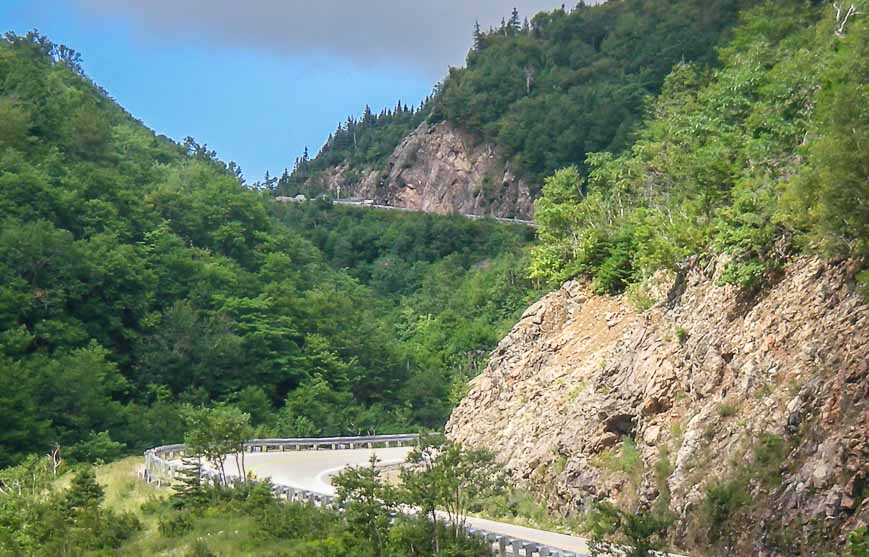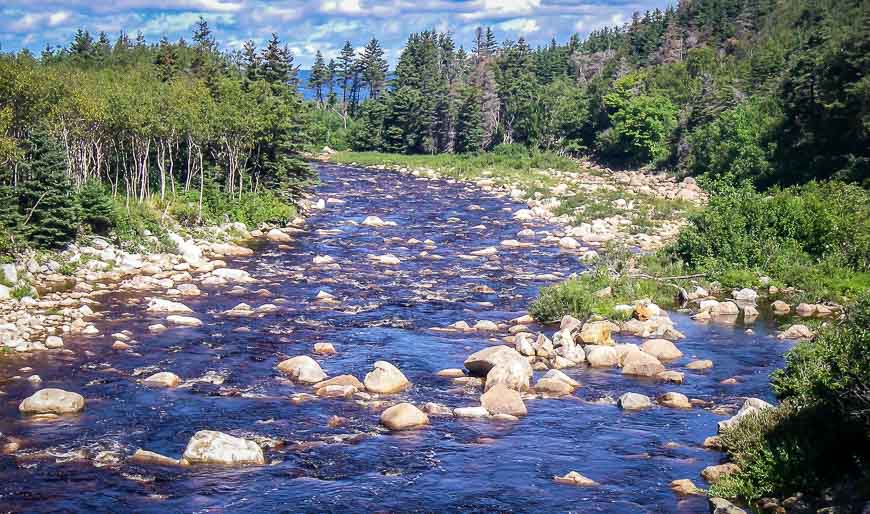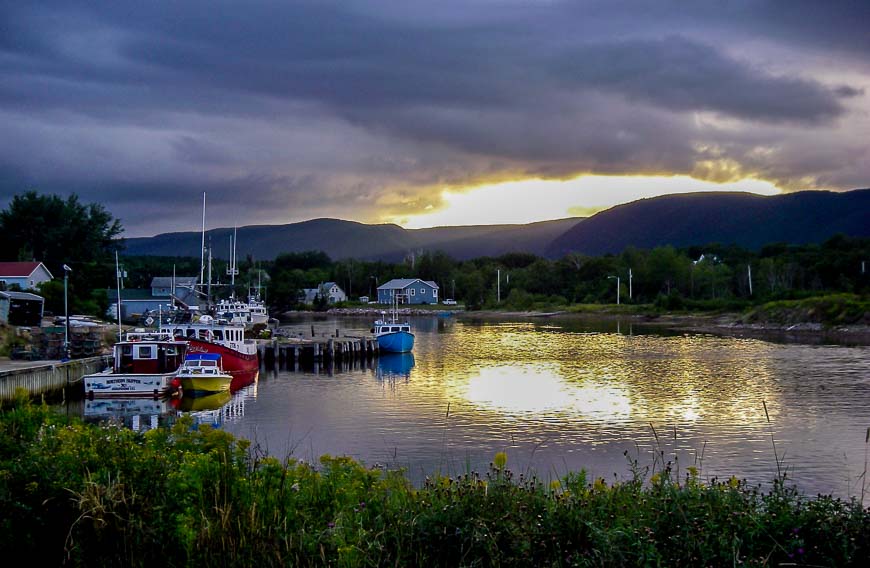 Cycling the East side of the Cabot Trail
The east side of the Cabot Trail offers lovely surprises including beautiful pink, rocky shores, secluded beaches, inspiring vistas and quaint fishing villages.
Look for the many Scottish influences from food through to the game of golf. Golfers will want to stop in Ingonish and play the famous Highland Links Golf Course. From there, it's one last big climb up Cape Smokey before the final leg into Baddeck.
It's 43 km from Dingwall to the Keltic Lodge, 47 km to Ingonish Beach and 55 km to Castle Rock Country Inn pictured below.
It's definitely worth stopping at Black Brook Cove. Pink granite rock, waterfalls, rock beaches and swimming possibilities should be enough to get you off the bike. Check out the scenery on the Cabot Trail video.
Green Cove on the Cabot Trail
Jump off the bike at Green Cove and take 10 minutes to check out the rocky headland. Beware the rogue waves that can wash over the rocks.
Interestingly, there are Atlantic leatherback turtles, which eat jellyfish as a main course, and migrate between Atlantic Canada and the beaches of Central and South America every year. It would be a privilege to see one of these turtles which can weigh up to 1000 pounds.
Where to stay on the east side of the Cabot Trail
If you're staying in Ingonish make sure you know which Ingonish. There are many – Ingonish, Ingonish Centre, Ingonish Beach, Ingonish Harbour and Ingonish Ferry. Confused?
We stayed in the Castle Rock Country Inn – not fancy but comfortable. The Keltic Lodge at Highlands would be the quintessential place to stay.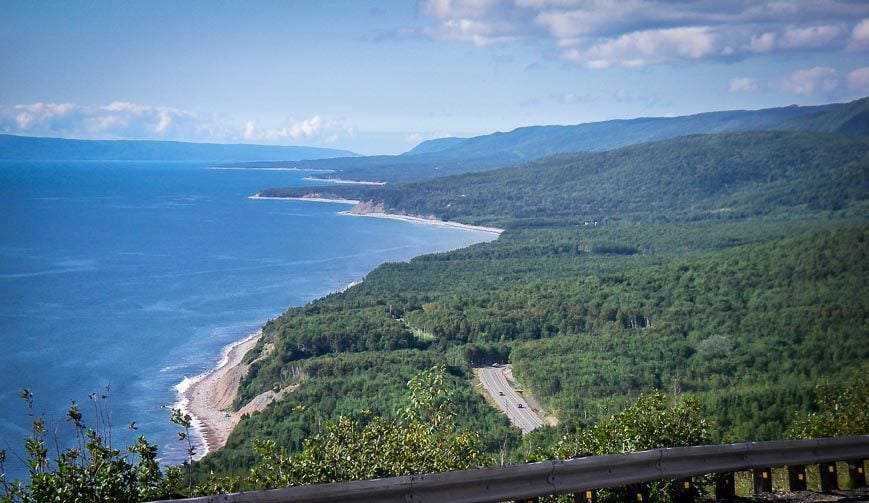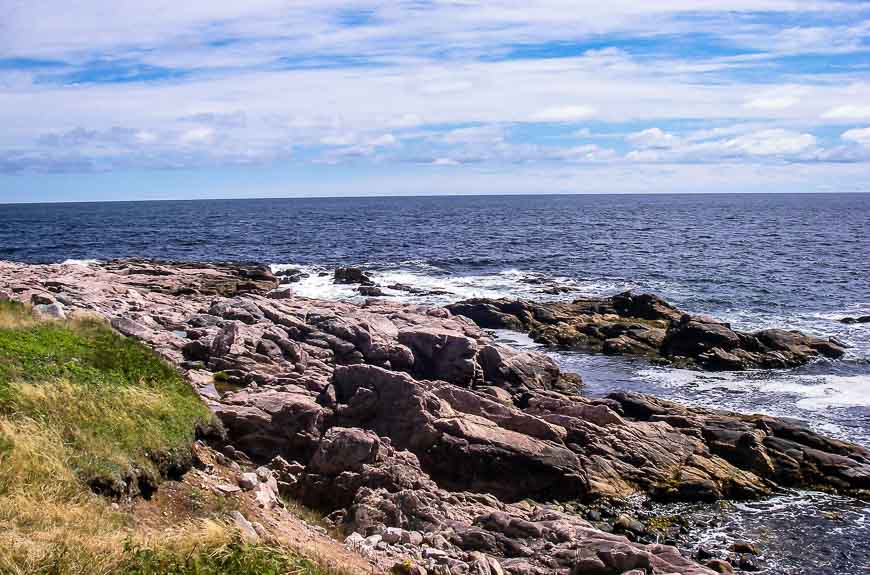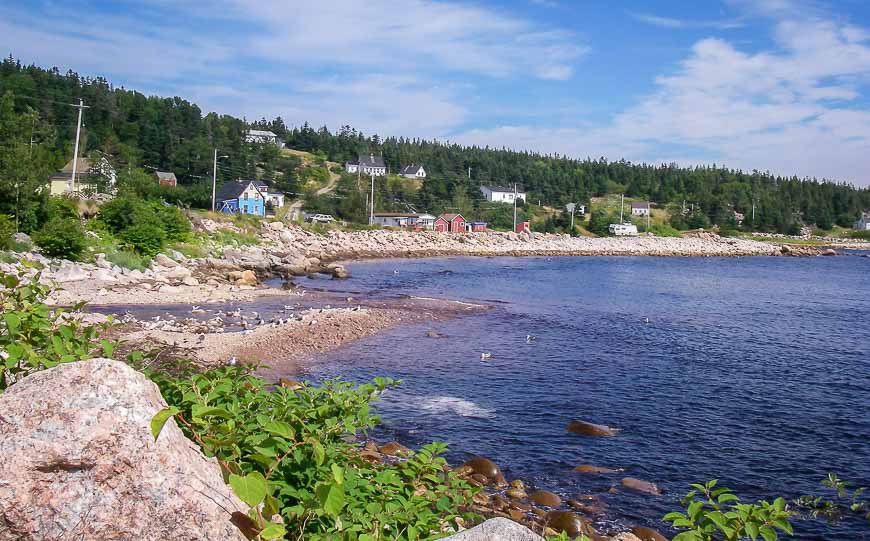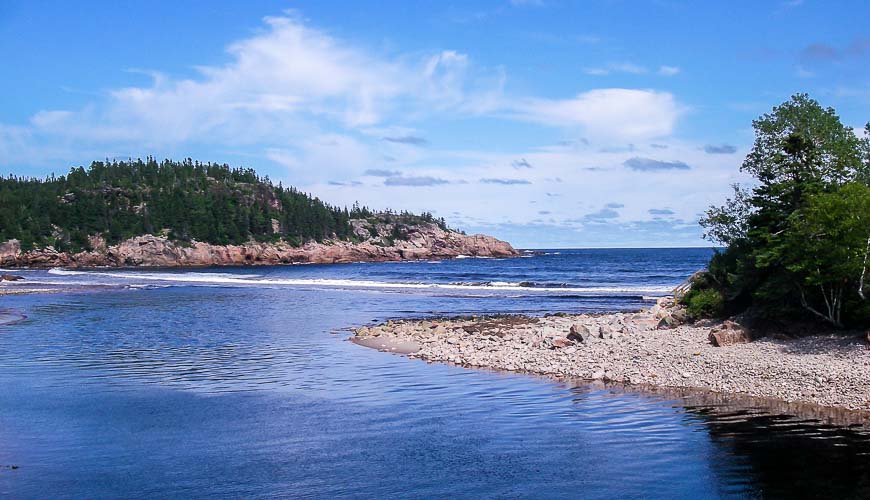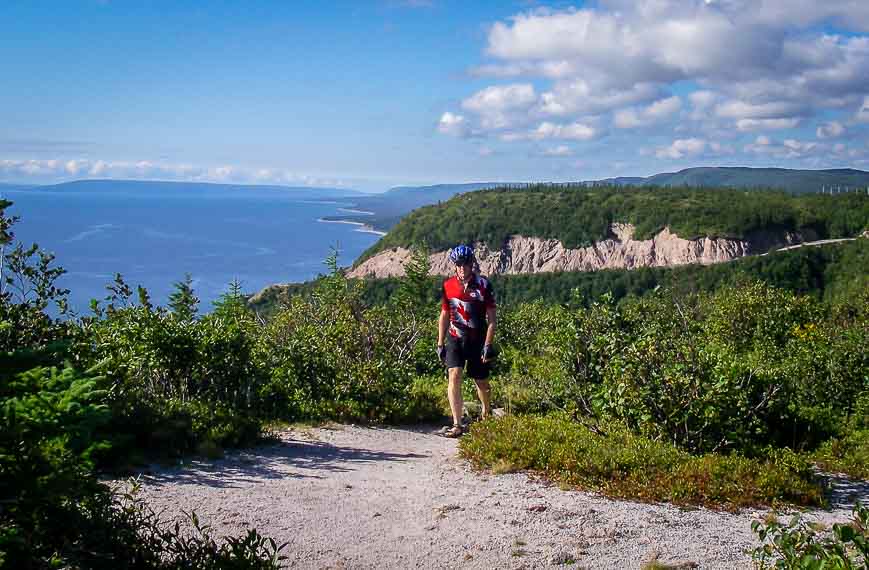 The final stop to make before reaching Baddeck is the restaurant The Clucking Hen. Grab a coffee or enjoy a really good breakfast, lunch or dinner. I also appreciate their sense of humour.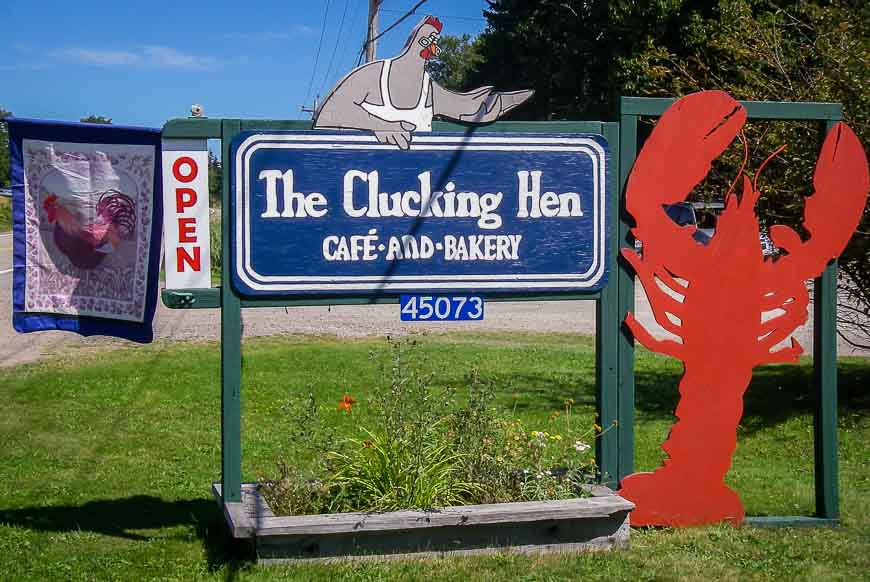 Is cycling the whole Cabot Trail hard?
Although the first day was easy the others were challenging and the final day ends with a hilly 100 km ride. It's great for a workout and it allows for a guilt-free stop at the Clucking Hen Café.
Other things to do on the Cabot Trail
With extra time I would check out the pods of pilot whales, try some sea kayaking, hike the Skyline Trail in Cape Breton Highlands National Park, look for moose, and walk the beaches.
Others might try a round of golf at the famous Highland Links course or check out one of the many museums. Artisans have shops all over the island and many are worthy of a visit.
You can download my free Cabot Trail guide by clicking on the link. It will give you route directions (mostly obvious) and a bit more information you need to book your own trip including a list of tour companies who run Cabot Trail bike rides.
Getting to the Cabot Trail
Getting to the Cabot Trail on Cape Breton Island is usually done by traveling through Halifax or Sydney. Planes fly into both places though prices are on the high side into and out of Sydney.
There's a lot more flexibility flying in and out of Halifax but it's further to drive. Multiple daily flights from Toronto, Montreal, and Ottawa allow you to connect from afar. You can even fly direct from Calgary. If you rent a car in Halifax then it's about a 3.5 hour drive to Baddeck. It's only a one hour drive from Sydney to Baddeck. Car rentals are at a premium so I would recommend booking well in advance.
Getting a rental bike
The friendly folks at Framework Fitness in Sydney will deliver rental bikes to Baddeck.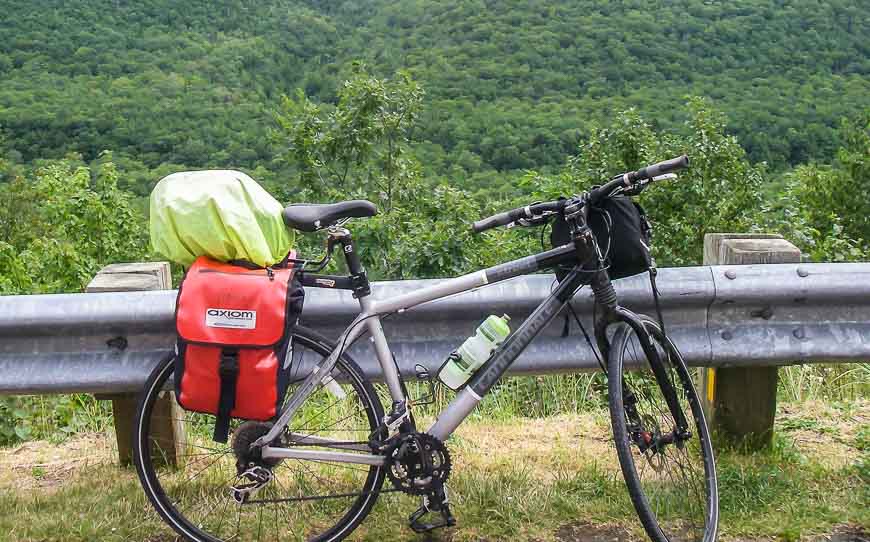 Location map of the cycling route on the Cabot Trail
Further reading on Nova Scotia
Click on the photo to bookmark to your Pinterest boards.