If you like the idea of slow travel then this six-day, central Nova Scotia road trip itinerary will be perfect for you. It starts and ends in Halifax – completing a loop that includes numerous national historic sites, a few wineries, a stop in Halls Harbour for lobster, a look at the cute fishing village of Blue Rocks along with overnights in Lunenburg, Annapolis Royal, Grand Pré, and Kejimkujik National Park.
You likely won't have time to visit upwards of 20 wineries in the Annapolis Valley region or to search for some of Nova Scotia's famed white beaches. But you will be able to enjoy lots of lobster, drink the famous Tidal Bay white wine, check out a handful of cute towns – and of course immerse yourself in Maritime culture.
This post includes some affiliate links. If you make a qualifying purchase through one of these links, I will receive a small percentage of the sale at no extra cost to you. Thank you very much for your support.
Map of the central Nova Scotia Road trip
Click on the three dots near the top right hand corner to email a copy of the map.
Day one on the Nova Scotia Road trip – Explore Halifax
Unless you're a Maritimer, you're going to have to deal with a time change when you visit Nova Scotia. The province is on Atlantic Time, so they are one hour ahead of Ontario and Quebec, two hours ahead of Manitoba, and three hours ahead of Alberta – where I flew in from, on a direct flight I might add. The bottom line – spend a day in Halifax, catching up on some sleep and seeing some of the prime sites at a relaxed pace.
If you only have one day in Halifax, I'd suggest you include an exploratory walk along the waterfront. It's a great way to start off your Nova Scotia road trip. If you're visiting in summer and early fall, be sure to hop across to George's Island and do the Tunnel Tour. Another not to be missed experience is a spirit tasting at the Halifax Citadel National Historic Site. Pair that with a ghost walk and you'll have quite an exciting evening.
If you'd like to spend more time in Halifax, check out 25 things to do in Halifax, Nova Scotia.
Where to stay in Halifax

If you fly in late, you could stay at the Alt Hotel Halifax Airport. Otherwise, I'd suggest a downtown hotel so you can walk to everything. I have enjoyed a couple of stays at the Westin Nova Scotian. The Lord Nelson Hotel & Suites near the Halifax Public Gardens would be another good choice.
Nova Scotia Road trip day 2: Halifax – Grand Pré
Take the morning to enjoy a leisurely drive to Grand Pré, enjoying a stop at a winery along the way. Then visit the Landscape of Grand Pré – Canada's 16th UNESCO World Heritage Site.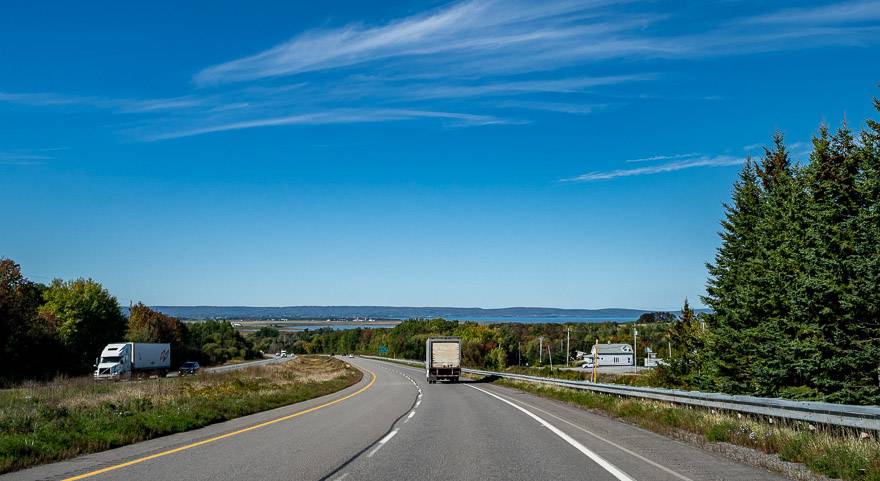 Drive from Halifax to Bent Ridge Winery – 96 km
Driving time: About an hour
Time needed at the winery: One – two hours assuming you have lunch here; 30 minutes if its only a tasting
Plan to leave Halifax later in the morning so you have an excuse to enjoy a delicious pizza and a glass of wine at Bent Ridge Winery & Brewery.
Bent Ridge Winery is a small batch winery located in the middle of a U-pick apple orchard. The winery produces 10,000 bottles of wine per year. Glen Dodge, the co-owner explained to us that Marquette grapes – with their pinot noir parentage thrive in the Avon Valley and can fully ripen here. They are the basis of six different styles of red wines that are offered, including an appassimento or dried grape red wine.
Onsite is also the Bent Nail Brewery for those of you keener on wine than beer.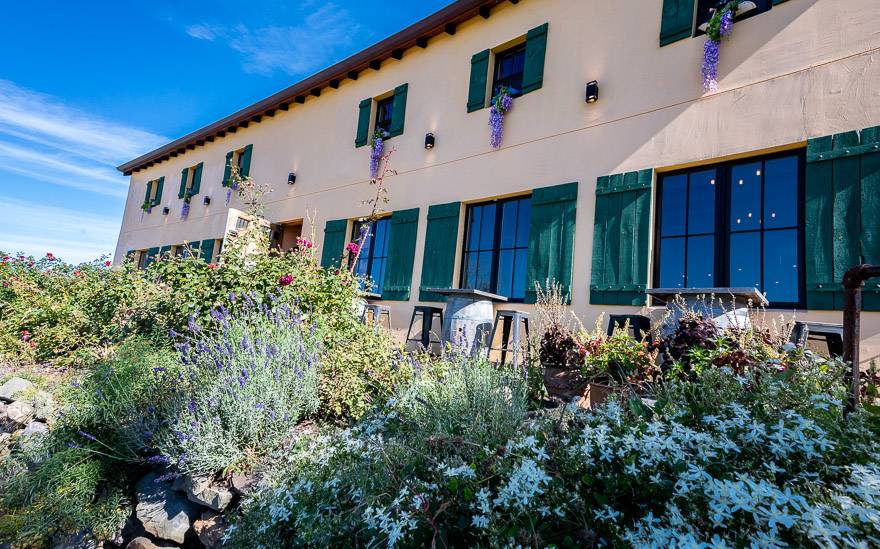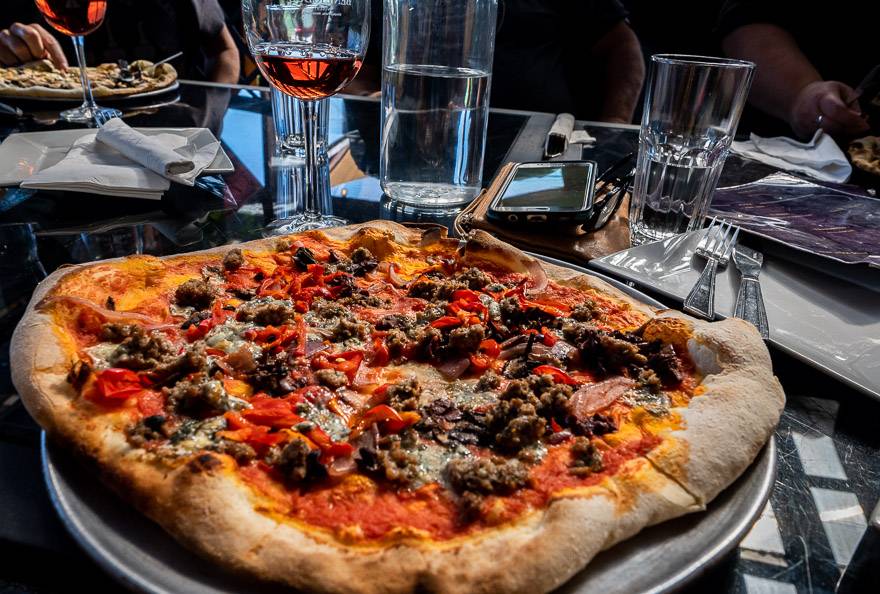 Drive from the Bent Ridge Winery to Domaine de Grand Pré – 29 km
Driving time – 22 minutes
Time needed: 30 minutes – 1 hour
The winery at Domaine de Grand Pré was the first one in the Annapolis Valley. Nineteen acres of vines are under production with 90,000 litres of wine produced annually. The winery offers tours and tastings on a first come, first served basis – unless there's a big group. I highly recommend trying their Tidal Bay and the Pomme d'Or.
The Tidal Bay wine is the first wine appellation in Nova Scotia. To receive the Tidal Bay designation, all grapes must be grown in Nova Scotia from specific grape varietals. There's a strict set of standards to be met – and every year the wine is blind tasted. It is the white wine I consistently enjoyed on this central Nova Scotia Road trip.
The Pomme d'Or Ice Cider is a delicious dessert wine available with and without cream. The one with cream as been called the Baileys of Nova Scotia.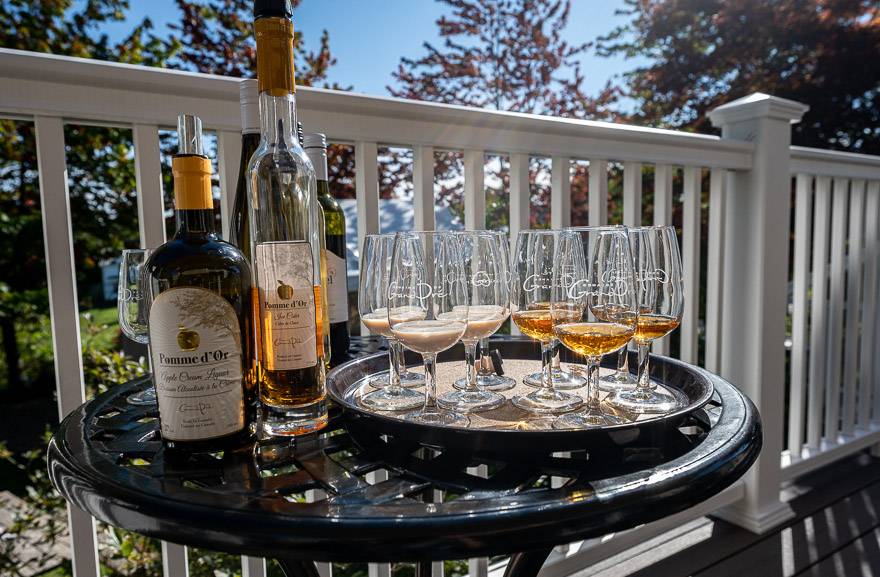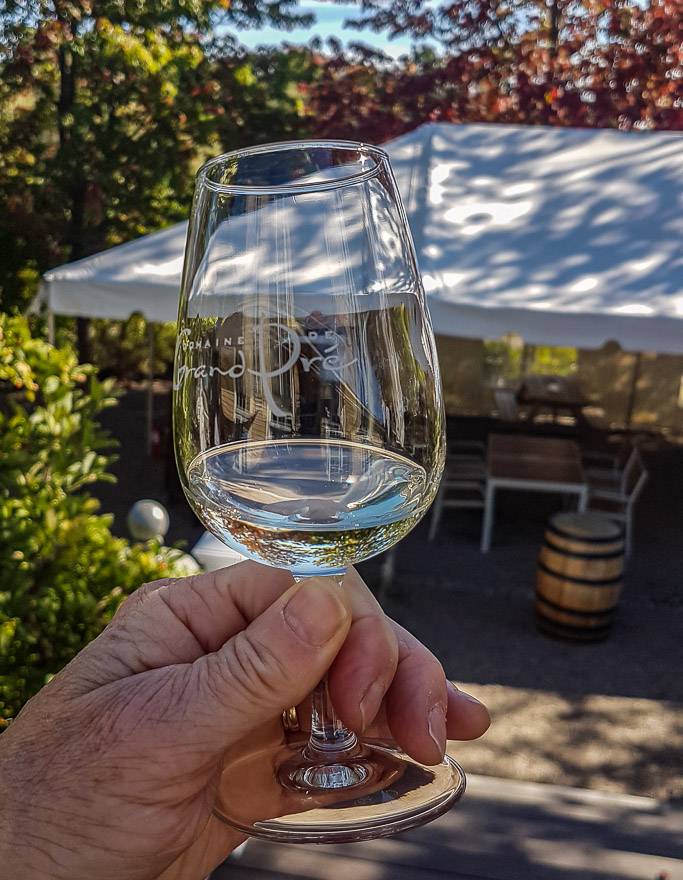 Grand Pré National Historic Site
Time needed: Allow a few hours to a half day to visit.
It's a five-minute drive from the winery to reach the visitor centre at the Grand Pré National Historic Site, located in the heart of what is the UNESCO World Heritage Site.
Step into the visitor centre and slip into the theatre for a 22-minute multi-media presentation that will bring the Acadian deportation to life. What may strike a chord with many of you, is how ingenious the Acadian people were at building dykes to keep the Bay of Fundy-at bay. For hundreds of years the system of dykes was used, maintained and expanded by Dutch, English and Scottish settlers.
Have a look around the exhibits in the visitor centre before heading off on a walk to visit the Memorial Church and to see the Evangeline statue. Evangeline's statue is the heroine in Longfellow's poem – Evangeline: A Tale of Acadie. She can be seen crying for the lost land.
For those of you who want to do a deep dive into the history of Grand Pré, time your visit so you can take a 45-minute tour, offered in English or French, twice daily in the summer.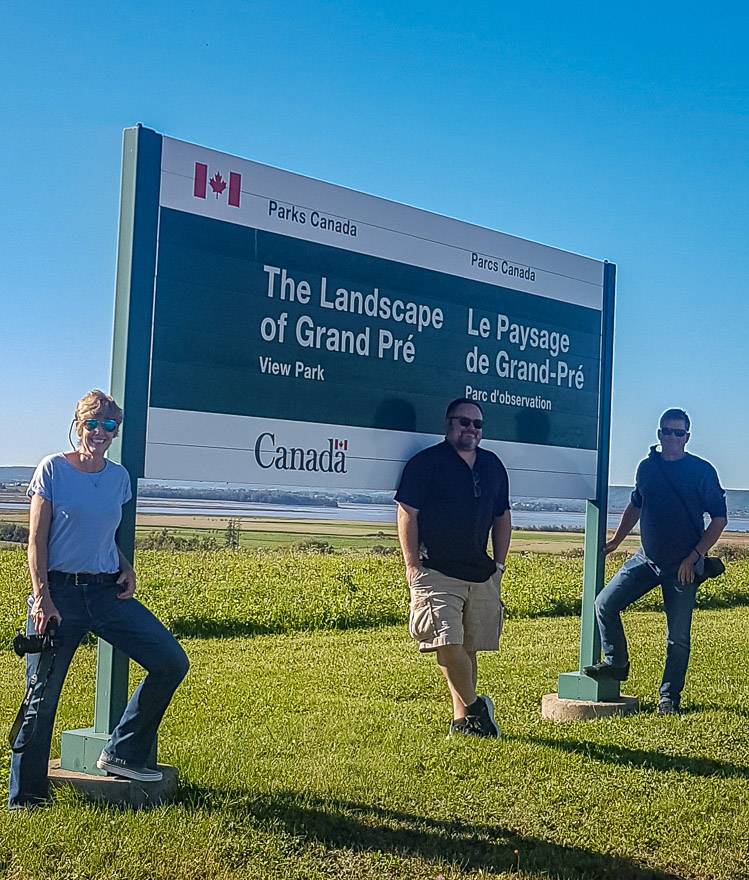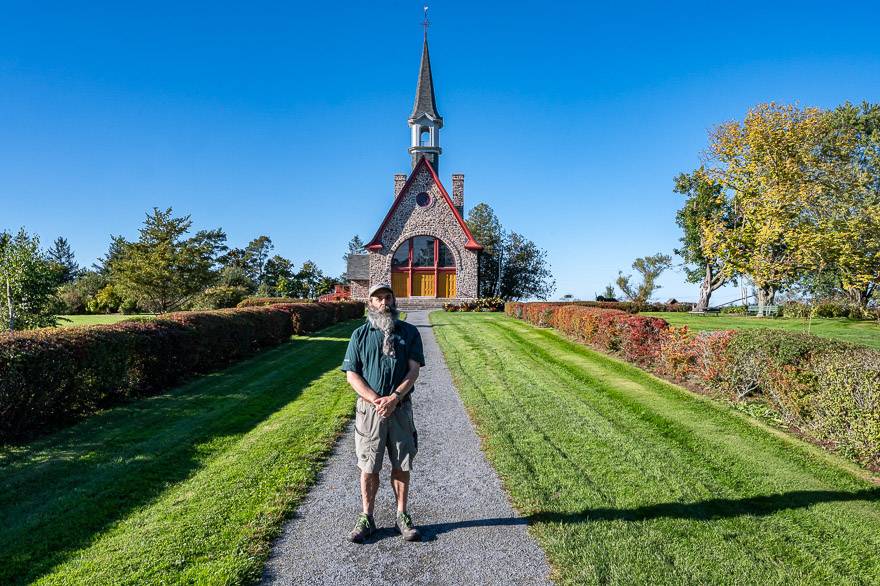 Need some exercise?
Bike or walk on the Harvest Moon Trailway – an old railbed that connects Grand Pré to Annapolis Valley. If you visit the Memorial Church in Grand Pré (pictured above), you'll walk right over the Trailway.
Where to stay in Grand Pré

The Inn at Grand Pré Winery would be an excellent choice. Six rooms have been fully and beautifully renovated. And it's just a short walk across a courtyard to get to their onsite restaurant too.

Book an oTENTik and sleep within sight of the Memorial Church. Expect starry nights and a peaceful sleep.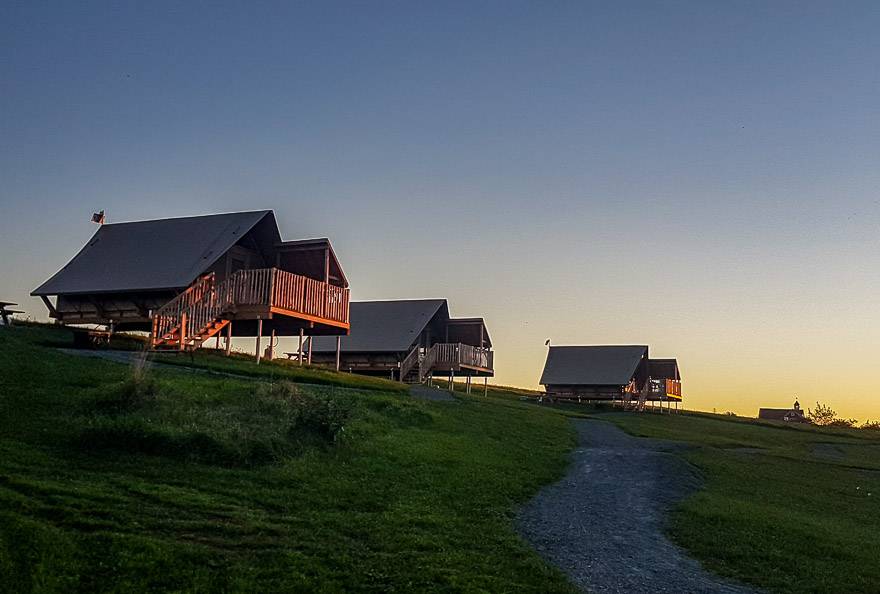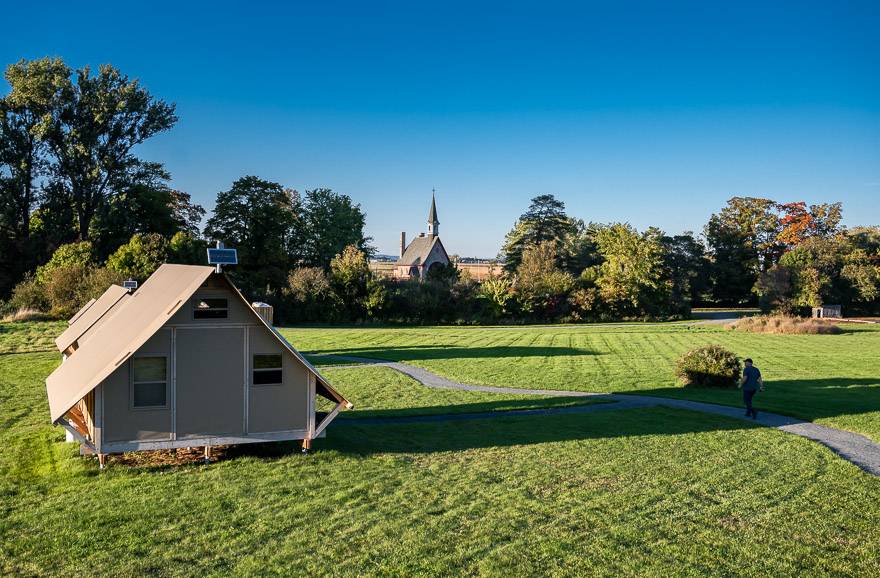 Nova Scotia Road Trip day 3: Grand Pré to Annapolis Royal via Hall's Harbour
Take a two-minute detour out of Grand Pré to visit Tangled Garden, "30 years in the making." Any gardener on a Nova Scotia road trip will want to visit this place.
Wander down flower and berry lined paths to a pond. Admire the perennials and grasses, check out a flowering labyrinth, and pause to enjoy views over the Bay of Fundy. Then visit their shop to stock up on vinegars and oils, scented with herbs from the garden, along with jams, jellies, chutneys, honey, mustards, and more.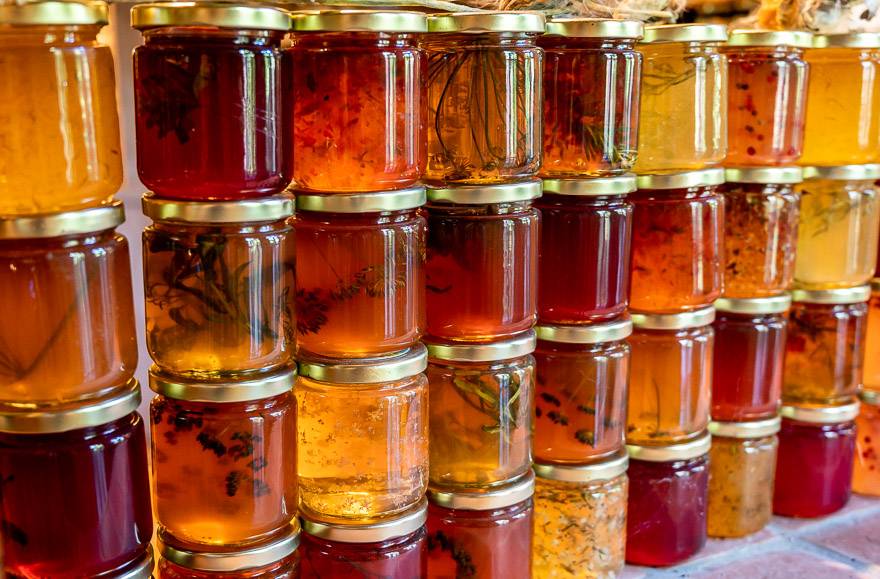 Drive from Grand Pré to Hall's Harbour: 38 km
Driving Time: 33 minutes
Time needed in Hall's Harbour: 1 – 1.5 hours
It's a pretty drive as you climb out of Wolfville on route to Hall's Harbour. At the right time of day, the view of the Annapolis Valley is stunning.
The rustic fishing village of Hall's Harbour sits on the Bay of Fundy, and as such sees the massive variation in tides twice a day. Its most interesting at low tide when the shoreline is exposed, and fishing boats are beached on red-coloured mud.
After a walk along the rocky beach or a quick wander through the village head for the Hall's Harbour Lobster Pound. Be sure to take the fun and informative tour with Lowell Simpson, but before you do, place your food order. You can order whole lobster, lobster rolls, lobster nachos, lobster chowder – just about anything with lobster along with a few mainstream choices for the non-lobster lover.
The tour we did was a real highlight. Not only did we learn that it was considered cruel and unusual punishment if you ate three lobster meals in a row in prison – but that kids back in the day that took lobster sandwiches to school were looked down upon by those that munched on bologna sandwiches.
We all know how to sex a lobster now – important if you like the roe.
Other cool lobster facts we learned:
It can take 7 – 8 years for a claw to regenerate and catch up in size to the lost one.
A lobster license costs up to three million dollars and is based on the number of traps.
There are right- and left-handed lobsters.
A 10-year-old lobster weighs about 1.5 pounds.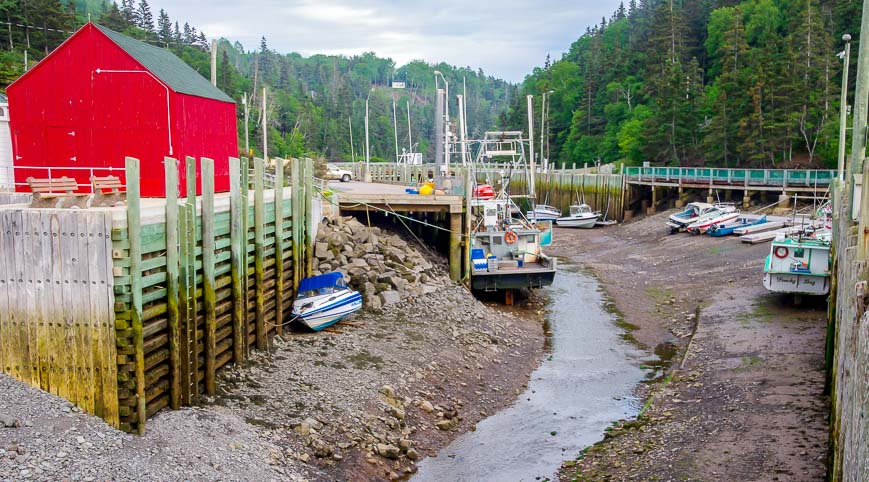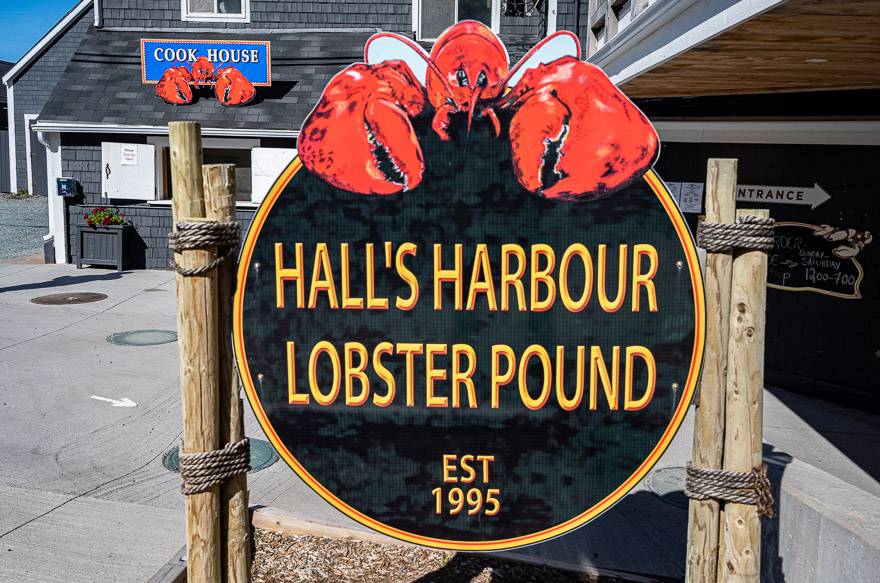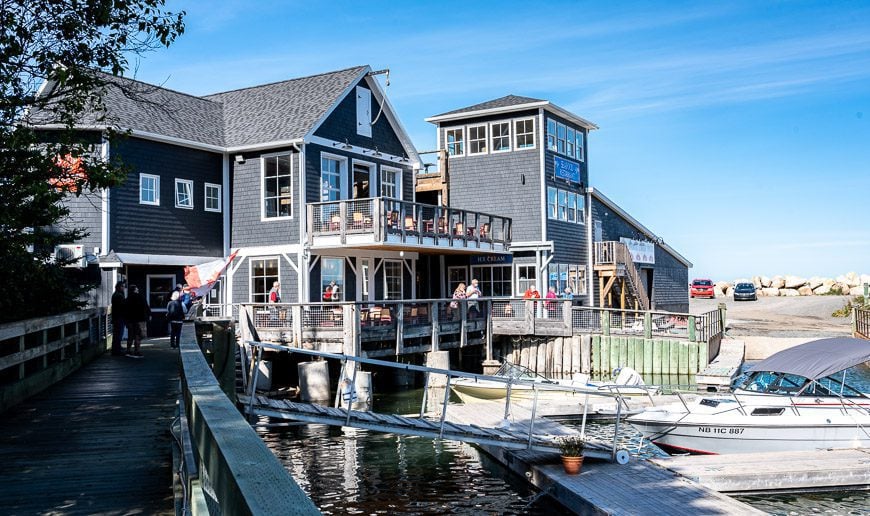 Drive from Hall's Harbour to Annapolis Royal: 106 km
Driving time: 75 minutes
Time needed: Allow one hour to visit the Port-Royal National Historic Site and a day to explore the area on your Nova Scotia road trip.
Take a walking tour of Port-Royal National Historic Site, considered nationally significant for its early attempt (1603) at French colonization in North America. Over the course of eight years, a year-round trading community was established with the Mi'kmaq and French Colonists, with an exchange of knowledge occurring to help each other out.
Today you can tour a reconstruction of the Port-Royal Habitation, a replica of one of the earliest European settlements in North America, rebuilt in 1939-40. You might meet the Governor and other people dressed in period costumes as you explore rooms inside the habitation and the trails outside. Meet people at work, just like they would have been. Check out the trading room where furs were stockpiled and then traded with the Mi'kmaq for copper and iron pots, knives, iron axes, blankets, and beads.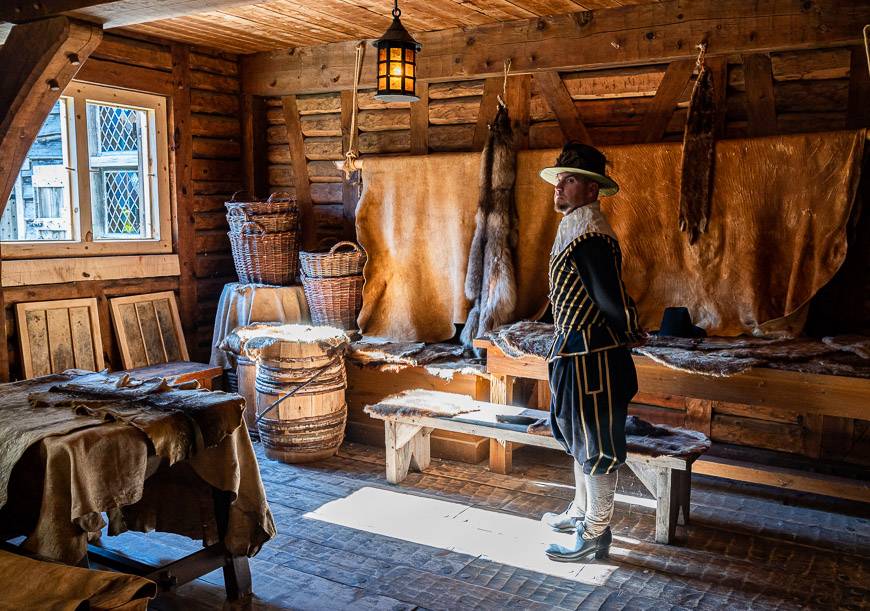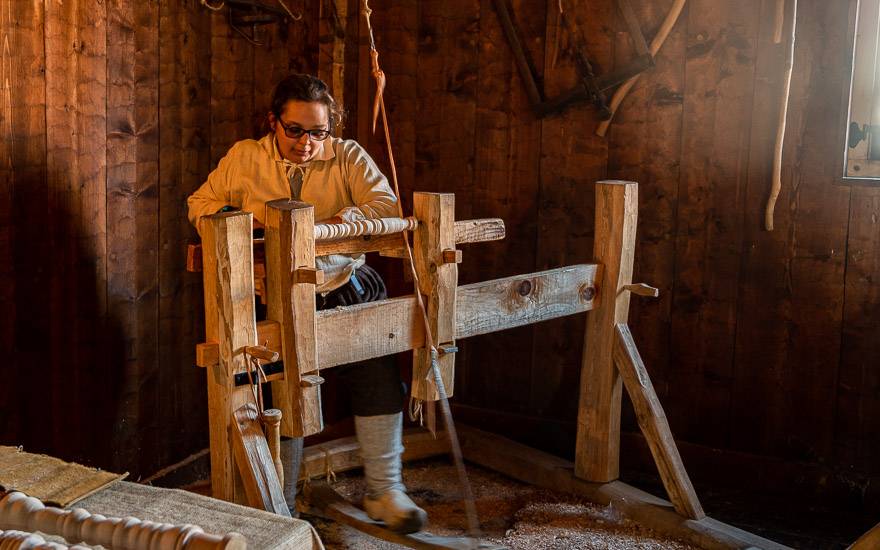 Where to eat in Annapolis Royal
Watch the sunset over the Annapolis River while you enjoy delicious food at Restaurant Composé on George Street. They are known for their Austrian and European food though you'll find lobster on the menu too.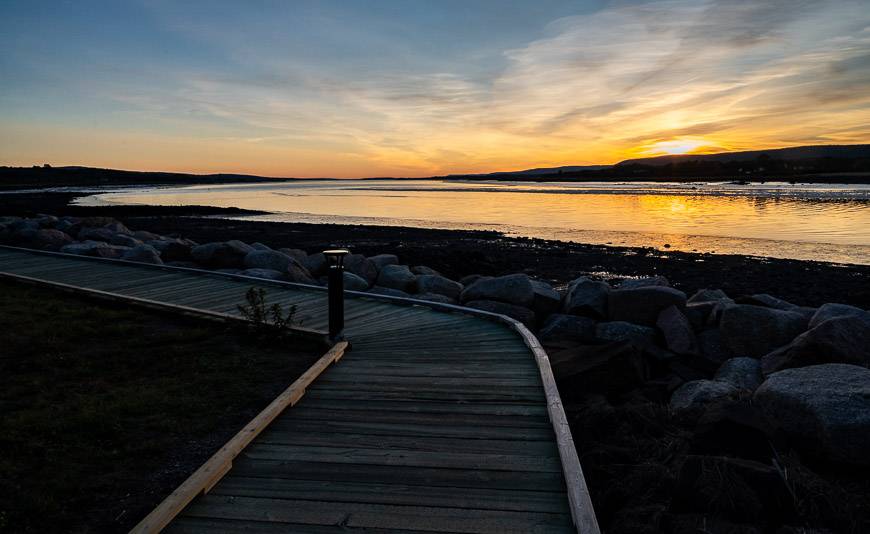 Where to stay in Annapolis Royal

There are loads of B&B's in Annapolis Royal – some of which are in grand old houses. I can recommend Hillsdale House, built in 1859. Enjoy a true parlour, an open veranda and large gardens along with a large delicious breakfast.

Another excellent option would be the Queen Anne Inn.
Nova Scotia Road Trip day 4: Annapolis Royal to Kejimkujik National Park and a visit to Fort Anne National Historic Site
Drive from Annapolis Royal to Kejimkujik National Park: 49 km
Driving time: 37 minutes
Time needed: One day or more depending on what activities you choose to do
Before leaving Annapolis Royal, spend an hour or two walking the expansive grounds of the Fort Anne National Historic Site – either with a guide or on your own. Any history lover will want to include a stop here on a road trip in Nova Scotia.
Fort Anne is a classic star-shaped Vauban Fort on a beautiful site overlooking the Annapolis River. Be sure to explore the earthwork fortifications and check out the stunning heritage tapestry in the Officers' Quarters Museum.
Fort Anne is Canada's oldest National Historic Site. In its day, it was one of the most fought over pieces of land in North America especially during the 17th and 18th centuries when France and England were after control of North America. On a tour, learn about how the lives of the Mi'kmaq, Scots, French, British, and Acadian people have been woven together over the centuries.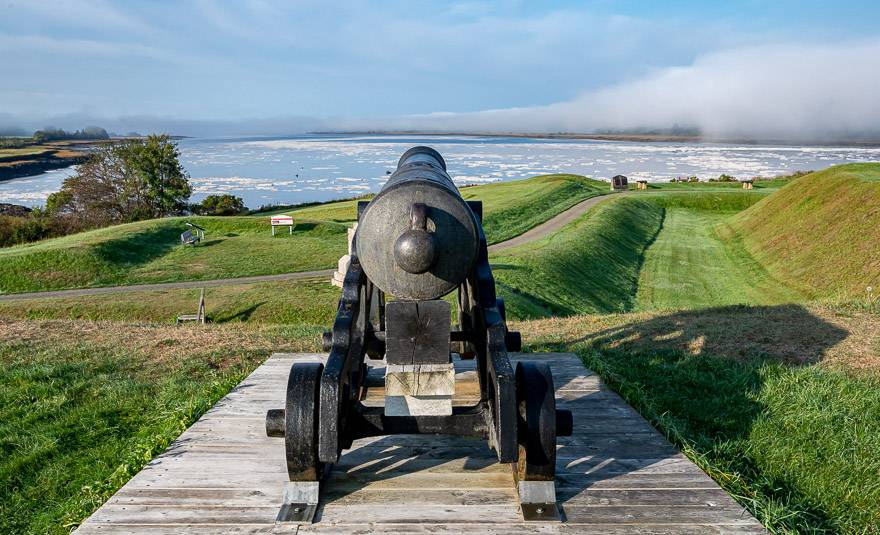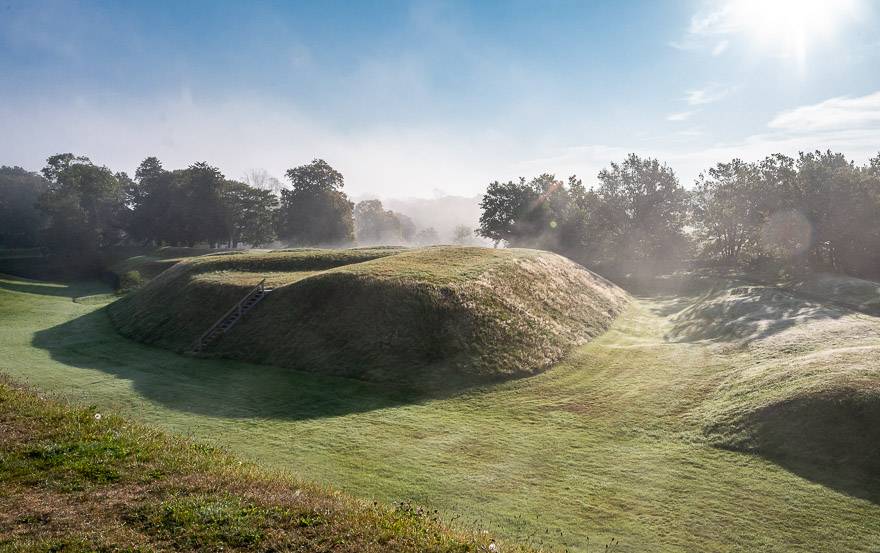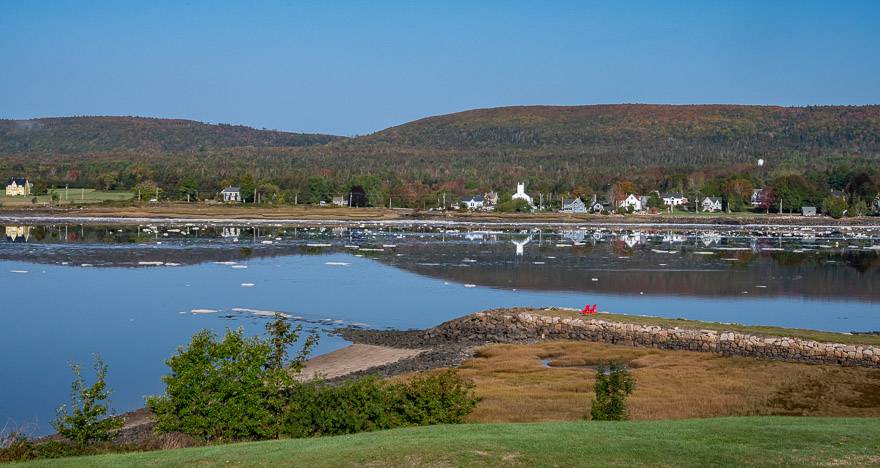 Kejimkujik National Park
If you were a paddler, you could easily spend four to seven days in the backcountry of Kejimkujik. But if you've just got a day or two, you'll still find there's plenty to do – and that's without stepping into the backcountry.
Discover Mi'kmaq culture
Go with a Mi'kmaq guide to the Mi'kmaq sacred site on Kejimkujik Lake. Its only a short walk to reach the rocks but before you walk on them, you'll have to remove your shoes. The guide will point out the petroglyphs, engravings left on polished outcrop on the shores of the lake. Over 500 petroglyphs can be found in Kejimkujik National Historic Site. Unfortunately, many of the petroglyphs have been scratched by canoes pulled up on the rocks or defaced before they were protected.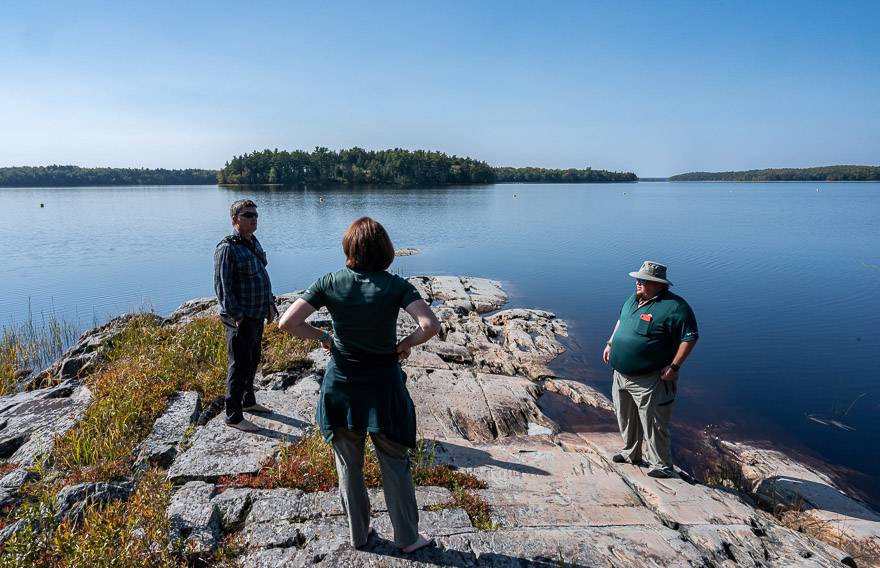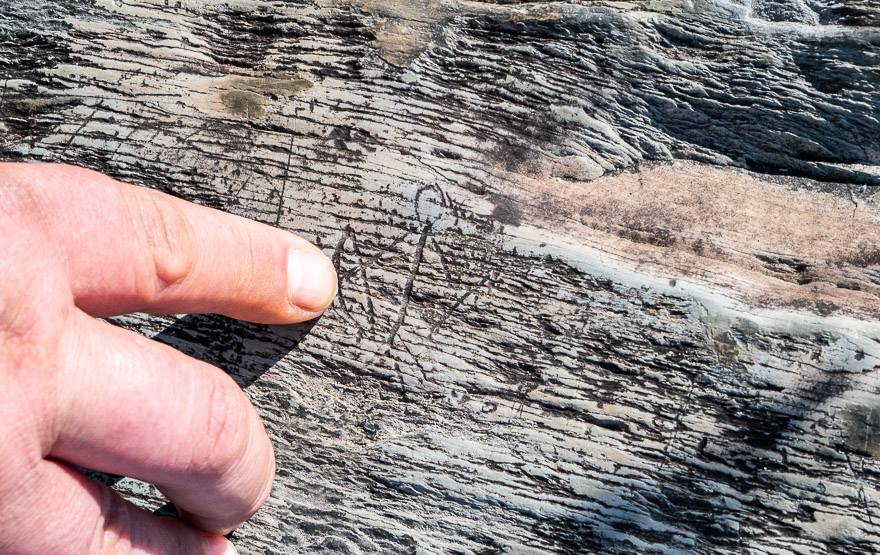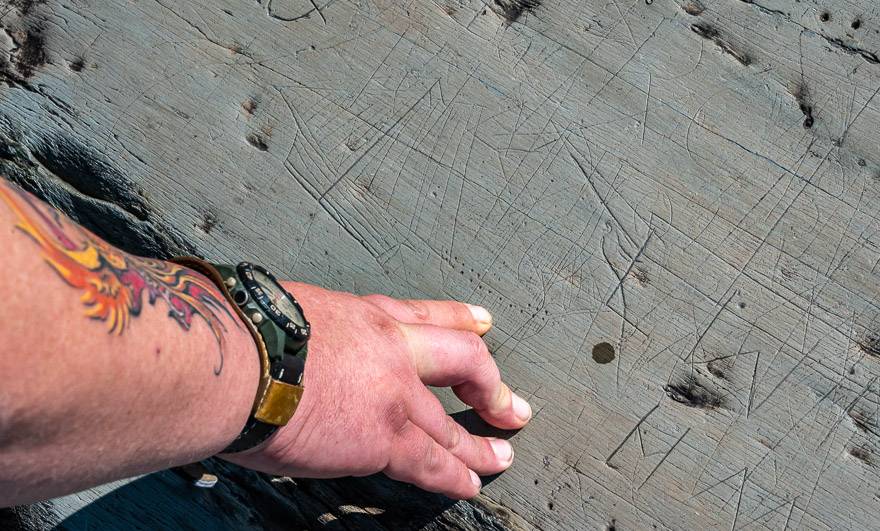 Go for a paddle
Head to Jake's Landing where you can rent canoes, kayaks, and SUPs. Then head out on the Mersey River, paddling upstream until you hit some rapids. Or head for the bigger water on Kejimkujik Lake.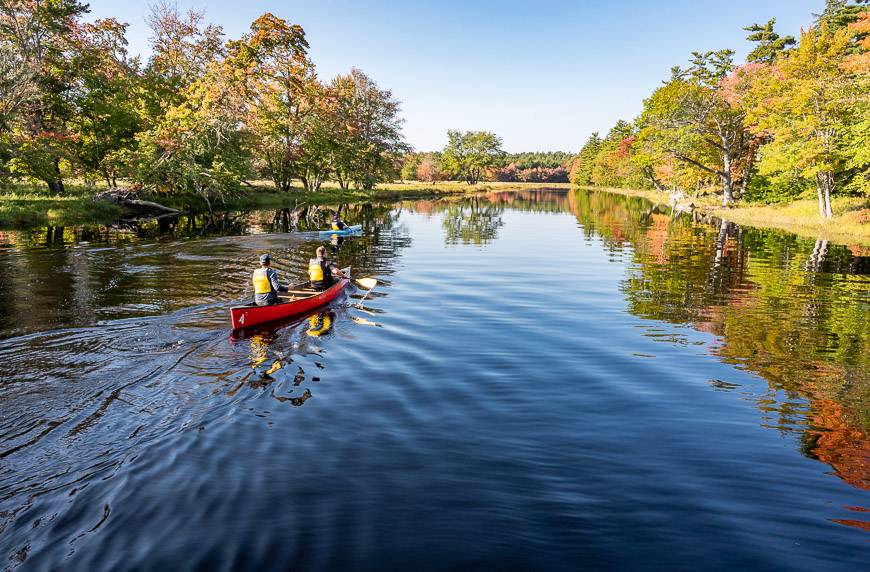 Go biking on a network of trails
There is a network of multi-use trails in the park including the newly opened Ukme'k Trail. From Jake's Landing you can now bike to the Visitor Centre via the Slapfoot, Mersey River and Ukme'k Trails. A rainbow-coloured crosswalk connects the Mersey River Trail to Ukme'k. If you bike all the loops you could bike about 27 km.
There are options on the Ukme'k Trail to choose easier or very difficult sections – depending on your mountain biking ability.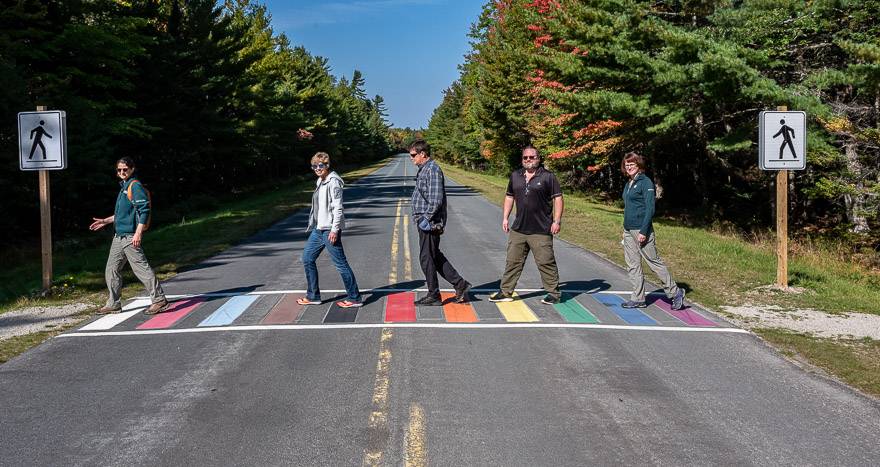 Enjoy a dark sky experience
Kejimkujik National Park is home to Nova Scotia's darkest skies and a beautiful set-up with angled benches for enjoying the night skies. Sign up for a guided program to learn about the night sky and the different constellations you can see at various times of the year.
Where to stay in Kejumkujik National Park
There are a range of options in Kejimkujik National Park when it comes to camping. There are both front-country and backcountry campsites along with four roofed accommodation options that include oTENTiks, Ôasis, rustic cabins or yurts. I enjoyed a peaceful night in an oTENTik overlooking the lake though I have to say the Ôasis would be a cool choice.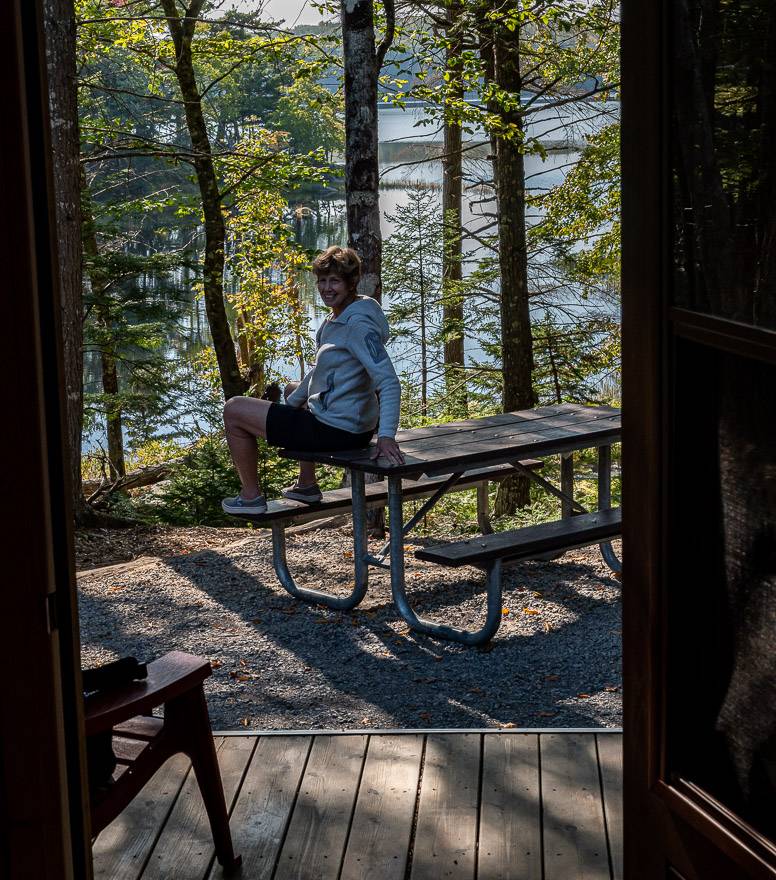 Where to eat in Kejimkujik
You'll need to bring your own food and be prepared to cook it. There are bear-proof lockers available as well as gas barbeques for any roofed accommodation. Otherwise, bring a camp stove and fuel or better yet – hire Andy Hay from the East Coast Kitchen (and runner up for Masterchef Canada Season 5) and dine on some of the most delicious, gorgeously presented food ever.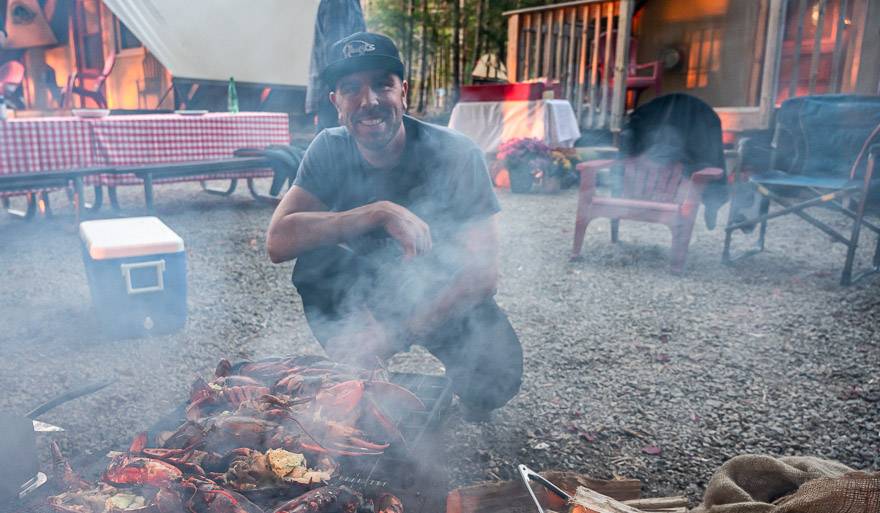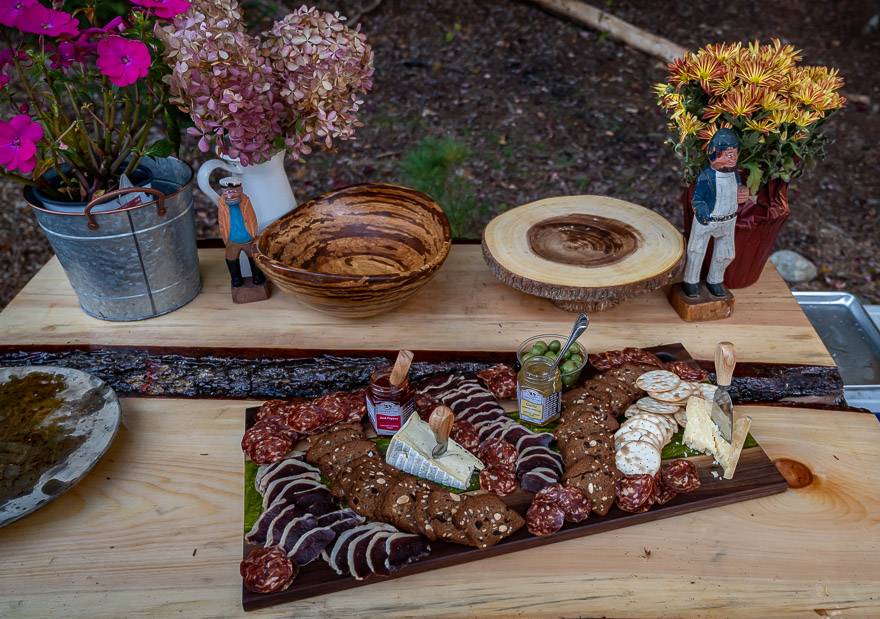 Nova Scotia Road trip Day 5: Kejimkujik National Park to Lunenburg
Drive from Kejimkujik National Park to Lunenburg: 92 km
Driving time: 75 minutes
Time needed in Lunenburg and immediate area: Half a day to an overnight
Lunenburg doesn't need much of an introduction. Most people know it for its wildly colourful houses, and interesting architecture along with the Bluenose II. Visit the Fisheries Museum of the Atlantic and the Big Boat Shed – an exhibit that will allow the public to see traditional boat builders at work.
Old Town Lunenburg is a UNESCO World Heritage Site and is an ideal base for a historic walking tour. If you have an hour and you'd like to learn the background of some Lunenburg's historic homes, sign up with Lunenburg Walking Tours. The Essential Old Town tour will take you from the top of Lunenburg by the old school down to the waterfront. Along the way you learn about some of the century's old homes and their inhabitants along with some quirky facts.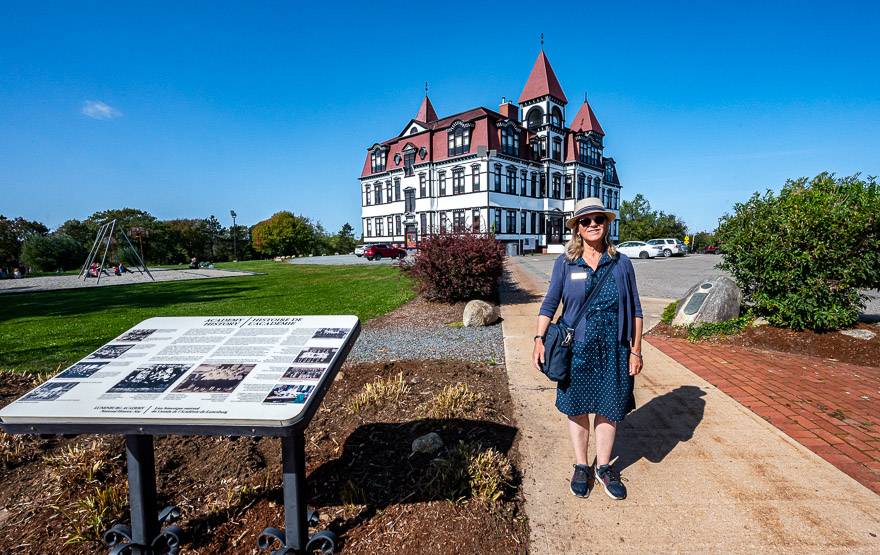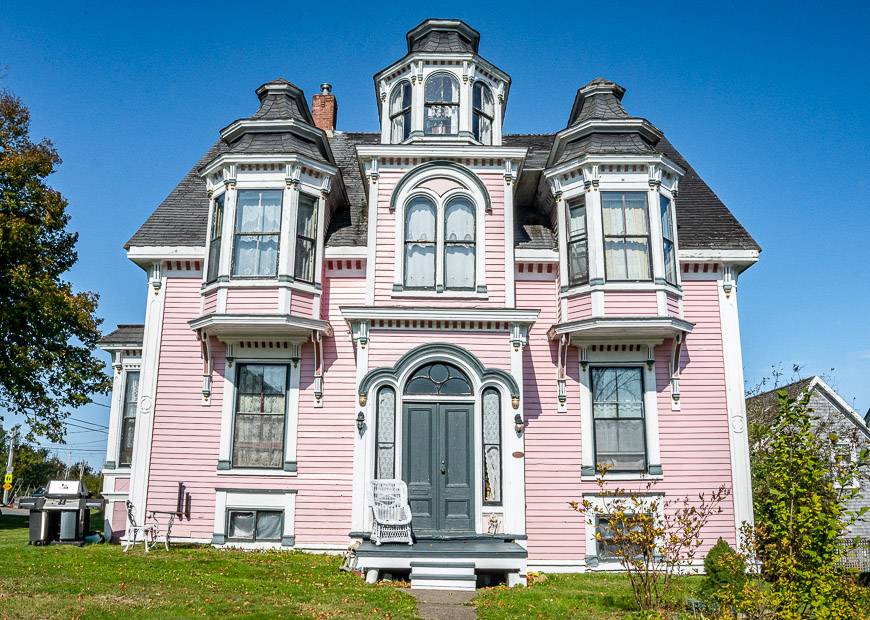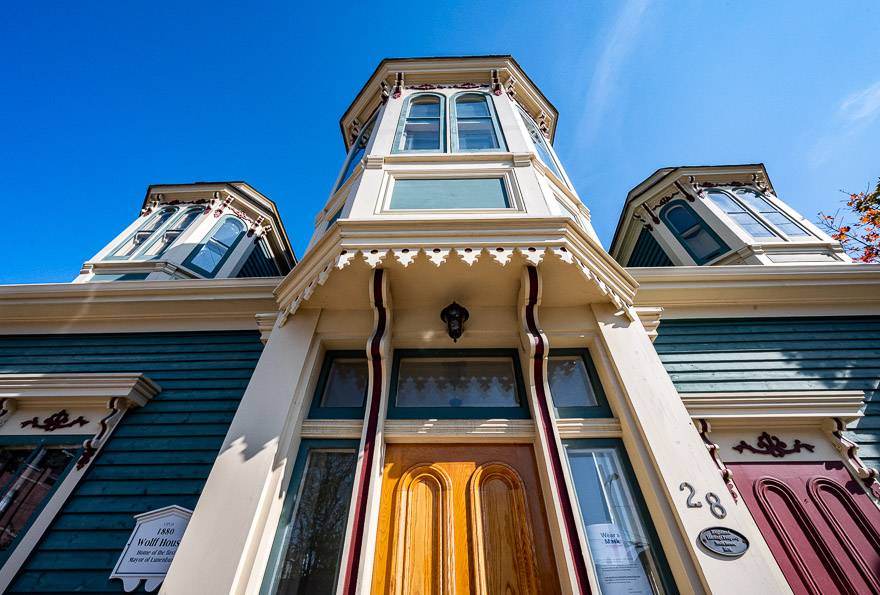 Where to stay in Lunenburg

I stayed a block off the main street in the Lunenburg Arms Hotel. You'll find that there are lots of B&B's and plenty of inns, all within walking distance of the colourful main street.

Another superbly rated choice is Sail Inn Lunenburg. It's a turn of the century bed and breakfast with a kitchenette.

Smugglers Cove Inn featuring contemporary rooms, located across from the docks in Lunenburg, is rated as fabulous.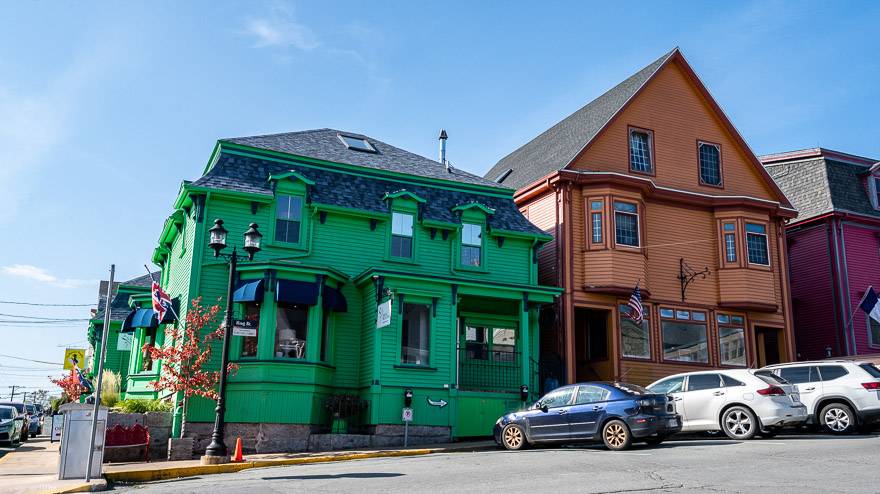 Visit Blue Rocks
There is a timeless beauty to the fishing village of Blue Rocks, just a 10-minute drive away from Lunenburg. It's a fantastic place for photographers – with lots of brightly coloured subject matter like fishing boats and shacks. It's one of my favourite places to visit in Nova Scotia and one I would encourage you to include on a Nova Scotia road trip.
If you're into kayaking, sign up for a tour with Pleasant Paddling and explore the calm and protected waters as you maneuver through channels, past a network of rocky islands. Stretch your legs on a deserted white sand beach before heading back to Blue Rocks.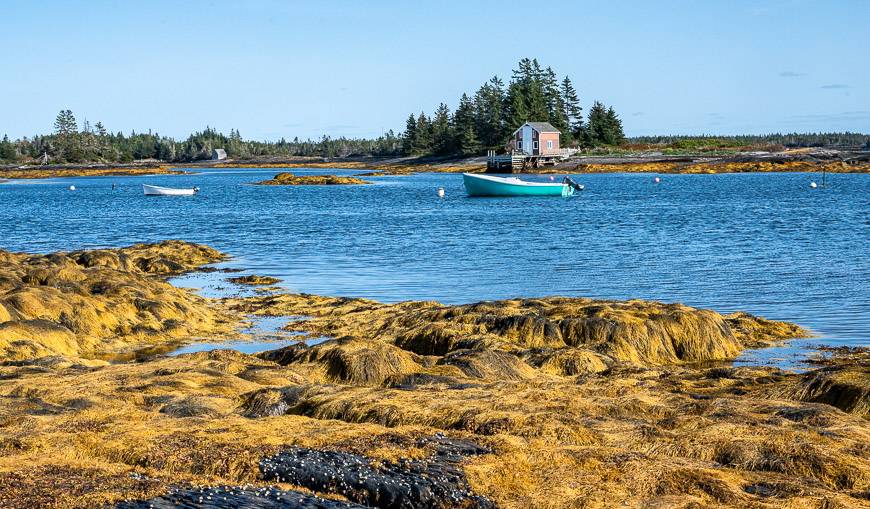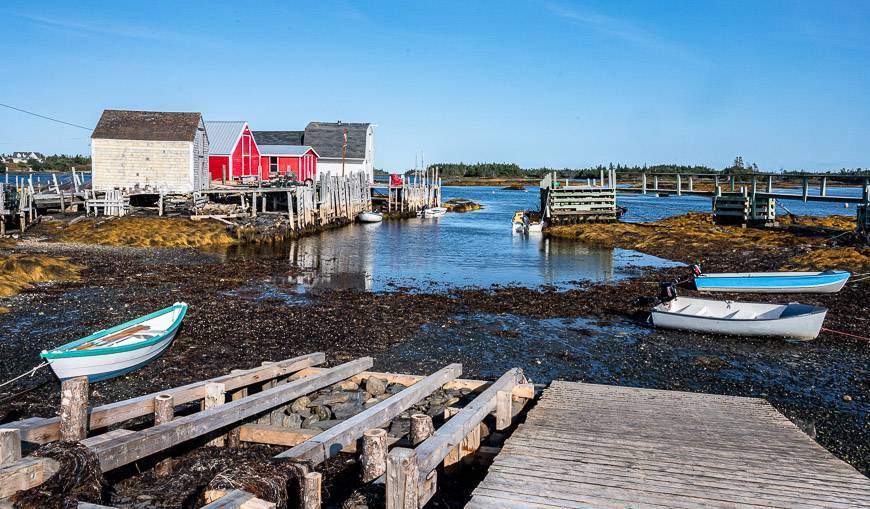 Nova Scotia Road trip day 6: Lunenburg to Peggy's Cove and the Halifax Airport
Drive from Lunenburg to Peggy's Cove via Mahone Bay: 100 km
Driving time: 75 minutes
Time needed in Peggy's Cove: One to two hours
Mahone Bay
Mahone Bay, just 10 minutes from Lunenburg is another must on a Nova Scotia road trip. It's home to a scenic harbour, colourful Victorian homes, and shops along with the world-famous three-churches-in-one-shot photo. There's a vibrant artistic community that will speak to your inner shopper. Have fun looking for hooked rugs, pottery, paintings, jewelry and more.
Adventurous folks might want to paddle Mahone Bay – weaving through some of the 365 islands. Or hop on a bike and explore the area at a leisurely pace.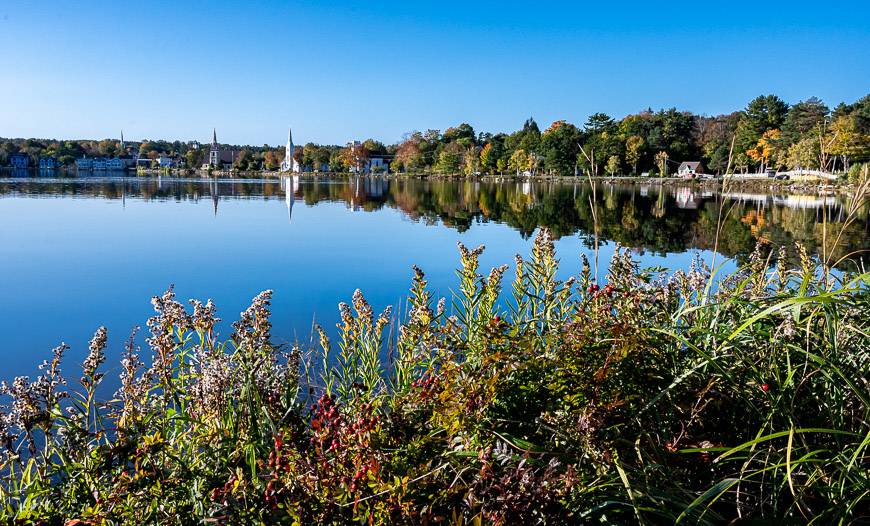 Peggy's Cove – a must on any Nova Scotia road trip
Peggy's Cove is one the must visit sites in Nova Scotia. There's not much to it – a church, a few colourful homes, a gallery or two, a restaurant and a handful of B&B's. Take the time to wander through the fishing village – especially if you're a photographer. For most people the lighthouse is the biggest draw.
As of fall 2021, there is an accessible viewing deck – to make your trip just a little bit safer, especially if you're with little ones.
What I'd recommend doing is finding a rock (not a slippery black one!) and watching the waves roll in for an hour or more – at least if its a nice day. This area can be hit by huge swells – which are awe-inspiring to look at.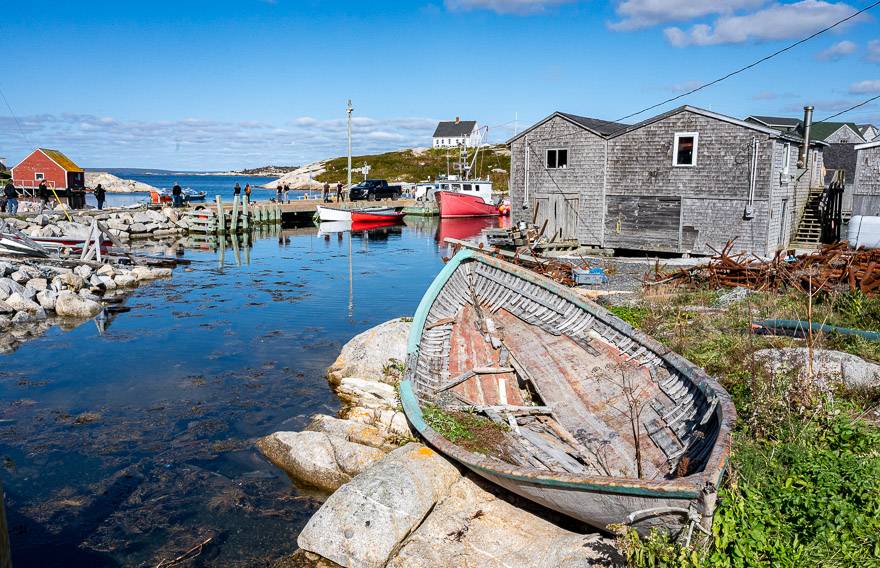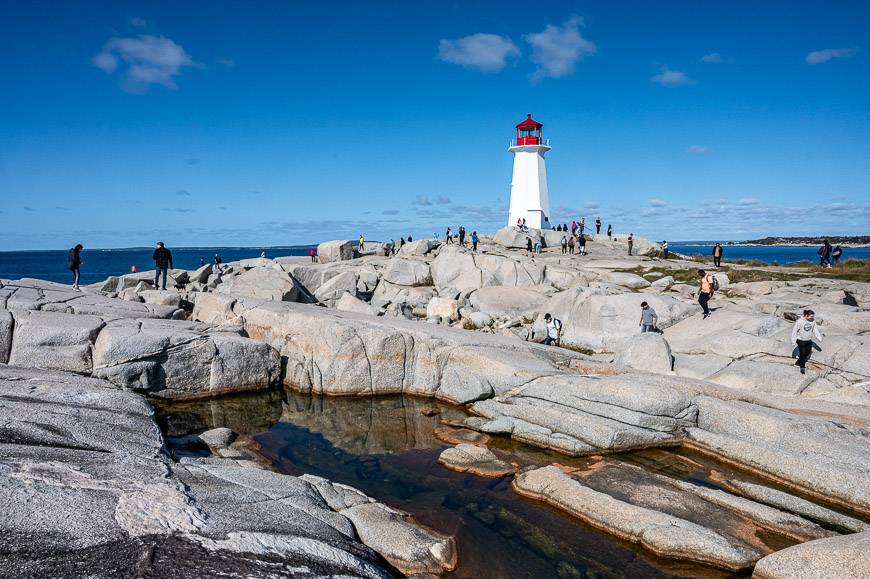 Drive from Peggy's Cove to the airport: 74 km
Driving time: One hour
Say goodbye to Nova Scotia but not to week of memories you'll treasure forever. For those of you who are lobster fanatics, allow a few extra minutes and take a little bit of Nova Scotia with you. Purchase lobster at Clearwater Seafood located next to the domestic departures.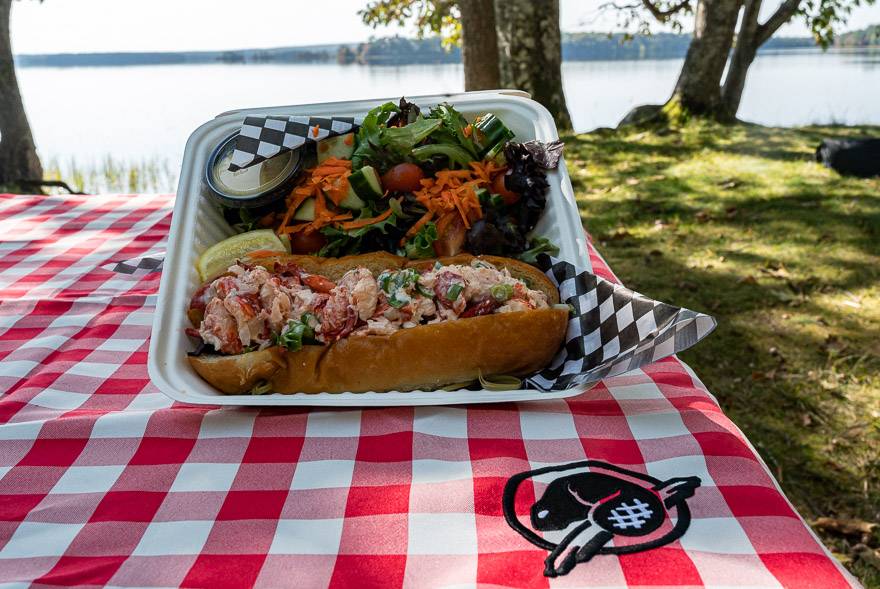 Tips for getting the most out of your Nova Scotia Road trip
If you're planning to rent a car, book one as soon as you know the dates of your Nova Scotia road trip. They are still in short supply in Nova Scotia.
Book accommodation early – and that includes campsites. Lots of Canadians are traveling locally – and Nova Scotia is a popular summertime destination.
Be curious. Get off the main roads – and explore side roads on the Nova Scotia road trip when you've got the time.
Don't over schedule yourself. Leave room for down time and exploring places you hadn't considered.
Watch for large animals like moose on the road, especially at dawn and dusk.
More ideas of things to see and do in Nova Scotia
A giant thank you to Parks Canada and Tourism Nova Scotia for hosting my stay. All thoughts and opinions as always are my own.
Click on the photo to bookmark to your Pinterest boards.