I have a soft spot for Halls Harbour Nova Scotia. It was the first place John and I purchased a home (all of $24K with five acres) though our house was a few miles up from the actual harbour. I hadn't been back to this picturesque fishing hamlet in roughly 30 years – and with the Hall's Harbour Lobster Pound now in existence I had an excuse to visit.
I planned to be in the Halls Harbour Nova Scotia area to do the fantastic hike to Cape Split and wanted to end the day with a lobster dinner. However, if the pound is closed, it's still worth the trip for the beaches, artists studios, and galleries featuring artisans and antiques.
This post includes some affiliate links. If you make a qualifying purchase through one of these links, I will receive a small percentage of the sale at no extra cost to you. Thank you very much for your support.
Where is Hall's Harbour Nova Scotia?
Hall's Harbour is an easy and pretty 30 minute drive from Wolfville via Port Williams and Highway 359. From Halifax, it's a 122 km and a 90 minute drive.
The Hall's Harbour Lobster Pound
Time your visit to coincide with either lunch or dinner at the Halls Harbour Lobster Pound. In July and August the restaurant is open from 11:30 AM until 9 PM. It's a seasonal operation, so it's only open between May and October. I wish the pound had been around when we lived nearby.
Upon arrival in Halls Harbour Nova Scotia, park your car and head for the gift shop – smart marketing in my opinion – because you have no choice but to wander through the gift shop to read the menu.
Decide what you want, whether it is a fresh lobster in which case you can pick your own – or choose from lobster bisque, lobster cakes, lobster rolls and more. If for some weird reason you don't like lobster, there is always chicken.
If it's a fresh lobster you've chosen, walk your lobster around in a plastic container to the cook shack – just around the corner.
The fellow in charge there strokes their heads – which supposedly puts them to sleep – before dunking them in boiling water. You've got some time before it's cooked – so wander around the docks, or enjoy a glass of wine inside the restaurant.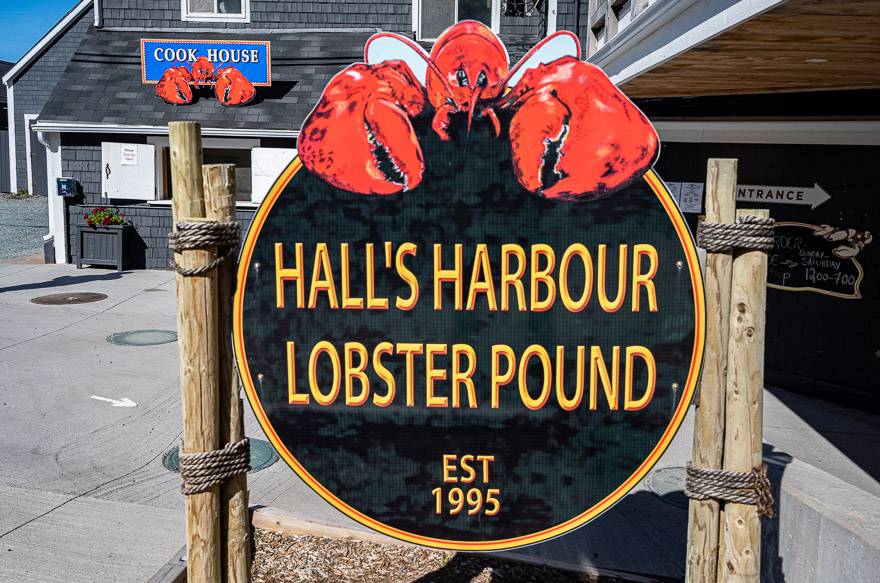 Walk the rocky beach in Halls Harbour, Nova Scotia
After your meal take the time to walk the rocky beach at Halls Harbour Nova Scotia. It's on the Bay of Fundy – which boasts the highest tides in the world. Be sure to check out the fishing boats at the docks too. They're left high and dry twice a day at low tide.
Where to stay within 30 minutes of Halls Harbour, Nova Scotia
Canning
In Canning, enjoy a stay at the superbly rated Farmhouse Inn B&B. I stayed here once and absolutely loved it.
Port William
In Port William the Little Yellow House in the Heart of the Valley is rated fabulous. This is a holiday home with a garden and barbecue facilities.
Wolfville
I spent a summer in Wolfville and absolutely love the town. It's a great base to explore the area. Check out the Tattingstone Inn for a superb experience.
Further reading on Nova Scotia
Click on the photo to bookmark to your Pinterest boards.