Summary
Experience a 51 kilometre loop hike on the Cape Chignecto Trail near Advocate Harbour. It features rugged Bay of Fundy coastal scenery, 200 metre high sandstone cliffs and a fog forest. It is rated difficult.
Allow 3 – 4 days to hike the full loop. You can reserve campsites OR backcountry huts with woodburning stoves.
This is a rugged trail with lots of ups and downs including steep stairs, and slippery rocks. You don't actually spend much time on the beaches.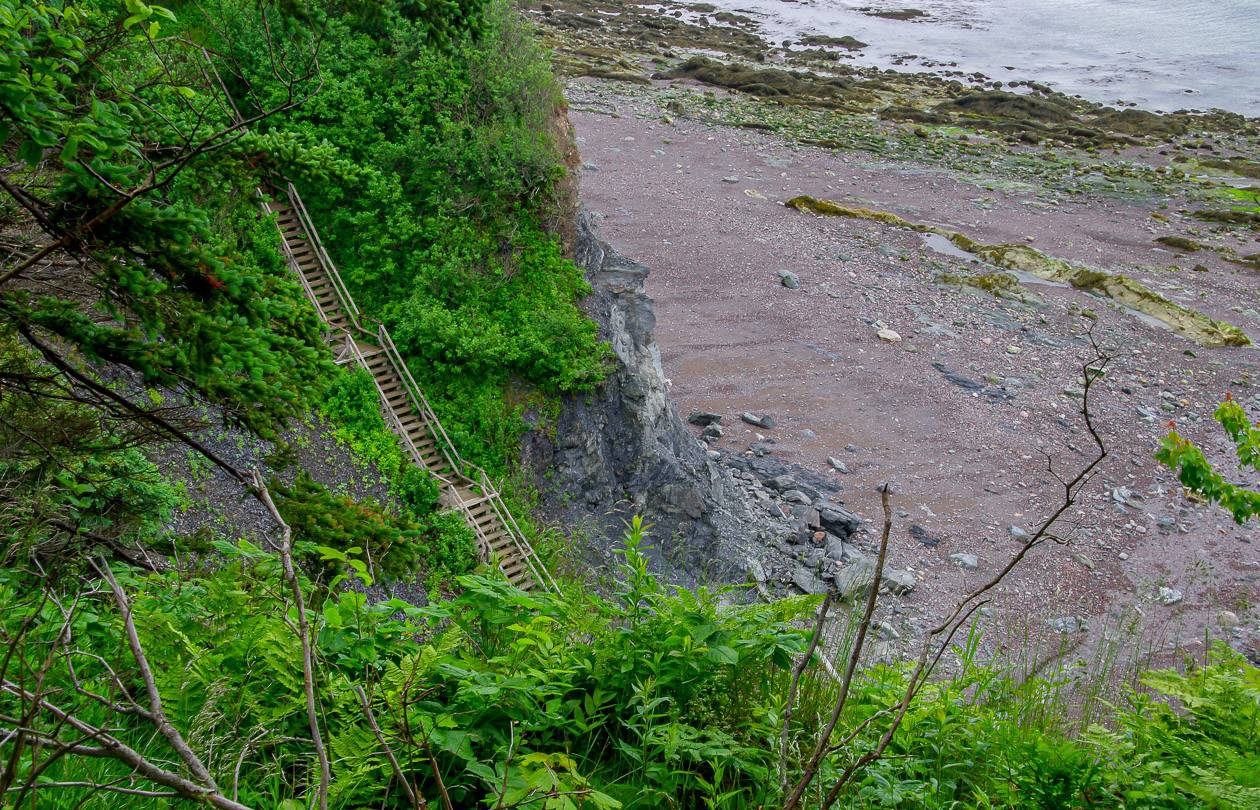 A 3-day hike on the Cape Chignecto Trail can feel like a long time if you do it solo, especially when you don't see another human until the afternoon of the last day. That's exactly what happened to me when I backpacked the coastal trail in Cape Chignecto Provincial Park in Nova Scotia. I endured extreme silence – except for the sound of my own voice for all but 5 minutes.
The 51 km physically demanding Cape Chignecto Trail requires three to four days. The hike takes places in the largest park in the province. You can look forward to outstanding coastal scenery, complete with stunning 200 m high red cliffs, numerous pocket coves and some remarkable old-growth forest.
Cape Chignecto Trail – wildlife concerns
I was a little nervous going off by myself – not that I doubted my abilities but I was once again entering country where you might see a bear and there had been an incident a few weeks earlier. If you've followed my adventures this summer then you'd know about my bear encounter in Kejimkujik National Park – and that played with my mind.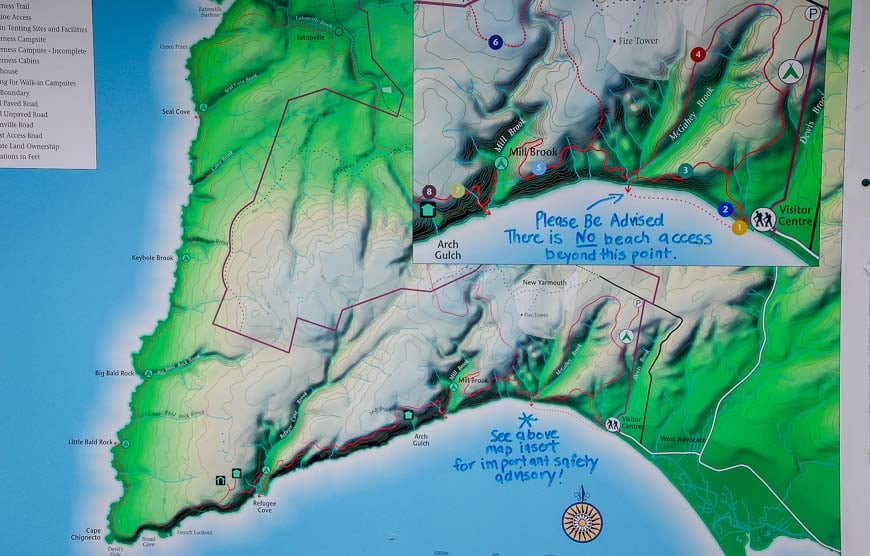 I had planned to camp for the two nights I was out and in fact had made a reservation. But then while enjoying breakfast and conversation at the Cape d'Or Lighthouse, the owner asked me why I wasn't staying in the huts.
Cape Chignecto backcountry huts
I didn't realize they had backcountry huts along the trail – so the owner of the lighthouse made a phone call immediately to check on availability – and lo and behold they were all empty.
I changed my itinerary slightly so I could stay in the huts. They are basic – bunks, a stove and a picnic table BUT they are dry, bug free and I could sleep at night without wondering if I'd be woken up by a bear.
In the middle of summer with a group, I would take the camping arrangement because it gets you closer to the water and there's more of a chance of getting a great view. The huts don't have the same wilderness feeling as there are dirt roads leading to them but at this point I could care less about that.
Cape Chignecto Provincial Park location
Cape Chignecto Provincial Park is located on the Bay of Fundy near the small community of Advocate Harbour. It's the largest park in the province and one that offers truly dramatic scenery.
Cape Chignecto is a peninsula that juts out into the Bay of Fundy – dividing it into two arms. Minas Basin lies to the south and Chignecto Bay to the north. There's high drama along the coast with cliffs up to 200 m (600 feet) high.
Here's a rundown of what my 3 day trip on the trail looked like.
Day 1: Hiking from Red Rocks to Arch Gulch (6 km – 2.5 hours)
Without a tent to carry my backpack was a tad lighter than I expected it to be. I also wasn't carrying a stove or fuel as it's such a hassle now to bring a stove on a plane and I didn't want it confiscated.
It was to be three days of cold meals – including a cup of cold instant Starbucks coffee every morning for breakfast to stave off a caffeine headache. Yum.
On the first day I hiked only 6 km – and though the distance was small it is the hilliest part of the trail with very steep ups and downs. The trail starts by the Red Rocks on the beach.
The first 1.5 km go quickly enough but you do have to keep an eye open for the stairs leading up to the main trail – and judging by notes left in the cabins many people missed the stairs (and had to retrace their steps) as they're tucked in behind a rock. There are 65 stairs to the top.
The trail is easy to follow though there aren't a lot of signs. Most of today's hike was through forest with little in the way of views. It was over in no time and I felt a little guilty about finishing so quickly but pulled out my Kindle and got over it.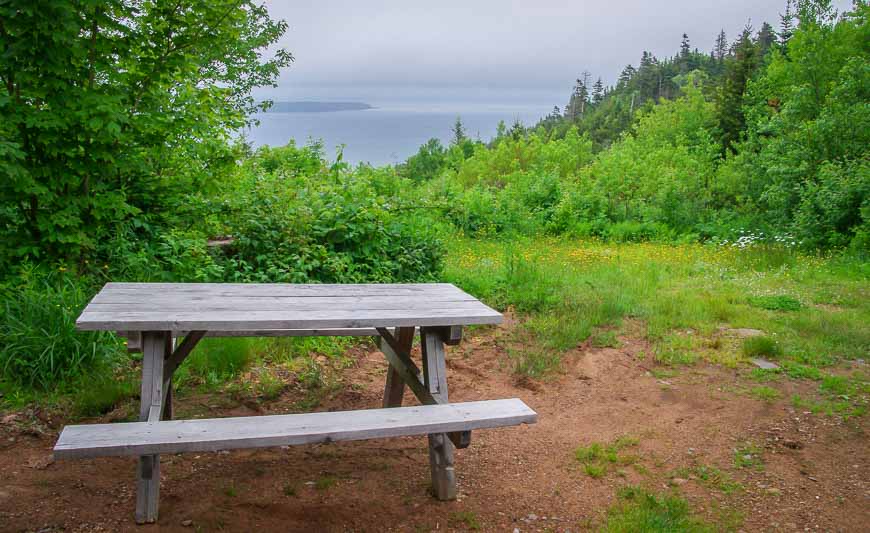 Day 2: Hiking from Arch Gulch to Big Bald Rock (15.1 km – 4 hours)
From Arch Gulch to Refugee Cove – where most people camp the first night, it's 6 km. I dispatched with that in 1.5 hours. The beach at Refugee Cove is quite lovely – and one used for camping if you're a sea kayaker.
I don't quite understand the logic of making the beach available to kayaking parties only (as there aren't very many of them over the course of the summer) and the beach is a FAR preferable campsite than what is offered in the woods to backpackers.
From Refugee Cove all the way to Big Bald Rock the trail got far more interesting. There were numerous lookouts along the way offering spectacular coastal vistas. Cape Chignecto itself wasn't nearly as dramatic as the rest of the shoreline. Seabirds and wild flowers made this part of the hike very enjoyable.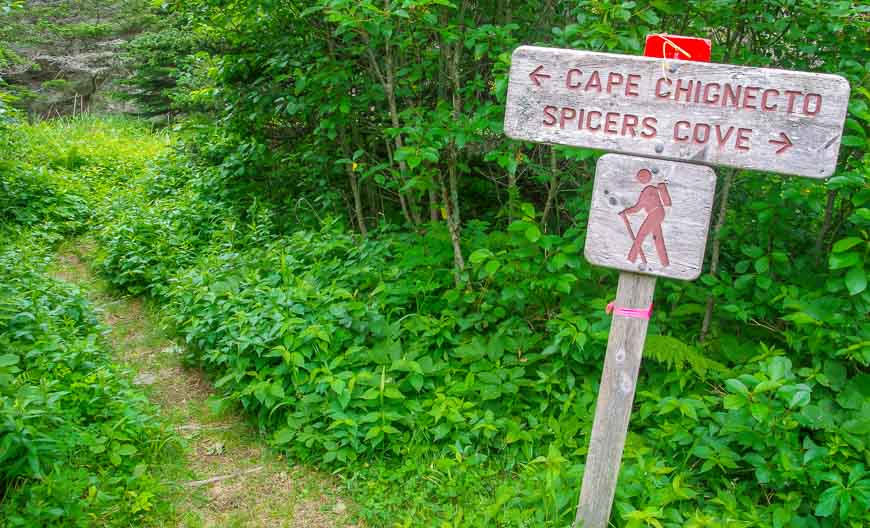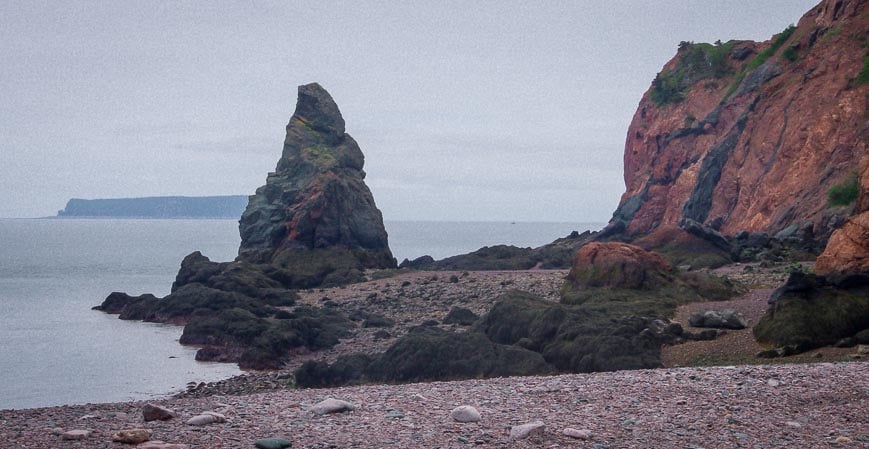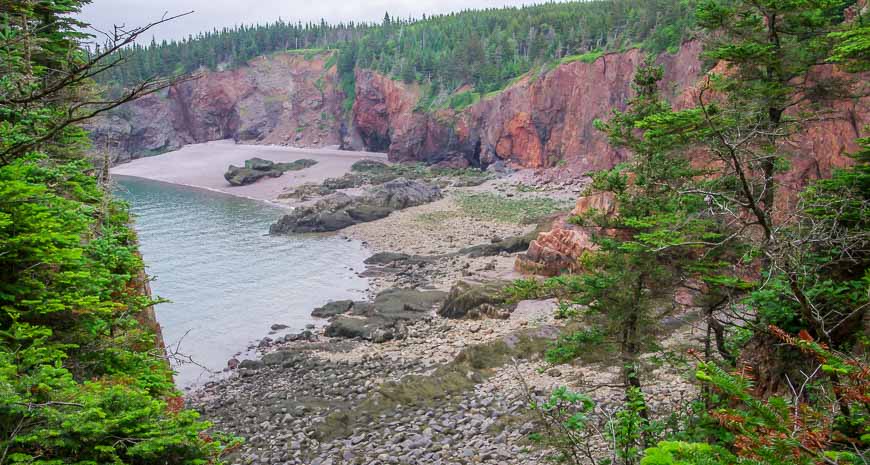 Day 3: Hiking from Big Bald Rock – Seal Cove – Eatonville – Visitor Center (~27 km – 8.5 hours)
My last day was the biggest and not one I'd recommend to people. If you can, do a car shuttle at the beginning of the trip and leave one car parked at the Eatonville trailhead.
The last 14 km is unremarkable except for the fog forest – which you might see on the first day of hiking . And in fact this section of trail has many downed trees and VERY LITTLE in the way of trail markings. It still needs a bit of work.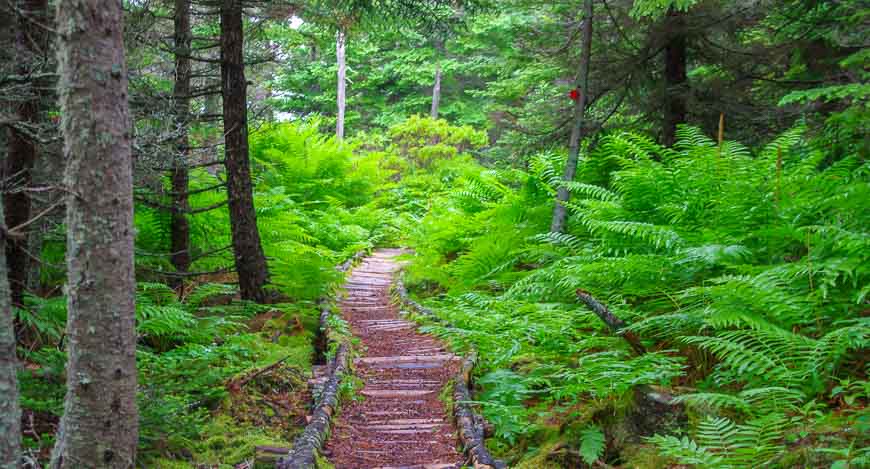 However, there are some lovely sections of the trail. On the way to Keyhole Brook there is a beautiful open area with extremely good views – but then it's back to forest walking for most of the way to Keyhole Brook.
It gets better again the closer you get to Seal Cove – and for a kilometre or two past it. Seal Cove is another place where people camp a lot – either on the first night going in if hiking in a counterclockwise direction – or on the second night if they're hiking in a clockwise direction.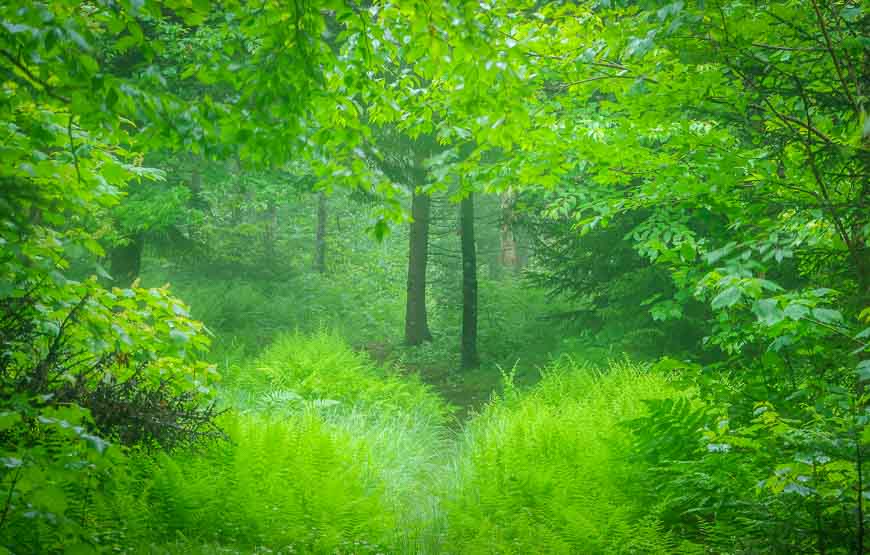 Useful information for the hike
The trail is open from the May long weekend until Thanksgiving weekend in October.
You can reserve the huts ahead of time by phoning 1-888-544-3434. Or you can walk up at the Visitor Center and see what might be available. It's $57.65 per night for the cabin – and it can accommodate 4-6 people. Once you've booked it your group gets the whole cabin. There is no sharing with strangers.
The huts do provide treated water and outhouses.
It was $26.70 per night for a backcountry campsite in 2019 prices. The entrance fee to the park is $5.40.
If you plan to do wilderness hiking and camping you must use the Red Rocks Visitor Centre entrance at 1108 West Advocate Road. The visitor centre itself is closed in 2019. For more information email them [email protected] Or visit the Nova Scotia Tourism website.
There are lots of streams to get fresh water but treat it.
The tide rises and falls at a rate of an inch per minute. Be mindful of what direction the tide is flowing if you're walking the beaches.
Bring sturdy hiking shoes. I have 3 black toenails (just lovely for summer) because I wore lighter weight hiking shoes. Also carry bear spray. I didn't have any so I gave a running commentary of the topography to scare any critters away. It was either that or singing.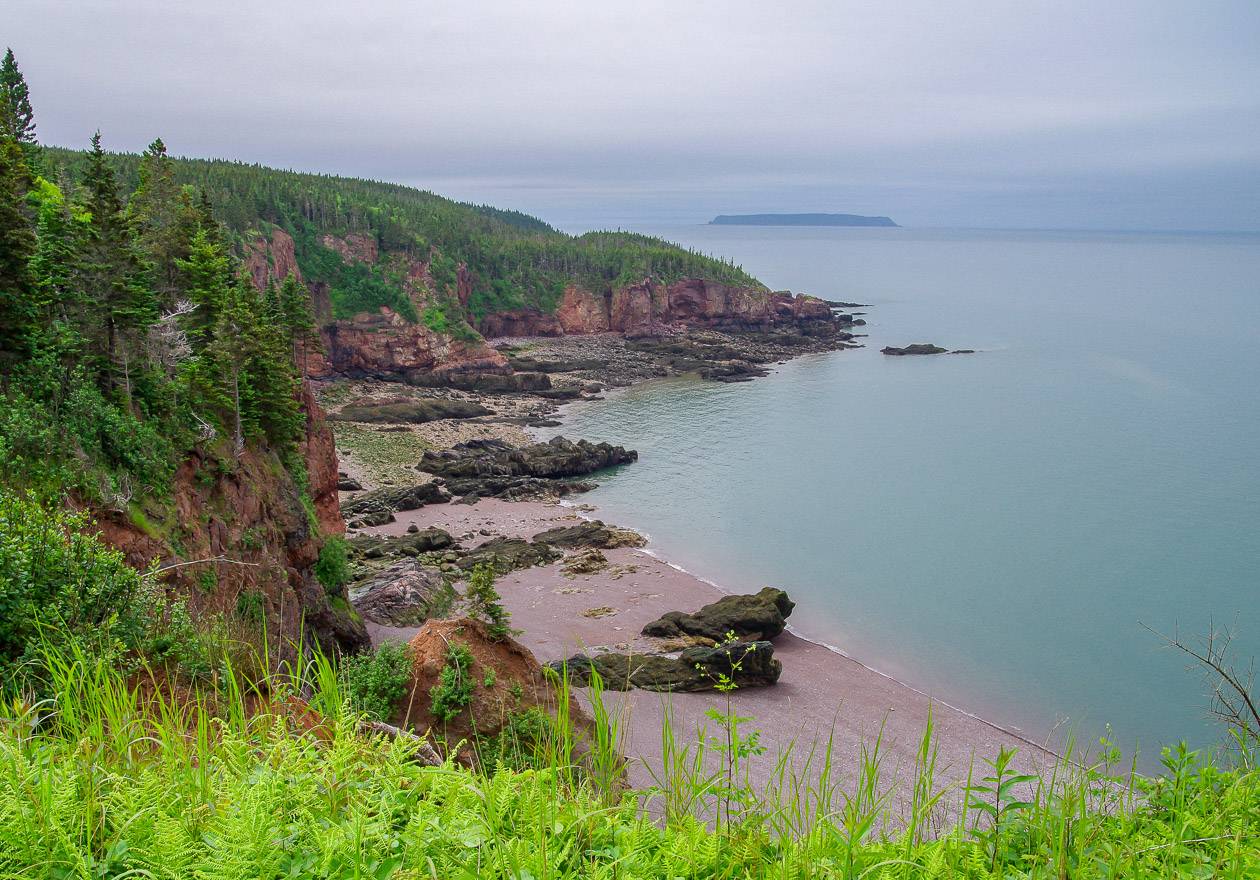 Other posts related to Nova Scotia
Click on the photo to bookmark to your Pinterest boards.