Large flies are flying kamikaze-like into our windshield as John, and I drive up to the entrance to Prince Albert National Park in July. We had come to hike to Grey Owl's Cabin – but all I could think of was how would we survive a 24-kilometre day hike with these types of annoying insects? Fast forward to a visit to Prince Albert National Park in winter and there's not a bug to be seen – simply a peaceful landscape of snow-covered frozen lakes and mixed boreal forest. (On the bright side we saw wolf cubs by the side of the road in the summer.)
The 3,874 square kilometre park, created in 1927 was formed to showcase the ecological diversity in the transition zone between prairie fescue grasslands and the wetlands and lakes of the mixed boreal forest. Today Prince Albert National Park is very much a year-round playground and a fantastic place to visit in winter – if you can deal with the sometimes bone-chilling cold.
Outdoor and nature lovers who know how to dress for winter will love Prince Albert National Park in winter. There is an expansive landscape to be explored, filled with far more animals than people, along with a host of fun outdoor activities.
I'll always be a mountain lover, but this wintry, whiter than white landscape speaks to me too. It is perfect for cross-country skiing and snowshoeing, and I love the possibility of running into wild animals, especially with no bears to worry about. But I also like the warm bed, a hot tub, and the good food and wine you can find in either Waskesiu or Elk Ridge Resort. For anyone looking for somewhere new to visit, Prince Albert National Park in winter is it.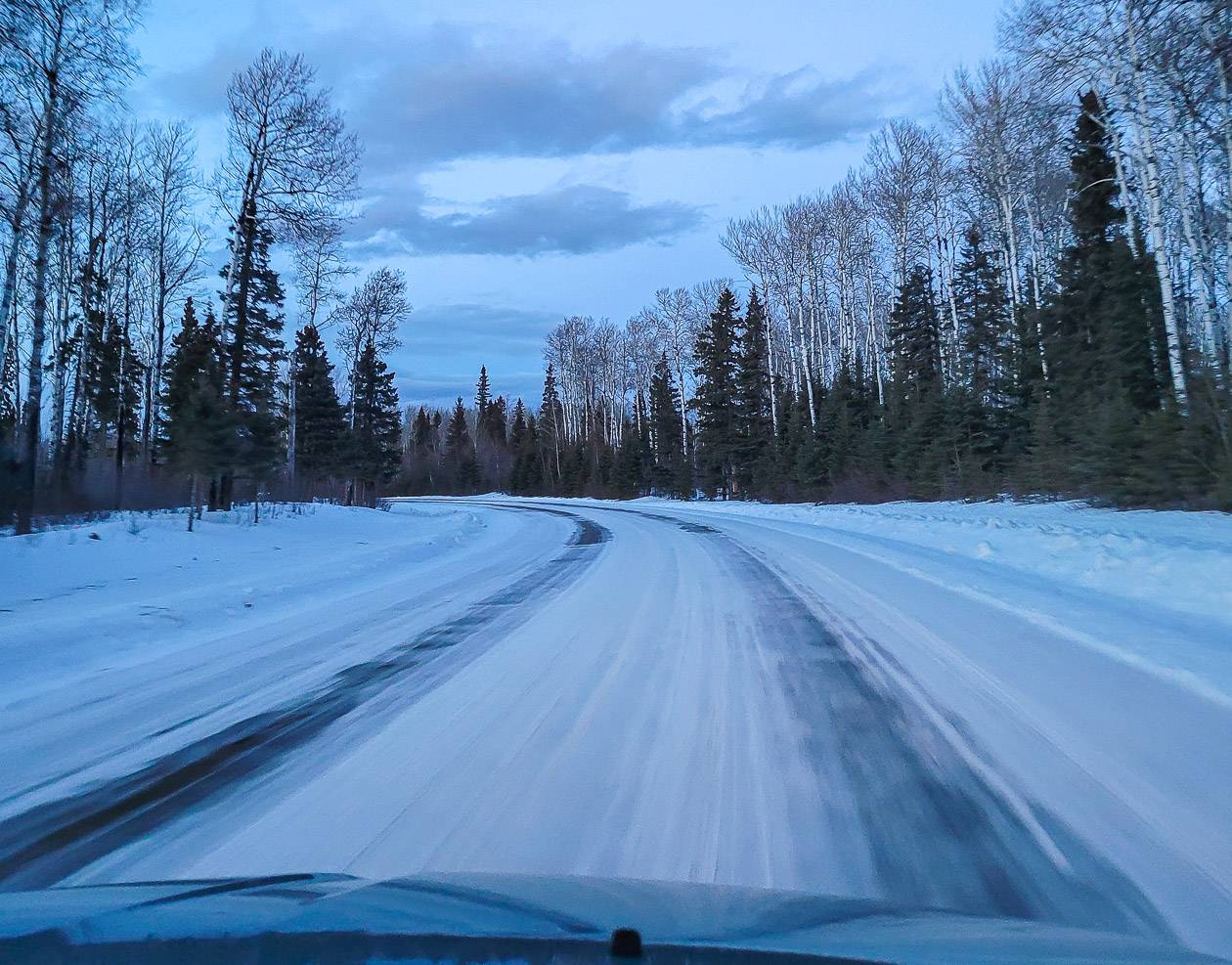 Prince Albert National Park location map
Safety in Prince Albert National Park in winter
It can get bloody cold in Prince Albert National Park in winter, so you need to be prepared. If you plan on any type of activity – whether it be snowshoeing, cross-country skiing, or a winter walk, let someone know where you're going and when you're due back out.
Have a chat with one of the park staff at the Visitor Centre to learn about road conditions, wildlife sightings, and to get an up-to-date weather report.
Carry an emergency kit in the car with extra food, drinks and warm clothing, along with a sleeping bag and some matches or a lighter, candles, a flashlight and booster cables.
Don't count on your cell phone working in the park.
Be careful around bogs, rivers, and lakes as the ice thickness can vary, even over a short distance.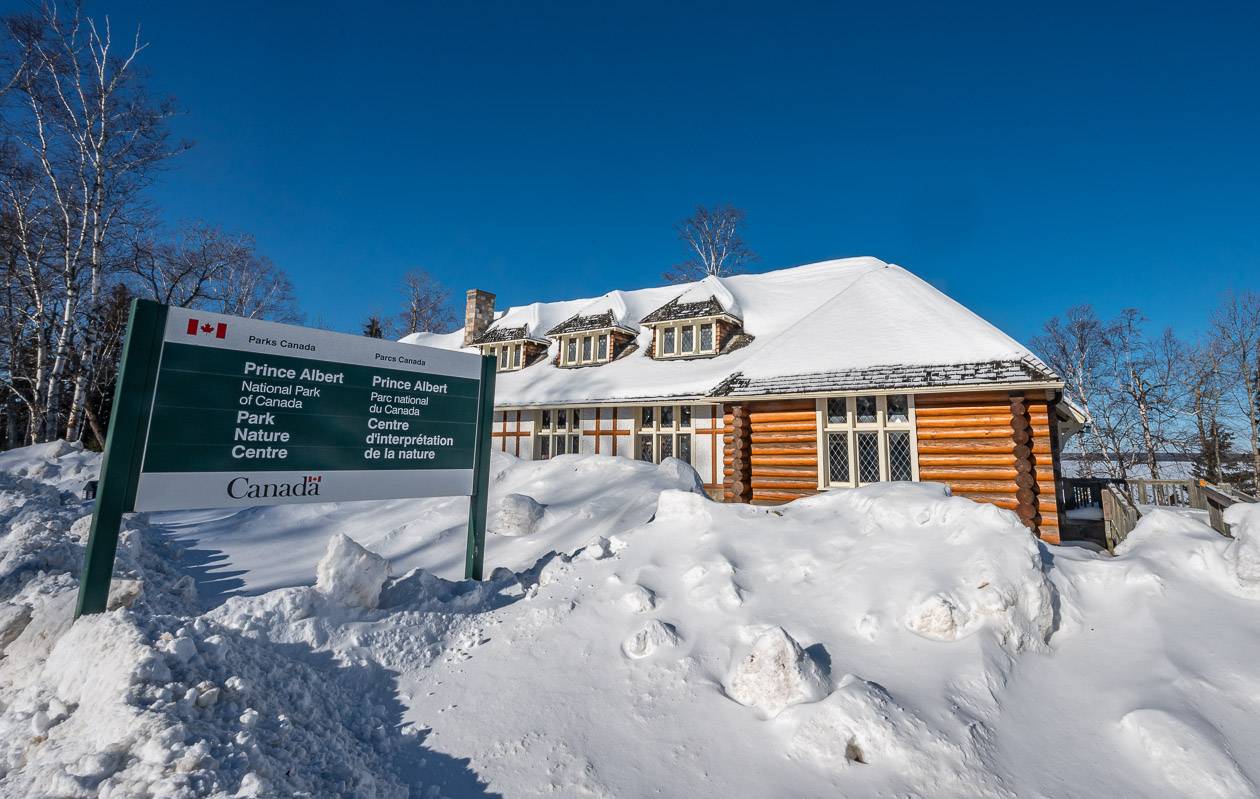 Getting to Prince Albert National Park
It's a two-hour drive from Saskatoon to Waskesiu – the only community within Prince Albert National Park. About 30 minutes north of Saskatoon, stop in at Home Baked Goodness in Hague for made-from-scratch butter, Saskatoon berry, and strawberry rhubarb tarts.
Recommended reading: How to Survive a Winter Drive: 15 Tips for Safety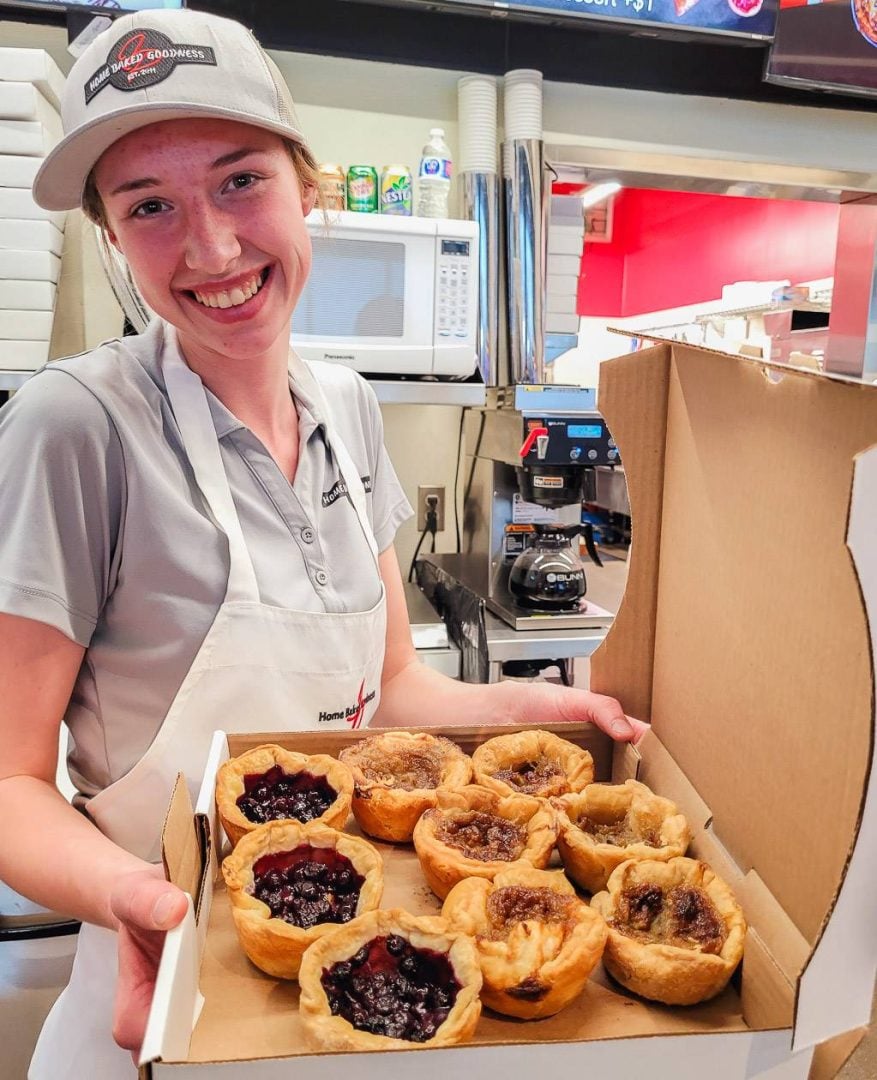 Go snowshoeing on or off trail
Check out this Instagram reel on what its like to go snowshoeing in Prince Albert.
Prince Albert National Park is home to four short snowshoeing trails, none of which will take you more than an hour. Our group did the easy Mud Creek Trail off the Narrows Road, but you could knock them all off in a day if you were so inclined.
We tromped on the packed trail pausing to admire stately trees and listen to the pounding of a woodpecker drilling for food. Whiskey jacks caught our attention as they looked to us for their next meal. Everyone was on alert for animal tracks – especially lynx, but other than a red squirrel we came up short. Still, the sense of quiet and communing with nature was a treat.
An off-trail snowshoe outing with a Parks Canada Interpreter
Lauren Markewicz, our energetic Parks Canada Interpreter, took us out on what she called a snowshoe stomp – with the plan to follow our curiosity, wherever that might lead. But first we had to pass her test.
Everyone was instructed to fall into the deep snow with snowshoes on and then to get back on one's feet – and though we weren't timed, there was an expectation that we could all do it. Naturally everyone passed, but not without a lot of grunting as it's hard work to get up when you can't find any purchase in the snow.
We pad through a landscape of lakes and trees, filled with sparkling snow and a sky a deep blue colour – following in the footsteps made by the person in front. The windswept snow is deep and its hard work if you're the one breaking trail. In no time we discover rabbit and deer tracks, and then possibly lynx as they leave roundish paw prints with four toes visible. Lauren points to a snow slide the otters sometimes use. And we continue, looking and listening – until it's time to return.
Lauren offers the snowshoe stomp to interested parties. It's a great way to tune into nature.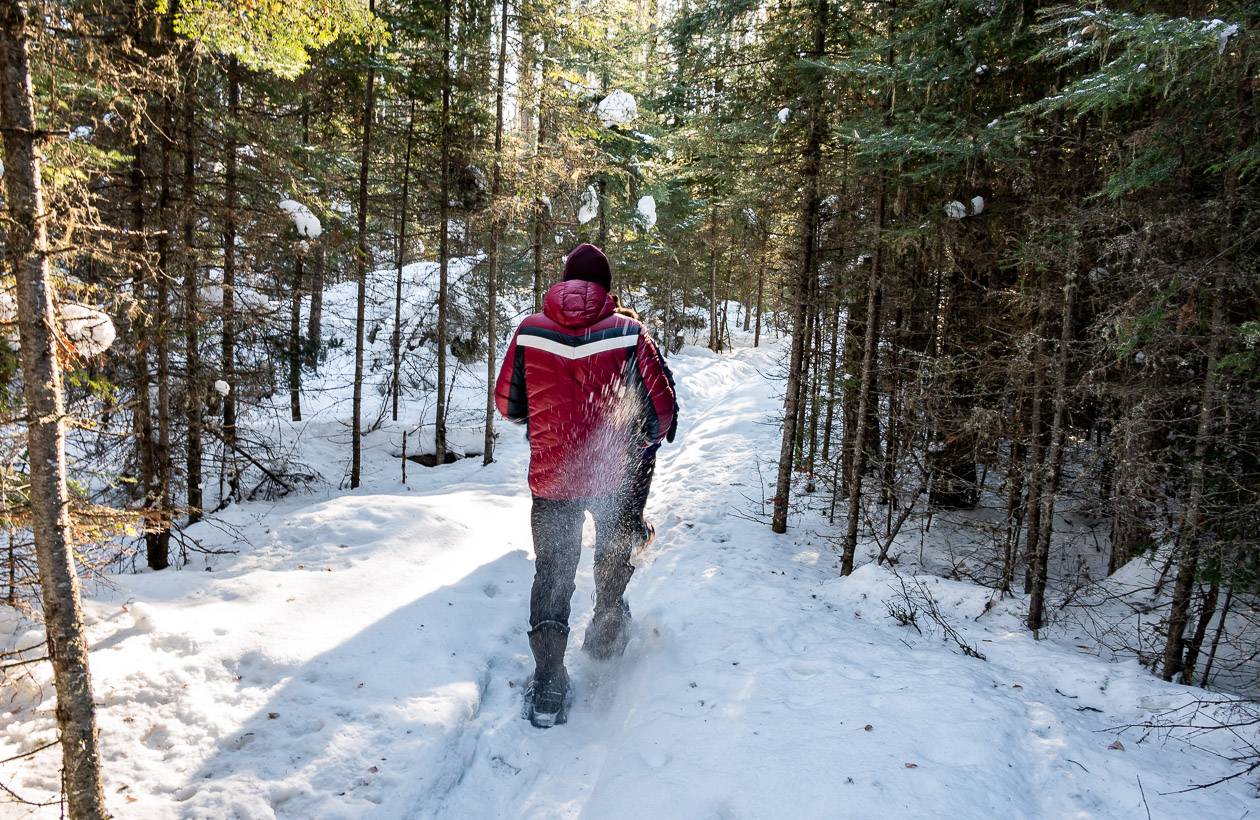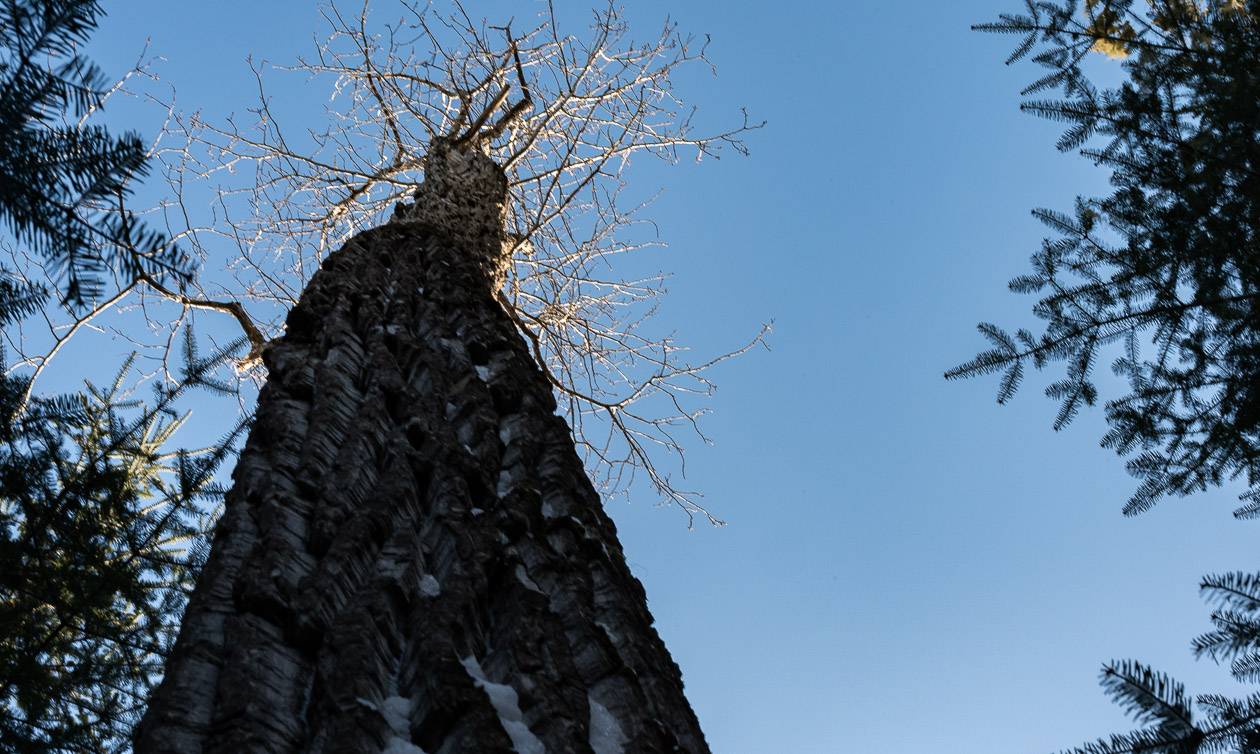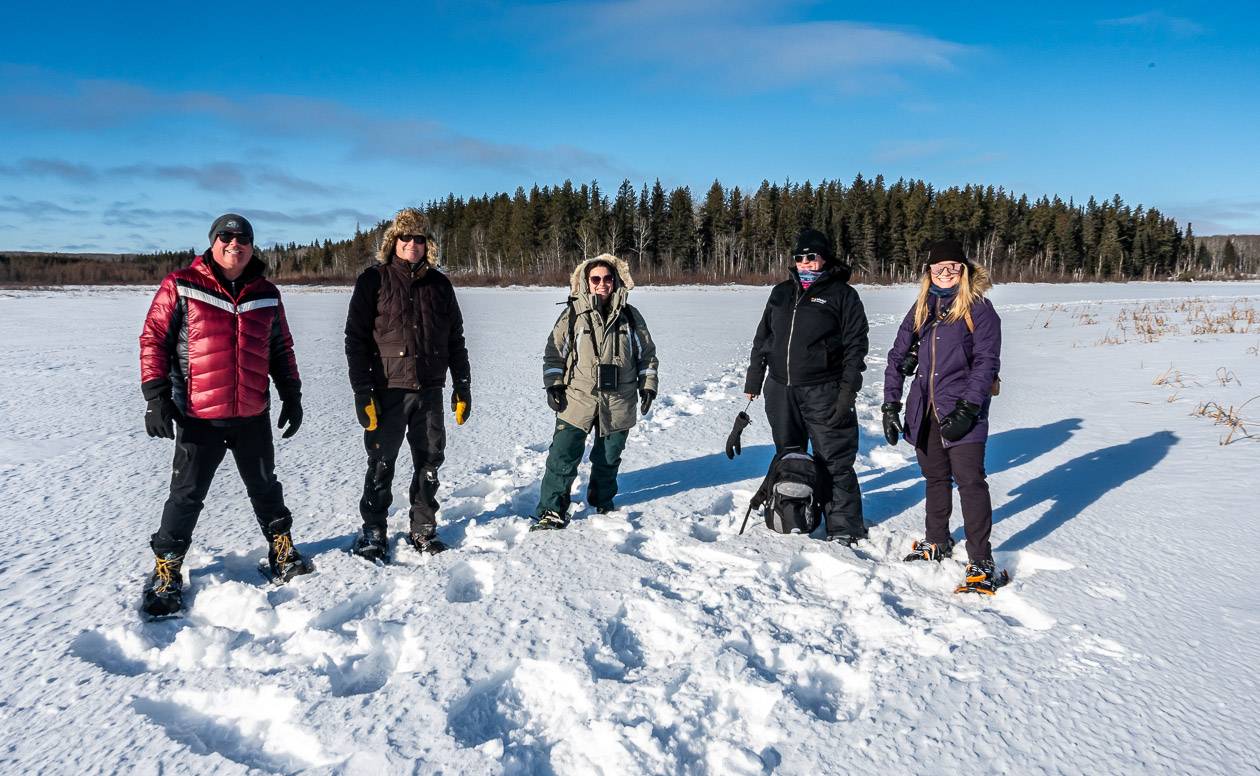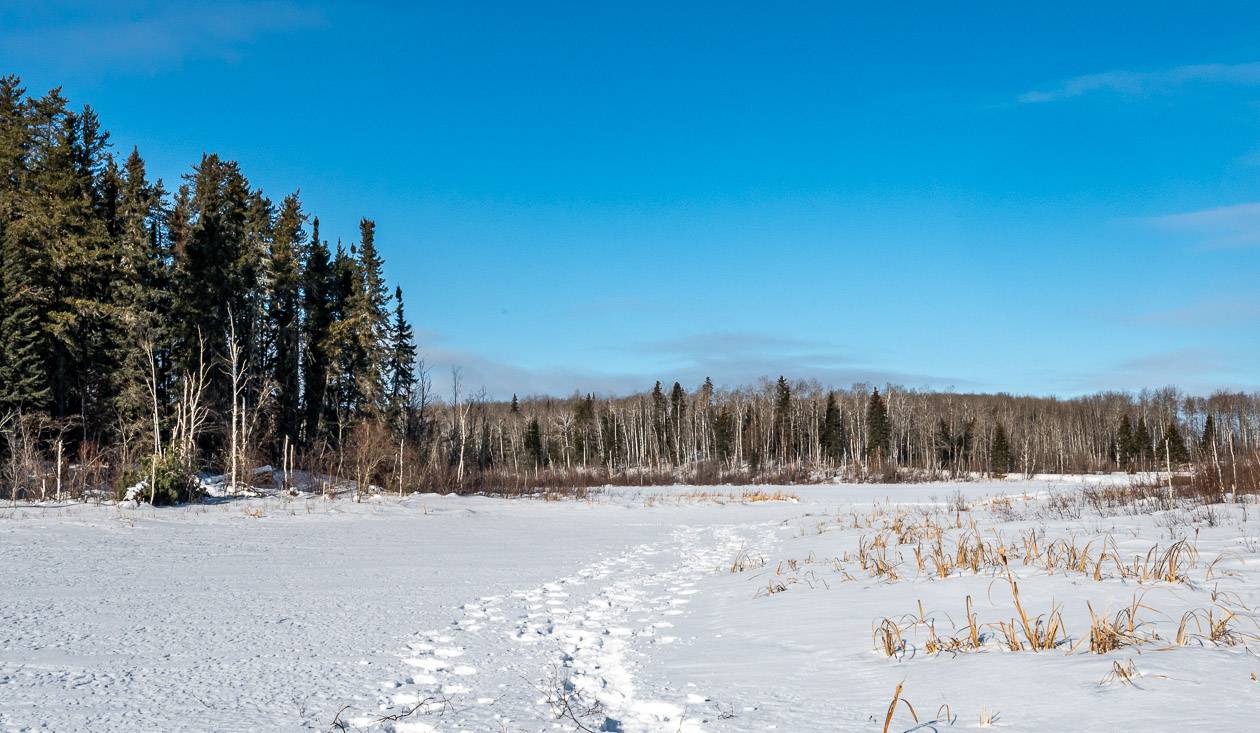 Stargazing in the park
Prince Albert National Park is in a prime area for stargazing. On clear nights with its inky black skies and a lack of light pollution, you can see millions of stars and of course the Milky Way. If you're lucky, you might also catch the magic of the aurora borealis (also called the northern lights) though in my experience that usually happens after midnight.
On the night we had Parks Canada interpreter, Lauren Markewicz there to guide us, we had a snowstorm so we couldn't see a single star. However, she had put out what looked like tea lights on the snow in the shape of the constellations we would have been able to see on a clear night. And with that she mesmerized with her storytelling and brought the night skies to life.
One of the big takeaways from our stargazing evening had nothing to do with stars and everything to do with apples. Next time you have a bonfire going, stab an apple with a metal campfire stick and put in the fire until it gets soft. The outside will be well charred, but it simply flakes off when you rub it with paper towel. Bite into what tastes like apple pie without the crust. Brilliant!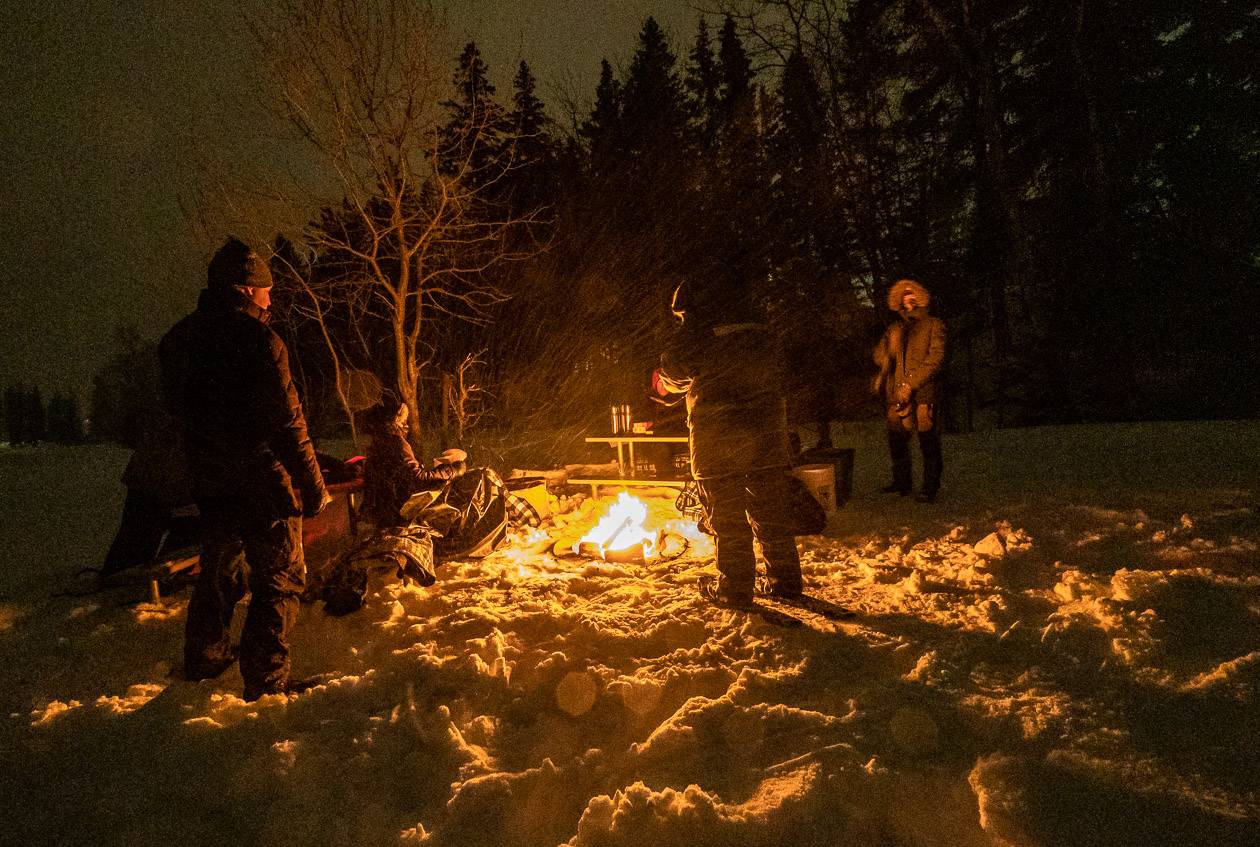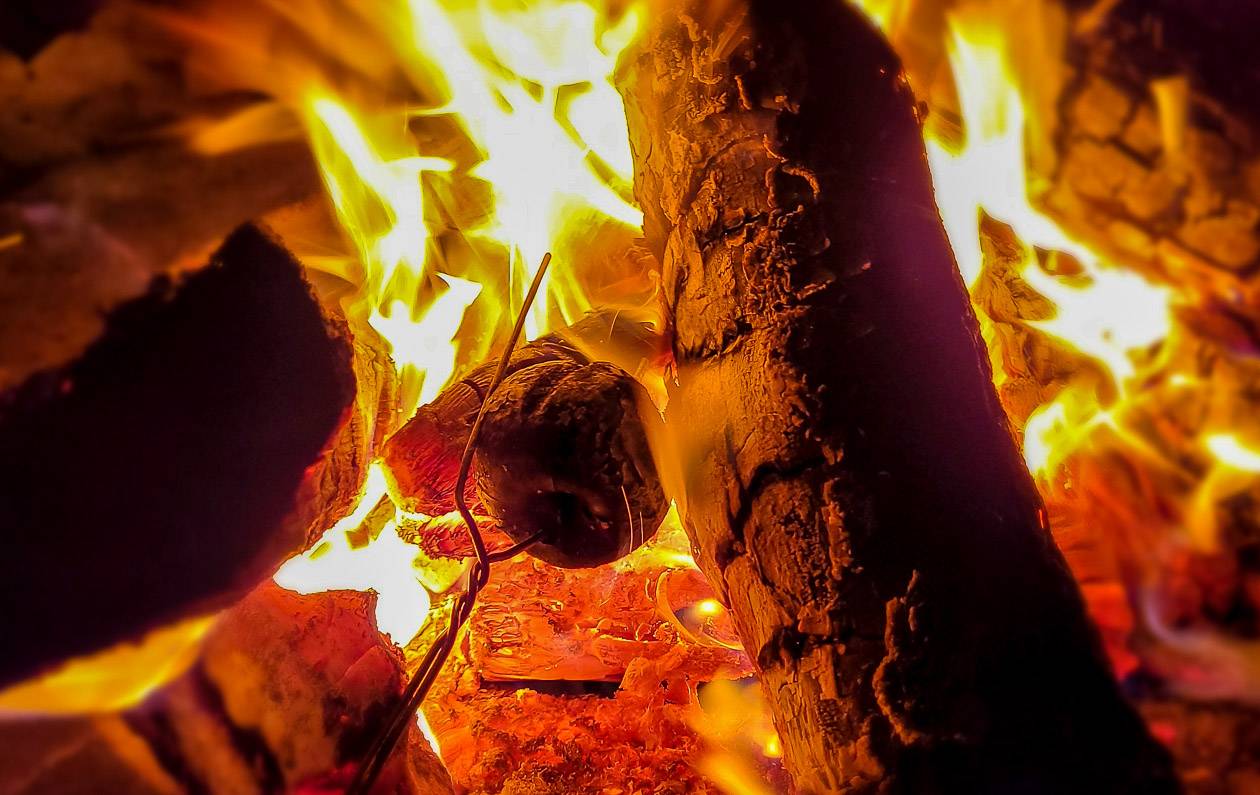 If you are interested in learning about the night skies, you can book private tours with Lauren. Call the office (1-306-663-4522) in Prince Albert National Park and they will help set something up.
Try cross-country skiing in Prince Albert National Park
You'll find six groomed cross-country ski trails in Prince Albert National Park, with five out of six of the trails located near the village of Waskesiu. Most trails are geared towards the classic cross-country skier except for Beaver Glen and Crean trail.
If you're a guest of Elk Ridge Resort, you can also go cross-country skiing on a handful of trails near the resort. They have assorted sizes of skis available for guest use, but you can also rent them for $15/hour if you're not staying at the resort.
Crean Trail
Our group enjoyed, perhaps endured is a better word for some, a 19.6 km return cross-country ski on the Crean Trail. We all had classic skis, which was a good thing as the skating part of the trail hadn't been groomed in a while.
Despite its length, it's an easy ski, at least in my books, to the Crean Lake Day Use Area with some gently rolling hills, but no significant elevation. The trail winds through the boreal forest where you'll see lots of trees dripping with Old Man's Beard, and past several small lakes to finish on the shore of Crean Lake. There is a day use cabin with a wood stove steps away from a lake and an outhouse. We did find a lighter and some paper to get a fire going, but to be on the safe side, bring your own so you can warm up over lunch. It was a -20°C day when we started, so it was a treat to take off a layer of clothing, dry out and warm up.
Allow four to five hours for the return cross-country ski. Be sure to pack extra clothing, including socks, hand warmers, and the 10 essentials.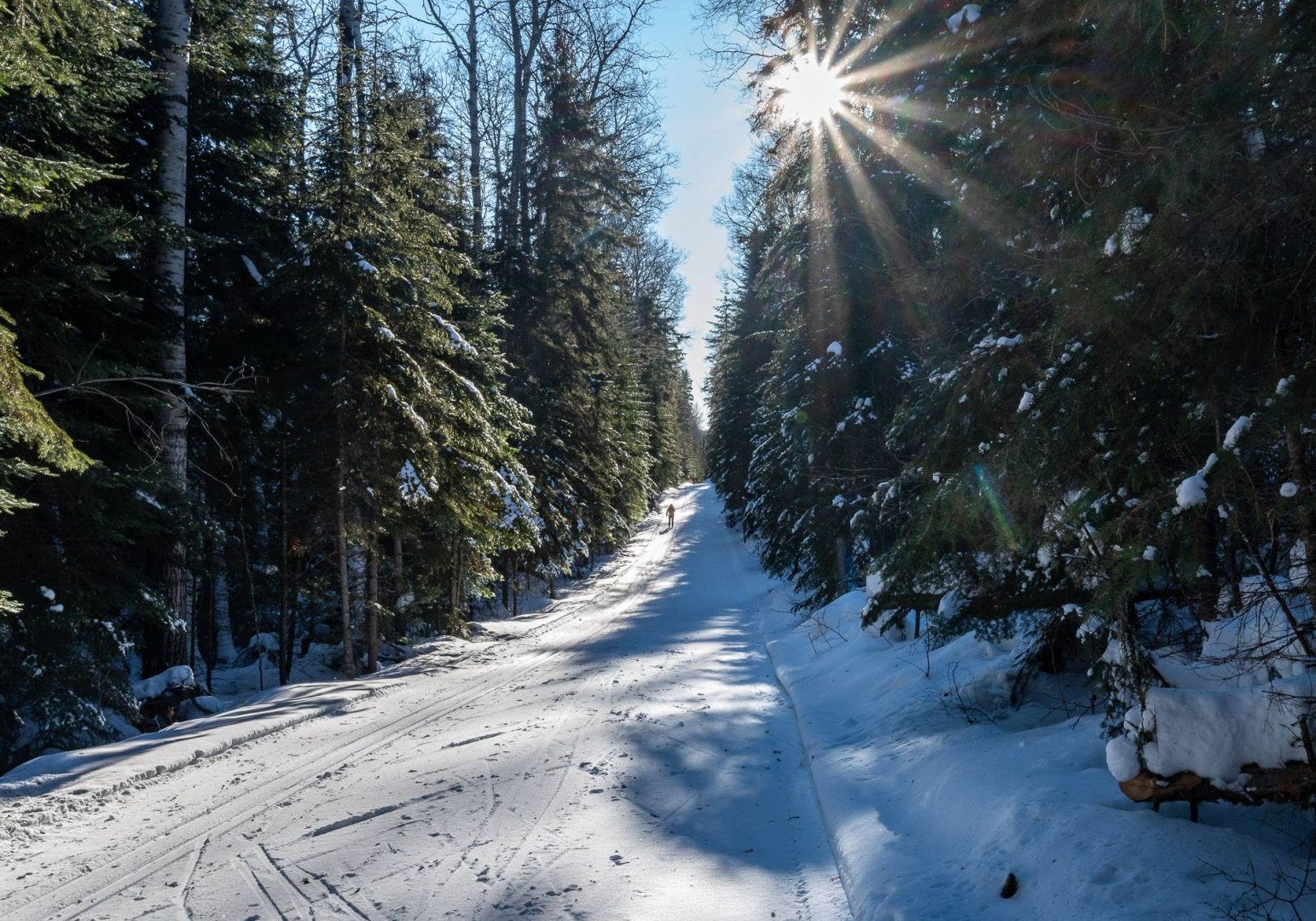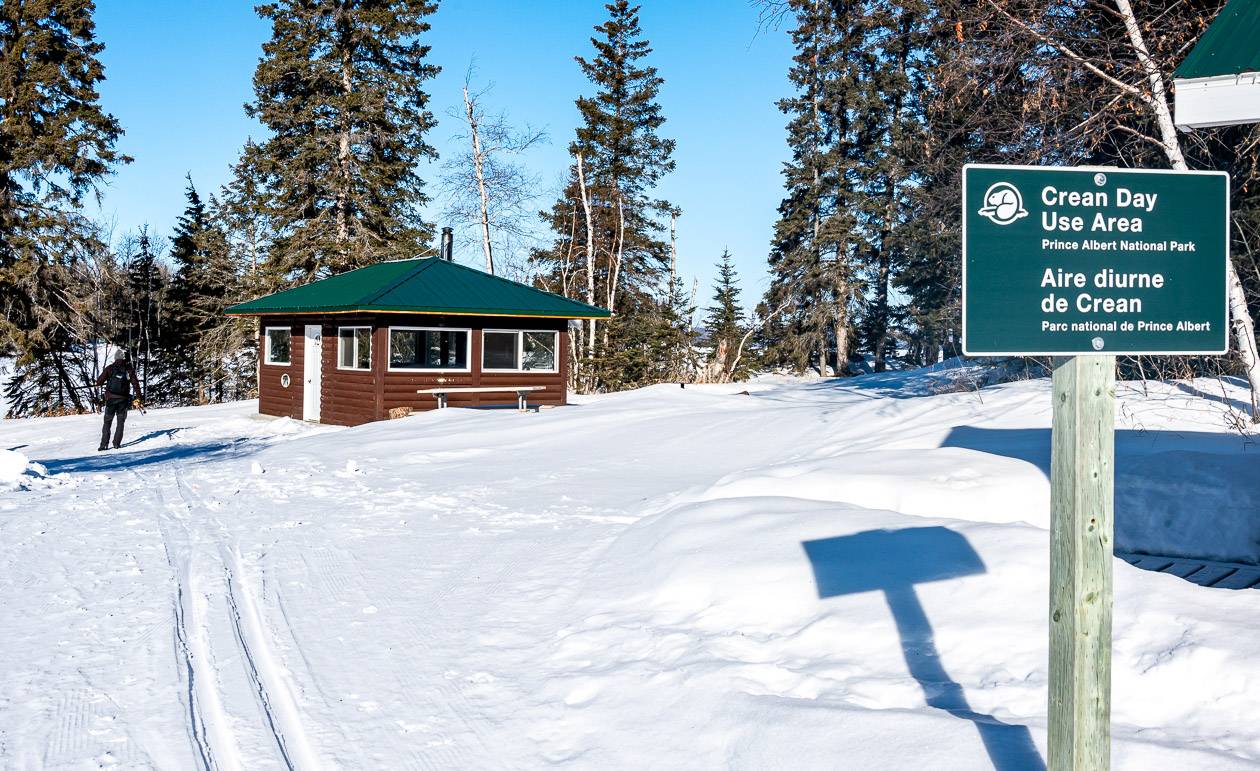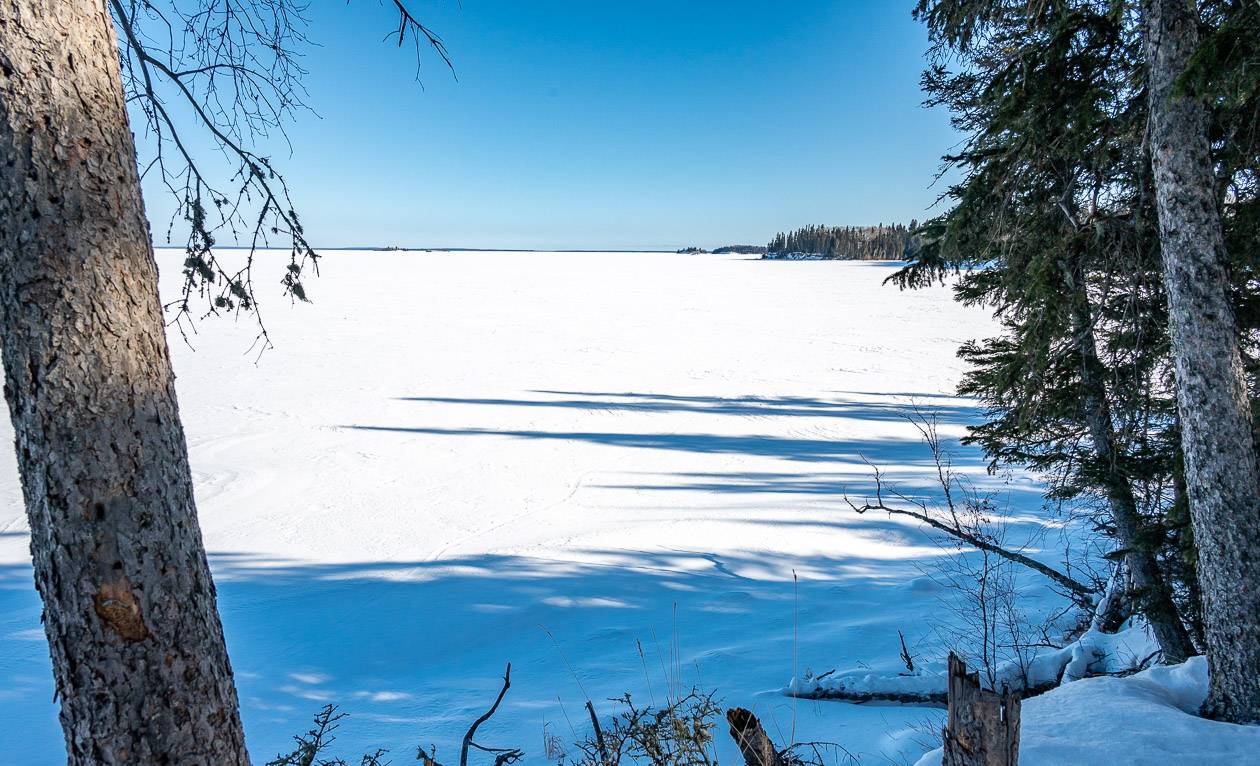 Go skating
If you stay at Elk Ridge Resort, just a few minutes' drive outside of Prince Albert National Park, you'll be able to take advantage of their well groomed 450-metre oval, accessed out the back of the resort on Elk Ridge Pond. There are also two hockey rinks.
The skating rink is lit late into the evening by wire trees placed at intervals around the oval. It's a magical experience skating here – with a great atmosphere thanks to music and lighting.
Fortunately, if you didn't bring skates, you'll find a range of skates that will fit almost all sizes from little kids on up. Of course, if you have your own, even better. There's also a dressing room near the ice so you don't have to freeze your fingers when you're lacing your skates.
Note: You don't have to be a guest to skate on the oval, but you would have to pay for skate rentals.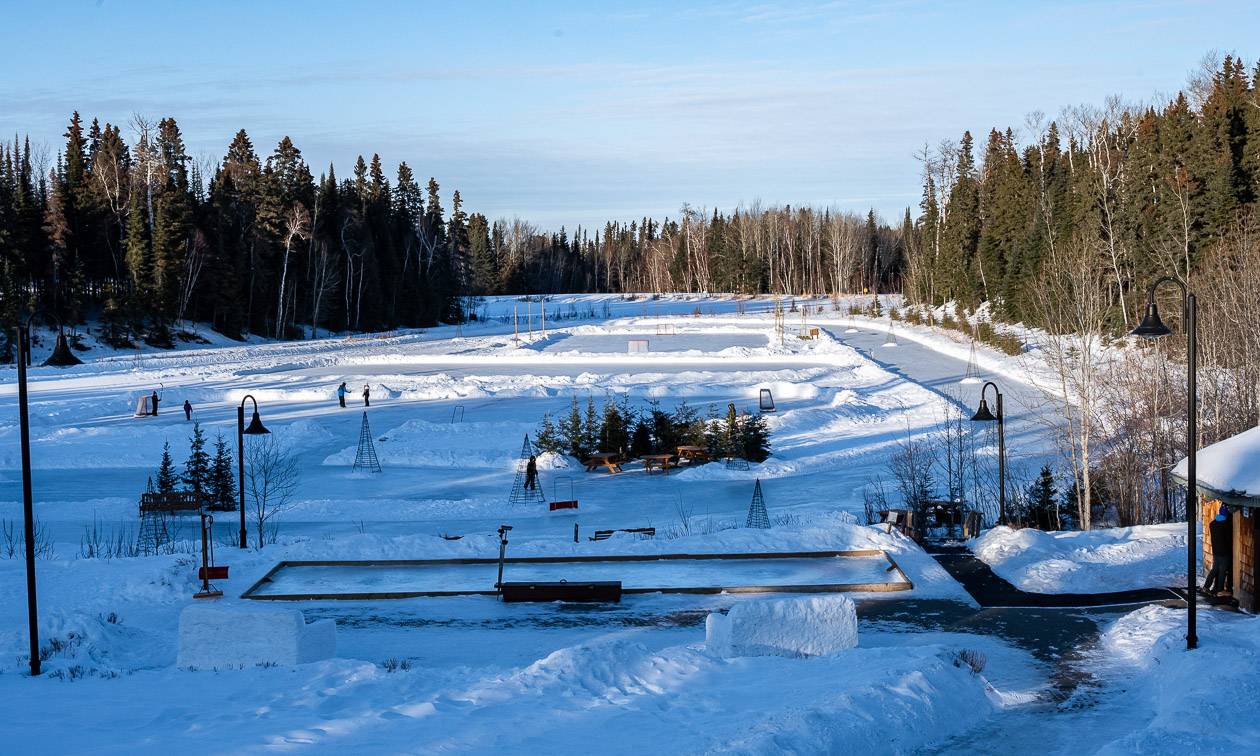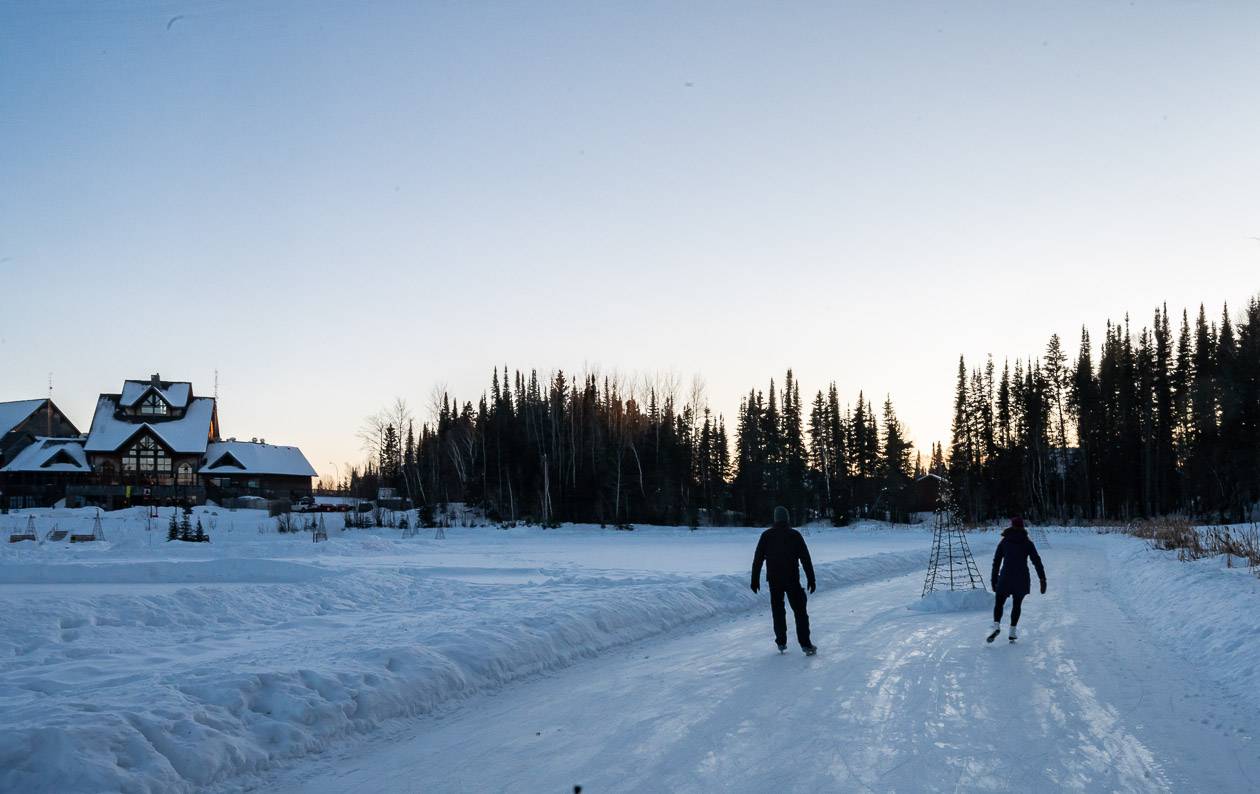 Keep an eye out for wildlife in Prince Albert National Park in winter
Prince Albert National Park is a haven for wildlife. But what you won't find is a single annoying bug on a visit to Prince Albert National Park in winter.
The park is home to around 120 free ranging wild plains bison, black bears, elk and white-tailed deer, wolves, foxes, cougars, and even wolverines. Winter is always a great time to look for animals since their tracks give them away. On our snowshoe we saw rabbit and deer tracks but with the help of Parks Canada Interpreter Lauren Markewic, we also thought we spied lynx tracks. Four hours later we were thrilled to see one of these elusive creatures at the side of the road before it slinked off, with nary a concern for us.
Drive slowly along the Narrows Road as you approach Waskesiu as there's a good chance you'll catch a regal elk walking the road or a red fox checking you out as you admire her beautiful coat. Just outside of Waskesiu keep an eye our for elk that hang around here grazing on grasses near the road.
Otters are another animal you might see by open water in frozen lakes. Apparently, the Narrows on Waskesiu Lake is a prime spot for catching them in action but we had no such luck.
You'll find birds that have adapted to the cold flitting around including whiskey jacks (also called gray jays), ravens, woodpeckers, and black-capped chickadees. If a whiskey jack spies you – look out, as they're always after a handout.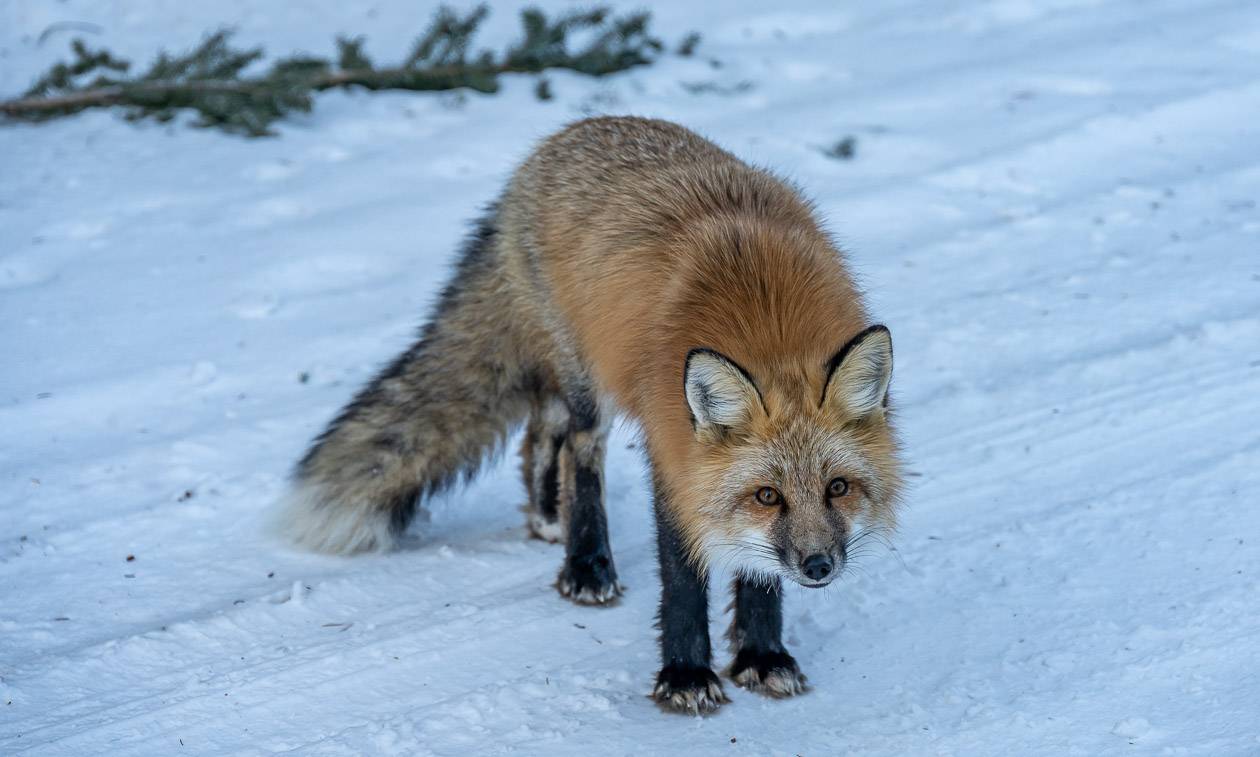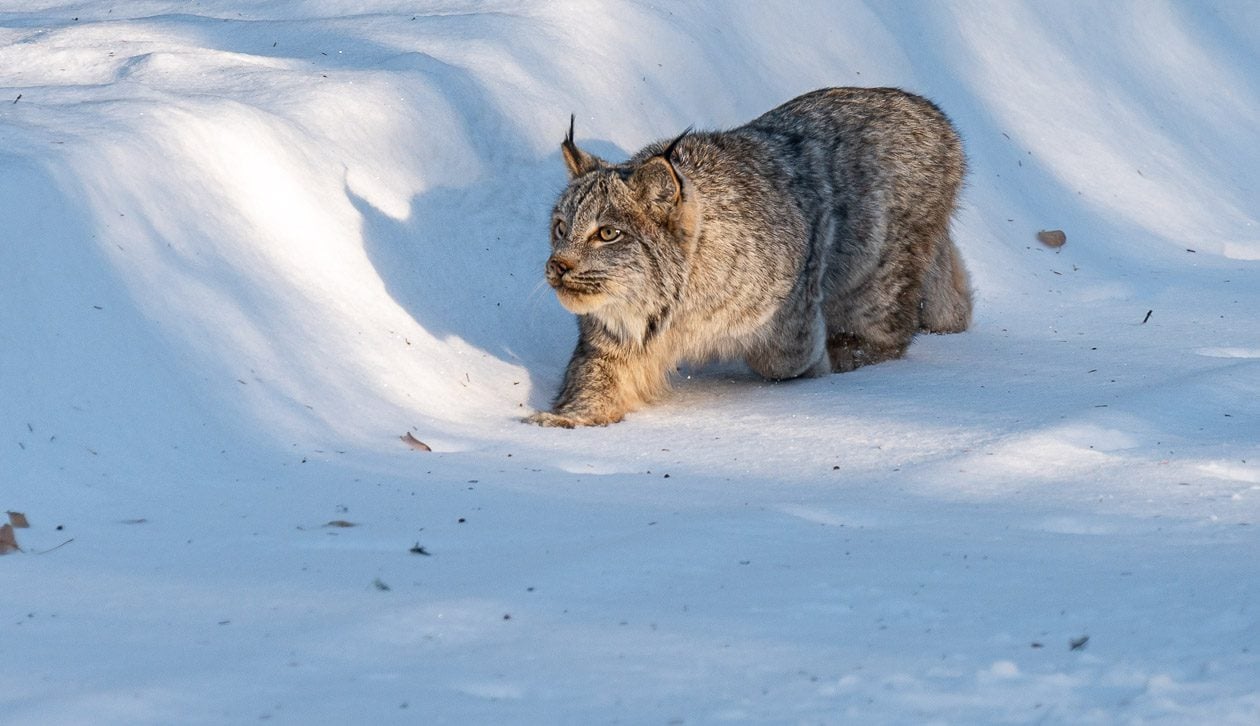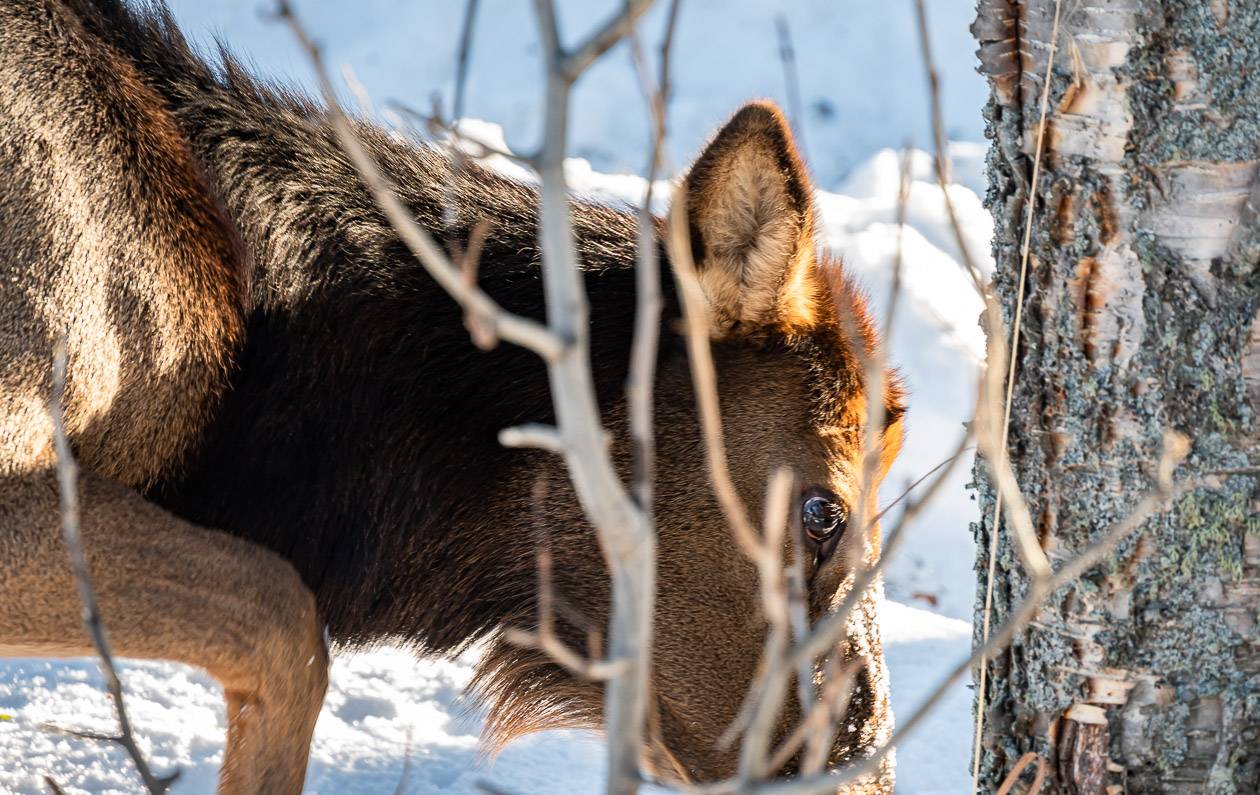 Where to eat in Prince Albert National Park in winter
There are only a couple of choices when it comes to dining in Prince Albert in winter. In Waskesiu, Mackenzie's Dining Room at the Hawood Inn is open year-round for breakfast, lunch, and dinner. I was surprised at how good the food was. You'll find locally sourced Saskatchewan pickerel, along with lots of freshly made soups and crowd-pleasing favourites like chicken pot pie and the Ukrainian plate.
Note: The Hawood Inn also provides snowshoes and cross-country skis free of charge. You just have to leave your credit card with them.
Where to stay in and near Prince Albert National Park in winter
Kapasiwin Bungalows
We spent one night in the Kapasiwin Bungalows on the shores of Waskesiu Lake. Described as "rustic contemporary", they are well equipped four season cabins and perfect for families with a full kitchen, a couple of bedrooms including one with double over bunkbeds. With a TV and internet, you can stay connected. A few of the dozen cabins are pet-friendly.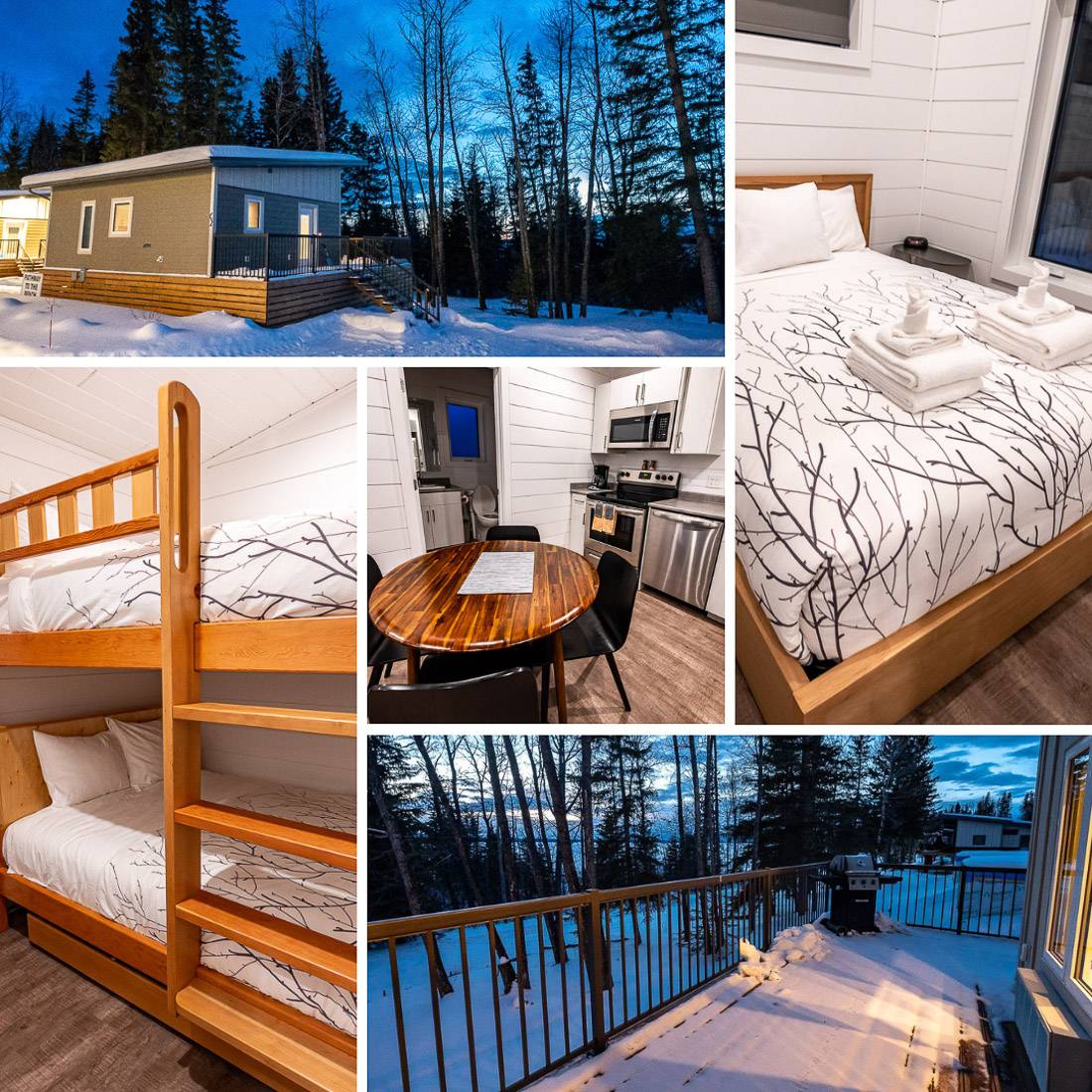 Elk Ridge Resort
Elk Ridge Resort is just outside the park boundary and only 9 km from Waskesiu. It's a fantastic place to stay for several days as there's so much to do at the resort itself, including skating on the oval, cross-country skiing, snowshoeing, curling, tobogganing, and crokicurl. There is also an indoor pool along with a water slide and a hot tub. Rooms are comfortable and there is a restaurant overlooking the oval (mostly used for breakfast) along with a second one, The Wyld – a pub style eatery.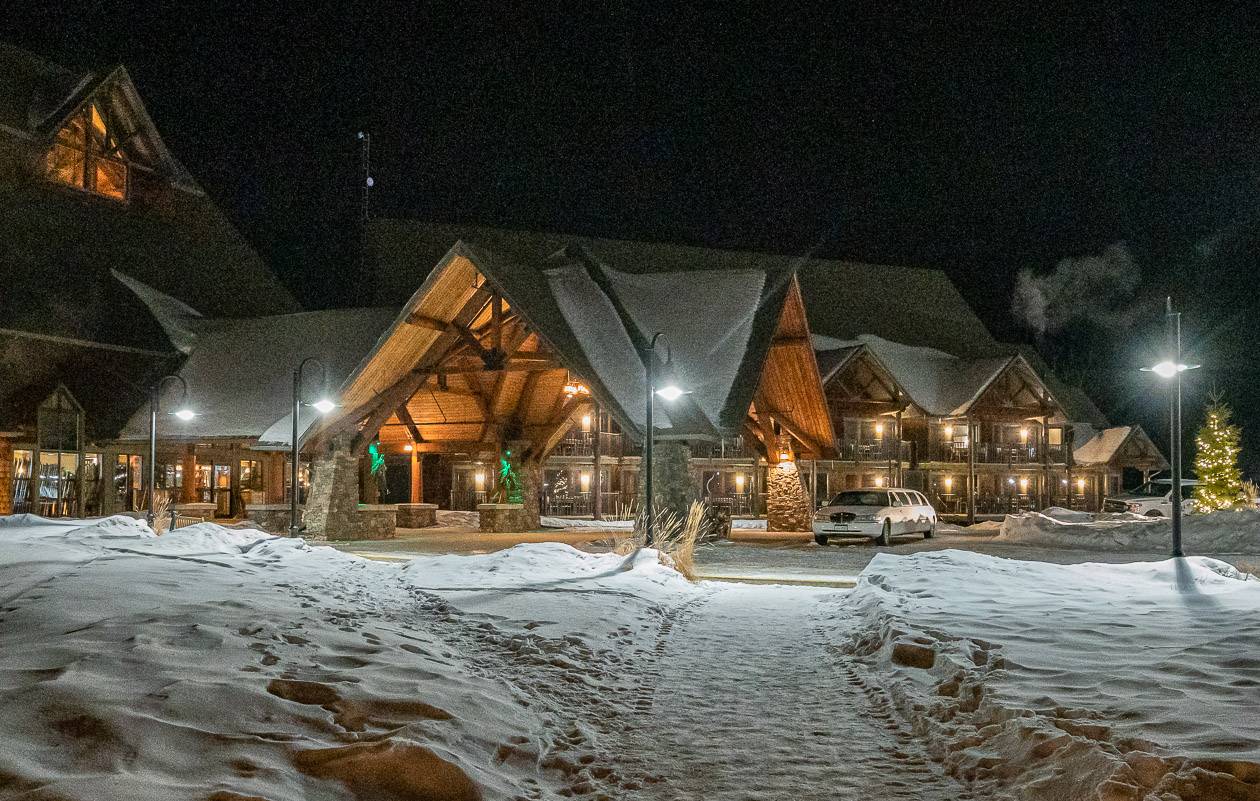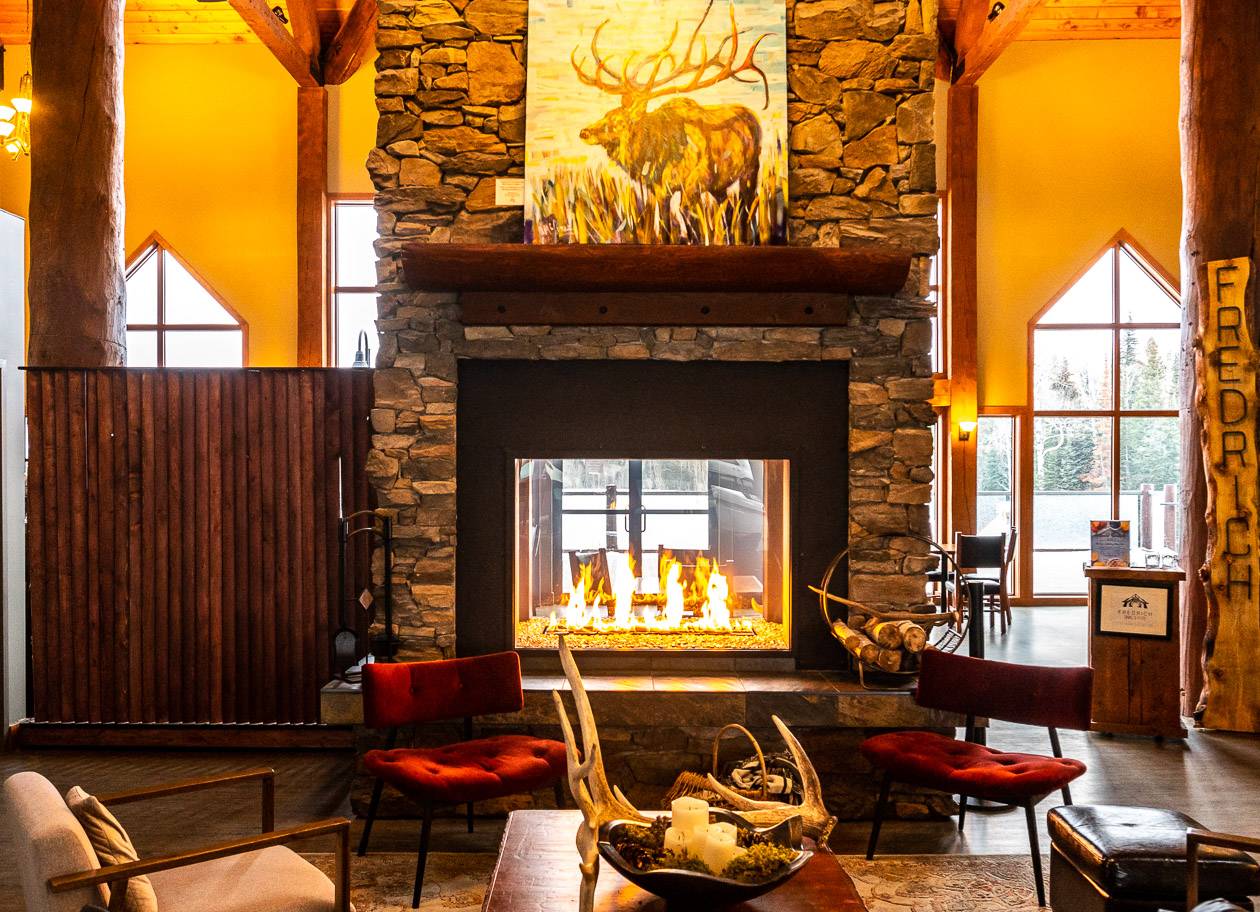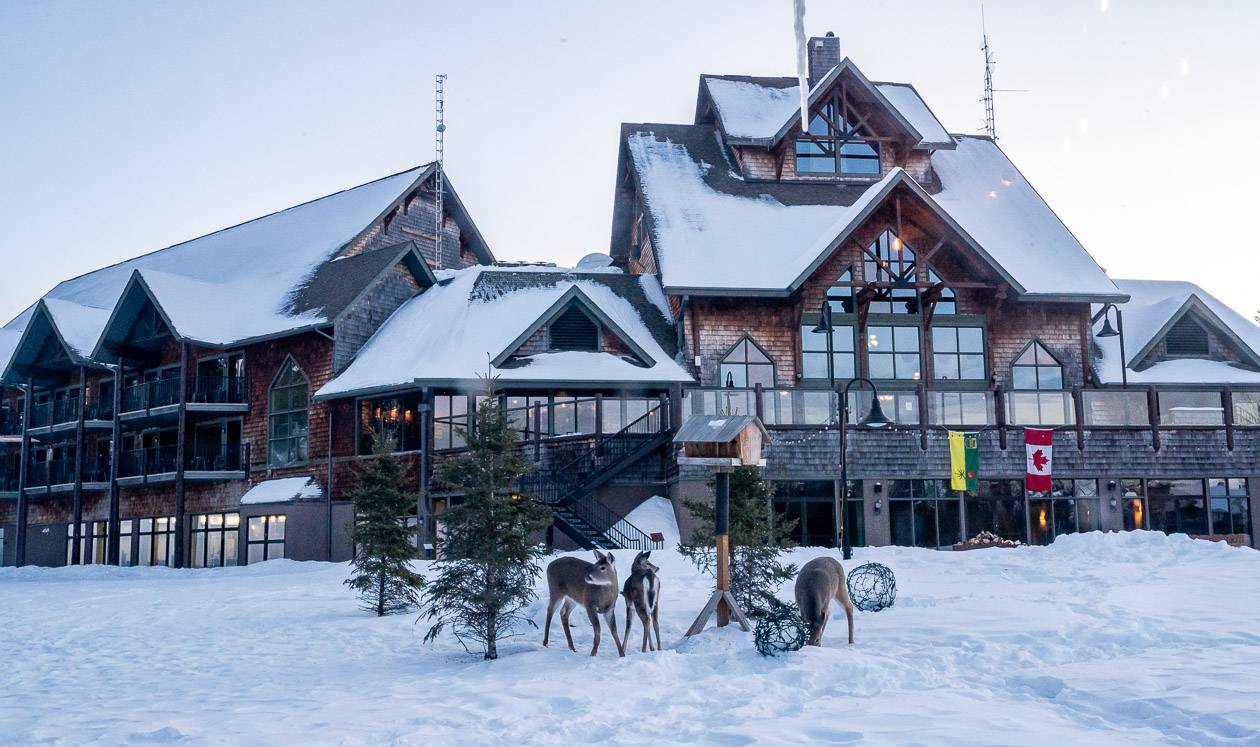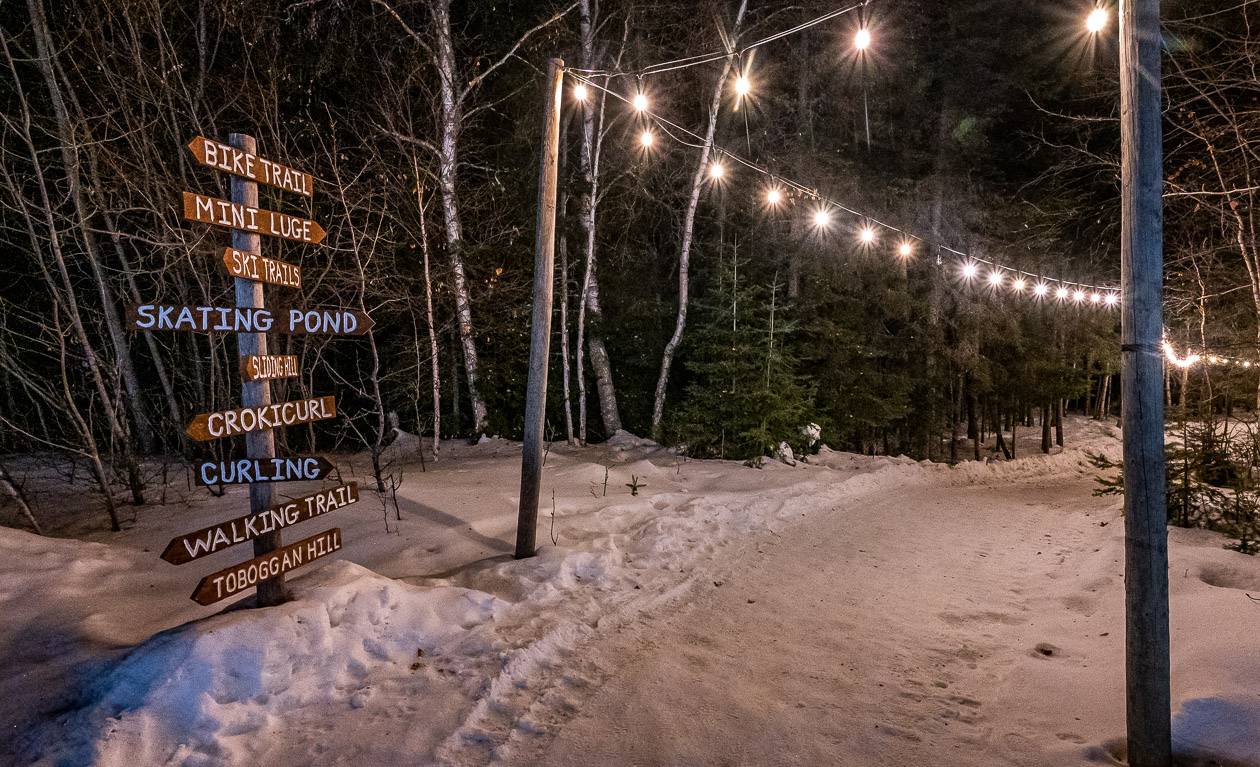 A big thank you to Tourism Saskatchewan and Parks Canada for hosting my stay. In all honesty, this winter trip to Prince Albert National Park exceeded all expectations.
More reading on visiting Canada's national parks in winter
Click on the photo to bookmark to your Pinterest boards.