If you're willing and ready, Manitoba is awesome in winter, especially a trip to Riding Mountain National Park in the western part of the province. But let's face it. If you're heading to Manitoba in winter, you're heading into real winter.
Don't go to Riding Mountain National Park looking for daffodils poking their heads out of the snow. Instead expect regular dips of the thermometer below -20°C. Do plan to bring your warmest clothes and boots – and the right attitude.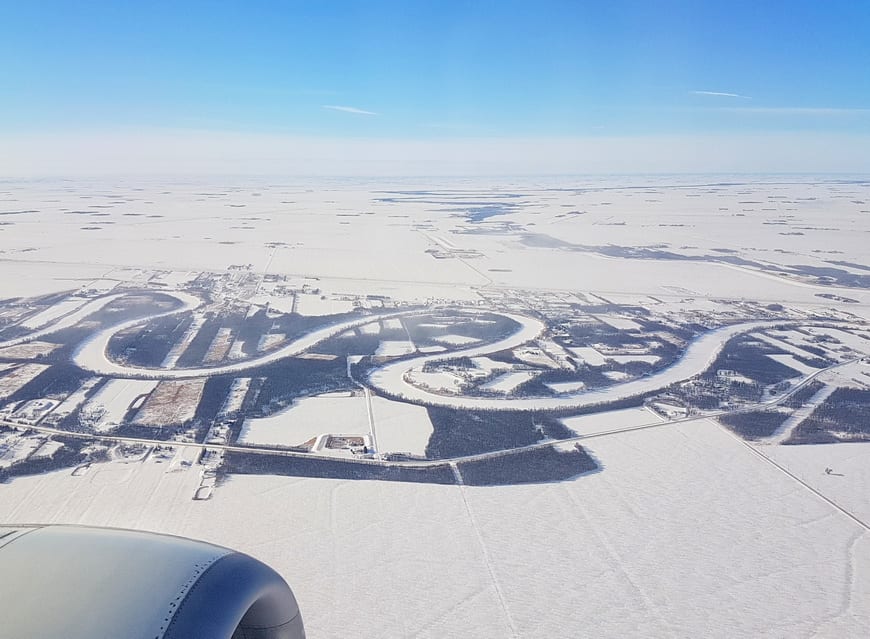 Winter beauty in Riding Mountain National Park
Why visit Riding Mountain National Park in winter?
There's a quiet, unspoiled and might I add bug free beauty to the park – described by Parks Canada as "an island of wilderness surrounded by a sea of farmland" with a location high on the Manitoba Escarpment.
With excellent accommodation and restaurant options and lots to do outside, what's not to like about a winter getaway to one of Canada's few parks with a town (Wasagaming) inside its borders.
Getting to Riding Mountain National Park
On some Manitoba winter days, getting to the park is no small feat. Our group left Winnipeg in white-out conditions. By the time we pulled into a Tim Horton's in Elie about an hour later, both drivers and passengers were ready for a break.
The good news – the first hour out of Winnipeg is almost always the worst for driving. It was smooth sailing the rest of the way.
A few small towns (Portage la Prairie and Neepawa) break up the drive and the colourful barns you see along the way are worthy of a photography stop. Allow three hours in good driving conditions with the bulk of the driving along the Trans-Canada Highway.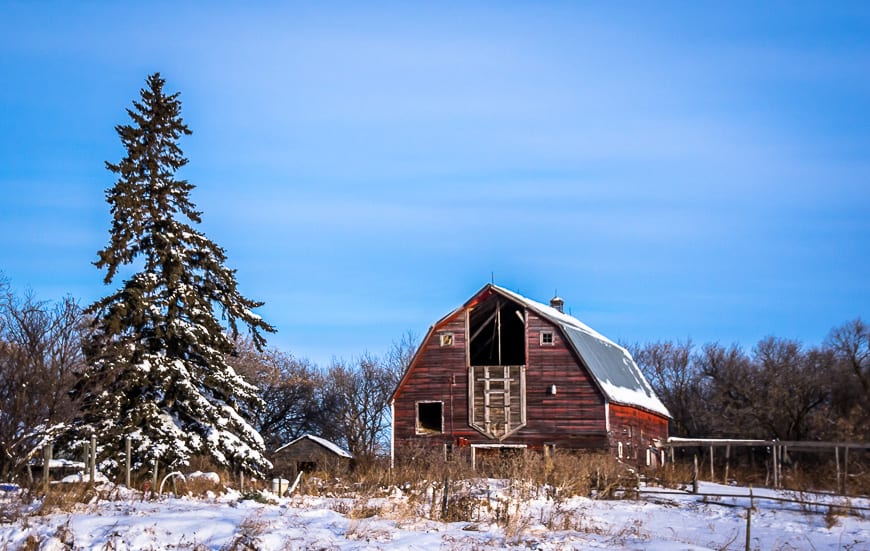 Riding Mountain National Park location map
Where can you stay in Riding Mountain National Park in winter?
The park is open and you have four excellent accommodation options. You can book a heated oTENTik and feel at one with nature. While accommodation is simple – a table, chairs, and bunkbeds, it's also relaxing.
Take a good book, a board game or do nothing at all. Check the aurora borealis forecast before you come as it may be worth getting up at 1 AM to catch the night show.
What I wouldn't recommend based on the experience of the two men in our group is building a roaring fire just before you go to bed – unless you want to mimic a sweltering summer evening. Both guys ended up with the doors thrown open in the wee hours trying to cool the oTENTik down. Me – I slept like a baby.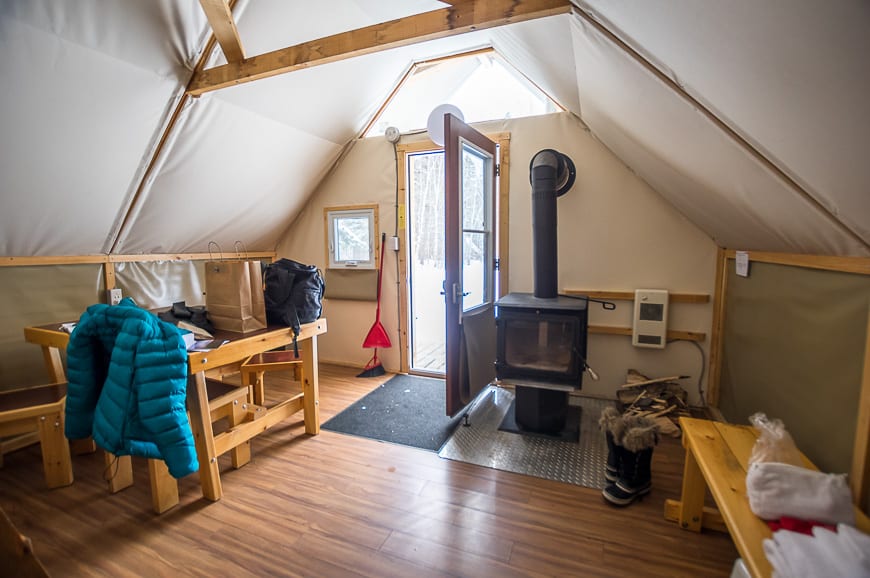 Elkhorn Manor
Another awesome option that would be perfect for a couple of families is to rent Elkhorn Manor – a rustic, English manor style house built in 1931-32. It was constructed to house the park superintendent which it did until 1993. Apparently a number of famous people have spent the night here including Grey Owl and in all likelihood King George VI and Queen Elizabeth – reportedly under mysterious circumstances.
Our group had a chance to check out this lovely house before enjoying a catered dinner. If you rent this house you will feel far removed from civilization – at least in winter as its tucked away from the main village, with the tenth fairway of the Clear Lake Golf Course as a backdrop.
Lake House Boutique Hotel
Within the park there is also the option of the Lake House Boutique Hotel – our go to spot for meals. It's on the main street of the park and if the rooms are anything like the food, you'll be in for a treat.
Elkhorn Resort, Spa & Conference Centre
Just outside of the park is the Elkhorn Resort, Spa & Conference Centre situated on a knoll overlooking horseback stables. We enjoyed a comfortable stay here one night – as well as excellent meals.
They have a spa – which I understand is a popular spot for a girlfriend getaway kind of weekend. Reportedly lots of people never even leave the property, especially when it's cold. If you visit with your family you can take advantage of a large indoor pool and hot tub too. Rent skates (there's an onsite rink), snowshoes, and cross-country equipment at the front desk.
Where to eat in Riding Mountain National Park
Put the Lake House at the top of your list as meals here are superb – with lots of local ingredients put to use. The kitchen at Elkhorn Resort also does a great job. Both spots offer menus for breakfast, lunch, and dinner. Expectations were exceeded at all meals.
Winter activities in Riding Mountain National Park
If you crave exercise you'll get it in spades in the park. Over a couple of days we had time to snowshoe, cross-country ski, and fat bike. Unfortunately we missed the skating experience in the park – along a skating trail through the woods near the Visitor Centre.
Rent equipment either at Elkhorn Resort or from the Friends of Riding Mountain National Park, just a block down from the Visitor Centre. Staff here are helpful and can make suggestions based on how much time you have, difficulty… and send you off with a map.
Snowshoeing
Our snowshoeing experience took us on the 4.2 kilometre Brûlé Trail. It was an easy outing to the lake -with a boreal owl sighting as a real highlight. There are several other options with most trails in the 3 – 4 km range.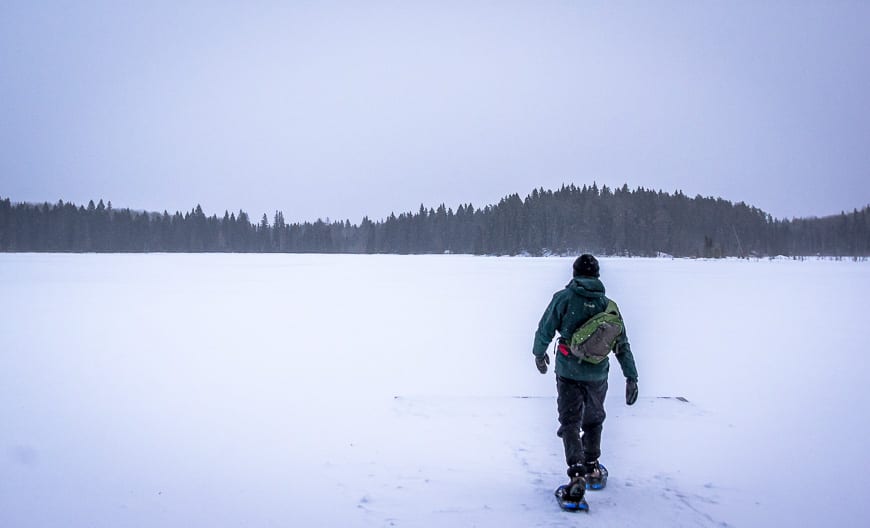 Fat tire biking
Our fat tire biking experience was cut short because of the cold – and dare I say lack of enthusiasm under the circumstances.
Burls and Bittersweet is the only dedicated fat bike trail in the park. All other trails are shared with skiers and snowshoers with many looping through the campgrounds. Our outing on roads parallel to the lake left us hot and sweaty even though it was about -20°C. You just have to get moving to get into this sport and enjoy it on a cold day.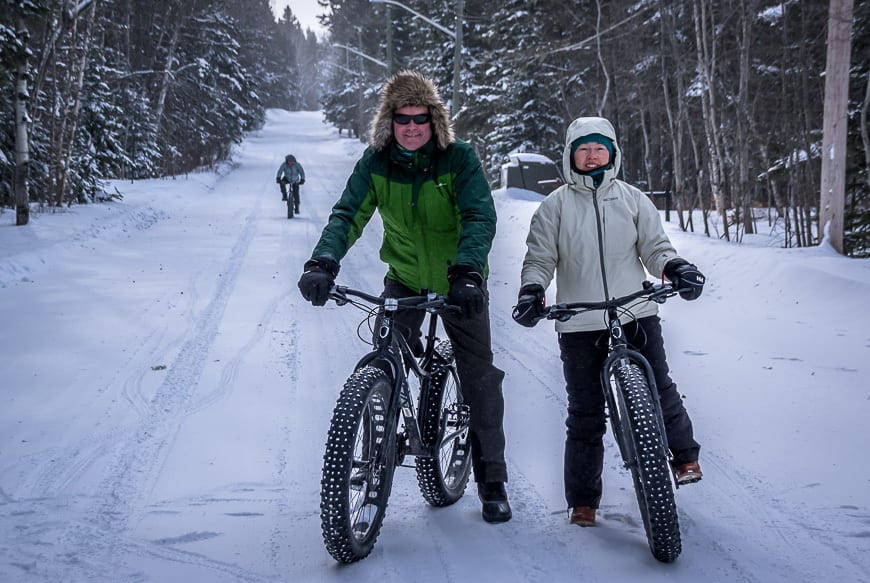 Kicksledding
For something different you can try kicksledding. It's how they get around in Norway in the winter – with a seat for kids and a box for groceries. Rent one for an hour and slip slide your way along the roads. Look for hills as they're a whole lot of fun.
Cross-country skiing in Riding Mountain National Park
Cross-country skiing is exceptional in Riding Mountain National Park. I could have explored trails for literally days if I'd had the time. As it was, we went for a full moon ski along the Ominik Marsh Trail. It was a beauty and the photo below by no means does it justice.
Choose from 12 additional front-country ski trails ranging from 0.5 km – 17.8 km in length. For the more adventurous, there are three wilderness trails – all 15 km plus in length. One, the Ochre River trail takes you to Cairns Cabin where you can spend the night if you reserve in advance.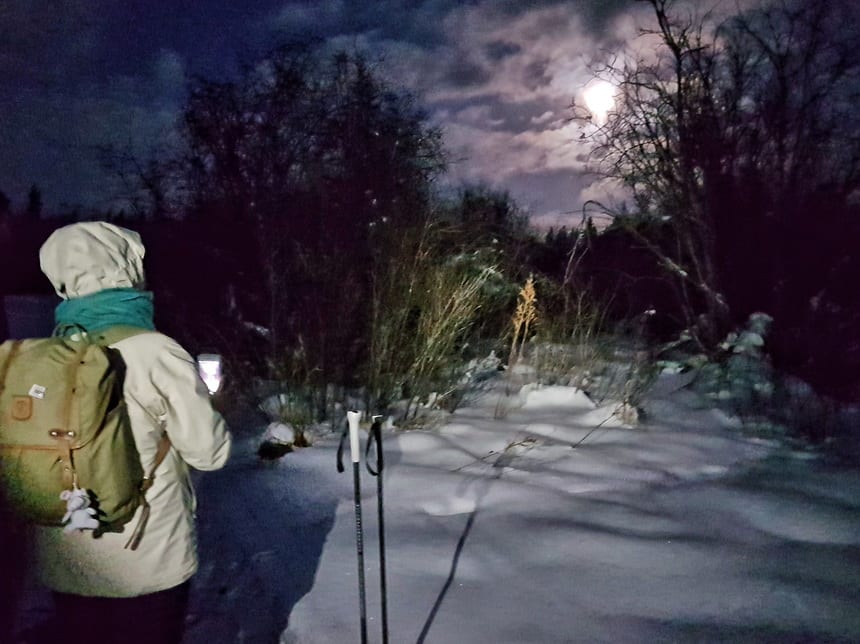 Find the bison and other animals
Considered to be one of the top spots in Manitoba for wildlife viewing, Riding Mountain National Park is home to 40 plains bison, a pack of wolves numbering between 70 – 100 individuals, 300 moose, 800 elk along with lynx, fox, fishers, pine martens, and even otters.

What did we see in Riding Mountain National Park?
Fortunately our timing was excellent and we were able to see many of the plains bison at the Lake Audy bison range.
Despite their massive size, they seem to disappear into the forest and are not always visible from the road. Our only other wildlife sighting apart from some ravens and the boreal owl was wolf footprints – not a true sighting but still a thrill to see.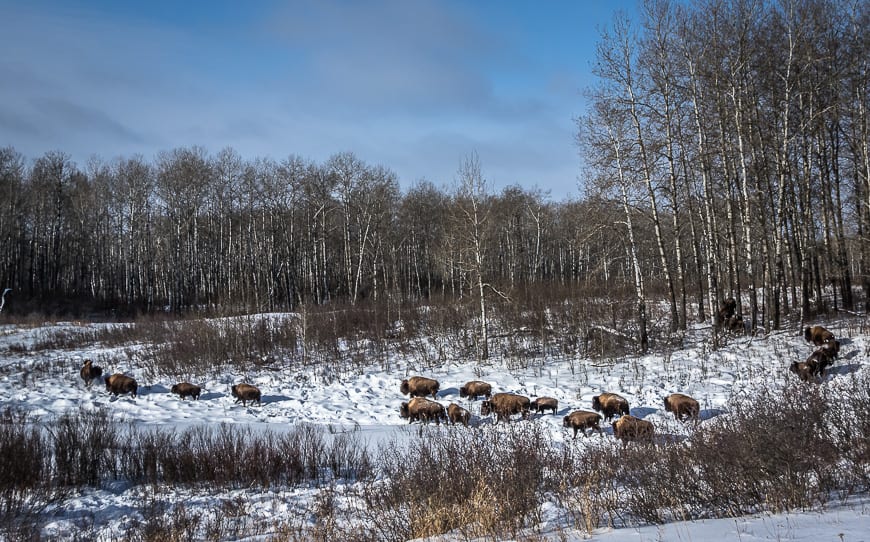 Visit Riding Mountain National Park in winter to enjoy the wild spaces with few other visitors. I recommend a stop at the Visitor Centre on arrival so you can see the exhibits, pick up a map of the park and speak to a cultural interpreter to learn a little something about the seven native communities that surround the park.
For more information on the park visit their website.
Further reading on what to do in Canada's national parks in winter
Click on the photo to bookmark to your Pinterest board.
A big thank you to Travel Manitoba and Parks Canada for hosting my trip.