Oh no was all I could think as John and I drove up to the entrance of Prince Albert National Park in mid-July. Flies bombarded our car like missiles with NO let up. And we had a 20 km hike to Grey Owls Cabin planned the next day.
I hate bugs as much as the next person and although I'd brought my bug jacket, I was unprepared for the sheer number of bugs – including flies, mosquitoes and black flies we would encounter on the hike to Grey Owls Cabin. I was going to have to learn how to deal with them and quickly.
This post includes some affiliate links. If you make a qualifying purchase through one of these links, I may receive a small percentage of the sale at no extra cost to you. Thank you very much for your support.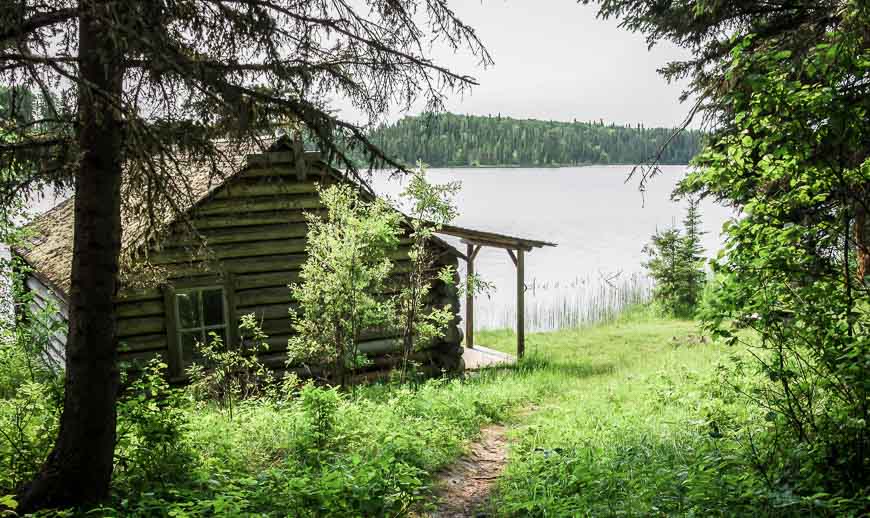 Before you go to Prince Albert National Park
Do not think of visiting this part of this world in July without a bug jacket and a head net. I guarantee you'll enjoy the outdoors and the hike to Grey Owls Cabin much more. And don't forget the insect repellent. I'd recommend repellent that has some DEET in it. You might not need that in the city but you need it here.
If you want learn more read Grey Owl: The Mystery of Archie Belaney
How do you hike to Grey Owl's Cabin?
We decided that we would boat one way and hike back. Otherwise it's a 40 km round-trip hike to Grey Owls Cabin on an out and back trail. That is better done as a two to three day backpacking trip – in August or September when the bugs have died down.
We arranged for a boat ride with Waskesiu Marine Adventure Centre but we were asked to help move the boat to Kingsmere Lake. That ended up being good fun.
You launch your boat from the parking lot, motor or canoe 400 m down the Kingsmere River to a large dock. Then with a winch system, you get your boat onto a four wheeled rail cart (that you might have to retrieve from the lake) and finally you push the cart for 1 km through the woods until you get to Kingsmere Lake. It took us about half an hour to do it all.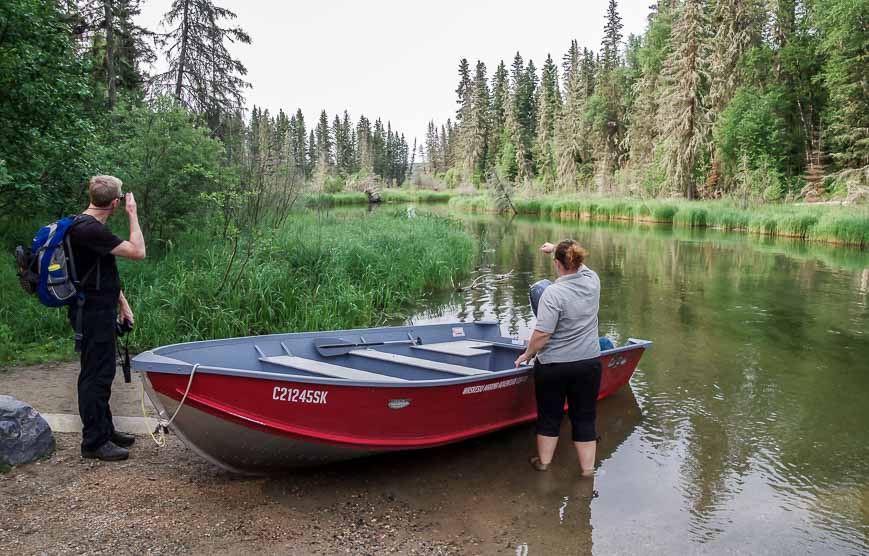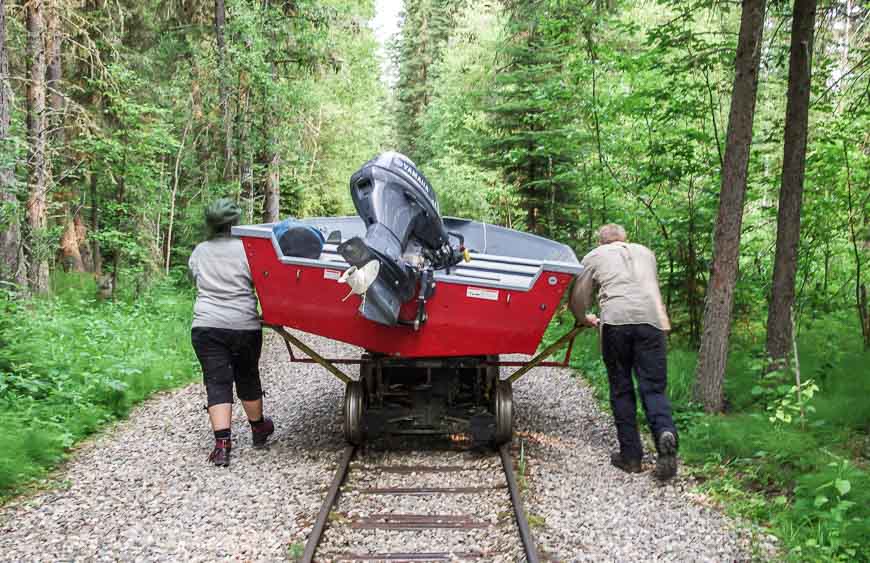 Then it's a very enjoyable boat ride across Kingsmere Lake. Winds can blow up quickly on the lake but we were lucky and enjoyed a smooth crossing to a beach beside the trail to Grey Owl's Cabin. And the bugs weren't an issue though I went prepared.
Details on the Grey Owls Cabin hike
Distance: 23.2 km (14.4 miles) but that was one way via Kingsmere Lake
Time needed: 7 hours including stops and lunch. By the end we were hot, sweaty, tired and very sick of the bugs. In fact, we let in about 30 mosquitoes just getting into the car.
Best time for the Grey Owls Cabin hike: August, September, and October after the bugs have died down.
You do need a Parks Canada pass to do the hike.
Be sure you're prepared before you go. Always carry the 10 hiking essentials!
We did carry bear spray too though we didn't even see bear scat.
It's a very interesting hike to Grey Owls Cabin, especially when you start to learn more about Grey Owl.
There are four backcountry campgrounds on Kingsmere Lake along the trail to Grey Owls Cabin including Sandy Beach, Chipwyan Portage, Northend Campground, and Westwind Group Campground. All offer raised sand or gravel tent sites, pit toilets, a picnic table and fire pit, bear cache and firewood.
For more information on Prince Albert National Park, visit the website.
How to hike to Grey Owls Cabin from Kingsmere Lake
The hike to Grey Owls Cabin leaves right from the beach on Kingsmere Lake. Its 3.2 km one way on a mostly good trail. Canoeists and kayakers can portage their boats 600 m and approach the cabin on Ajawaan Lake from the water.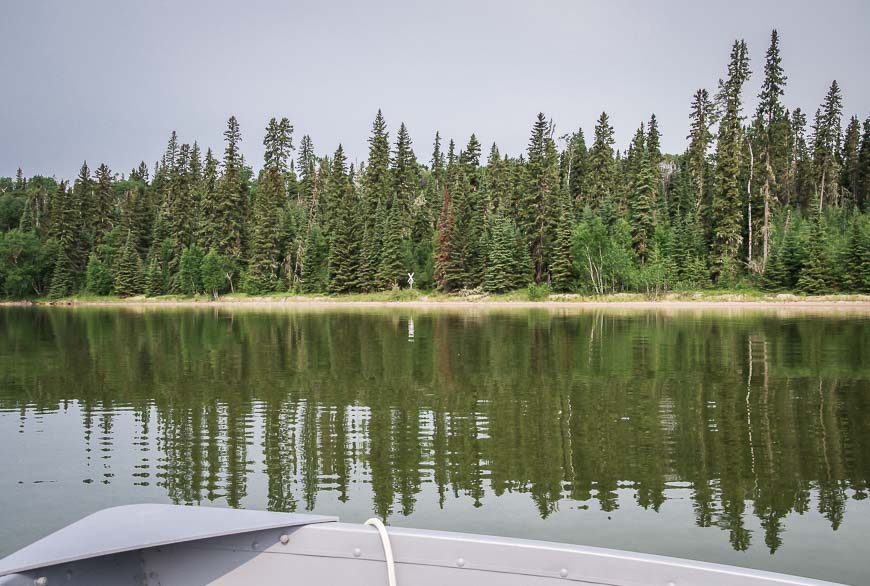 Who was Grey Owl?
Grey Owl was Canada's first naturalist and a unique and often controversial individual. He has been called "a liar, a lush, a bigamist and an imposter" – all true from what I've read.
He was born in England as Archibald Belaney and it wasn't until his death that it was discovered he was English and not Native. He had come to Canada as a young man and spent several decades trapping and guiding in northern Ontario. Eventually, he left trapping behind and has been credited with starting the conversation about conservation and wilderness preservation. He also penned three bestselling books.
There are also many books written on the man and a Richard Attenborough film – Grey Owl – starring Pierce Brosnan.
At the start of the trail there is a sign inviting you to visit the cabin – if your heart is right.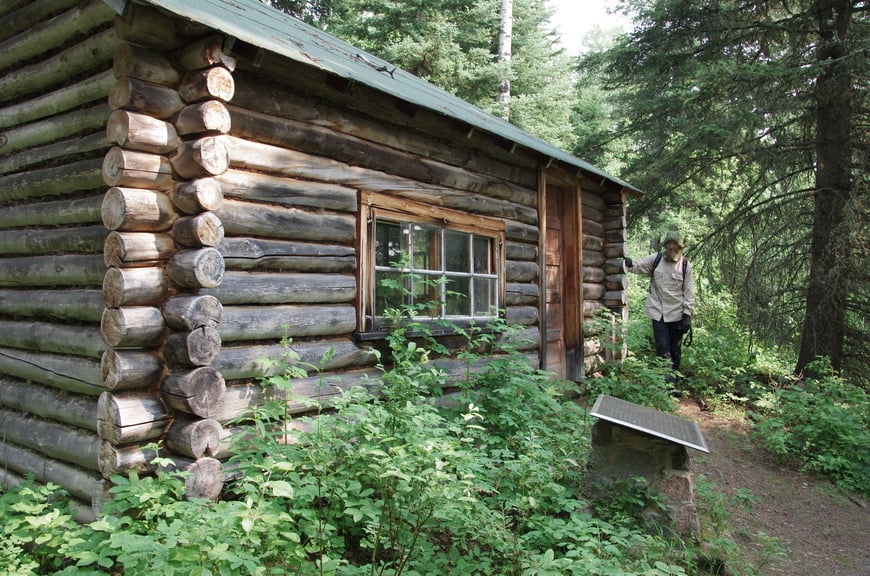 If you are one of the people who have made the hike to Grey Owls Cabin then you can pick up a postcard available in the Beaver House. It's a lovely memento.
The hike between Kingsmere Lake and the Kingsmere River Parking Lot
After our visit to Grey Owls Cabin we had a 16.8 km hike to get back to the Kingsmere River parking lot. It's easy hiking through mostly very pretty woods dotted with patches of wildflowers. It's also full of deer and on many occasions both deer and I startled each other.
Along the trail there are three backcountry campsites (that can be booked at the Visitor Center) as well as one bookending each end of the trail.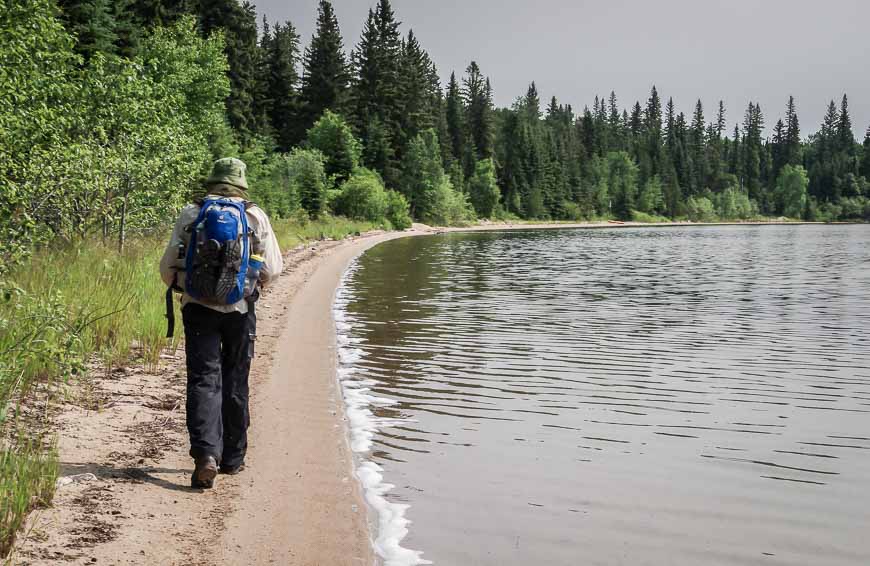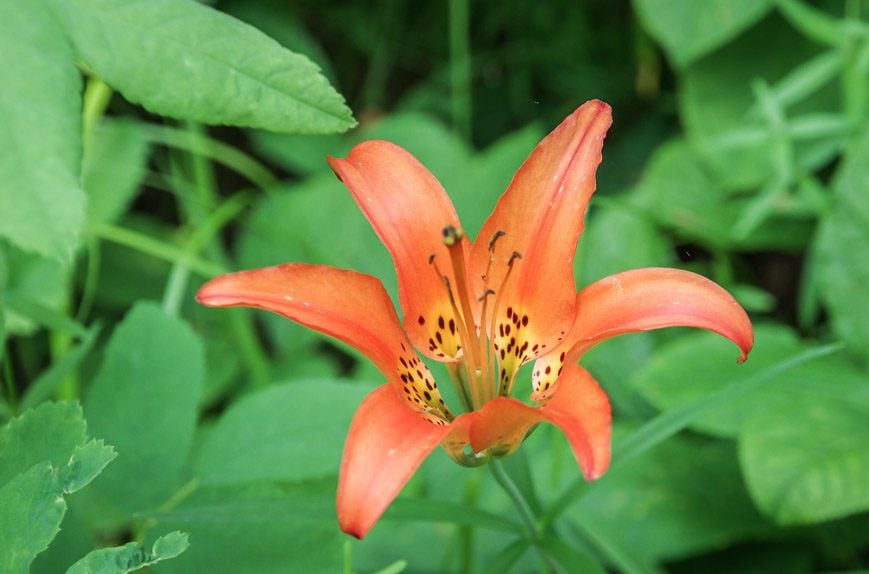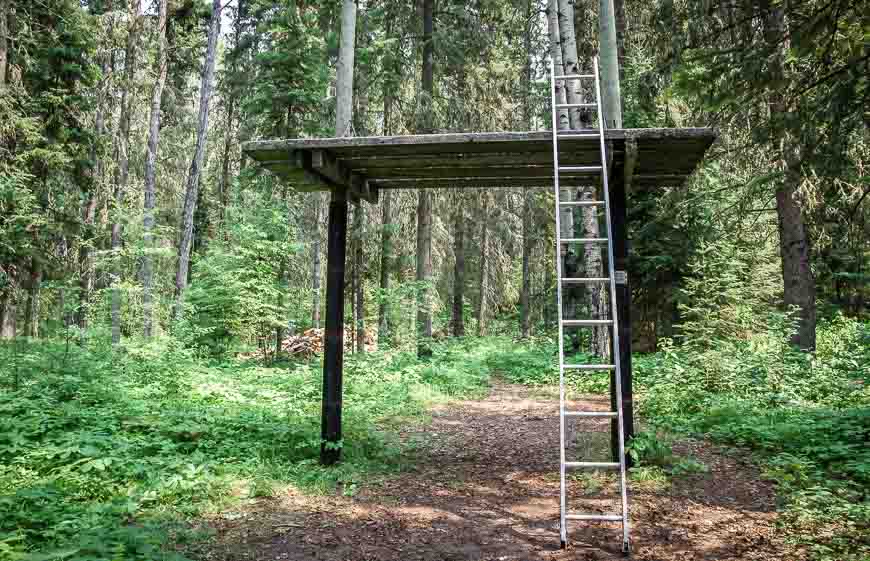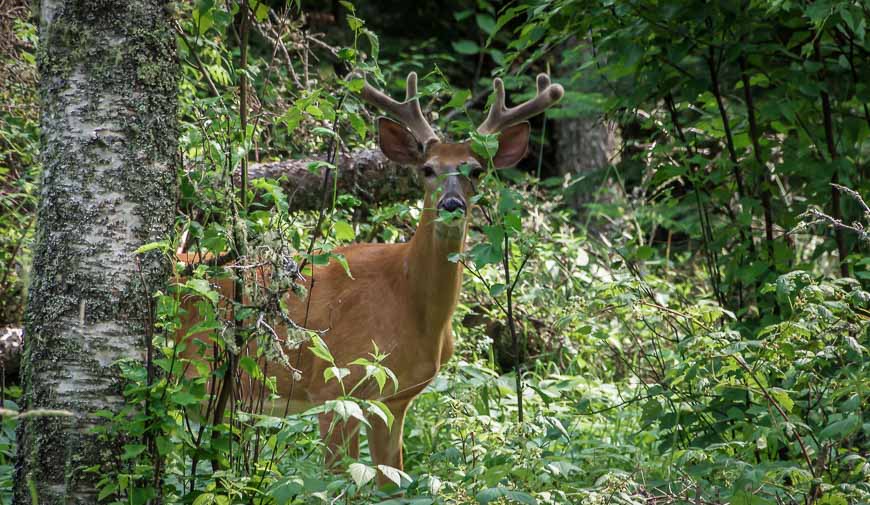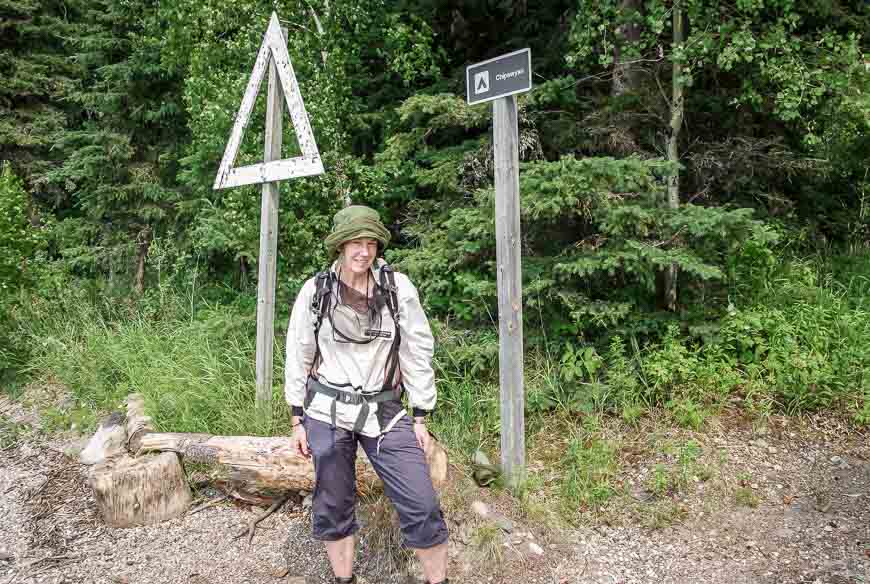 About an hour after a lunch break we both couldn't handle the heat and jumped into the lake. What a treat that was!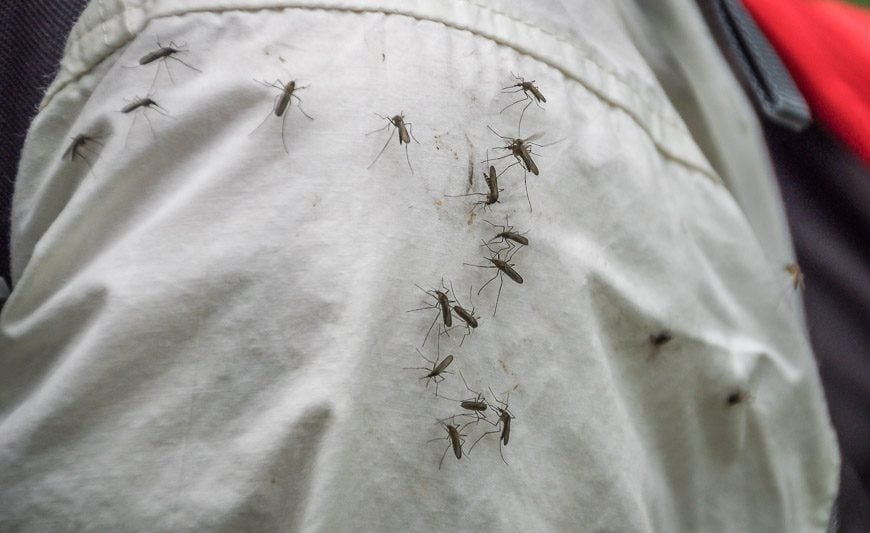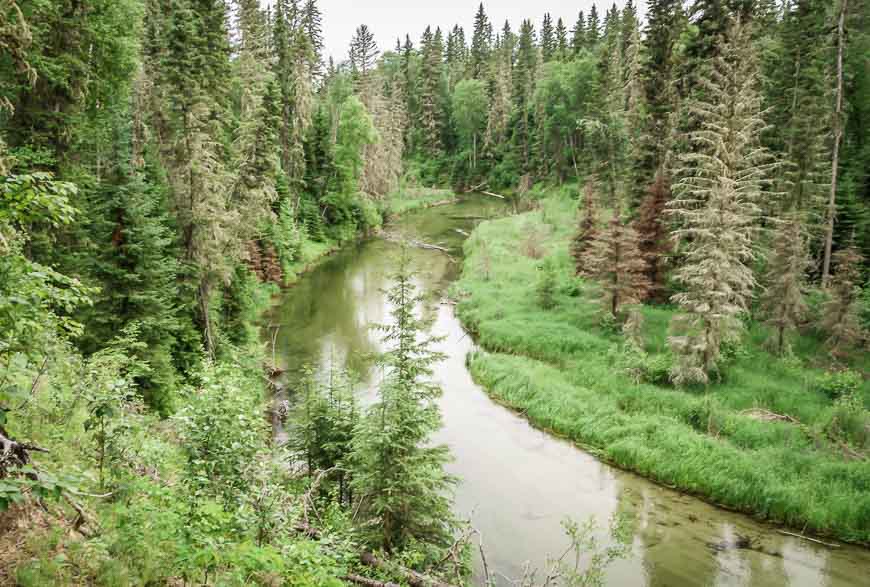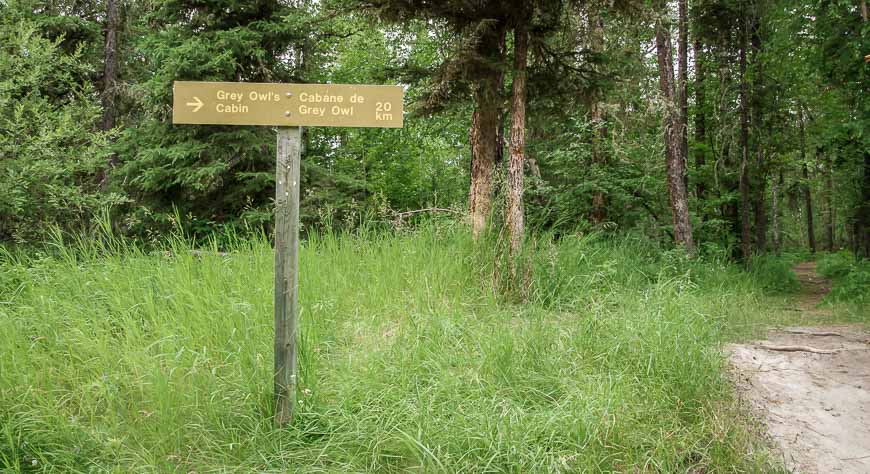 If it's buggy
If you do the hike to Grey Owls Cabin during the buggy season, take a bug net and wear a bug jacket. John didn't wear a bug jacket so mosquitoes bit his back through his shirt relentlessly. And at the cuff area on each arm, he had to have had at least 50 mosquito bites – partially because he hates putting on bug spray. I had no qualms on this day and didn't actually get more than a handful of bites.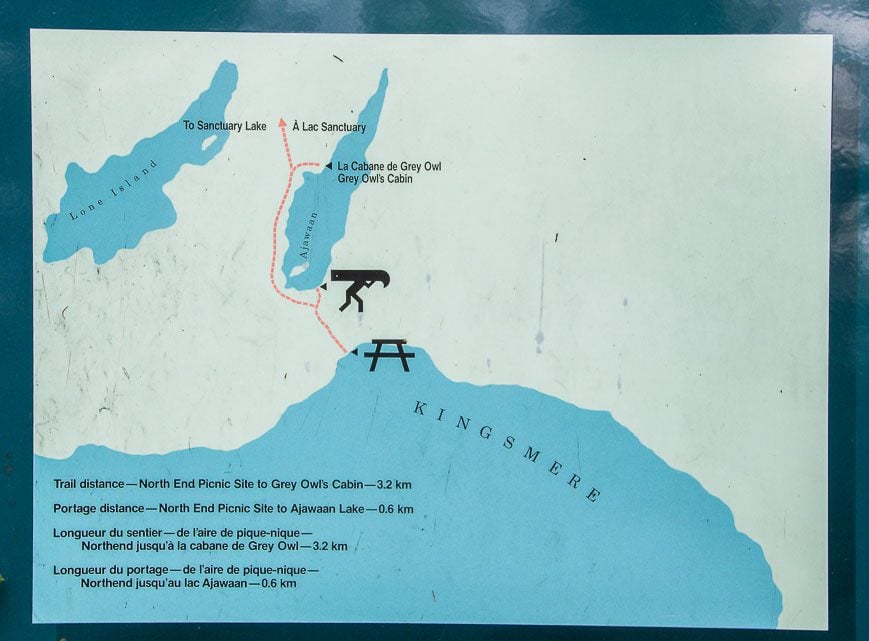 Location map of the hike to Grey Owls Cabin
More good reading on things to do in Saskatchewan
Click on the photo to bookmark to your Pinterest boards.