Fun and unique places to visit in Saskatchewan are not hard to find. Even though Saskatchewan is one of Canada's prairie provinces, it's home to an incredibly diverse landscape which in turn lends itself to some unusual things to do. Did you know that there are over 100,000 lakes, a couple of national parks, and a lake that's saltier than the ocean?
The landscape is far more diverse than you might imagine – and as a result there are loads of unique things to do that you won't find anywhere else in Canada. Enjoy these 12 places to visit in Saskatchewan – all personally tested.
This post includes some affiliate links. If you make a qualifying purchase through one of these links, I may receive a small percentage of the sale at no extra cost to you. Thank you very much for your support.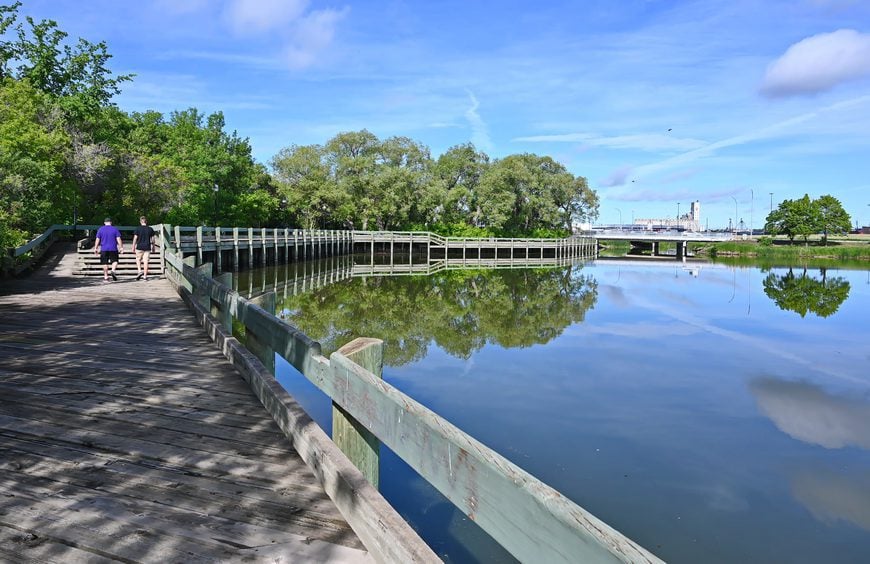 Location map of places to visit in Saskatchewan
Click on the three dots near the top right hand corner to email a copy of the map.
Tunnels of Moose Jaw – one of the unique places to visit in Saskatchewan
If you're anywhere near Moose Jaw, perhaps while driving the Trans-Canada Highway, be sure to stop in and catch one of the fun and interactive Tunnels of Moose Jaw tours. You end up being part of the theatrical experience in a fun, non-threatening way.
The tours take place in a couple of tunnels beneath the streets of Moose Jaw. On my Al Capone tour we walked a block and a half to another building to begin and finished 50 minutes later in the ticket office.
I learned a lot about bootlegging, Al "Scarface" Capone (he died at 48 from syphilis) and how it all tied into American Prohibition. Fascinating, fun – and I highly recommend it.
The other tour, called Passage to Fortune, takes a look at life as an early Chinese immigrant to Canada. Both tours are popular and book up well in advance. They run year-round. You might want to include a tour if you're visiting Regina as the cities are only a 50 minute drive apart.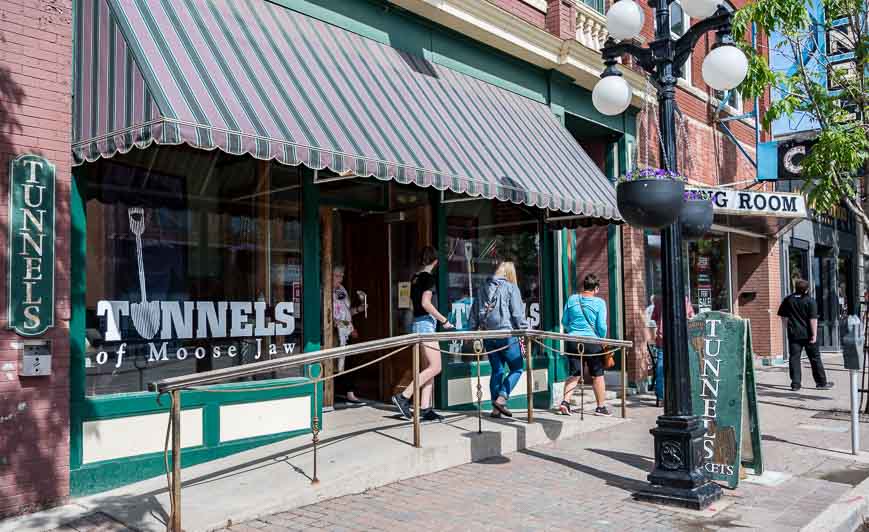 Soak in the largest therapeutic geothermal mineral pool in Canada
I'm so glad the pool at Temple Gardens Hotel and Spa doesn't close until 11 PM. My two companions and I raced to enjoy a therapeutic soak at about 10:15 PM one June evening. Talk about pure bliss, the minute the water enveloped us! We stayed till closing – enjoying the world-famous geothermal water that put the Temple Gardens Hotel & Spa on the map.
There are two pools – a larger indoor pool along with an outdoor pool that have a similar mineral profile to the famous pools in Bath, England. They're loaded with salts like Epsom and Glauber's Salts along with at least another 12 elements.
While I don't know what the science behind the dissolved salts does for the body, I can tell you that 45 minutes of soaking sure feels good.
The pool is open year round, with hours varying according to whether or not you're a hotel guest.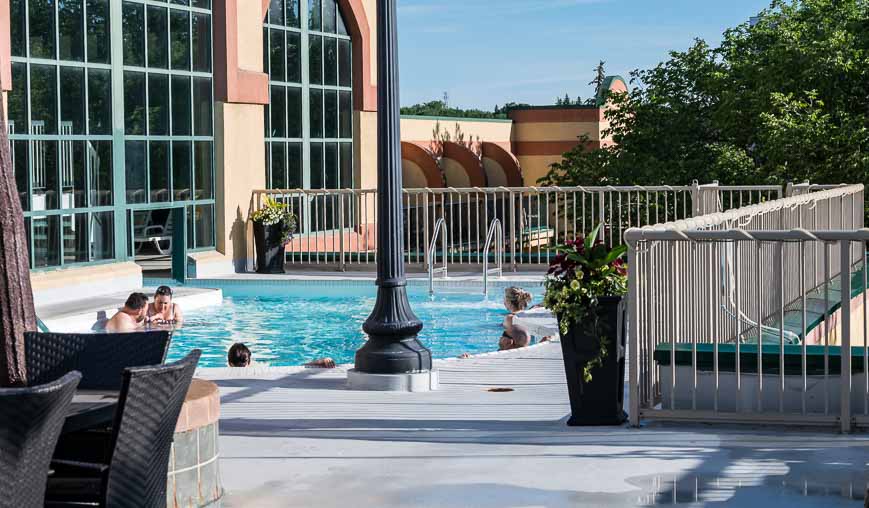 Visit Grasslands National Park in southern Saskatchewan
Southern Saskatchewan is home to some truly wild, beautiful empty spaces. Think big prairie skies and fiery-red sunsets. One of the best places to experience this is in Grasslands National Park, a 3.5 hour drive southwest of Regina just north of the Montana border.
If you're under the impression that this part of Saskatchewan is just boring, flat prairie, think again. Not only is the park in southern Saskatchewan jam-packed with wildlife – including big mammals like bison, mule deer, white-tailed deer and pronghorn antelopes, it's one of Canada's darkest of the Dark Sky Preserves.
If you fall into the category of stargazer, photographer, birder, hiker or nature lover, or you want to sleep in a tipi, beat a path to this gorgeous part of the province.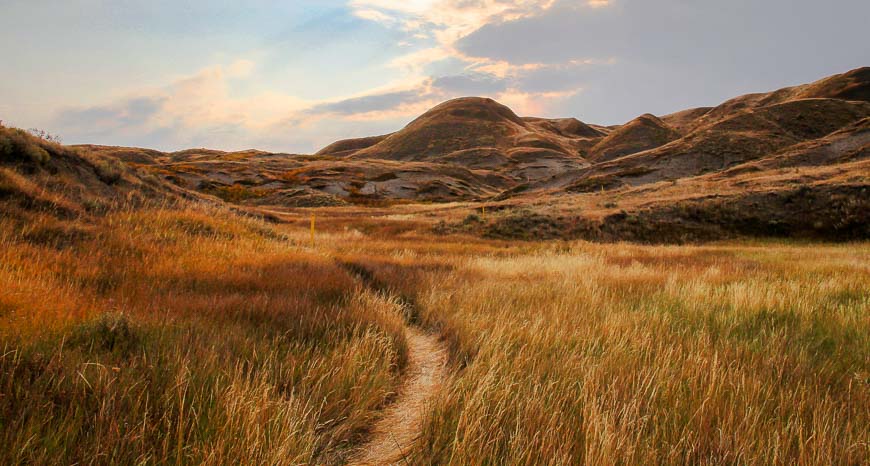 Float in Little Manitou Lake – one of the unique places to visit in Saskatchewan
Did you know Canada has its own version of the Dead Sea? Little Manitou Lake, located about 115 km southeast of Saskatoon, is the world's seventh most saline body of water. It's almost five times saltier than either the Atlantic or Pacific Oceans!
What does that mean for you?
You can float in Little Manitou Lake – though I have to say it's not quite as easy to float in as the Dead Sea, which I tried earlier this year. And the palm trees are missing. But floating is free in the lake. If you're after an indoor experience, head up the hill from the lake to Manitou Springs Resort and Mineral Spa. They charge an admission fee unless you're a hotel guest. It's $24 in 2023 for a day pass.
If you need to change into a bathing suit head for a small building near Burger Buoy just up from the lake. It's also got showers but there are no lockers. And if a refreshment post swim sounds like a good idea, walk a half block to Oda Coffee and Wine Bar.
Visit Historic Reesor Ranch for a top Saskatchewan experience
A visit to historic Reesor Ranch in Saskatchewan's Cypress Hills is a fun and relaxing way to experience this pretty slice of the province. While horseback rides are always popular, you can also enjoy hikes of varying lengths, birding, ATV tours, glorious sunsets, and some great hospitality provided by the Reesor family.
The ranch is open year round though in the summer months, there are additional accommodation options in the historic Arts & Craftsman ranch home. The cabins are great as you're able to cook – if you choose too – and you'll enjoy a sense of privacy and nature on your doorstep.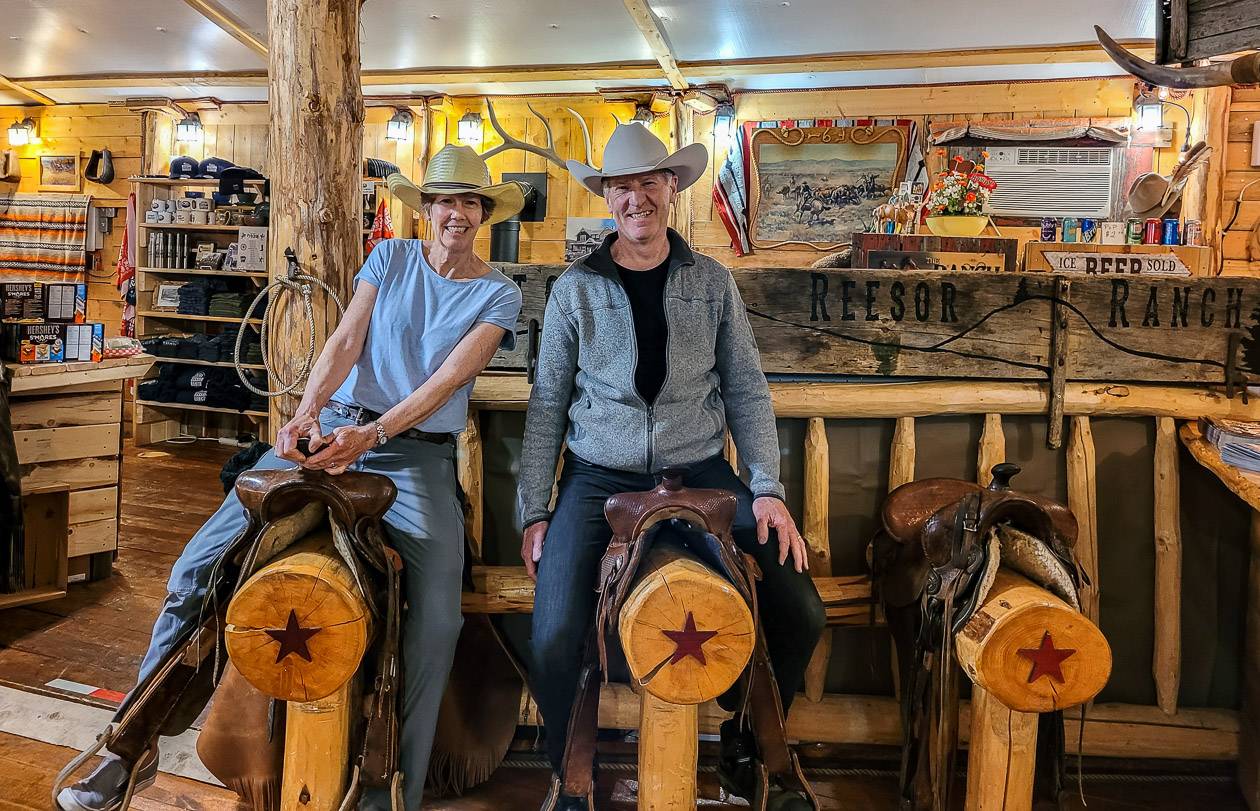 Check out Cypress Hill Provincial Park
Located in the southwest corner of Saskatchewan, Cypress Hills Provincial Park is an ideal destination for families and outdoorsy folks who like to bike, hike, camp (over 600 campsites), golf, and horseback ride. But there is more – a treetop ziplining tour, geocaching and because it's a Dark Sky Preserve, the star gazing on clear nights is incredible. Visit the lakes in the park to swim, kayak, fish, or try paddleboarding.
In winter, look for about 17 km of cross-country ski trails along with some snowmobile trails.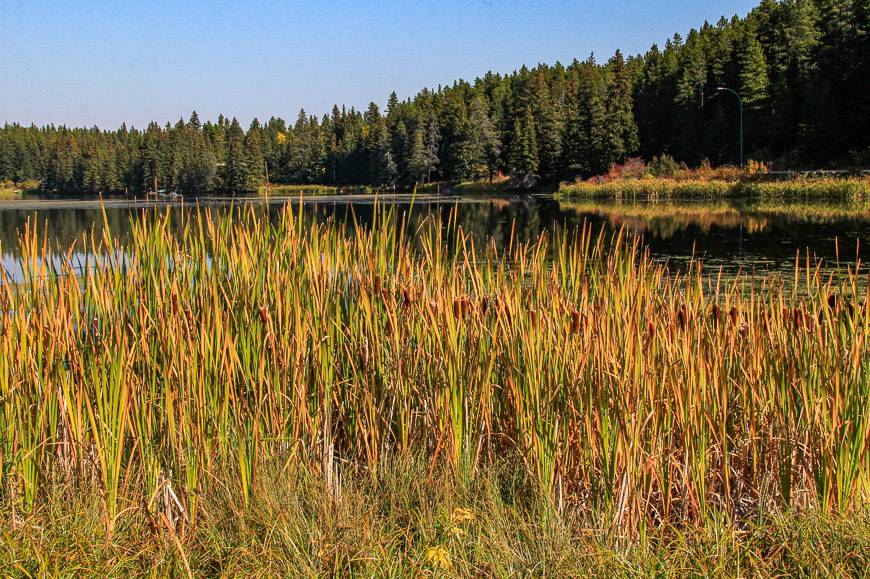 Visit Lake Diefenbaker
Lake Diefenbaker, a man-made marvel created in the late 60's with the building of two dams, boasts over 800 kilometres of shoreline. With three provincial parks and lots of camping along its shore, it's a fun place to visit in Saskatchewan, especially in summer.
There's lots to do including plenty of boating and sailing. It's possible to hike, bike or horseback ride part of the Great Trail. Check out the 30 km section called the Elbow View Trail. It follows Lake Diefenbaker north from the village of Elbow to end in Danielson Provincial Park.
Lake Diefenbaker is also popular for fishing. Access is easy – from shore in many places like campgrounds and provincial parks but also via several boat launches and marinas around the lake. It's famous for its walleye, lake and rainbow trout along with pike and burbot. Even the massive sturgeon have been spotted here – but a special permit is required to fish for them.
Under the right light conditions, the lake is a dreamy landscape to capture for photographers. Birders and nature lovers would also enjoy a visit here.
Visit Prince Albert National Park
Drive north of Saskatoon for 2.5 hours to reach Waskesiu, the beachey town in Prince Albert National Park. It may come as a surprise to people that Saskatchewan actually has great beaches and water warm enough for swimming.
Best food stop: On the way to the park, stop in at Hague, 30 minutes north of Saskatoon, and the home of Home Baked Goodness. Look for delicious, made-from-scratch butter, Saskatoon berry, and strawberry rhubarb tarts. The cinnamon rolls look amazing too.
Throw in opportunities for SUP and paddling in addition to some truly exceptional hiking. My only recommendation is to visit in August or September, especially if you're a hiker so the bugs don't drive you completely mad.
One of the more interesting hikes to do is the one to Grey Owl's cabin. At the cabin you can see where Grey Owl lived with Anahareo, a Mohawk woman along with two beavers – Rawhide and Jelly Roll. The cabin comes complete with a beaver house of sorts.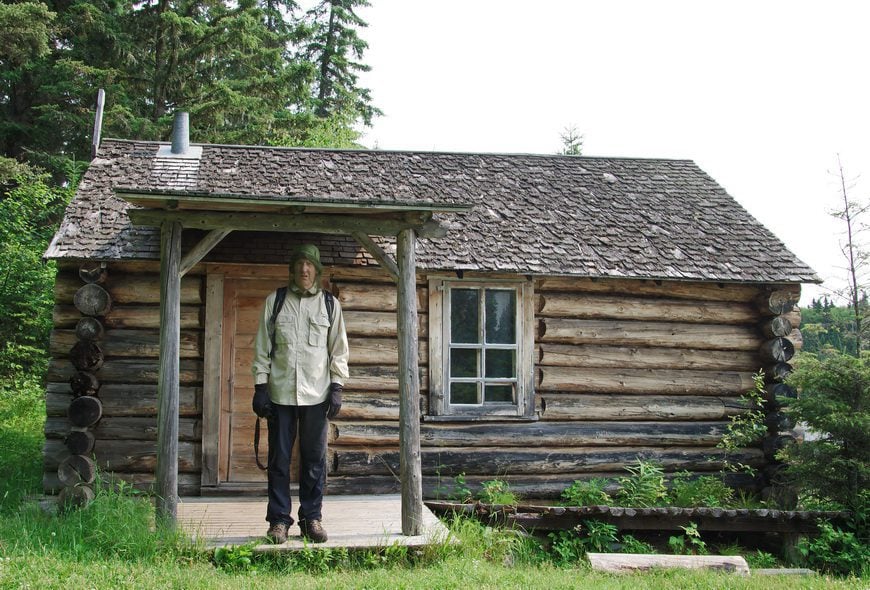 Explore Saskatoon – one of the must visit places in Saskatchewan
One of the most fun things to do in Saskatoon, at least if you've got an adventurous bone in your body, is to SUP. While you can do a short one hour version on the South Saskatchewan River within the city limits it's also possible to SUP for 12 km from the Poplar Bluffs Conservation Area outside of Saskatoon right into the downtown core with Escape Sports.
For more ideas on how to get the most of the city, along with suggestions for restaurants I've personally tried and would recommend reading 6 Things You'll Want to Do in Saskatoon in Summer.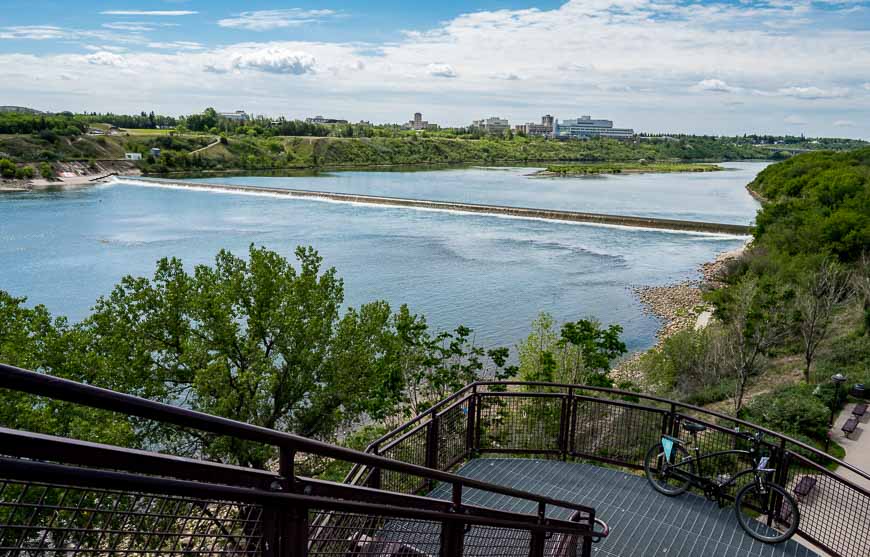 Plan a visit to Wanuskewin Heritage Park near Saskatoon
Wanuskewin Heritage Park, already a National Historic Site, is now on the tentative list to become a UNESCO World Heritage Site. Archaeological evidence indicates that humans have been visiting this site for over 6,000 years.
Children and adults are invited to explore the park through walks on 6 km of interpretive trails and by signing up for workshops. Examples include how to make beaded hoop earrings or dreamcatchers.
You can also take advantage of their programming. Come for a Tipi raising. Go for a guided Medicine Walk or visit when a dance performance is scheduled.
Drink Prohibition Tea in Regina
For a taste of what it was like to be naughty back in the 1920's (the time of American Prohibition) head to the well-appointed lobby bar in the Hotel Saskatchewan.
Get there a few minutes before 5 PM. Then listen for the bell to be rung and a toast to be given. Next up – shots of whiskey all round and reason enough to be at the bar early!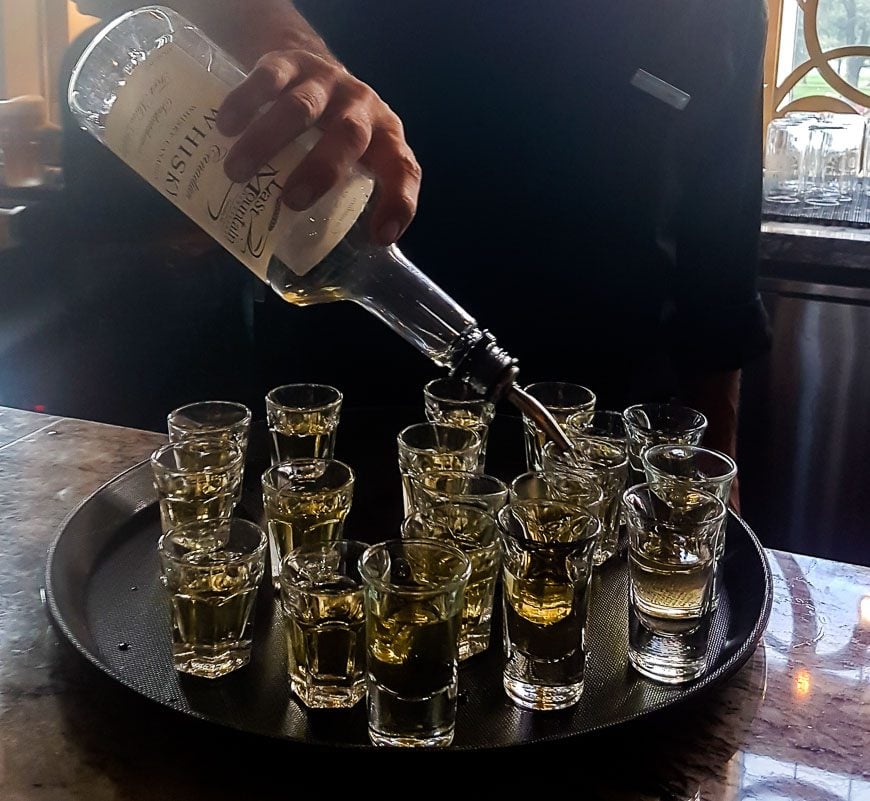 Also be sure to order the Prohibition Tea. The "tea" is served in a proper teacup like your grandmother had. It's made with "locally produced Last Mountain Vodka, the signature Hotel Sask blend of tea and citrus-infused syrup."
To compliment your tea a galvanized tray is presented with mushroom crostini, chicken salad toast and a warm filled beignet. All in all, way more fun than tea sandwiches and a real cuppa tea.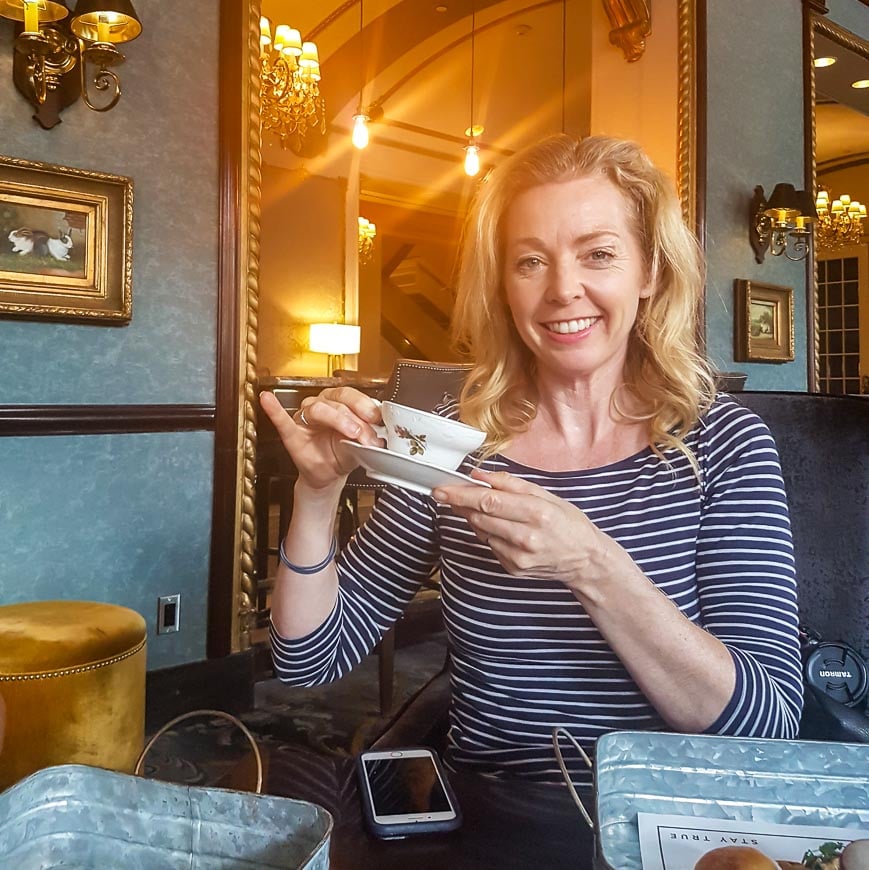 Paddle on Wascana Lake in Regina
Wascana Lake runs through Wascana Park in Regina. The park is huge – as in bigger than Stanley Park and Central Park combined kind of huge. That means that Wascana Lake is a decent size for paddling. It's not wild and woolly or anything like most of the other 100,000 lakes that dot the province, but it is a perfect place for an urban paddle or SUP experience.
Judging by the number of Canada geese around the lake, I'm not so sure I'd want to fall off an SUP. Too much goose poop for me. I would personally recommend a canoe or kayak experience instead.
Rent a boat from Wascana Marine Rentals and then take off and explore. It's particularly pretty near the Saskatchewan Legislature Building, especially in summer with all the flowers around. The parkland at the north end of the lake is also worth seeing from the water.
Play in the Great Sandhills – tops for fun places to visit in Saskatchewan
Some of the largest and most active sand dunes in Canada are found in western Saskatchewan in the Great Sandhills. It can be hard to find them – despite the fact they cover 1,900 square kilometres. But you can count on having a lot of fun once you get there.
Check the state of your physical fitness – and run up and down the sand dunes a couple of times. Tire your kids out by letting them loose.
Catch the golden hour if you're a photographer. Look for one of the 150 species of birds. But no matter when you visit, go prepared with water and snacks as it's a bit of a drive back to civilization.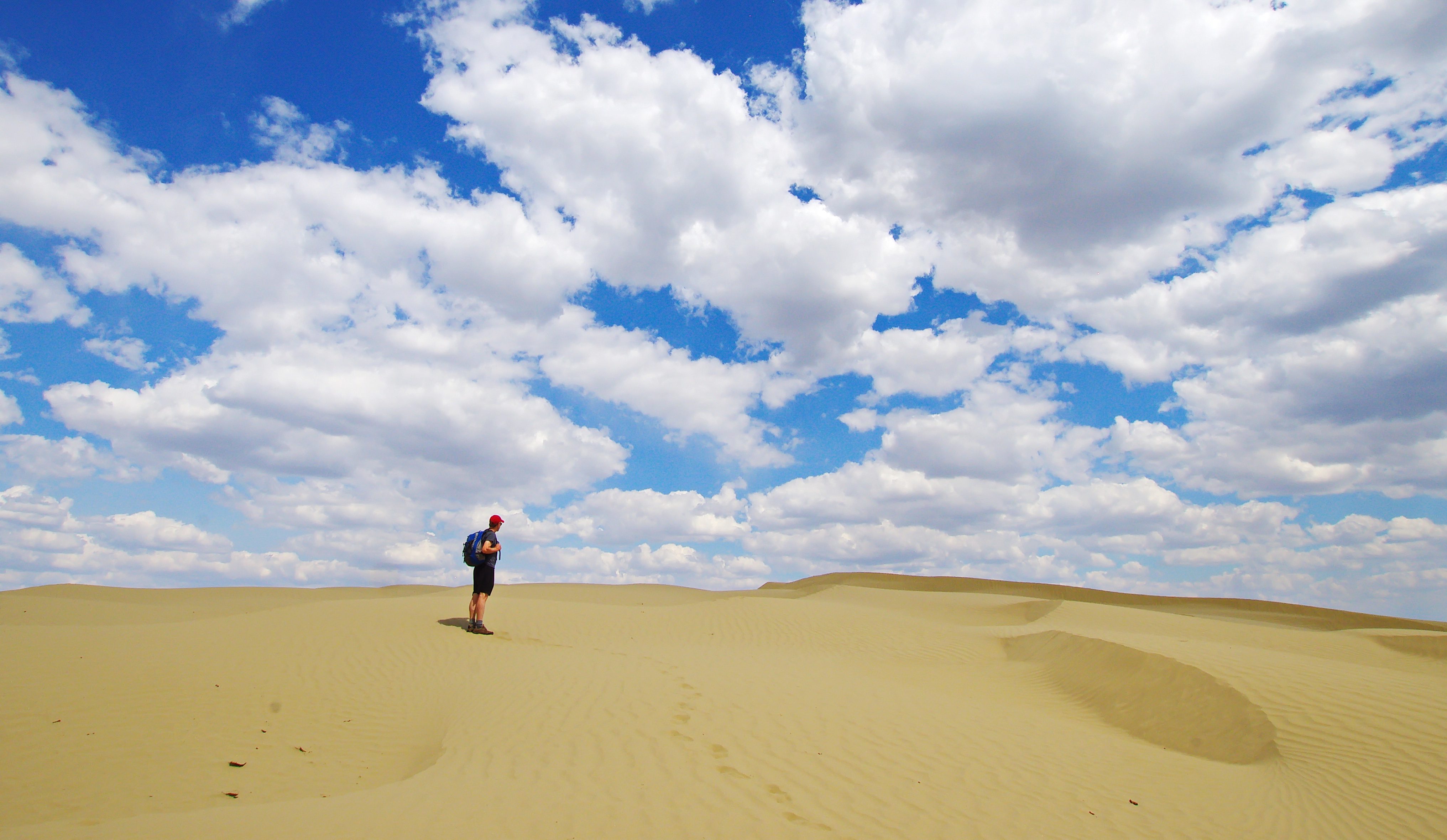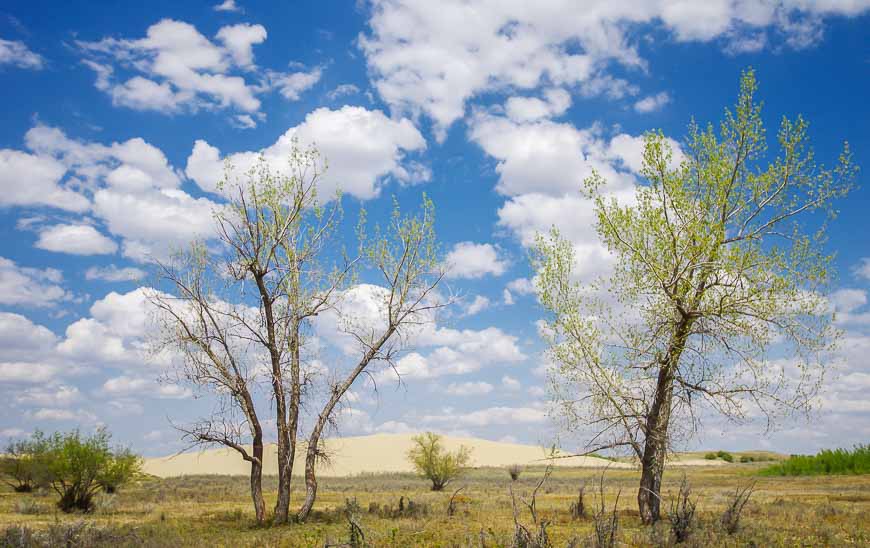 Personal recommendations on where to book a stay in Saskatchewan
Moose Jaw
In Moose Jaw I highly recommend a stay at Temple Gardens Hotel & Spa.
Saskatoon
If Saskatoon is in your plans and you want to stay downtown, I'd suggest either the Delta Hotels by Marriott Bessborough or the Alt Hotel Saskatoon.
Regina
The Hotel Saskatchewan in Regina is an excellent choice – not just for the Prohibition Tea but for the lovely rooms.
Further reading on places to visit in Saskatchewan
Click on the photo to bookmark to your Pinterest boards.
This post was done in partnership with Tourism Saskatchewan. What you've read are my honest opinions. Saskatchewan is a great province that deserves way more love than it gets. Trust me!