Saskatoon is a fun, dynamic place to visit in summer with lots going on. You can feel the energy in the music and festivals, taste the local food at farmer's markets and restaurants, and experience soft adventure within the city limits. I think you'll be surprised at what Canada's fastest growing city offers. Here are a selection of things to do in Saskatoon in summer – that will keep you busy for at least two days. I think you might be surprised at how much this prairie city has to offer the visitor.
This post includes some affiliate links. If you make a qualifying purchase through one of these links, I will receive a small percentage of the sale at no extra cost to you. Thank you very much for your support.
Things to do in Saskatoon in summer – SUP the South Saskatchewan River
I hadn't paddled 200 metres before I hear a splash. Then laughter. Tamara – pictured in the middle below is the first (and only one) to christen the South Saskatchewan River. Its late June so the river is refreshing – not frigid and she's back on her board in a matter of seconds exclaiming "that feels good."
Three of us along with Jonathon Storey, our guide and the owner of Escape Sports in Saskatoon, continue on our afternoon adventure. The plan is to paddle from the Poplar Bluffs Conservation Area all the way into downtown Saskatoon, a distance of about 12 kilometres.
The launch spot is particularly beautiful with its soft, sandy beaches and clear water. It beckons both sun worshipers and paddlers. What I didn't expect five minutes into the paddle were the three nude bodies sunning themselves. Locals however know that it's a popular nudist beach.
We paddle at a moderate pace – switching paddles from side to side trying to stay in the fastest part of the current. I for one am in the moment – truly enjoying the peacefulness of the setting, the birds and the gorgeous sunny Saskatchewan afternoon.
It's not until we get to the outskirts of Saskatoon that I think – it's still a long way to downtown. We'd never stopped to take a breather. I did sit down on a couple of occasions to drag my feet through the water and get a break from standing in one spot.
None of us had brought enough water or an energy bar to help propel us the last 30 minutes. Be sure you do – especially since you can attach a dry bag to the SUP. When we pulled into the landing spot we were all feeling tired – in a good way – and quite pleased with ourselves for knocking off 12 kilometres in around two hours.
If you've never tried SUP
We had all done some stand up paddleboarding, but if you haven't I wouldn't recommend starting with a 12 kilometre outing. Give Escape Sports a call and find out about their introductory classes and tours. You'll be hooked.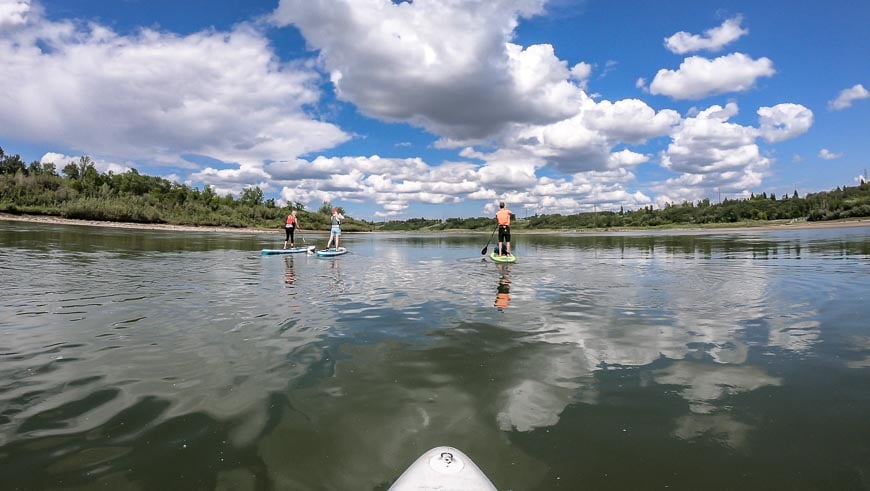 Bike the Meewasin Valley Trail in Saskatoon
Saskatoon is home to the Meewasin Valley Trail. It boasts 80 plus kilometres of multi-use trails on both sides of the meandering South Saskatchewan River. Energetic cyclists can cycle between the Wanuskewin Heritage Park in the north and Cranberry Flats in the south.
I only had time to explore the downtown area but even that was fun. Be sure to keep an eye out for American white pelicans near the weir. Apparently their appearance heralds a sign of spring.
For one of the best river views in the city climb the stairs to the top of the CPR Bridge – with or without your bike. If you take your bike, you can continue across the bridge and follow the trail on the other side of the river in either direction.
Note: If you're staying at the Delta Hotels by Marriot Bessborough, take advantage of their free bikes and helmets, especially with their location just steps from the Meewasin Valley Trail.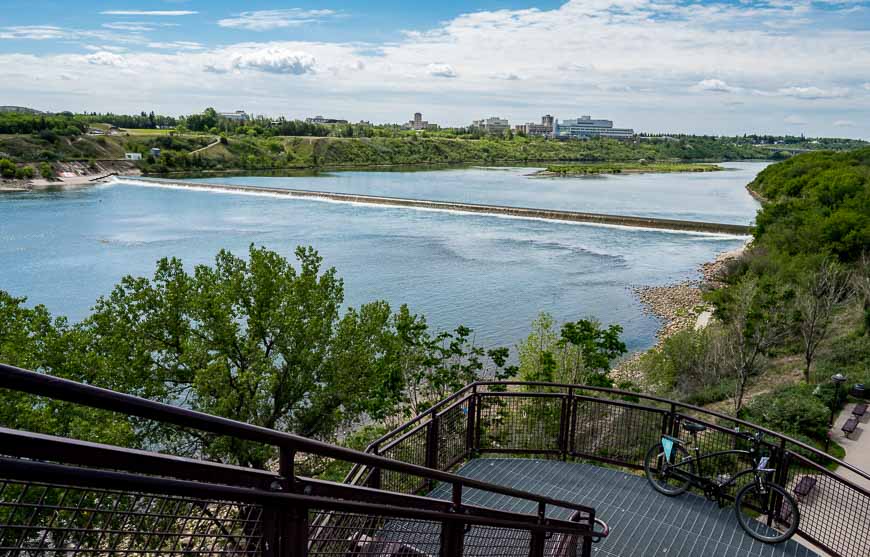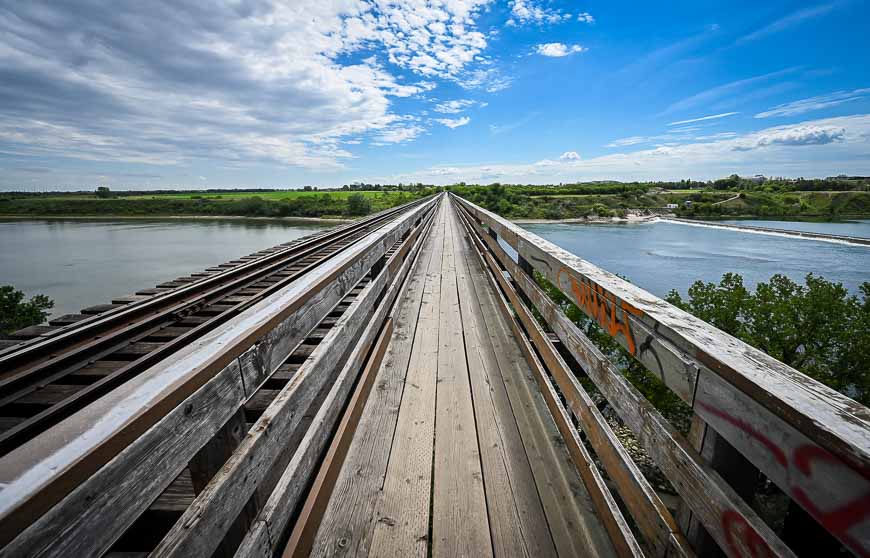 Walk the trails in Wanuskewin Heritage Park
You'll find Wanuskewin Heritage Park, a National Historic Site, 20 minutes north of downtown Saskatoon. The park which is on its way to becoming a UNESCO World Heritage Site (it's on the tentative list now) has been used by humans for over 6,000 years.
Today you can explore the park on four interpretive trails over a total of six kilometres. They've also got loads of programming (a Medicine Walk, Tipi raising, dance performances) and a multitude of workshops. Moccasin making anyone?
While I chose to walk the 2.5 km Path of the People trail I was really sorry I hadn't managed to fit in the Trail of the Buffalo – for the view and to touch the Buffalo Rubbing Stone. It's been rubbed smooth by literally thousands of buffalo.
I loved the walk for the sound of the bird song. Late June may not be prime time for birding, but it was pretty darned amazing compared to my usual magpie, crow, and house sparrow sightings in Calgary. Over 100 species of birds have been seen here.
Interpretive signs are at important sites along the trail. Look for the two buffalo jumps where you see the steep cliffs.
Get your caffeine hit in Saskatoon
Start your day with a stop at Junior Cafe. Get your coffee hit in the morning at either their Broadway or Riversdale location. The place has a great vibe.
Refuel in Saskatoon
For a small city Saskatoon is blessed with some great restaurants.
For lunch visit Odd Couple for casual and delicious Asian dining. I recommend the Asian mango avocado salad with Vietnamese spring rolls to share – or not.
Odla on Broadway serves farm to table meals – with no middle-man. Not only can you get favourites like fried chicken sandwiches and couscous with squash and smoked yogurt, you can purchase a variety of items that are served on the menu at the front of the restaurant. I found prices to be very reasonable.
Check out the Children's Museum in Saskatoon
Be sure to visit the Nutrien Wonderhub Children's Museum that according to my two fellow adult travel companions will blow your mind and light up your Instagram feed. Seriously.
Location map of things to do in Saskatoon in summer
Where to stay in Saskatoon
I have had the pleasure of two excellent hotel stays in Saskatoon. I highly recommend the Delta Hotels by Marriott Bessborough. Aim for a room with a view of the river.
Want something that's close to everything downtown. Choose the Alt Hotel Saskatoon.
Further reading on what to do in Saskatchewan
A big thank you to Tourism Saskatchewan for hosting my stay. My eyes were opened to what Saskatoon has to offer in summer. To you my valued reader, all thoughts and opinions, as always, are my own.
Click on the photo to bookmark to your Pinterest boards.