Historic Reesor Ranch showed up on my radar a decade a go. I was on a solo trip to Grasslands National Park and had considered breaking up the drive back to Calgary with a stop for the night somewhere.
I don't remember where I read about the ranch – perhaps in a pamphlet at The Convent in Val Marie where I spent a couple of nights. I was intrigued by what I read and the pictures I saw, but I can't believe how long it has taken me to visit.
The ranch is run by Scott and Theresa Reesor with help from their three grown children including son Jason who is very much involved on a day-to-day basis. It has won some prestigious awards thanks to the family's efforts.
They are a Canadian Tourism Award Winner for small business, a Tourism Saskatchewan Award Winner and notably a Canadian Signature Experience Member with Destination Canada for their Cypress Hills Cowboy Adventure.
Reesor Ranch sits in the Cypress Hills of southern Saskatchewan. These are the largest hills between the Rockies and Labrador so you can expect a surprising amount of elevation gain and a diverse array of ecosystems.
An assortment of wild orchids, a huge number of birds species, interesting geology and wildlife including cougars are all part of the package. On the ranch come prepare to hike, horseback ride, bird and go for ATV rides.
Historic Reesor Ranch – a provincial heritage property
The historic W.D. & Alice Reesor Ranch was established in 1904 and built between 1906 and 1916. Today the ranch house, barn, granary, bunkhouse and root house still retain a high degree of "historical integrity."
According to a government plaque "their craftmanship and placement relative to each other and to local landscape elements typify ranch architecture in the Cypress Hills during this period. The buildings and grounds also display modifications made over time to accommodate both the demands of an evolving ranching industry and the changing needs of the family."
Accommodation at the ranch
At Reesor Ranch you have a choice of five cabins – all of which are open year-round. In addition, there are five guestrooms in the Reesor family's heritage Arts & Craftsman ranch home. These rooms are only available from May 1st to October 31st.
A couple of the cabins offer bunkbed options which would be perfect if you're traveling with your family. One of the cabins sits some distance away from the others beside the Kinnickinick Trail. It's perfect for those who are happy without WiFi.
We stayed in the cute Cowboy Cabin filled with lots of tasteful cowboy-themed decorations.
Outside there are a couple of Adirondack chairs, a large gas barbeque, and a propane heater. There is also a fire pit beside the cabin with wood available for purchase.
Inside, there's a small kitchenette area with a microwave, a half fridge, a one-burner stove, a small table with a couple of chairs, a couch, and a bed. It's probably a double bed (not a queen) – so be prepared to cuddle your significant other. The bathroom is large and features a soaking tub.
To book a room or a cabin, visit their website here.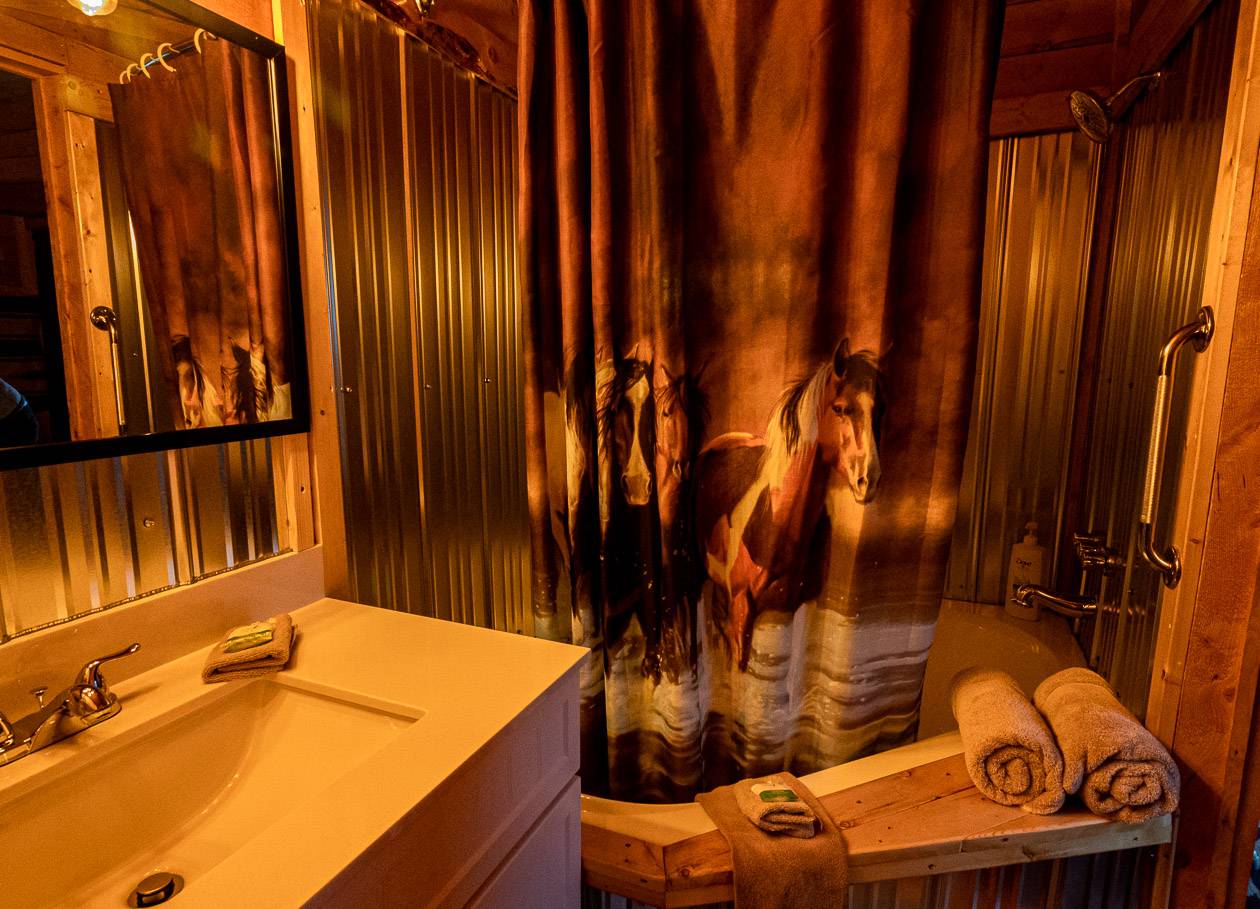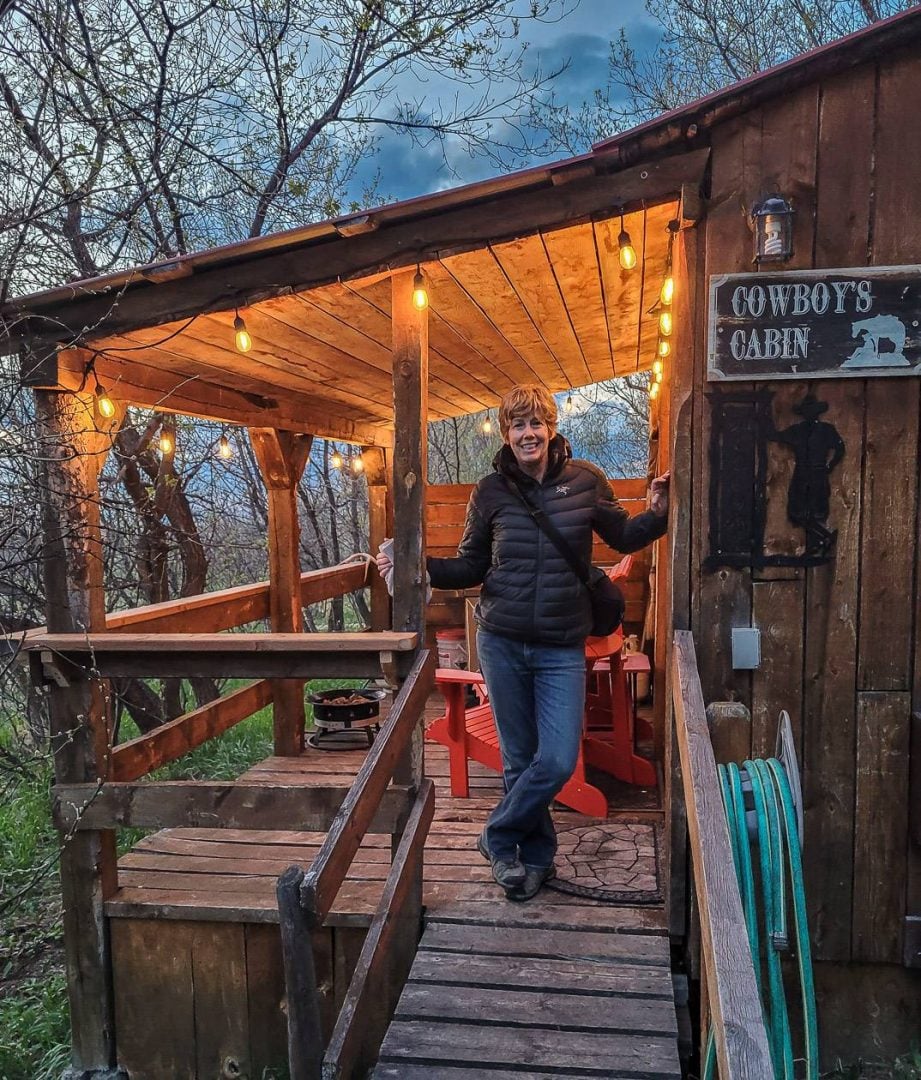 Eating (& drinking) at Reesor Ranch
If you're staying in a cabin, then in theory you can bring all your own food and drink and don't need to step foot in the Ranch Hall Grill & Bar.
But what's the fun in that? Granted the barbeques at the cabins are large, so it would be easy to throw together a meal, but then you'd miss out on the camaraderie and conversation with other guests or even the owners, Scott, and Theresa.
You'd also never hear Scott's cowboy poetry – both his own and poetry from books collected over the years.
On our first night we started the evening with a wine tasting – made from fruit from the nearby Cypress Hills Vineyard & Winery. We tried a rhubarb wine (it took me back to New Brunswick and glamping at Broadleaf Lodge last summer), cherry wine and one made with a mix of dark fruits.
Then it was time for dinner – steak the first night, cooked to perfection by Scott, along with salads and garlic bread. The next night it was chicken pot pie. Choices are listed on the website for now. You do need to pre-order meals – and if you haven't, you'll be able to order a locally made pizza, so there's no threat of going hungry.
Breakfast is served at 9 AM – a civilized hour when you're having a break from your day-to-day life. You can expect yogurt and fruit, egg, and toast, locally made sausage or bacon and pancakes served with a side of cowboy poetry. Bring some coffee and milk with you so you can make coffee in your cabin, should you be up with the birds.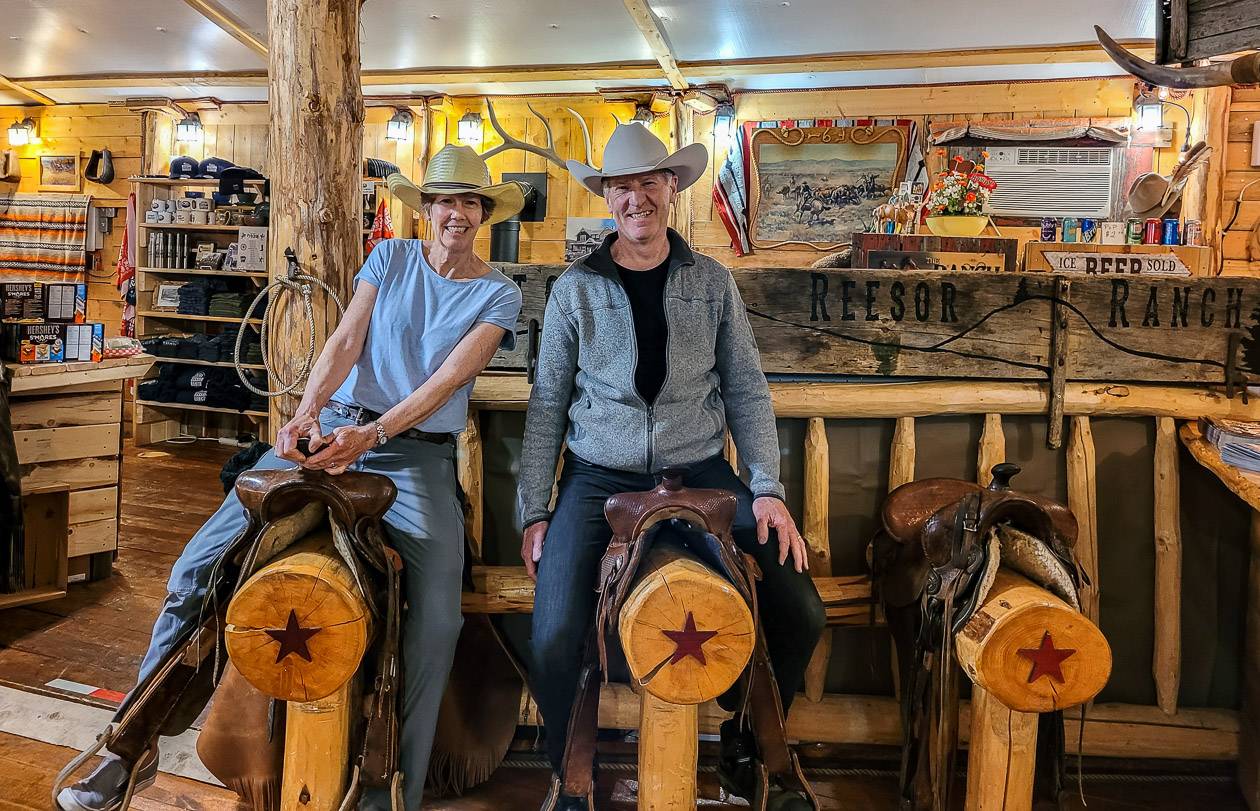 Things to do at Historic Reesor Ranch
Go horseback riding
Within an hour of arriving at the ranch, we were in the horse barn meeting up with a couple of cowgirls – Naomi and Emily.
The plan was to head off on a 90-minute horseback ride with them to get the lay of the land. But first, we did what NO other horseback riding outfit has ever done. We brushed our horses and then saddled them up – with some help, as I had never saddled a horse before. It's a simple thing, but it did help to form a bond with the horse.
I've always been frightened of horses – though after three days last year horseback riding to Sundance Lodge in Banff National Park, I got over some of that fear.
Riding on Sid, my big black horse, was a delightful experience. He was well-behaved and didn't bolt when we spied a couple of skunks. It was one of those rides where you watch the landscape slide by, admiring the big skies and open fields while getting lost in your thoughts.
During busy season at Reesor Ranch, three horseback rides a day are offered – along with some pony rides and lessons for the younger crowd. Even though horses are a big part of what Reesor Ranch is all about, you don't have to feel pressure to go horseback riding to enjoy a stay.
Hike to the "Hidden" Conglomerate Cliffs
I didn't expect there to be much in the way of hiking trails at the ranch, but with the Reesor Ranch property location adjacent to Cypress Hills Provincial Park, there is an option to hike part of the Trans-Canada Trail.
John and I ended up doing about a 10-kilometre loop. The first part of the trail was on the easy-to-follow Kinnickinick loop on the Reesor Ranch property. We found the start of the trail near one of the cabins.
It took us up through the forest past swaths of tiny wildflowers to a section of the conglomerate cliffs you'll find scattered around the plateau.
With a rough map provided by Jason, we spied buffalo wallows where the buffalo once bathed and drank. On this section of the hike, we also spotted what we think were cougar tracks.
Theresa mentioned that she had seen a couple of cougars a few days earlier, so it made sense. There is a high cougar population in Cypress Hills Provincial Park but there are NO bears or wolves.
Look for the Trans-Canada Trail and then hike it
From the map we knew we had to descend to Battle Creek Road from a three-way intersection off the Kinnickinick Trail. Nothing was marked, but there was an obvious trail heading down in the direction we wanted to go.
Once we reached the road, we were on the Trans-Canada Trail. We followed it for a kilometre of two to reach a lunch spot beside Battle Creek across from the Noble-Symons Cabin. The cabin was built in 1939 by Robert Symons, a renowned rancher and painter, while he was a game warden in the Cypress Hills. After just three years it was sold to Albert and Sylvia Noble – and they lived in it for another decade.
Across from the cabin, you'll find Trans-Canada Trail signage. We took the trail from the sign up to the plateau and then east and over to the Hidden Conglomerate Cliffs.
If you continued on the easy-to-follow Trans-Canada Trail, you would end up back on Battle Creek Road, a few kilometres southeast of the cabin and our starting point for this part of the hike. There is parking across from the cabin, as it's quite a popular hike.
After enjoying the views from the Hidden Conglomerate Cliffs, we made our way, with the help of a rough map, back to Reesor Ranch. It was grand but lonely country up on the plateau.
Interestingly, along one section we found a dead bluebird hanging upside down attached to a barbed wire fence. In this area, there are shrikes – and that's what they do to their prey. They come back to eat their prey after it has rotted a bit. Yum.
Take an ATV tour
Another option with a stay at Reesor Ranch is to take an ATV tour. Jason likes to offer them in the evening so guests can catch a prairie sunset.
I passed on driving my own ATV – and opted to join Jason in his heated ATV while John and Theresa followed.
We did have a goal of looking for orchids in an area known for them but apparently, we were a week or two early. However, we did see the bones of a cow that had been hit by a lightening strike, a far more common occurrence than I had appreciated.
And as you can see, the views at sunset from one of the high points near the ranch are beautiful.
Go bird watching at Reesor Ranch
If you love birding, pack a pair of binoculars for your visit to Reesor Ranch. There is a large pond you can easily access on the road into the ranch where you'll likely spot an assortment of ducks and shorebirds.
A pond by the parking lot is a good place to hang out. John saw his first ever Wilson's snipe here.
Tree swallows were in abundance, especially with a bird box on a gate you can't help but pass every time you head to the dining hall. And at nighttime, the nighthawks could be heard diving up high. We saw numerous, white-crowned sparrows and the poor bluebird that met an unfortunate end.
What the best time to visit Reesor Ranch?
Reesor Ranch is open year-round. We visited in May – at a time when trees were leafing out and wildflowers carpeted sections of the property, but the bugs hadn't appeared.
In my books, it was a perfect time to explore the area. But the bottom line is that each season has its own richness – so you'll have to be the judge of what you're after. Certainly, summer is great for families with all the activities, but in winter you can snowshoe, take ATV trips and even toboggan.
Location of Reesor Ranch
Reesor Ranch is a four-hour drive from Calgary and a 4.5 hour drive from Regina. If it hasn't rained in a while, all roads that lead to the property should be in good shape.
However, if it's rained hard, you might want to drive to Elkwater in Cypress Hills Provincial Park and then east, so you only have about 10 km of dirt road. There is a good map on the ranch website detailing the driving options.
Final thoughts on a stay at historic Ressor Ranch
I read through the guest book in our cabin and echo the comments I saw. John and I enjoyed genuine hospitality and a lovely two-night getaway.
I would have loved another day just to do nothing but sit by the fire pit and read a good book – so after my experience I'd recommend booking at least two nights and three if you can spare the time.
I think you'll be amazed at the variety of landscapes and experiences you can have in this scenic slice of Saskatchewan.
More reading on things to do in Saskatchewan
Thank you to Tourism Saskatchewan for making my stay possible and to the Reesor family for making it memorable.
Click on the photo to bookmark to your Pinterest boards.