If you can find the Great Sand Hills in Saskatchewan you're in for a treat! Despite the fact they cover 1,900 square kilometres in the western part of the province, rather a large chunk of real estate if you ask me, they are difficult to find. Signage is next to non-existent until you're within spitting distance of the dunes. But don't let that deter you.
The dunes and the accessible area around the Great Sand Hills in Saskatchewan are both beautiful – and perfect for families with kids who have energy to burn. Nothing beats running up and down the dunes a few times to help tire everyone out.
The sand dunes that make up Great Sand Hills in Saskatchewan are some of the largest and most active in Canada!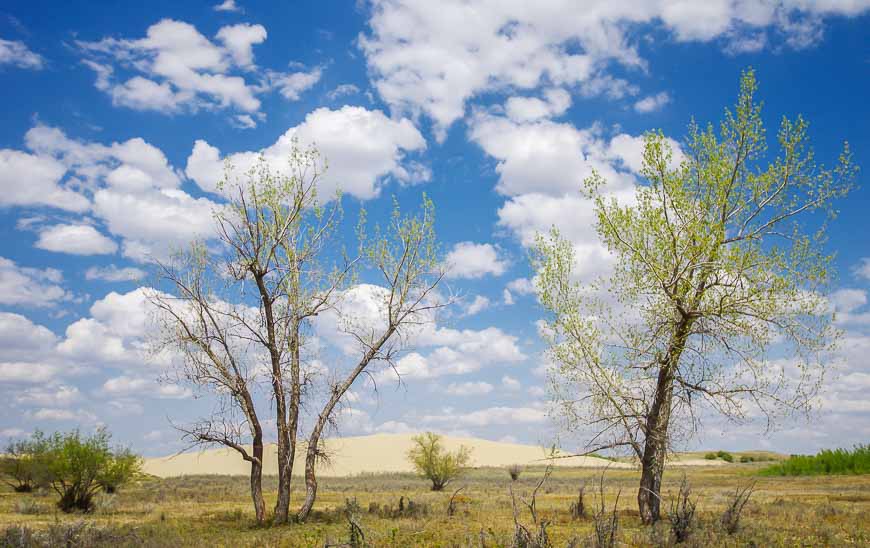 This post includes some affiliate links. If you make a qualifying purchase through one of these links, I will receive a small percentage of the sale at no extra cost to you. Thank you very much for your support.
Don't expect formal hiking trails in Saskatchewan's Great Sand Hills
Most of the sand dunes are no more than 15 metres above the surrounding plains. But they're stacked close together so as you can imagine, walking on the dunes is hard work. There are a few trails – nothing formal – so it's up to you to decide where to go. Just be sure to keep track of the location of the parking lot.
We started our exploring with a steep walk to a form on the horizon. It turned out to be an archway of used cowboy boots – built by John Both (1927 – 2007) – and built as "a cowboy's way to show his appreciation and love for life."
From there John and I wandered across the landscape marveling at the vastness of the landscape – especially as we ended up having the place to ourselves.
The Great Sand Hills in Saskatchewan have a long history of ranching dating back to the late 1800's. Right now 60 grazing operations operate in the Great Sand Hills. Natural gas wells are also in the area and according to signs in the parking lot, hunting occurs at times as well.
The Great Sand Hills are a nature hot spot
In the area of the actual sand dunes, accessible from the parking lot, you wouldn't be aware of any of the ranching and grazing activities. Instead, you can look for more than 150 species of birds that have been sighted (we saw one – a lonely wren) or the 20 types of mammals.
We did see loads of pronghorn antelope but none of the mule deer who live here. Unfortunately we also missed the Ord's kangaroo rat – a nocturnal animal that requires sand dune habitat to nest.
If you like visiting nature hot spots I highly recommend both 110 Nature Hot Spots in Manitoba and Saskatchewan and 150 Nature Hot Spots in Canada.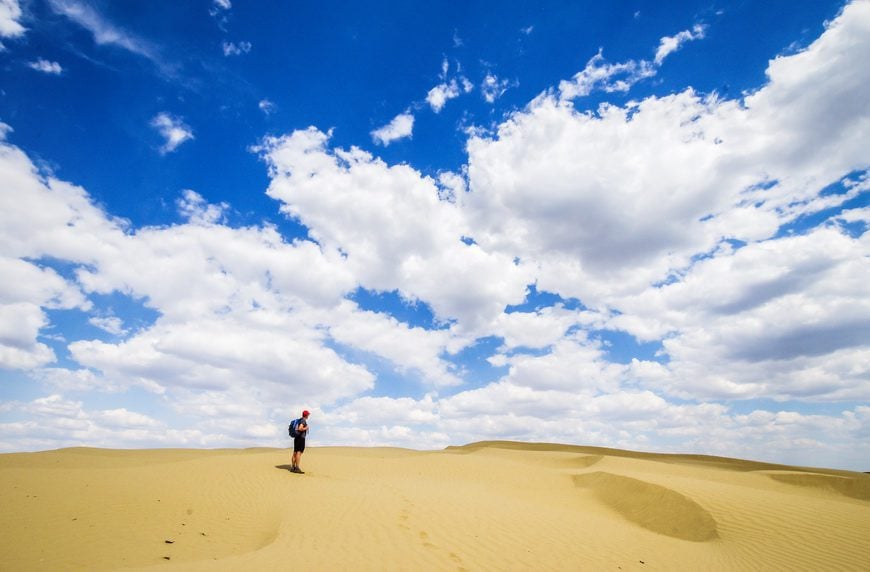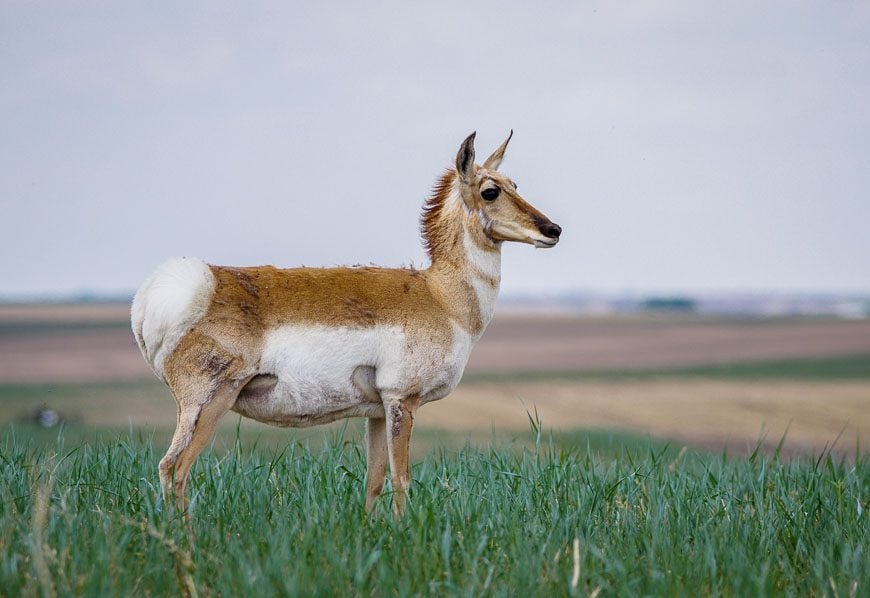 Where are the Great Sand Hills in Saskatchewan?
Make your way to either Leibenthal or Sceptre; you'll probably need a map to do that. We drove to Sceptre on Highway 32 and found the Great Sandhills Museum on the main street – closed unfortunately.
But they did have a map posted on their door of the Great Sand Hills in Saskatchewan location. You could tell it was done by a local who knew the area. Quite frankly I can't tell the difference between a gravel road and a dirt road out in the middle of nowhere.
And although there were signs for bird viewing areas, it wasn't until you were within a few kilometres of the parking lot that any signs mentioning sandhills showed up. Nonetheless we found them.
Location map of the Great Sand Hills in Saskatchewan
I'm glad we persevered in locating the sand dunes. I had been told by a few people on a couple of separate occasions, including in a restaurant in Gros Morne National Park in Newfoundland, that I really should make the effort to see the Great Sand Hills in Saskatchewan.
I'm glad I did – and you will too. Just be warned that there are no services at the dunes so bring lots of water and a picnic lunch or dinner with you. For great photography, aim to be there for sunrise or sunset.
Where to stay in the area
You won't find a lot of accommodation options around the Great Sand Hills in Saskatchewan. It's empty country. But you will find hotels in Swift Current.
These are your best bets.
Home Inn & Suites, rated fabulous, offers a free breakfast and an indoor pool with a water slide.
Days Inn by Wyndham Swift Current, rated very good, offers an indoor pool and fitness centre.
Coast Swift Current Hotel, also rated very good, comes with a daily breakfast.
Further reading on things to do in Saskatchewan
Click on the photo to bookmark to your Pinterest boards.
Thank you to Tourism Saskatchewan for helping make this trip possible.