Hiking in Grasslands National Park, Saskatchewan won't win any popularity awards. In fact only about 10,000 people per year see fit to visit the place. Yet it deserves a trip. It's a quiet landscape best appreciated by hiking an extensive network of trails.
Front-country and backcountry hiking in Grasslands National Park
The park provides both front-country and backcountry hiking experiences. But the backcountry ones are for the truly adventurous as none of the trails are marked and a GPS, map and compass are essential. Check-in at the Visitor Center for up to date information and detailed maps and trail descriptions.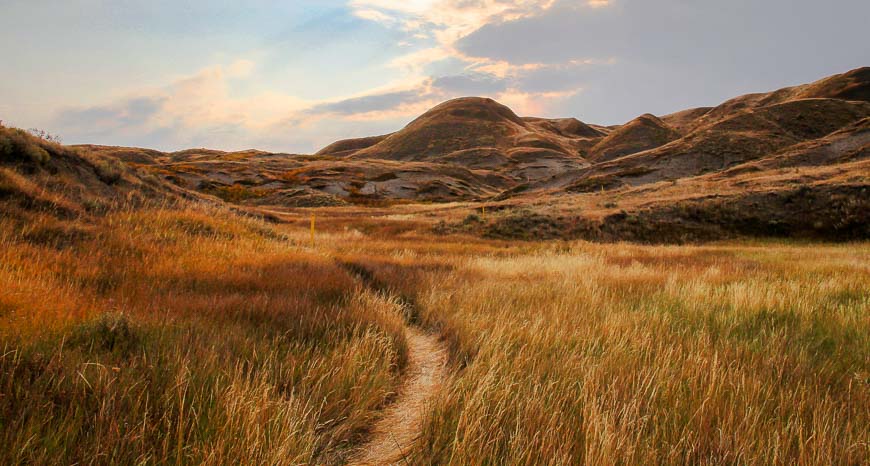 Grasslands National Park hiking
Three front country hikes – all accessible from side roads leading off of Highway 4 south of the town of Val Marie are recommended.
They include the 70 Mile Butte Trail, the Two Trees Trail and the Riverwalk Trail. If you spend 3.5 – 4 hours walking these trails you'll get a real sense of the emptiness of the land on one hand and the diversity within the prairie ecosystem on the other. But you have to look closely.
The 70 Mile Butte Trail
The 70 Mile Butte Trail includes a climb to the highest point in the park. Big, sweeping vistas, striking badlands and more types of prairie grasses than you probably knew existed greet you on this loop hike. You can't help but be surprised at the sheer variability of texture and the subtleties in colour of grasses, rocks and lichens.
The Riverwalk and Two Trees Trail
The other two hikes start from the same trailhead but head off in opposite directions. The Riverwalk Trail takes you along the banks of the Frenchman River whereas the Two Trees Trail leads you up into rolling hills with impressive views of the Frenchmen River Valley.
All three hikes offer the chance to see wildlife. Look for white tailed and mule deer, Pronghorn antelope and lone coyotes. Watch for snakes including the threatened Eastern Yellow-bellied Racer that can move up to 70 kilometres an hour – or the venomous prairie rattlesnake.
Birds are plentiful too especially the Lark bunting and Baird's sparrow. But you may also see raptors, owls, ducks and pheasants.
These hikes aren't for everyone. But if you're one of the lucky ones – who isn't afraid of solitude, or wind as your constant companion, if you know how to appreciate the lonely, wild spaces and if you've learned to value the small details, then you will feel at ease in the untouched landscape of this park.
Trip details for hiking in Grasslands National Park
Highlights: Wildlife including bison, black tailed prairie dogs, mule deer, American badgers, coyotes, badland topography, native prairie ecosystem, big skies, some of the darkest skies in Canada
Grade: Easy, family friendly
Distance: The Riverwalk Trail is 2 km (1.2 mi), the Two Trees Trail is 3.5 km (2.2 mi) and the 70 Mile Butte Trail is 5 km (3.1 mi)
Where: Southwestern Saskatchewan near the Montana border. The West Block can be accessed via Highway #4 and #18 near Val Marie.
Time Needed: A solid half day of at least four hours to do the three hikes
When: May through to October
Cost: There are no entry fees. There are fees if you want to camp overnight in the park.
Don't forget: Fill up your car well before you get near the park. Gas stations are few and far between.
Safety issues: Watch for rattlesnakes. Check yourself for ticks. Stay at least a 100 m away from bison.
Options: Don't miss the Ecotour – an 80 km round-trip driving adventure that starts and ends in Val Marie. Check out the signed stops – and learn more about the history of the area. This road allows you to see the endangered Black-tailed prairie dog and there's a good chance to see bison too.
Interesting Fact: Less than one quarter of the original mixed grass prairie in Canada remains in its natural state. It is this habitat that is so important for burrowing owls.
Need more information on Grasslands? Visit the national park website.
Further reading on things to do in Saskatchewan
Have you been to Grasslands National Park?
Click on the photo to bookmark to your Pinterest boards.