I didn't know what to expect when I planned the Nut Point Trail hike in Lac La Ronge Provincial Park, Saskatchewan. As it turns out, the strenuous hike (if you do it return in a day) follows a densely treed and rocky peninsula to its tip. At the end of the trail, rocks jut out into Lac La Ronge, Saskatchewan's fourth largest lake located in fabulous Canadian Shield country. There are a few wet, marshy sections, and for most of the trail, you only get a peek-a-boo views of Lac La Ronge. You have to reach the end of the trail for the magic to unfold.
The Nut Point trail is located just a few kilometres east of La Ronge off Highway 2. Look for signage for the Nut Point Campground near the Shell gas station. The trail starts from the campground.
This post includes some affiliate links. If you make a qualifying purchase through one of these links, I will receive a small percentage of the sale at no extra cost to you. Thank you very much for your support.
Nut Point trail hike summary
A valid park entry is required for all provincial parks in Saskatchewan. It's $11/day or $42/week. Seniors are free if they show ID.
Enjoy fantastic Canadian Shield scenery – and rocks that are almost 4.3 billion years old. It's one of my favourite landscapes to experience in Canada.
The Nut Point trail is 15 km (9.3 miles) long one way. It's best enjoyed as a backpacking trip. I tell you that from experience as I did hike 30 km (18.6 miles) in one rather longish, buggy day.
Allow 4 – 6 hours to get to Nut Point and up to 12 hours to do the return hike, depending on your pace.
Don't forget insect repellent and bug protection in the height of the summer.
There isn't a lot of elevation gain but there's plenty of up and down over the length of the Nut Point trail.
John and I spent an hour at the far end of the Nut Point trail but it wasn't nearly enough. Take my advice on this one and backpack in for a night or two. When you see how pretty the campsites are, you'll understand why.
There are no fees for backcountry camping in Lac La Ronge Provincial Park. Plan to bearproof your food if you camp at the end of the trail. Don't fotrget a carabiner and a length of rope. A waterproof bag for your food is helpful too.
You can enjoy a cold swim at the end of the trail.
You can camp right by the Nut Point trailhead in the Nut Point Campground. It is open May long weekend to Labour Day. Visit the Saskatchewan Parks website to book. Reservations open on April 12, 2023.
Take bear spray that is easy to access.
Always pack the hiking essentials.
Location map of the Nut Point Trail hike
Nut Point Trail hike details
The first half of the trail – the part that takes you to the Nut Portage – is in pretty decent shape. There are regular markers and much of the 7.5 km of trail follows granite ridges through the Boreal forest. Although you get periodic views of Lac la Ronge, the lake is actually hard to access here so be sure to carry enough water. The easiest place to refill your water bottles is at Nut Portage. Don't forget to treat your water or use a water filter.
Within a kilometre of the start of the trail, you pass through a section of forest that was burnt in the 1999 Mallard Fire. That fire took out century old black spruce trees – and the new growth is quite different.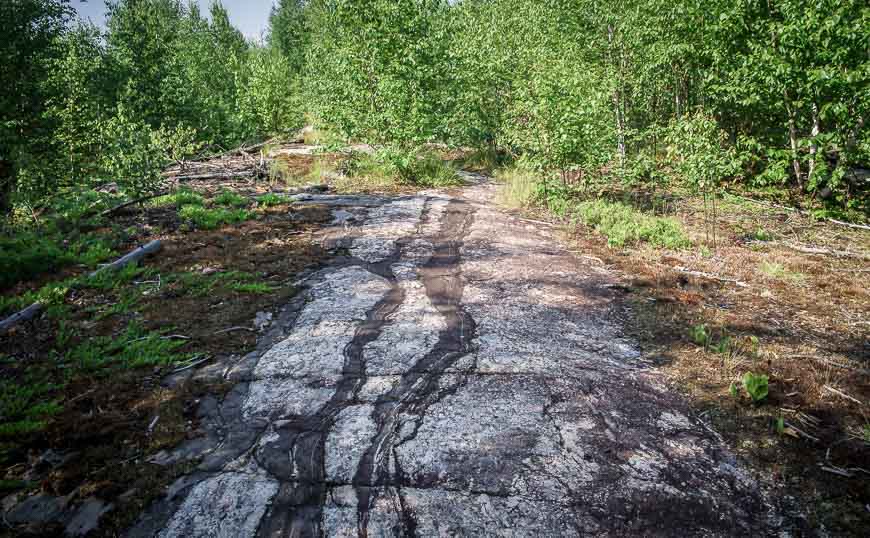 At about the 5 km mark we got our first expansive views of Lac La Ronge. It drains northeast into the Churchill River and makes its way eventually to empty into Hudson's Bay.
Much of the lake is park and what is particularly lovely about it, apart from the Canadian Shield scenery, are the 1,305 islands in the lake, making it a paddling paradise as well. In Lac la Ronge Provincial Park there are actually over 100 lakes, and 30 documented canoe routes!
For the next few kilometres after the halfway point, the trail markedly deteriorated. It was disappointing to see as it wouldn't take many days to get rid of the dead-fall and throw up a few more markers. This trail is very pretty and deserves to be kept in better shape.
Nut Portage area
When we reached the Nut Portage, we mistakenly thought the peninsula continued to narrow. But it did quite the opposite and ended up ballooning in width.
So many times on the last part of the hike, we thought the end was in sight – just to be fooled again. At least if you're canoeing, the short Nut Portage saves you 15 km of paddling.
Be prepared for bugs just in case
The day before we hiked here, we had done a hike to Grey Owl's Cabin in Prince Albert National Park. To say the bugs were a problem would be a major understatement.
In coming to the Nut Point Trail, I was worried that we would have another full day of bugs. But fortunately that wasn't the case. For most of the day we kept a head-net on, but having said that, they really weren't bad.
The end of the Nut Point Trail
When we reached the end of the trail after four hours of hiking we were both thrilled and blown away by the scene in front of us. Classic, almost Georgian Bay like scenery, with granite rock and windswept pines greeted us.
It's a gorgeous area to camp for a few nights. Views are expansive, the swimming is excellent – if still a little cold – and the feeling at least on a weekday was that we had the entire park to ourselves.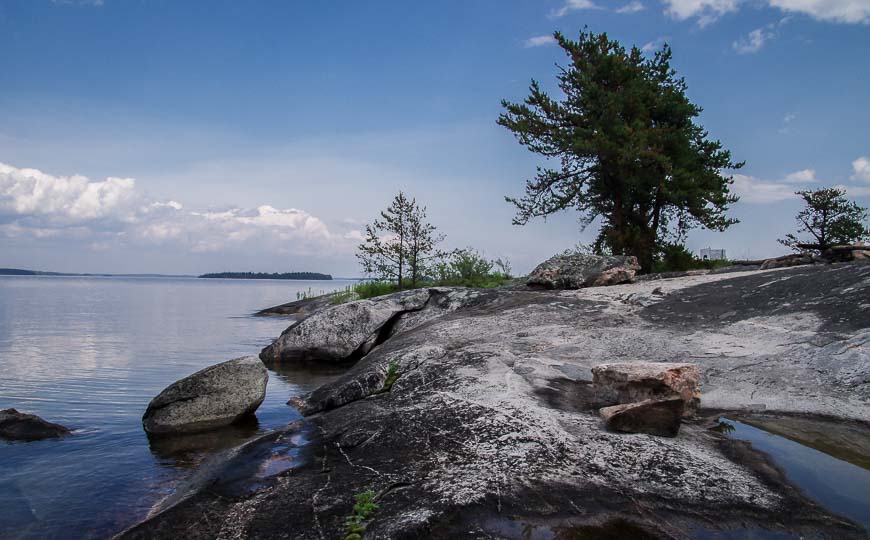 A few things you'll want to take on the Nut Point Trail
Do not think of hiking in this part of Saskatchewan in July without a bug jacket and a head net. I guarantee you'll enjoy the outdoors way much more. And don't forget the insect repellent. I'd recommend repellent that has some DEET in it. You might not need that in the city but you need it here.
What I take on every hike
I like something comfortable to sit on at lunch time. It can be your mitts on a warm spring day but in summer I swear by my almost weightless seat cushion.
I like using hiking poles. Invest in a good pair that are collapsible, preferably made of carbon because of their weightless quality.
No matter how the day starts I always carry rain gear. And I find a ball cap or brim hat with a chin strap invaluable in the rain or on a hot, in your face sunny day.
I always pack a buff as it's a multi-purpose piece of cloth yet it takes up almost no room.
Have you ever hiked this trail or done a canoe trip through Lac La Ronge Provincial Park?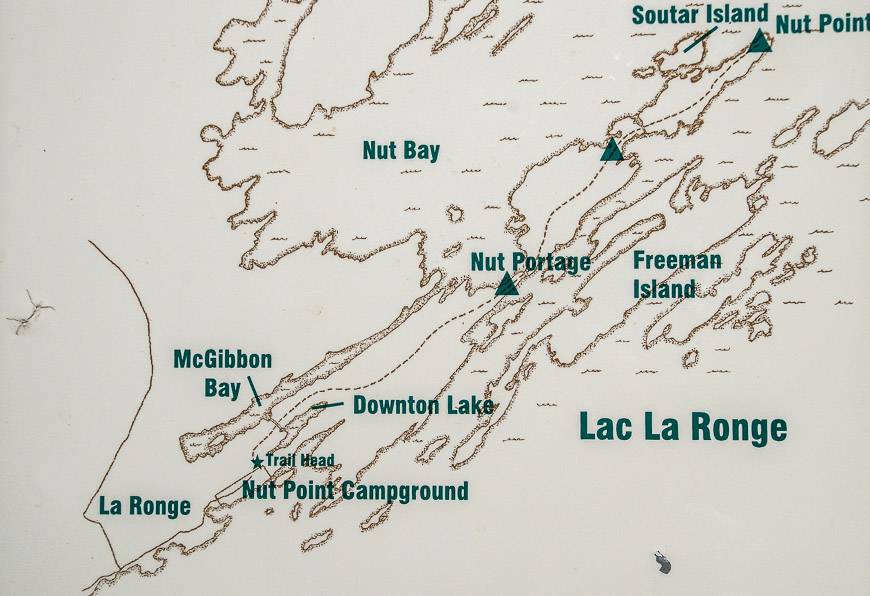 Further reading on what to do in Saskatchewan
Click on the photo to bookmark to your Pinterest boards.