I finally made it to Regina this past summer – the last of the Canadian cities for me to visit. Even though Regina is a prairie city, it's green and lush thanks to 350,000 hand-planted trees. With truly fabulous restaurants, a passionate fan base for the Saskatchewan Roughriders football team and one of the largest urban parks in North America, I'd certainly recommend a visit.
Enjoy these 29 fun and interesting facts about Regina. Here's what you can do in the city- 8 Awesome Things to do in Regina Right Now
1. Regina became the capital of Saskatchewan in 1905.
2. Regina started off as a hunters' camp in the 1880's. Back when the buffalo still roamed the prairies it was called Pile O'Bones for all the bones left there after skinning and cutting buffalo.
3. Regina is the 16th largest city in Canada. The population of Regina as of July 1, 2018 was 257,337 people – according to Statistics Canada. Its growth rate is about 2.2%. Of that 14% are 65 years or older. Eighteen percent of the population is under 15 years of age.
4. Regina sits at an elevation of 577 metres above sea level. It's mostly flat with a maximum elevation change of just 43 feet within 3.2 km of Regina.
5. Regina is the closest city to the centre of North America.
Business facts related to Regina
6. Of the top 500 corporations by revenue in Canada, five are headquartered in Regina. They include Crown Investments Corp. of Saskatchewan, Saskatchewan Worker's Compensation Board, the Saskatchewan Auto Fund, Saskatchewan Liquor and Gaming Authority and Saskatchewan Telecommunications Holding Corporation.
Weather in Regina
7. The hottest temperature ever recorded in Regina was 43.3°C on July 5, 1937.
8. Regina usually endures 201 days a year when the minimum temperature is at 0 °C or below.
9. The length of the day in Regina is highly variable. On the summer solstice Regina gets 16 hours, 27 minutes of daylight. On the shortest day of the year it gets 8 hours of daylight.
10. In Regina – and all of Saskatchewan, daylight savings time is not observed.
11. The earliest sunrise is 4:46 AM on June 17th. The earliest sunset is 4:54 PM on December 12.
12. Canada's deadliest tornado spinning at a speed of 400 km/hour occurred in Regina on June 30th, 1912. It killed 28 people and destroyed a lot of the town. In fact it took two solid years to make all the repairs but 40 years to pay it off.
RCMP Depot Division
13. Every last one of Canada's Royal Canadian Mounted Police have undergone a rigorous six-month training program at Regina's RCMP Depot. They've been doing it in Regina since 1885. Take a tour to learn what it takes to become a Mountie.
14. Louis Riel was hanged for treason on November 16, 1885 at the North-West Mounted Police barracks in Regina.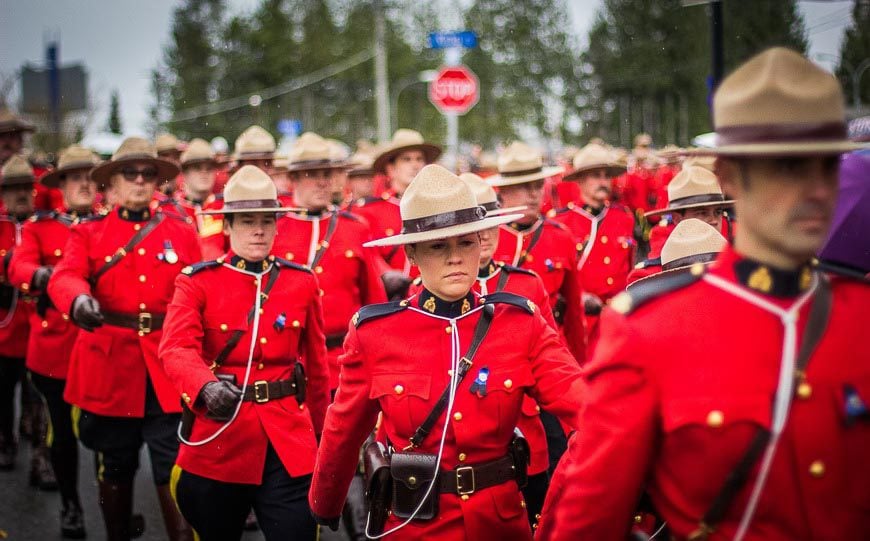 15. The longest running historical theatre production in North America – the Trial of Louis Riel is reenacted every summer in Regina by local performers. The play, written in 1967, is based on the original transcript from the trial of 1885.
The not so great Regina History
16. The first Gay Pride Parade in Regina was held in 1990. You could still discriminate against somebody in Canada for their sexuality so parade participants covered their faces with masks to avoid detection.
Saskatchewan Roughriders
17. Regina is synonymous with football. The Saskatchewan Roughriders are a good team but their fans, Rider Nation are tops. In fact of all Canadian sports teams including hockey, the Roughriders have the third highest merchandise sales. At a Roughriders football game you can expect to see fans sporting real watermelon helmets and pilsner beer capes.
Wascana Centre
18. Regina's Wascana Centre, built around Wascana Lake is huge, as in it's bigger than Vancouver's Stanley Park and New York City's Central Park combined.
19. Wascana Lake was created in 1883 by damming Wascana Creek.
20. In 1961, Minoru Yamasaki, the architect who designed the original World Trade Center in New York City, was commissioned to prepare a 100-year master plan for all of Wascana Centre.
21. At the western edge of Wascana Lake look for Albert Street Memorial Bridge. It's the longest bridge over the shortest span of water in the world.
22. Wascana Park provides free grain to feed the birds. Head for the Waterfowl Display Ponds across from the Conexus Arts Centre. Feed Stella the swan along with huge numbers of Canada geese and ducks. You are encouraged to bring leafy greens for the birds but not bread as it isn't good for them.
23. Wascana Lake beckons outdoorsy types. You can rent kayaks and SUP's and explore the lake on one of Regina's numerous sunny days.
The Saskatchewan Legislative Building
24. The beautiful Saskatchewan Legislative Building in Regina at the time cost 1.75 million US dollars to build. It was built in the Beaux Art style over four years beginning in 1908. In 2005, the legislative building and its grounds were designated a National Historic Site of Canada. Tours focusing on the history and architecture of the building take place seven days a week. You can get more information here.
25. Thomas Walter Scott, whose statue is on the grounds, was the first premier of Saskatchewan with his term running from 1905-1916.
25. The Queen Elizabeth II Gardens offer gorgeous flower displays during the spring and summer. Every year approximately 25,000 annuals are planted in the garden. The rest of the Legislature grounds aren't forgotten. Another 5,000 flowers are planted throughout the grounds. It's really a beautiful sight.
Interesting facts about Regina with regards to The Hotel Saskatchewan
26. I stayed at the lovely Hotel Saskatchewan on my visit but not in the bullet proof Royal Suite. Famous guests include Queen Elizabeth II, Paul McCartney, Bill Clinton and Jon Bon Jovi.
27. Every day at 5 PM in the well-appointed lobby bar in the Hotel Saskatchewan you can get a taste of what it was like to be naughty back in the time of American Prohibition. Listen for the bell followed by a toast. Then its shots of whiskey all-round. If you order their Prohibition Tea you'll get a boozy drink that looks like tea served in a proper teacup like your grandmother had.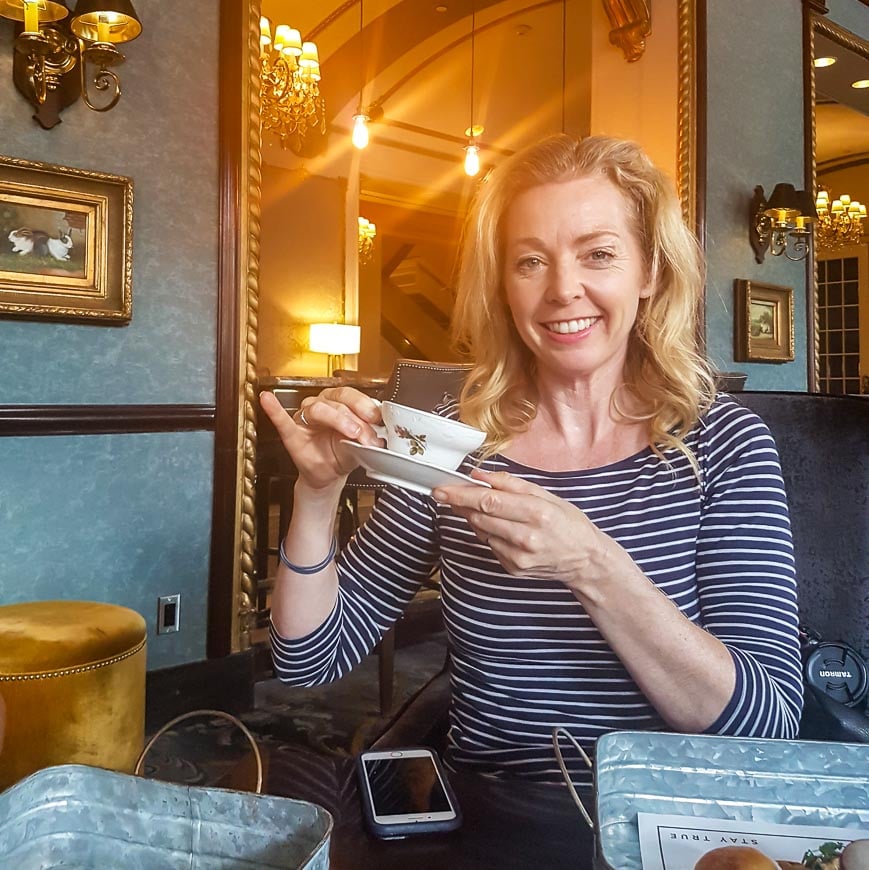 Interesting facts about Regina – lots of famous people from here
28. Some of the famous people from Regina include Erik Nielsen (lawyer and politician), Ralph Goodale (lawyer and politician), Jordan Eberle (NHL hockey all-star), Julia Voth (actress & model), Justin Warsylewicz (Olympic speed skating silver medalist), Lucas Markian Makowsky (Olympic speed skating gold medalist), Ryan Getzlaf (NHL hockey all-star), Ben Hebert (Olympic curling gold medalist), Atina Ford, Olympic curling gold medalist (born Oct. 12, 1971), Mark McMorris (X-Games snowboarding champion) and Leslie Nielsen (a Canadian- American actor).
Universities in Regina
29. The First Nations University of Canada, specializing in indigenous knowledge is located in Regina. Both Indigenous and non-Indigenous students alike can attend the university.
Other post-secondary institutions include the University of Regina, Graduate School of Public Policy University of Regina, Western Christian College, Campion College and the Saskatchewan Institute of Applied Science and Technology, Wascana.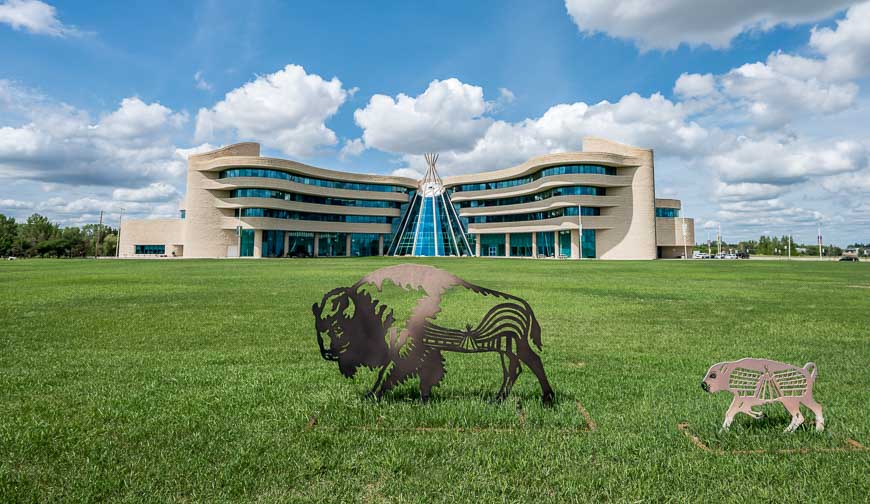 Further reading on Canada and Saskatchewan
Click on the photo to bookmark to your Pinterest boards.