One of the easiest hikes to do in Kananaskis Country is the hike to Elbow Lake. It's only 1.3 kilometres in from the trailhead with about 137 metres of elevation gain. If you're a keen hiker that won't be enough. Fortunately one of the options to extend the Elbow Lake hike is to continue to Rae Glacier.
The hike to Elbow Lake is ideal for families. And it makes a great first camping trip. You can knock it off in under an hour if you're fast (not so if you include Rae Glacier) so it would combine well with the Ptarmigan Cirque hike if you wanted more exercise.
There are also other hiking options from Elbow Lake including fabulous Piper Pass, Rae Lake, Tombstone Lakes and Edworthy Falls.
This post includes some affiliate links. If you make a purchase via one of these links, I will receive a small commission at no extra cost to you. Thank you very much for your support.
Elbow Lake – Rae Glacier hike details
Distance: To Elbow Lake – 2.6 km return plus approximately 5.5 km (3.4 miles) return to Rae Glacier for a total of 8.1 km or 5.0 miles
Elevation gain: To Elbow Lake – 137 m (449 feet) plus 229 m (751 feet) to Rae Glacier for a total of 366 m or 1,200 feet.
Best time to hike: Mid-June when Highway 40 opens until late October
Time needed: 3 hours
Family friendly: Very family-friendly to Elbow Lake because its short. Older kids will have to problem with the Rae Glacier hike.
Backcountry campsite: Yes at Elbow Lake.
Weather: Be sure to check the weather forecast before you go.
Permits: You will need a Kananaskis Conservation Pass to do the Elbow Lake – Rae Glacier hike.
Dogs: Permitted on a leash.
Bears: Carry bear spray just in case – that's quick to access.
Don't forget: Always pack the 10 hiking essentials, including a first aid kit and a headlamp, even on an easy hike.
The hike to Elbow Lake from the trailhead
It's a popular hike to Elbow Lake – in part because it's short. However it is a steep hike from the get-go, climbing 137 metres to the lake. The trail is on an old fire road through the forest. It's very obvious and not that interesting until you reach the lake.
Be sure to do a full circuit of Elbow Lake on foot as it's very pretty from different angles. If you hike it in a counter-clockwise direction you'll reach the junction with the Rae Glacier trail.
Continue on a well-worn path to a river crossing of the Elbow on wooden planks. Make your way along the western shore of the lake on a fire road, stopping to admire the blues of the lake and the pretty mountain backdrop.
Keep an eye out for mountain bikers as the trail connects to a network of excellent biking trails in eastern Kananaskis Country so it's a favourite. Horseback riding is also allowed.
Backcountry camping at Elbow Lake
Elbow Lake is a very popular campground, especially for young families. As you can see in the photo below, most of the campsites are in the trees. But if your timing is right you might be lucky and score a campsite with a view of Elbow Lake from your tent.
In 2022 the campground was revamped, so I'll have to go back and see what the new one is like.
There are bear-proof lockers and outhouses as well as several picnic tables some distance from the tents for cooking. Firewood is provided.
For information on booking campsites and important dates visit the Alberta Parks website. Be prepared to book as soon as the dates open up especially if you're trying to score a summer weekend.
Elbow Lake to Rae Glacier hike
Continue counter-clockwise around the east shore of Elbow Lake to reach the turnoff to Rae Glacier. There isn't any signage but there is a piece of flagging tape. The intersection is about halfway along the length of the lake.
Turn right onto a rocky trail heading northeast. Follow the path up a rib. At the top there are some pretty views of three mountains – Rae, Tombstone and Alpaca.
Continue along the rib eventually descending towards the creek. Stay to the right side of it on the scree. In short order the creek heads left. The névé above the small waterfall – five photos down, is the source of the Elbow River. While you can explore the area around the waterfall the trails here won't get you to Rae Glacier.
Instead stay right and climb on moraines to the Rae Glacier. Go as far as you feel comfortable. From Elbow Lake to Rae Glacier gain 229 m over a distance of just 2.2 km.
Descend the way you came but consider continuing anticlockwise around Elbow Lake to get back to the trail coming up from the parking lot.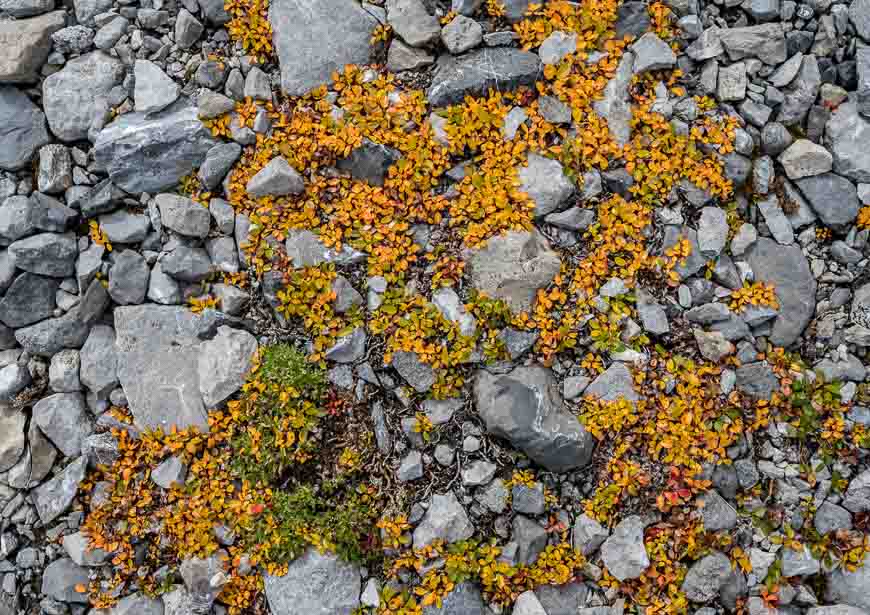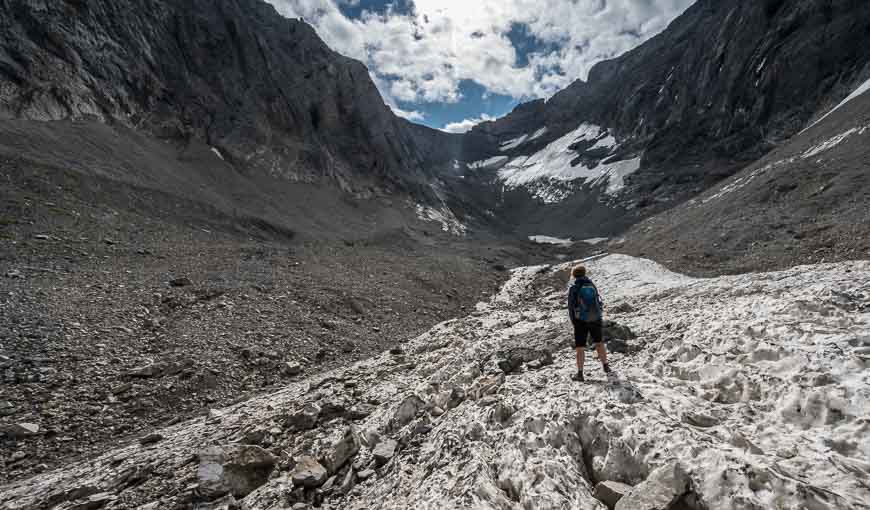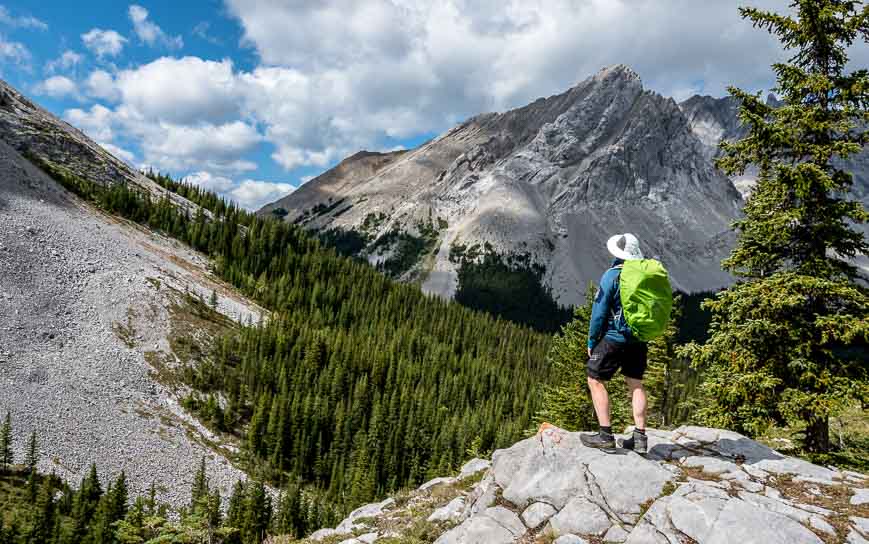 Finding the Elbow Lake trailhead
From Calgary take the Trans-Canada Highway west to the Highway 40 turnoff. Turn south on Highway 40 and follow it for about 62 km. The well-signed trailhead – Elbow Pass Day-Use Area is on the east side of the highway.
Note that Highway 40 is closed from December 1 – June 14th every year beginning just past the junction with the Smith-Dorrien Road. There is a winter gate.
5 things I take with me on most hikes
For something comfortable to sit on at lunch time I recommend the almost weightless inflatable seat cushion. It's great on wet days too.
I like using hiking poles, especially when a stream crossing is involved. It's worth the money to invest in a good pair that are collapsible, and lightweight.
I always carry rain gear no matter what the forecast. I find a brim hat with a chin strap invaluable in the rain or on a hot, in your face sunny day.
I love having a buff with me. It weighs almost nothing but can keep you head and neck warm or cold if dipped in water, keep your hair out of your face on a windy day and about 10 other uses.
In summer half gaiters are ideal for keeping pebbles and sand out of your shoes.
Where to stay in Kananaskis Country
If you didn't score a campsite at Elbow Lake, read my blog on front-country camping in Kananaskis. There are lots of first come, first served campsites, so you should find something.
Other options include Sundance by Basecamp – located off Highway 40 near the Nakiska Ski Resort turn-off. You'll find trappers tents and teepees.
The Kananaskis Wilderness Hostel is in a good location near some the Ribbon Falls trailhead.
For a higher end experience book a room in Kananaskis Mountain Lodge.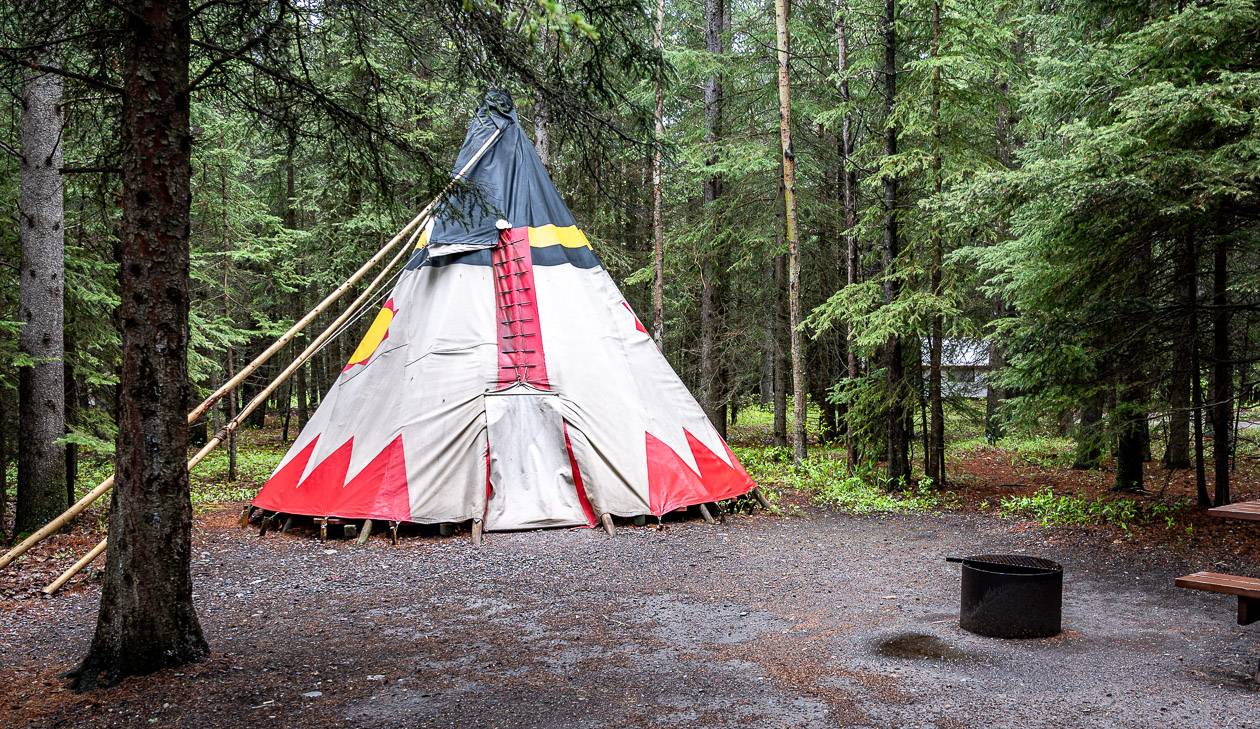 Further reading about nearby hikes in Kananaskis Country
Click on the photo to bookmark to your Pinterest boards.