The Piper Pass hike in Kananaskis Country's Elbow-Sheep Wildland Provincial Park is fantastic. It exceeded all expectations in that it was easier and more beautiful than I thought it would be – and it was devoid of people. It's one of a number of hikes you can do from the Elbow Pass Day-Use area and I think it's the prettiest of the lot. You can do it as a long day hike from Highway 40 – or as a shorter day hike from the Tombstone Campground which is what we did as part of a multi-night stay.
In Kananaskis Country as many of you know, numerous trails are unofficial and lacking in any kind of signage. The Piper Pass hike is on one such trail. It is marked simply by a cairn at the side of the trail that ultimately takes you to the Tombstone Campground and onto the Tombstone Lakes. Once you're on it, the rest of the route is straightforward, despite the fact you have to make one easy river and stream crossing.
Check the Kananaskis Trail report before you go and be sure to purchase a Kananaskis Conservation Pass.
Summer 2022 – Supposedly the trail is temporarily closed for construction but after looking online, I am wondering if that only relates to the Elbow Lake Day Use Area. It would be worth speaking with someone before you go. Construction will be finished by November 2022.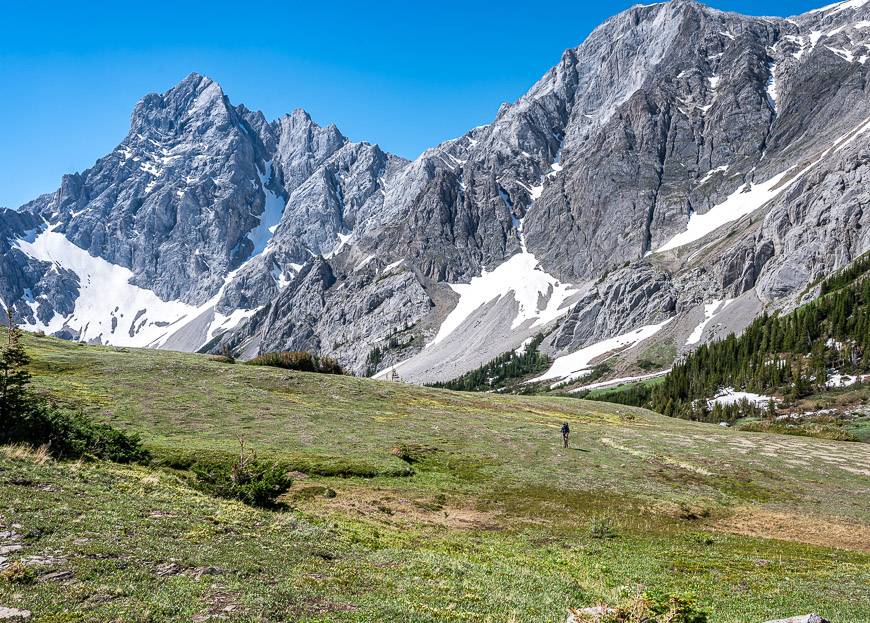 This post includes some affiliate links. If you make a qualifying purchase through one of these links, I will receive a small percentage of the sale at no extra cost to you. Thank you for your support.
Piper Pass hike route description
Total distance from the trailhead on Highway 40: 24 km; 14.2 km return from the Tombstone Campground
Elevation gain: 617 m from the parking lot
Time needed: 7-8 hours as a day-hike; allow 5-6 hours return from the Tombstone Campground
Dogs allowed: Yes on a leash
Map: Take a copy of the Gem Trek Kananaskis Lakes map.
The Piper Pass hike starts at the Elbow Pass Day-use area on Highway 40, 62 km south of the Trans-Canada Highway or 5.1 km north of Highwood Pass. On busy weekends you'll be directed to park along the highway. Don't be dissuaded by the number of people and cars. Most people stop at Elbow Lake.
Head up the steep road for 1.3 km to reach Elbow Lake. Follow the trail around the west shore of the emerald-green, crystal clear lake. When you get to the north end of the lake, look for a log over a creeklet. Cross it and go left. Follow the trail (though it's more road like) for a total mileage of about 3.8 km past the lake.
Along the way, you'll pass a large rock on the left with writing on it. That trail will take you on a short but worthwhile detour to Edworthy Falls. After the falls detour, you've got another 1.4 km to reach the intersection with the Piper Pass Trail. It's on the left and is marked by a cairn – see photo below. There's another cairn on your right, just 100 m up but that trail leads to Rae Lake.
Route description from the start of Piper Pass trail to Piper Pass
Once you're on the Piper Pass trail, it's very straightforward. You'll be on it for the next 5.0 km to the top of Piper Pass. Descend to the Elbow River and cross it. A pair of water shoes come in handy here.
Climb out of the gorge and hike through trees to reach Piper Creek. Ford it. Then follow the trail as it heads for Piper Creek Canyon. Although the trail steadily climbs through the trees, it's at a moderate rate with the odd great view.
After approximately 30 minutes, reach wildflower-studded subalpine meadows. I saw lots of alpine forget-me-not (my favourite high alpine flower), yarrow, and enough other wildflowers that I wish I had carried a copy of my wildflower guide with me. This is a stunning section so take your time and enjoy it.
The way forward once you clear the trees is obvious even though the trail comes and goes. Basically, you're heading for the giant boulder at the bottom of the dark-coloured scree slope off in the distance. Climb the talus slope on a boot-beaten trail. It will take you 20 – 30 minutes to get from the giant boulder to the pass. Piper Pass is an an elevation of 2580 m or 8465 feet. It's an excellent place to survey the mountains. Elpoca Mountain (3029 m) is the big one you'll see if you look back in the direction you came from.
Retrace your steps to the main trail. Go right to return to your car at Elbow Pass Day-use area and left to head to Tombstone Campground.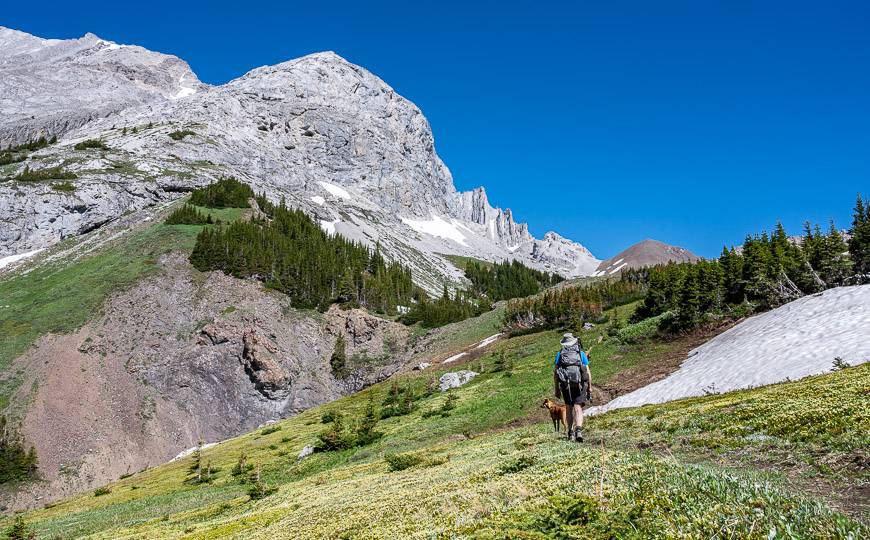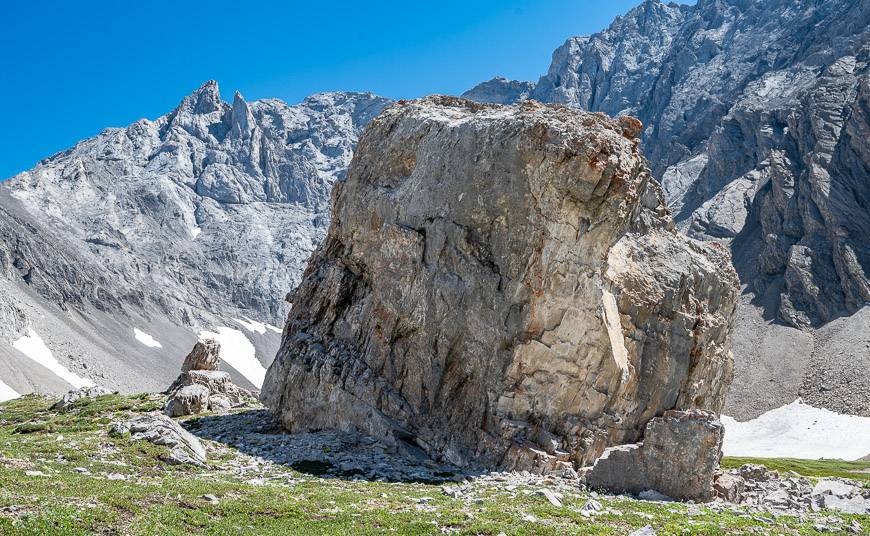 A few things for the Piper Pass hike
We didn't so much as see bear scat but I'd still recommend carrying a can of easy to access bear spray.
If it's a hot day, you might want some water purification tablets so you can refill water bottles and drink safely.
Don't forget the hiking essentials, a warm coat – because it is the mountains – and a ball cap or wide brim sun hat.
Where to stay before of after the hike in Kananaskis
There are lots of camping options in Peter Lougheed Provincial Park but Canyon Campground is the only one that is first come first served.
For a hostel, try the Kananaskis Wilderness Hostel near the Ribbon Creek parking lot.
For upscale options check out Mount Engadine Lodge or Kananaskis Mountain Lodge.
Location map
Further reading on hiking in Kananaskis
Click on the photo to bookmark to your Pinterest boards.