The Eiffel Lake hike in Banff National Park is one fantastic outing with only one downside – getting to the trailhead in light of the fact that the road to Moraine Lake is no longer open to personal vehicles. (See below for shuttle services as of 2023.) There is nothing difficult about the Eiffel Lake hike. There are no route-finding issues and the 11.2 km return distance and 400 m (1,312 feet) elevation gain are well within reach of any regular hiker.
Despite the fact this is a moderate hike, I did it with Joel Hagen, a guide, nature interpreter and co-owner of Great Divide Nature Interpretation. There aren't many occasions that I do a guided hike, but every time I do, I come away richer for the experience. The Eiffel Lake hike was no exception.
This post includes some affiliate links. If you make a qualifying purchase through one of these links, I will receive a small percentage of the sale at no extra cost to you. Thank you very much for your support.
Eiffel Lake hike summary
Distance: 11.2 km (7.0 miles) return
Elevation gain: 400 m or 1,312 feet
Time needed: 4 – 6 hours depending on your pace.
Difficulty: Easy to moderate
Dogs allowed: Perhaps in theory but getting a dog on a shuttle bus may be a problem.
Crux of the hike: Getting to the Moraine Lake trailhead
Before I started the Eiffel Lake hike
Before I even showed up at the Lake Louise Visitor Centre to meet Joel, I received a full email package from him with information that would be particularly helpful to people new to Banff National Park. For instance, he describes the pros and cons of hiking in each of the summer months. He discusses whether you should rent a car on a hiking vacation and offers suggestions on where to stay and where to eat across a range of price points.
He also offers numerous useful links on his website including one to purchase your national park pass so you have it in hand before you arrive. In fact, his Lake Louise trip planning list is so comprehensive, that it's useful for local people that only visit the Banff – Lake Louise corridor on occasion.
The night before we hiked, I received a phone call from Joel. He likes to have a quick chat with all clients beforehand to make sure they come prepared with the right clothing and gear. He answers any questions, provides and confirms the meeting place and time.
Interestingly, he recommends Environment Canada's Yoho National Park weather forecast – but suggests subtracting one or two degrees for Lake Louise. He calls the Weather Network's forecast for Lake Louise fiction.
He also says "After many years, I have one strong piece of advice: planning your trip around weather forecasts here is not worth your time. The forecasts cannot be relied upon even one day in advance. Mountain weather changes very quickly."
Getting to Moraine Lake in 2023 and onwards
Life got more complicated in 2023 as personal vehicles are no longer permitted on the road to Moraine Lake. Here are your best options to get to the Eiffel Lake trailhead.
Bike the Moraine Lake Road
You can bike up Moraine Lake Road – and then lock your bike and do the Eiffel Lake hike. Allow about an hour biking in and a half hour coming out. It's approximately 11 km each way with about 160 m of elevation gain going in.
Take the private Moraine Lake shuttle
New this year is a Moraine Lake and Lake Louise bus offered privately at $35/adult and $25/child. They are your only option if you want to get to Moraine Lake at sunrise as they leave Samson Mall at 4 AM. I would guess you would book a return later in the afternoon so you could still do the Eiffel Lake hike.
Book Roam Transit and a Parks Canada shuttle
Yet other option is to park in Banff and take Roam Transit to Lake Louise. Summer reservations open in early May. Then transfer to a Parks Canada shuttle on a first come, first served basis. Or book a Parks Canada shuttle that will take you directly to Moraine Lake from the Lake Louise Ski Resort. Shuttles and transit take the stress out of wondering if you're going to get a parking space.
Take the Fairview Limo
Another option I learned about through Joel was Fairview Limo. They offer round trip transportation to Moraine Lake from Samson Mall in Lake Louise Village on a first come, first served basis for $25 per person. They will take reservations for groups.
Eiffel Lake hike trip report
The trail to Eiffel Lake shares the same trailhead as the one that goes to Larch Valley and Sentinel Pass. Walk past Moraine Lake Lodge. At the trailhead sign go right. You'll also see a sign that recommends hiking with a group of four or more since you're walking in grizzly bear country. It's been a few years since the requirement to hike in tight groups of four has been in place, but that could change at any time.
After climbing 10 switchbacks that take you through the forest, you'll have knocked off 350 metres of the total 400 m elevation gain for the day. At the signed junction go left.
From the junction until you reach Eiffel Lake, the trail moderates, climbing gently across wildflower-studded sub-alpine slopes for a further 3.2 km. There were a few snow patches to contend with but with careful foot placement you're across in seconds. Allow about 4 – 5 hours to do the return hike.
What I learned on the Eiffel Lake hike
Along the way, Joel and I stopped to discuss all manner of things related to how he framed the hike – calling it Moraine Lake is more than a pretty picture. He covered everything from birds to glaciers to wildflowers, and mapmaking to larches and avalanches. He is a former Parks Canada interpreter with a designation as a master interpreter. He knows his stuff!
The storytelling started in earnest once we hit the main trail to Eiffel Lake with stops to listen to the birds we heard. In no time Joel had identified the varied thrush, hermit thrush, fox sparrow and the golden-crowned kinglet, apparently the smallest songbird in North America weighing in at all of 7 grams. We also stopped at any wildflowers that caught our interest.
Fay Glacier
Across from the Fay Glacier, Joel pulled out some old photos showing the Fay Glacier from 1902, with me obviously able to look at in the present to see how much it has retreated. I think we have all seen before and after photos of glaciers but seeing the diminutive size of the glacier in front of you really drills home how much smaller it is now.
Rock flour
Then he got into how rock flour is made – and the importance it plays in making any alpine lake with glacier runoff the fantastic, almost surreal looking turquoise colour that you find in the Canadian Rockies. Eiffel Lake does not receive any rock flour so its just an average lake – but still spectacular in my opinion.
In his knapsack, Joel retrieves a vial of rock flour – with pieces of rock so fine that they look more like dust. They're between 4 – 6 microns in size, a unit of measurement equal to one millionth of a metre. They remain suspended in water, absorbing every colour of the rainbow but the short blue wavelength.
On sunny days, all that rock flour reflects the blue back creating the incredible colours so many of Alberta's glacial lakes are known for. However, too much of a good thing – eg. too much rock flour, causes the water to look grey or white, something you'll find at the base of a glacier in the shallow water.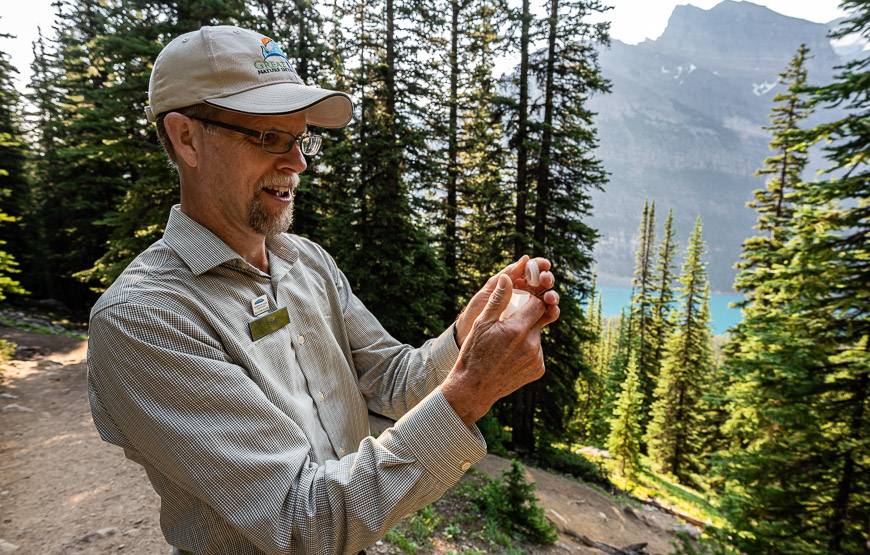 Peak naming in the Valley of the Ten Peaks
I also got a lesson in peak naming. The Eiffel Lake trail follows the Valley of the Ten Peaks to Wenkchemna Pass. Wenkchemna is the Stoney word for 10. When you start counting mountain peaks in the valley, Joel will make you wonder how they included the peaks they did. The first peak should be Mount Babel, the closest one to Moraine Lake, but it is in fact excluded. Peak number one is Mount Fay and Peak number 10 is Wenkchemna Peak on the north side of Wenkchemna Pass. It remains a mystery why that peak was included.
All 10 peaks are over 10,000 feet tall with the highest, peak 8 or Deltaform Mountain coming in at 11,234 feet. All have been climbed.
Grouseberry – food for bear and grouse
After that stop we continued – admiring the stunning number and variety of wildflowers. One I found particularly interesting. It's a small green bush called grouseberry that is in the blueberry family. It puts out minute flowers followed by tiny berries you must be at ground level to see. Both grouse and bears love the berries with the bears simply mouthing the bush and moving on quickly, leaving the leaves behind.
Pollination
We also discussed pollination and the important role of not just bees but flies (I'd never considered them before) and hummingbirds play in pollinating flowers. Hummingbirds are particularly adapted to pollinating Indian paintbrush pictured in red below.
Look for bear activity along the Eiffel Lake hike
Then we got into a discussion of bears, especially as the Eiffel Lake hike runs through serious bear country. While I have noticed major diggings before when the bears go after ground squirrels, I never really appreciated how many rocks bears might move in an area.
In one area along the trail, large rocks were moved helter skelter while the bears went after ants – a good protein source. As Joel puts it – "bears switch from food to food all summer long looking for the greatest number of calories per effort expended."
The Eiffel Lake hike goes through larch country
Before we reached tree line, Joel brought up another interesting topic – larches. Unlike the alpine fir you see at slightly lower elevations, larches don't need to winterize their new growth every season. Instead, they just drop their needles so they are particularly well adapted to sneaking in at higher elevations, usually the last 150 m before tree line.
You won't find them in many locations, but when you notice drifts of them on summer hikes, take note and return the third week of September for their fall foliage display.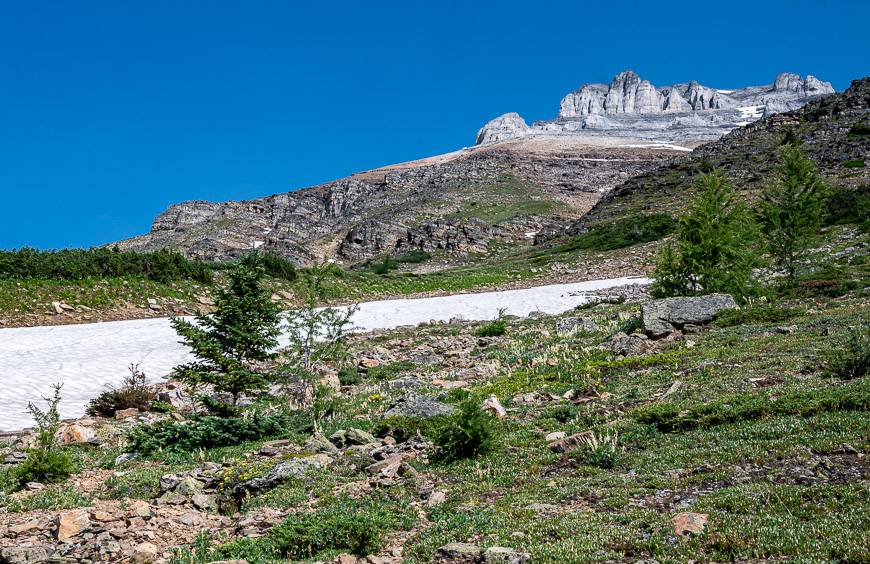 An incredible guided experience
We took six hours to do the Eiffel Lake hike including at least 30 minutes at lunch time, at a pace that was never rushed. I would wholeheartedly encourage anyone looking for a guided experience to sign up with Joel. Ask him anything nature related and he'll have a thoughtful answer.
Where to stay in the Banff – Lake Louise corridor
In Banff, I would highly recommend the Moose Hotel – one of my faves since it opened a few years ago.
Near Lake Louise, Baker Creek by Basecamp is an excellent choice.
Closer to the lake itself, try Paradise Lodge & Bungalows. Or check out the Lake Louise Hostel if you're on a budget.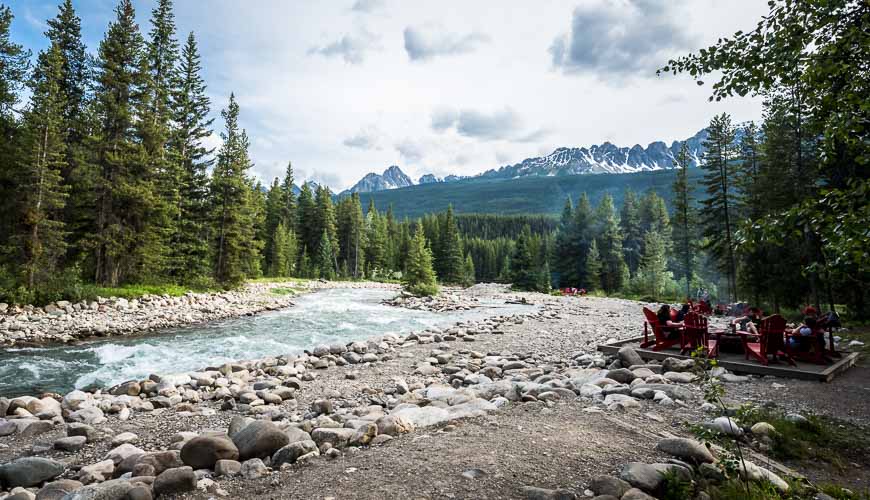 Location map
Thank you to Banff Lake Louise Tourism for hosting my stay and to Joel for making my hike a memorable one. If you want more information on visiting the Banff Lake Louise area check out their website.
Further reading on Lake Louise – Moraine Lake area hikes
Click on the photo to bookmark to your Pinterest boards.