In larch season in Alberta seemingly sane people do insane things. Take myself for example. I rose at 3:15 AM and was in the car driving towards Lake Louise by 3:30 AM. I had been closely monitoring the weather forecasts across three stations and was keen on picking a clear day in the mountains. Even though the forecast wasn't ideal, the weather looked to be worsening over the week so I went. (It turned out to be a way better day than forecast!) My goal was to do the Larch Valley hike plus Sentinel Pass in peak larch season. And I needed a parking spot but more on that later.
I've done this hike before but it was many years ago in the summer. It was a delight then, but for sheer in-your-face beauty I think the prime time to go is actually larch season, which is typically the last couple of weeks in September. I nailed the timing for the Larch Valley hike – getting it at the peak for larch colours. And you can still make it – but the window is narrow with 7 to 10 days left. By the beginning of October, most larch trees have shed their needles.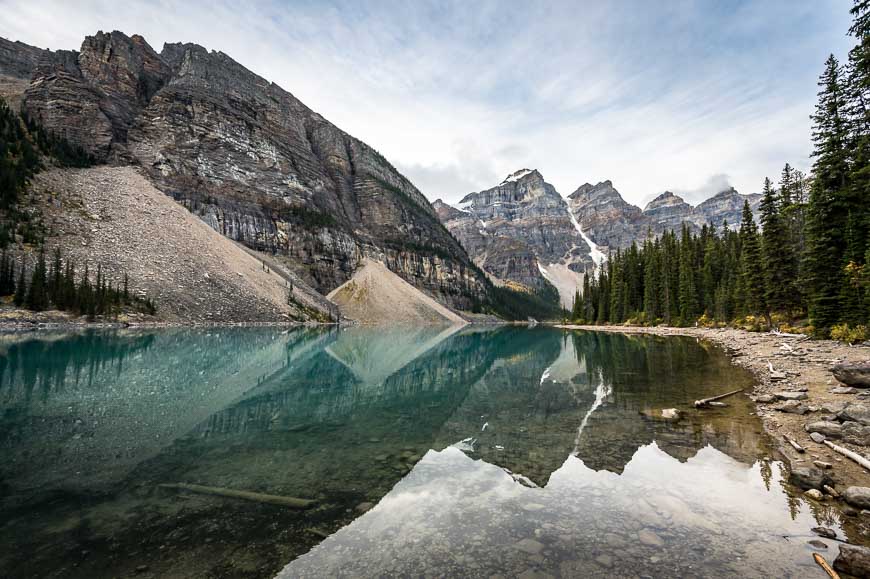 Larch Valley hike – and why you need to get up in the wee hours
The Moraine Lake parking lot looks large. I don't know how many cars it holds, perhaps 150 along with room for maybe a dozen RV's. The problem is that this part of Banff National Park has skyrocketed in popularity since I moved to Calgary nine years ago.
Rather than be turned back at the turnoff to Moraine Lake (not sure what hour they start monitoring but I'm guessing between 7 AM and 8 AM) and being forced to drive a circuit between Lake Louise Village and the main Lake Louise parking lot – with the hope of an opening to drive towards Moraine Lake, I elected to go early enough to catch both the sunrise over Moraine Lake and an early morning hike to Larch Valley. I nabbed one of the last parking spots even though I was in the parking lot by 5:45 AM.
At least I was able to doze for 45 minutes before heading to Moraine Lake for sunrise.
Obviously most people don't want to get up as early as I did. Fortunately, after the photos have been taken at sunrise, much of the parking lot empties to be filled with hikers. Ideally you need to be there to catch that window which is in the 7:30 AM – 8 AM range. Try to go on a weekday.
There is the option to take ROAM – which is public transit – from Banff and the Lake Louise Park and Ride, 6 kilometres east of Lake Louise Village. Check their schedule beforehand.
What about bears on the hike to Sentinel Pass?
Normally you have to form a group of four to do the Paradise Valley or Larch Valley hike as the trail traverses prime grizzly bear habitat. If the sign below had been ticked off as mandatory – and I went anyway, I could incur quite a nasty fine, at least if I got caught.
Though I would never do that, and I was quite prepared to form a group of four with strangers (most people are accommodating), I was surprised but happy that I could hike alone. Perhaps the parks people appreciate that this is one busy hike right now or maybe COVID has something to do with the present rules.
I actually like meeting people and chatting but I also like hiking at my own pace, particularly on a day when I know I'm going to be taking a lot of photos. And after all the hiking I'd done this summer – much of it in lonely, truly wild places, I really wasn't concerned about bears because of the sheer number of hikers on the trail.
Interestingly, very few people I saw carried bear spray. And even some of the ones that did had it on the back of their pack – which in a surprise situation, is not the best idea. Once on the trail, I didn't so much as see old bear scat – and never for a second did I feel afraid while alone.
Read: Tips for Staying Safe in Bear Country
Larch Valley hike description
The hike begins just past Moraine Lake Lodge. The first few kilometres take you steeply up a series of switchbacks through the forest so it's really not that interesting. Climb 360 m in 2.4 km to reach the turnoff to Eiffel Lake. The saving grace is the odd peek-a-boo view to Moraine Lake.
When you reach the signed junction, continue right on a less steep trail to reach the more open meadows of Larch Valley at the 3.5 km mark. In mid to late September, this area is a riot of yellow with all the larch trees changing colour. As you enter the meadow, look around. The views over to the Valley of the Ten Peaks are truly gorgeous.
Many people go no further than the meadows – which is fine – but do yourself a favour and at least go to one of the small Minnestimma Lakes to enjoy the views up to Sentinel Pass. Wander around. Sit on a boulder and just enjoy the landscape. The beauty of this part of Banff National Park is worth savouring.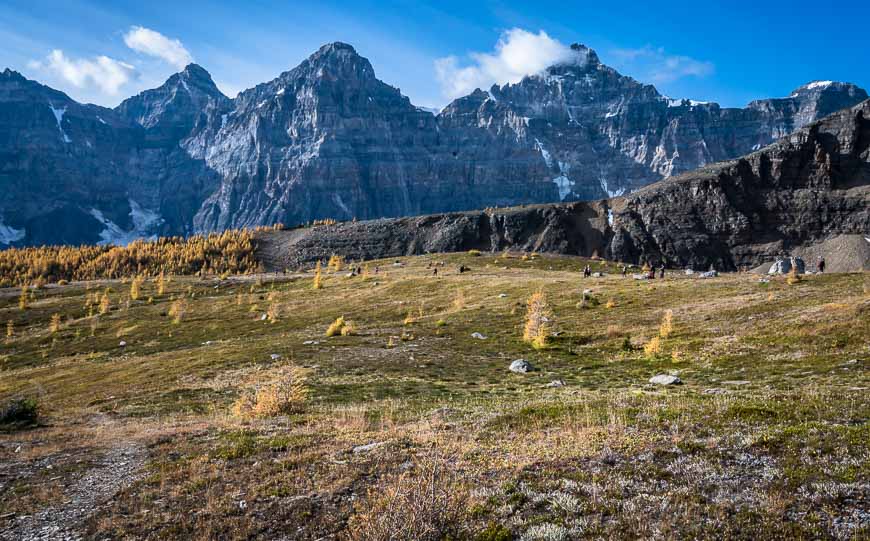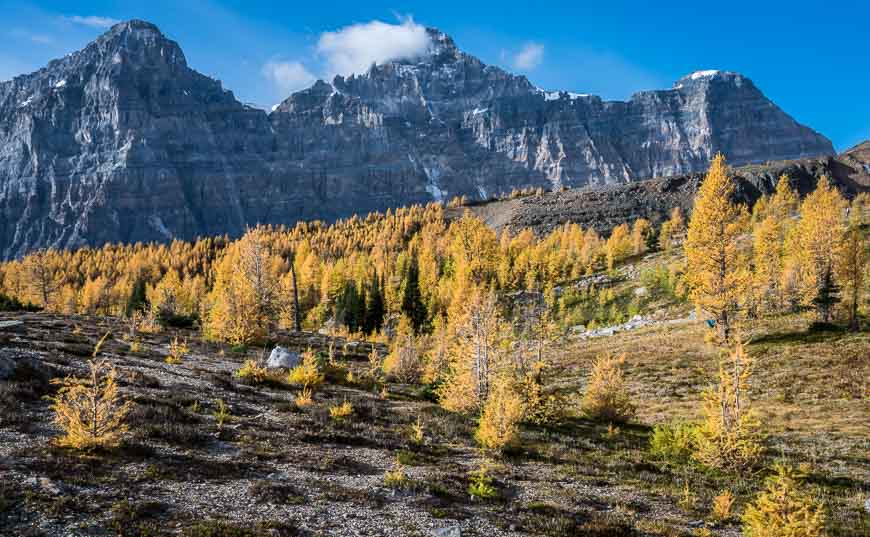 The hike up to Sentinel Pass
The facts: 11.6 km (7.2 miles) return with an elevation gain of 726 m (2382 feet). Allow 4 – 5 hours, more in the fall during larch season for photography.
Continue north on the well-trodden trail through the meadow to continue to Sentinel Pass. In less than 15 minutes you'll come to the Minnestimma Lakes. The trail slips between the lakes and the craggy, austere environment that makes up Sentinel Pass can be seen ahead.
After a brief respite at the lakes climb 175 m (574 feet) up a talus field on another series of switchbacks to top out at the pass. At 2,611 m (8,566 feet) it's the highest point reached by a maintained trail in the Rockies. At Sentinel Pass, you can't help but be awestruck at the views – in every direction you look.
Mount Temple is on your right as you approach the pass, Pinnacle Mountain on your left. Paradise Valley unfolds on the other side of the pass while the Valley of the Ten Peaks fills your line of vision if you look back from where you've come. And all around the pass are pinnacles of rock, some like the Grand Sentinel, a favourite of rock climbers.
Retrace your steps to return. If you still have some energy at the bottom of the trail, it's well worth continuing on the flat trail to the far end of Moraine Lake to get an altogether different perspective of the Valley of the Ten Peaks.
Except for the steep section in the trees, be prepared to be wowed every foot of the way. It's a hike that will put a giant smile on your face.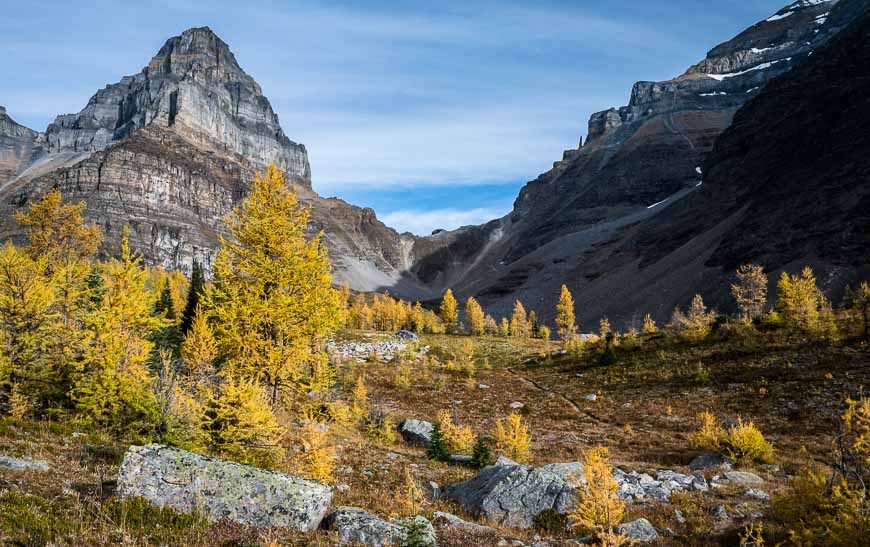 Alternative hiking options from the Larch Valley
Continue from Sentinel Pass into Paradise Valley but arrange a car shuttle ahead of time as the Paradise Creek and Moraine Lake parking lots are approximately 9.7 km apart. As you'll see at the top of Sentinel Pass, it's initially a rocky, steep descent but very doable.
There is also the option to hike to Eiffel Lake. It can be done on its own, or possibly on the way down from the Larch Valley hike. At the signed junction turn right (if you're descending) and continue west for 3.2 kilometres. Far fewer people do this hike. There isn't a lot more elevation gain and is lovely, especially in summer when wildflowers are blooming.
Larch Valley hike trailhead location
Start at the Moraine Lake Trailhead, accessed via Lake Louise and Moraine Lake Roads. Take Lake Louise Road to the intersection with Moraine Lake Road. Turn left and follow it for 12.5 km until you reach a massive parking lot.
At the south end of the parking lot near Moraine Lake Lodge and the lake itself, look for a trail just a short ways along the lake. There is lots of signage.
Cool fact
Did you know that in 1969 and again in 1979, the back side of Canada's twenty dollar bill sported a picture of the Valley of the Ten Peaks?
Guided hike
While the Larch Valley hike is very easy to do without a guide, access isn't easy because of the crowds – and I find I always learn something with a guide. White Mountain Adventures is offering daily guided hikes in Banff National Park in the fall. Visit their website here for a list of what they've got planned.
Further reading about larch hikes
Click on the photo to bookmark to your Pinterest boards.