On a cold, snowy September day – the sort of day where a good book, a hot drink and a fireplace has appeal, John and I found ourselves driving Highway 40 towards Highwood Pass in Kananaskis Country. Our goal was the easy Arethusa Cirque hike where we'd been told we'd find larches in all their fall glory.
We did and the dusting of snow added a beauty to the hike – without causing any extra appreciable difficulty. The hike to Arethusa Cirque has become a favourite for families. It's short, easy and absolutely stunning. In summer you'll be sure to see plenty of wildflowers on the hike but come fall, look for mushrooms – and be dazzled by the larches.
Arethusa Cirque hike summary
Distance: 4.6 km return
Elevation gain: Approximately 250 metres of elevation gain, so it's a great one for families.
Level of difficulty: Easy
Time needed: Allow 2.5 – 3 hours.
Larch hike: The Arethusa Cirque hike is one of the best larch hikes in Alberta, at its peak in mid to late September. It's also a good one for wildflowers in summer.
Trailhead: The trailhead is 1.2 km south of Highwood Pass in Peter Lougheed Provincial Park. It is an unofficial trail so you won't find any signage. The hike is increasingly popular so get to the trailhead early or late on weekends, especially in larch season as parking is NOT allowed on the highway (though it seems to happen).
Road closure: You cannot access the trailhead from December 1 – June 14th because of the seasonal road closure of part of Highway 40.
Bears: The Arethusa Cirque hike trail travels through grizzly bear country so be sure to carry easy to access bear spray.
Permits: You will need a Kananaskis Conservation Pass to do this hike. If you don't have one, it's a $180 ticket.
This post includes some affiliate links. If you make a purchase via one of these links, I may receive a small commission at no extra cost to you. Thank you very much for your support.
Arethusa Cirque hike
Distance: 4.6 km return
Elevation gain: 250 metres
Difficulty: Easy to moderate depending on your hiking experience
Dogs allowed: Yes, on a leash
Family friendly: Yes
Time needed: 2 – 3 hours
Best time to hike: Summer and early fall
Map: Gem Trek Kananaskis Lakes
Don't forget: Hiking poles, bear spray, a warm jacket
Arethusa Cirque hike description
The hike to the cirque is neither marked nor maintained but there is one sign at the start of the trail (at the far end of the rough parking lot) and a very easy to follow trail once you've found the start of it. There is also a bear warning at the beginning of the hike.
We were thankful that we came prepared with all the right clothes (always take extra warm clothes for the mountains) despite the fact that the weather had been warm and sunny in Calgary.
The little girl in a pink tutu we passed was not quite so happy. The snow storm we encountered blew in quickly and her parents were obviously completely unprepared. I'd highly recommend taking a warm layer or two and a pair of extra socks should you get a soaking in a stream crossing.
For the first 0.7 km the trail climbs through the woods at a gentle grade. The trail was muddy and slippery in areas for us but still very manageable though some people might like a pair of poles, especially for the descent.
When you reach the stream, you get the first inkling of the visual treat that's in store. We ended up with peak-a-boo mountain views over the course of our two-hour hike as the snow competed with the sun and won for about 30 minutes.
The larches were very beautiful with a dusting of snow. On another time that I did the hike, the rain stopped just in time to enjoy terrific views.
There is an option at the stream to do the Arethusa Cirque hike as a loop in either a clockwise or counterclockwise direction though you can always just do an out and back. Both directions on the Arethusa Cirque loop are beautiful.
If you keep left at the fork to go clockwise you'll be ascending a very steep hill, but if you keep right and go counterclockwise you'll be descending that steep hill during the last half of the hike – and trust me its steep so you'll probably want poles.
Read: The 10 Hiking Essentials Everyone Should Carry
Do the Arethusa Cirque loop hike in either direction
We did the counterclockwise loop but there is no right or wrong. Head right on an obvious trail east of the creek to reach Arethusa Cirque.
The trail is well-trodden in here as it weaves through an open meadow and then alongside the creek itself. You will have to rock hop across the stream a few times. Reach a steep scree slope and follow the path through the rocks at the bottom of that slope and then up to some fantastic viewpoints.
Once at tree line savour the view, especially in larch season. There are some beautiful views of Highwood Ridge. Continue on an obvious trail as it jogs up and down. Make your way over a couple of talus filled hills to gain the high point.
There is a short rocky descent and then a 2-minute climb to reach a knoll with a view down the valley. When you've had your fill of larches and mountain scenery descend on the very steep trail for about 15 – 20 minutes to arrive back at the trail intersection and familiar ground. Return back through the trees to the parking lot to complete the hike.
How about adding on a hike to the summit of Little Arethusa?
Want to spend more time enjoying the beauty of the mountains? Add on the hike to the summit of Little Arethusa – situated northwest near Ptarmigan Cirque.
To do that you'll want to take the left fork of the trail when it crosses the creek and work your way to the western part of the lower slope where there is a good trail to the top.
On the day John and I did the Arethusa Cirque hike, we were more interested in capturing the larches in their glory. Another time we'd explore the talus field as its known for it's fossilized shells.
For the effort and the time, this hike delivers fantastic mountain views. I highly recommend it but do go prepared as this is grizzly bear country and everyone should carry a can of bear spray (that's easily accessible) and is under two – three year's old.
Read: Tips for Staying Safe in Bear Country
Photos below showing what the hike looks like with a dusting of snow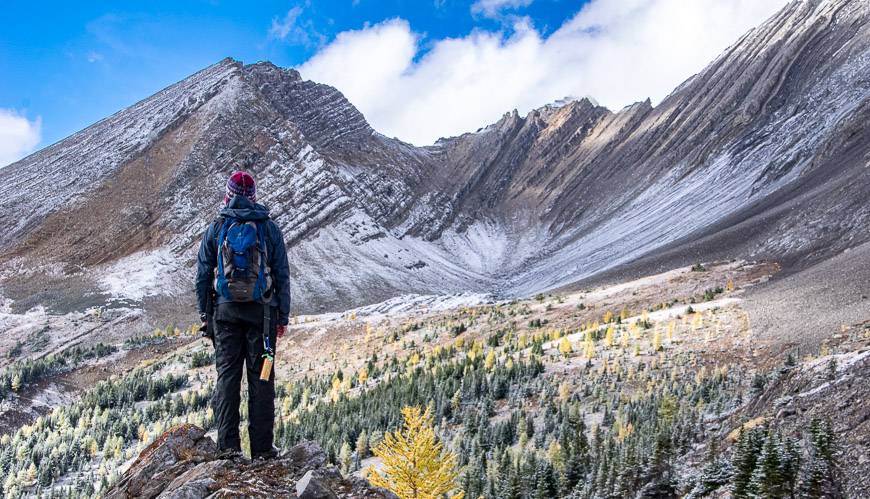 Finding the Arethusa Cirque hike trailhead
The trailhead is located approximately 1.2 km south of the Highwood Pass parking lot on the east side of Highway 40.
If it's a nice day or a fall weekend you'll need to arrive early. One Sunday in September 2023, there were close to 200 cars by midday. Try to do this hike on a weekday or early or late in the day.
Location map of the Arethusa Cirque hike
More mountain hikes that are perfect for fall you might enjoy
Click on the photo to bookmark to your Pinterest boards.