If you want a short hike that delivers superlative mountain scenery quickly do the popular Ptarmigan Cirque hike in Kananaskis Country. This is a fantastic hike to take out of town guests, especially those new to mountains, as it's a short hike to reach the high alpine and all the beauty associated with that ecosystem. There is the option to hike a section of the scramblers trail that heads for Mt. Rae.
This post includes some affiliate links. If you make a qualifying purchase through one of these links, I will receive a small percentage of the sale at no extra cost to you. Thank you very much for your support.
Ptarmigan Cirque hike summary
Distance: 4.5 km (2.8 miles) lollipop hike including the interpretive trail.
Elevation gain: 214 m or 702 feet (mostly at the start)
Highpoint: 2,420 m (7,938 feet)
Time needed: The Ptarmigan Cirque hike typically takes 1.5 – 2.5 hours.
Level of difficulty: The Ptarmigan Cirque hike though short is classified as a moderate hike by some because of the elevation gain though I think it's an easy one. Most of the vertical gain occurs in the first kilometre. After that you reach the meadows and the grade moderates to one where you won't hear your heart pounding in your ears.
Best time to do the hike: June 15th to when the snow flies in October. If you go early in the season take leg gaiters, icers, and a hiking pole in case there is still snow. If you hike it in mid to late September you'll be treated to some larches turning yellow. Avoid going when the trail is icy.
Family-friendly: Yes, for ages 5 and up.
Map: Gem Trek – Kananaskis Lakes
Dogs allowed: Yes, on a leash. If not on a leash, you risk a significant fine. Don't expect a warning. The park ranger makes a daily trip to this area and won't hesitate to write you a ticket.
Trailhead location: Park in Highwood Meadows Day Use Area at the top of Highwood Pass. Look for signage pointing to the trailhead here.
Be sure to purchase a Kananaskis Conservation Pass.
The trailhead for the hike is near the parking lot at the top of Highwood Pass.
Check trail reports for Peter Lougheed Provincial Park before you go as the Ptarmigan Cirque trail does get closed if there is bear activity.
Be bear aware and carry a can of easy to access bear spray and know how to use it.
You will need to cross the highway to start the climb up to the cirque.
Note that this part of Highway 40 is closed every year from December 1st through till June 15th.
Check the weather forecast before you head out on the Ptarmigan Cirque hike.
There are no backcountry campsites accessible from this hike.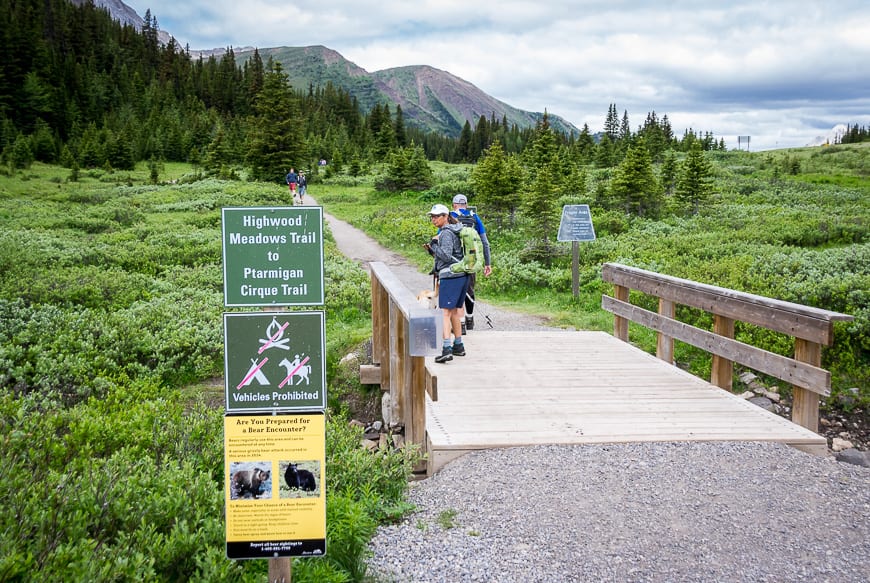 Ptarmigan Cirque trailhead location
From Calgary drive west on Highway 1 to reach the exit for Highway 40. Drive south on Highway 40 for approximately 67 km to the top of Highwood Pass – the highest public road in Canada.
Park at the Highwood Meadows Day Use Area parking lot on the west side of Hwy 40. (There are washrooms here.) Start right from the parking lot on the Highwood Meadows Interpretive Trail boardwalk. In short order look for a trailhead sign for Ptarmigan Cirque. It will take you across Highway 40.
The perfect hike for out-of-town guests new to the mountains
For a short outing, the Ptarmigan Cirque hike delivers a tremendous variety of scenery – including coniferous forests, high alpine meadows, mountains, and waterfalls. It's the perfect hike to take your out of town guests who want a taste of the mountains without spending a full day in them. And it's a great one for families too. Pack up a picnic and linger in the high alpine. Just be sure to leave no trace and pack out what you pack in.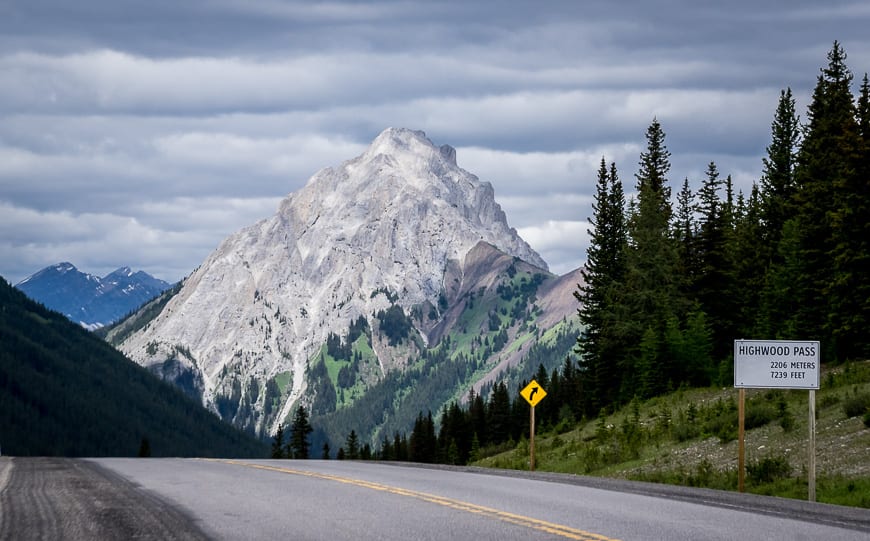 Ptarmigan Cirque hike description
The hike up to Ptarmigan Cirque is a snap to follow. From the parking lot take a trail heading northwest through Highwood Meadows for 400 m. Stay right to reach Highway 40. (If you go left you'll end up on the hike heading for Grizzly Ridge and Pocaterra Ridge.) Cross the highway – keeping an eye out for cyclists and cars.
Follow the trail on the far side of the highway as it climbs up steeply at times through the trees for 0.7 km. Once you're through this section, the rest of the hike is easy! When you break free of the trees stop nd take in the view. In fall, this is a wonderful place to be. Continue on the Ptarmigan Cirque trail to reach a T-junction.
Go straight to hike the Ptarmigan Cirque loop in a clockwise direction. (See the map below.) Make your way through wildflower studded meadows – noting glacier lilies, alpine forget-me-nots, and Indian paintbrush to name a few flowers.
In short order you reach a sign with a hiker on it. It's worthwhile to continue on this scramblers trail to an obvious high point where you'll want to pull out a picnic lunch. If you were to continue on the trail you would access Mt. Rae.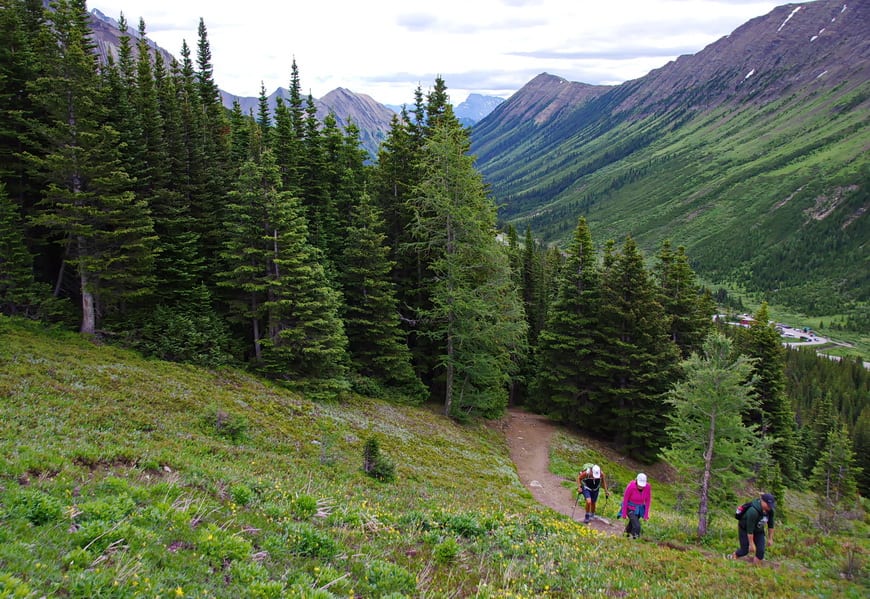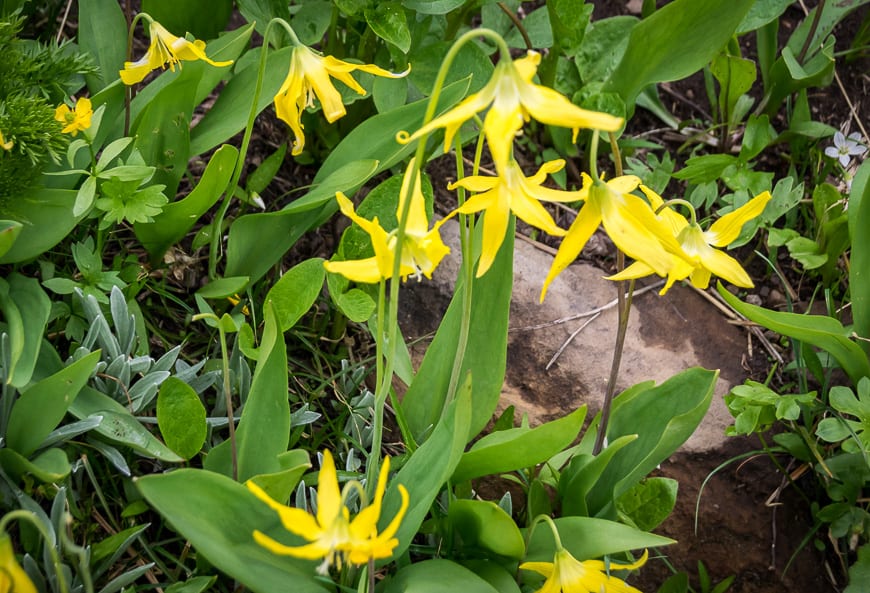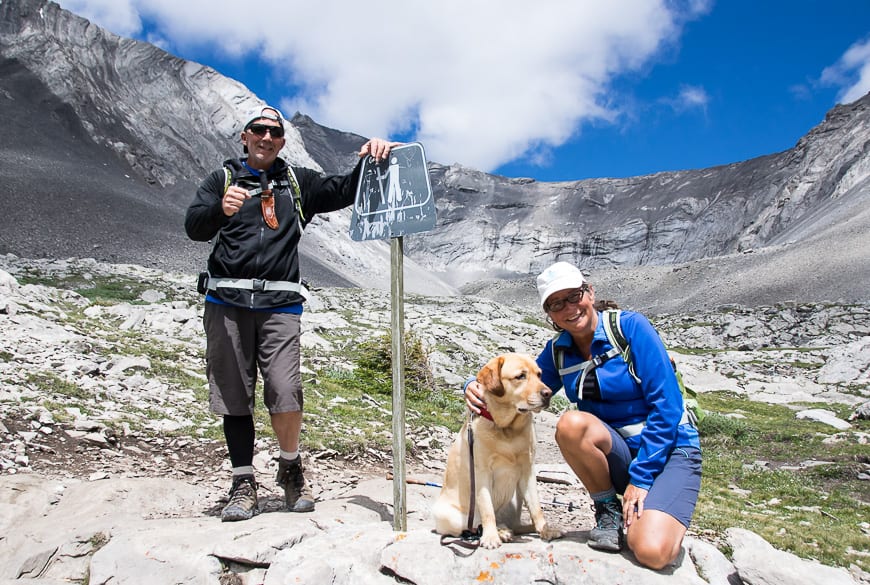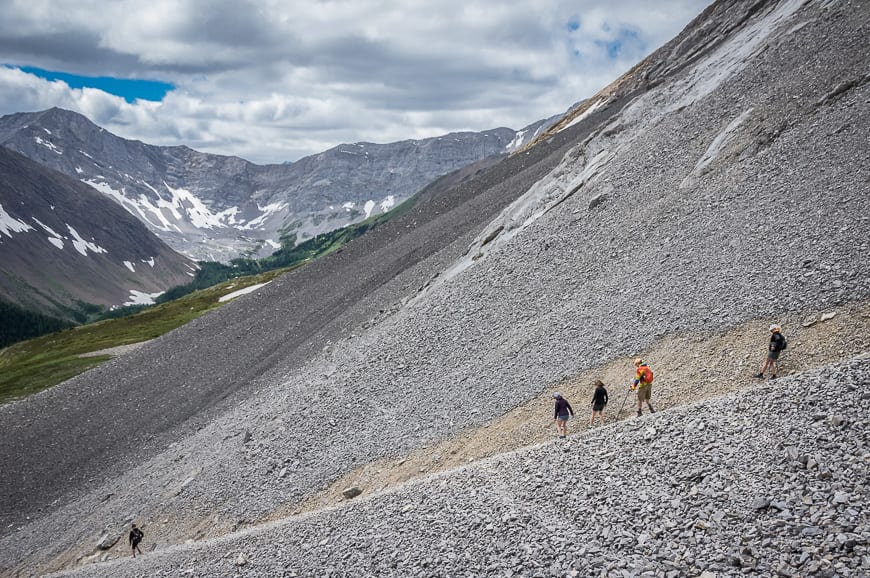 Retrace your steps to the main trail, being careful on the descent through the scree that you don't go over on your ankle. Once back on the main Ptarmigan Cirque trail it's lovely hiking – first across a creek above a pretty waterfall (don't slip here) and then through patches of scree and meadows – all the while enjoying views across to Grizzly Ridge, Pocaterra Ridge and Mt. Tyrwhitt.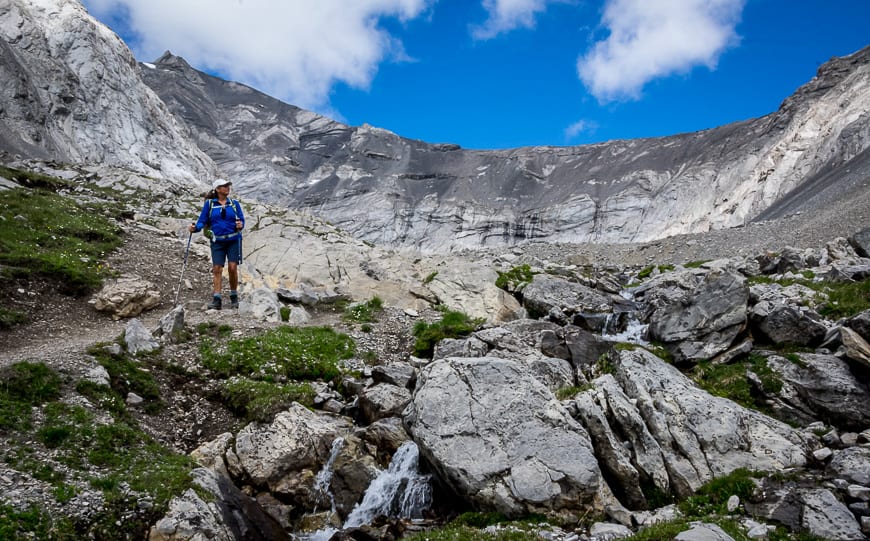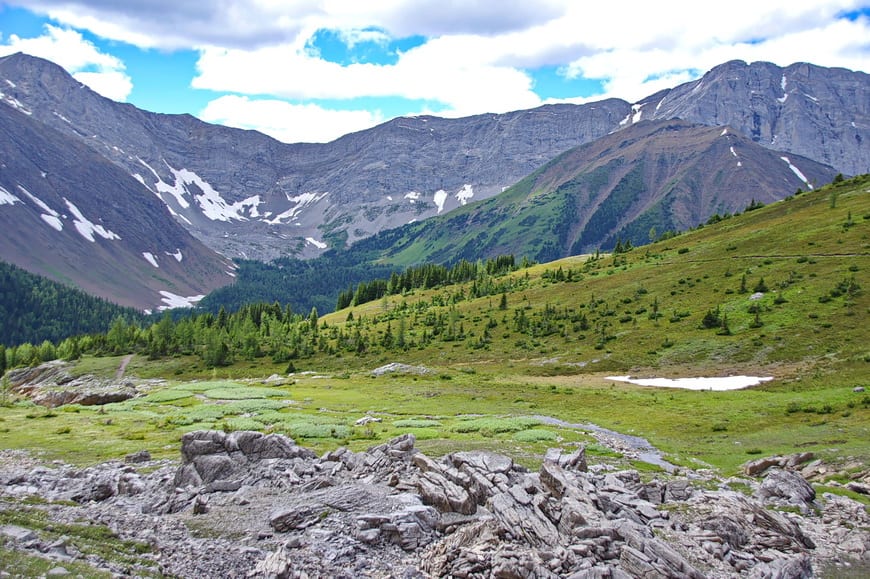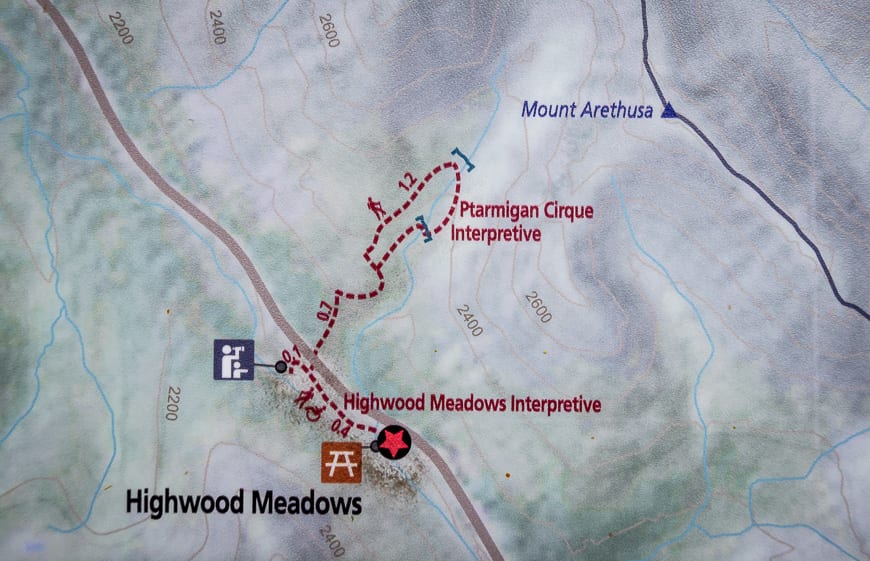 Hike the short Interpretive Trail
If you didn't do the interpretive trail at the start of the Ptarmigan Cirque hike do it at the end. It's only 0.1 km long each way on a boardwalk. Read the educational signs to learn about sub-alpine meadows and the growth rates of trees at altitude.
The most scenic short hike in Kananaskis Country
The Ptarmigan Cirque trail is the most scenic, short trail I've hiked in Kananaskis Country. Even though its short, go prepared as the weather changes quickly in the high alpine. Take a warm coat even if you start out on a hot day.
Don't forget the bear spray either. Grizzlies frequent this area. In fact, we saw a mother grizzly and her three cubs just off the highway, several kilometres to the north, both driving to Highwood Pass and again on the way home.
A few things to take on the Ptarmigan Cirque trail
I like something comfortable to sit on at lunch time and swear by my almost weightless seat cushion.
No matter how the day starts I always carry rain gear. And I find a ball cap or brim hat with a chin strap invaluable in the rain or on a hot, in your face sunny day.
I always pack a buff as it's a multi-purpose piece of cloth – good for covering your face or head yet it takes up almost no room.
You might like Popular Wildflowers of Alberta and the Canadian Rockies. Or download iNaturalist and identify flowers at home.
Location map of the Ptarmigan Cirque hike
More exceptional hikes you can do from Highwood Pass or nearby
Click on the photo to bookmark to your Pinterest boards.