I celebrated my birthday one year by taking the day off and heading with John to Kananaskis Country, Alberta. Our plan for the day – cycling Highwood Pass, the highest paved and public road in Canada. We chose to do the more gradual route from the entrance closest to the community of Longview, accessible via a 1.5 hour drive from Calgary.
Cycling Highwood Pass had been on my wish list for several years. But I'd always wanted to cycle to the pass during the narrow window when the road is snow-free and cars aren't allowed. There are three weeks at most in a year that you can do that. Starting June 15th cars are allowed. The snow pack on the road can vary greatly from year to year. Some years, even in June, you will be turned back by snow pack. But during a warm spring, the road clears more quickly. Use your judgement and be prepared to turn around. Also take extra layers of warm clothes as the descent can be frosty some days.
If you're not a cyclist, put the drive over Highwood Pass on your must-do list when it's open from June 15th to November 30th.
NOTE: As of May 28th, 2023 you will have a snow free experience cycling Highwood Pass.
This post includes some affiliate links. If you make a qualifying purchase through one of these links, I may receive a small percentage of the sale at no extra cost to you. Thank you very much for your support.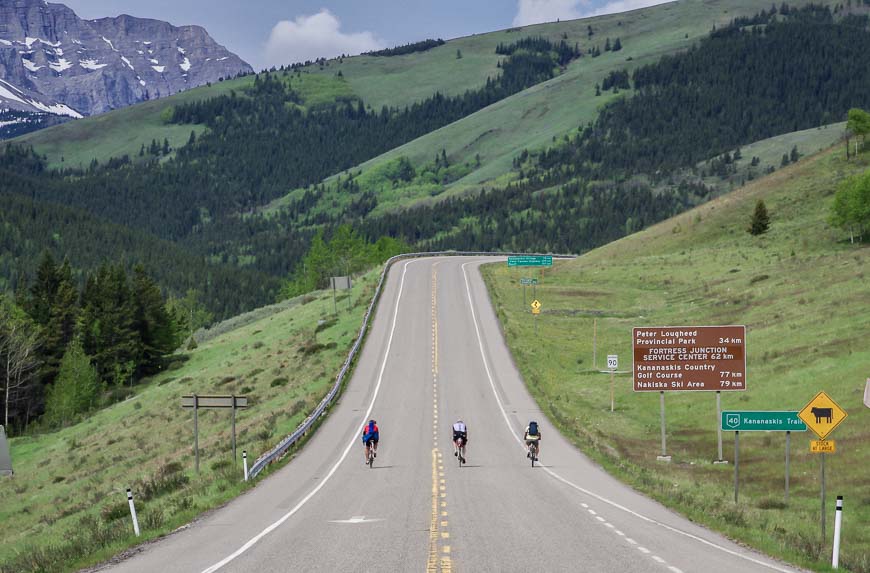 The best way to cycle Highwood Pass
You have to decide which end of the Highwood Pass cycling trip you want to start. That might be a function of where you live and how much time you have.
Longview area start
I loved starting at the winter gate nearest Longview. You'll find the gate at the intersection with Highway 40 and Highway 541. It's a 37 km cycle up Highwood Pass from there, so it's a 74 km out and back ride.
King Creek area start
Your other option for cycling Highwood Pass is to park at the King Creek trailhead near the intersection of Highway 40 and Highway 742. The road to Highwood Pass from there is just 17 km long and much steeper. Part of the road would be Category 1 – the steepest grade the bikers on the Tour de France climb.
An out and back bike ride
Most people cycling Highwood Pass do and out and back ride. They start at one of the trailheads and bike up to Highwood Pass and then return the same way to to their vehicle. If you're a very strong cyclist then you could cycle up and down Highwood Pass – a total distance of about 108 kilometres with a vertical gain of up to 1,267 metres (4,157 feet). Few people do this. Fortunately, if you do, you can always change your mind and cut the ride short if your energy flags or the weather goes south.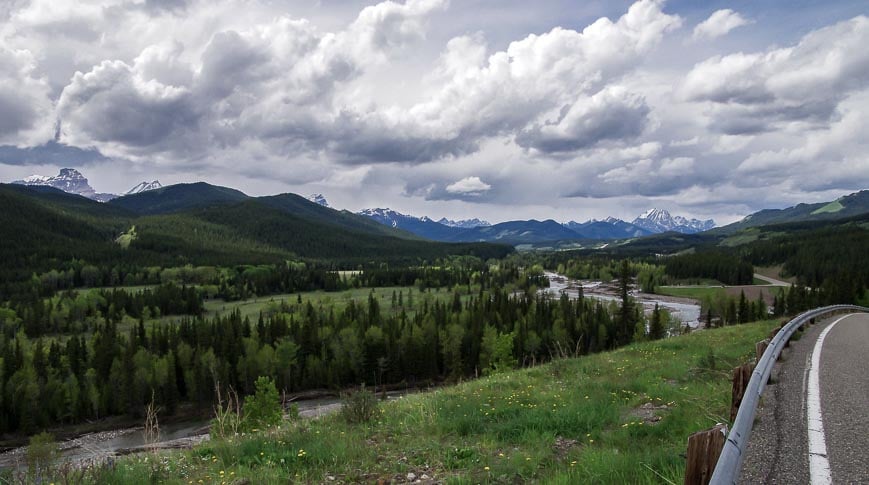 The 2013 floods are now a distant memory
In 2013 the road was closed once the floods hit. You could see the devastation in many places – but especially at this bridge which washed away. By 2014, the roads were once again in amazing shape.
Before Highway 40 opens to cars the road gets swept – so cycling Highwood Pass nearer to June 15th means the roads will be in great shape.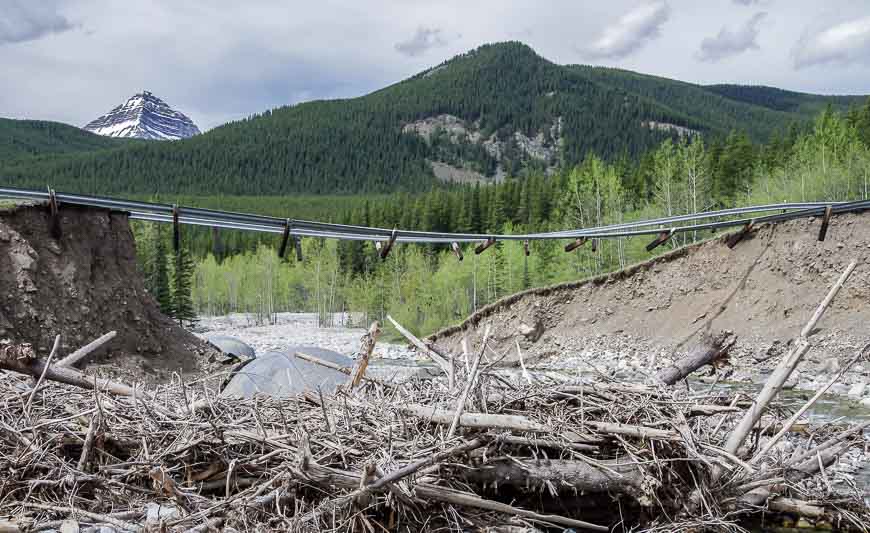 Bike to Highwood Pass before June 15th for a car-free experience
The beauty of cycling Highwood Pass before cars are allowed on Highway 40 is the freedom of having the entire road to yourself. It's absolute bliss. Fortunately, the road has a wide shoulder so even if you cycle it from June 15th through the summer, there's never a problem with having enough room to feel safe . But it is a treat when you don't have to think about a vehicle.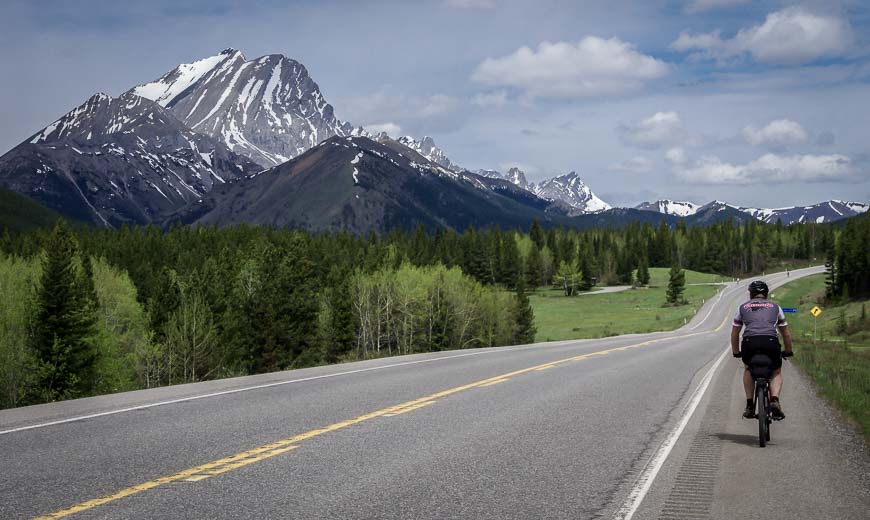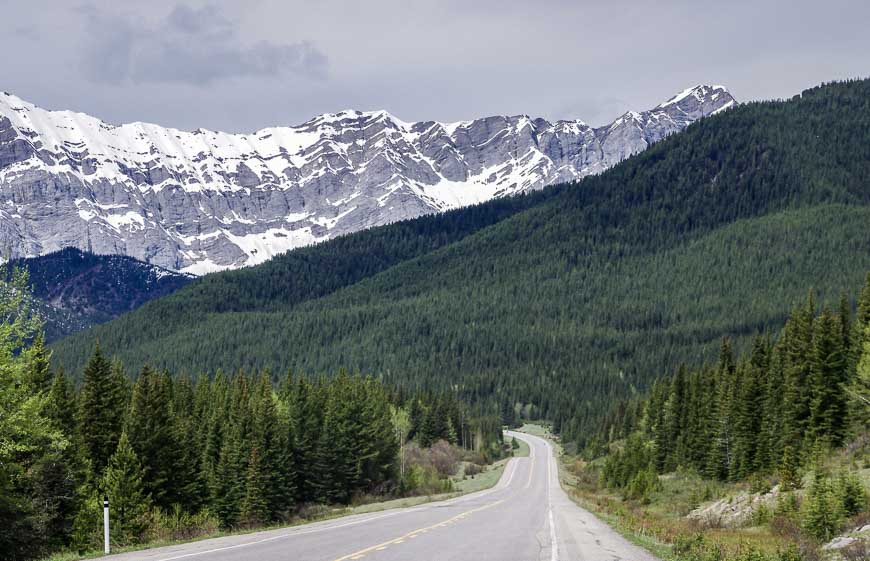 Cycling Highwood Pass from the Longview side
The grade on the road to Highwood Pass, coming from Longview, is generally gentle. There are plenty of occasions where you get a good ride down and it's really not until you reach Peter Lougheed Park and the last 4 km that the road steepens.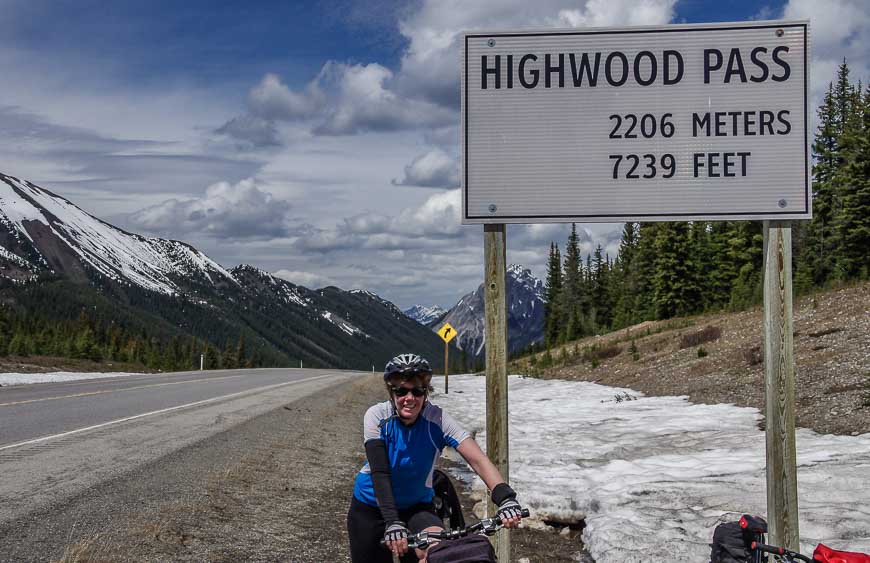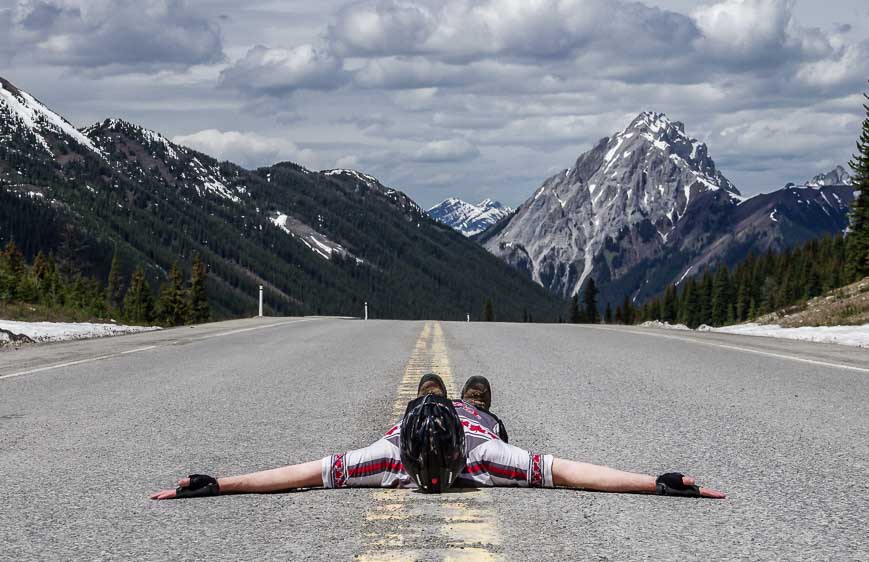 There are numerous recreation areas along Highway 40 – complete with washrooms and picnic tables. They make good rest stops.
Highwood Pass is notoriously windy though it wasn't bad on the day we were there. Do bring warm clothing and rain gear as you top out at 2,206 metres (7,238 feet). The difference in temperature between your starting point and the pass is very noticeable. I would recommend arm warmers, leg warmers and a water-proof jacket like the Aquanator rain jacket. (Men's version here.). Don't forget the long-fingered bike gloves.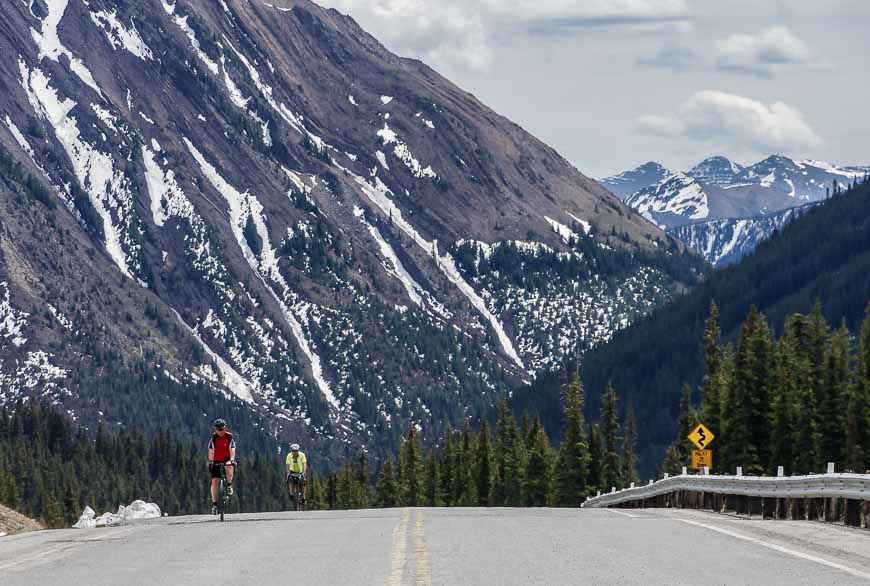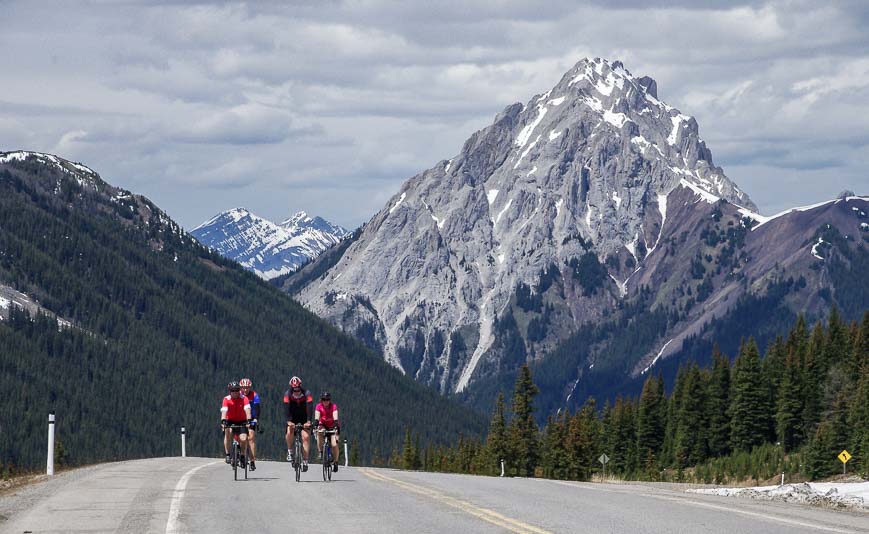 Carry bear spray cycling Highwood Pass
We both carried cans of bear spray cycling Highwood Pass as we had heard from others that they had seen grizzly bears up here in the past. We saw plenty of scat – and moose poop too, but the only animals we saw were the big horned sheep.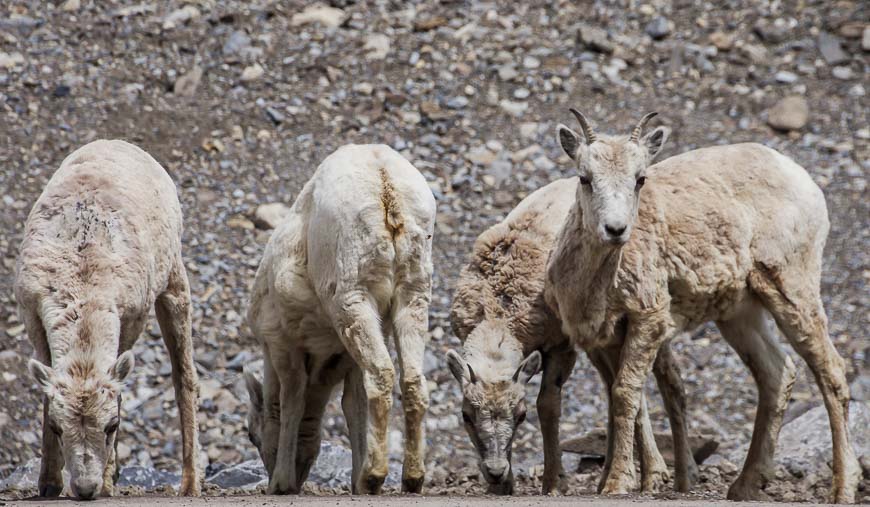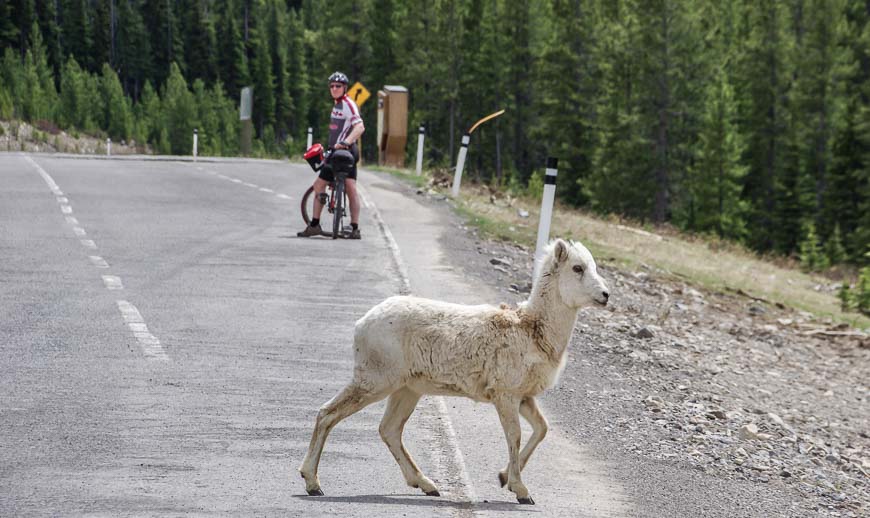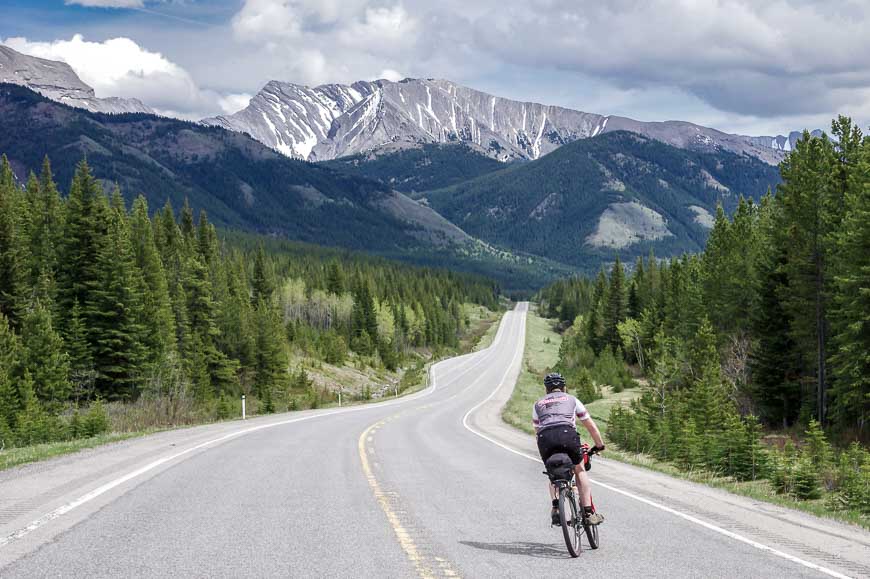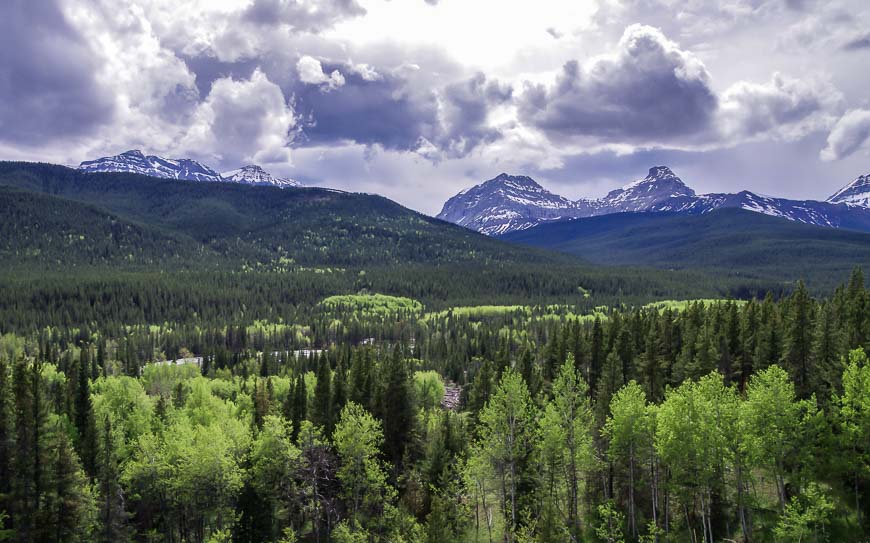 How long does it take to cycle to Highwood Pass?
All told it took me 2¾ hours cycling to Highwood Pass, with plenty of stops for photos and a few refueling stops. On the return it took us about 2 hours. We did cycle north down the other side of Highwood Pass but didn't go far as the grade is extreme for the first five kilometres and we had to be home for a birthday dinner. That at least, was my excuse.
It's a long way to drive between the two trailheads – over two hours, so shuttling cars doesn't really make a lot of sense. It's easiest to do and out and back bike ride.
Cycling Highwood Pass location map
Final thoughts
No matter which way you cycle Highwood Pass, you 'll feel pretty darned pleased with yourself once you've topped out. But go prepared. You're in the mountains where weather is fickle. Bring lots of water and food along with warm clothing and rain gear.
Where to spend the night on Highway 40
There aren't many options. There is some camping in Peter Lougheed Provincial Park but you need to bike a dirt road to get there.
Recommended reading: A Complete Guide to Camping in Kananaskis
In Kananaskis Village there is a Wilderness Hostel.
Near the turnoff to Nakiska Ski Area is Sundance by Basecamp. You can stay in teepees and trappers tents.
For a higher end experience, choose the Kananaskis Mountain Lodge.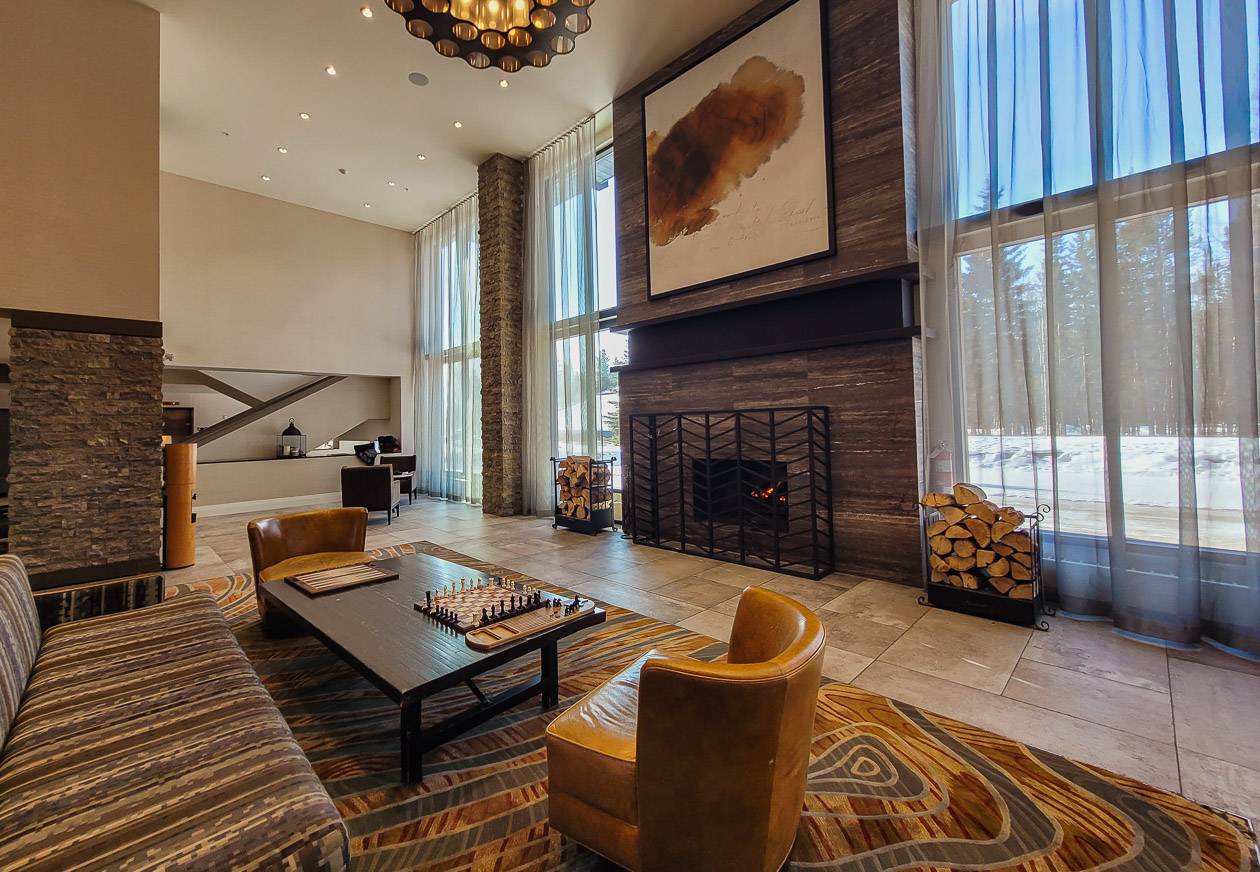 A few useful items cycling Highwood Pass
After a bike chain break on the Great Allegheny Passage bike ride, I would never leave home without a bike chain breaker and multi-tool.
Don't forget a bike pump in case you get a flat.
A bike lock could come in handy if you decide you want to go for a short hike.
I like to carry a handlebar bag with my raincoat and bike tools rather than having something on my back.
Bike lights are one of those things you should always have – just in case.
More ideas for Alberta bike rides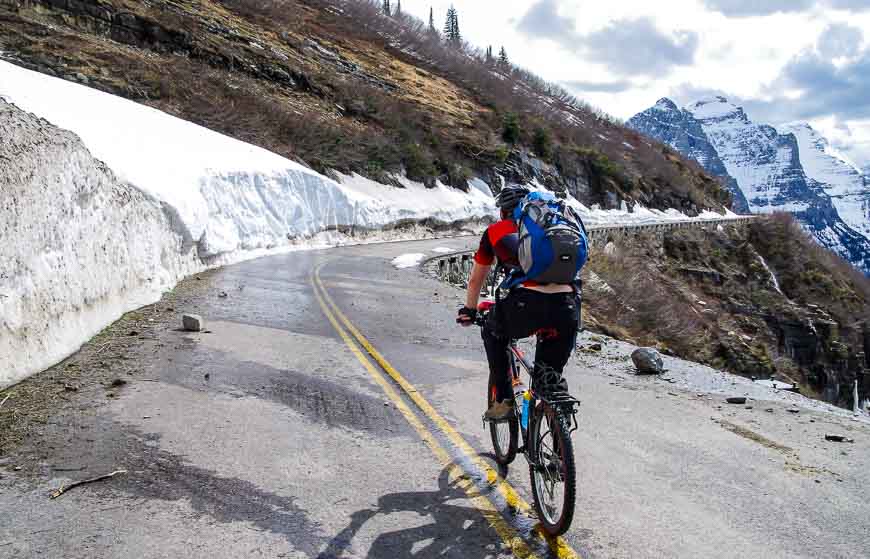 Click on the photo to bookmark to your Pinterest board.