"We call it the Purcell stair climber" exclaims Kevin Blades, a veteran mountain hiking guide at Purcell Mountain Lodge. The approach to Porcupine Ridge, our goal for the day, is certainly steep at times but with high alpine scenery that's in the world-class category, it's not a hardship to be hiking here, even if it means I'm sucking wind at times. In fact, John and I reveled in the fact that we were able to get high up into the Purcells, not once but twice on a three day/three night visit to Purcell Mountain Lodge.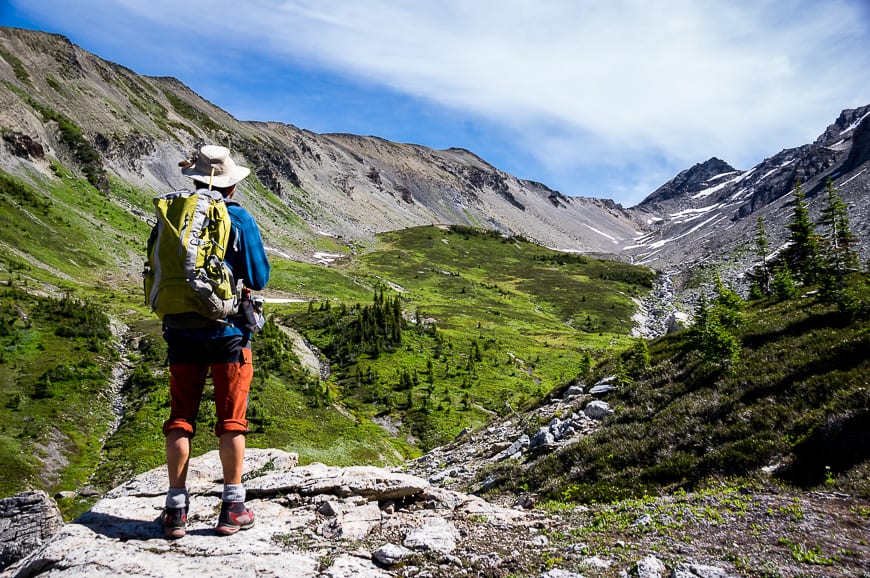 Purcell Mountain Lodge is a luxurious backcountry lodge in BC
Built in 1989 but showing no signs of age, Purcell Mountain Lodge is the most luxurious of the backcountry lodges I've visited in the Canadian Rockies to date. Accessed via a scenic, 10 minute helicopter flight from Golden, British Columbia, the lodge welcomes guests in summer for hiking and in winter for backcountry skiing.
Most guests stay for three or four nights, enough time especially with no access to phones or computers (okay there are a couple of high spots in the mountains where your phone might pick up a signal) to unwind.
Read: 8 Backcountry Lodges in BC and Alberta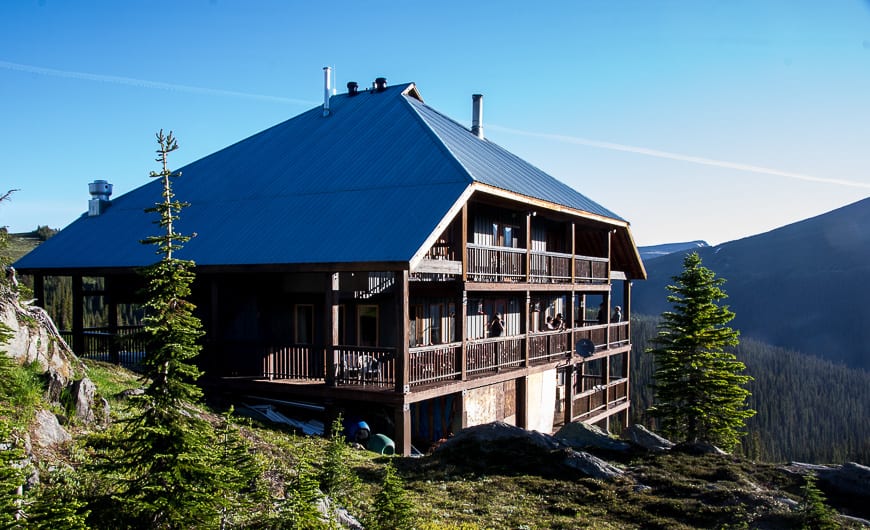 What a typical day looks like at the lodge
It doesn't take long to get into the groove of life at Purcell Mountain Lodge. The hosts – in our case retired school teachers Cathy and Doug from Canmore, guides Sarah (from Banff) and Kevin (from Kimberley) along with our cook, Gerry Gallant (formerly at Crazyweed Kitchen and Emerald Lake Lodge) ensured that our stay lived up to our expectations from the minute we got to the lodge.
Purcell Mountain Lodge has a different format from other lodges I've visited. You chopper in to arrive in time for breakfast on the first day. That means you're in the mountains at an altitude of 2200 m drinking coffee, carbo loading, and enjoying stunning views into Glacier National Park while getting to know your fellow guests by 9 AM with the whole day stretching in front of you.
Granted there's a 30 minute intro and safety talk, but by about 11 AM you're actually out on the trails, with a delicious packed lunch to see you through to appie time – at about 4:30 PM. (On the non-travel days, coffee is ready at 7 AM and a cold and hot breakfast along with freshly made smoothies is served at 8:30 AM.)
What to do after hiking at Purcell Mountain Lodge
By 4:30 PM chances are you'll be back at the lodge from your hike. Then there's a dilemma. Hot shower and clean clothes first or a cold drink and some of Gerry's amazing appetizers?
And by amazing I mean pizza in four flavours that will satisfy even the vegans and gluten intolerant, rice wraps with dipping sauce, a charcuterie board overflowing with goodies – and that's just a sampling of what we enjoyed. Gerry whips up magic all day long in the kitchen – and then puts your willpower to a test. Mostly I flunked – but happily so. And the shower had to wait.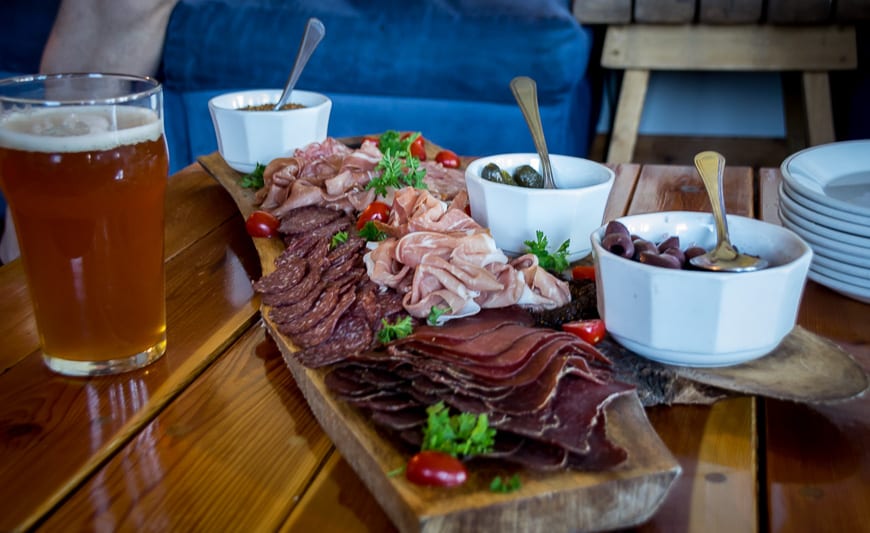 Dinner is served around 7 PM at Purcell Mountain Lodge, so you have a couple of hours of free time. Find an Adirondack chair and watch the hummingbird wars. (Rufous hummingbirds have a mean streak!)
Flush out your pores in a sauna. Read. Chat with your fellow guests. Play a game. Peruse their extensive library. Sip wine. Do nothing.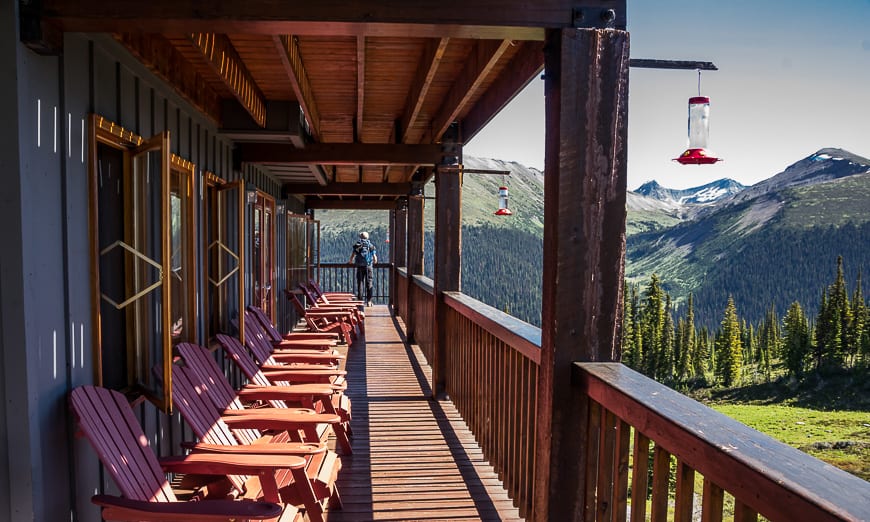 Dining at Purcell Mountain Lodge is worth the visit alone
At 7 PM sit down family style to enjoy a three course gourmet dinner. While wine and drinks are extra, John and I landed on a weekend that included a wine tasting of Ex Nihilo wines.
Not only did we learn about the winery located in the heart if the Okanagan, but we were able to see what wines paired well with food – and then order a glass of it to accompany our meal.
Hiking from Purcell Mountain Lodge
Hiking in the massive, wildflower filled meadows with exceptional mountain scenery as a backdrop is a big reason to go to Purcell Mountain Lodge in summer. That's certainly why I was interested in visiting and the experience didn't disappoint.
We hiked together as a group on the first day and split up on the second day with the keener hikers doing a longer day. Since you're on holidays when you're at the lodge, you can do whatever it is you want to do with no pressure.
For some that may mean a short hike from the lodge so hours can be spent taking photos, while others may want a half day hike followed by an afternoon nap. It is possible to go off and hike on your own – as long as you sign a waiver and carry a can of bear spray.
1. Knee Grinder hike in the Purcell Mountains
John and I did three hikes in total. The first, an easy hike with little elevation change except on Knee Grinder, offered stellar views of Mount Sir Douglas via stops at Poet's Point, Cook's Point, and Inukshujk Point.
2. Copperstain Mountain hike
The second hike, an all-day affair, took us up Copperstain Mountain, along a ridge, back down a valley with some really pretty waterfalls – and then the kicker – a solid 40-minute climb at the end of the day back to Purcell Mountain Lodge.
3. Porcupine Ridge hike
Porcupine Ridge was the third hike we did from Purcell Mountain Lodge. Although it's close by and parallel to Copperstain Mountain it offers an altogether different experience.
You start and end the hike on the same trail you finish with on Copperstain but the rest of the hike is in new country. It's not hiked very often – mostly because the ridge portion of the hike is slightly harder than Copperstain.
What sets Purcell Mountain Lodge apart from other backcountry lodges
John and I both thoroughly enjoyed our long weekend at Purcell Mountain Lodge for a number of reasons – the layout of the lodge, incredible hiking, delicious food, and the camaraderie you share with like-minded people.
I especially loved the set-up of the lodge itself. All the guest rooms are on the top floor and while simple they are very comfortable. Each comes with a bed, a sink and a couple of chairs on the balcony. While bathrooms are shared there are lots of them – and they are all private.
Most other lodges I've stayed in have more of a high school set up with banks of toilets and no privacy. There are also private showers with shampoo and conditioner from Rocky Mountain Soap Company.
The rooms come in different configurations with some sleeping as many as five people with bunk beds, a great set-up if you're visiting with your family.
The main floor is home to an entrance area where you leave your boots and coats, a kitchen, bar, dining room and common room with a fireplace and wrap around couches where everyone tends to congregate. Outside on this floor is a balcony with enough Adirondack chairs to go around.
Everyone is family at Purcell Mountain Lodge
What also come through on a visit is how the Purcell staff all see themselves as family. It shows in the way they work together and treat each other.
The guides and hosts help with serving, clearing and dishes – basically everything other than cooking. They're ready to pitch in where needed and while its relaxed around the lodge, the details are certainly attended to. Everyone is made to feel very comfortable.
Want to book all of Purcell Mountain Lodge?
If you prefer to travel with people you know, there's the option to rent the whole of Purcell Mountain Lodge for special events. How about a wedding or a corporate retreat in the mountains?
There's also a chalet, a 30 second walk from the lodge where you can enjoy more privacy and in theory cook for yourself, but why you'd want to do that when Gerry turns out the food he does is beyond me.
Location map for Purcell Mountain Lodge
A huge thank you to Purcell Mountain Lodge for hosting John and I. What a treat it was!! We both had a great time – leaving well-exercised, well-fed and with a few more laugh lines, thanks mainly to the jokes told by Danny Hooper – a charity auctioneer who practiced his profession in the woods to scare off any bears. We saw none.
Looking for a stellar hiking holiday in a landscape that would otherwise be hard to access? Visit the Purcell Mountain Lodge website for pricing and further information. Purcell Mountain Lodge is a true gem.
Click on the photo to bookmark to your Pinterest board.