If you want to make the most of a long, snowy winter one of the best things you can do is visit backcountry lodges in BC and Alberta. I'd also suggest these backcountry lodges in summer as world-class hiking destinations. Nothing beats walking out the front door to start a hike or a cross-country ski.
Embrace the seasons is what I say. And what better way to embrace whatever Mother Nature throws at you than to visit one of Alberta or British Columbia's backcountry lodges. Some are rustic. Some are luxurious – considering their location. None are inexpensive. Still there's nothing wrong with a little dreaming.
I haven't included Alpine Club of Canada huts in here – but also keep them in mind. Some like the Elizabeth Parker Hut in the Lake O'Hara area are crazy hard to get into , so plan well in advance. As of 2023 you can use Schnerp – to learn about cancellations and last minute availability.
This post includes some affiliate links. If you make a purchase via one of these links, I will receive a small commission at no extra cost to you. Thank you very much for your support.
I researched what backcountry lodges were in the Canadian Rockies in Alberta and BC. The ones I found all offer snowshoeing and cross-country or backcountry skiing and most offer hiking in the summer. Some are accessible via helicopter only.
None of these backcountry lodges are the heli-ski lodges (eg. the CMH Cariboos Lodge or CMH's Bugaboo Lodge) that downhill skiers use, but those lodges are also lovely to visit, especially in summer for hiking.
Location map of backcountry lodges in BC and Alberta
Here are 11 backcountry lodges in BC and Alberta – most of which I've visited.
1. Purcell Mountain Lodge – one of the top backcountry lodges for amenities
Purcell Mountain Lodge is accessed via a 15 minute helicopter flight from Golden, BC. They offer what they term the gold standard for luxury for backcountry lodges. Fantastic world-class backcountry skiing and snowshoeing lies just out the front door.
I can attest to what they say after a visit. Also enjoy excellent dining, including pre-dinner appetizers along with a well-stocked bookcase if you want to just hang out in the lodge.
Read: An Unforgettable Summer Weekend of Hiking at Purcell Mountain Lodge in BC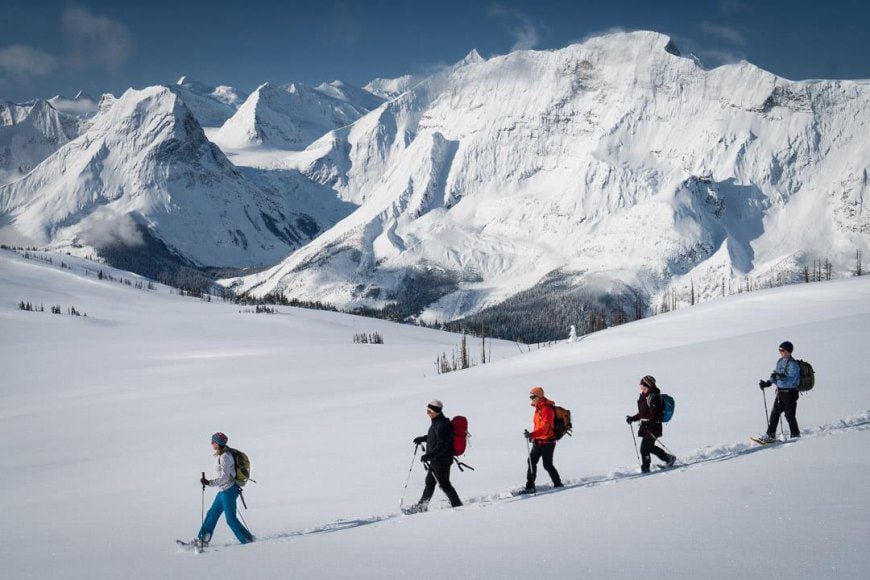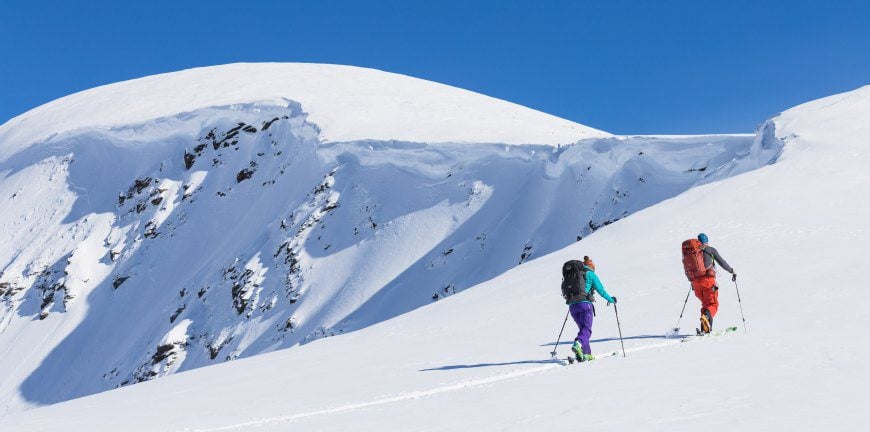 2. Skoki Lodge near Lake Louise
Skoki Lodge, located 11 km away from the Lake Louise ski area via a cross-country ski/hiking trail offers up rustic charm in a high alpine setting.
The food presented by Katie Mitzel is drool-worthy. It's worth a weekend for the food alone. You can read my account of our two day stay over a wintry January weekend. Note that the terrain can be tough going – especially for first timers if there are whiteout conditions. I wouldn't recommend the trip with kids until they are about 12 years old.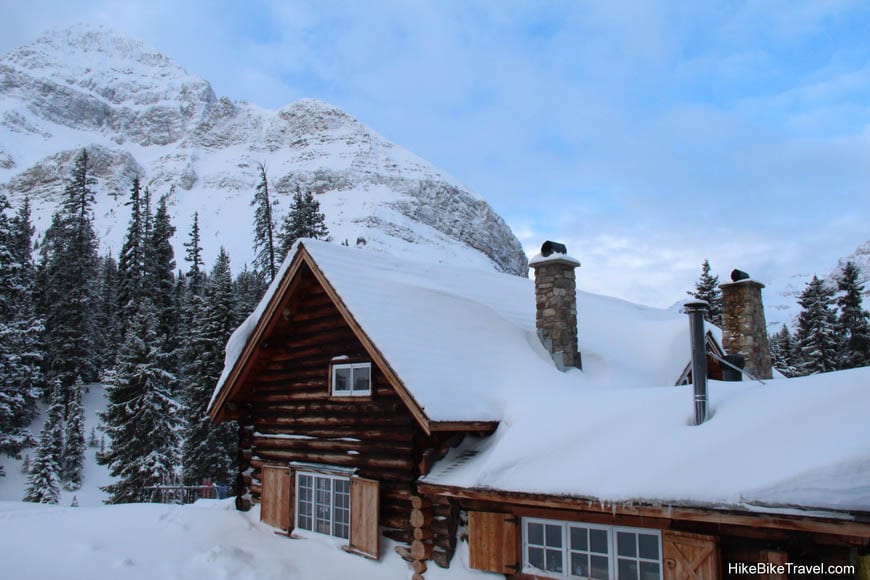 3. Talus Mountain Lodge
Talus Mountain Lodge lies 21 km southeast of Mount Assiniboine as the crow flies. The lodge sits at 2,300 m and is accessed via a chopper flight from either Canmore or Mount Shark. It is possible to hike to the lodge in summer.
Views from Talus Mountain Lodge are outstanding – and so is the skiing and snowshoeing. In the winter they are open from February – April. The lodge is a two story chalet offering five simply furnished bedrooms and a large dining/living area.
The lodge is also a great place to use a base for daily hiking adventures. The lodge explains that the hiking is "challenging and soul food for those seeking wild space and connecting with their inner mountain goat."
4. Assiniboine Lodge in Mount Assiniboine Provincial Park
Assiniboine Lodge is a remote backcountry lodge. It was the first to be built in Canada. It's location, 28 km from the nearest road means most people opt to fly in by helicopter. In theory you could ski in (its 25.7 km) but conditions would have to be ideal and you'd have to be a pro at navigation.
The lodge is close to the Mount Shark set of ski trails which aren't far from Canmore or Mount Engadine Lodge – which you can drive to – and I highly recommend.
The Assiniboine area is renowned for its beauty in both the summer and winter. You can read about my two night stay here. The lodge is completely off the grid.
5. Lake O'Hara Lodge in Yoho National Park
Lake O'Hara Lodge is an option if you can actually get a reservation. The lodge fills quickly with many regulars returning season after season. You cannot book online. Start thinking about a visit almost a year out from when you want to go.
Lake O'Hara Lodge is more easily accessed than most – via an 11 km straight-forward ski in up an access road off the Trans-Canada Highway, not far from Lake Louise.
The scenery around the lodge is outstanding as are the meals. The bedrooms aren't fancy and bathrooms are shared but the atmosphere in the lodge is friendly and welcoming.
Guides are part of the package and options for the day are discussed over breakfast. It's a place to savour the outdoors with a comfortable bed, delicious food and really interesting, engaging people at the end of the day.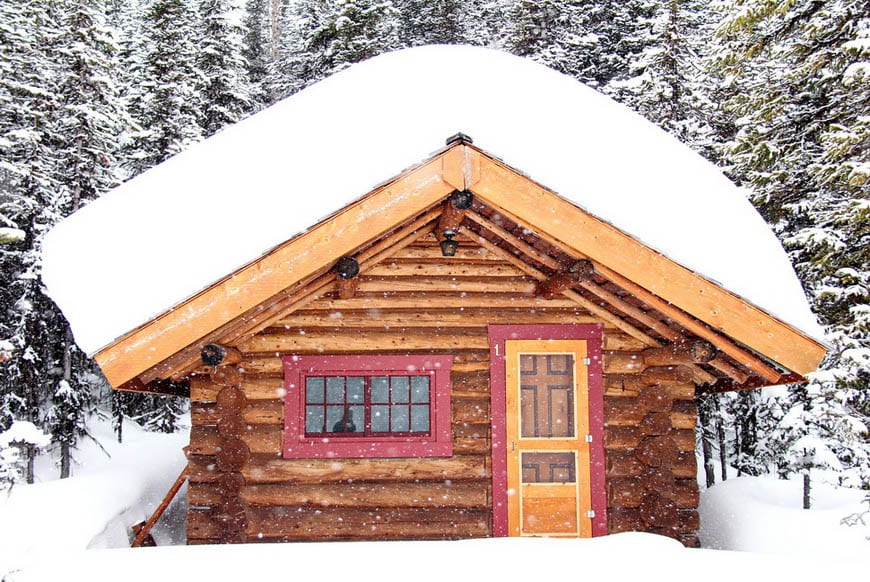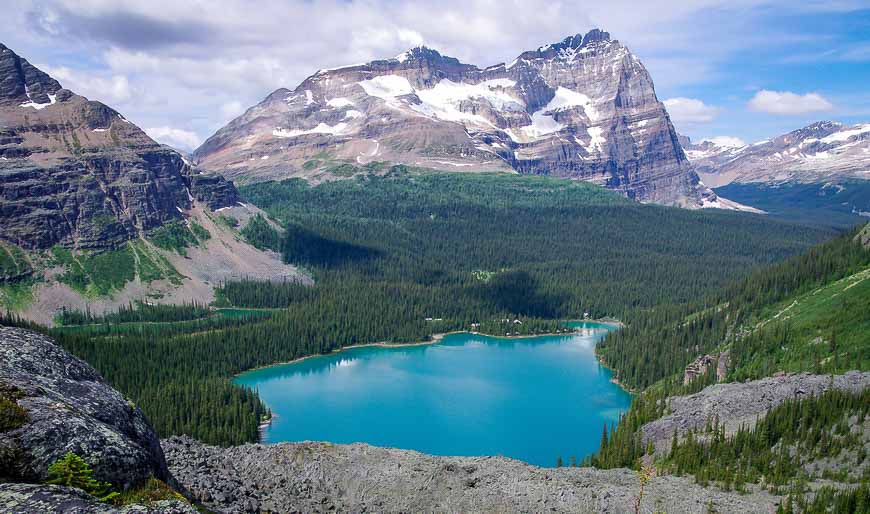 6. Shadow Lake Lodge
Shadow Lake Lodge is located in the high alpine meadows not far from Banff. To access the lodge you must ski in 14 km (9 miles) from the Red Earth parking lot, accessed 19 kilometres west of Banff.
The lodge can also be reached via Sunshine Village, the Egypt Lake trail or Gibbon Pass from Highway 93S. Cabins with outhouse facilities are provided as are all your meals plus an afternoon gourmet tea.
Once at the lodge there are numerous day trips available for the cross-country skier or snowshoer.
2020 update: Shadow Lake Lodge has been acquired by the Alpine Club of Canada. The location of the lodge ensures that there is some excellent hiking in the area in the summer.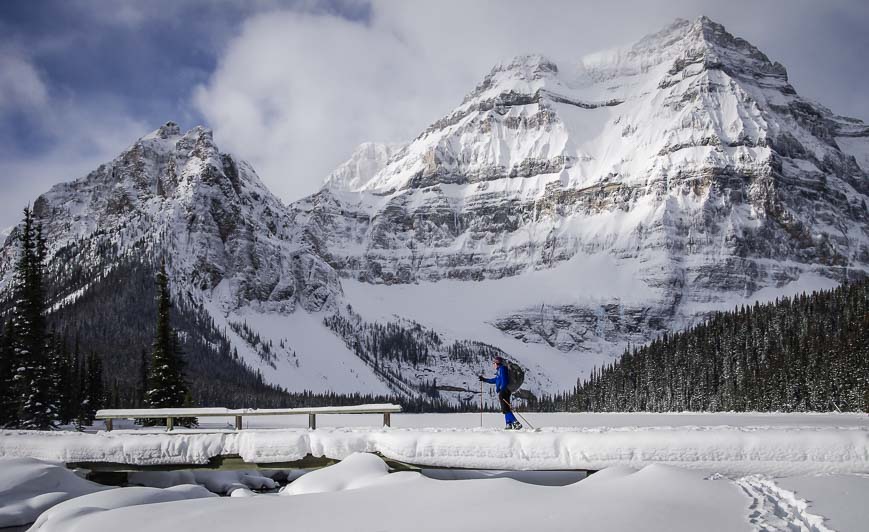 7. Mistaya Lodge in the Wildcat Creek Basin
Mistaya Lodge , accessed via helicopter, is described as a comfortable lodge located in the Wildcat Creek Basin in a remote area bounded by Banff and Yoho National Parks.
The 2000 square foot lodge sitting at an elevation of 2,040 m offers six guest rooms with a combination of single, double and bunk beds. Like many of the backcountry lodges, a wood-fired sauna is available too.
There is a lot of glaciated terrain as well as glades and open tree skiing – perfect for novice to expert backcountry skiers using either telemark or randonnée equipment.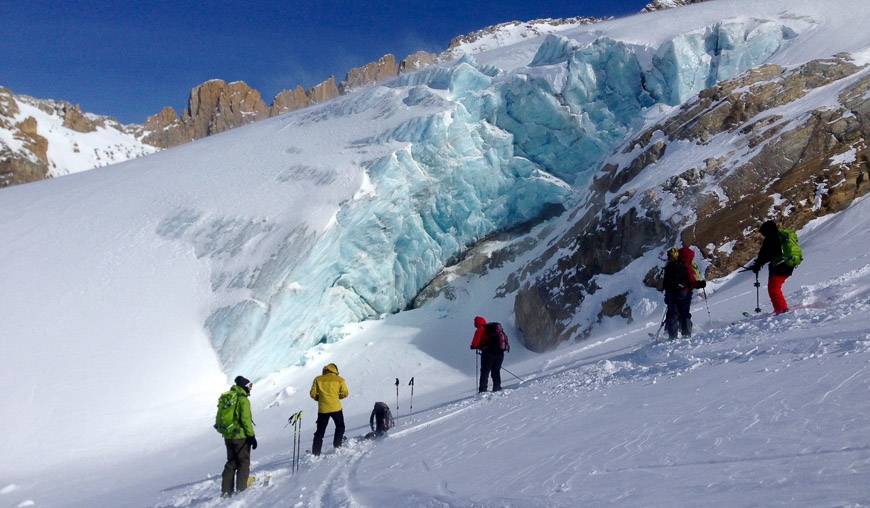 8. Icefall Lodge
Icefall Lodge, also accessed via a helicopter flight from Golden, sits at 1,900 m. Nine bedrooms and two lofts are spread out over two lodges.
Tree runs are right outside the front door. And the area available to ski is more than ten times the size of Whistler-Blackcomb. You can book the lodge with and without guides and you can also pick whether or not you want it catered or non-catered.
Yet another option for keen skiers is to sign up for one of their week long hut to hut traverses in April.
9. Sundance Lodge in Banff National Park – one of my favourite backcountry lodges
I also recommend a stay at Sundance Lodge – one of the more accessible lodges from the town of Banff. It's also one of the few lodges that doesn't have a two night minimum stay. Rooms are some of the nicest I've enjoyed of the backcountry lodges in Alberta and BC. There are hot showers available, indoor plumbing along with delicious food.
In winter you can snowshoe, cross-country ski or even fat bike to Sundance Lodge.
In summer, get to Sundance Lodge on horseback. From the lodge you can explore all the way up to Allenby Pass if you opt for a longer trip.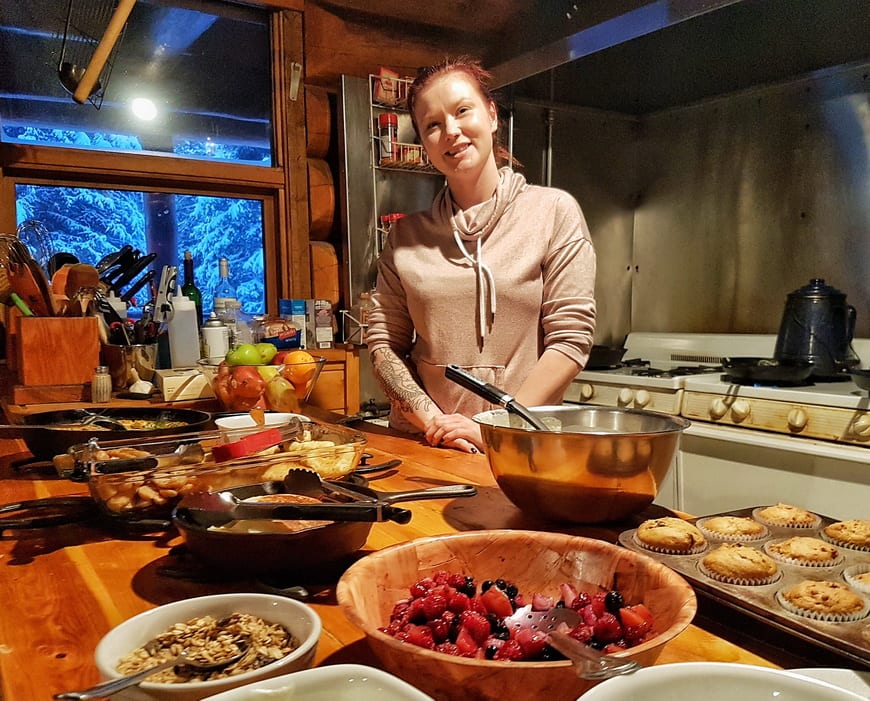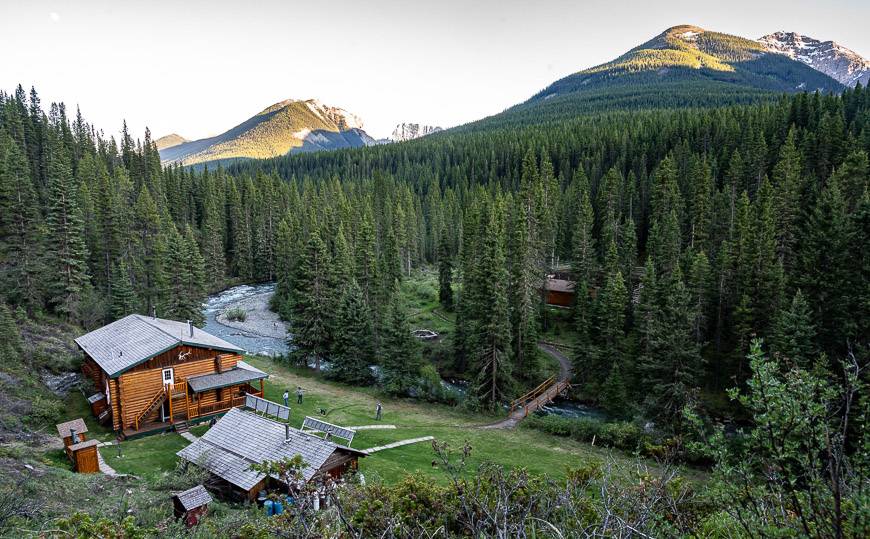 10. Mallard Mountain Lodge
Check out Mallard Mountain Lodge, called the most remote and private backcountry lodge in the Canadian Rockies. Located on the Alberta – BC border with access via helicopter. Go for exceptional skiing in winter and backcountry hiking in the summer.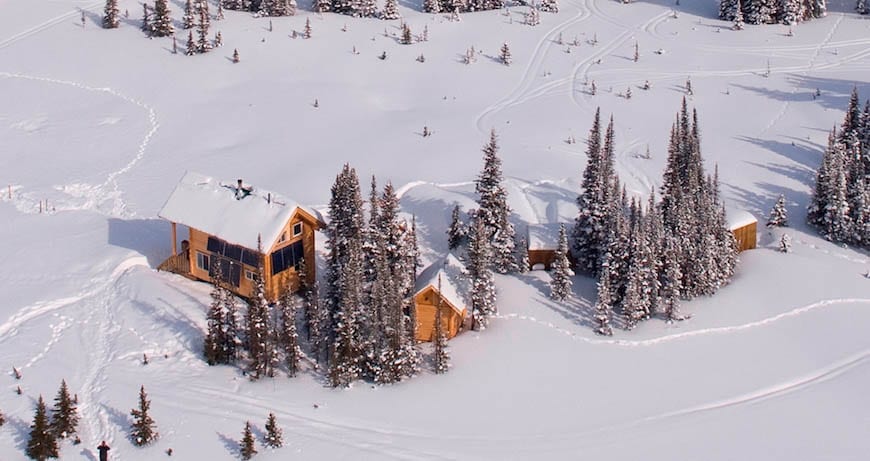 11. Mount Engadine Lodge – almost a backcountry lodge
My other suggestion should you want to drive to a wintry spot in the Canadian Rockies instead of skiing in would be to visit Mt. Engadine Lodge near Canmore. Access can be tough on snowy days – but with all that snow you can look forward to amazing cross-country skiing and snowshoeing right out the front door. They offer lodge accommodation as well as glamping tents and dogs are allowed.
I like Mt. Engadine Lodge just as much in summer – as it is literally on the doorstep of world-class hiking trails.
You can check availability and book a night right here.
Are you aware of any other backcountry lodges in BC and Alberta that should be added to this list?
Further reading on fun winter adventures
Click on the photo to bookmark to your Pinterest board.