You don't hear much about the Cariboo's – a group of rugged, remote mountains in east-central British Columbia at the northern end of the Columbia Mountains, about 100 km due west of Mount Robson Provincial Park. There's a reason for that. Unless you have a helicopter or you're exceptionally skilled in the backcountry, the area that make up the Cariboos is basically off-limits. But you can heli hike in the Cariboos area – and what a treat that is.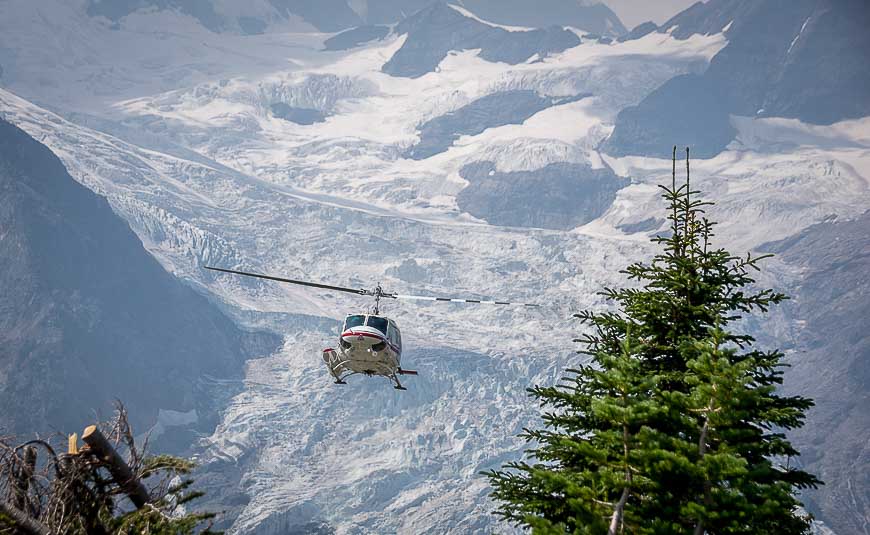 As a guest of CMH, owners and operators of the Cariboo Lodge, I am one of the lucky ones to experience not only their hospitality but some of the most stunning, rarely seen mountain scenery in Canada. I was going to heli hike in the Cariboos and after a taste of their luxury heli hike experience a few years earlier in the Bugaboos, I knew I was in for a treat.
Getting to the heli-pad in Valemount
While many people who visit the Cariboo Lodge drive themselves to the helipad in Valemount (just 90 minutes from the town of Jasper), there were many of us who spent the night in Banff and then hopped on a comfortable bus provided by CMH. Then it's a five hour scenic drive up the Icefields Parkway and on into Valemount. Thoughtfully, snacks and lunch were provided and the trip was narrated by the driver.
Once at the helipad we were given a thorough briefing by Trevor, our helicopter pilot for the next three days.
The biggest takeaway for me – apart from staying far away from the tail – was not to let anything fly off my person, like ball caps, or scarves that could cause grave danger to the helicopter. And he assures us that there is no need to run.
The thrill of a helicopter ride never gets old. What a pleasure it is to be whisked into a gorgeous mountain environment far removed from everyday life, in just 10 minutes.
We didn't arrive at the Cariboos Ldge on the first day until mid-afternoon so with less than inspiring weather and a low ceiling for flying, the guides suggested an easy hike along the road just to get our legs moving. Post hike anyone who cared to could go for a swim in the pond. On a sunny day that's a popular option.
Not interested in hiking? No problem. Get a massage. Head for the main living area – grab a drink and revel in the beauty. Or if you haven't had enough exercise, head downstairs to the machines and climbing wall. Frankly I was happy to hike by day and relax at night.
What its really like to heli hike in the Cariboos
Hikers are divided into groups – based on ability, hiking speed and even weight so that the helicopter is balanced and each group is teamed up with one or two guides.
Every morning you check what group you've been assigned too – and what time you need to be at the heli-pad. No one is late for the helicopter.
We're whisked through a landscape of dazzling mountains to landing spots, sometimes on impossibly small pieces of outcrop. Seconds after everyone is out and the guides have unloaded packs from the cargo basket, we are left in silence. In the middle of true wilderness.
Imagine wildflower-filled meadows with a backdrop of not one but many massive glaciers; waterfalls tumbling from 1000 metre-high cliffs; rocks that speak to the earth's geologic history and lakes – an otherworldly colour of turquoise and blue. That's the backdrop for 2.5 days of hiking.
I've been teamed up with John Mellis, the senior mountain guide at CMH, who's perfected the art of getting everyone's attention with a magnificent yodel followed by an easy smile. After a few words of advice, we're off at a comfortable pace.
Our first day of hiking is sublime, truly one of the most magnificent in my life. I'm completely in my element and can't stop grinning – especially as it's a blue skies, see forever kind of day.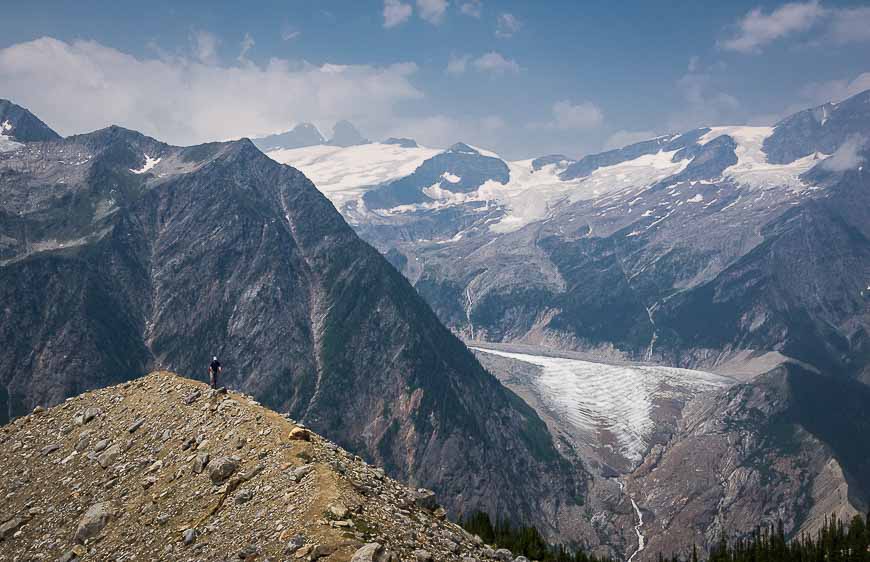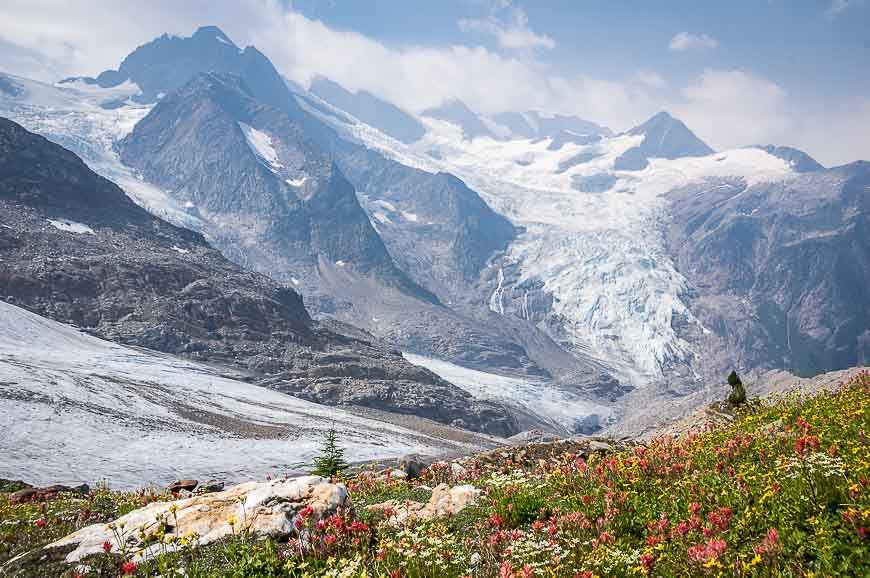 Smoke – Mother Nature's curveball
Mother Nature threw us a curve ball on the second day with a forecast of a 10% chance of rain with a side of smoke. Last summer British Columbia and the western US were hit with massive forest fires which of course translates to copious amounts of smoke.
The forecasters were bang on about the smoke but we avoided any rain. While the hiking was still extraordinary the views of the famous Zillmer Glacier weren't what they would normally be.
The smoky skies gave us a chance to focus on what was underfoot – cooked-up rocks in a myriad of colours including mica schists filled with garnets, massive boulders of quartz and mica so fine you could scoop it up by the handful.
Day 3 on our Heli Hike in the Cariboos
Fortunately day three delivered with mostly good visibility and a stunner of a helicopter flight low over a glacier filled crevasse. While there was still smoke it was a fraction of what we'd had the day before. And the landscape was like few other places I'd ever seen.
The heli hike in the Cariboos exceeded every expectation I had
The food and relaxation part of the trip was equally great. In the morning we were met with a massive table decked out with two of my favourites – baked goods and muesli. There was an assortment of sandwich and snack material for a pack it yourself lunch.
Back from hiking there were afternoon snacks – where one could eat all the calories back and then some with a spread that was part sweet, part savoury.
Then a few hours later came dinner. To give you an idea of what's in store salivate over this: mushroom risotto with grilled beef tenderloin, slow baked roma tomatoes and a bergamot crème brùlée to finish it all off. Waddle back to your room and do it all again the next day.
One couple from Calgary I spoke with said they keep coming back for the heli hike experience with CMH because they feel safe and confident with the guides. And the Cariboo's are like nowhere else in Canada.
Start planning for your summer vacation now – knowing and I quote "that both heli hiking and heli skiing are the best way to recycle money." You can't take it with you and this experience is priceless.
Click on the pin to bookmark to your Pinterest board.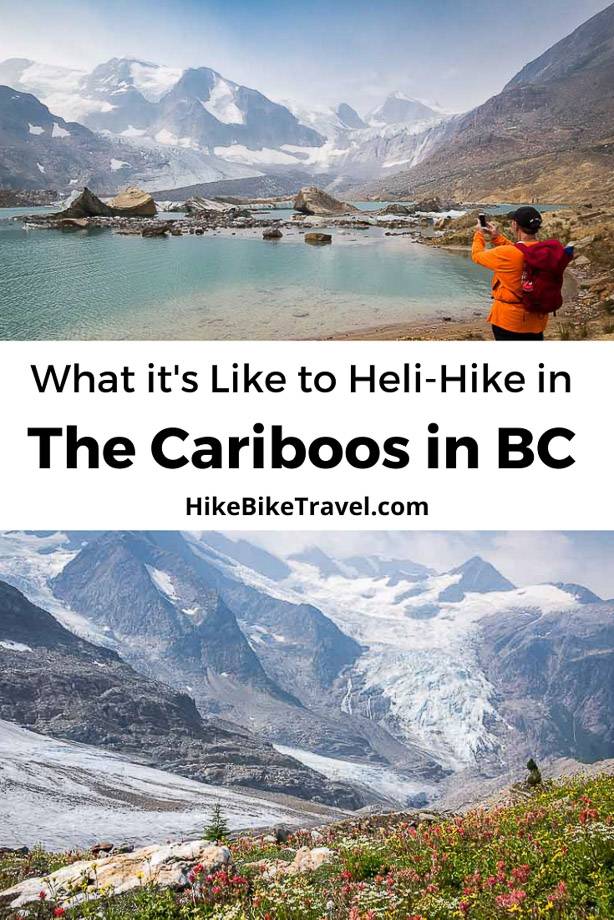 I was kindly hosted by CMH but all thoughts and opinions are my own.