One of the great pleasures in my life is camping and backpacking in the Canadian Rockies. With years of experience under my belt, I don't give much thought to the difficulty of a trip unless it's a real out there wilderness experience. But I know that there are lots of wannabe backpackers that are nervous about taking their first steps and spending a night in a tent, many kilometres from a trailhead, especially when it's a new experience, and you are traveling in bear country. Not all beginner backpacking trips need to be hard or long, especially if you're hiking with kids.
Described are 10 beginner backpacking trips in the Canadian Rockies. Some like Elbow Lake, you can knock off in under an hour while others may take up to three or four hours one way, but the going isn't arduous – or if it is, it's for a very short time.
You might also like – BEST Campsites in Alberta (With Mountain Views)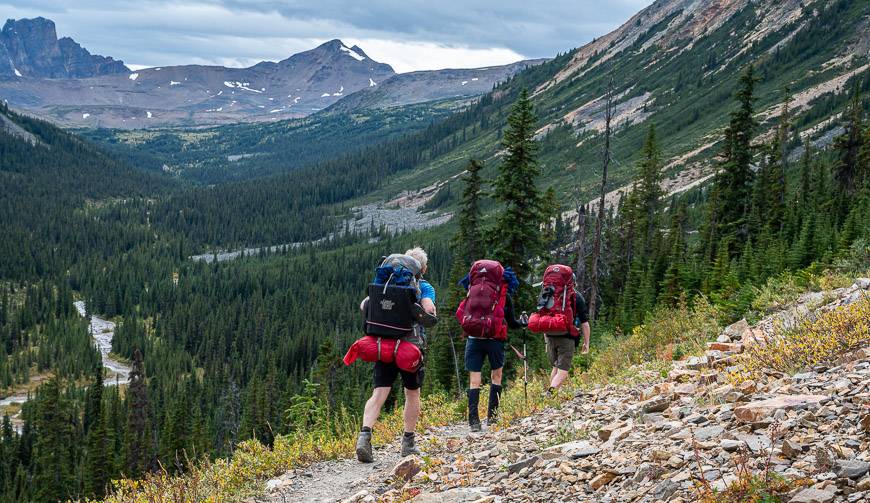 This post includes some affiliate links. If you make a qualifying purchase through one of these links, I will receive a small percentage of the sale at no extra cost to you. Thank you very much or your support.
Hot tip: If you can't get a reservation at the campground you want, sign up with Schnerp. Put in your dates, the campground you're interested in and you'll be notified if there's a cancellation. It's free to try.
Be respectful of nature
As more and more people are turned onto hiking (a great thing in my opinion) it's also important to educate yourself about how to Leave No Trace. I know last summer there was a lot of concern related to the abuse and complete lack of respect for the environment. Please don't be that person that leaves garbage behind or cuts down a tree for a campfire.
Recommended reading: Camping for Beginners: What You Need to Know
Backpacking in bear country
All these beginner backpacking trips take you into bear country. It's imperative you know what to do when you see a bear – and that you carry a can of bear spray that is easily accessible and no more than three years old.
Over decades of hiking and backpacking, I have only seen grizzly bears on a handful of occasions. Make noise (forget the bear bells), use your voice and chances are high you'll have no issues.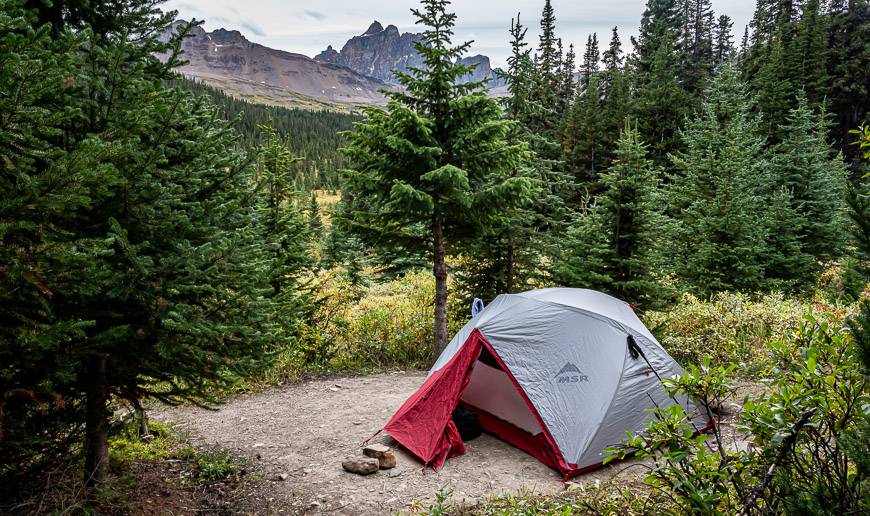 Approximate locations of trailheads or campgrounds for the beginner backpacking trips
Click on the three dots that form part of a triangle in the right hand corner of the map to email a copy of the map.
Beginner backpacking trips in Peter Lougheed Provincial Park
Elbow Lake in Peter Lougheed Provincial Park
This is one of the ideal beginner backpacking trips for young families or anyone who has never camped before. The rewards are a beautiful lake, some pretty campsites, and the option to hike to Rae Glacier , Rae Lake or Piper Pass. At the campground there are bear-proof lockers, picnic tables and outhouses. Firewood is provided.
The hike itself starts at the Elbow Lake trailhead on Highway 40, 62 kilometres south of the Trans-Canada Highway on the east side of the highway. Hike in 1.3 km on an old fire road. It's a steep right from the start, but it won't take long to get to the lake – 20 minutes to an hour, depending on the age and fitness of the hiker.
Find a campsite and get set up as soon as you get there. And then go exploring but don't forget to put your food or anything with a scent into the bear locker.
Make a reservation here, 90 days out. The campsite should reopen in 2023.
The map for this trip is Gem Trek's Kananaskis Lakes.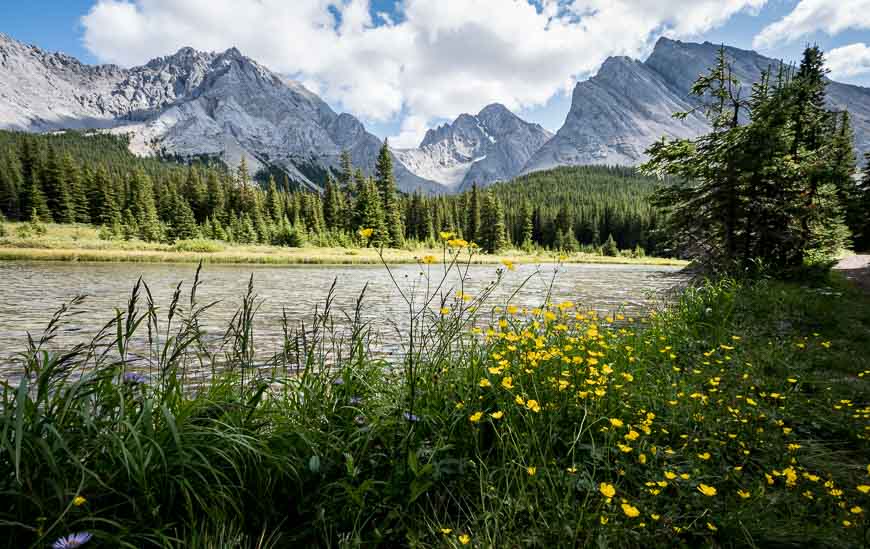 Point Backcountry Campground
The Point Backcountry Campground in Peter Lougheed Provincial Park is one of the prettiest I've run across in the Canadian Rockies. It's one of the most scenic beginner backpacking trips out there. The campground is situated in the forest on Upper Kananaskis Lake.
If you don't want to hike the 3.4 km (with just 25 m of elevation gain), you can boat into this campsite. The campground has 20 campsites, bearproof storage, pit toilets, fire pits and firewood. This one is such a winner!
Book it here 90 days out. According to Alberta Parks, the campsite is open year-round.
Park at the North Interlakes Day Use area on Upper Kananaskis Lakes. The shortest way to get to the Point Campground is to take the Upper Kananaskis Lakes trail west from the parking lot for 3.4 km. Count on one to two hours of hiking time, depending on your speed.
You could easily combine this trip with the Forks Campground described below. On the hike out there is the option to continue around Upper Kananaskis Lake as part of a loop hike. There is also a side hike up to Rawson Lake off the Upper Kananaskis Lake Trail.
The Gem Trek Kananaskis Lakes Map is the one you'd want for this trip as well.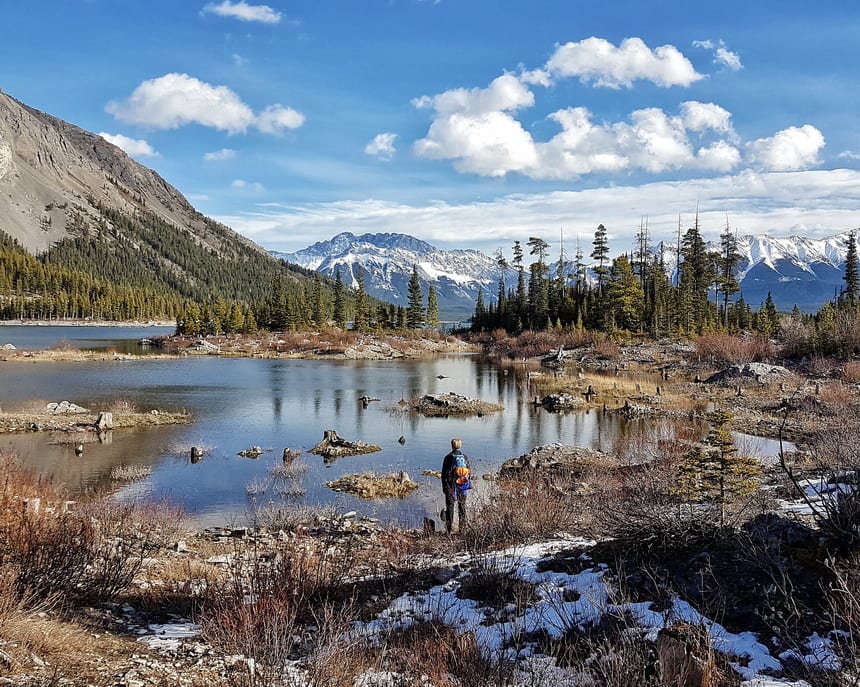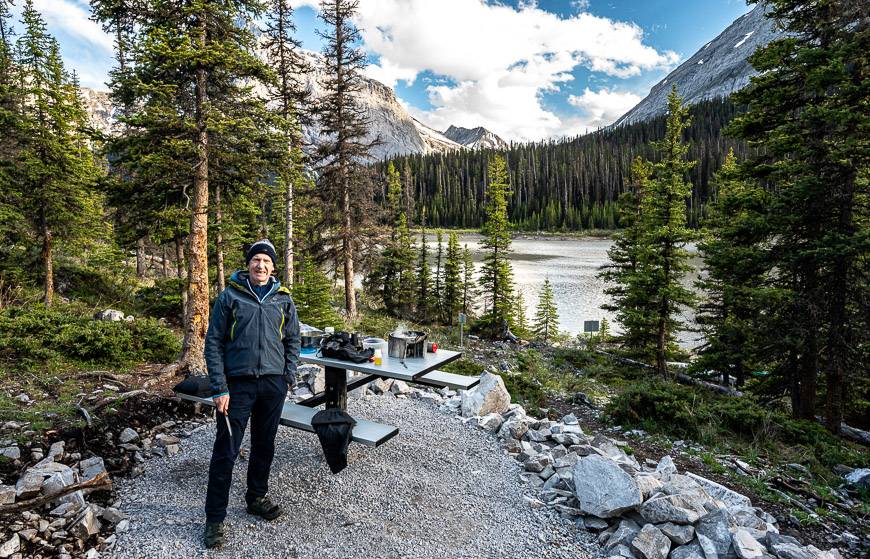 Backpacking to the Forks Campground
Choose from 15 campsites at the Fork Campground, set in the forest at the confluence of the Upper Kananaskis River and Three Isle Creek. The campground has bearproof lockers, picnic tables, a large fire pit (wood was provided in 2020 even though it said on the website it wasn't) and pit toilets. Book a site here 90 days out through Alberta Parks.
The hike in is 7.3 km with just 100 m of elevation gain so its a great one for families. From the campground there are options to continue to Three Isle Lake as a day trip or Turbine Canyon and Haig Glacier if you've got the stamina.
The hike starts at the North Interlakes Day Use Area. Follow the Upper Kananaskis Lakes Trail for 2.2 km. Then pick up the Three Isle Lake Trail and take it for 3.4 km to reach the campground. You'll pass the Palliser Rockslide, and cross a few wooden bridges. When you reach the boardwalk you're almost there.
Use the Gem Trek Kananaskis Lakes map for this hike.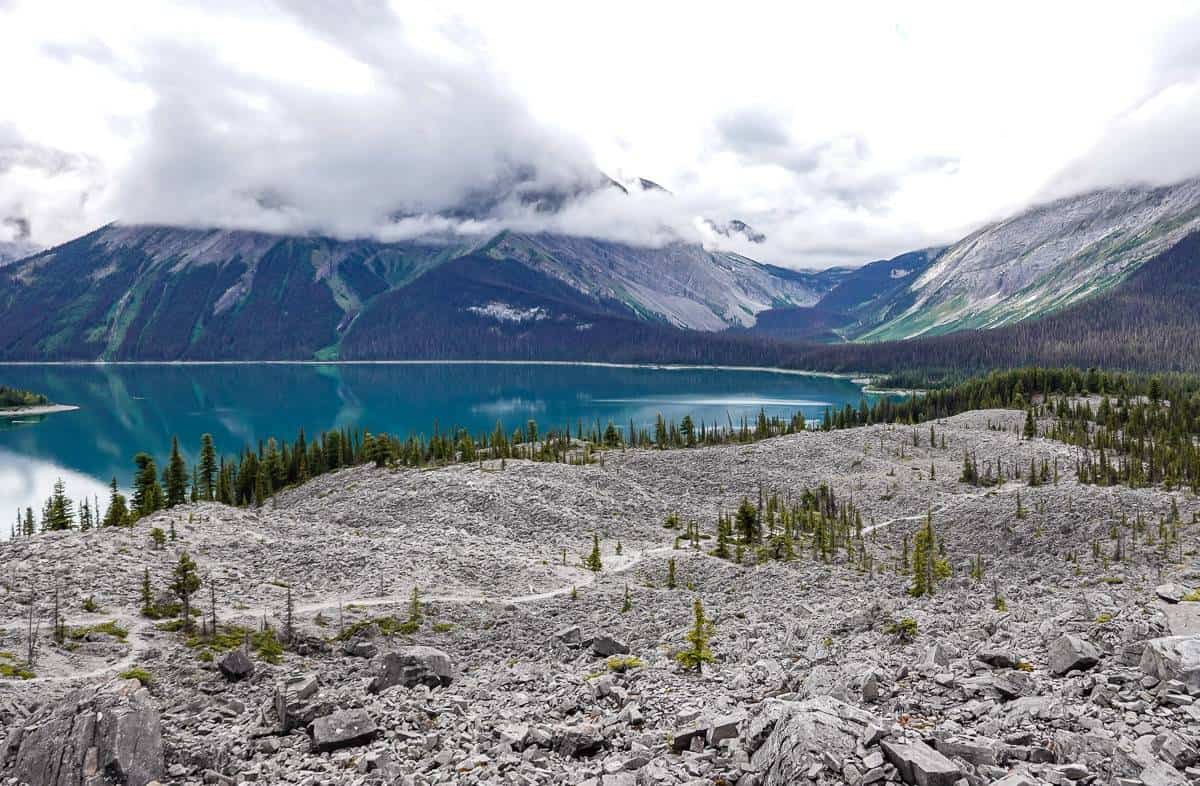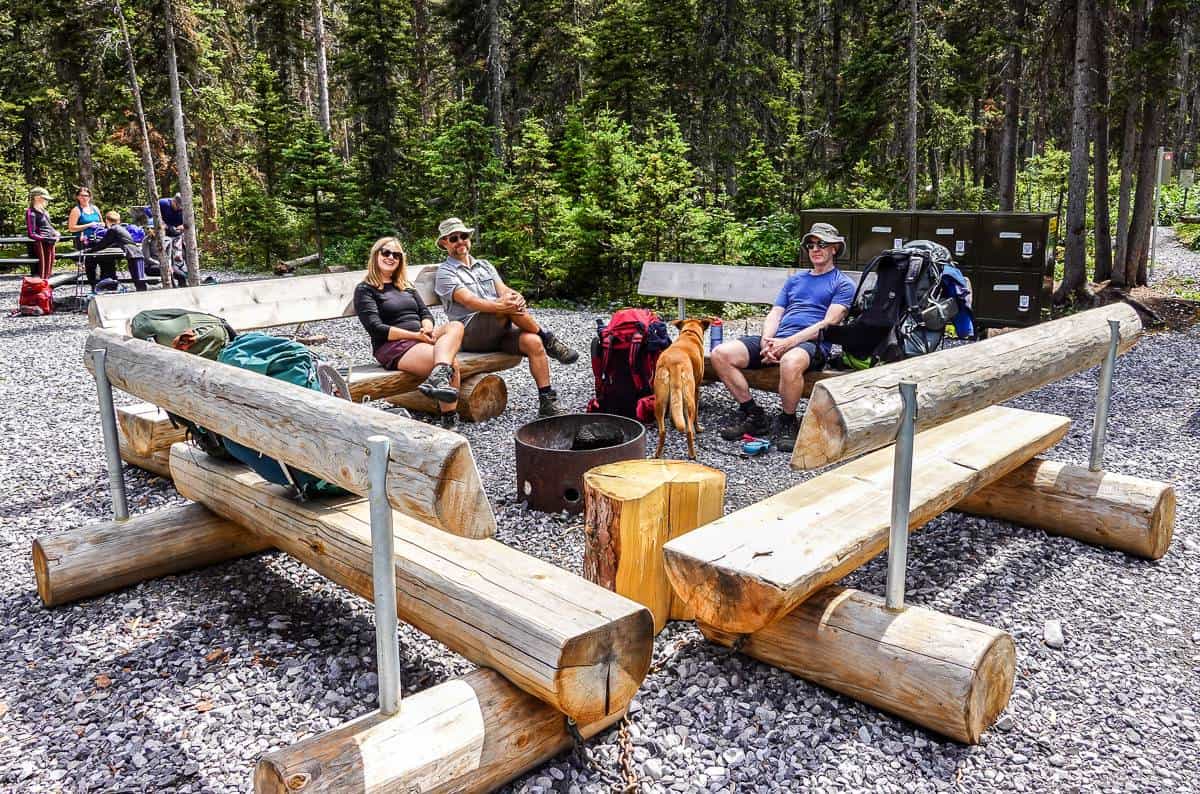 Beginner backpacking trips in Banff National Park
Glacier Lake hike, Banff National Park
Glacier Lake is one of the great choices for a family or anyone who is after an early season, beginner backpacking trip. It's only 9 km one way with a mellow elevation gain of 475 m (1,558 feet). The most interesting part of the hike is at the North Saskatchewan River and at the Howse River Lookout. For most of the rest of the hike you're in the trees with the occasional peek-a-boo view. But turquoise-coloured Glacier Lake itself is lovely.
The trail is well signed. Reach the Howse River Lookout at 2.2 km. From there head into the woods and start climbing to the high point of the hike. The final 2.6 km descent to the lake is quick and easy. When you reach the lake turn left and continue for 200 m to reach the campsite. Allow three to four hours to do the hike with a backpack.
The Glacier Lake campsite is a good one. There's a big firepit with a view of the lake, a pebbly beach, outhouses, and a couple of picnic tables. Reservations opened in March 2023. Book a backcountry reservation here.
The trailhead is located 1 km north of Saskatchewan River Crossing on the southwest side of the Icefields Parkway.
The map you need for this hike is Gem Trek Bow Lake & Saskatchewan Crossing.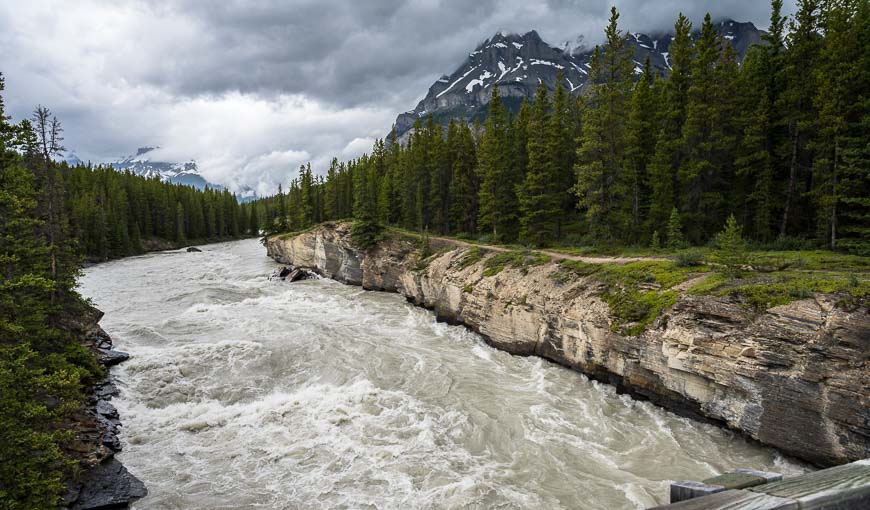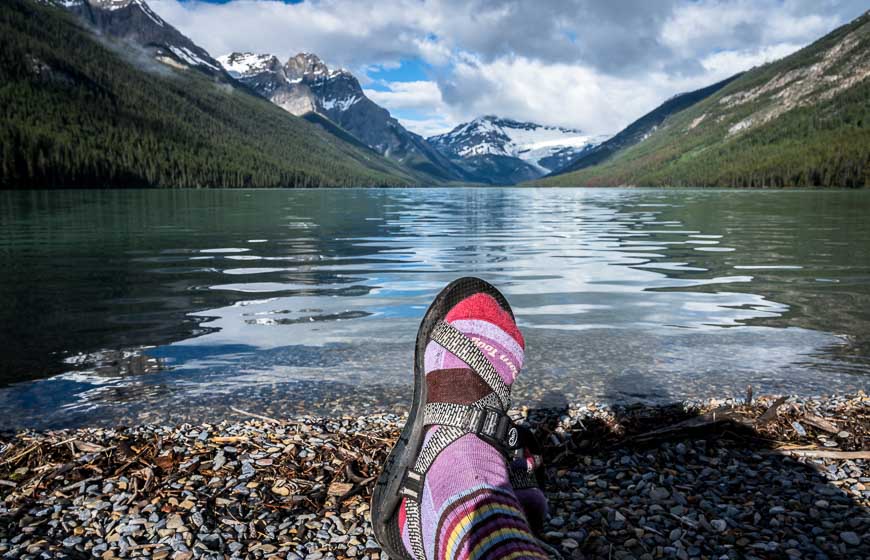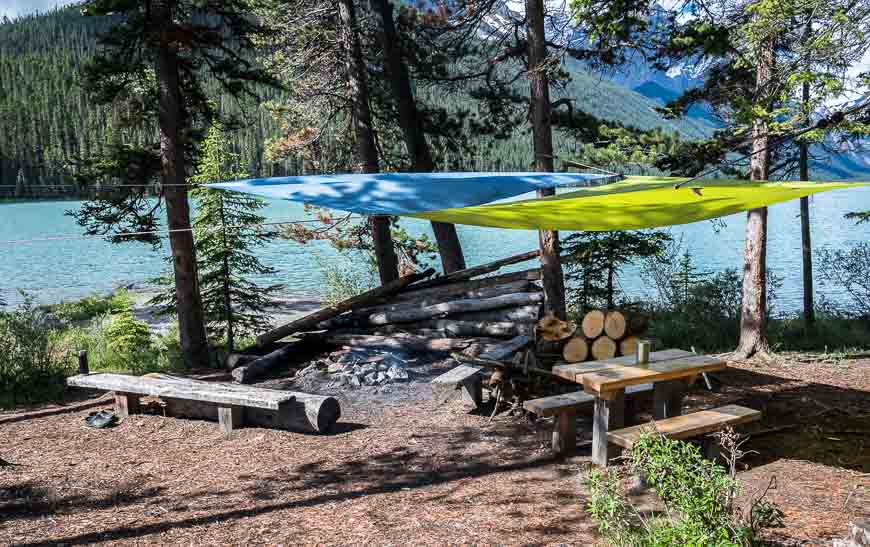 Mosquito Creek Campground
The Mosquito Creek Campground is just 5.5 km in and 185 m (607 feet) up from the Icefields Parkway. It's often a snack stop for those heading to the Fish Lakes Campground, 9.3 km away. But for a beginner backpacker, it's a worthy destination.
Start from the trail across the highway from the parking lot for the Mosquito Creek Youth Hostel, 24 km northwest of the Highway 1 – Icefields Parkway junction. Follow the boot-beaten trail as it winds up parallel to the creek through some pretty open forested sections. Arrive at the campground in 90 minutes – 2 hours. I particularly like this campsite with its big boulders, privacy, some views and the creek running by it.
Once you arrive at the campsite and set up, you have the option to continue towards North Molar Pass. It's 6 km distant, but you needn't go all the way to the pass to enjoy some fabulous Rocky Mountain views.
Reservations have opened 2023. Book a reservation here.
The map for this trip is the Hector Lake map – 82N/9.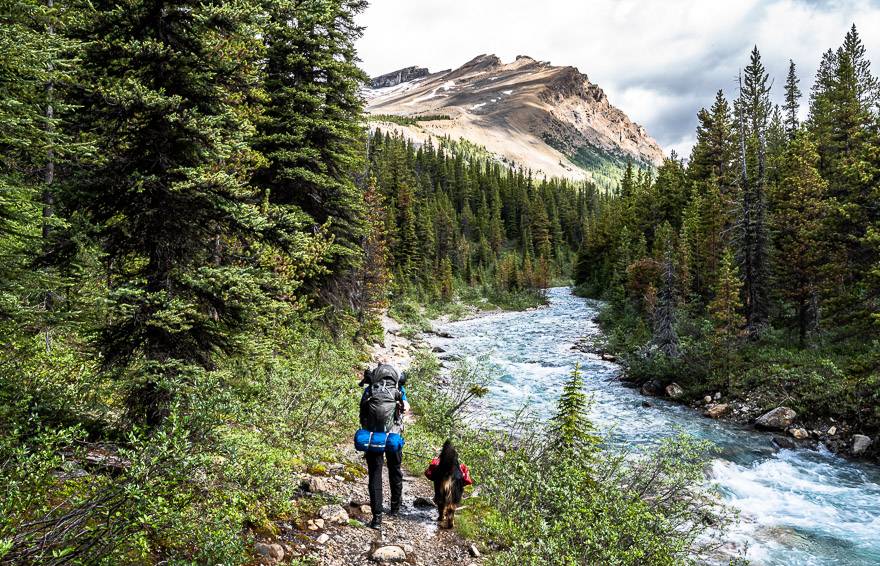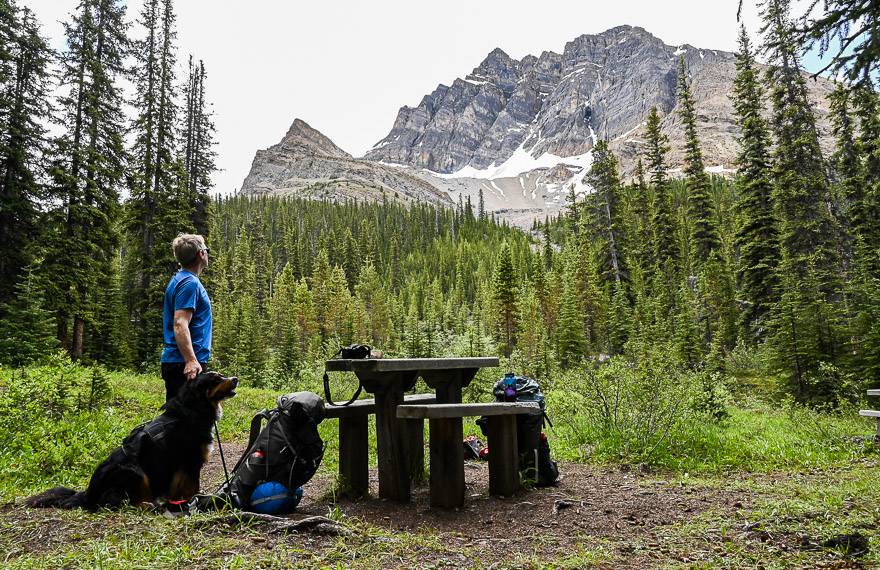 Lake Minnewanka Shoreline backpack
The easy Lake Minnewanka Shoreline hike in Banff National Park is popular as an early or late season hike. From July 10 until September 15th dogs and bikes are not allowed on the trail, and hikers must travel as a group of four minimum as the trail travels through prime grizzly habitat.
There are options for an 8 km, 9 km, or 11 km one way hike, depending on what campground you book. Aylmer Pass Junction is at the 8 km mark and is a good choice if you want to hike the Aylmer Lookout Trail. Continue just 1 km to reach Aylmer Canyon Campground and 3 more kilometres to reach Mt. Inglismaldie Campground. The Aylmer Pass Junction Campground is closed between July 10 and September 15th.
This is a great beginner backpacking trip as the hike is straightforward. It starts from the Lake Minnewanka day-use area. Follow the signed trail along the lakeshore. At the 1.1 km mark cross the bridge at Stewart Canyon and take a right. The trail follows the shoreline, often well above the shoreline. Navigation is never hard. Allow approximately three hours to reach the first campground.
If you decide you want to do a hike up to Aylmer Lookout, be warned that it will be a long day. It's an additional 3.7 km up from the first campsite – and 11.7 km to get back to the trailhead. The views of the length of gorgeous Lake Minnewanka make it all worthwhile.
Reservations opened in March 2023. Book a backcountry campsite here.
The map for the hike is Gem Trek Banff and Mount Assiniboine.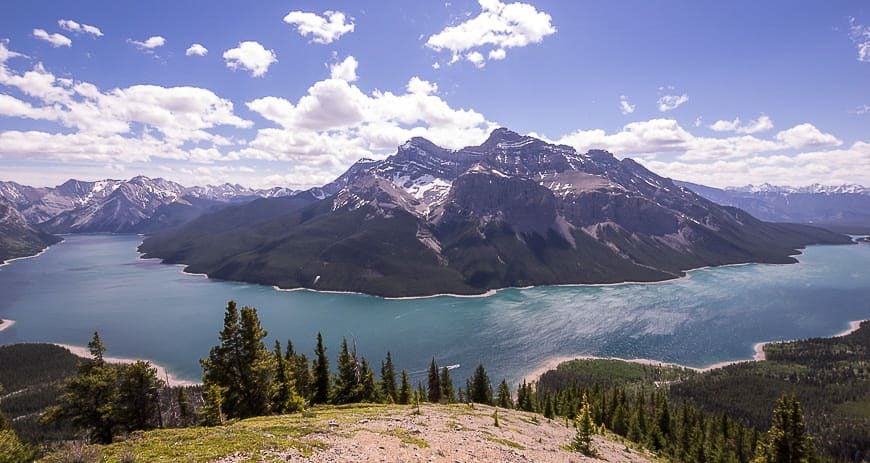 Beginner backpacking trips – Elk Lakes Provincial Park, BC
Elk Lakes Petain Falls hike
The Elk Lakes hike is a total snap – and super family-friendly if you access it via logging roads from Sparwood, BC. You'll have all of a 1 km hike to reach the campground and carts are even provided. You couldn't ask for an easier beginner backpacking trip! If you hike in from Peter Lougheed Provincial Park in Alberta, it's a 10 km hike. It's by no means a hard hike, but it's probably pushing the boundaries for beginner backpacking trips.
We did this backpacking trip over the Labour Day weekend and added on a side trip to Petain Falls and the glorious Petain Basin on a layover day. I would suggest hiking at least as far as Upper Elk Lake as its a stunner. There is also the option to hike from Lower Elk Lake to a lookout – a short two-hour return hike from the campsite.
You do not need to reserve campsites ahead of time. All are first come, first served.
The map for this hike is Gem Trek Kananaskis Lakes.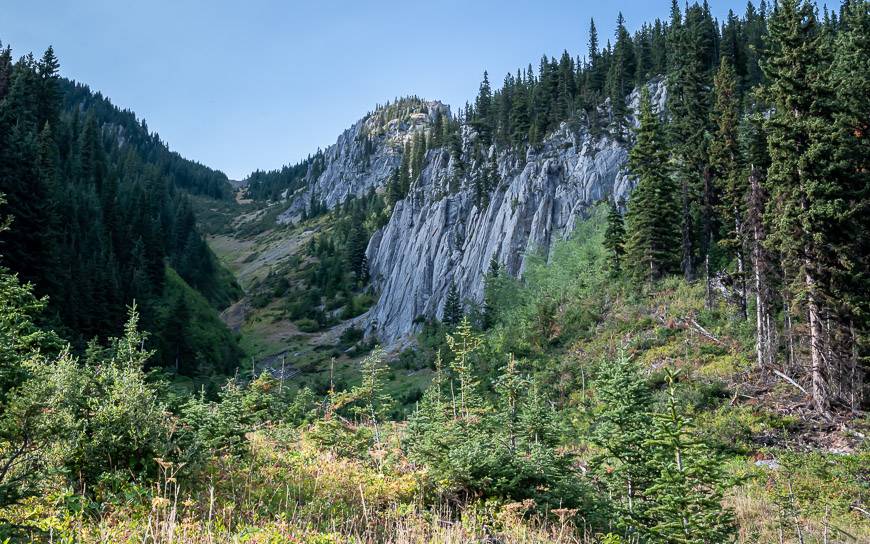 Beginner backpacking trips in Yoho National Park
Laughing Falls Campground
It's an easy 4.6 km one way with an elevation gain of just 125 m to reach Laughing Falls and the campsite that goes by the same name. It's in a pretty location at the confluence of the Yoho and Little Yoho Rivers.
Start at the parking lot for Takakkaw Falls and follow the signs. You actually go past Takakkaw Falls Campground a walk-in campground (pictured below), that is also a good choice, but it could hardly be called a backpacking trip. However, the location and amenities are first rate, and no reservations are needed for it. There is also another pretty campsite, just 2.3 km north of Laughing Falls – the Twin Falls Campground, so that is also an option as a beginner backpacking trip.
From Laughing Falls, you can do a day trip to Twin Falls or the Whaleback. If you're very ambitious you could take the Celeste Lake Trail to the Iceline Trail and do a loop – but with a backpack, that would be a difficult trip.
Reservations opened in March 2023. You can make a backcountry campsite reservation here.
The map to have on this trip is Gem Trek Lake Louise & Yoho.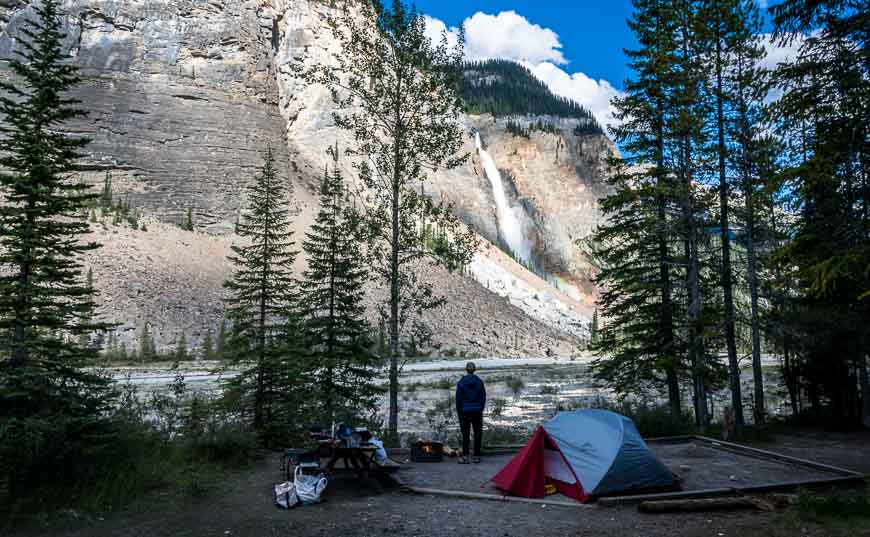 Yoho Lake
Yoho Lake is a pretty destination for a one-night backcountry camping experience. Reservation dates have opened in 2023 and you can book a backcountry campsite here. The campground is in the trees and reportedly quite buggy in the evening so consider taking a head net and insect repellent with you. However, it's a peaceful campground with low crowds. Down by the gorgeous, turquoise-coloured lake, look for a couple of Parks Canada red chairs and beautiful views of Mt. Wapta.
There is bear-proof storage, picnic tables and a couple of outhouses.
The trail to the lake starts at the Whiskey Jack Trailhead near the Takakkaw Falls parking lot. The trail is a short one – just 4.3 km one way but the first few kilometres are steep, as they climb 300 m via a set of switchbacks. After that, the trail moderates all the way to the lake. There is the option to hike the more difficult Iceline Trail on the way out by either taking the Highline Trail, or retracing your footsteps back to the junction with the Iceline Trail.
The map to have on this trip is Gem Trek Lake Louise & Yoho. It's extremely useful as there is quite a network of trails in the park.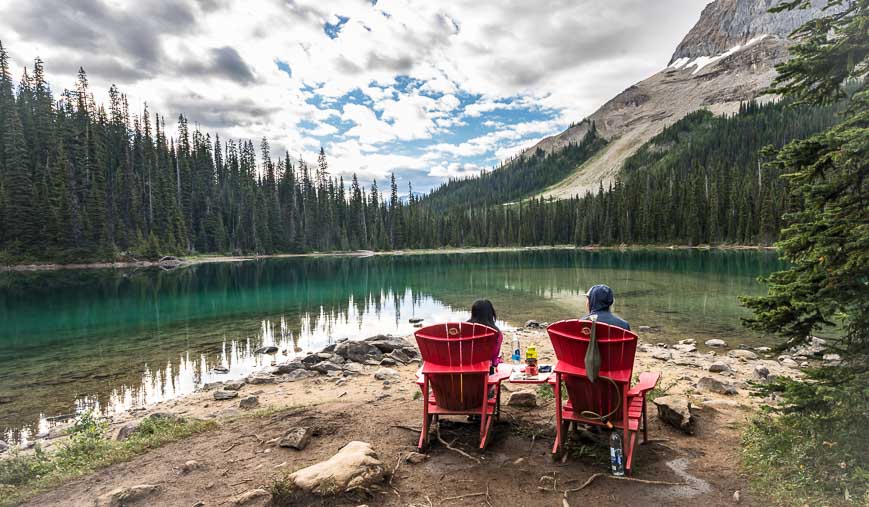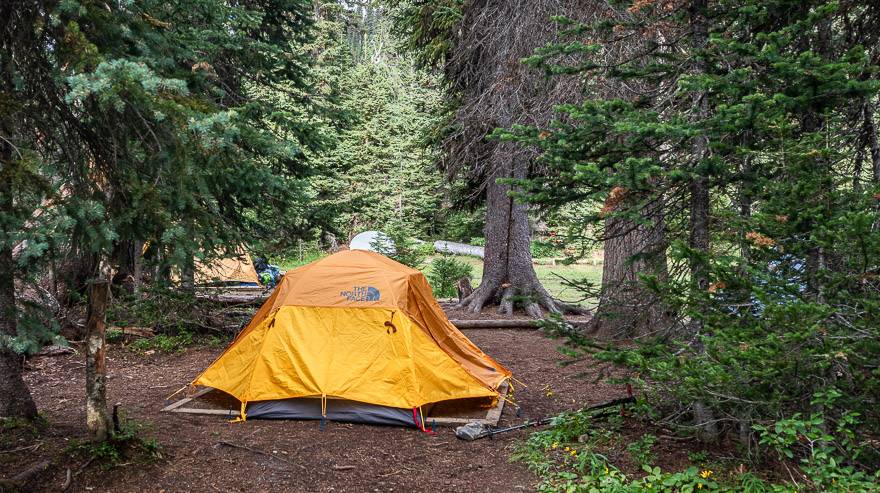 Beginner backpacking trips in Jasper National Park
Portal Creek Campground
The Tonquin Valley Trail is one of the easiest multi-day backpacking adventures in Alberta. But if you're a beginner, you may not be able to commit to the full trip, but you could get a taste of the area by hiking in 9 km to the Portal Creek Campground. The elevation gain over that distance is 530 m. The next day you could hike 3.4 km to Maccarib Pass without a pack and return to the campsite to pick up your gear and hike out, or alternatively spend a second night. I found the scenery to be fantastic at the pass!
The Portal Creek Campground is a basic one, though in a pretty setting in the woods by a stream. There are bear proof lockers, picnic tables, open outhouses and four campsites. You can book a backcountry campground here.
The map for this hike is Gem Trek Jasper & Maligne Lake.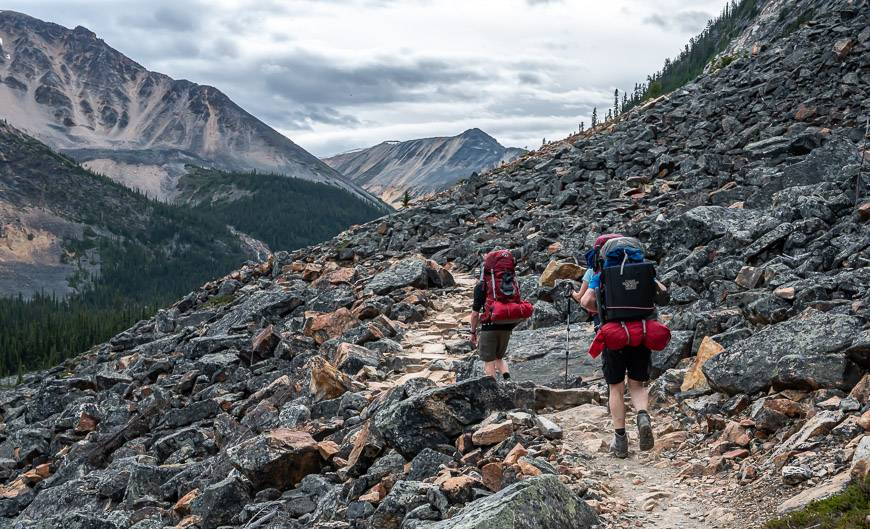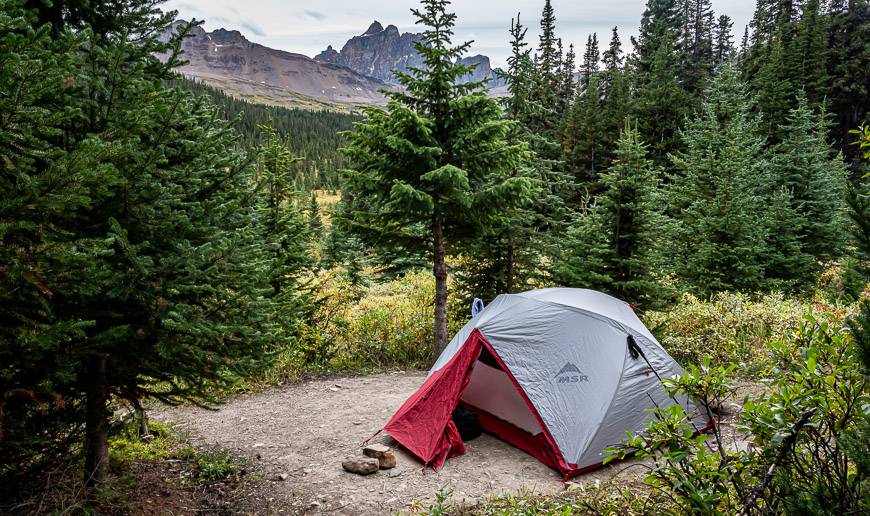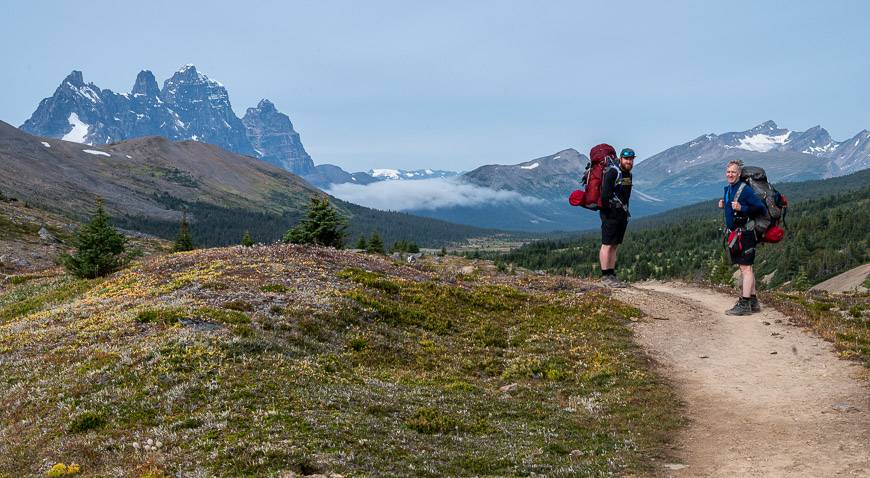 Useful items for beginner backpacking trips
Want to know how to poop in the woods responsibly? This is the book to read – How to Shit in the Woods (4th edition). It has sold over three million copies.
If anything breaks some gear aid tenacious tape could come in very handy.
I highly recommend a bear spray holster that you can keep on the waist strap of your backpack.
A camp pillow can make your night in the tent just a little more comfortable.
If you want to learn a little something on the hike this wildflower guide would be a good choice.
Click on the photo to bookmark to your Pinterest boards.