The Aylmer Lookout Trail is one of the great early season hikes in Banff National Park. There is the option to add extra mileage and hike to Aylmer Pass or even up Aylmer Mountain. The trail follows Lake Minnewanka for much of its length – and after a stiff climb towards Aylmer Lookout delivers superlative views up and down the lake. But be warned. Although it's not a hard hike, it is a long one.
Be prepared to hike 23.4 km return to the lookout; to the pass its 27 km. To do both – and you really do need to check out the lookout, you're in for a 30 km day.
The trail starts at the parking lot at the west end of Lake Minnewanka. It tends to get jammed as it's where you park if you're doing a cruise on Lake Minnewanka or if you're just planning on a family picnic by the lake.
If you're a hiker follow the road east past the washrooms and the canteen selling ice cream cones. The trail starts after the paved road and while the trail itself is paved for a short distance, it does change to dirt in short order and you'll see a sign so you know you're heading in the right direction. It's nearly impossible to get lost once you're on the main trail.
This post includes some affiliate links. If you make a qualifying purchase through one of these links, I may receive a small percentage of the sale at no extra cost to you. Thank you for your support.
Aylmer Lookout Hike Details
Distance: 23.4 kilometres round-trip
Elevation gain: 570 metres
Trailhead elevation: 1482 metres
Time needed: 7 – 8 hours return
Dogs allowed: Yes on a leash before July 10 and after September 15th
Map needed: Gem Trek Banff & Mt. Assiniboine
Options: Continue to Aylmer Pass; that adds 6.8 km to do both the lookout and pass with a total elevation gain of 942 m plus another 2-3 hours of time
Aylmer Lookout Trail Description
The first notable stop on route to the lookout is Stewart Canyon, 1.7 km from the parking lot. Cross the bridge over the Cascade River and keep your eyes peeled for wildlife. We saw both big-horned sheep and deer within 100 m of the bridge.
The trail swings northwest for a short distance and then back towards the lake through open forest. In spring look for blue clematis. It's all over the place adding a pretty touch to the lime green foliage.
After you've crossed the bridge at Stewart Canyon also take note of the sign with all the do's and don'ts. Every adult should carry a can of bear spray. We saw a female grizzly and three cubs on the return portion of the hike, about 400 m from the sign pictured below.
While you can ride a bike or take dogs on the trail now, you cannot between July 10 and September 15th. Note also that as of July 10th you MUST hike as a group of four as this is an important area for grizzly bears and their cubs during the feeding season.
It's fast, easy hiking all the way to the Aylmer Pass junction with some really lovely Lake Minnewanka views.
When you reach a bridged creek, about 7.7 km from the parking lot you'll be within minutes of the turnoff to the lookout. If you're running low on water, fill up here as there is nothing once you start climbing.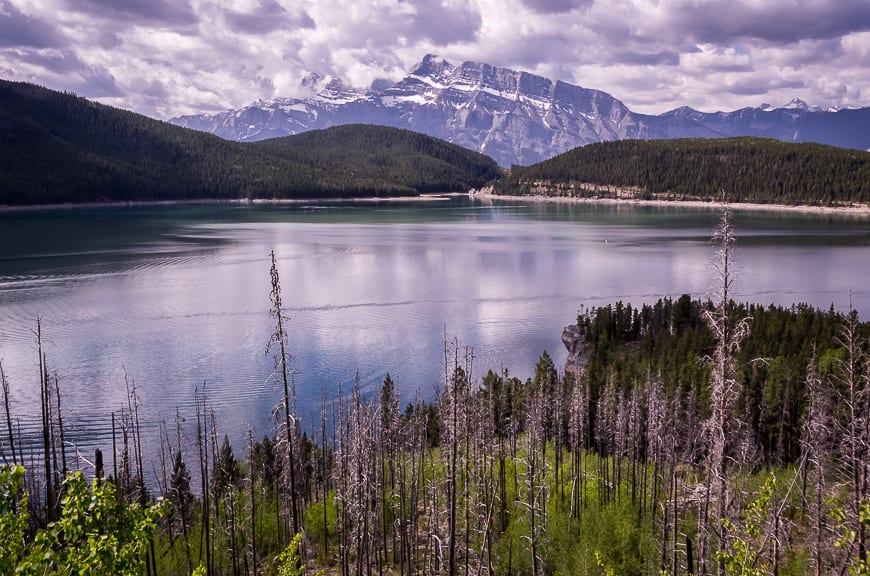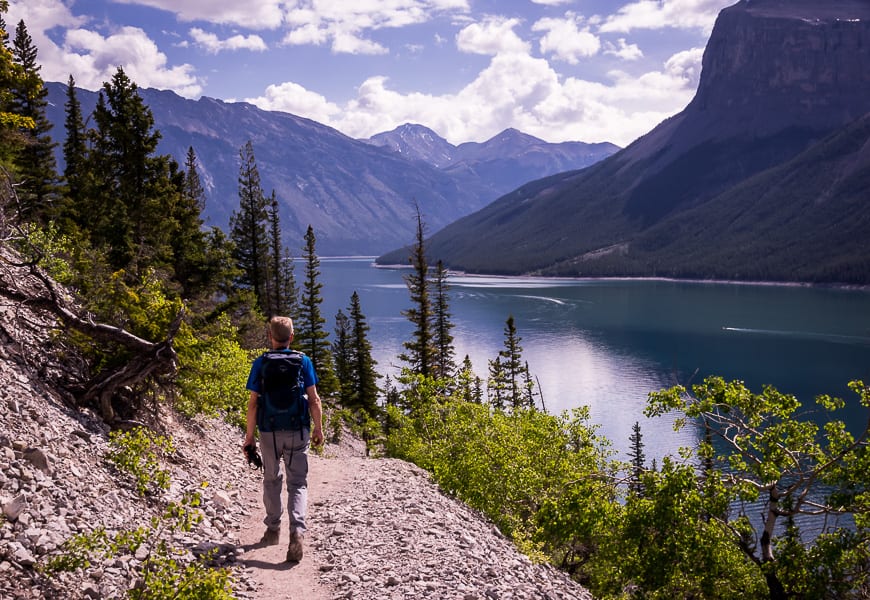 The trail up from Aylmer Pass Junction
There's an obvious sign at the Aylmer Pass Junction pointing to both the lookout and pass. This is where the work begins. Its 2.3 km to the next junction – all uphill with little in the way of views.
It will probably take you about 45 minutes. Once you reach the Aylmer Lookout junction turn right. Within a few hundred metres the views open up and just keep getting better. Switchback for 1.7 km to reach the Aylmer Lookout. In total you gain 570 m.
The actual physical lookout is no longer in existence but you can still see the concrete footings. Descend a short distance so you can marvel at the views both up and down the lake and then find a spot out of the wind to enjoy a lunch. Retrace your steps to return.
If you do decide to go to Aylmer Pass you have to ascend another 230 m over 1.8 km. While I haven't done it, I understand the views of Lake Minnewanka aren't any more spectacular than what you get on the hike to the lookout.
We had run out of time and had to head home to our waiting – and hungry dog. As it was it took us 7.25 hours round-trip including a break for lunch.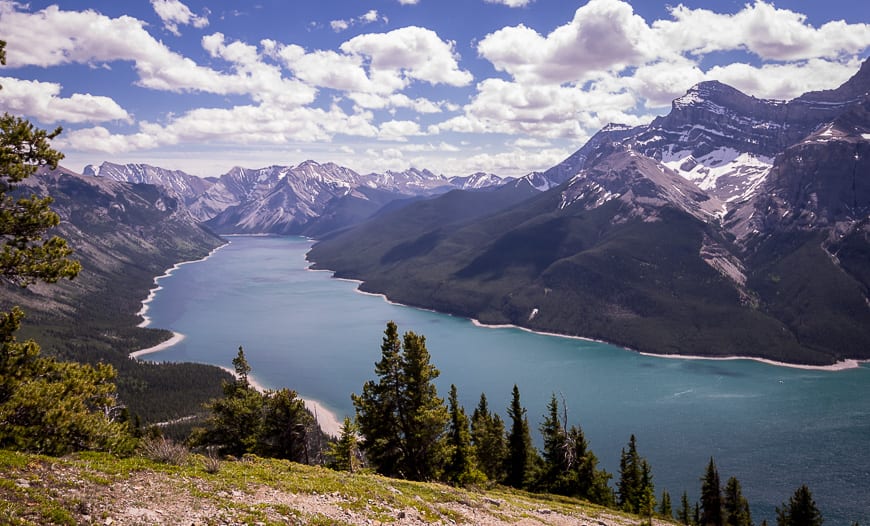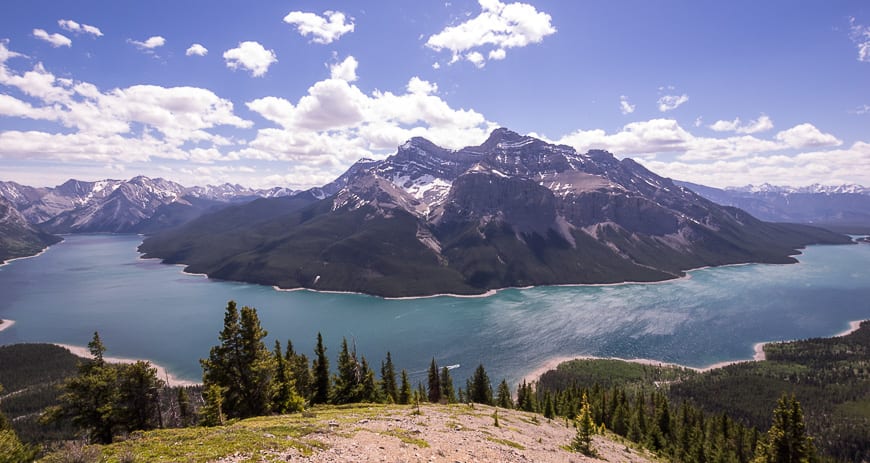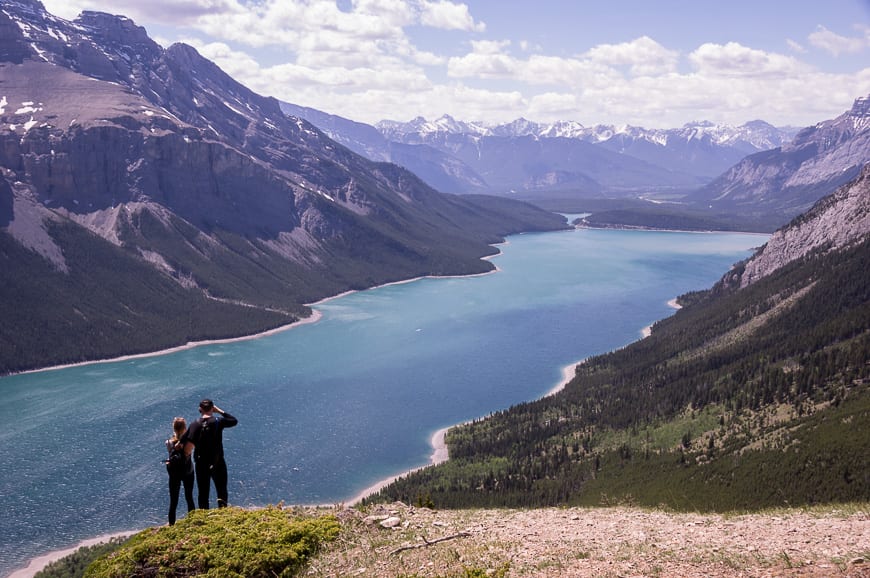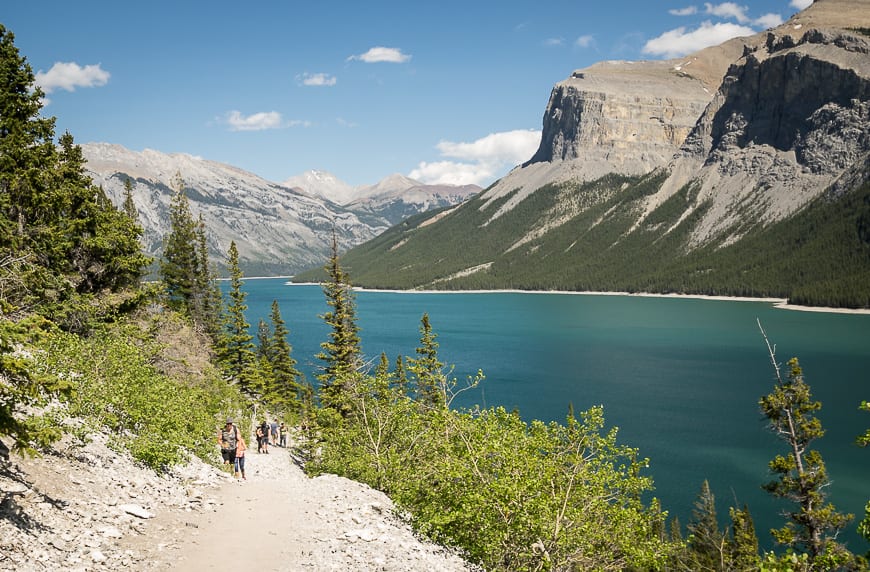 Finding the trailhead
Take Banff Avenue out of town to reach the Trans-Canada Highway interchange. Continue straight for 5.9 km on the Lake Minnewanka Road to reach the large parking lot at Lake Minnewanka.
Alternatively look for signs pointing to scenic Two Jack Lake off of Lake Minnewanka Road and loop around to end up at the parking lot via a drive over the dam. Go slowly near the dam as there are almost always big-horned sheep.
Looking for more early season mountain hikes? Read 5 Early Season Mountain Hikes near Calgary.
Other hiking suggestions include some from this post – 7 Bragg Creek Hikes and Glenbow Ranch is always a good year-round choice.
For up to date information visit the Banff National Park website.
Where to stay in Banff
The following are suggestions across all price points.
The Fairmont Banff Springs Hotel is a beautiful place to stay – though it's expensive.
I'd suggest The Juniper Hotel & Bistro if you want a view without the crowds. They also have an excellent restaurant.
The Buffalo Mountain Lodge never fails to impress. Enjoy an outdoor hot tub and a great onsite restaurant. In summer they offer free bikes for guest's use.
On the hotel strip I like the Moose Hotel. If you're traveling in a group or as a family and you're cool with bunkbeds (not all rooms) then the cheerful and relatively new Canalta Hotel is a great choice.
For a hostel experience visit Samesun Banff.
To bookmark this page pin to your Pinterest board.