I was looking for a good shoulder season hike – something that would offer up great mountain scenery but wouldn't take me into snow. The other factor was that my brother was visiting and he hadn't been to Banff National Park in over thirty years. And he wanted wildlife. The Lake Minnewanka hike, which is accessed from a trailhead just 15 minutes from downtown Banff, delivers on both accounts.
I highly recommend the Lake Minnewanka hike as a great shoulder season outing – for May, June, October and November. I say shoulder season because the trail loses the snow early. In summer, it's best avoided because of bear activity. The Lake Minnewanka hike can be stretched into a backpacking trip or you can add on the hike to Aylmer Lookout – something I recommend doing.
Updated February 2022. This post includes some affiliate links. If you make a qualifying purchase through one of these links, I will receive a small percentage of the sale at no extra cost to you. Thank you for your support.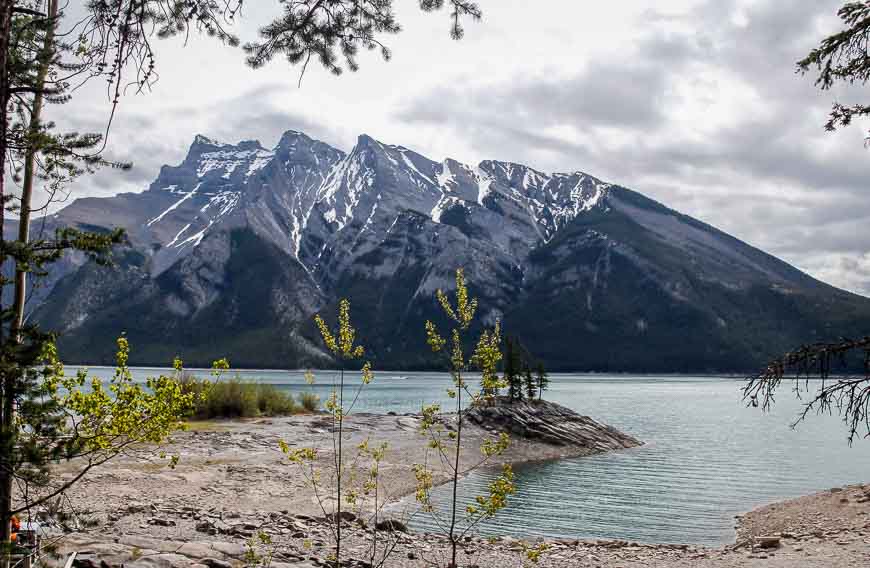 Lake Minnewanka
Lake Minnewanka is a stunning fjord like lake. It's almost 24 kilometres long and it's deep – 142 metres deep, making it the largest and deepest lake in Banff National Park. It hasn't always been this way. Years ago dams were built and in fact Minnewanka Landing, once a thriving resort town, is now under the lake.
Lake Minnewanka is a wildly popular place – but don't let that put you off, especially in shoulder season when the number of tourists isn't that high in the Banff area anyway.
Many people will opt for a boat tour, and many are happy to just enjoy a picnic by the lake. And if you're a hiker, chances are you'll lose the crowds after the first few kilometres.
Lake Minnewanka hike details
To begin the hike, walk the service road past the boat dock and through the picnic area at the edge of the lake. In about a half kilometre you'll see the sign with the mileage given to various points.
You have the option of hiking over thirty kilometres one way from this point. Many opt for an overnight backpacking trip so they can explore all the way down to the far end of the lake. However, this hike is ideal for anyone who just wants to see a different view of the lake. It's an out and back hike so go as far as you like and then return.
Hike length: Up to 31 km one way if you go as far as the Ghost Lakes campsite; from there it's another 4.5 km one way to the Devil's Gap Trailhead
Elevation gain: Approximately 300 metres on the full out and back hike
Time needed: As much as you want. Plan to backpack if you want to head to the end of the lake.
Dogs: Allowed on leash except between July 10 and September 15th.
Trail restrictions: The trail travels through an area that sees a lot of bear activity. From July 10 until September 15 you must hike as a tight group of four and everyone needs to carry a can of bear spray.
Map needed: Gem Trek Banff and Mt. Assiniboine
Campsites along Lake Minnewanka: LM8 (Aylmer Pass Junction), LM9 (Aylmer Canyon), LM11 (Mount Inglismaldie), LM20 (Mount Costigan), LM 22 (The Narrows), LM 31 (Ghost Lakes)
Side hike on the Stewart Canyon Trail
We hiked the first 1.5 km to a substantial bridge over Stewart Canyon. This is the point we saw a number of people turn back. It's a pretty view of the Cascade River from the bridge.
The Cascade River cuts through a limestone chasm as it flows towards Lake Minnewanka. Across the bridge, go right and continue on the Lake Minnewanka Lakeside Trail or head left if you want to explore the Stewart Canyon Trail.
We did both the Stewart Canyon trail (as a quick out and back) and the Lake Minnewanka trail – but if you're short on time just stick with the Lake Minnewanka Lakeside Trail.
The Stewart Canyon Trail takes you 1.5 km one way along the edge of the river. It's pretty enough and quite lovely especially if you stop at the end of the trail down where it hits the river – but it doesn't offer the outstanding views that the Lake Minnewanka hike offers.
At the intersection of the two trails we have often seen deer or big-horned sheep. Be sure to give both plenty of space as you hike through.
Be bear aware
Back at the intersection we joined up with the Lake Minnewanka trail. As it was early in the season, we didn't have to form a group of four. That is done because there has never been a reported grizzly bear attack in a group with that number of people.
From July 10th to September 15th, this is prime grizzly bear territory. Female grizzlies feed and raise their young here on the copious number of buffaloberries that grow here. That's a good combination to avoid!! I personally would give July 9th and September 16th a pass too. This is one place in Banff National Park where I have seen Mama grizzly with her three cubs.
Carry bear spray. Make sure it's quickly accessible and you know how to use it.
The Lake Minnewanka Lakeside hike
From the intersection of the two trails (Stewart Canyon and Lake Minnewanka Trail) you head up – though it's only 150 feet of elevation gain – and through a section of burnt forest from a controlled burn in 2003. It's actually quite beautiful through here now with wonderful vistas and lots of fresh lime green vegetation. Enjoy the sight too of Cascade Mountain.
When you exit the burnt section the views are sublime. But do watch where you're going. The trail is narrow and you have to share it with mountain bikers. All the bikers we met were wonderfully polite!
Continue along the trail over rocky ground and admire the rugged looking Mt. Inglismaldie on the far shore. Be prepared for some ups and downs over the next few kilometres. We stopped just short of the Aylmer Pass Junction – at 7.8 kilometres from the trailhead. A side path to the beach beckoned and so did lunch.
You could choose to continue on this trail – past the LM8 campground (with bear proof boxes), followed by one at the 9.3, 11 and the 18.8 km mark. Reach the end of the lake after hiking 23 km. You can continue even further to the Ghost Lakes and finally Devil's Gap at 30.6 kilometres. Retrace your steps to return.
Lots of big-horned sheep
The big-horned sheep seen in the photo below were around in great numbers on the road. They seem less wild than the ones I saw in the Calgary Zoo. They were quite happy to pose for shots – though don't go after them.
We also saw elk in the woods and a jumping white-tailed deer – enough wildlife to make my brother happy.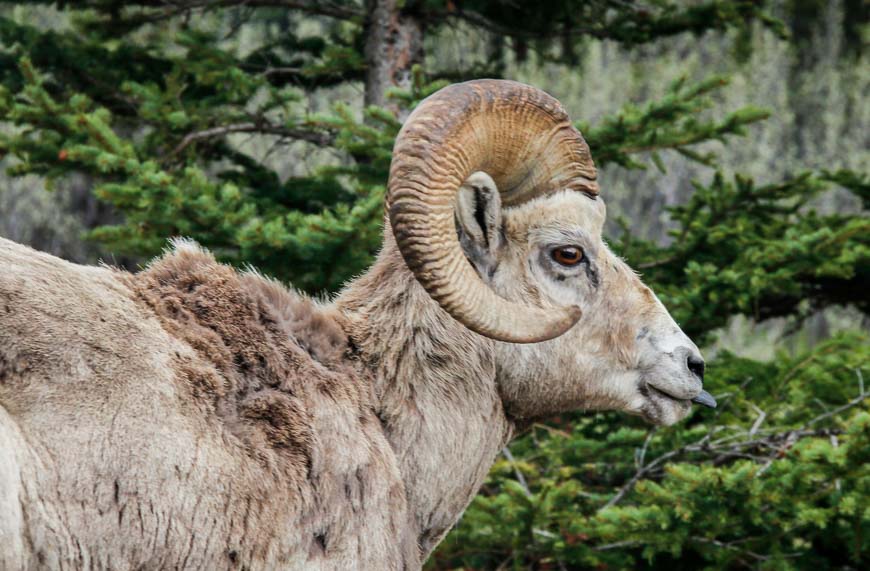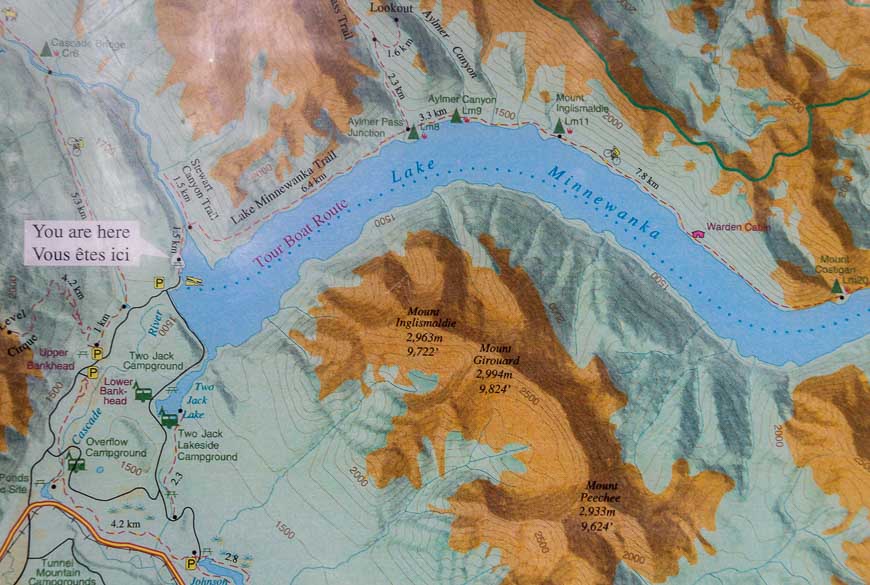 Useful information for hiking the Lake Minnewanka trail
Dogs are allowed on a leash except during periods of high bear activity.
You must buy a Banff National Parks pass to hike here. It's hard to miss getting this if you drive into Banff National Park.
You must get a backcountry pass if you're planning to camp. You can buy one at the Banff National Parks office at 224 Banff Avenue in you guessed it – Banff. Backcountry reservations opened on January 28, 2022. Book early for the best choice.
Carry the 10 hiking essentials.
Where to stay in Banff
If you're a visitor to Banff there are loads of great hotel options across quite a range of price points. A few of my favourite hotels include The Moose Hotel & Suites on Banff Avenue, Buffalo Mountain Lodge on Tunnel Mountain Road and of course the Fairmont Banff Springs Hotel.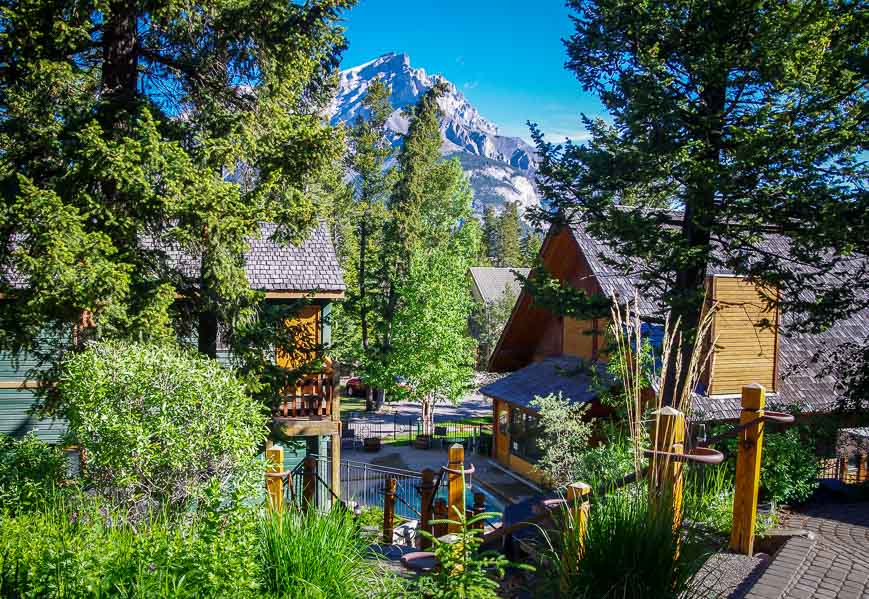 Finding the Lake Minnewanka trailhead
To get to the Lake Minnewanka parking lot take Banff Avenue north out of town. It passes under the Trans-Canada Highway and becomes Lake Minnewanka Road. Continue on it for 5.5 kilometres until you reach the large paved parking lot on your left. Alternatively look for the Lake Minnewanka signs on the highway. They're hard to miss.
When you finish your hike continue on the Lake Minnewanka Road. It's a loop road and on one section along the lake there's a good chance you'll see big horned sheep .
Visit the Banff National Park website for more information.
Further reading on hikes in Banff
Click on the photo to bookmark to your Pinterest boards.