It's worth the considerable effort to drive from Calgary to Banff National Park early in the morning so you can hike to Bourgeau Lake, Harvey Pass and even Mount Bourgeau. The payoff – magnificent views, spectacular alpine flowers, and the gorgeous area around Bourgeau Lake, Harvey Lake and the lakelets. The downside to the Bourgeau Lake hike is a gradual 2-hour ascent (and descent) through the forest with only occasional glimpses of the surrounding mountains and Wolverine Creek. But if you can put up with that, you'll love it.
The Bourgeau Lake hike is a popular one, especially in summer. Plan to be at the parking lot early (by 7 – 7:30 AM on a weekend) to avoid disappointment as it's illegal to park on the highway. Have a backup option in case there isn't any parking left. And before you head to the mountains, check trail reports in Banff National Park.
Location of the Bourgeau Lake hike trailhead
The Bourgeau Lake trailhead is 13.4 km west of Banff on the south side of the Trans-Canada Highway.
The popular Lake Louise hikes like Larch Valley, Lake Agnes Tea House and Big Beehive start 45 km away near Lake Louise itself.
This post includes some affiliate links. If you make a qualifying purchase through one of these links, I will receive a small percentage of the sale at no extra cost to you. Thank you very much for your support.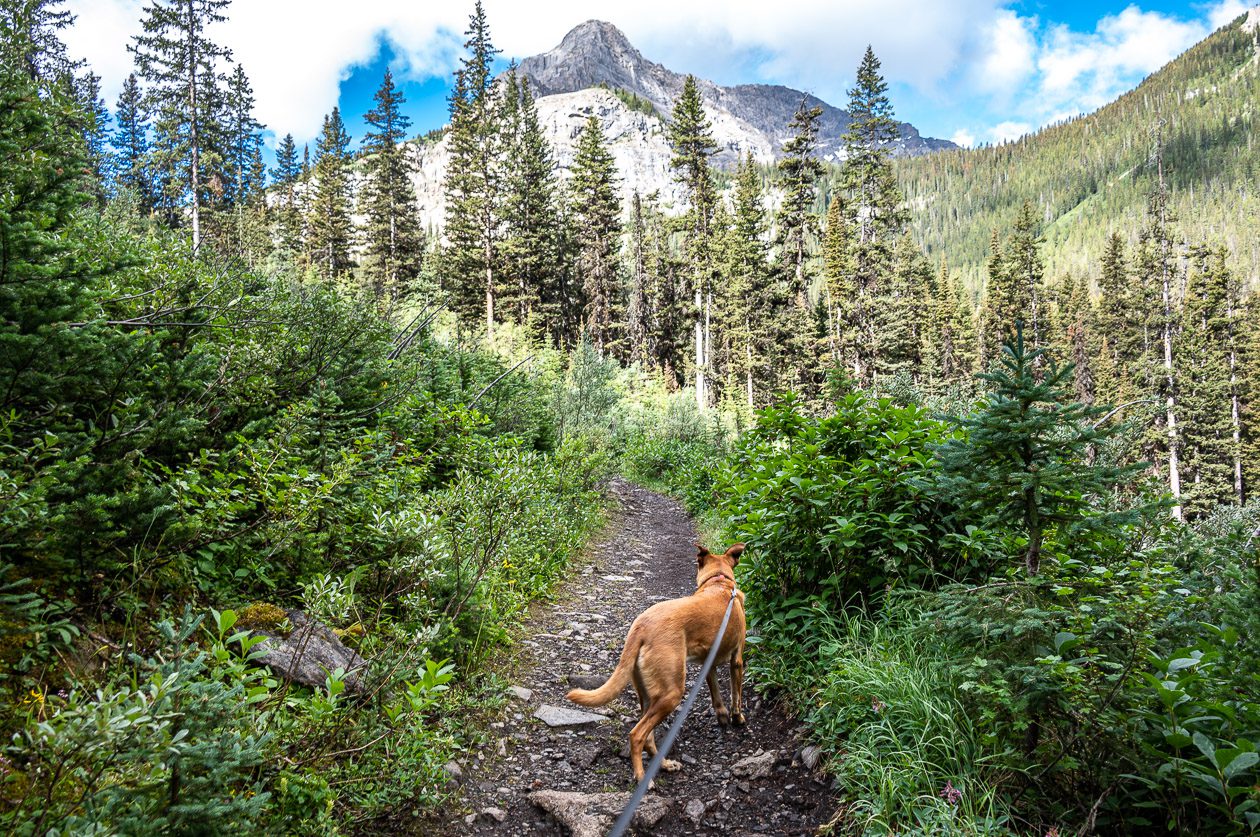 Useful information for the Bourgeau Lake hike, Harvey Pass and Mt. Bourgeau
Trailhead: The Bourgeau Lake parking area is located on the west side of the Trans-Canada Highway, 13.4 km west of downtown Banff. Get there early (7:30 AM or even earlier), especially on a weekend as you cannot park on the highway.
Distance: 14.8 km return to Bourgeau Lake; 19.2 km return to Harvey Pass and 24 km return to the Mt. Bourgeau summit
Elevation gain: 749 m (2,457 feet) to Bourgeau Lake, 1046 m (3,432 feet) to Harvey Pass and 1,530 m (5,020 feet) to the summit of Mt. Bourgeau
Time needed: 4.5 – 6 hours for Bourgeau Lake; 5 – 7 hours for Harvey Pass; 6 – 8 hours for the Mt. Bourgeau summit
Best time to go: The best time to do the Bourgeau Lake hike is in late June until the snow starts to fly, usually sometime in late September or October.
Level of difficulty: The Bourgeau Lake hike is moderate to the pass but challenging to the summit because of elevation gain.
For hiking: Good things to bring along include a hiking pole, water, bear spray and the 10 essentials for hiking.
Map: Gem Trek Banff & Mt. Assiniboine
Park entry: For visitors, there's an entry fee to Banff National Park (daily): $10.50 adult, $9.00 senior 65-plus, and free for youth. It's $21 for a family.
Dogs allowed: Yes, on leash. There is lots of water along the route except on the climb up Mt. Bourgeau.
Cool fact: Mt. Bourgeau and Bourgeau Lake were named by James Hector for Eugene Bourgeau, botanist with the Palliser Expedition (1857 – 1860).
Bourgeau Lake hike details
Climb up two stairs and pull open the metal gate (put in place to reduce animal deaths) just past the toilets to start the Bourgeau Lake hike. Start hiking through the woods. When you get close to Wolverine Canyon, the highway noise is replaced by the sound of rushing water. On the return to the car, you know you're close to the trailhead when you hear traffic on the Trans-Canada Highway.
There are only a couple of occasions on the two-hour hike up to Bourgeau Lake where you get views of any sort. The first view, 35 – 45 minutes from the trailhead, is of the Wolverine Creek Canyon across to the Bow Valley. Next up is a bridge with mediocre views followed by a beautiful view of the many cascades on Wolverine Creek at the 5.5 km mark. Rock hop across the stream. The climbing starts in earnest from here.
In 15 – 20 minutes get a small taste of the Bourgeau Basin and what's to come. When the grade finally moderates, you're in the sub-alpine zone, not far from Bourgeau Lake. The massive wall of Mt. Bourgeau fills much of your sightlines.
Reach Bourgeau Lake at 7.4 km. For some, this will be a good place to stop for lunch. Find a perch on a rock and look for fat, golden-mantled ground squirrels as well as chipmunks and possibly pikas scurrying in the boulder fields. Canada Jays, Clark's nutcrackers, and juncos are some of the birds you might see on the hike up to and around Bourgeau Lake.
The hike from Bourgeau Lake to Harvey Pass
There's an easy to spot sign near Bourgeau Lake pointing in the direction of Harvey Pass. Climb a further 297 metres (974 feet) over 2.2 km to reach Harvey Pass.
To get there, climb on the right side of the cascading inlet to arrive at the first lakelet. Continue around the north shore to reach the second lakelet. In this section, I saw at least six hoary marmots and jumped countless times, when I unexpectedly didn't heard their piercing warning call.
Remember to look back as it is stunning on this section of the Bourgeau Lake hike with alpine flowers, remnants of snow, along with the pretty lakelets and mountains.
Climb a steep scree slope to reach Harvey Lake, the third lakelet and Harvey Pass. On a clear day at the pass, you can look south across Harvey Lake to spot Mt. Assiniboine, 'Matterhorn of the Rockies,' the highest peak in Banff National Park at 3,618 m. You are also looking towards Sunshine Meadows, a spectacular hiking destination and a highlight in Banff National Park.
Sunshine is accessible by the gondola/Standish chairlift in the summer and early fall. This is a good choice for people looking for a shorter, much easier way to view alpine meadows and lakes. It's a good option for older people, and for families with small children. Reserve your seat on the shuttle here. (Nearby Sunshine Village is an excellent all-round family winter destination for skiing and snowboarding.)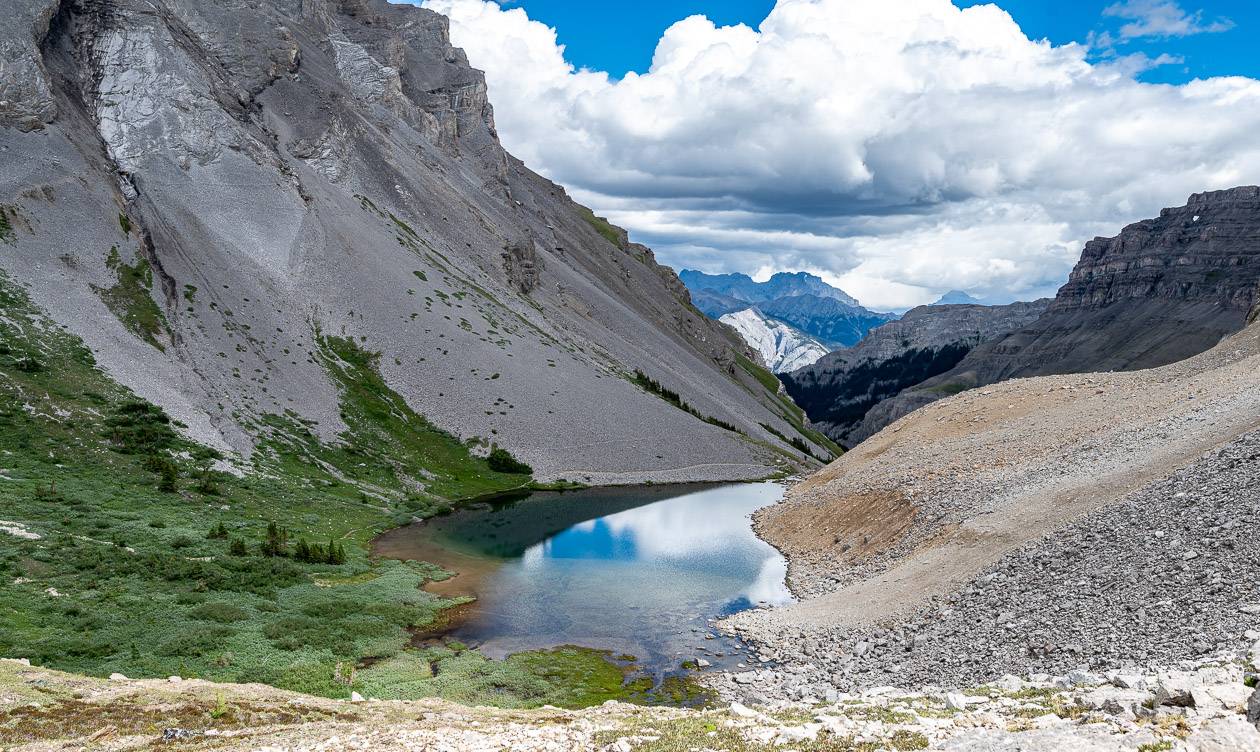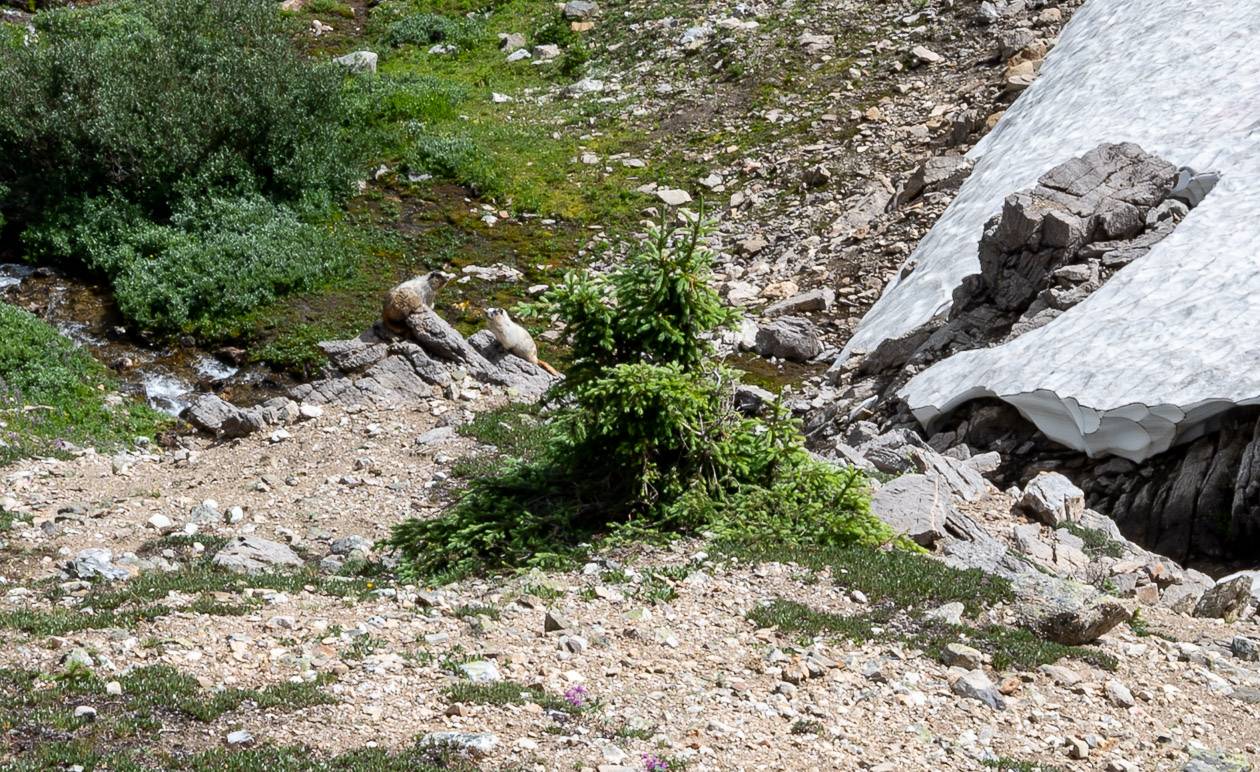 Continuing to Mt. Bourgeau
On the summer's day I did the hike, I continued about a third of the way up Mt. Bourgeau. There were clouds building so I decided to play it safe and descend though in hindsight I would have been alright. The view even part way up is spectacular so I recommend climbing even for just 15 or 20 minutes. Allow about an hour to reach the summit – which requires 1,530 metres of climbing over 12 km from the trailhead. Count on a 7 – 8 hour day of hiking.
To get to the trail leading to Mt. Bourgeau, head left or east from Harvey Pass. It is well defined – and you'll see the trail you need to follow. From the summit, enjoy views of snowcapped peaks along the Continental Divide. On a clear day you should be able to see at a minimum Mt. Assiniboine, Healy Pass, Mt. Ball and Mt. Temple.
Where to stay near the Bourgeau Lake hike
Some of my favourite hotels in Banff include the Moose Hotel – great location, Buffalo Mountain Lodge – excellent restaurant and wood-burning fireplaces plus a huge outdoor hot tub and the Fairmont Banff Springs Hotel when I'm looking to splurge.
In Castle Junction check out Johnston Canyon Lodge & Bungalows or the Castle Mountain Chalets.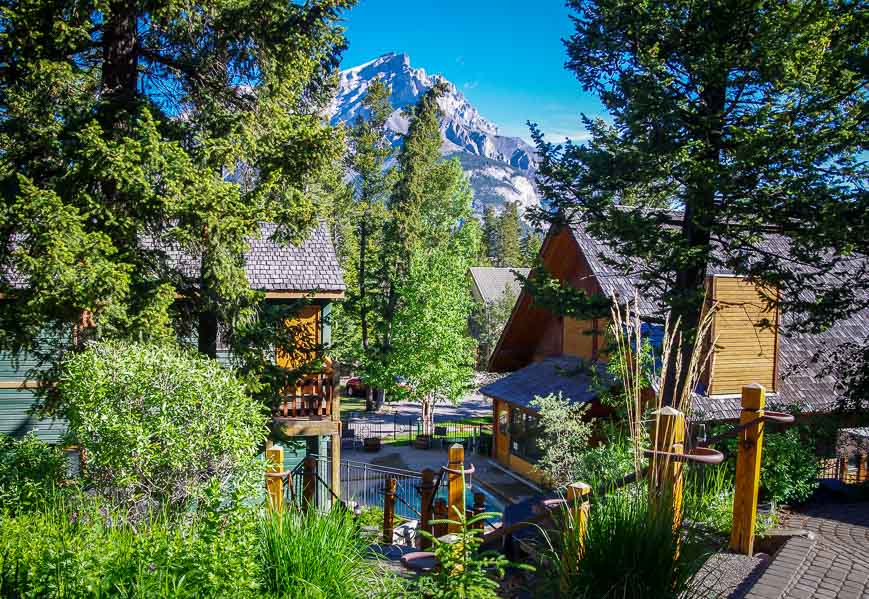 Further reading and information on hikes in Banff National Park
Click on the photo to bookmark to your Pinterest board.