If you're a new visitor to Banff National Park, you may find the selection of Banff hikes overwhelming until you get your bearings. Rest assured that any of the Banff hikes described should satisfy your cravings for sublime Canadian Rocky Mountain scenery.
It has taken me nine years to find the time to do all the Banff hikes described in this post. I love hiking in Banff National Park but the same goes for Kananaskis Country, Yoho National Park, and Jasper National Park. Every summer I run out of time to do all the hikes on my wish list. This is not an exhaustive list of Banff hikes – but some of my favourites.
This post includes some affiliate links. If you make a qualifying purchase through one of these links, I will receive a small percentage of the sale at no extra cost to you. Thank you very much for your support.
Banff day hikes summary
You will need a Banff National Park Pass or a Discovery Pass to do any one of the Banff hikes described below.
Before you head out to the mountains, be sure to check out the local weather forecast and the trail reports for closures.
You'll be hiking in bear country so be sure you've got an easy to access can of bear spray. I put mine in a bear spray holster to prevent setting it off accidentally.
Banff hikes location map (approximate)
Click on the three dots in the top right hand corner to email a copy of the map.
Where to stay in Banff National Park before or after the Banff hikes
If you want to spend a night or two in Banff National Park, before or after one of the best Banff hikes, the following are some great options across a variety of price points.
Banff
The Banff Alpine Centre Hostel is an affordable way to stay in Banff.
The Moose Hotel & Suites is my favourite Banff hotel close to the strip of stores.
The Dorothy Hotel is a boutique motel offering simple accommodation.
And everyone knows the iconic, expensive but lovely Fairmont Banff Springs Hotel.
The Bow Valley Parkway
There are three resorts along the Bow Valley Parkway – Baker Creek by Basecamp (open year round), Johnston Canyon Lodge and Bungalows (May till October only), and Castle Mountain Chalets (year-round).
Lake Louise area
At the budget end of the spectrum, there is the Lake Louise hostel.
At the other end is the Fairmont Chateau Lake Louise with its premier view overlooking the lake.
Renovated rooms at Deer Lodge are great and then you'll have easy access to the hiking trails around Lake Louise, without having to organize transportation.
Saskatchewan River Crossing
The Crossing is right at the intersection with the David Thompson Highway and the Icefields Parkway. It's also the only place to fill up on the parkway.
The Rampart Creek Wilderness Hostel is 12 km north of Saskatchewan River Crossing. It is very basic – and really is geared towards climbers but you'll also find lots of fellow hikers here.
What is the best time to do the Banff hikes?
The best time to enjoy Banff hikes is from June until mid-October, or whenever the snow starts to fly, which can vary from year to year. The snow leaves from south facing slopes at lower elevations as early as mid-April, but again that varies from year to year. In general, the higher elevation Banff hikes are at their peak from mid-July until Thanksgiving weekend in October.
Don't forget bug spray on Banff hikes in July and August.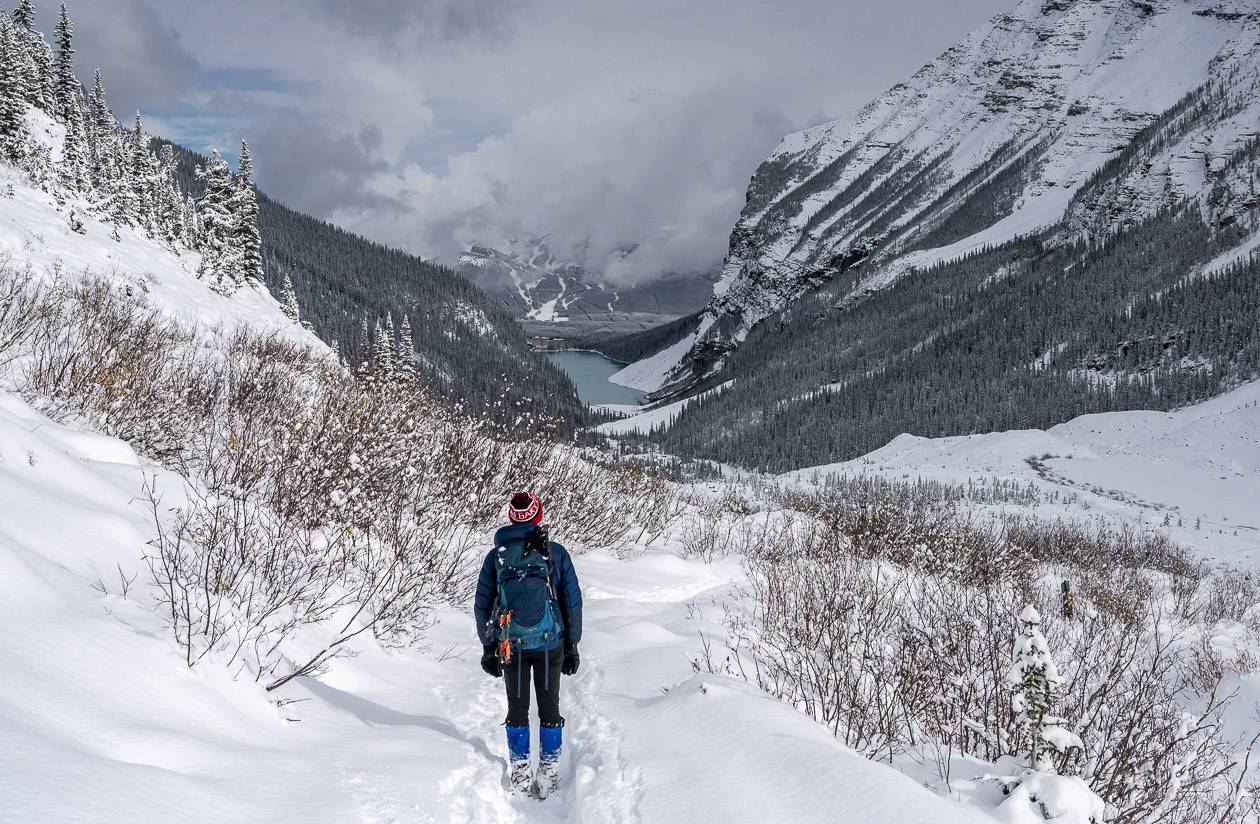 Aylmer Lookout hike
Distance: 23.4 km (14.5 miles) return
Elevation: 605 m or 1,895 feet
Difficulty: Moderate
Time needed: 7 – 8 hours
We knocked off the 23.4-km return hike to Aylmer Lookout on a fine spring day. From the lookout the views up and down Lake Minnewanka were exceptional. There is the option to continue up to Aylmer Pass or Aylmer Mountain – which we didn't do in the interests of time.
This is an easy hike, save for the distance. Note that beginning in mid- July, you must hike as a tight group of four because grizzly bears frequent the area.
Read: The Aylmer Lookout Hike in Banff National Park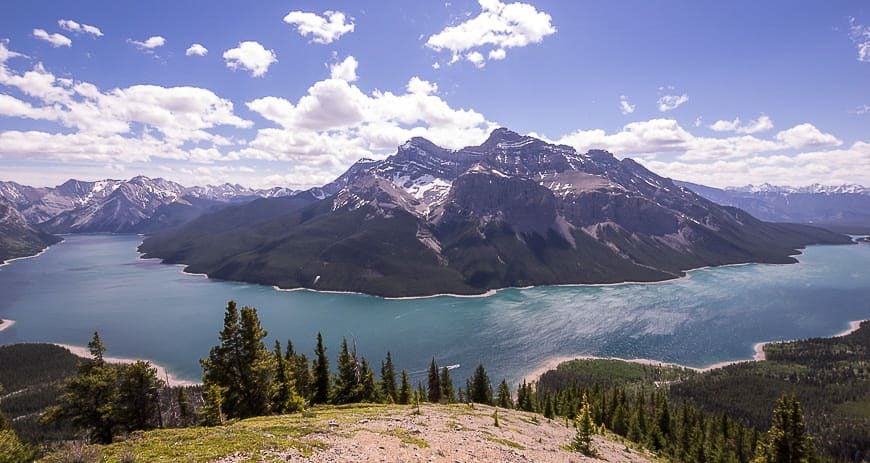 Lake Annette – Paradise Valley hike or backpack – one of the most beautiful Banff hikes
Distance: 11.4 km (7.1 miles) return to the lake; 20.3 km (12.6 miles) return to Paradise Valley
Elevation: 250 m (820 feet) to the lake; 400 m (1,312 feet) on the Paradise Valley circuit
Difficulty: Moderate
Time needed: 4 hours return for Lake Annette and 7 hours for the Paradise Valley circuit
It's hard to get into Lake Annette via the Moraine Lake Road because of traffic in the Lake Louise area. On a busy summer day, be sure to tell the traffic person at the Moraine Lake Road intersection that you are going to the trailhead for Paradise Valley. You shouldn't have any trouble being let through.
Lake Annette, sitting under Mt. Temple's sheer north face, is a pretty hike. It's just 5.7 km one way with 250 m of elevation gain. Keen hikers can continue up the Paradise Valley to the Giant Steps or even up and over Sentinel Pass but then you'd need to hitchhike or have a car shuttle to get back to the trailhead.
Valley of the Ten Peaks – Sentinel Pass hike
Distance: 11.6 km or 7.2 miles
Elevation: 726 m or 2,381 feet
Difficulty: Moderate
Time needed: 4 – 5 hours
The Larch Valley hike (also called the Valley of the Ten Peaks hike) is one of the quintessential fall hikes in the Canadian Rockies. While pretty in summer, it's the yellow larches in all their fall glory that beckon people to do crazy things like show up at the trailhead by 6 AM to get a parking spot. The hike starts at Moraine Lake, climbs up a series of switchbacks to reach the open meadows where larch trees are the star, and then continues past tiny Minnestimma Lakes to climb up talus slopes to reach Sentinel Pass.
Sentinel Pass is one of the outstanding Banff hikes and a fantastic hiking destination, even if it's not larch season.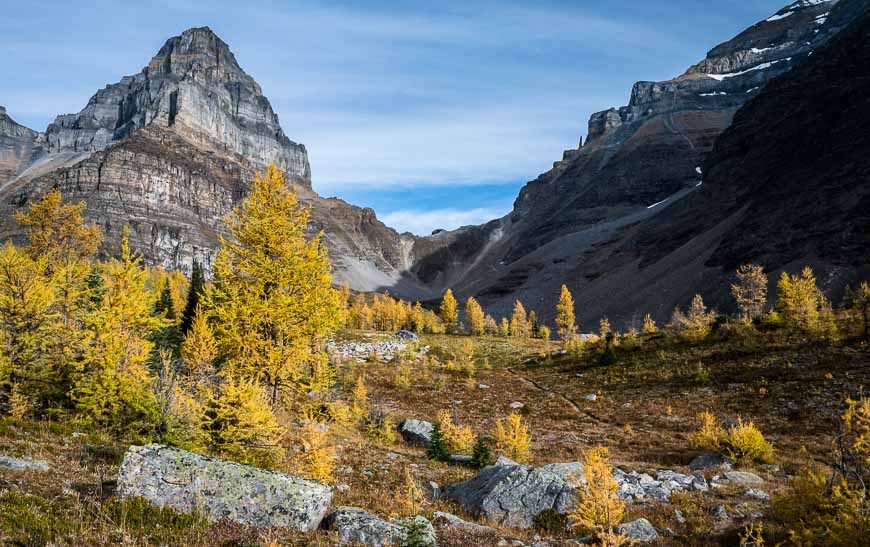 Bourgeau Lake and Harvey Pass hike
Distance: 19.2 km (11.9 miles) return to Harvey Pass; 24 km (14.9 miles) return to Mount Bourgeau summit
Elevation: 1,046 m (3,431 feet) to Harvey Pass and 1,530 m (5,018 feet) to the Mount Bourgeau summit
Difficulty: Moderate to Harvey Pass; challenging to the summit because of elevation gain
Time needed: 5 – 7 hours for the pass; 6 – 8 hours for Mount Bourgeau
Do the 19.2 km round-trip hike to Bourgeau Lake and Harvey Pass with the option to summit Mt. Bourgeau if you're a fan of sapphire mountain lakes and wildflowers.
It's a solid couple of hours of forest walking that's not that interesting to reach the lake but the area around the lake itself is pretty. I'd suggest continuing up at least as far as Harvey Pass for sensational views.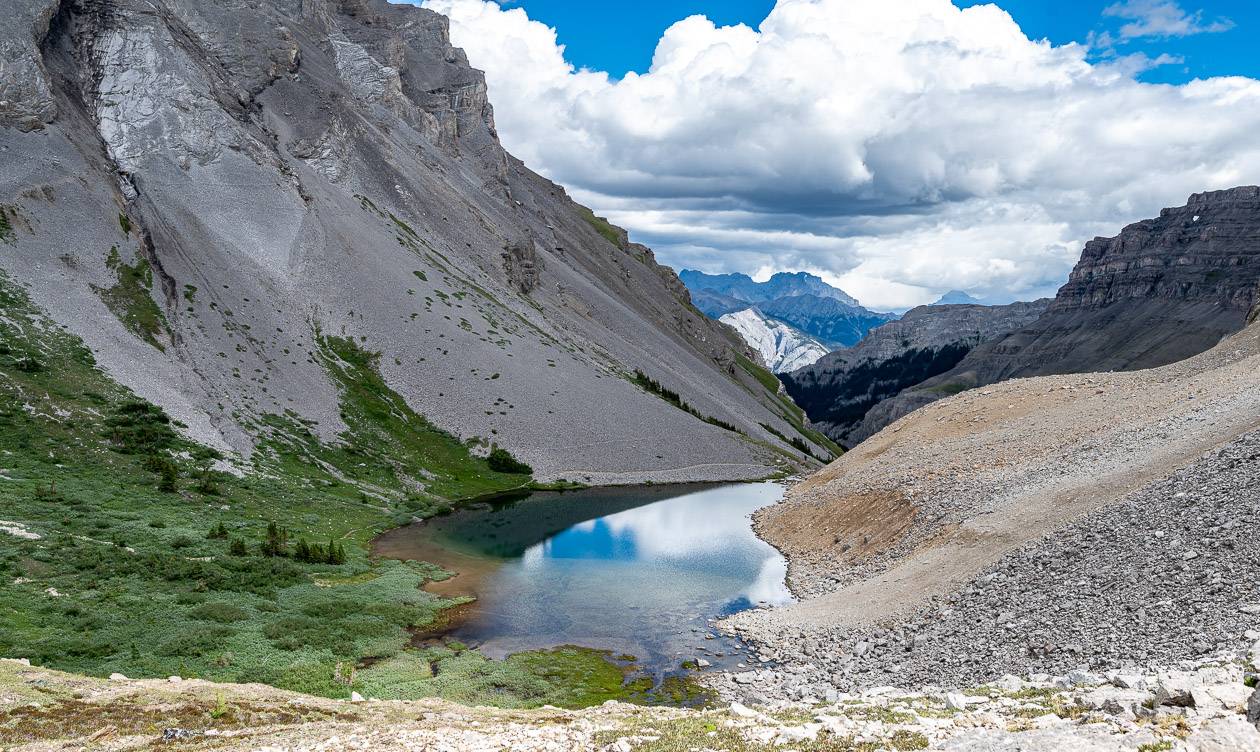 Howard Douglas Lake – Citadel Pass hike
Distance: 18.6 km or 11.5 miles round trip
Elevation: 700 m or 2,296 feet
Difficulty: Moderate
Time needed: 6 – 7 hours
The Citadel Pass hike is considered to be one of the top day hikes in Banff National Park. Full disclosure – I didn't make it past Howard Douglas Lake. I know we should have tried to go further, but my group was content to enjoy a long lunch with great views towards Sunshine Village.
The hike starts with a gondola ride up to Sunshine Village ski area – which is a good thing as you don't want to waste your energy on the steep access road. From there you hike through meadows that are supposed to be at their peak for wildflowers between mid-July and mid-August. It's about 5 km one way to Howard Douglas Lake and another 4.3 km to reach Citadel Pass.
There's quite a bit of up and down over the course of the day, so you can count on a minimum of 700 m of elevation gain. If the forecast is for thunderstorms, choose a different day as the hike is very exposed to bad weather. Enjoy wildflower displays and panoramic mountain views.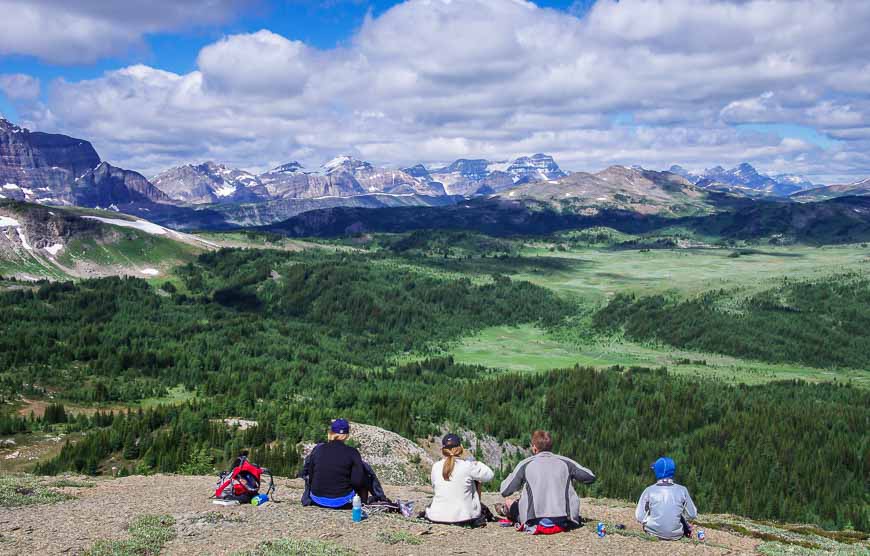 Helen Lake – Cirque Peak hike
Distance: 14 km (8.7 miles) return to the ridge above Helen Lake
Elevation: 550 m (1,800 feet) to the ridge, plus an additional 493 m (1,617 feet) to Cirque Peak
Difficulty: Easy for the ridge and moderate to hard for Cirque Peak
Time needed: 4 hours return for the ridge, 6 hours for Cirque Peak
The hike to Helen Lake is one of the best Banff hikes, especially in wildflower season. The scramble up the ridge and onto Cirque Peak, will up the magnificence quotient many fold. From the trail to the peak, you'll enjoy one of the best views in the Canadian Rockies, especially of the Crowfoot Glacier and the Wapta Icefields. Dogs are fine to the ridge but I wouldn't recommend taking them all the way to the peak as the scree is hard on their pads.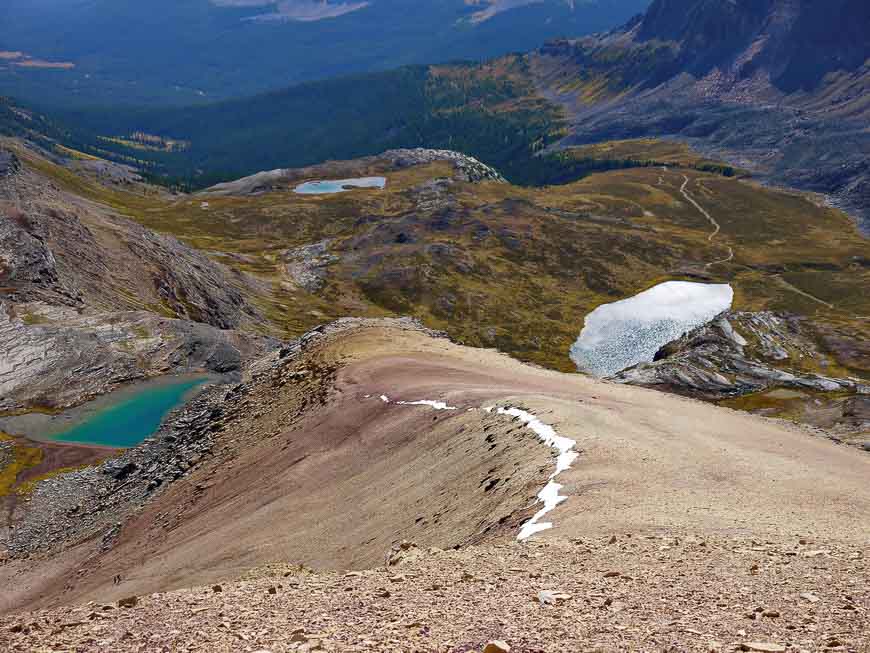 Parker Ridge hike
Distance: 4 km round trip to the saddle
Elevation: 272 m or 892 feet to the saddle
Difficulty: Easy
Time needed: 1 – 2 hours
If you're driving the Icefields Parkway, be sure to stop and do the Parker Ridge hike. It's well-signed on the west side of the highway as you're heading north towards the Columbia Icefield.
The Parker Ridge hike delivers mountain views within minutes of starting out. By the time you reach the saddle, 2 km into the hike, you'll be enjoying panoramic vistas of the Saskatchewan Glacier. There is the option to hike to the ridgecrest but that will be an 11 km return hike with 593 m (1,946 feet) of elevation gain.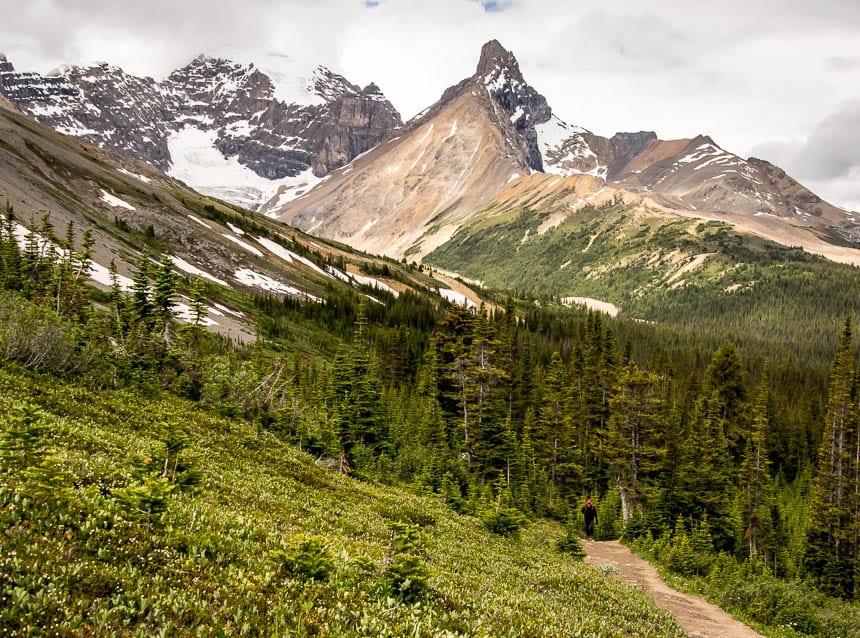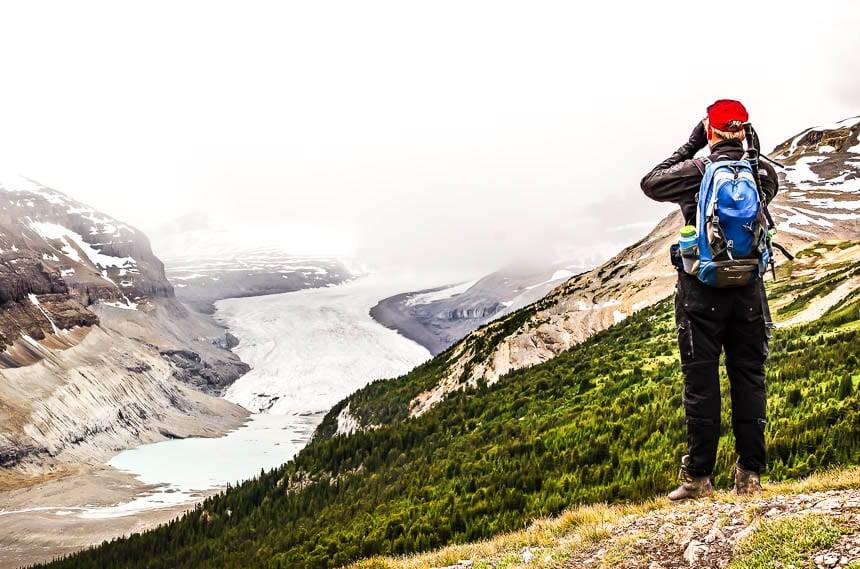 Nigel Pass hike – one of the less busy Banff hikes
Distance: 14.4 km (8.9 miles) return
Elevation: 365 m or 1,197 feet
Difficulty: Easy
Time needed: 4.5 – 6 hours
Nigel Pass is the first major stop on the multi-day Brazeau Loop hike, but it's a fine day hike in itself. It's also one of the easier day hikes in Banff National Park, despite the fact that it's14.4 km return. It gains 361 m gradually, so it's a good multi-generational hike.
To get to the pass, hike through subalpine meadows, enjoying the wildflowers along with big views across to the mountains around Parker Ridge. At the pass, the landscape feels wilder and more remote compared to hikes further to the south. At Nigel Pass, a desolate-looking area, you can rock-hop over the Brazeau River and explore either side of the river. This leads to the fabulous multi-day Brazeau loop backpacking trip.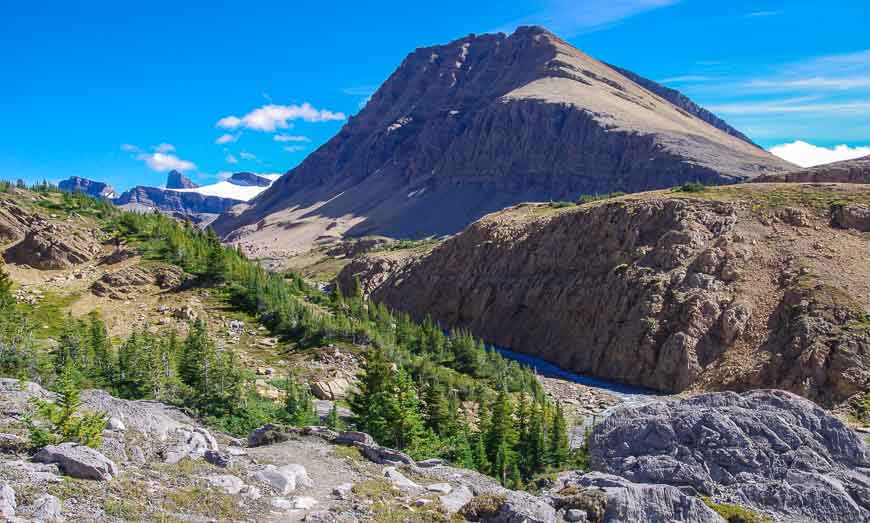 Healy Pass hike
Distance: 18. 4 km return (11.4 miles)
Elevation: 655 m or 2,150 feet
Difficulty: Moderate
Time needed: 6 – 7 hours
Healy Pass is a premier hike for wildflowers from mid to late July to mid August. In fact, it's one of the best wildflower hikes I've done in my life! I did it as part of a three-day backpacking trip to Egypt Lake but it can be done as a long day hike from the Sunshine Village parking lot via Healy Creek.
You can also get to Healy Pass via Simpson Pass but to do that you'll have to pony up for the gondola ride up to Sunshine Village. You save yourself about 520 m of elevation. The free option up takes you at a moderate grade up mostly viewless Healy Creek for 9.2 km one way length. The elevation gain is climb 655 m. It's all worth it when you pop out of the trees and see wildflower- filled meadows as far as the eye can see, along with panoramic mountain vistas.
Read: A 3 Day Backpacking Trip that Includes Egypt Lake
Saddleback – Fairview Mountain hike
Distance: 7.4 km (4.6 miles) return to the Saddleback; 10.6 km (6.6 miles) return for Fairview Mountain
Elevation: 600 m (1,970 feet) to Saddleback; an additional 414 m (1,358 feet) to the summit of Fairview
Difficulty: Easy to Saddleback; moderate to Fairview
Time needed: 2 hours return for Saddleback; 4 – 5 hours for the return hike up Fairview Mountain
For anyone who wants a lofty view of Lake Louise, hike the Fairview Trail – the highest one in the Rockies. Depending on what season you hike, you might enjoy wildflowers or larches. We did it in early October after one of the first snowfalls and found it to be a beautiful outing. We also found micro spikes to be a useful piece of gear on the final approach.
The trail starts by the Lake Louise boat house and climbs up, first to the Saddleback at 3.7 km and then Fairview Mountain, 5.3 km from the trailhead. It's 600 m of elevation gain to the Saddleback – a worthy destination in itself. But if you're looking for grand views, just put one foot in front of the other and you'll dispatch with the final 414 m of elevation in no time. Enjoy the 360-degree mountain panorama at the summit.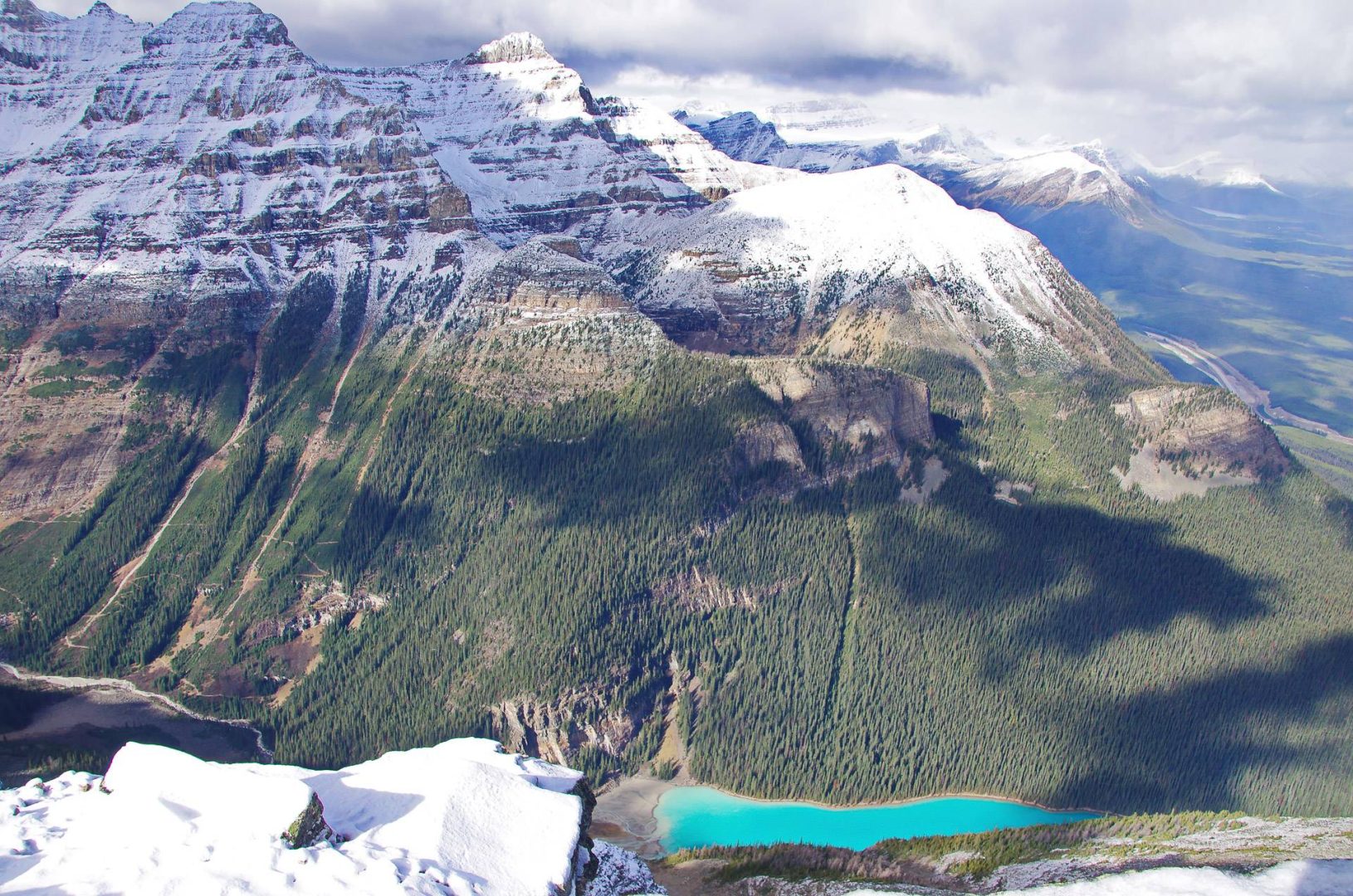 Sunset Lookout hike (one of the off the radar Banff hikes)
Distance: 9.0 km (5.6 miles) return
Elevation: 725 m or 2,380 feet
Difficulty: Moderate
Time needed: 2.5 – 3 hours
The Sunset Lookout – Sunset Pass hike doesn't see nearly the traffic of many other Banff hikes. It may be because of its location, north of Saskatchewan River Crossing, or perhaps because the trailhead isn't signed on the highway, though there is a good-sized parking lot.
If you only have time for one part of the hike go to Sunset Lookout and ogle the views. You'll still need to knock off somewhere in order of 36 switchbacks to reach the turnoff, 2.9 km and 420 m up from the trailhead. From the signed junction, take off through sub-alpine forest climbing another 183 m over 1.6 km. You'll pop out at an opening beside the footings of an abandoned fire tower – with gorgeous views up and down of the North Saskatchewan River Valley.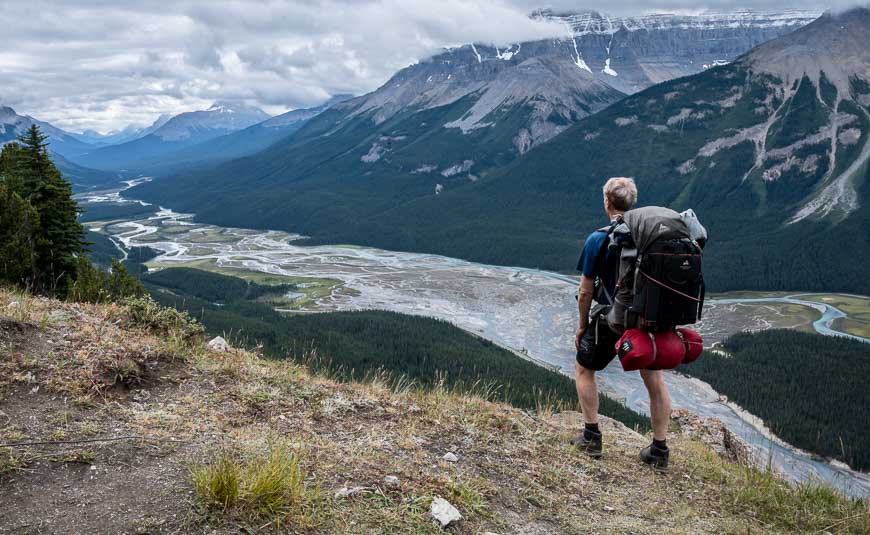 Taylor and O'Brien Lakes hike (save for larch season)
Distance: 12.6 km (7.8 miles) return to Taylor Lake plus 3.6 km return to O'Brien Lake
Elevation: 595 m or 1,952 feet
Difficulty: Moderate
Time needed: 4.5 – hours; add 1 – 2 hours for O'Brien Lake, especially in larch season when you'll want to stop for a while.
The return hike to Taylor Lake is one of the best Banff hikes when the larches are at their peak, sometime around the third week of September. You can also camp up by the lake. But if it's a summer hike you're planning, I think the other Banff hikes described offer more bang for the effort.
The hike to Taylor Lake is primarily a forest walk. The grade moderates from gentle to steep, climbing 595 m over the 6.3 km to reach the hanging valley lake. A worthwhile side trip during larch season is to continue 1.8 km one way hike to O'Brien Lake. I think the larch display is equal or even better than what you get at Taylor Lake.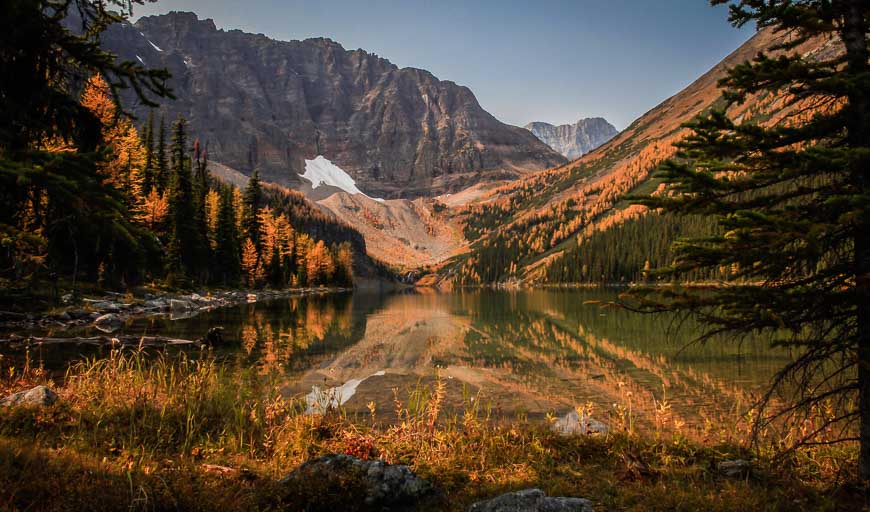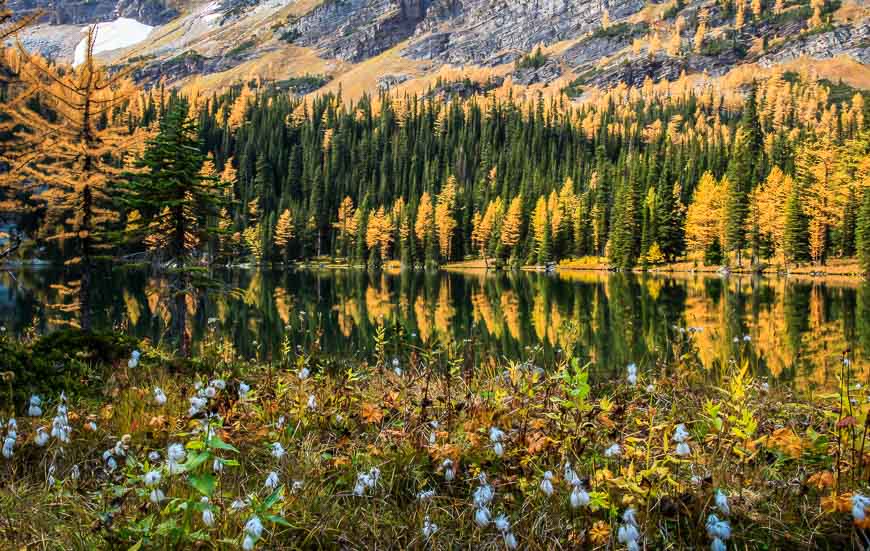 Lake Agnes Trail to the Teahouse and Big Beehive hike
Distance: 7.0 km (4.3 miles) return to the Lake Agnes Tea House and 9.6 km (6 mi) to Big Beehive
Elevation: 390 m or 1,280 feet to the lake; 540 m or 1,770 to Big Beehive
Difficulty: Easy
Time needed: 3 – 4 hours
The Lake Agnes Trail from Lake Louise to the Lake Agnes Tea House is one of the most popular hikes in the park. It starts beside Lake Louise and climbs steadily via switchbacks to reach Mirror Lake at 2.6 km. If you look up from Mirror Lake you can see the Lake Agnes Teahouse. You can reach the teahouse two ways – by going left- which is the shorter route or right from Mirror Lake. The trail is well signed.
The teahouse is 3.1 km from the trailhead. It's another 1.7 km to reach Big Beehive and I highly recommend doing it. To get there, take the trail along the north shore of Lake Agnes. It climbs to a junction. Go left and follow the trail to the end to reach the Big Beehive, just five minutes away. Enjoy terrific views over Lake Louise, 540 m below. There's a gazebo at the top too if you need shelter.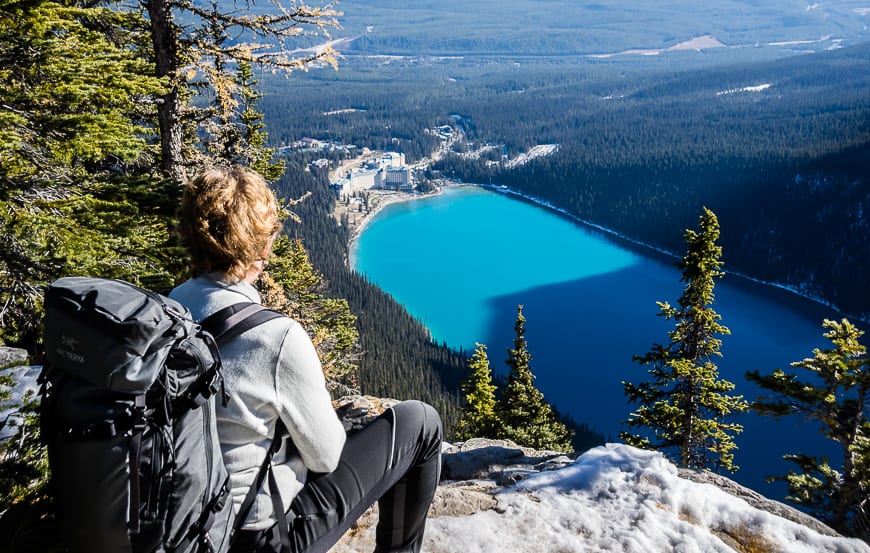 Sulphur Mountain via Cosmic Ray Road hike
Distance: 17.0 km (10.6 mils) return
Elevation: 880 m or 2,886 feet
Difficulty: Moderate because of the distance and elevation gain
Time needed: 3.5 – 5 hours
The Sulphur Mountain hike to the Banff Gondola is best done in the shoulder season. It's snow free early in spring and stays that way well into fall because of the southwest facing slopes. There are panoramic views for much of its length, but in the height of summer, I'd recommend a wildflower hike or one that takes you higher in the mountains. We hiked the trail in November and didn't see another soul until we reached the boardwalk near the Banff Gondola.
The trail is not a hard but it is a long one at 8.5 km one way. If you had arranged a car shuttle or are prepared to take a ROAM bus and walk back to your car at the Cave and Basin parking lot, then you could buy a one-way ticket and take the gondola down.
Note: The hike is closed in the short term for some construction work so check the trail report for a reopening date.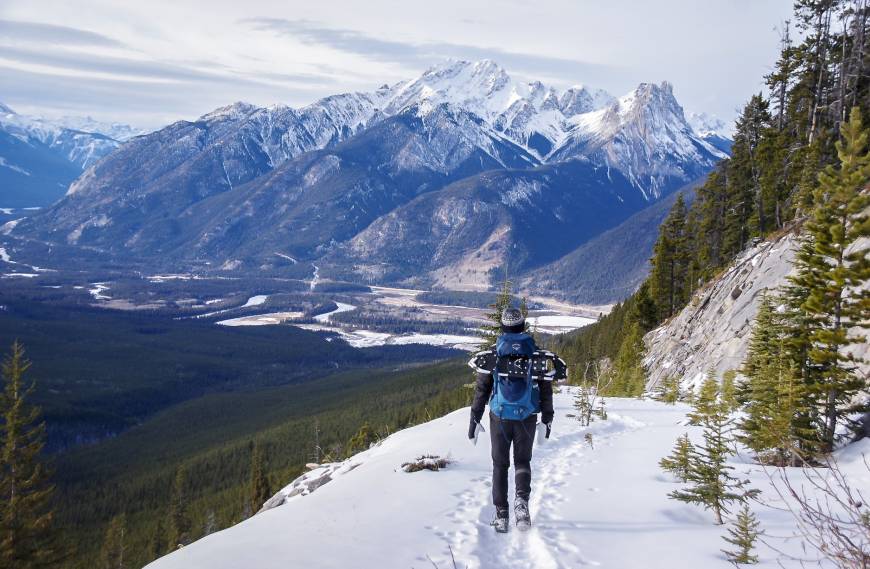 Plain of Six Glaciers hike
Distance: 13.8 km 0r 8.6 miles return
Elevation: 380 m or 1,245 feet
Difficulty: Easy
Time needed: 3 – 4.5 hours
The Plain of Six Glaciers hike takes you to a tea house set back in the woods above Lake Louise. It's what I would consider an easy 13.8 km round trip hike as you mostly gain elevation gradually. As a perennial favourite, it invites crowds, but it should still be on your must do Banff hikes list, especially in shoulder season when there are fewer people.
On this hike you start by walking along the gorgeous lakeshore of Lake Louise. As you begin the ascent, look back across the lake at the Fairmont and revel in the beauty of Mt. Victoria, Mt. Lefroy and of course the sight of numerous glaciers. At 5.3 km reach the tea house. Most people turn around here but it is possible to continue to a high viewpoint, 1.6 km further. Check signage to make sure it's safe to do so.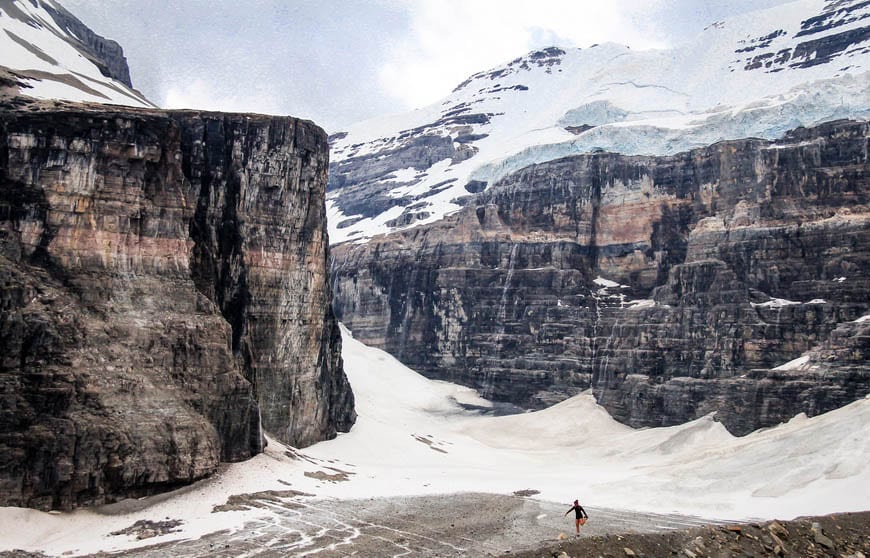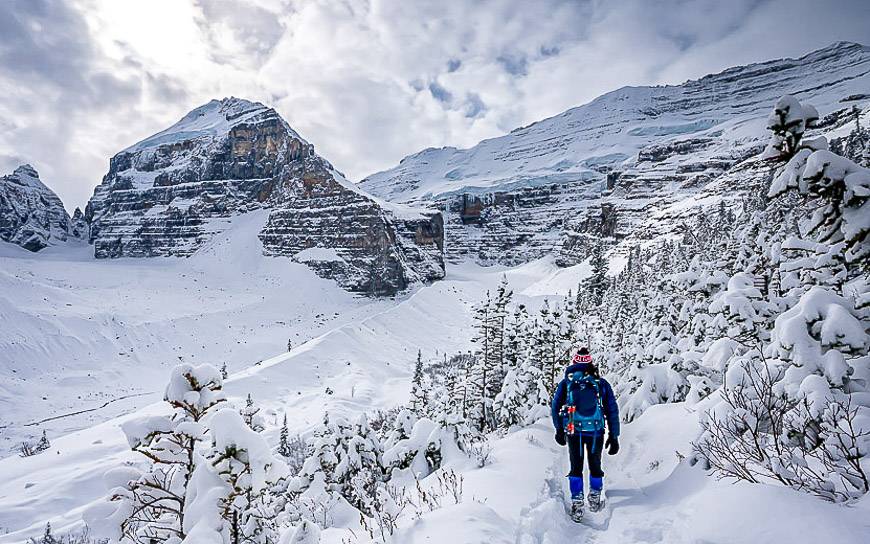 Glacier Lake hike – one of the top early season Banff hikes
Distance: 18 km (11.2 miles) return
Elevation: 475m or 1,558 feet
Difficulty: Easy
Time needed: 5 – 8 hours
Glacier Lake is one of the best early season Banff hikes but it's also a good one in the summer. The trailhead is located just north of Saskatchewan River Crossing so you don't get nearly the people that you get on the trails in the southern part of the park. We did it as a one night overnight backpacking trip so we could enjoy the lake – something I'd recommend doing.
Turquoise-coloured Glacier Lake is beautiful but so are some of the stops along the way. The North Saskatchewan River Crossing is photogenic as are the red chair views from the Howse River Overlook. This would be one of the easier backpacking trips to do with older kids. From Glacier Lake there is the option to hike towards the Southeast Lyall Glacier but that trail may require some route-finding.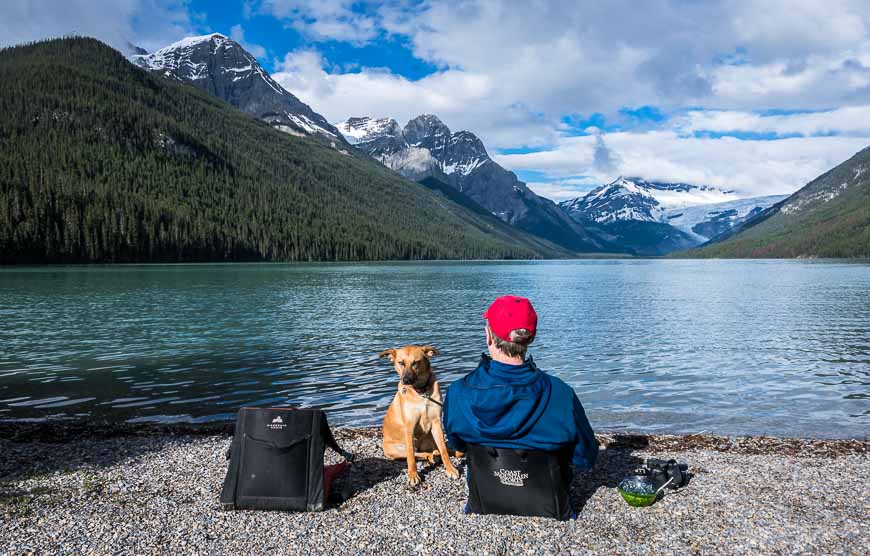 Tunnel Mountain hike – one of the easiest of the Banff hikes
Distance: 4.8 km or 3.0 miles return from the lower trailhead
Elevation: 260 m or 853 feet
Difficulty: Easy
Time needed: 1.5 – 2 hours
If you're visiting the Banff townsite and you only have time for one of the short Banff hikes, make it Tunnel Mountain. On a moderate grade climb 260 m over 2.4 km one way. In winter, part of the road is closed so you may have to hike an additional 0.5 km.
What you get on this hike is a pretty walk with a fantastic view of the Banff Townsite and the Bow Valley, the Mt. Norquay ski area, and the back view of Mt. Rundle. If you're trying to get a handle on how the town is spread out, this is one of the top Banff hikes that will put it all in perspective.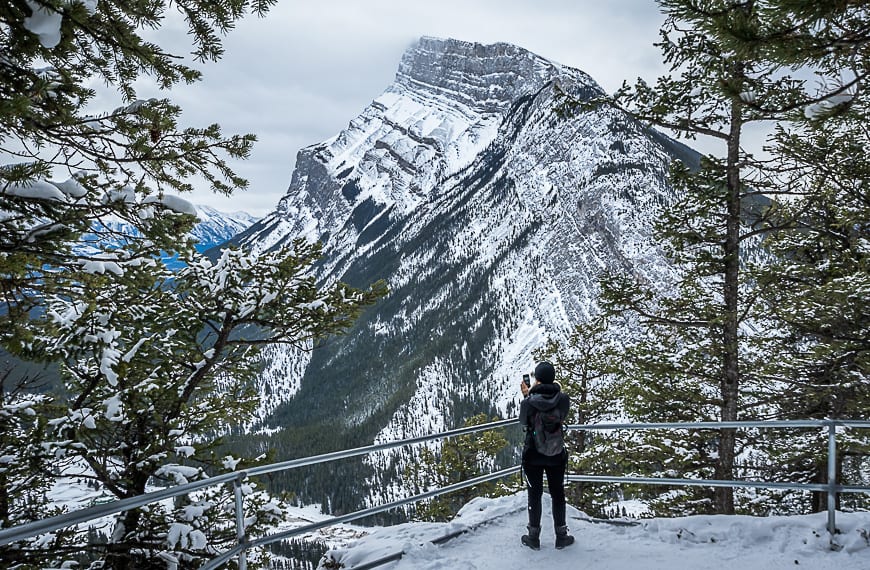 Johnston Canyon and the Inkpots – one of the most popular Banff hikes
Distance: 11.4 km or 7.1 miles return
Elevation: 320 m or 1,050 feet
Difficulty: Easy
Time needed: 2.5 – 4 hours
One of the most popular Banff hikes is the one up Johnston Canyon and onto the Inkpots. If you hate crowds, I'd recommend starting early or late in the day, at least if it's summer and the days are long.
The hike up Johnston Canyon is easy. It's just 2.7 km to the second set of falls. From there it's another 2.9 km one way to reach the Ink Pots. The total elevation gain is a very manageable 215 m. At the Ink Pots, you'll find five turquoise green pools that maintain a year -round temperature of 4°C.
Read: The Ink Pots Hike via Johnston Canyon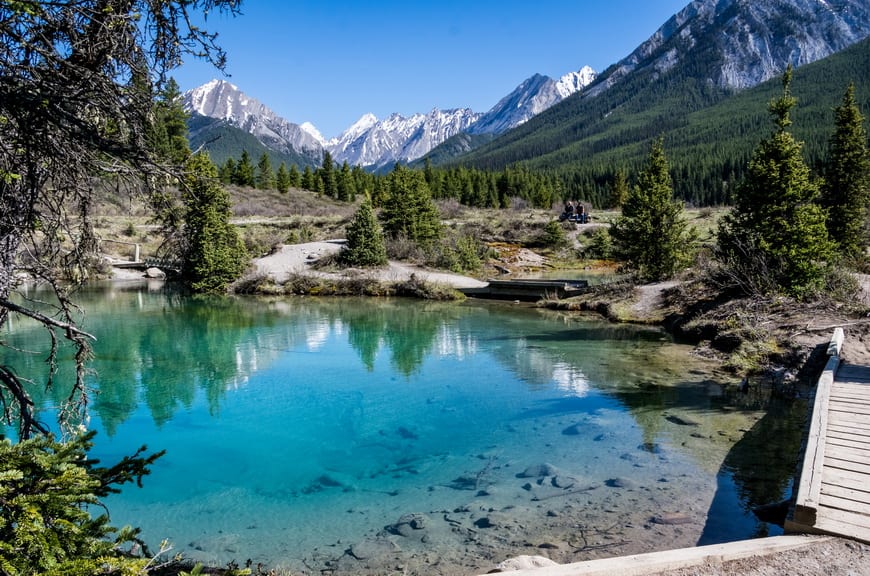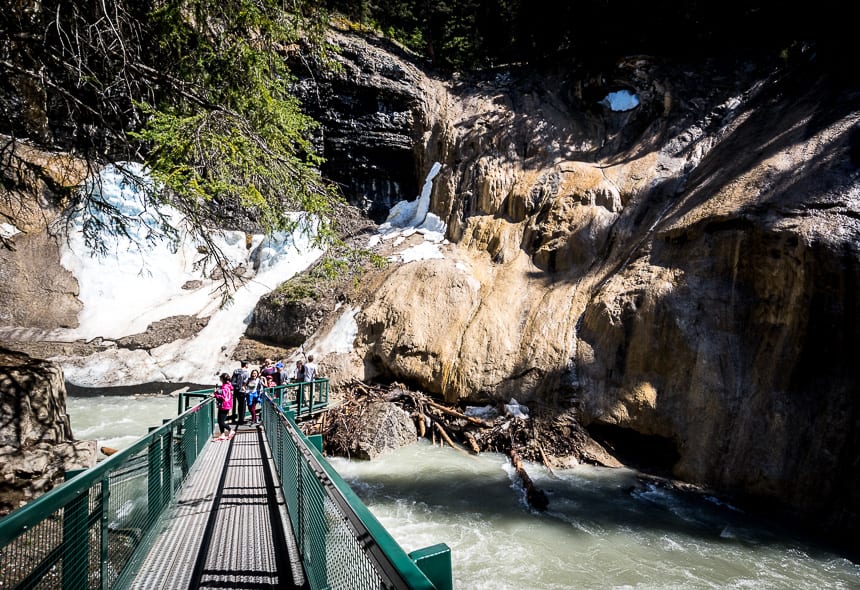 A few Banff hikes I haven't done you might want to consider
The Cory Pass hike has been on my wish list for years and in July 2023 I knocked it off. It's one of the incredible Banff hikes, partly because it feels very different from other areas of Banff. However, it shouldn't be done if there is any snow around – and some people might not like the exposure on the section to Cory Pass – though it's not as bad as I expected.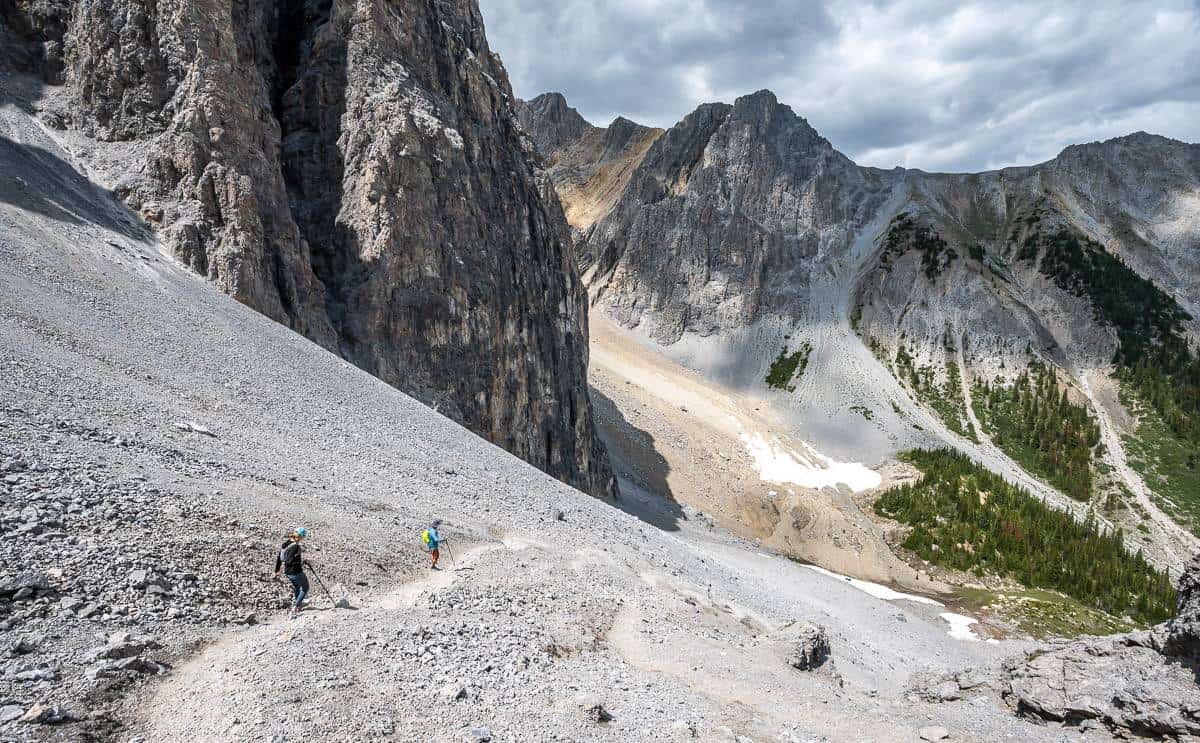 I finally did the Cascade Amphitheatre hike – which doesn't actually get high marks for beauty unless you go in late June when the glacier lilies are in bloom. The other interesting hike/scramble is called The Onion. It's near Bow Lake.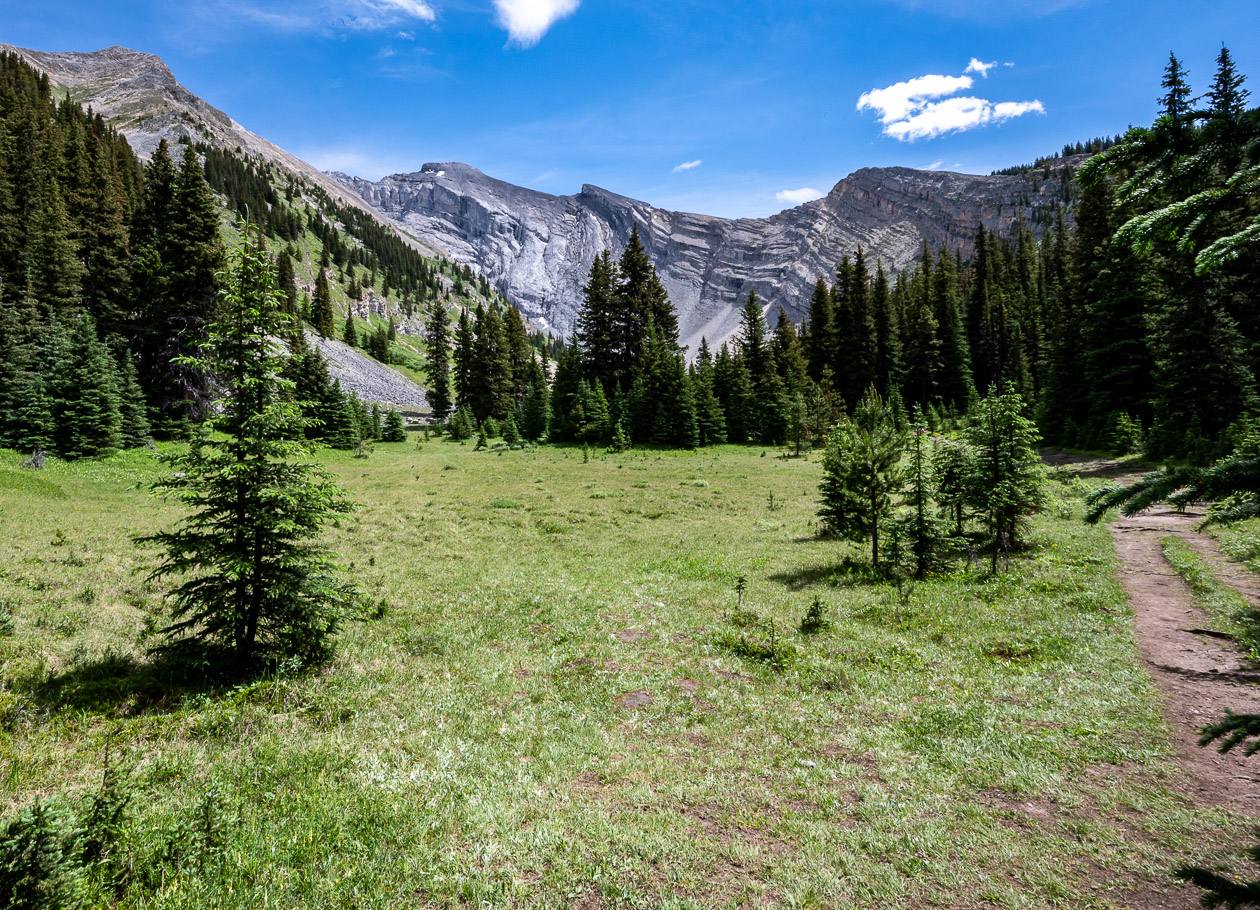 Don't forget these things on your Banff hikes
Always take the 10 hiking essentials.
On any hike in Banff National Park, you run the risk of meeting a bear. In a decade of hiking in the park I have only seen bears on trails once – and that was on the Aylmer Lookout Trail. Be sure to carry a can of bear spray and know how to use it. It should be easily accessible via a holster or a clip at the front of your pack.
If you're hiking in the mountains, be prepared for whatever the weather Gods might throw your way. Include rain gear but also a brim style sun hat to keep the rain and sun off your face.
For lunch time breaks I always recommend a soft blow-up cushion. It's especially useful on cold or rainy days.
If you're on a long hike where there's a water source, consider taking water purification tablets so you don't have to carry as much water. I also like squeezable 1 L water bottles with a built in filter that you can fill on the fly.
In summer a guide to popular wildflowers of Alberta is a great addition to your pack.
Click on the photo to bookmark to your Pinterest boards.