The hike to Nigel Pass in northern Banff National Park is a rewarding one – whether it be just a day trip or part of a longer backpack that includes Jonas Pass on the 5 – 6 day Brazeau Loop. Most people do this excellent hike as a day trip when they're exploring the Columbia Icefield area.

On the weekend we did the Nigel Pass hike, we had been planning to go all the way up to Jonas Pass. We only made it to the Four Point Creek Campsite, which fortunately is absolutely lovely. A staffer in Jasper National Park had given us bad information and as it turns out, you're not allowed to take dogs past the Four Point Campground – and up Jonas Pass, because of the caribou. It just means we'll have to go back another time, especially since the hike up to Jonas Pass is supposed to offer some of the best mountain scenery in the Rockies. (We finally did it in 2021!)
This post includes some affiliate links. If you make a qualifying purchase through one of these links, I will receive a small percentage of the sale at no extra cost to you. Thank you for your support.
Nigel Pass hike details
It's 7.2 km to reach Nigel Pass over a vertical gain of 361 m (1,185 feet). It's gradual and not very taxing, even with a fully loaded backpack. For the first 1.8 km, follow an old road, reportedly the original Icefields Parkway, used until the 1960's.
Where the road splits at 1.8 km veer right and stay on the main trail. Historic Camp Parker is reached at the 2.1 km mark. When the trail forks again descend to sturdy footbridges across Nigel and silt-laden Hilda Creeks.
Note that the source of water for Nigel Creek is rain and snow-melt so it's fairly clear whereas Hilda Creek gets its water source from a glacier, a mere five kilometres away. It's cloudy as the rock flour as no time to settle.
Make your way up to a warden's cabin that is not in use. Continue right to follow the main signed trail, that stays east of Nigel Creek.
About an hour into the hike the annoying highway noise disappears and you arrive at open meadows with gorgeous views. Jump a few tributary creeklets as you continue the hike up to the pass marking the Jasper- Banff National Park boundary. It will take you roughly 2.5 hours to get there.
The meadows and the area immediately around the pass are reportedly frequented by grizzly bears but we didn't even see bear scat.
Once you reach the austere looking pass you have a view down to the Brazeau River and excellent views of Parker Ridge and Mt. Saskatchewan as you look back the way you came. It's easy to rock hop across the Brazeau River and continue exploring.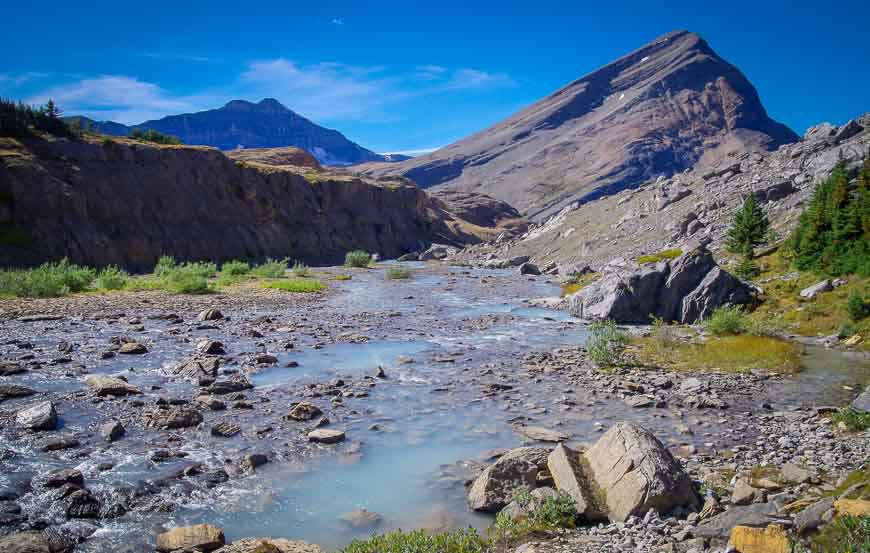 The option going south from the Brazeau River
While we didn't turn right (southeast) after crossing the river you can do this and continue to Upper Brazeau Canyon, Cataract Lake and then onto to Cataract Pass. But you need up to 10 hours to do the return hike to the pass. You can also camp overnight without permits once you leave Banff National Park, and it's reportedly amazing scenery and camping.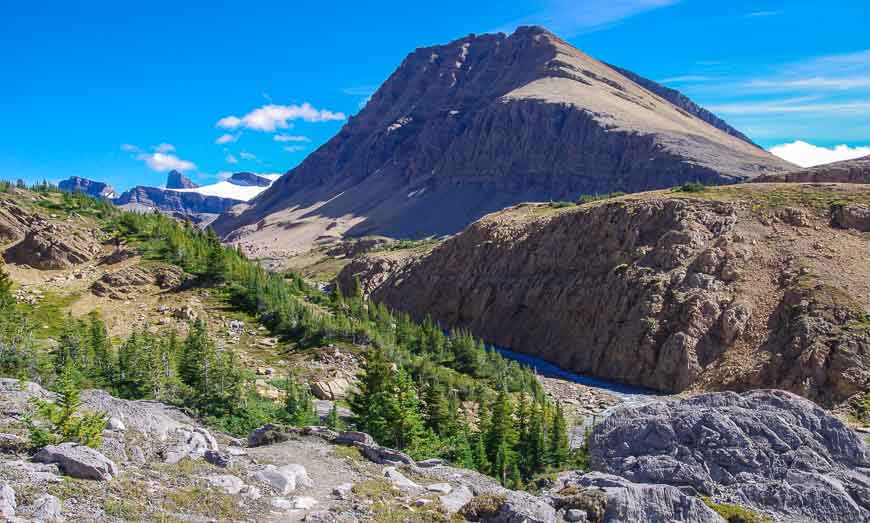 The option going north from the pass
After a straight forward rock hop across the Brazeau River, you can turn left (north) and climb up through rock slide debris to reach a viewpoint of a waterfall, 0.8 km from the river.
To continue towards Jonas Pass it's a steep and hot descent in the afternoon sun to reach the Brazeau Valley. When we did it over a Labour Day weekend, the fall colours were showing up in ground hugging plants.
We continued all the way to Boulder Creek Campground, a pleasant place to spend a night though Four Point Campground at 13.9 km is even nicer. From there it's 9.9 km to reach Jonas Pass – rather a lot for a day trip. If you want to continue plan to do it as part of a 3 – 5 day backpacking trip.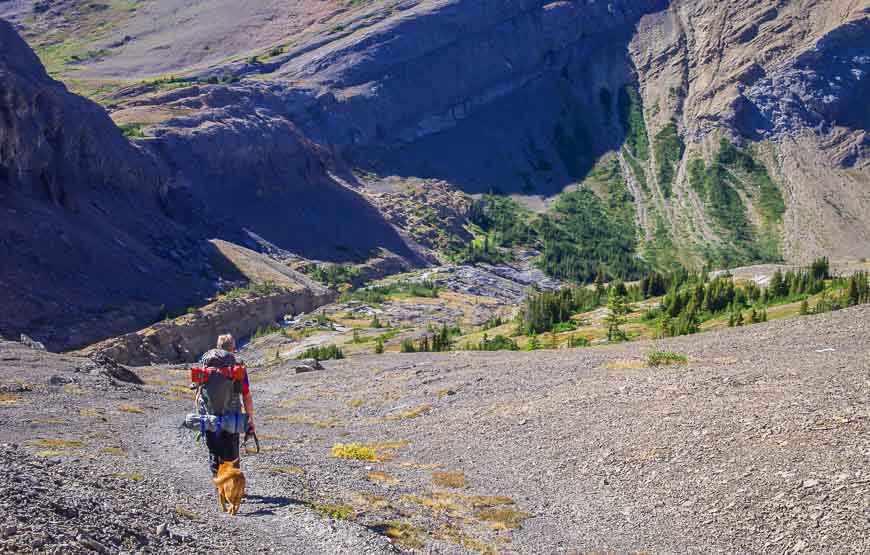 Camping in Jasper National Park on the Brazeau Loop
There are several campsites in the Nigel Pass – Brazeau Loop area, all of which must be reserved in advance on the Jasper National Park website – even though the hike starts in Banff National Park.
On the way to the Boulder Creek Campground where we ended up, there's one bridge to cross. We stayed here for two nights as we couldn't get reservations for the slightly nicer Four Point Campground – despite the fact we found it deserted the next day.
The hike up the Brazeau River
As our plans were thwarted we decided we would hike up the Brazeau River a ways but found the scenery after the warden's cabin wasn't very inspiring. It ended up being a retrace your steps and hang out in the tent, reading kind of day. Next time the dog will not be accompanying us.
Want to do the Nigel Pass hike as part of a backpacking trip?
If you are interesting in spending the night in the backcountry reserve a backcountry permit from Jasper National Park. Call (780) 852-6177 and leave a message. They usually return your call within a few hours and can email you over one.
Make reservations well in advance especially for busy long weekends. Check the website for opening dates for reservations. The cost is a very reasonable $10.02 per person per night though there is a reservation fee of about $11 as well.
Don't forget the following on the Nigel Pass hike
You're traveling through bear country so don't forget the bear spray in an easy to access holster.
A waterproof paper map is an essential in my books.
Even in summer, dress in layers. I always take a lightweight down jacket and rain gear like this pricey but will last you a decade jacket from Arc'teryx. Don't forget a sun hat.
For comfort on breaks, especially if its wet or cold, I recommend an inflatable seat cushion.
Location map for Nigel Pass
Further reading on hikes in Banff and Jasper National Parks
Click on the photo to bookmark to your Pinterest board.