For a fabulous multi-day backpacking trip that includes an amazing alpine traverse, hike the Brazeau Loop trail in the southern part of Jasper National Park. The trail crosses three passes as it loops through a landscape of wildflower-filled meadows, passing numerous mountain peaks and the stunning, turquoise-coloured Brazeau Lake – a large backcountry lake along the route.
The Brazeau Loop trail is in an area that is reportedly wildlife rich – though the only animals we saw were some marmots and a deer, though a grizzly grunted at us a few times from the trees by Brazeau Lake. Still, keep your eyes open for elk, moose, grizzly bears, wolves, mountain caribou, deer, cougars, and even wolverine.
This post includes some affiliate links. If you make a qualifying purchase through one of these links, I will receive a small percentage of the sale at no extra cost to you. Thank you very much for your support.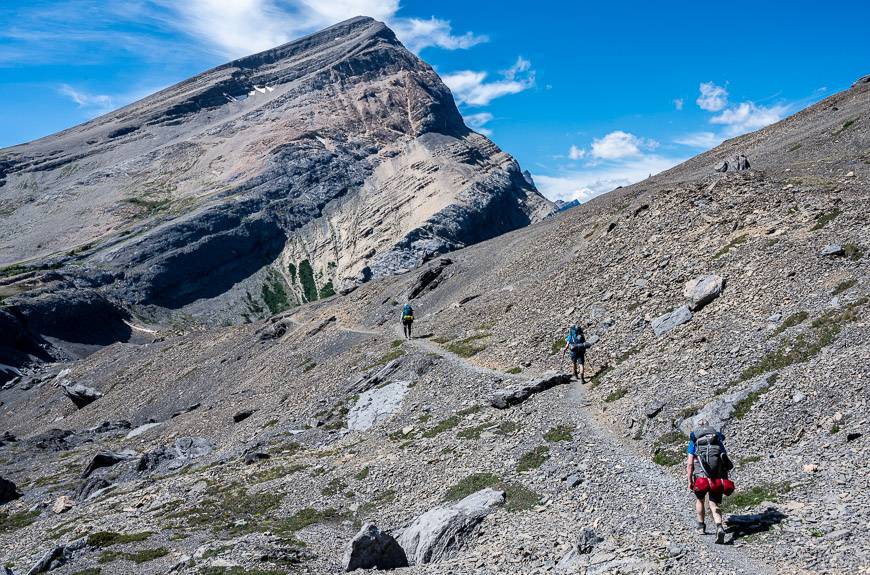 Brazeau Loop hike summary
Distance: 80 km
Elevation gain and loss: 1,878 m or 6,161 feet.
Maximum elevation: 2,470 m or 8,104 feet.
Time needed: 5 – 7 days for the whole loop.
Campgrounds: The campgrounds and distance from the Nigel Pass trailhead are as follows: Boulder Creek (10.7 km/6.6 mi), Four Point (13.8 km/8.6 mi), Brazeau River (29.3 km/18.2 mi), Brazeau Lake (32.3 km/20.1 mi), John-John (39.4 km/24.5 mi), Jonas Cutoff (46.9 km/30.8 mi).
Permit: You will need a national park pass to do the Brazeau Loop. You can do a daily park pass but the best value is a Discovery Pass.
Backcountry reservation: You cannot do this hike without a reservation. I would recommend booking campsites from the middle of July onwards as snow lingers into early July on the passes. Book online here starting February 1, 2024 at 8 AM MST. You can also call 1-877-737-3783.
Bears: Carry bear spray and know what to do if you meet a bear.
Facilities at campgrounds: Picnic tables, outhouses, bear lockers at all campgrounds. Fires are permitted at all campgrounds except Jonas Cutoff Campground. Note that the Wolverine campground on the east side of the Brazeau River, between Four Point and Brazeau River, is for horse use only.
Before you go: Before you head out check the trail report. Also check the weather forecast. Be prepared for snow at any time on the hike, even in the middle of summer. Be sure to pack a warm down jacket.
Dogs: Dogs are not permitted on the Jonas Pass trail past the Four Points campground because of caribou. I believe you can hike along the Brazeau River with your dog but they are not permitted in the Brazeau River campground.
If you didn't get the campsite reservation you were looking for all is not lost. Be the first to know when there is a campsite cancellation for your desired trip dates by visiting Schnerp.
What direction should you hike the Brazeau Loop trail?
From the Four Point Campground you can hike the Brazeau Loop in either a clockwise or counterclockwise direction. Both are scenic and there is no right or wrong direction to hike it but there is more vertical gain if you hike it clockwise. The day from Four Point Campground to Jonas Pass Cutoff Campground is brutal because over 80% of its length is uphill.
Most people hike counterclockwise, heading to Brazeau Lake after Four Point. If you haven't been backpacking in a while, it will help to toughen you up without killing you. Described below is the counterclockwise loop that starts at the Nigel Creek Trailhead.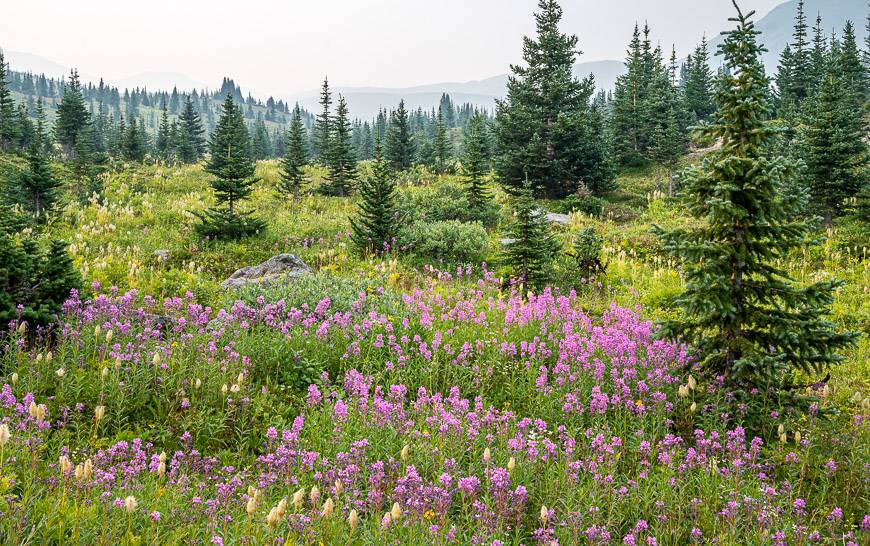 Location of the Nigel Pass Trailhead
We drove from Calgary and started the hike by 11 AM or so. You could spend the night however and shave off some driving time by staying in Jasper, Banff or Lake Louise. From Lake Louise and Jasper, it's about a 90 minute drive. The other option is to car camp nearby.
Recommended reading: Everything You Need to Know About Camping on the Icefields Parkway
Directions to the trailhead
Drive 37 km north on the Icefields Parkway from Saskatchewan River Crossing,8.5 km south from Sunwapta Pass on the Banff – Jasper National Park boundary or approximately 115 km south from Jasper. The Nigel Pass trailhead is on the northeast side of the highway, on a dirt accessed road.
Accessing the parking lot for the trailhead if you're driving northbound is easy. But, if you're driving southbound, it's a very challenging and awkward turn, especially if there is anyone behind you. Consider continuing all the way down the hill and then retracing your steps.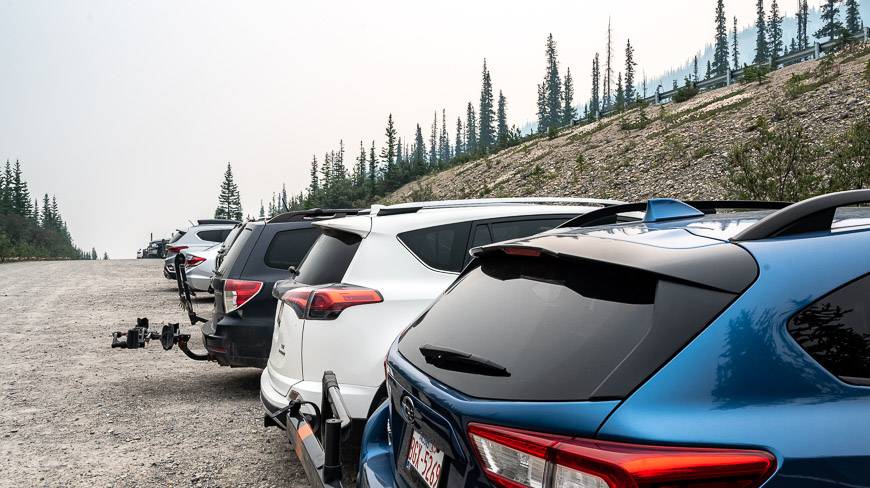 Brazeau Loop location map
Click on the top three dots in the right hand corner to email a copy of the map to yourself or a friend.
A few things to take on the hike
Take topographical maps with you, even if you use hiking apps. Gem Treks Columbia Icefield covers the south half of the hike. The Sunwapta Peak map covers the north half. The Organic Maps hiking app works well offline.
For those of you with bad knees, you might find lightweight hiking poles useful. They also come in handy on stream crossings. Be sure to buy the collapsible ones.
I always pack a buff as it's a multi-purpose piece of cloth that keeps your hair in place on a windy day, works like a neck warmer or beanie and yet it takes up almost no room.
Another nice addition for those of you who love wildflowers is the book Popular Wildflowers of Alberta and the Canadian Rockies.
Take some gear aid tenacious tape in case you rip your tent, fly, jacket or something important.
Don't forget the insect repellent, especially early in the season.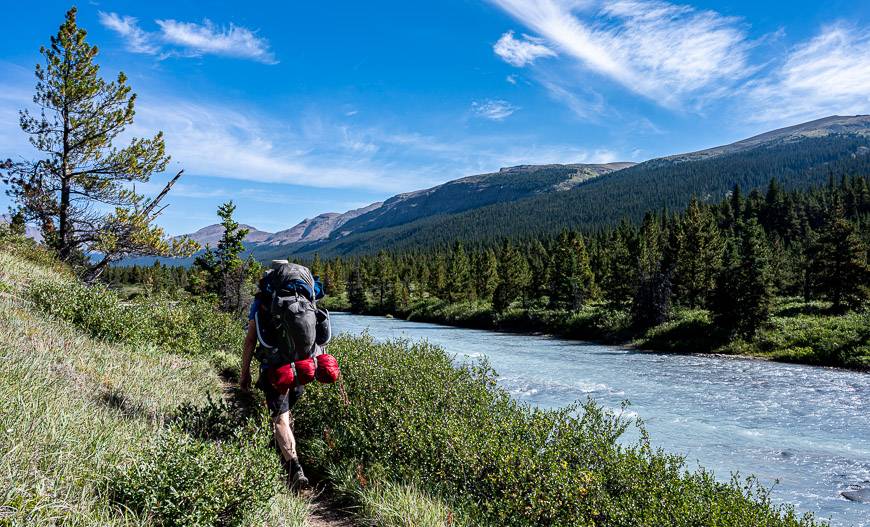 Trail description of my 5-day Brazeau Loop hike
Day 1 – Four Point Campground via Nigel Pass
Distance: 13.9 km
Follow a dirt fire road for the parking lot for about 1.8 km. Keep an eye out for signs in the trees pointing to the Brazeau Loop and Nigel Pass. Follow the trail to Nigel Creek and cross it on a substantial log bridge.
Continue up through ancient subalpine forest to reach Camp Parker at 2.1 km at the top of the bank above Nigel and Hilda Creeks. You'll see trees with carvings – the work of travelers who journeyed along the Icefields Parkway in the 1940's.
Continue a gradual climb through the forest and as you go higher, meadows. Make noise when you cross avalanche slopes or hike through the meadows, as this is an area popular with grizzly bears. The final climb up to Nigel Pass is steep – but it does afford excellent views of Mt. Saskatchewan and Parker Ridge. Drop down to the Brazeau River. I slipped into my water shoes here, while others we saw rock-hopping.
From the Brazeau River turn left and do a short climb through a jumble of boulders – remnants of a rockslide. (There is an unmaintained trail that goes right to the White Goat Wilderness Area – and it's supposed to be a stunner!)
Enjoy a wonderful view of the Brazeau Valley before you make the steep descent down to the Brazeau River. Follow the trail along the river to reach a bridge and the Boulder Creek Campsite with four sites and a fire pit. This would be an alternative to Four Point with at least eight sites (it felt like more).
Hike 3.1 km parallel to the river to reach the Four Point Campground.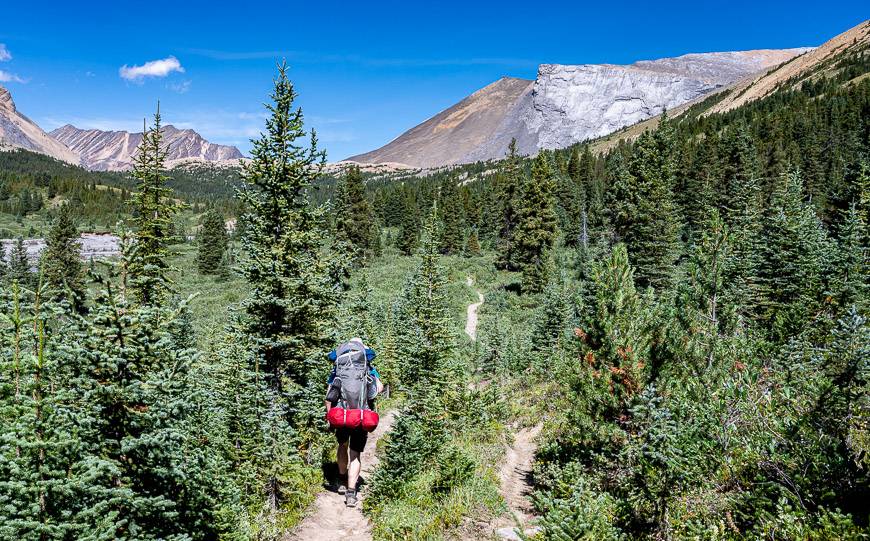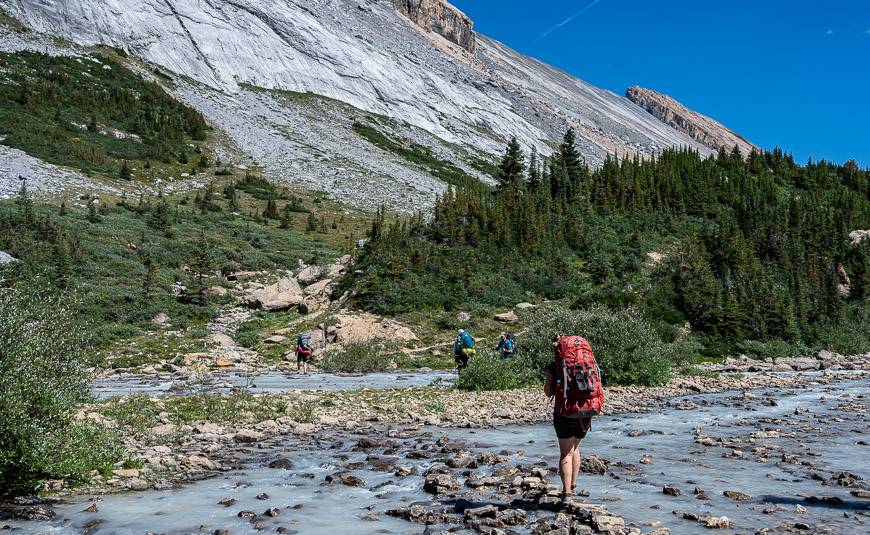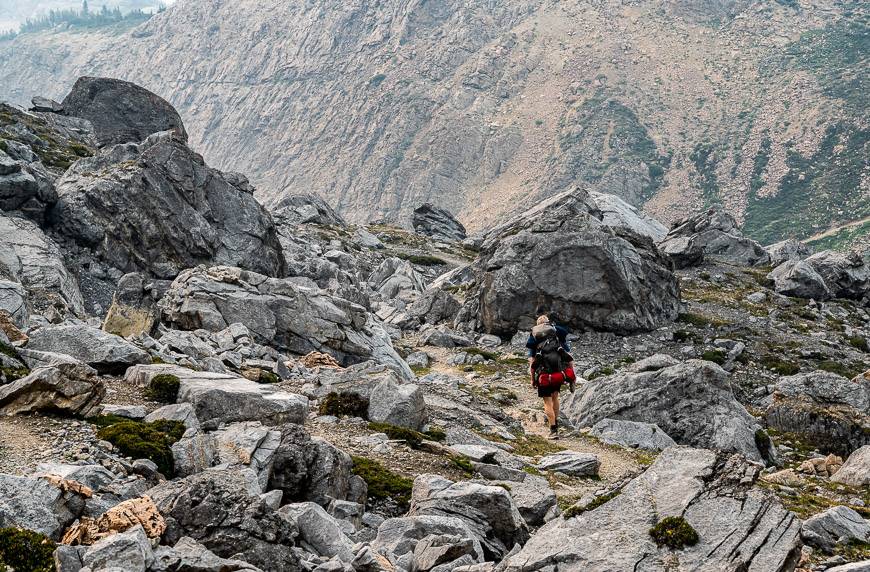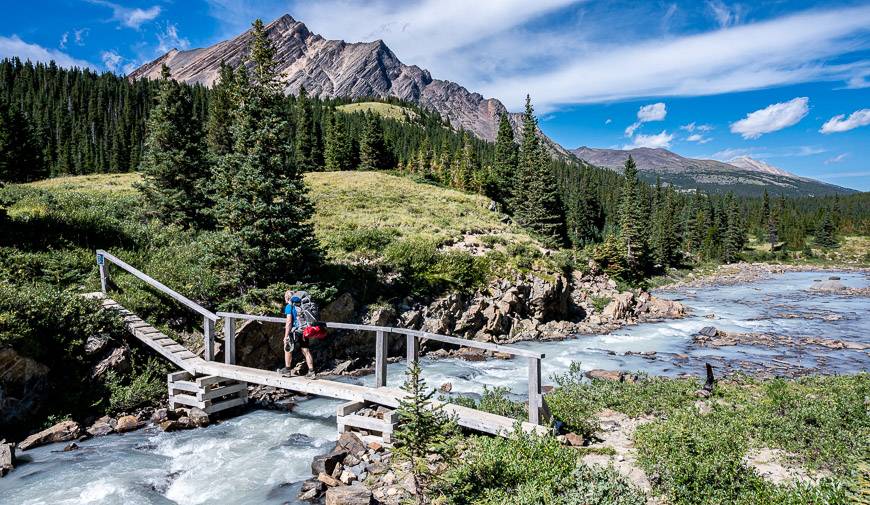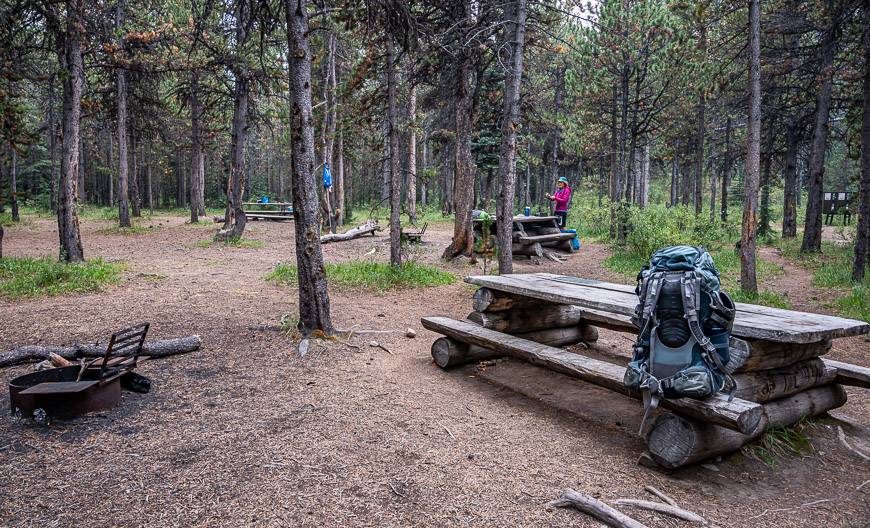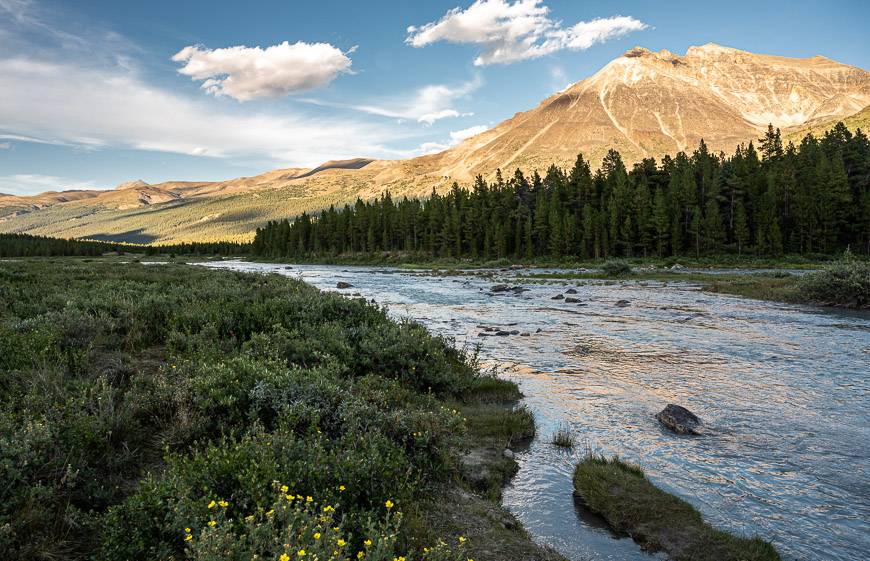 Day 2: Four Point Campground to Brazeau Lake Campground
Distance: 18.5 km
The Jonas Pass Junction is only about 100 m past the Four Point Campground. On the counterclockwise loop on the Brazeau Loop hike, you'll reach this spot at the end of the fourth day. But for now, continue along a well-defined trail, passing the Four Point warden cabin and crossing Four Point Creek.
Continue, hiking through willows parallel to the river, enjoying lovely valley views. You'll pass a bridge crossing to the east side of Brazeau River – but that leads to Wolverine Campground so ignore it. You know you're getting close to the Brazeau River Campground when you're climbing and then descending through a pine forest.
We stopped at the Brazeau River Campground, 15.5 km from Four Point – to have a break and check it out. It's on the river with no views. There is an outhouse, bear-proof lockers, a picnic table and room for four tents.
It's another 3.0 km of up and down through the trees with either Brazeau River or Brazeau Lake views to reach the Brazeau Lake Campground. The campsite itself is quite wonderful, even though the tent pads are off in the woods. The cooking area and bear lockers have a prime location with good views of the lake.
You can wander down to sandy beaches along Brazeau Lake – but we couldn't get too far. A grizzly in the trees grunted at us – though we never saw it. It had appeared at the lake by a dozing sunbathing couple a few hours earlier – so they had to beat a hasty retreat.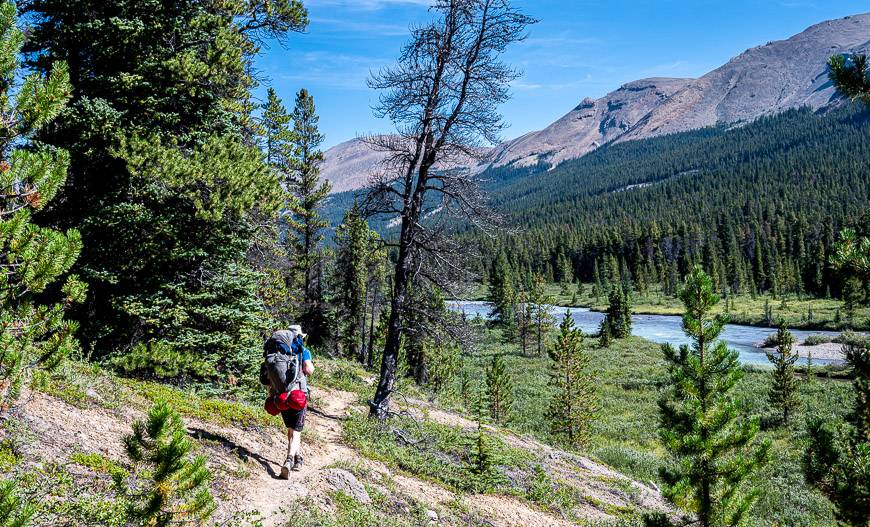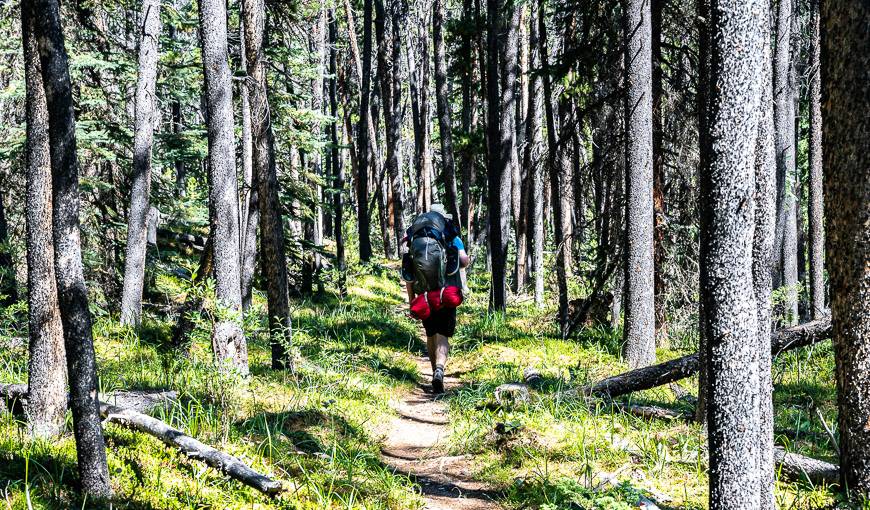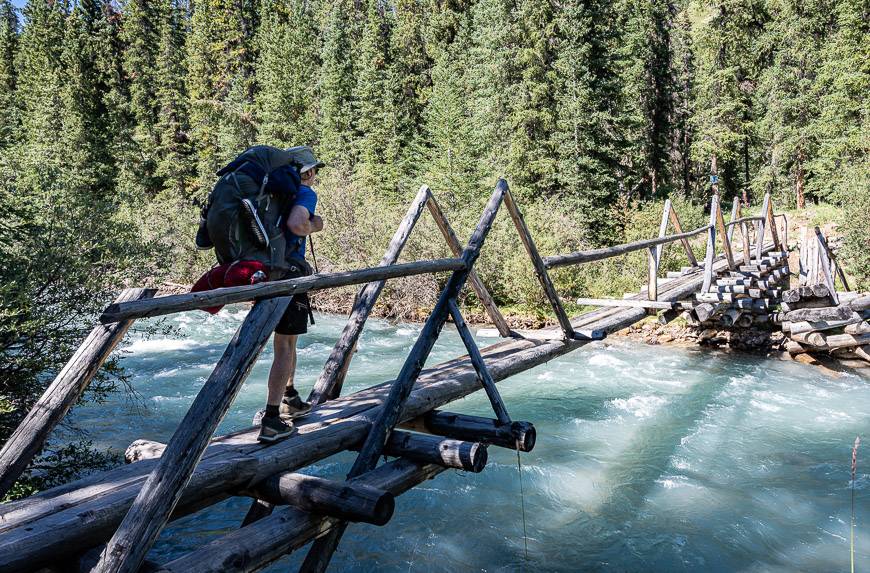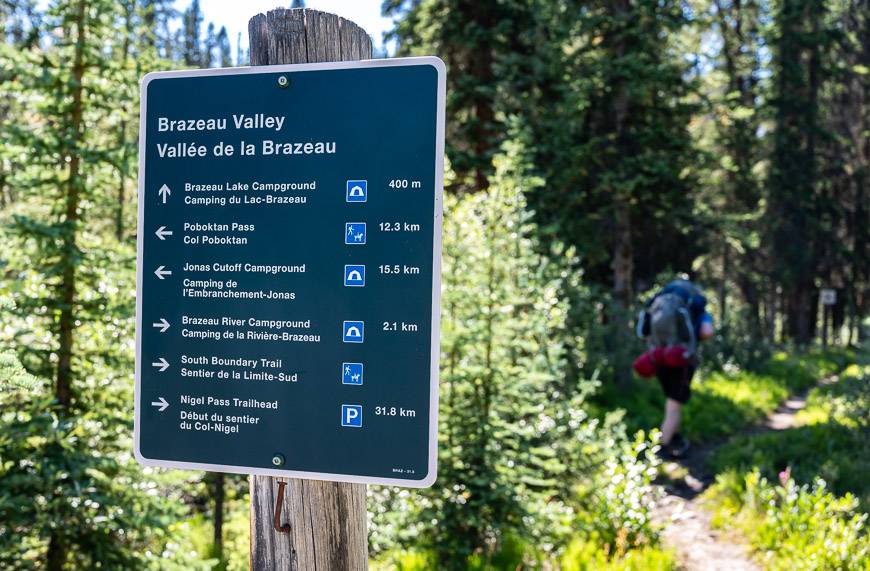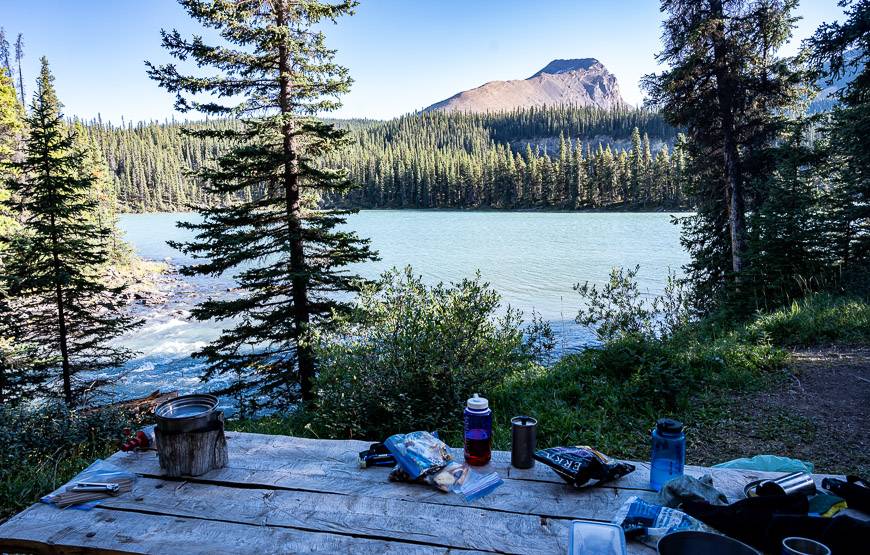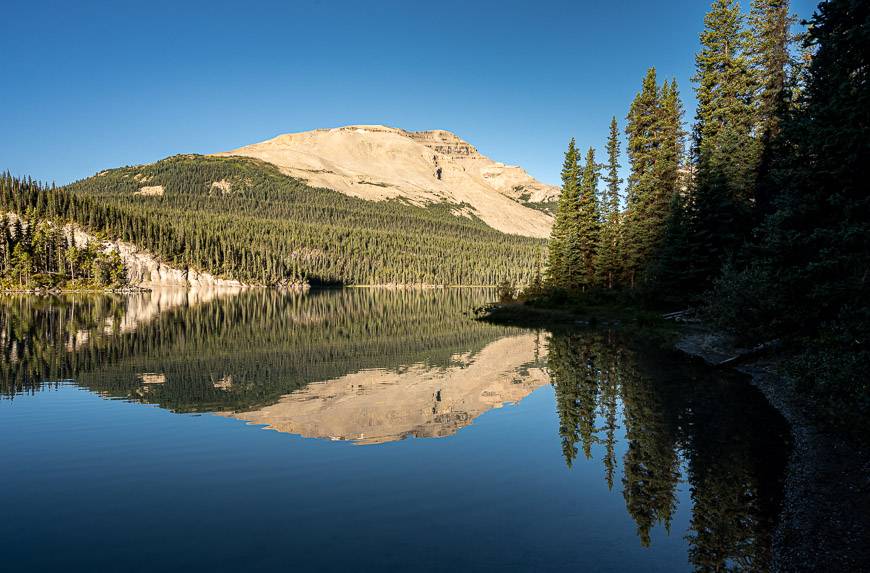 Day 3: Brazeau Lake to Jonas Pass Cutoff Campground
Distance: 14.6 km
Backtrack about a half a kilometre to reach a bridge across the North Fork Brazeau River. Then start climbing gradually through a rock-strewn valley to reach the John John Creek Bridge, approximately 4.2 km from the Brazeau Lake campground. Reach the John John Campground after climbing a total of 215 m over 8.9 km. The campground, with room for four tents, is on John John Creek. You'll also find new picnic tables and tent platforms, built onsite in 2021.
The climbing starts in earnest the minute you leave the John John campground. Its steep going through fir forest for the first kilometre or two on the way to Poboktan Pass at an elevation of 2304 m. After that you have many kilometres of sublime hiking around the gentle pass – past masses of wildflowers with mountains in all directions. You'll probably see or hear some marmots around here. I could have spent a day wandering around this area.
From the pass descend 185 m through meadows to reach a bridge. Cross it and make your way to the Jonas Cutoff campground. We found it to be a busy one – as you'll find that people hiking the Great Divide trail stay here (sometimes without reservations), along with people who are hiking either up or down the Poboktan Creek Valley that ends on the Icefields Parkway.
The Jonas Cutoff campground is at a higher elevation than others on the Brazeau Loop hike, so its colder and you're more likely to run into inclement weather. In theory there are 8 campsites, with many close to the river, but in reality, there were far more people camping here when we visited.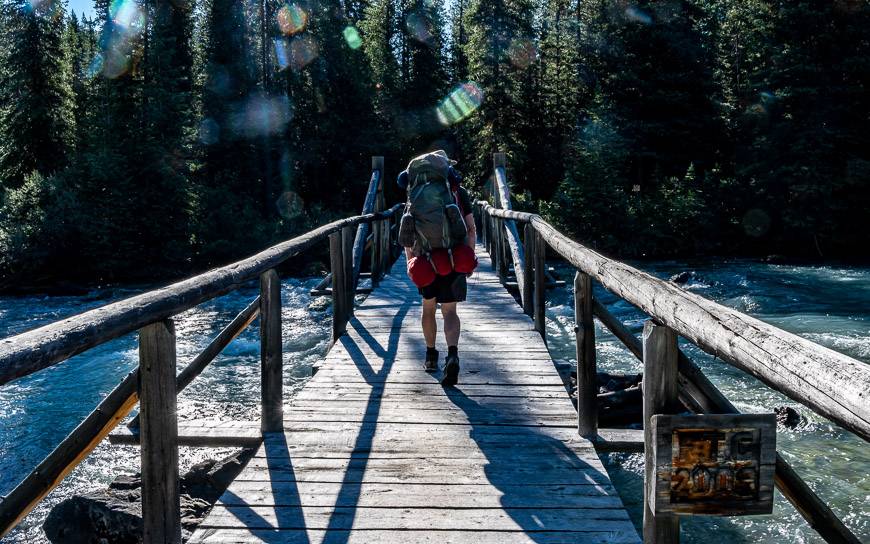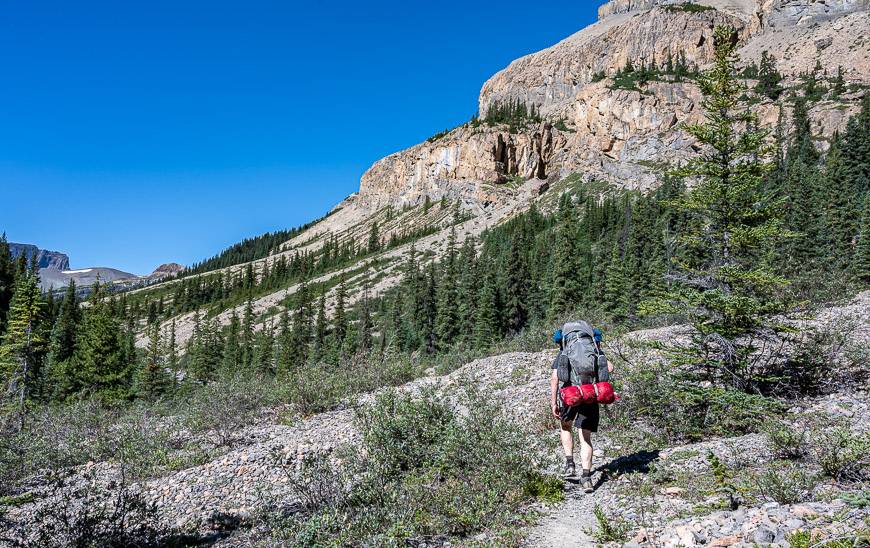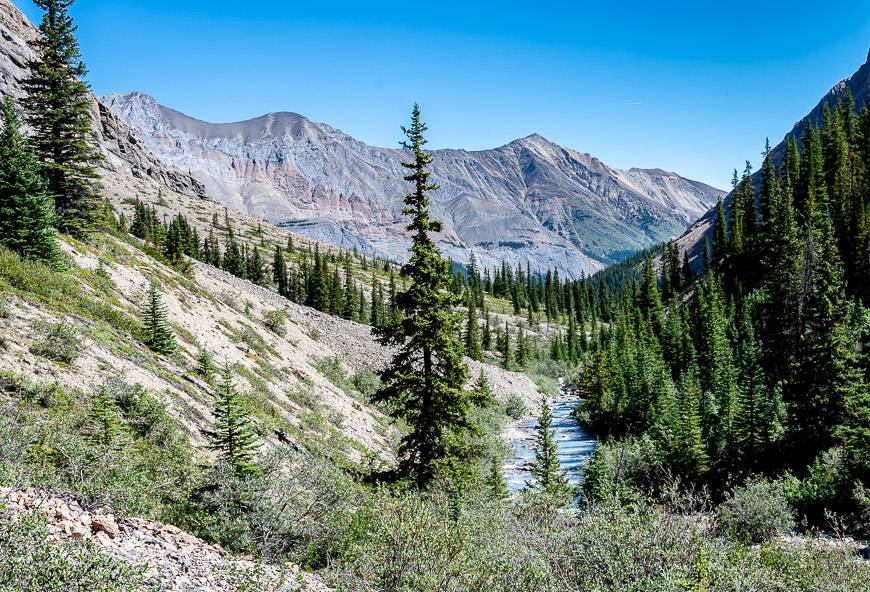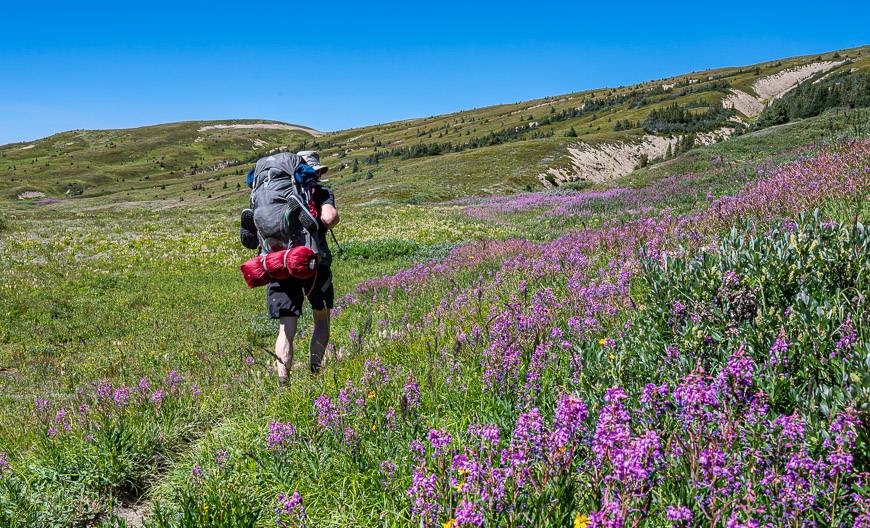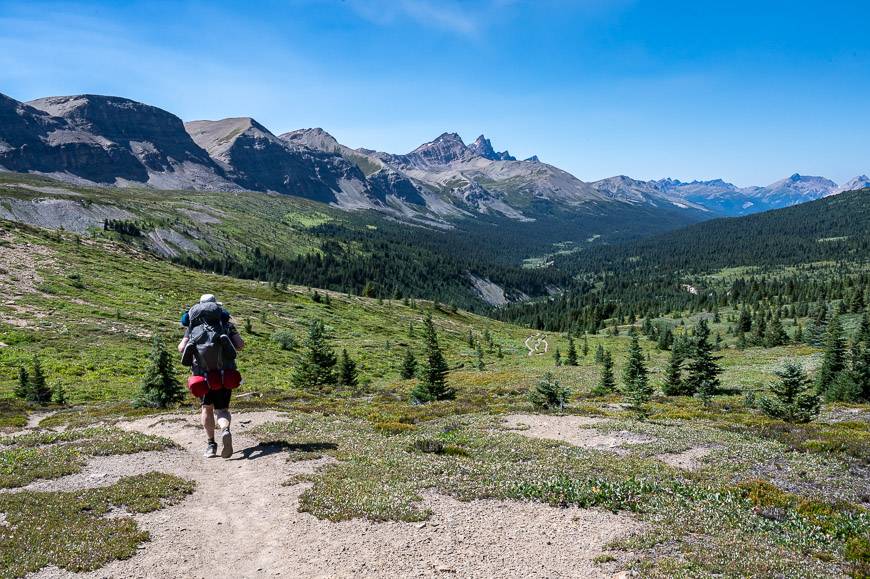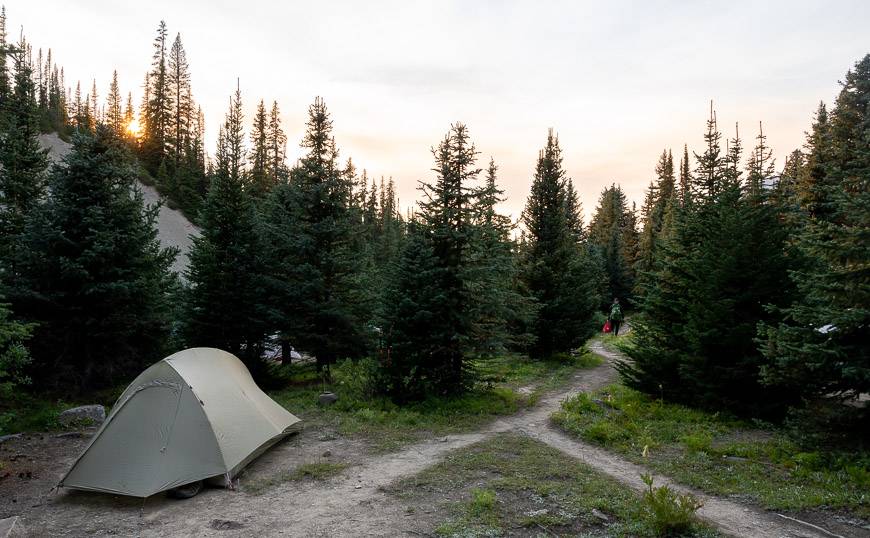 Day 5 : Jonas Cutoff Campground to Four Point Campground hike
Distance: 18.9 km
We could see smoke coming in as we headed to bed at the Jonas Cutoff campground, so I wasn't optimistic about the views we'd see the next day. And indeed, we were in smoke that was thick at times, but at least it cleared a bit at lunch time.
**If you were to go up this section of the Brazeau Loop trail from the Four Point campground, you would find that all but 3.2 km of the 18.9 km was uphill – and its very steep. For us, all but 3.3 km was downhill – and most of it was easy to moderate except for the last few kilometres as we made our way to the Four Point campground.***
Today's section on the Brazeau Loop hike leaves the Jonas Cutoff campground and starts climbing gradually on a boot beaten trail through a colourful forest pictured below, that is loaded with wildflowers. Look for cairns as you head up. Your goal is the top of a scree slope that ends at Jonas Shoulder, a rocky ridge top.
From there, the views astound and on a clear day they would be some of the best in the Canadian Rockies. You should be able to see Jonas Pass, Sunwapta Peak, Poboktan Mountain, numerous unnamed peaks and both glaciers and rock glaciers galore. It's a steep 290 m descent off Jonas Shoulder until the grade moderates.
Jonas Pass, marked by a large cairn, is a long one – a valley stretching for some 9 kilometres. For several hours enjoy a large gently rolling section of meadowland with views of glacial cirques, streams, ponds and lakelets.
Then there is a rock hopping section with five streams you must cross. They get there start as meltwater from the glacial cirques on the west side of the valley. Most you can hop across with boots on but I changed into my water sandals on one occasion – which was refreshing on the feet.
Next up is a pretty open forest where the lucky among you might see a caribou. After that you've got four more steep kilometres to go and most of it is in fir forest. Look for drumlins – teardrop shaped mounds of glacial debris. I found this part of the descent to be tedious, probably because it was the end of a long day.
Reach the Jonas Pass junction, just 100 m from the campground. You're back in familiar territory now.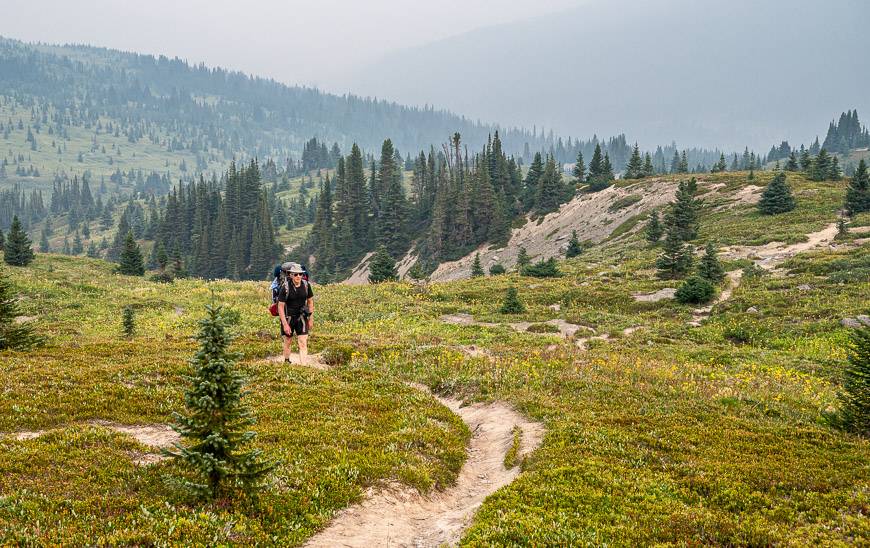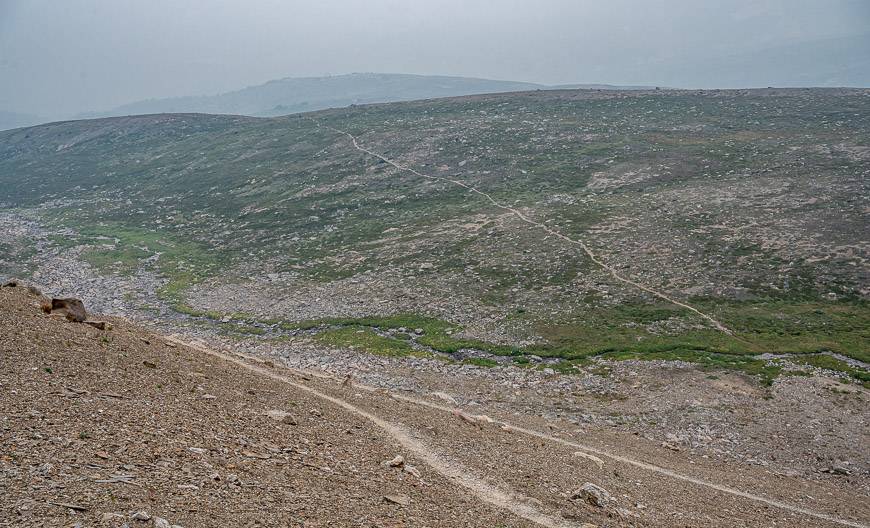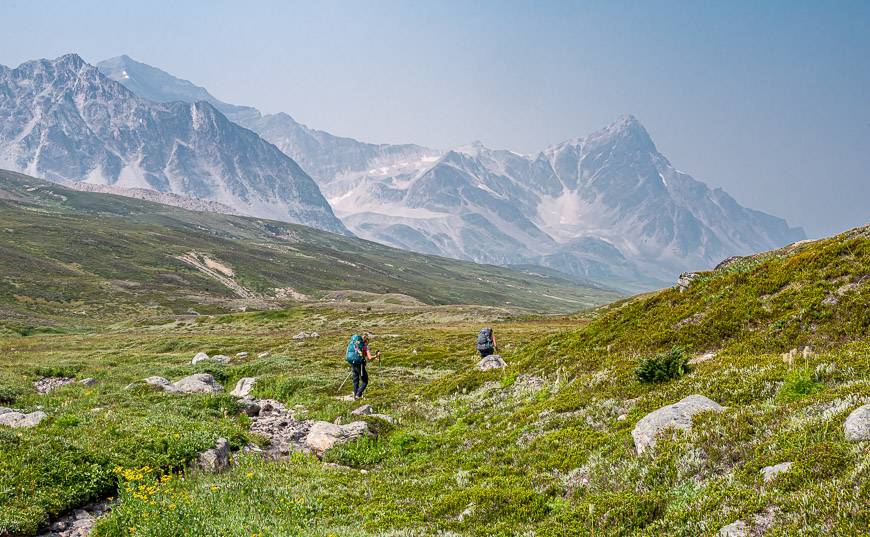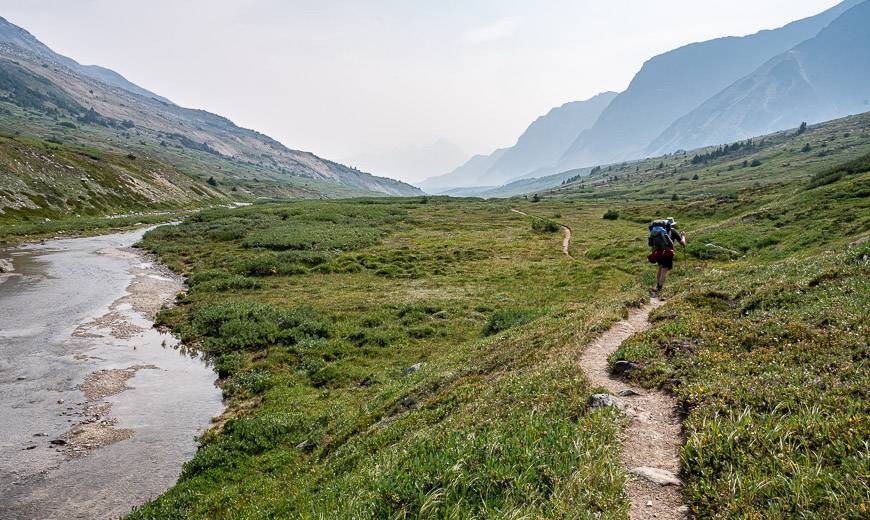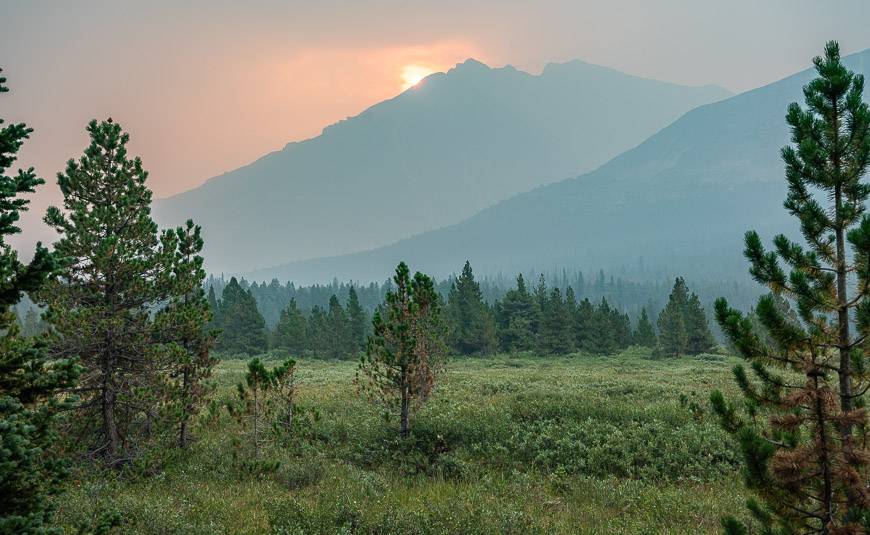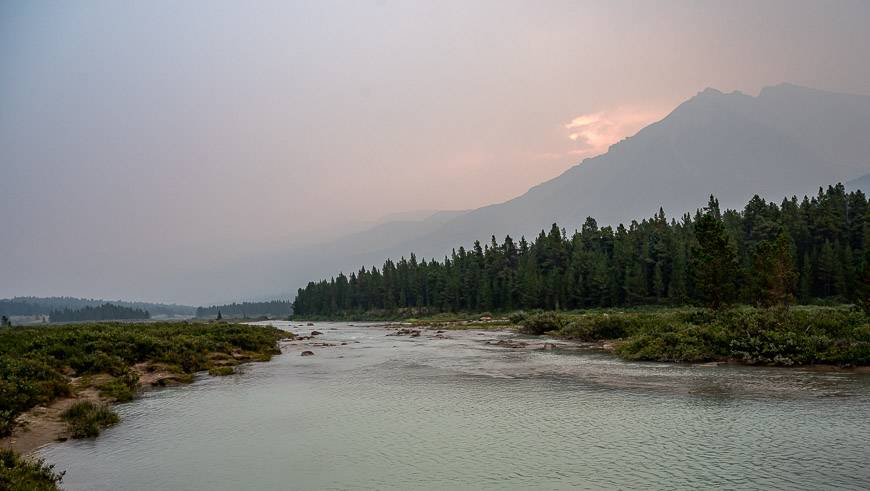 Day 5: Four Point Campground to Nigel Pass Trailhead and the finish of the Brazeau Loop Trail
Distance: 13.9 km
We simply retraced our steps to return to the Nigel Pass trailhead and the finish of the Brazeau Loop trail. Even though it was smoky and the views weren't very good, I felt lucky that we'd had as many days with clear skies as we did – considering the kind of summer it had been. It took us just over four hours, partly because our backpacks were that much lighter, and we were anticipating the comfort of a car seat.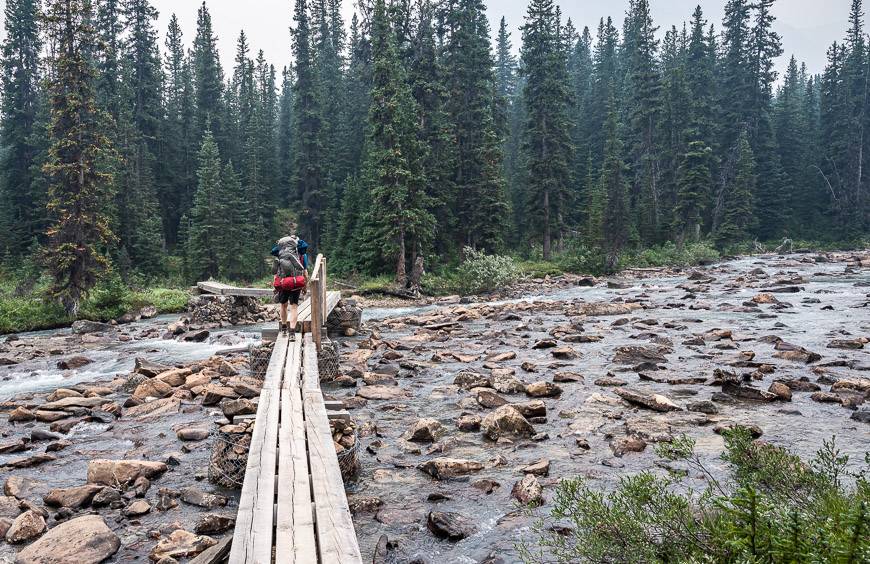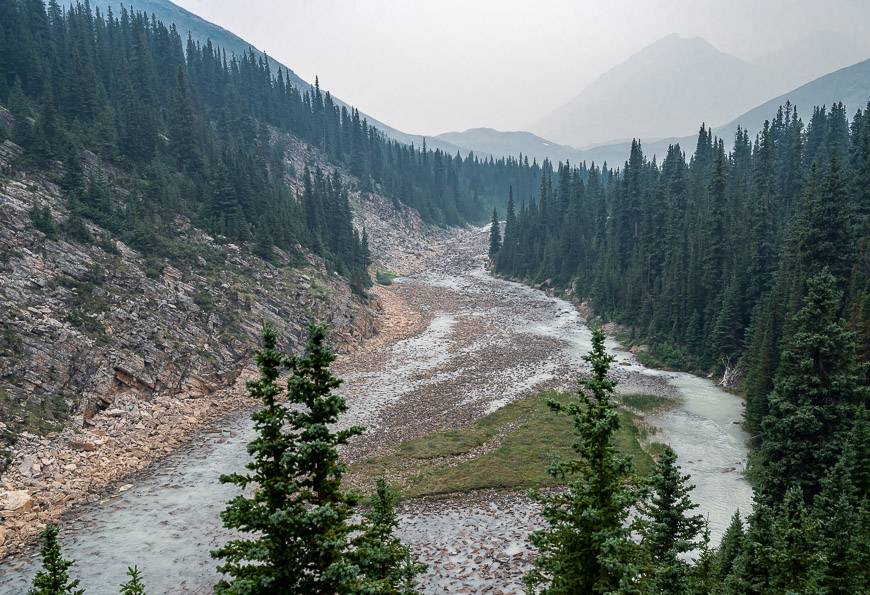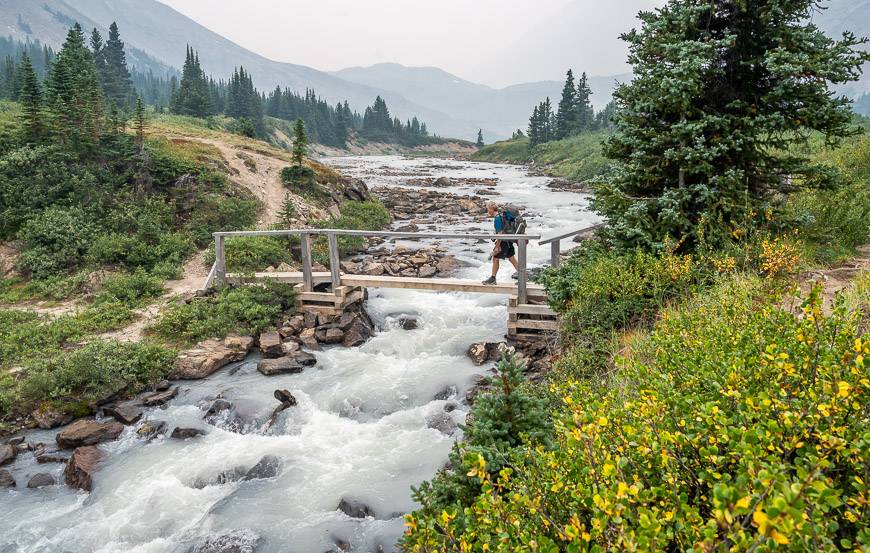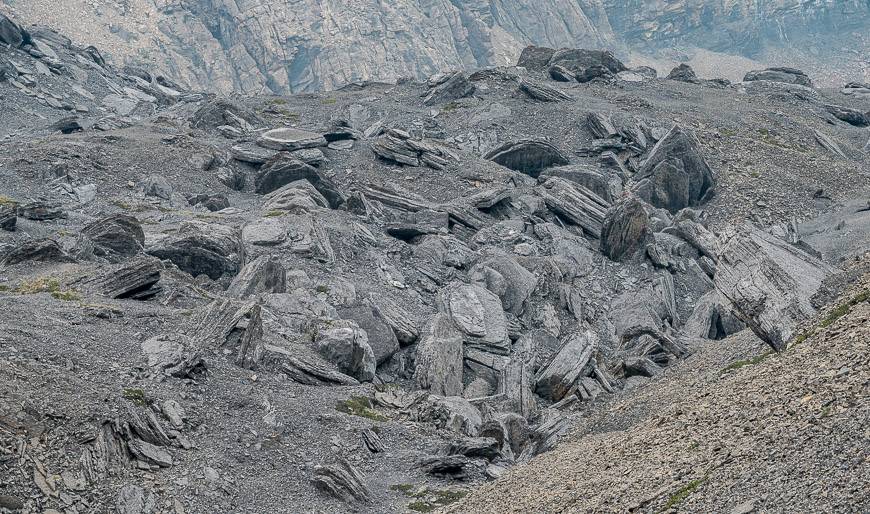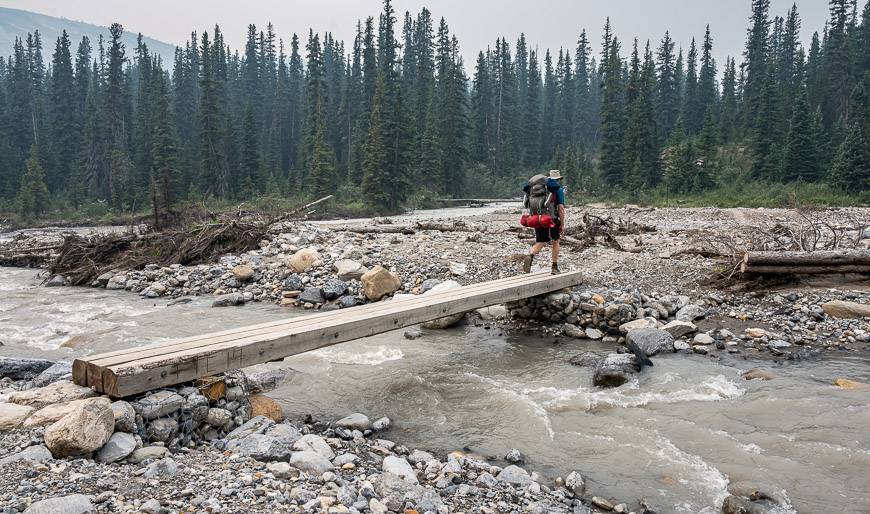 Optional side trip from Nigel Pass off the Brazeau Loop trail
If you've got a few extra days, I understand one of the most beautiful backpacking trips in the Rockies, is the optional side trip from Nigel Pass to Upper Brazeau Canyon, Cataract Pass, and the White Goat Wilderness area. You don't need to reserve campsites once you reach the White Goat Wilderness, simply practice proper etiquette and don't camp close to a water body.
If you elect to camp in the White Goat Wilderness area, you will need a way to hang your food. We have used a waterproof bag, a length of rope and several carabiners but I don't know how tall the trees are in the area. The other option is to use a bear vault that fits in your backpack.
Backpacking trips in Jasper National Park
Backpacking trips in Banff National Park
Click on the photo to bookmark to your Pinterest boards.