In early August one summer I did a three day backpacking trip to Baker Lake in Banff National Park with my brother and 13 year old niece – neither of whom had ever backpacked before. I'd chosen the hike to Baker Lake in Banff because it was rated as easy. But frankly, anytime you're carrying a heavy backpack up into the mountains for four plus hours it's not that easy. But it is definitely worthwhile!
Our plan was to backpack 13.2 kilometres to the Baker Lake Campground on the first day. On day two we'd do a loop hike of about 15 kilometres to include the trail to Red Deer Lakes, Skoki Lodge, perhaps Merlin Lake and then return to the campground by crossing Deception Pass. On the third day we'd just hike out.
Our hike to Skoki Lodge and back to Baker Lake on the second day is the subject of another blog.
Book backcountry reservations in Banff National Park, well in advance here – starting on January 28 in 2022 at 8 AM MST. You can also try calling 1-877-RESERVE or go to the Visitor Center in Banff or Lake Louise if you want to try for a last minute permit.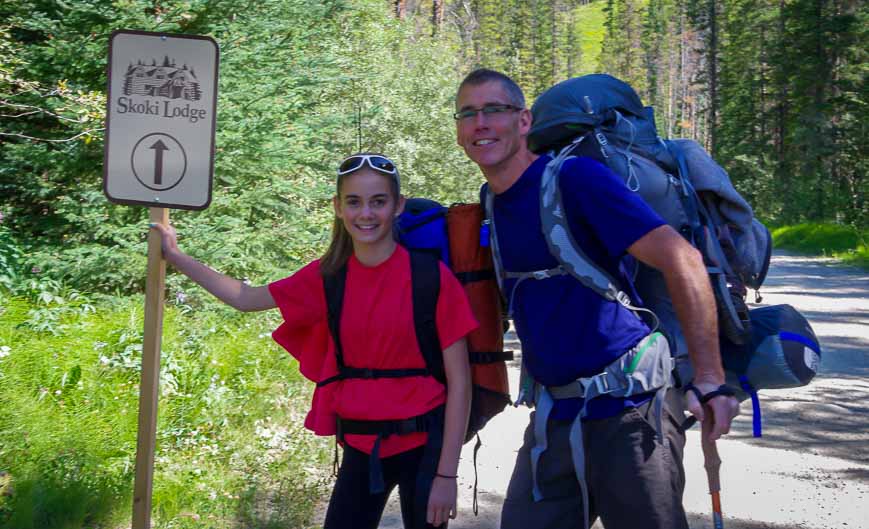 This post includes some affiliate links. If you make a qualifying purchase through one of these links, I will receive a small percentage of the sale at no extra cost to you. Thank you for your support.
Where is the trailhead to the Skoki area located?
The trailhead to Baker Lake in the Skoki area is very conveniently located off Whitehorn Road at the Fish Creek Parking Area, just two kilometres up from the Trans-Canada Highway on the way to the Lake Louise ski area.
There's lots of free parking. Lake Louise Village is just a few minutes away too – which was a good thing as we'd forgotten to stash a bottle of wine in our packs and so were able to pick one up – at inflated prices mind you.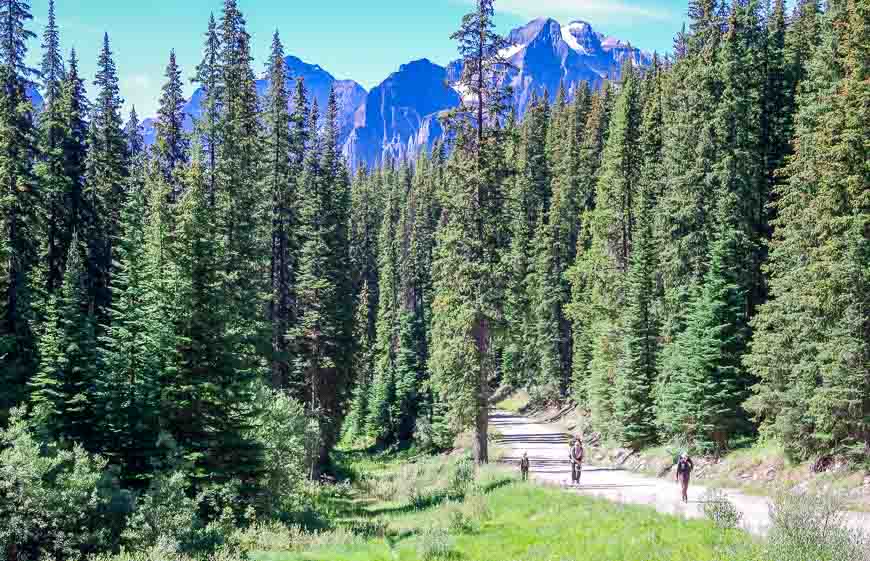 Baker Lake backpacking trip – how it unfolds
The first 3.8 kilometres up the dirt fire road – which is extremely steep at times – isn't very interesting – but at least on the return it allows for a fast descent.
At the end of the road you pop out near Temple Lodge. Look up the ski hill and on the left there's a trail that re-enters the woods. It's signed to Skoki Lodge. Follow it and once you've put another three kilometres behind you, the views start to open up.
Now you're into sub-alpine meadows – with patches of wildflowers around – plus some unusual looking mushrooms.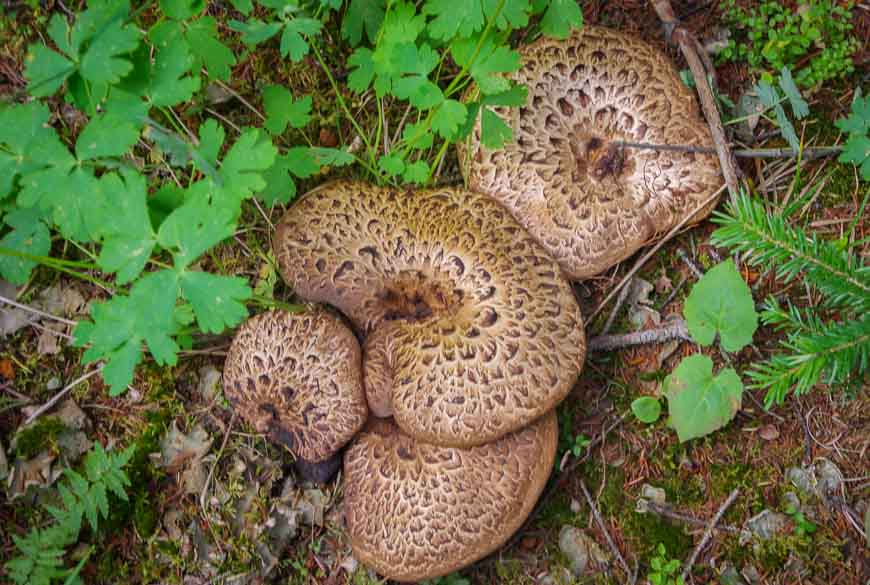 This is grizzly bear country
Near the Halfway Hut at the 7.1 km mark there are signs warning of bears in the area. We met a family of four – with a can of bear-spray out and ready to go – who had seen a grizzly frolicking in the stream just five minutes earlier. We missed it. Maybe it was my singing that scared it off. Still we pulled out our bear spray and bear bangers just in case.
Read: Tips for Staying Safe in Bear Country
Next up is the aptly name Boulder Pass. Fortunately it can be dispatched with quickly.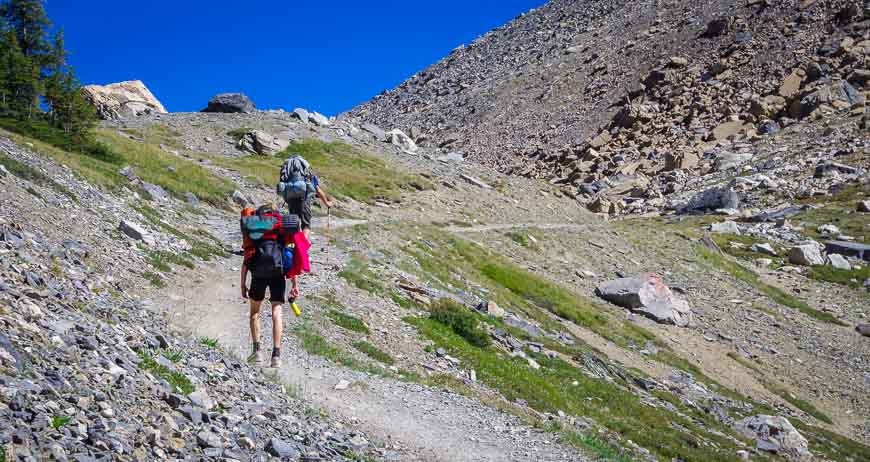 Beautiful Ptarmigan Lake greets you at the top of the pass. From the lake the hiking for the next 4.5 kilometres – all the way to the Baker Lake Campground is sublime.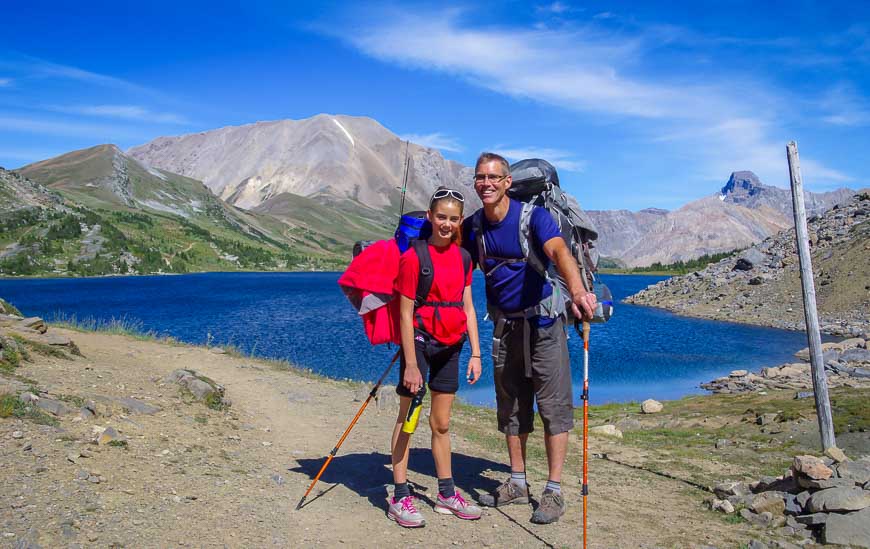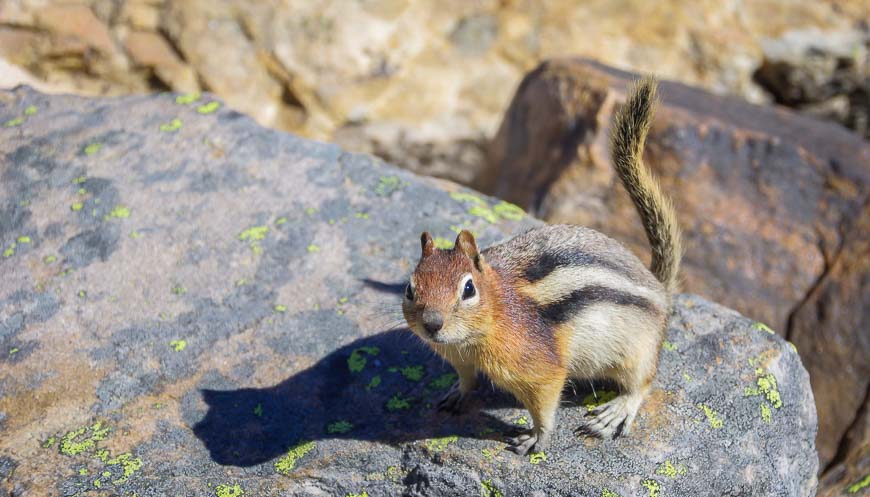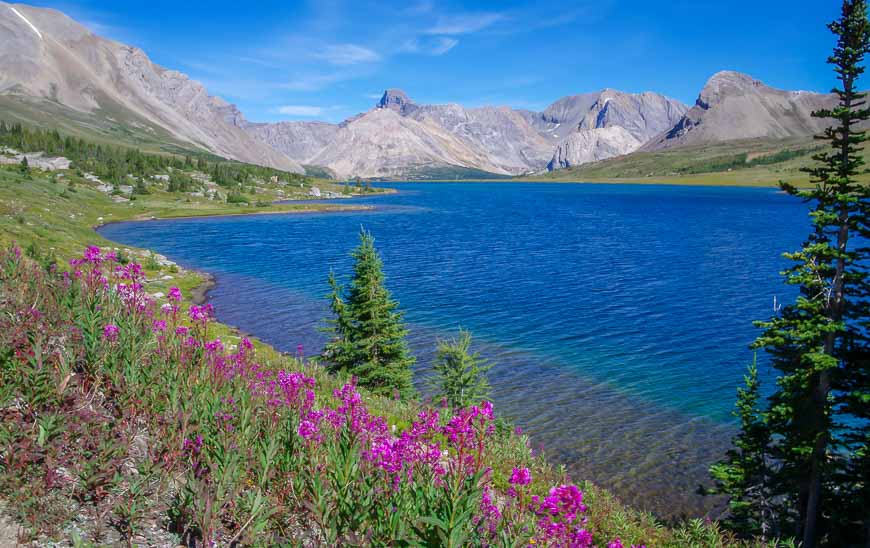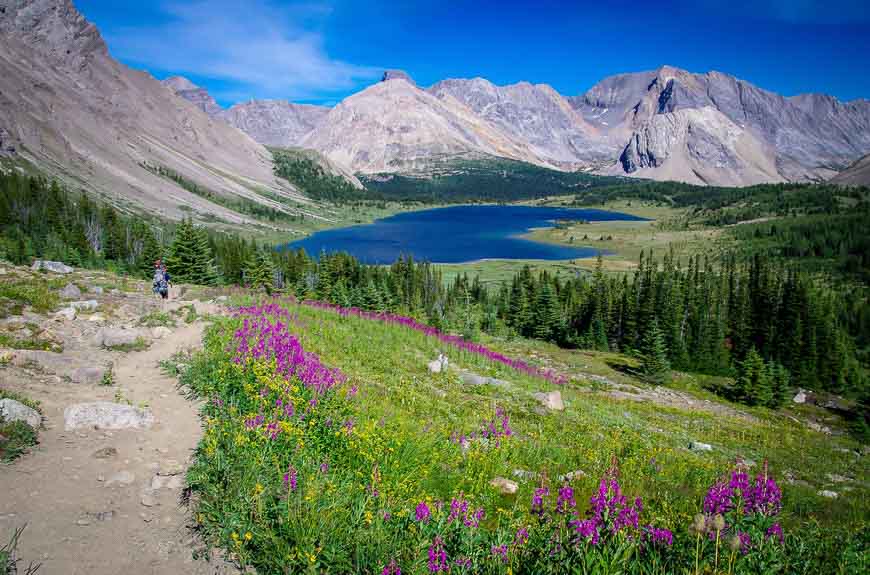 Baker Lake Campground
The Baker Lake campground in Banff National Park is at the far end of Baker Lake (figures). Although the setting is pretty the campground needs some work as it is showing signs of heavy use. There were tent pads – but dusty ones – that would be even worse after a rain.
Plus they were packed in close together. I backpacked into the wilderness to get away from civilization – and don't like being so close to my neighbour that I can hear them snoring.
The outhouses were disgusting too – and one in particular was filled with mouse droppings. Considering there can be up to twenty people a night at the campground – at $9.80 a person plus a reservation fee – I think Banff National Park should be doing something to improve the campground.
There are only four picnic tables – built with awkwardly spaced benches – so you may have to wait to cook your meal. There is an area where you can hang your food – and that at least is in good shape.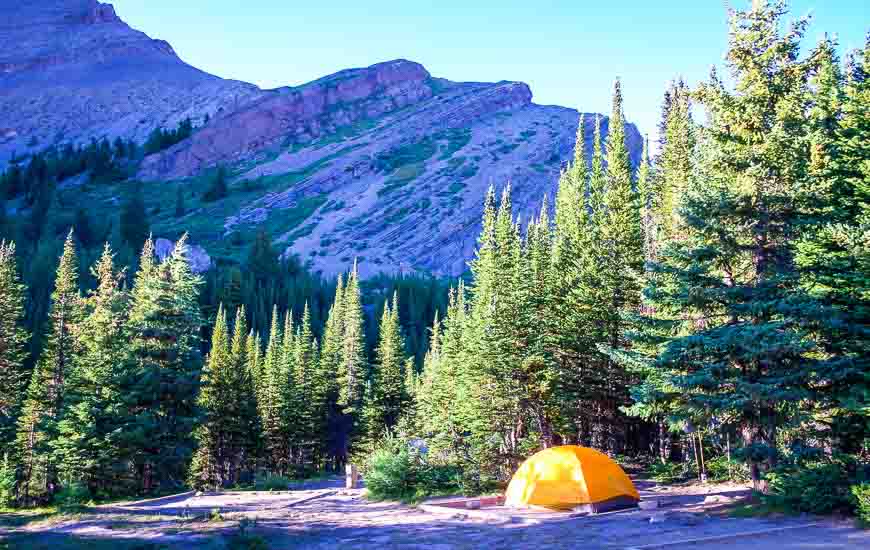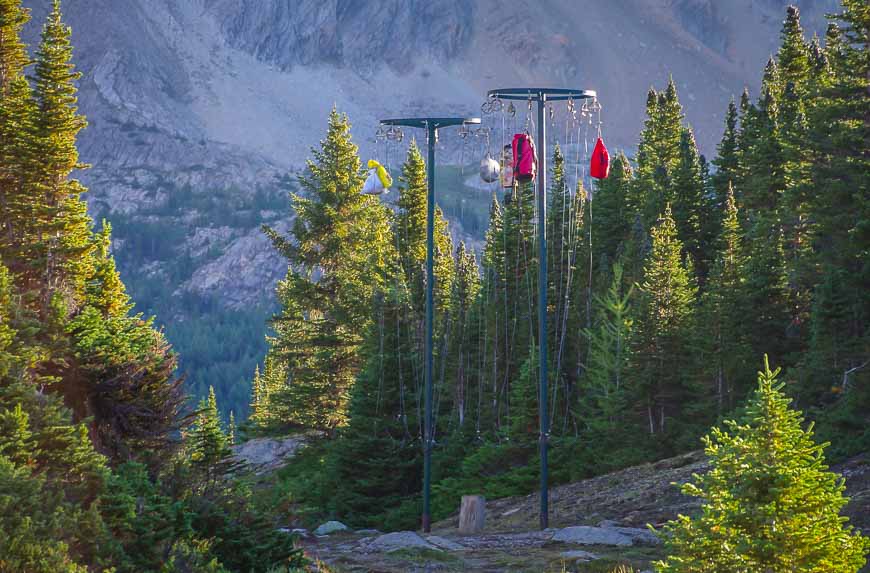 Baker Lake is a stunner
Despite my complaining – Baker Lake really is drop-dead gorgeous – especially first thing in the morning when the lake doesn't have so much as a ripple on it.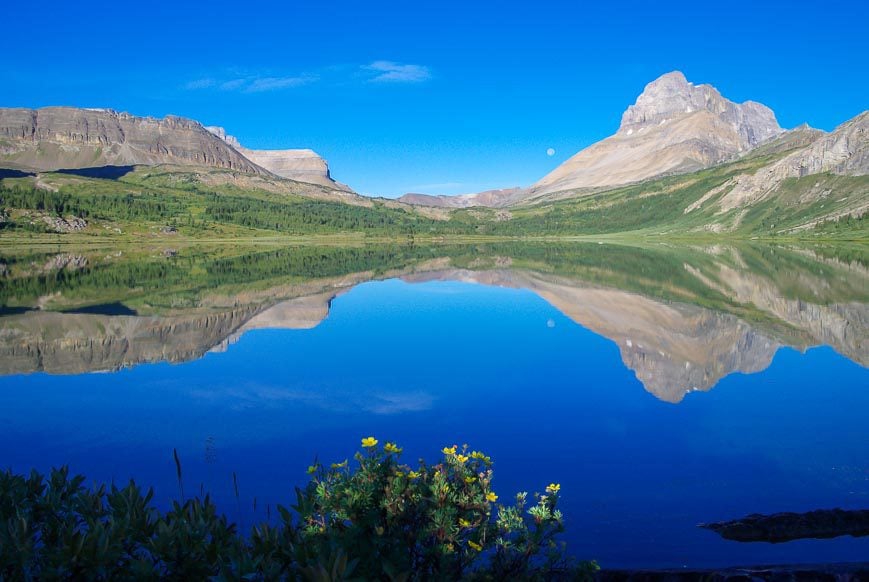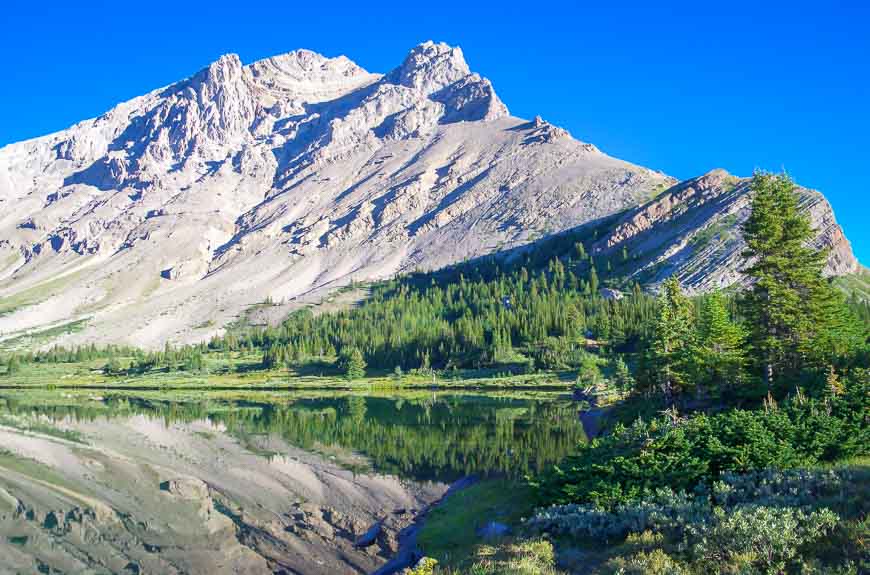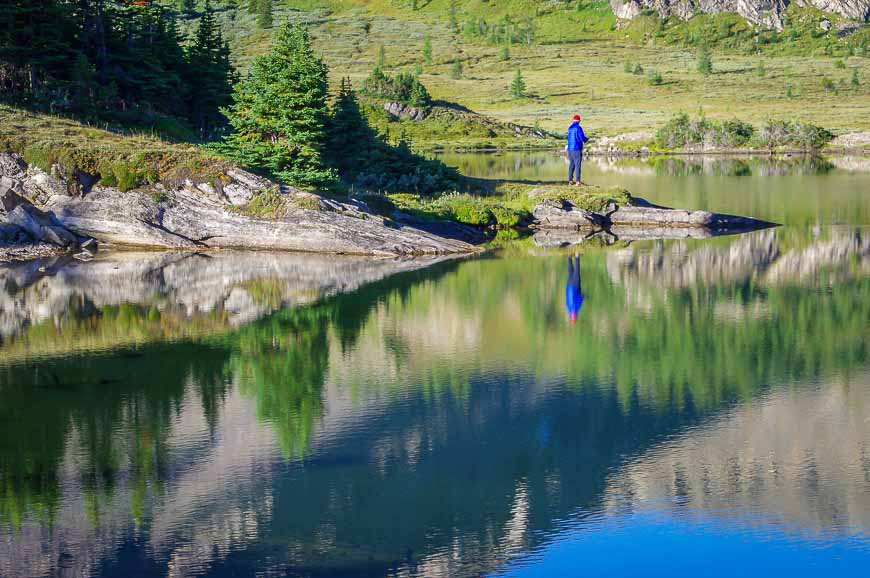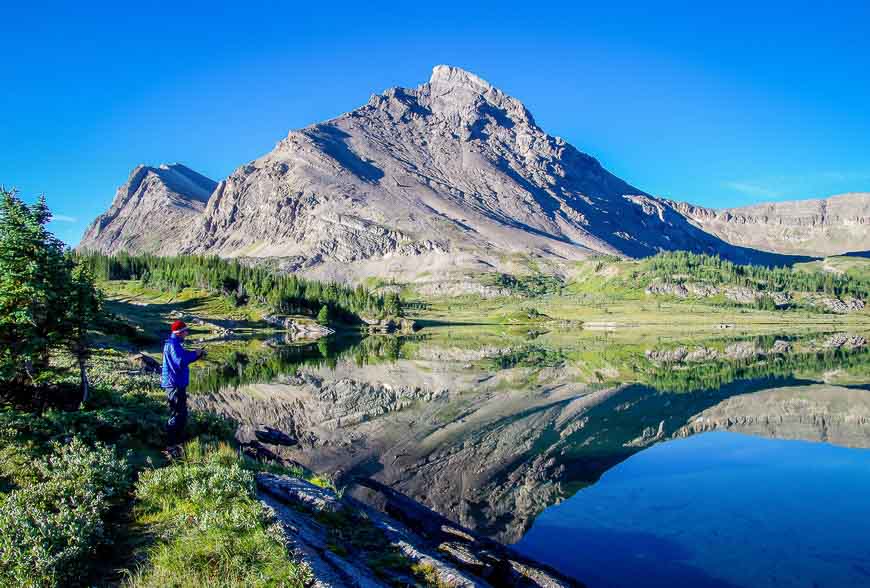 How long does it take to backpack to Baker Lake?
We managed to backpack into Baker Lake in about 4.5 hours. Our tents were set up, and the wine was poured by 5:30. All was right with our world – except for the bloody deer flies. They did eventually disappear as the temperature dropped but be warned – the Skoki area including Baker Lake has a reputation as having more biting insects that almost any other place in the Rockies.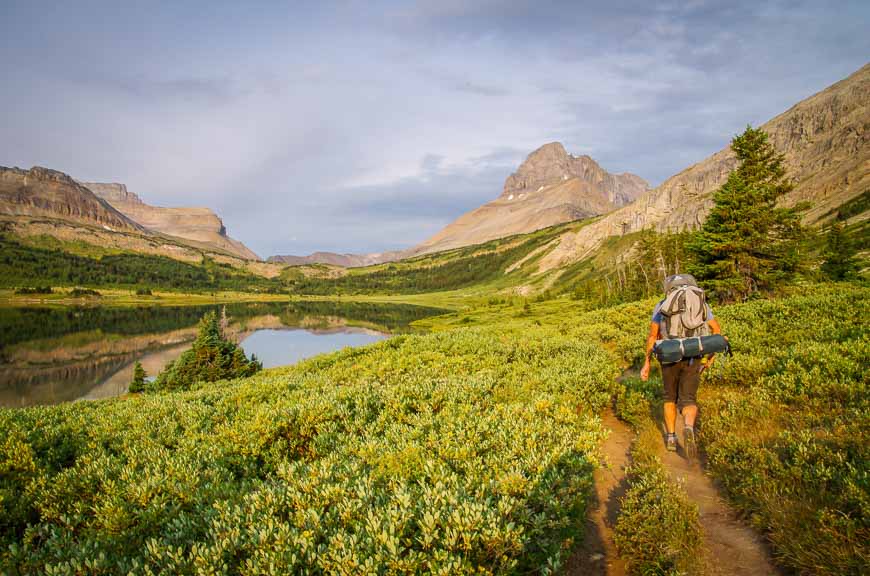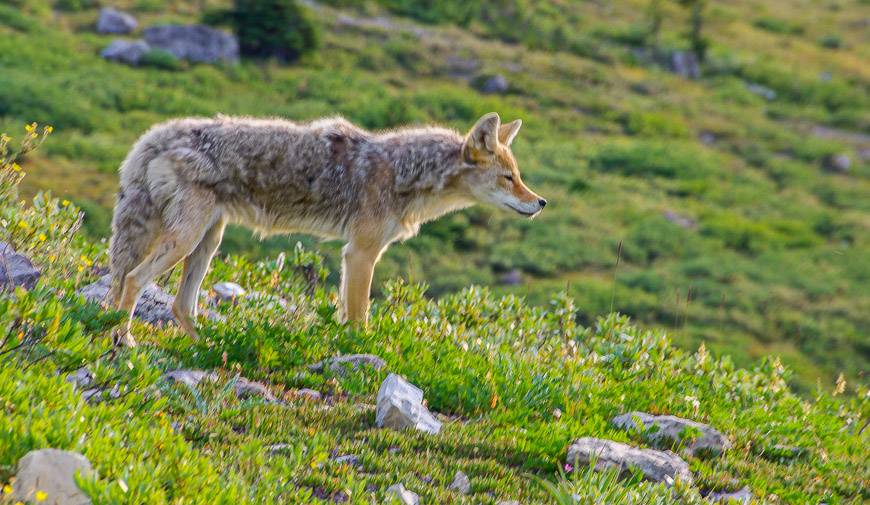 Other hiking options on the Baker Lake trip
On the way into Baker Lake, there is the option to visit Hidden Lake. Take a spur trail on your left, 0.2 km past the Halfway Hut. Reach a campground in 100 m. Continue through meadows and larch forest for another 1.2 km, climbing 85 m to reach Hidden Lake, located in alpine tundra beneath Mt. Ptarmigan, Pika and Richardson Peaks.
A trip to Redoubt Lake from Boulder Pass is another option. It's located 0.9 km from the pass. Pick up the trail to it just east of the pass. Head through boulders south of Ptarmigan Lake. Hike around Redoubt Lake by taking a rough track on the west side. Retrace your steps.
There is also the option to camp at the Red Deer Lakes Campground. It's an easy 5.5 km beyond Baker Lake. Much of the hike is to the east of Fossil Mountain in a large meadow.
From Red Deer Lakes you could then do the easy hike over Jones Pass and continue 4.9 km to reach Merlin Meadows Campground.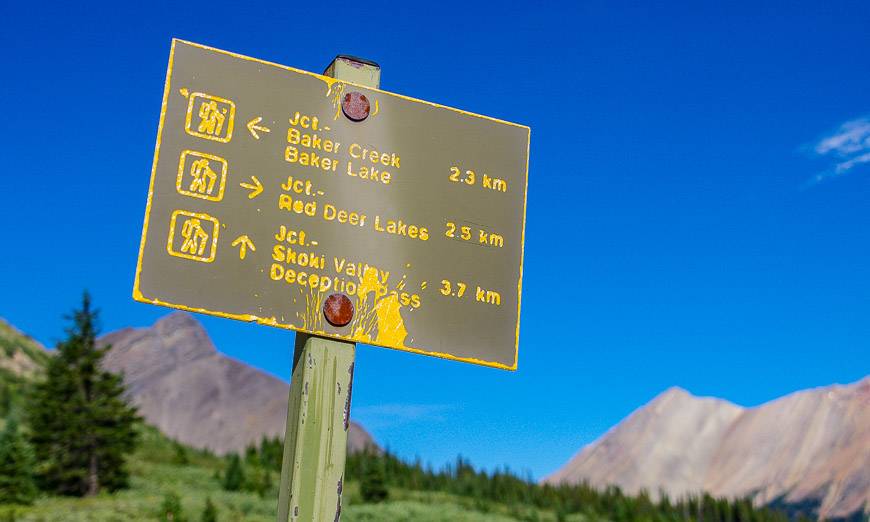 Location map
Where to stay the night before
The trailhead is close to Lake Louise. There is overnight camping in the Lake Louise area.
If you'd like one last shower and comfortable bed, check out Baker Creek Mountain Resort, Deer Lodge, the Lake Louise Hostel or the Lake Louise Inn.
A few things to take with you backpacking to Baker Lake
I would suggest carrying a waterproof paper map – especially if your GPS ever dies. The one for this area is Gem Trek Lake Louise & Yoho.
For wildflower fans, you might enjoy a copy of the Central Rockies Wildflower Guide.
To make your night more comfortable, consider taking a lightweight camp pillow.
Should any of your gear break, you'll be happy to have some gear-aid patches with you.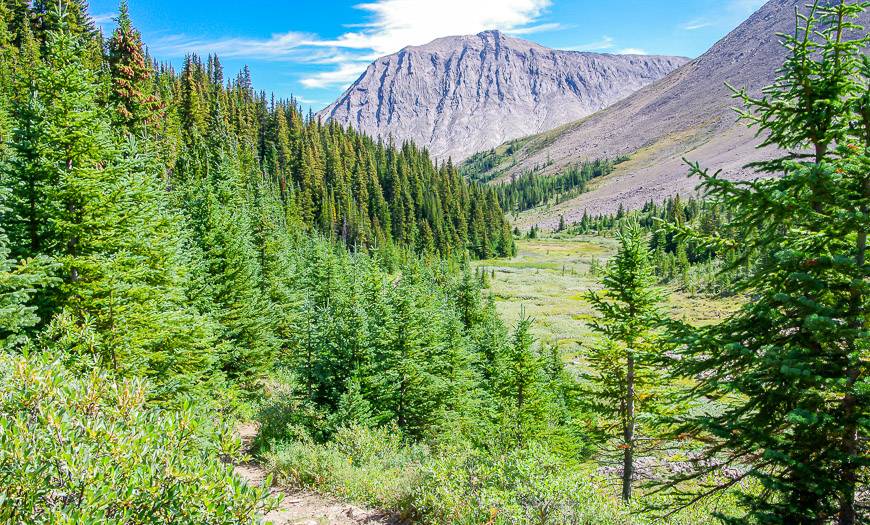 Further reading on backpacking in Alberta
Click on the photo to bookmark to your Pinterest boards.